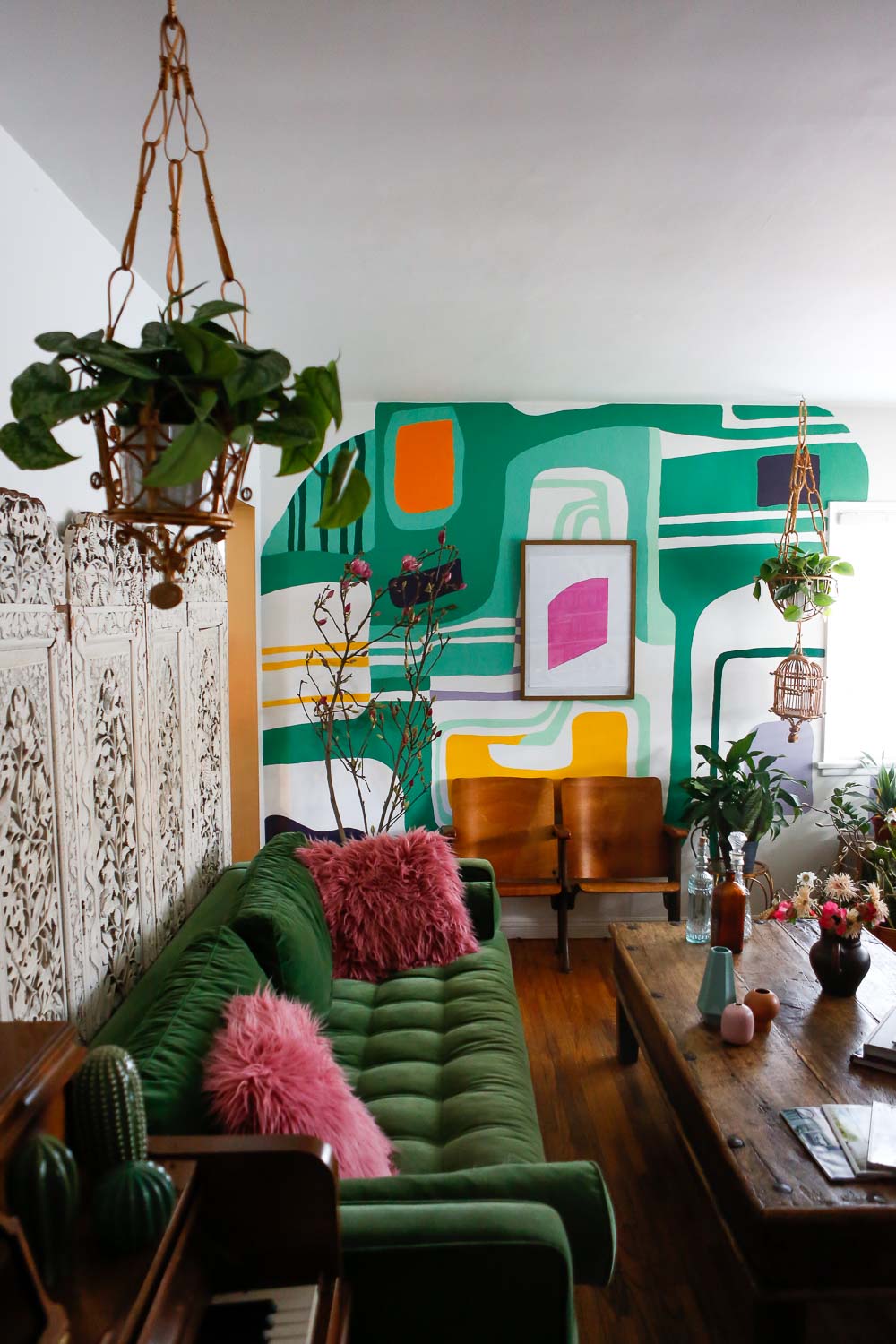 I am alive and pregnant. I thought you would want to know that.
Before you ask any questions, I want to clarify a few things: 1) George made me do it (third baby), 2) yes, I am too old for this, and, 3) it's a boy! (Here are my thoughts on having a third child a couple of years ago).
Now that we got that out of the way you must be wondering why the need to stop writing the blog? Being pregnant is not a debilitating condition… necessarily. Well, it was for me. The first trimester was simply awful, a lot worse than with my other two pregnancies. I threw up every day, was incapable of exercising or standing up from bed… I even fell asleep in my office one day, under the desk. It was really sad, and you know what happens after feeling bad for 8 weeks in a row? You forget how it is to feel good! I started to think that this nausea was going to last forever! It also gave me a new perspective and empathy for people that have long-term diseases that make them feel like crap constantly. It was so horrible that I caught the stomach flu during the New Year's weekend and it took me 5 hours to figure out that it was the flu and not just pregnancy symptoms. That is how bad it was…
Of course, if you follow my IG account (which you totally should. Click here to do that), you know I have been pretty active, just not blogging.
But, on the brighter side!!! I am back to blogging land with a BANG! My home has changed a lot in the last months (or year) and I want to show you some of it.
In preparation for this Spring Tour that I am doing with a bunch of amazing design bloggers, I headed to my favorite place, The Flower Market, DTLA. I  bought ranunculus, spider gerberas, hellebores, and plenty of flowering branches. I filled my home with them and took a lot of photos. Let's take a look, shall we?
LIVING ROOM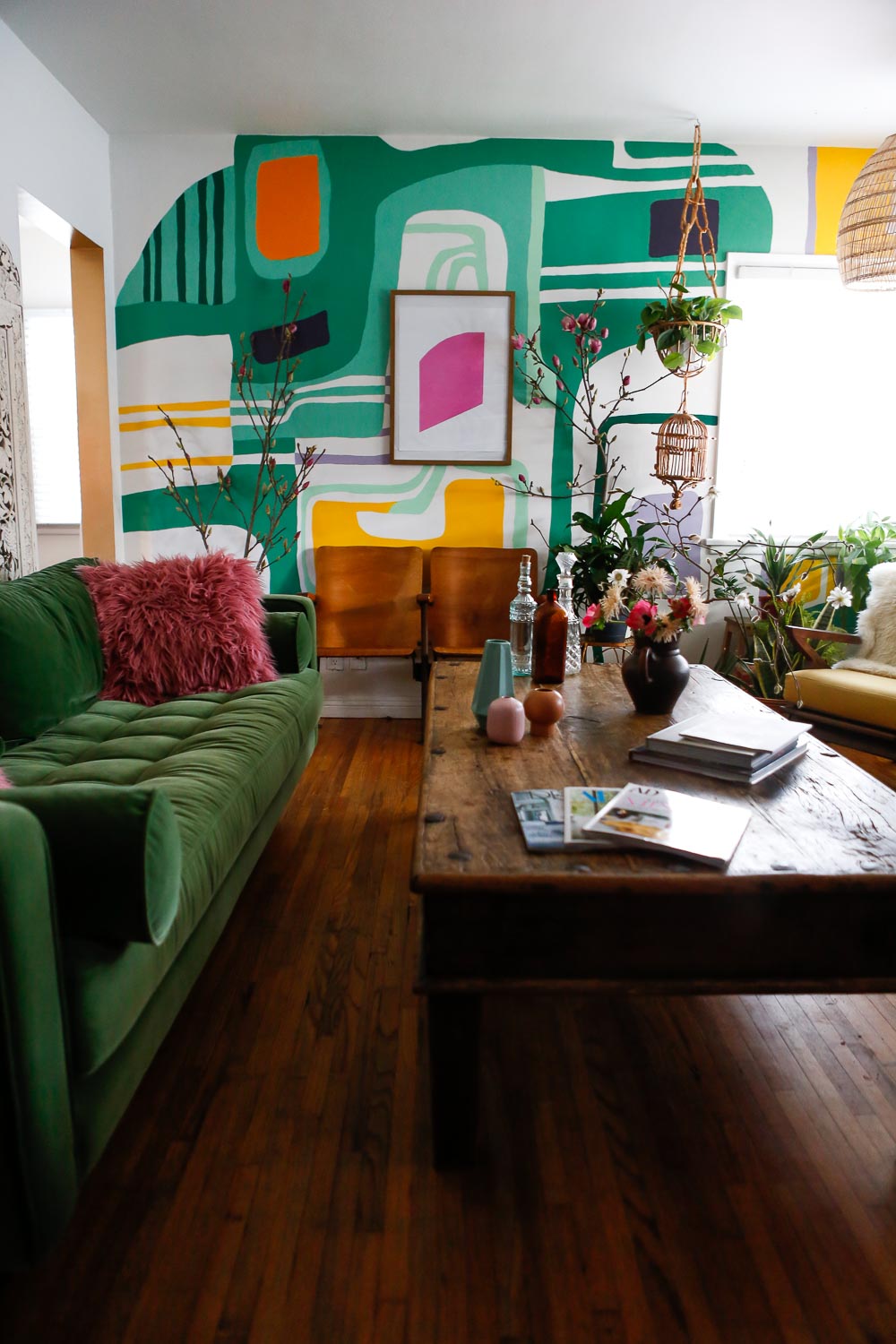 Of course, that mural I did for ORC is still the focal point of the room. I have added more texture and color with the green velvet sofa from Article, yellow chairs from Joybird, and wicker planters from Chile… they will be available in my Etsy shop soon.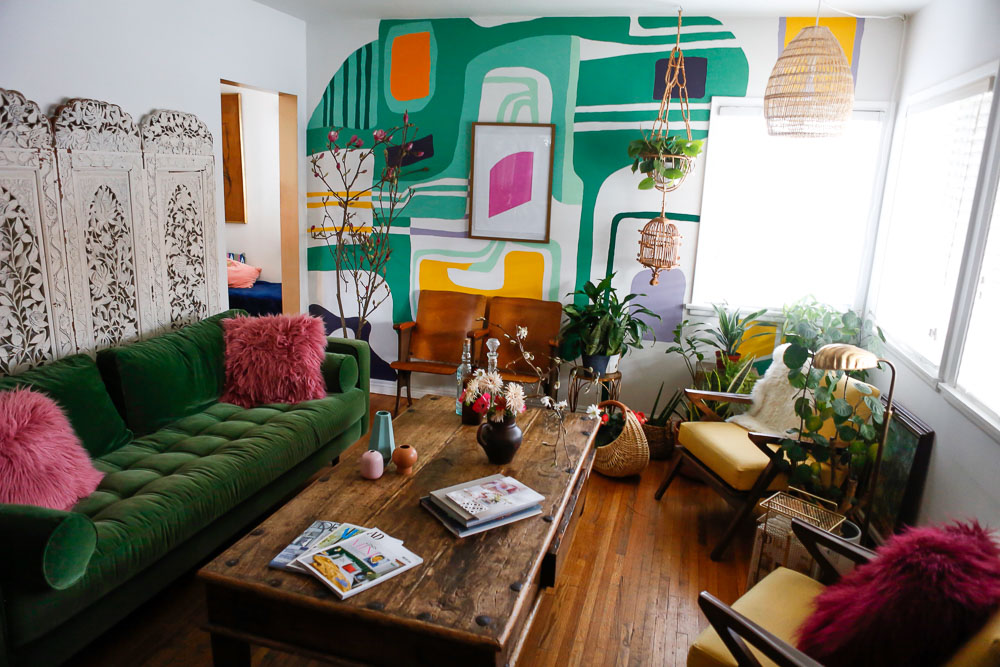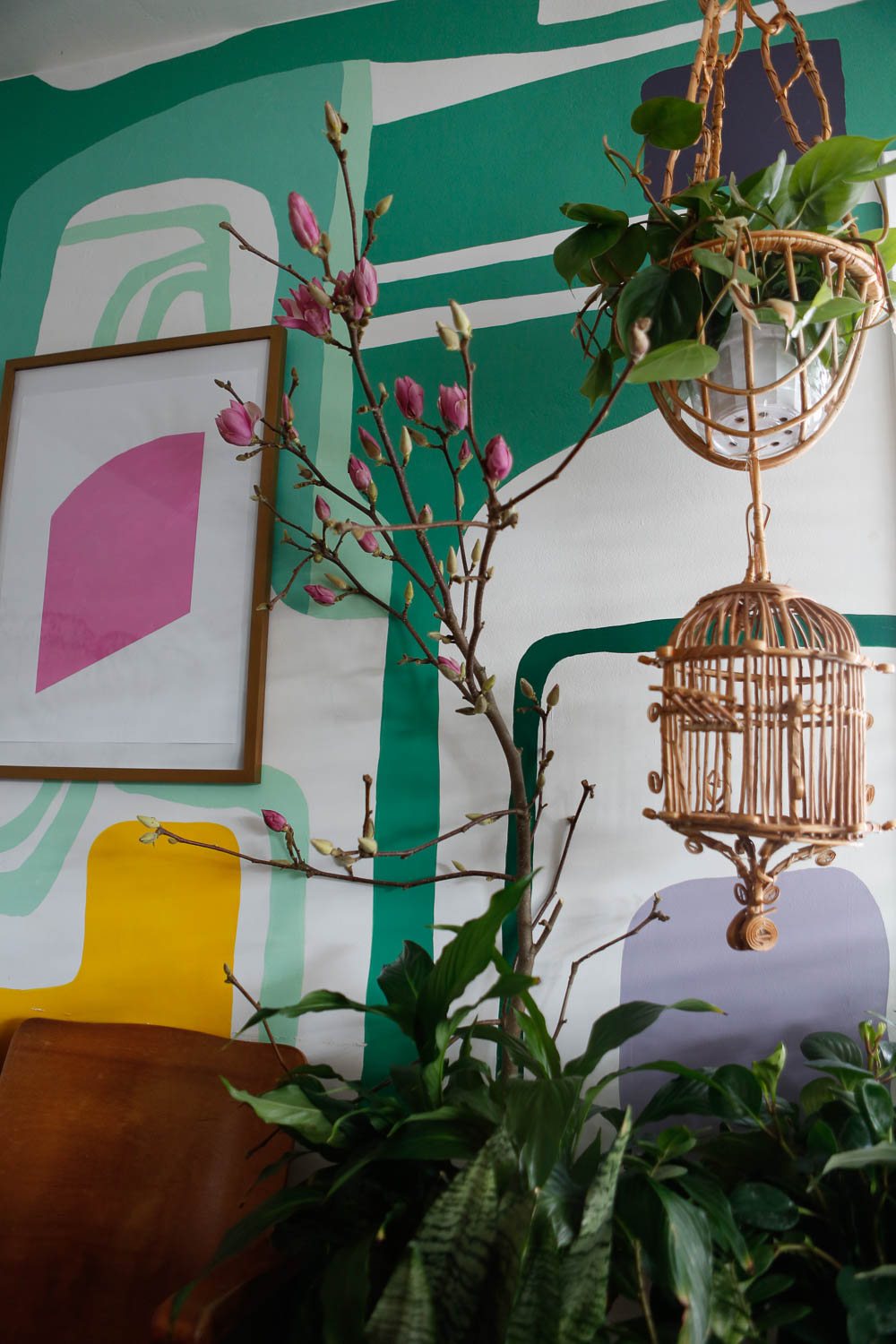 Magnolia branches make me happy. The pink paint is a project that I did last year.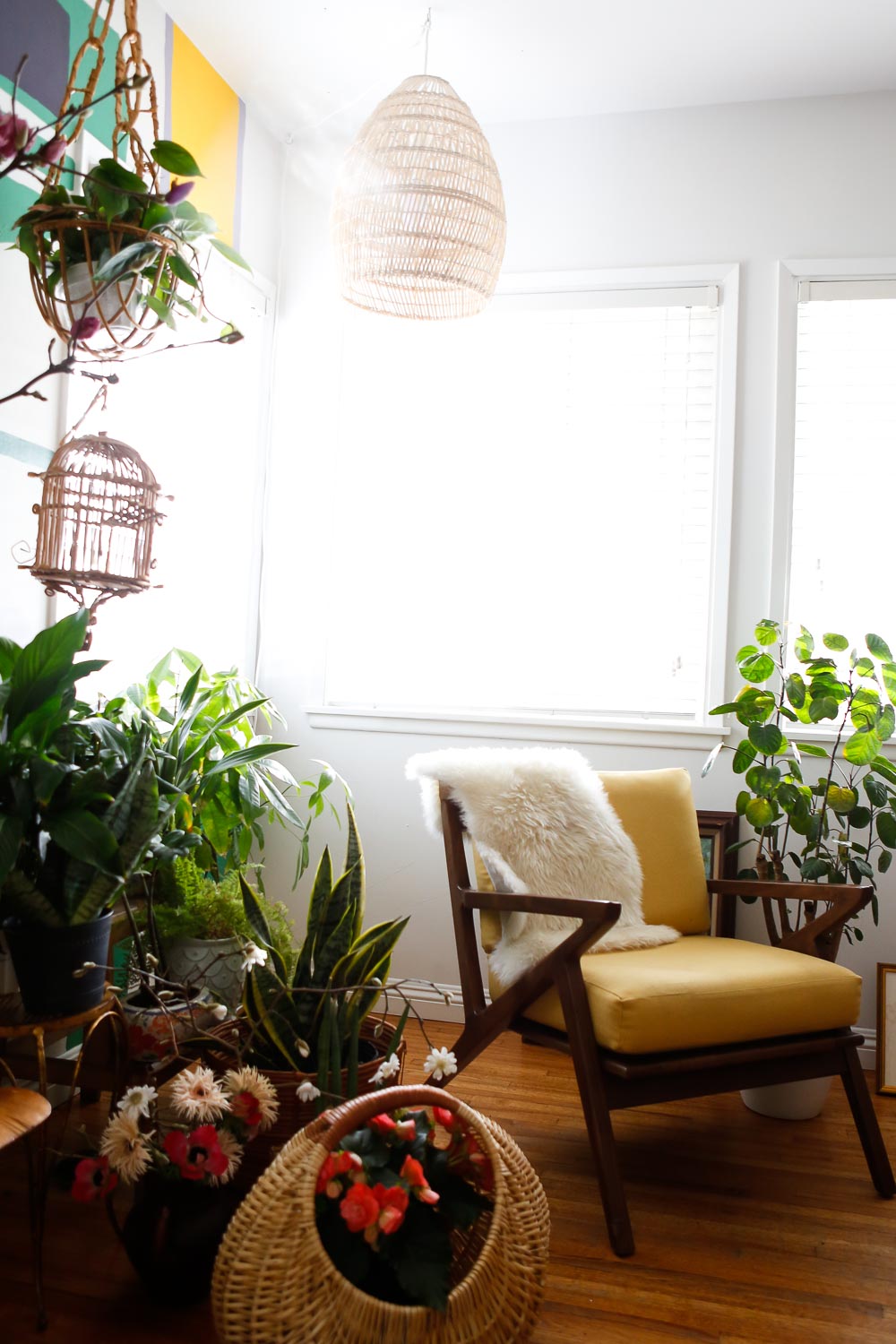 Some of these planters are also from Chile, others have been collected with time. Faux sheepskin from IKEA.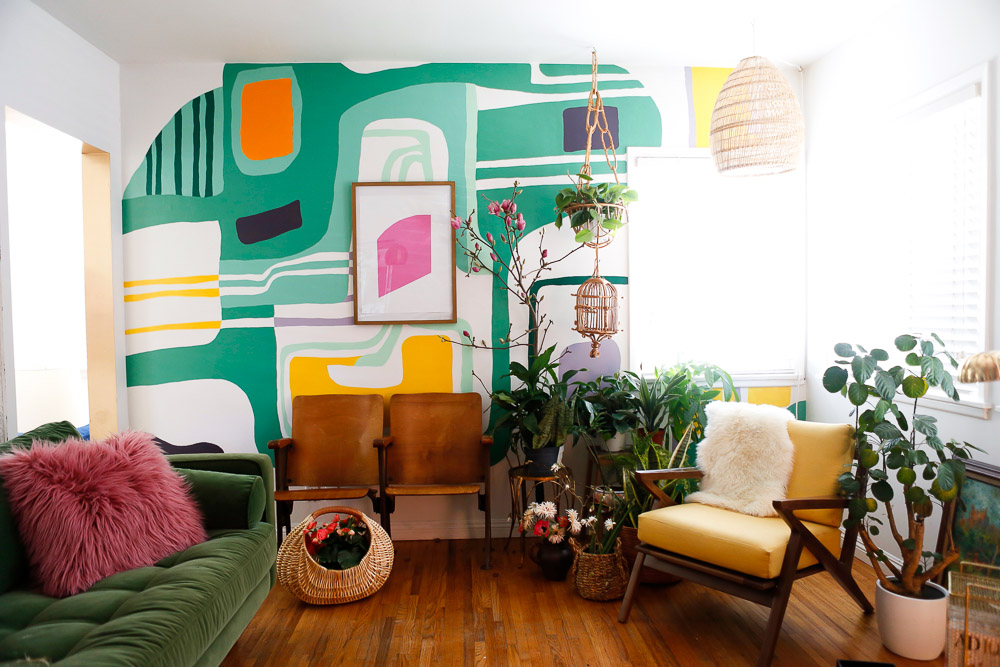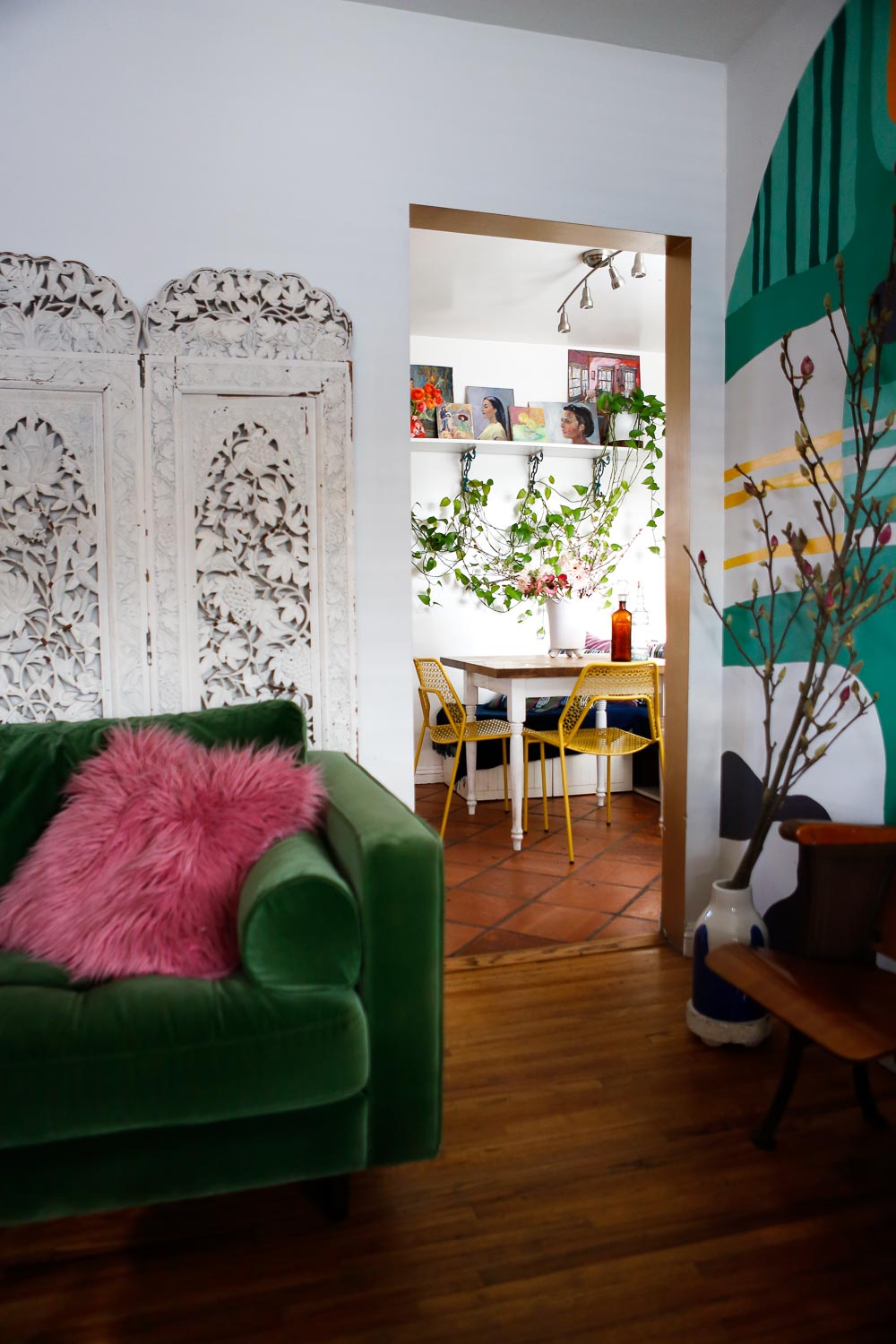 The view to our kitchen. I love how bright it looks.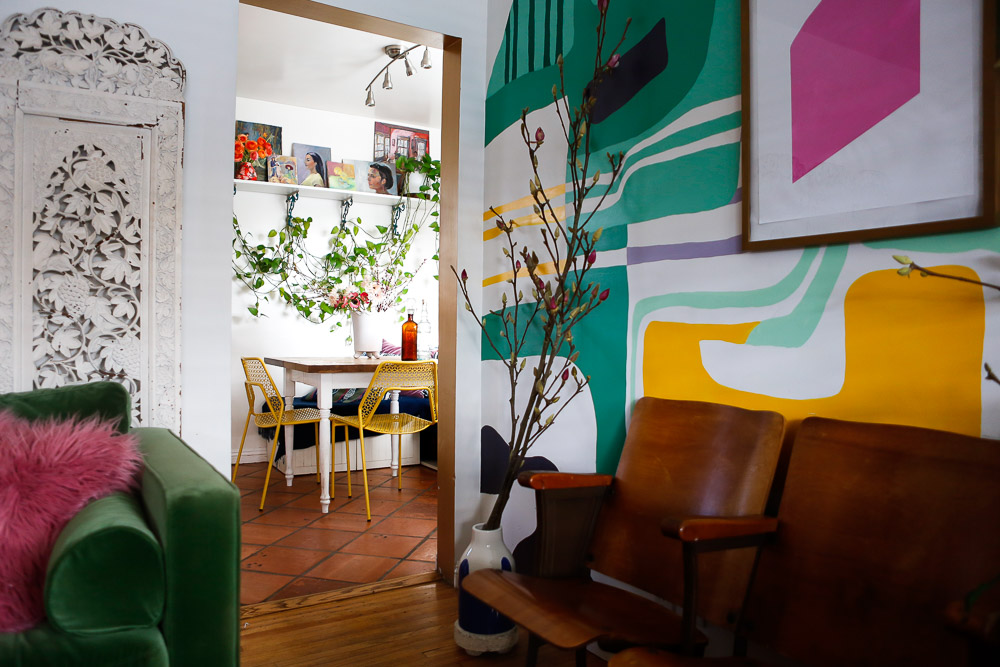 The theater chairs were a Craiglist find from my husband. The blue vase is from Target. Purple, fluffy pillows are also from Target.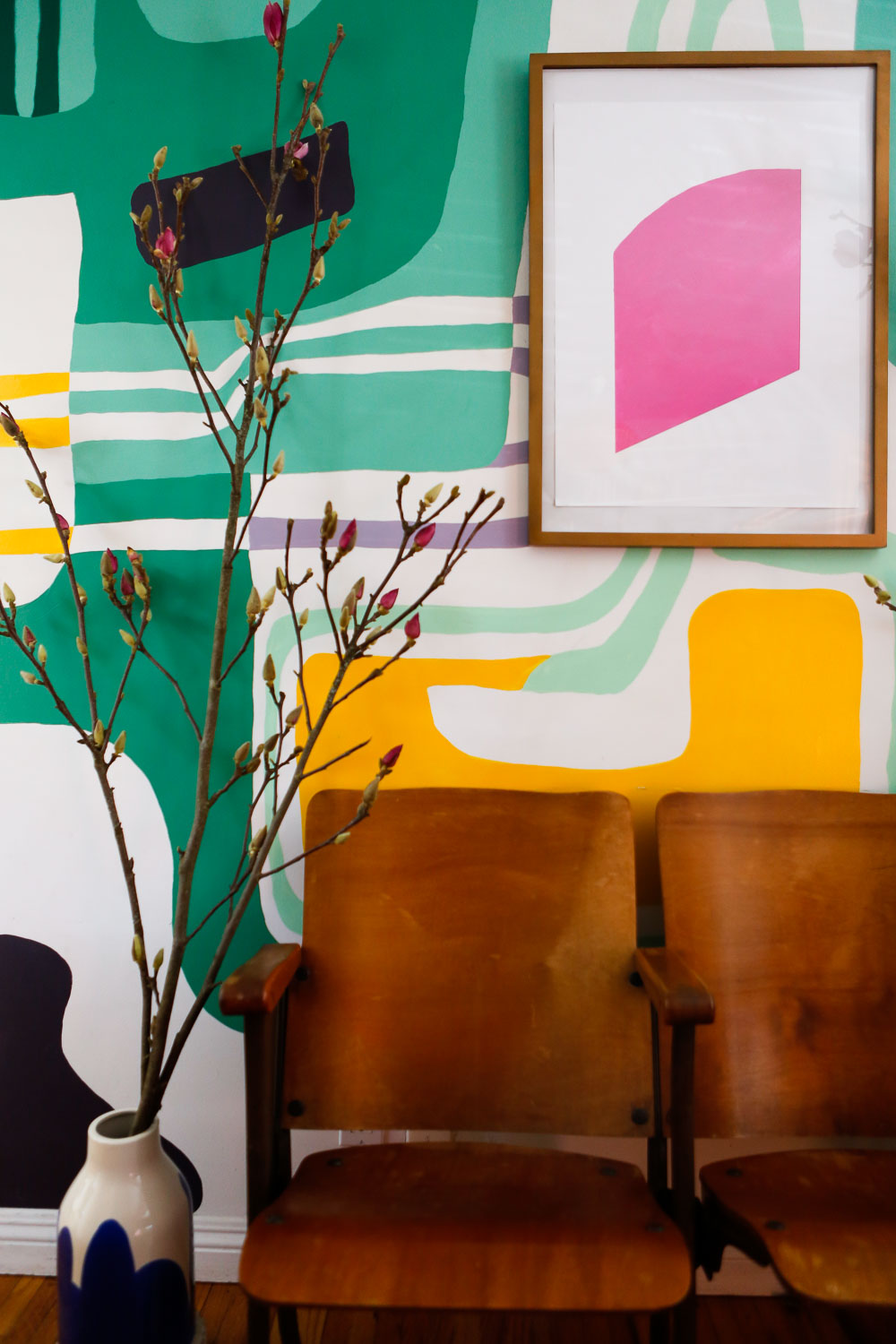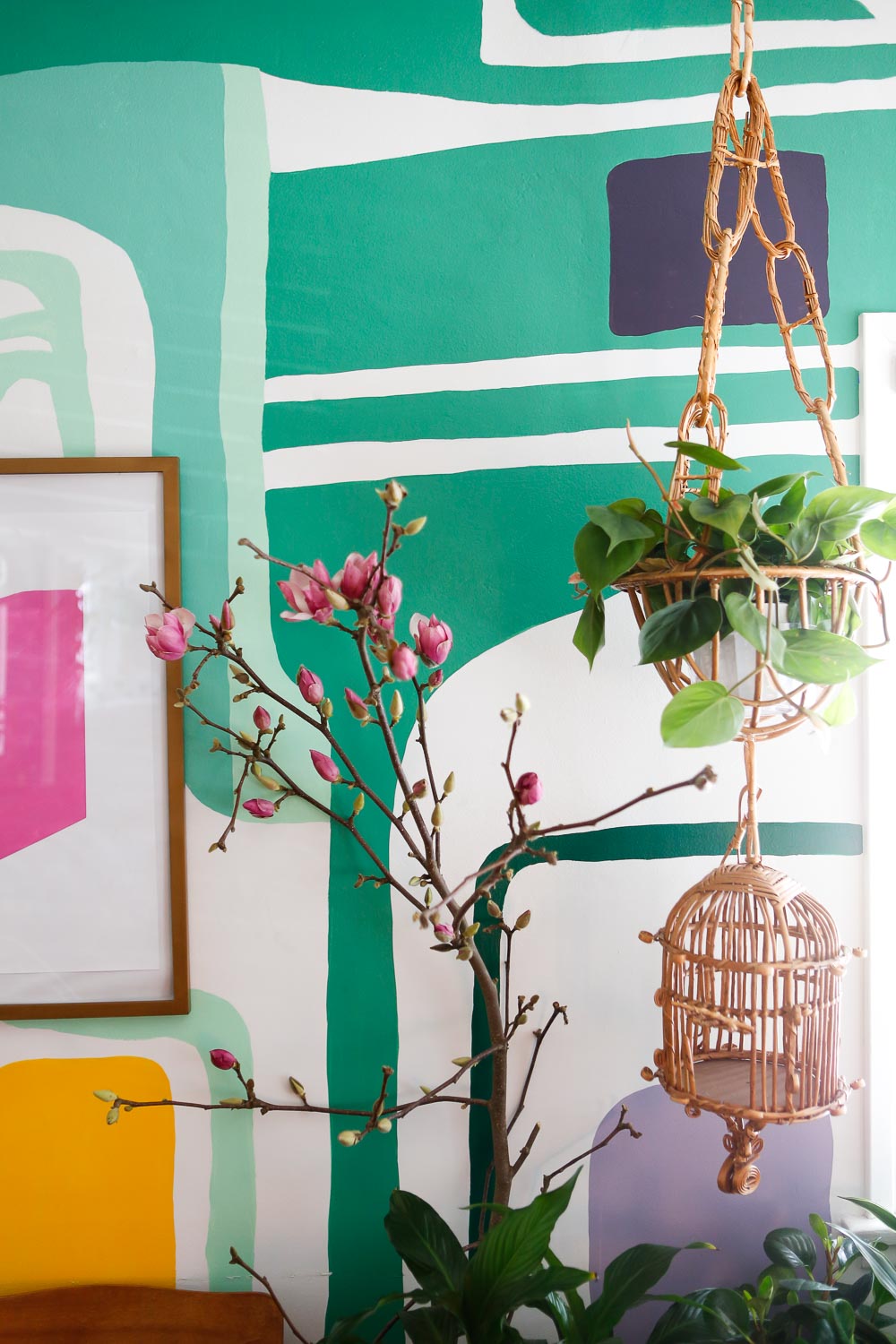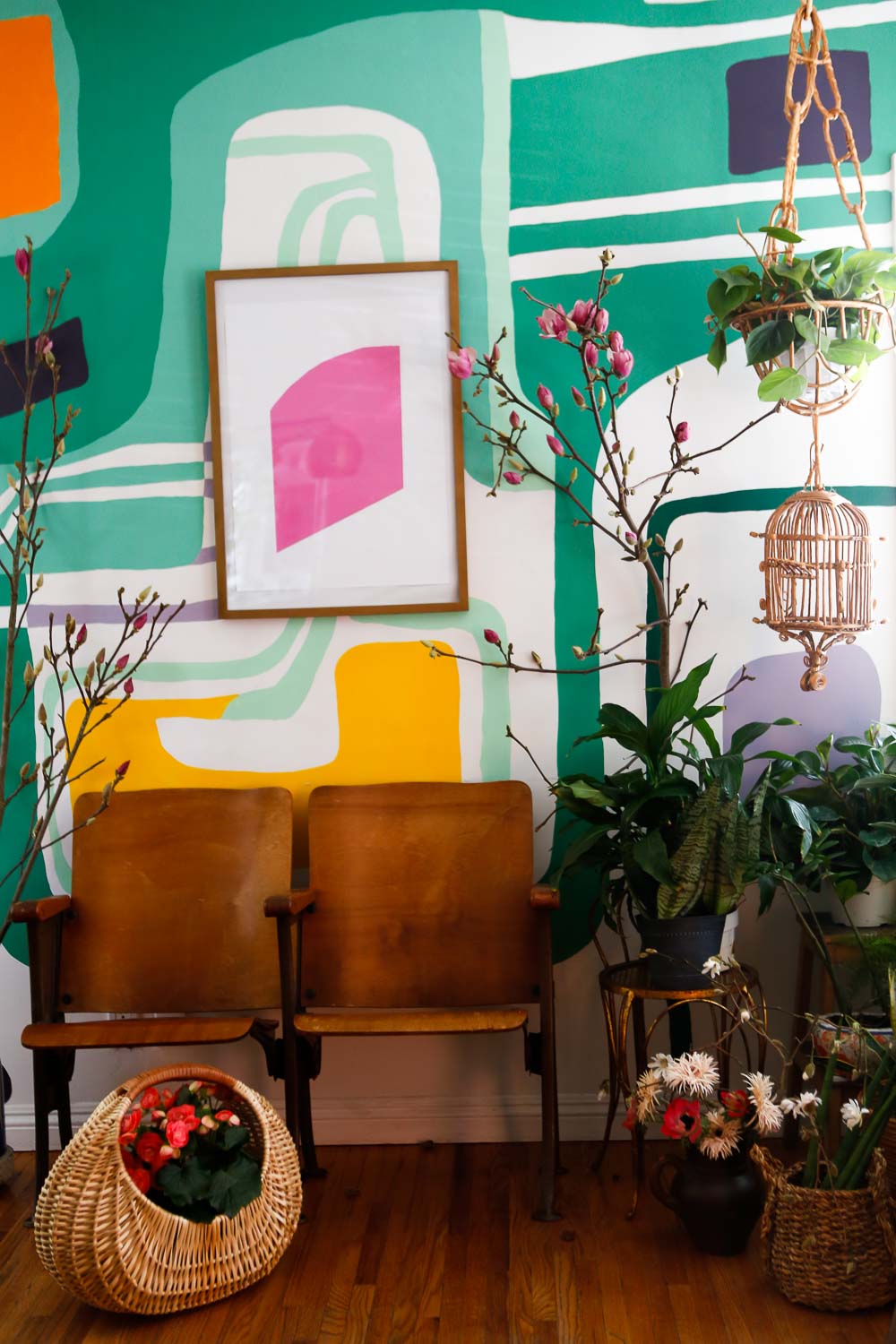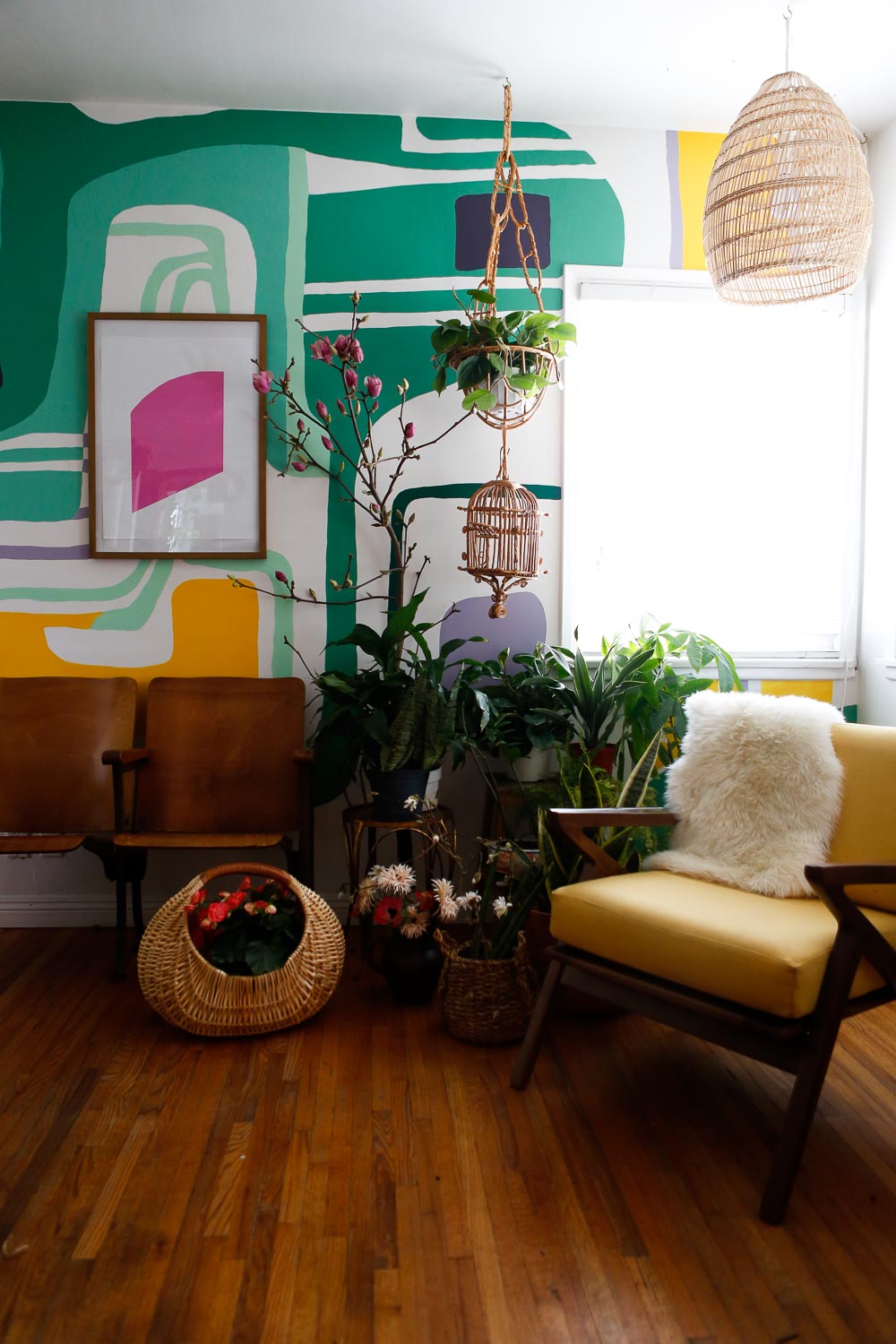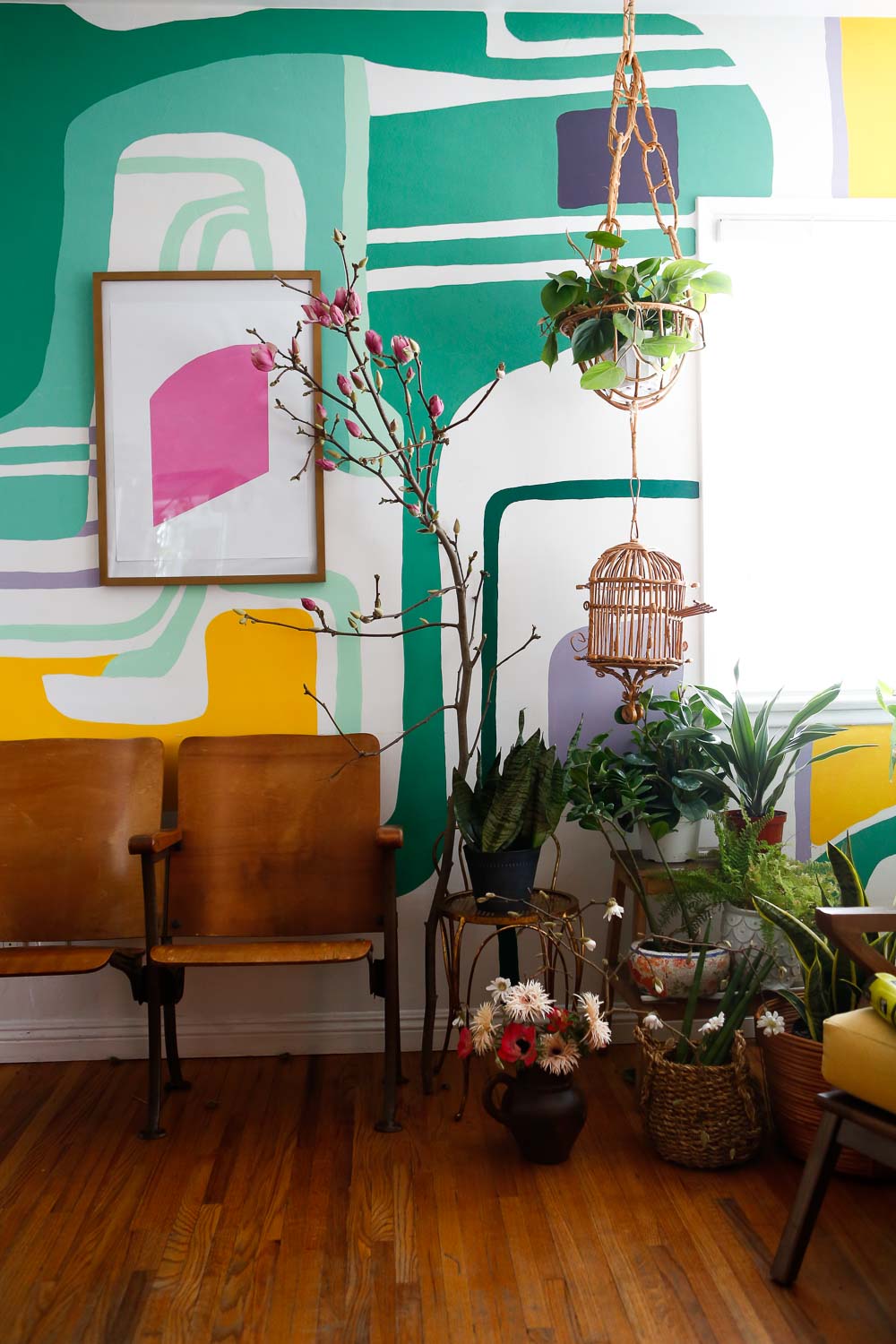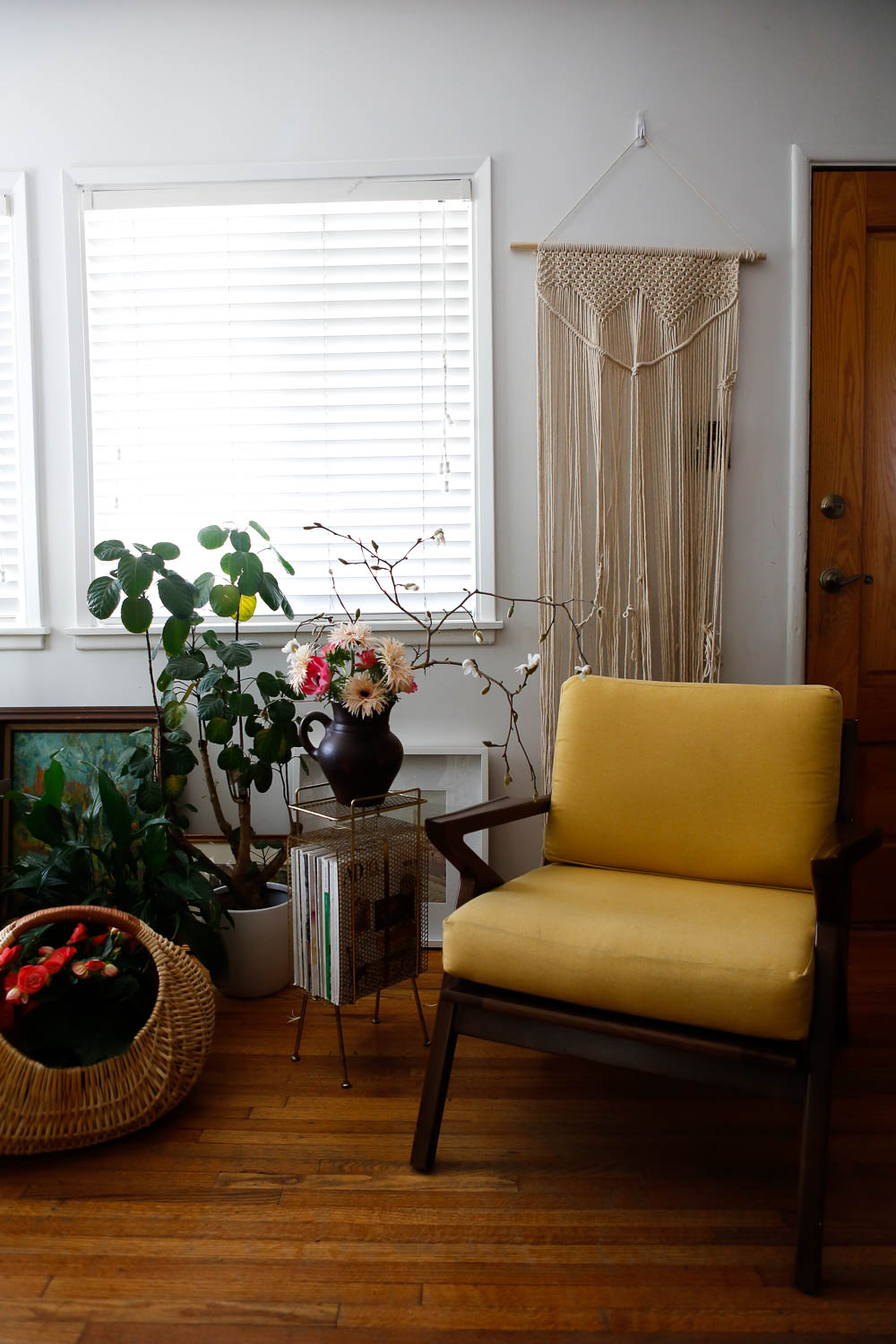 I need to finish that macramé! I just need more time. A lot more time.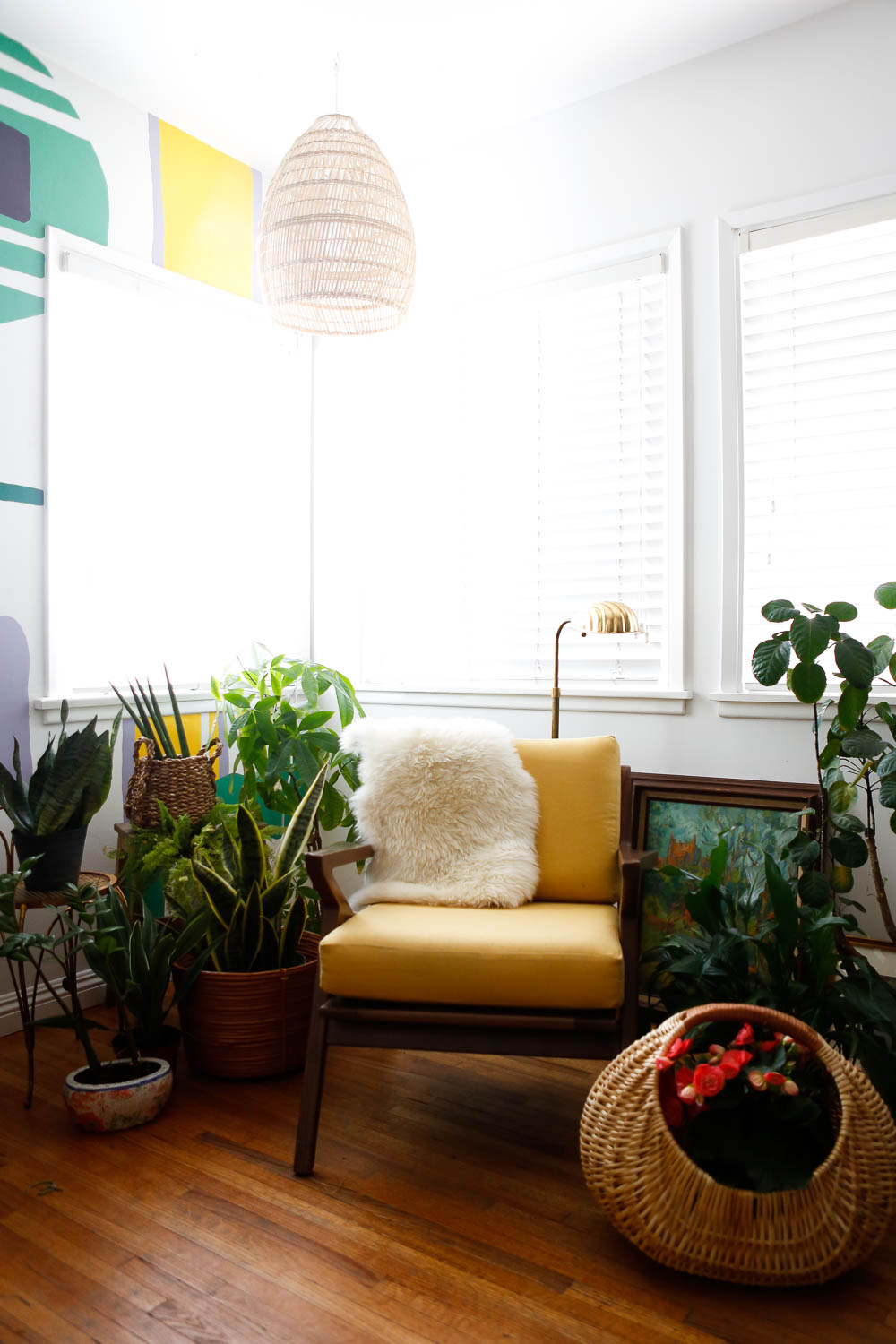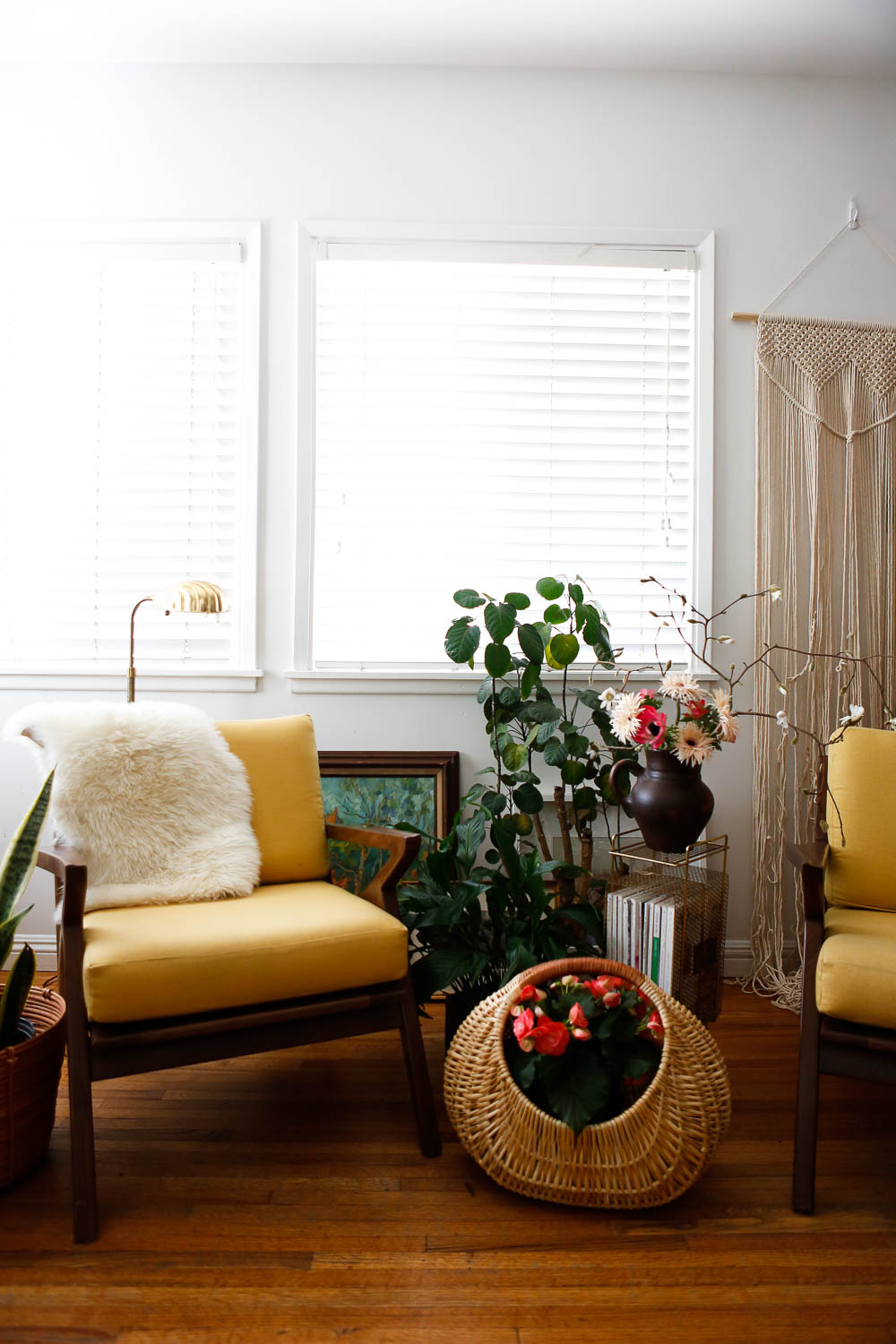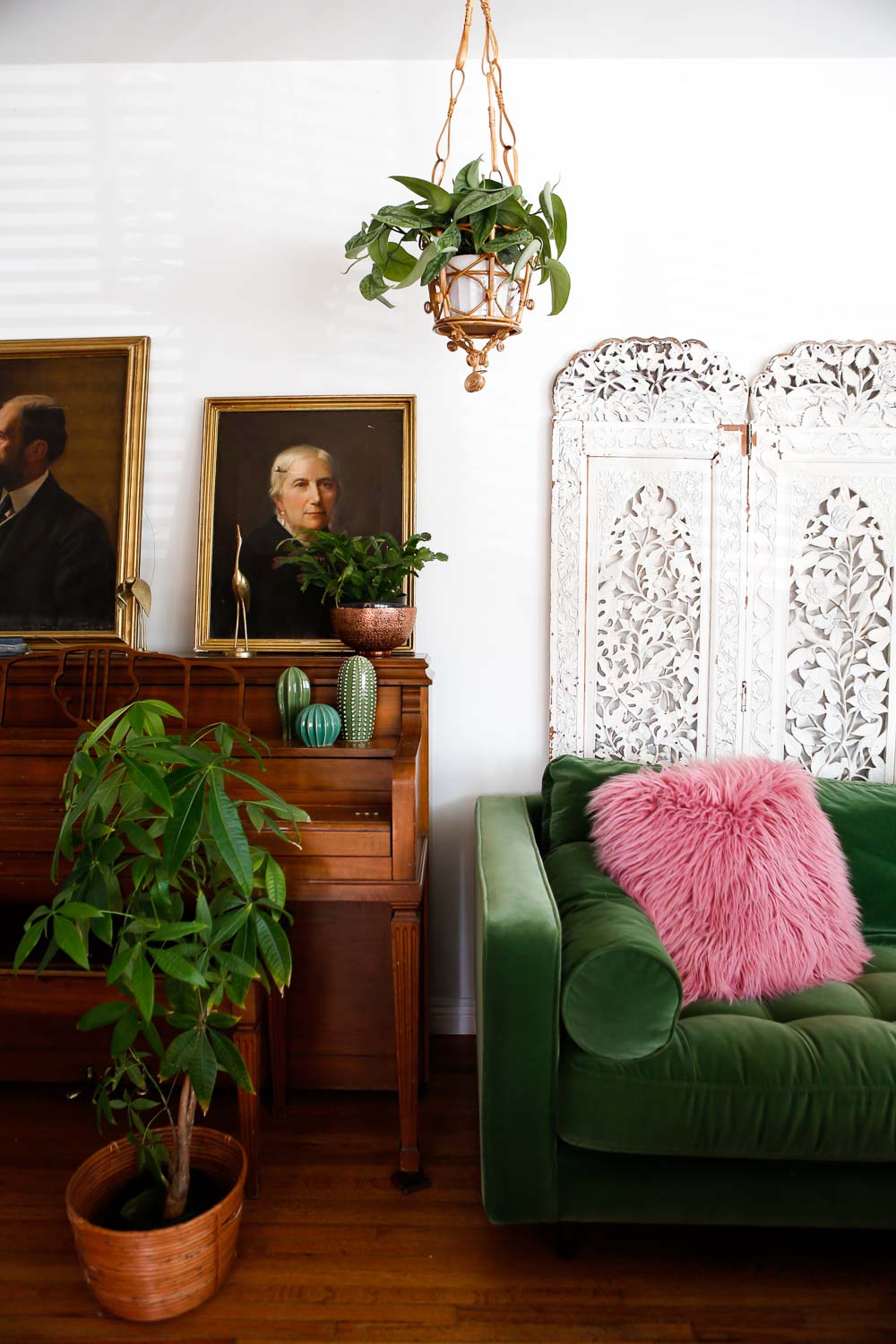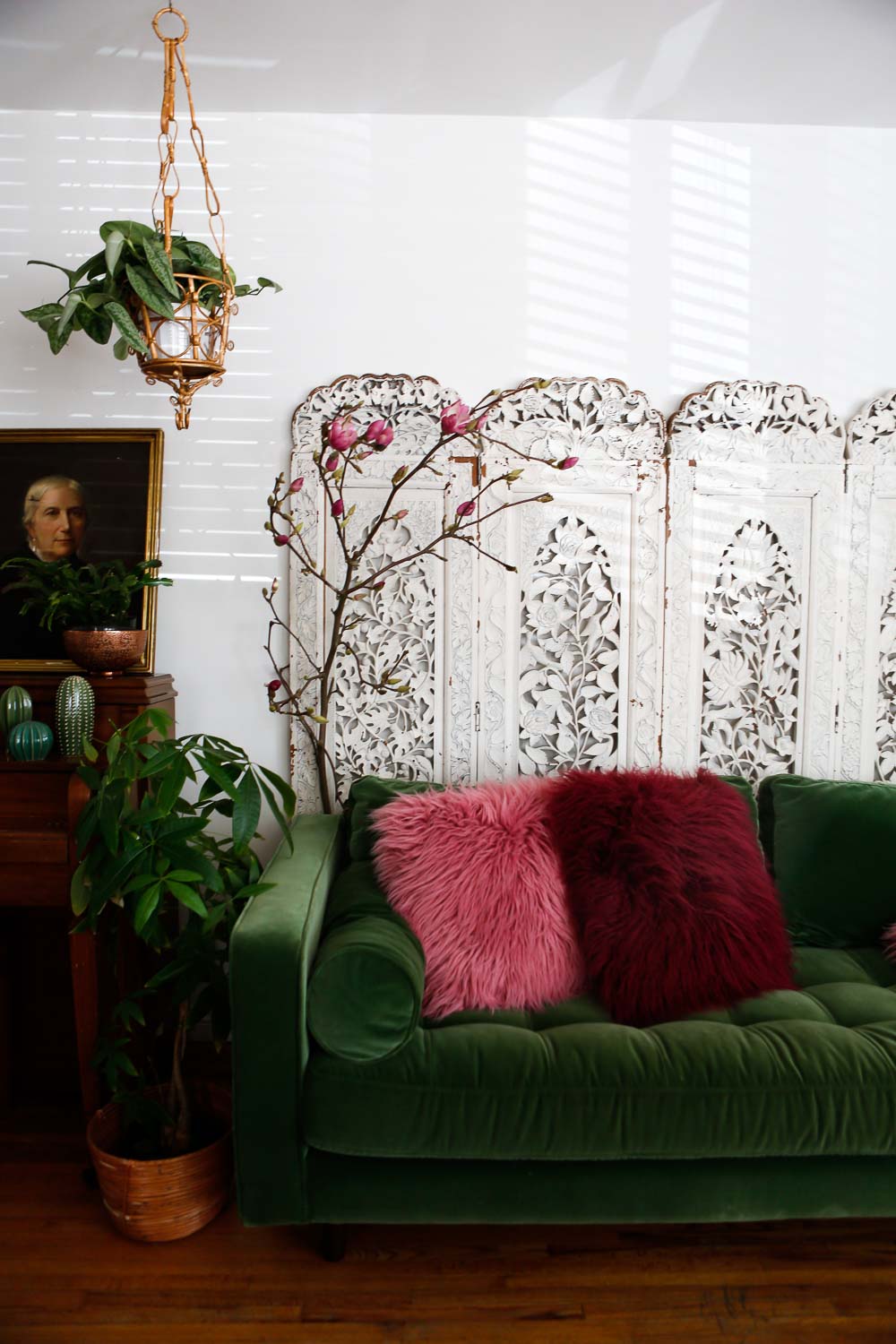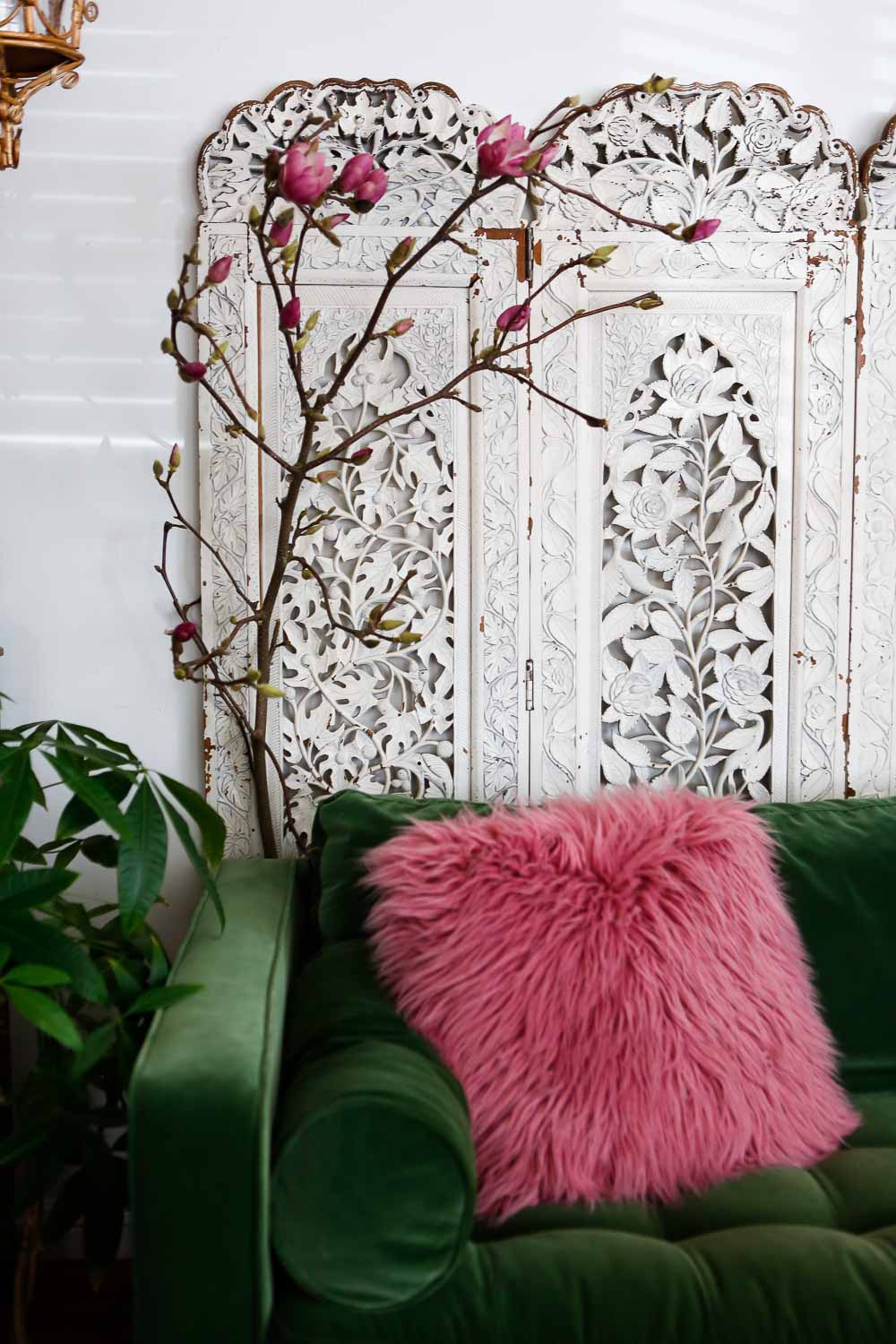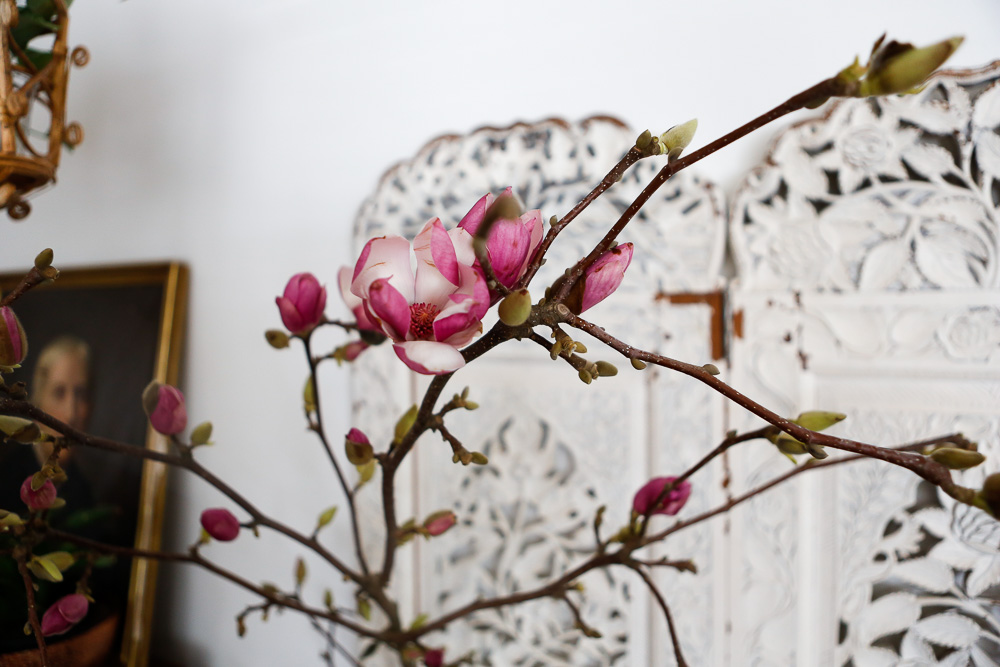 KITCHEN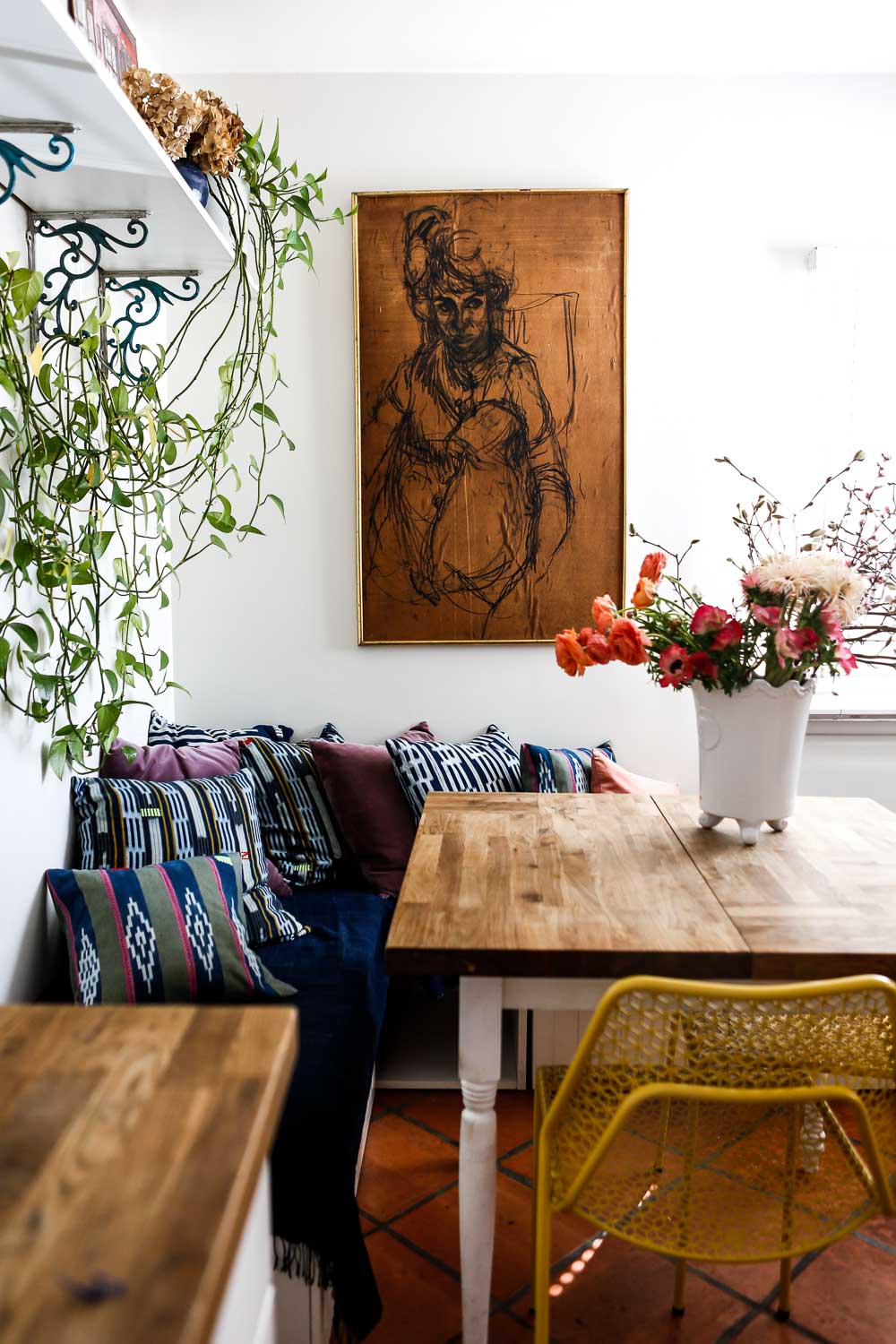 This beautiful painting was a thrift store find. Yellow chairs are from blue dots. Fabrics are from the Rose Bowl flea market. My husband built the table.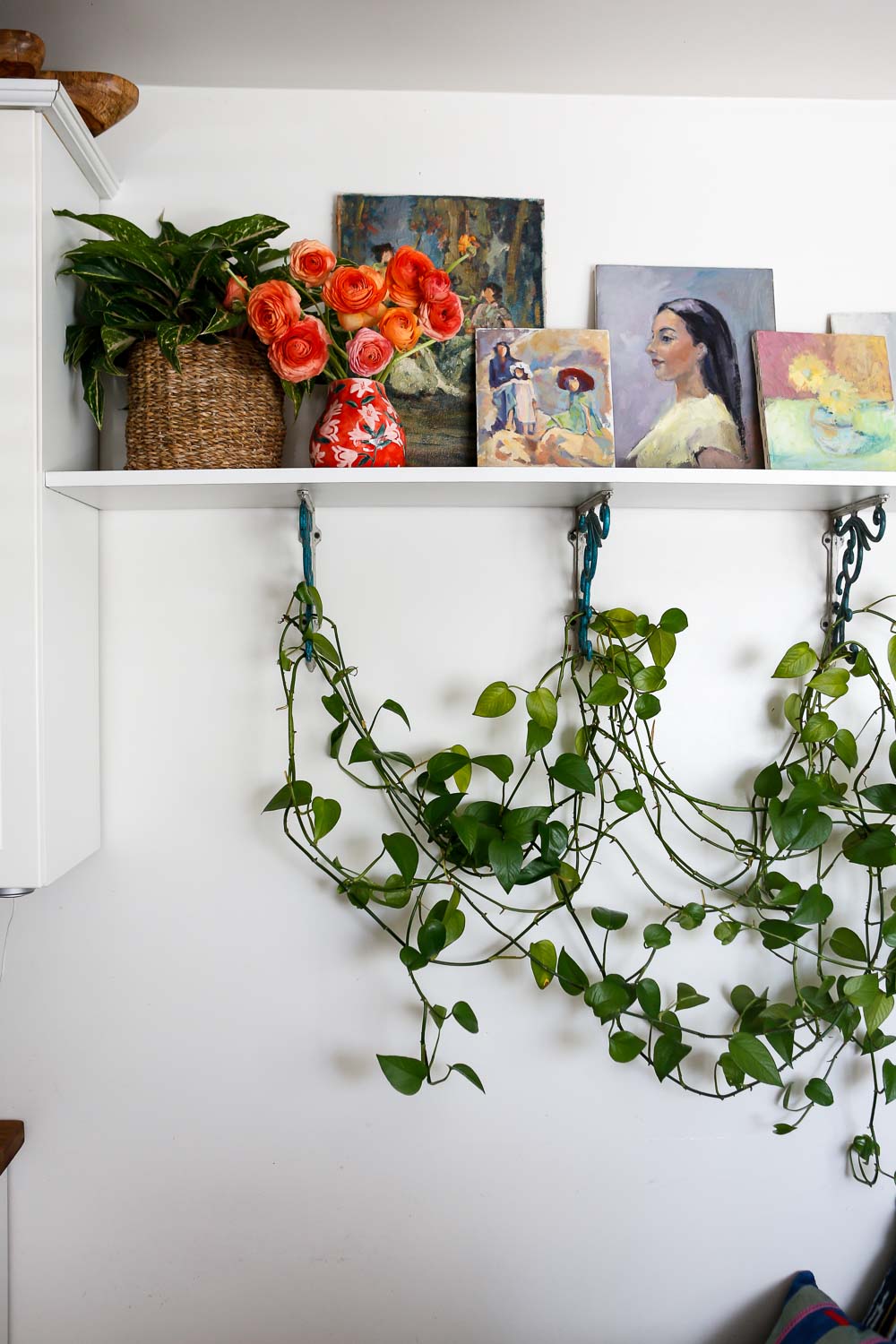 Paintings are finds I have collected throughout the years. The flower vase and shelf brackets are from Anthropologie.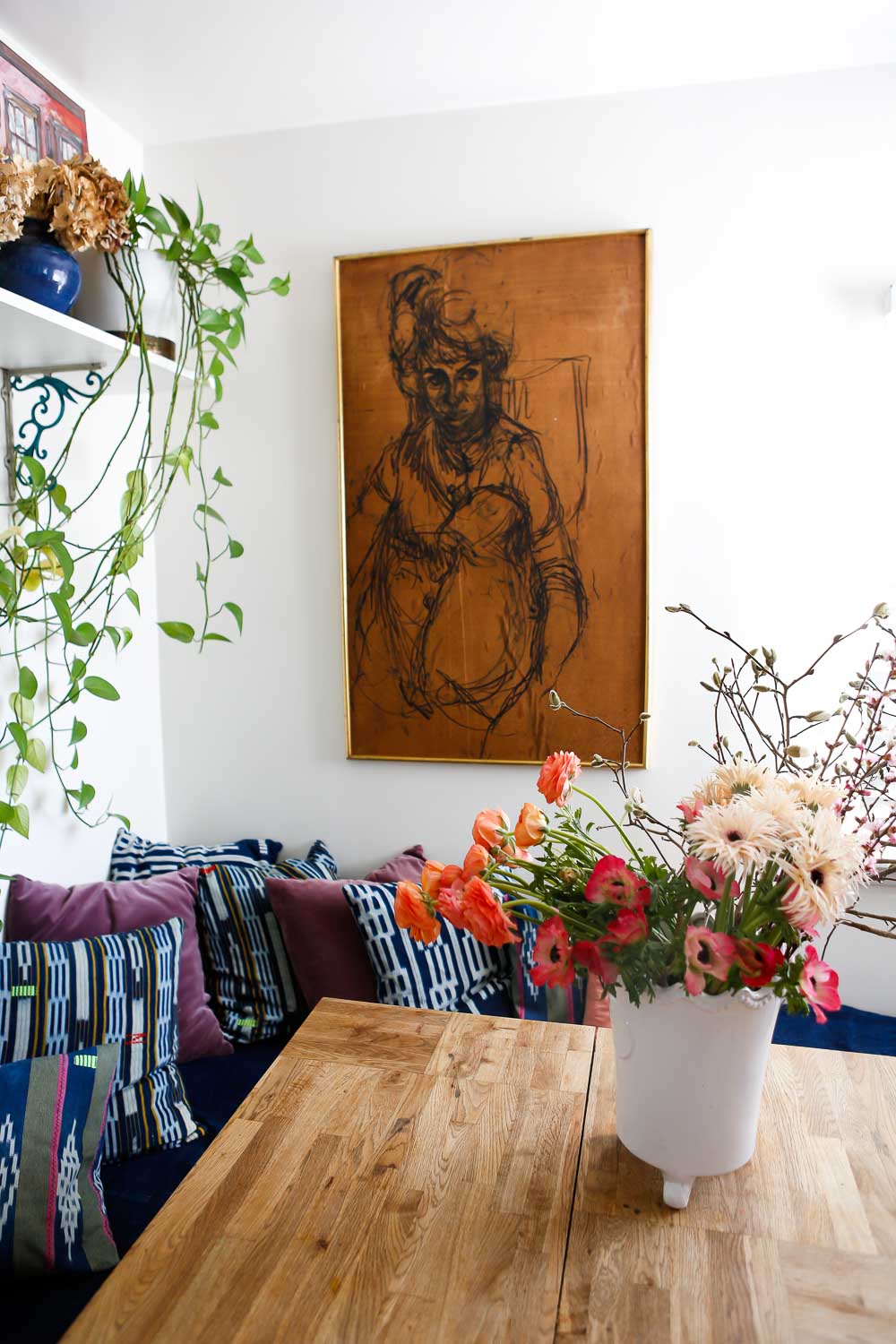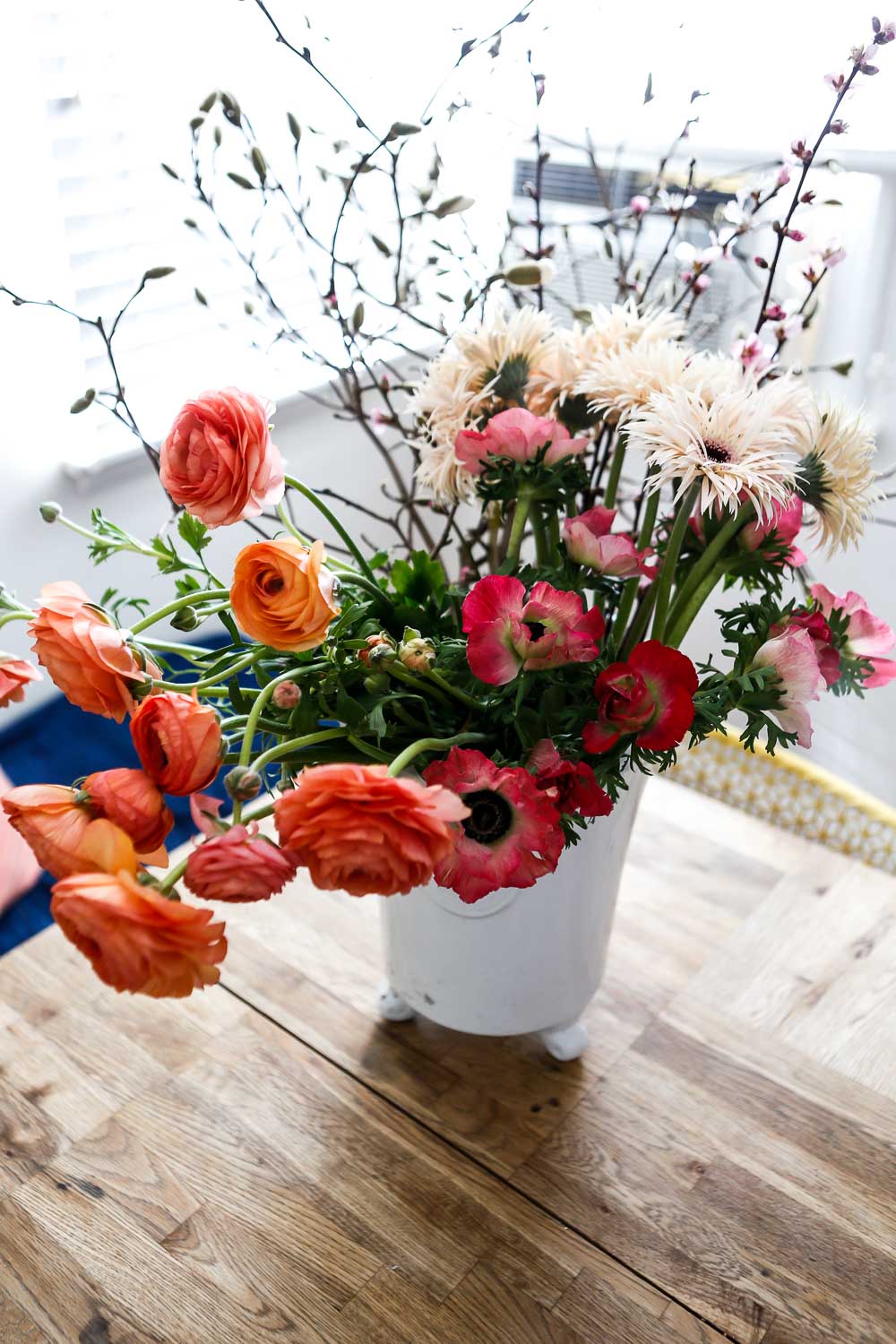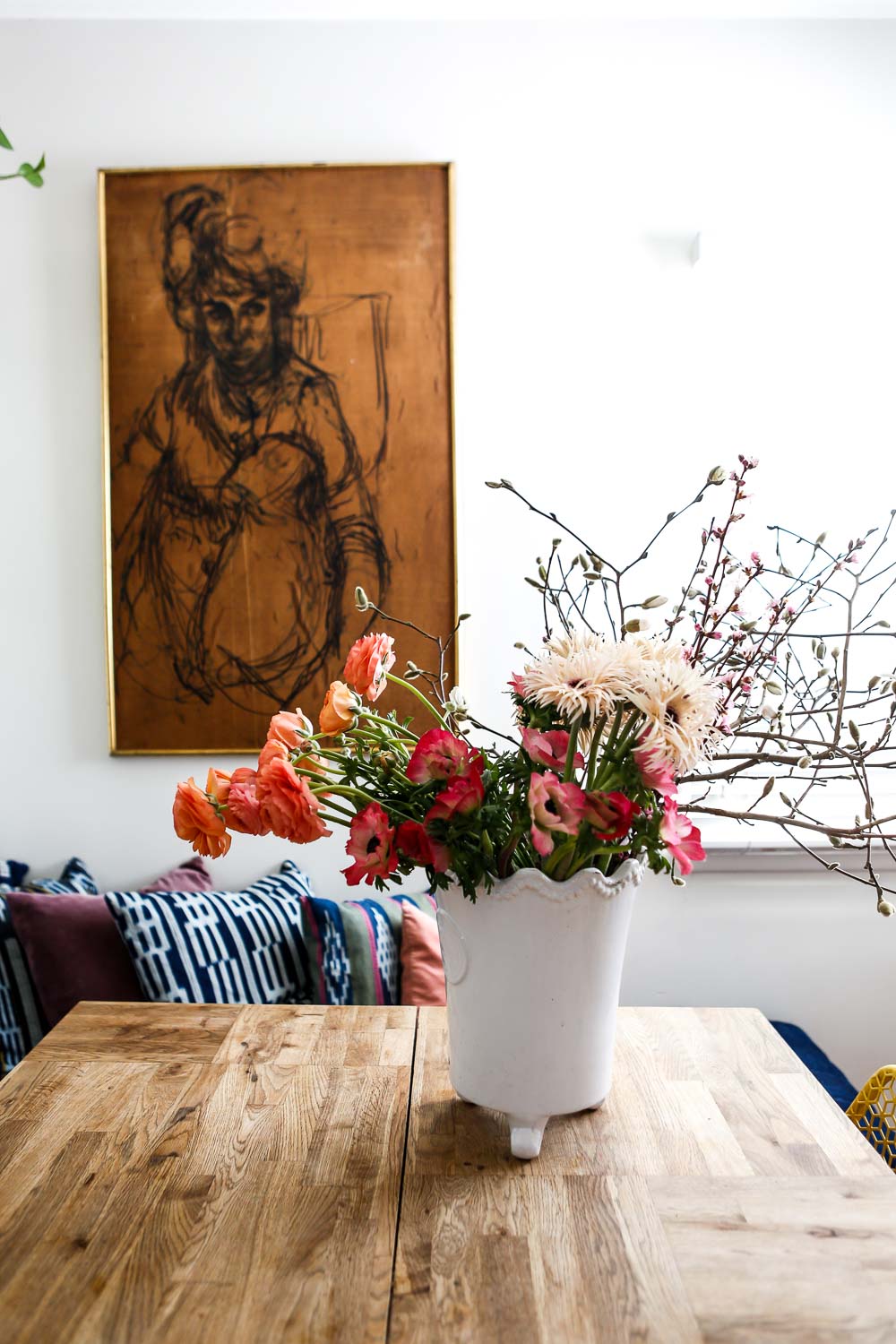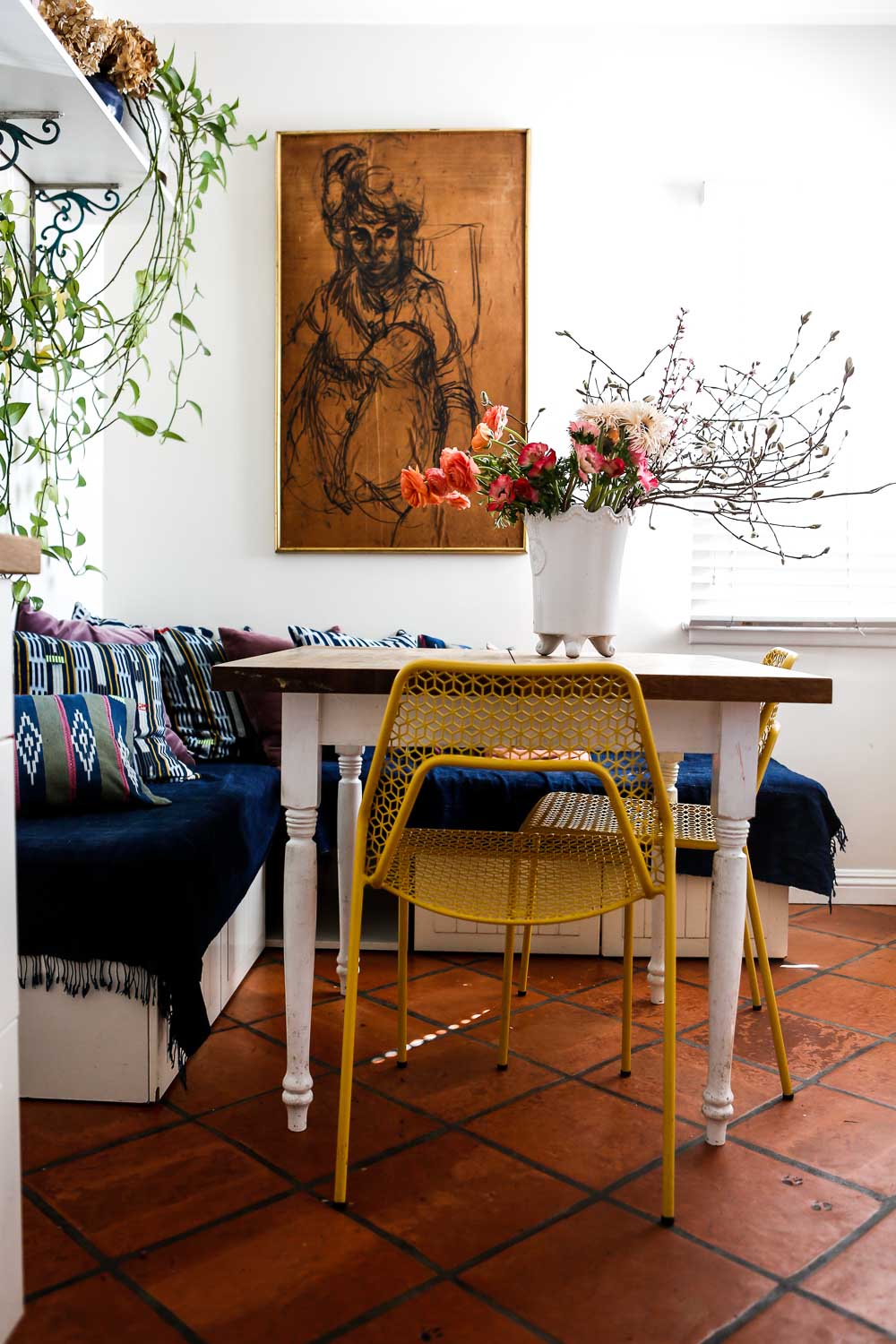 HALLWAY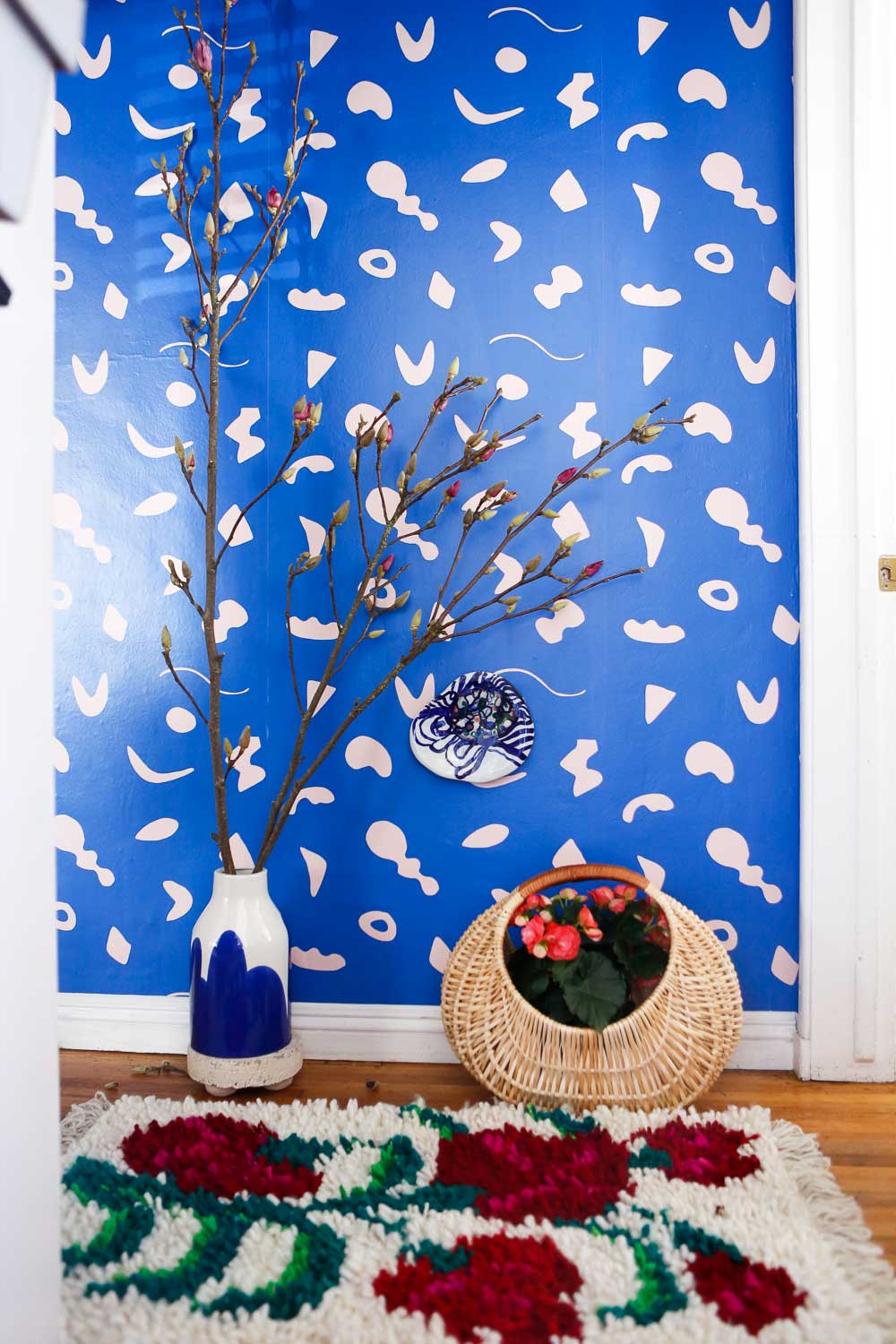 The wallpaper is from Etsy. The ceramic is from the talented artist Katy Krantz. Wicker basket and rug are from Chile, they will be available in my shop very soon!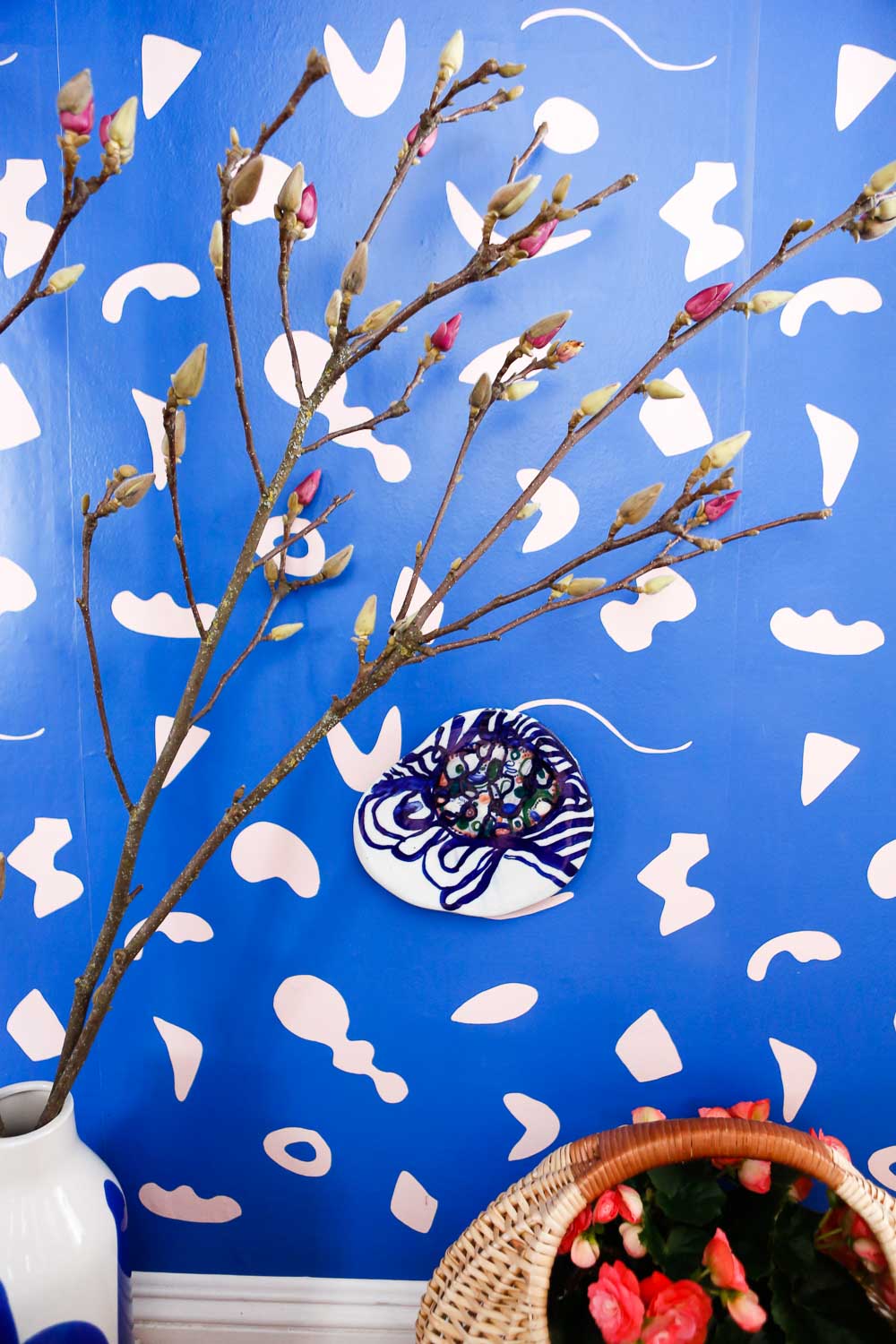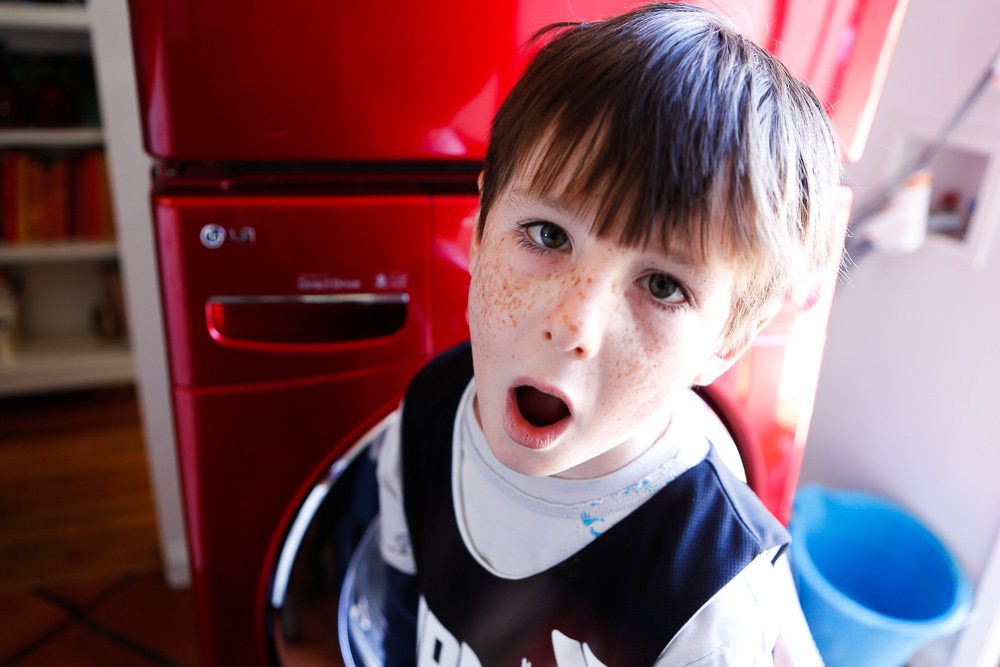 These kids are not for sale but they sure are cute.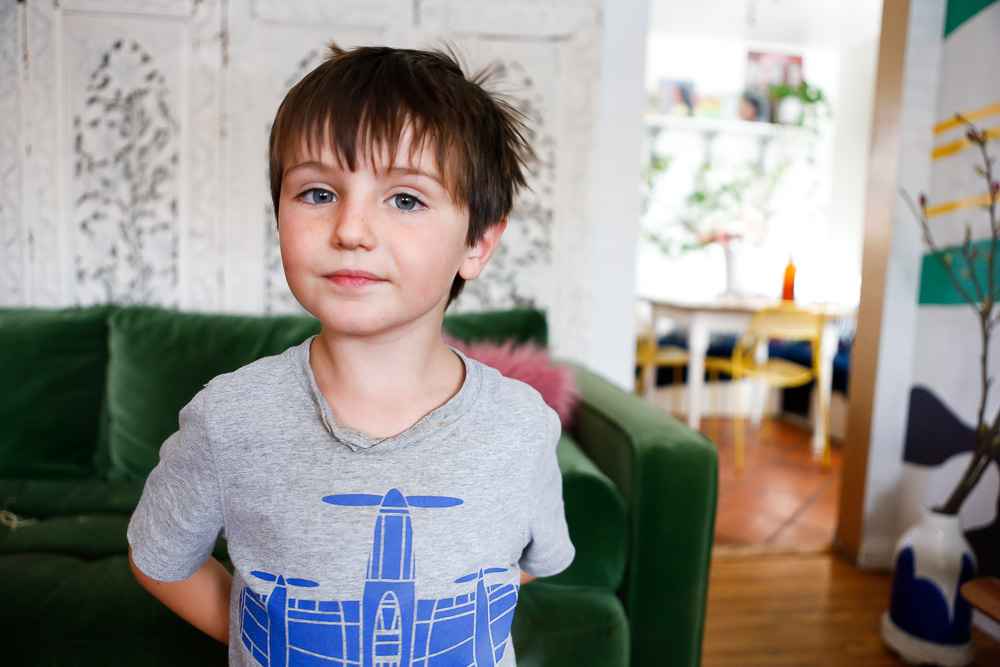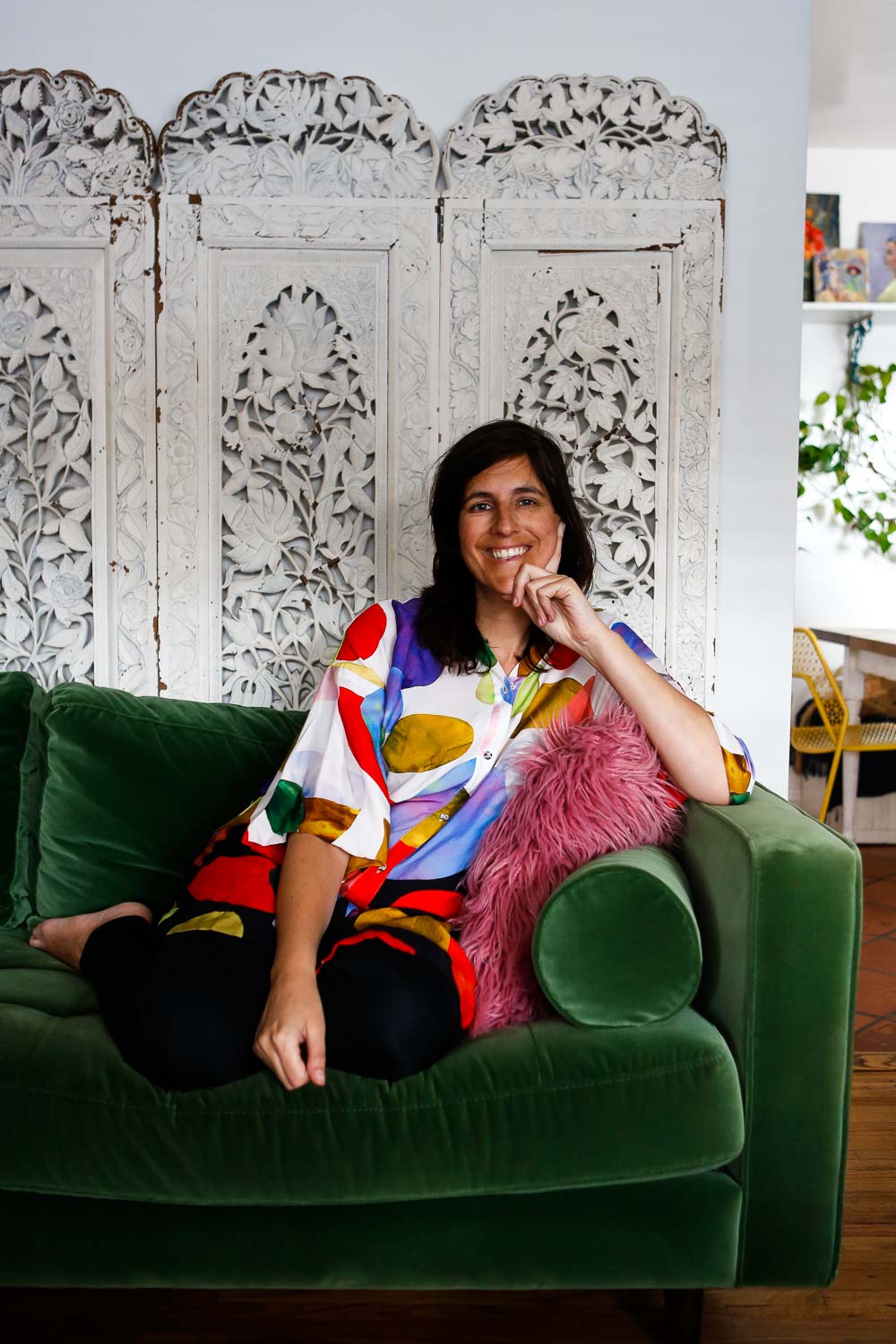 Here is a photo of myself to prove that I am alive and pregnant, in case you didn't believe me.
Now, for a continuous tour of wonderful Spring homes, head to the blog of my wonderful friend Maggie Overby Studios. 
Thanks for stopping by!
2018 Spring Home Tour Bloggers
https://jestcafe.com/wp-content/uploads/2018/03/Spring-Home-Tour-33.jpg
1500
1000
Mila
https://jestcafe.com/wp-content/uploads/2017/08/Jest-Cafe-about-design.jpg
Mila
2018-03-05 03:00:38
2018-04-23 21:36:38
Spring Home Tour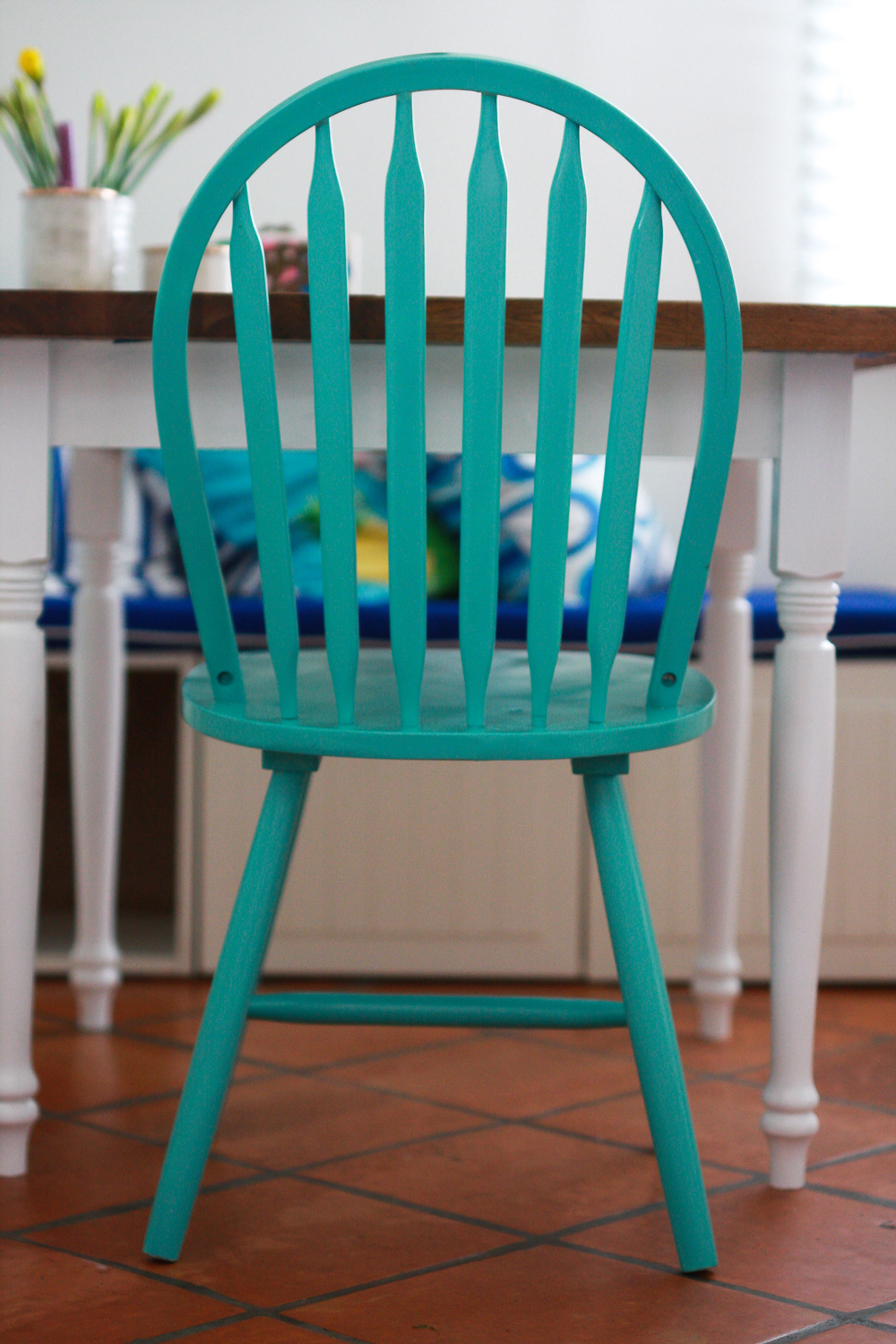 This post contains affiliate links. If you purchase an item through one of the links, I may receive a small percentage of that sale.  Thank you for making Jest Cafe possible.
I was driving back home a couple of weeks ago when I found this beauty on my neighbor's front yard: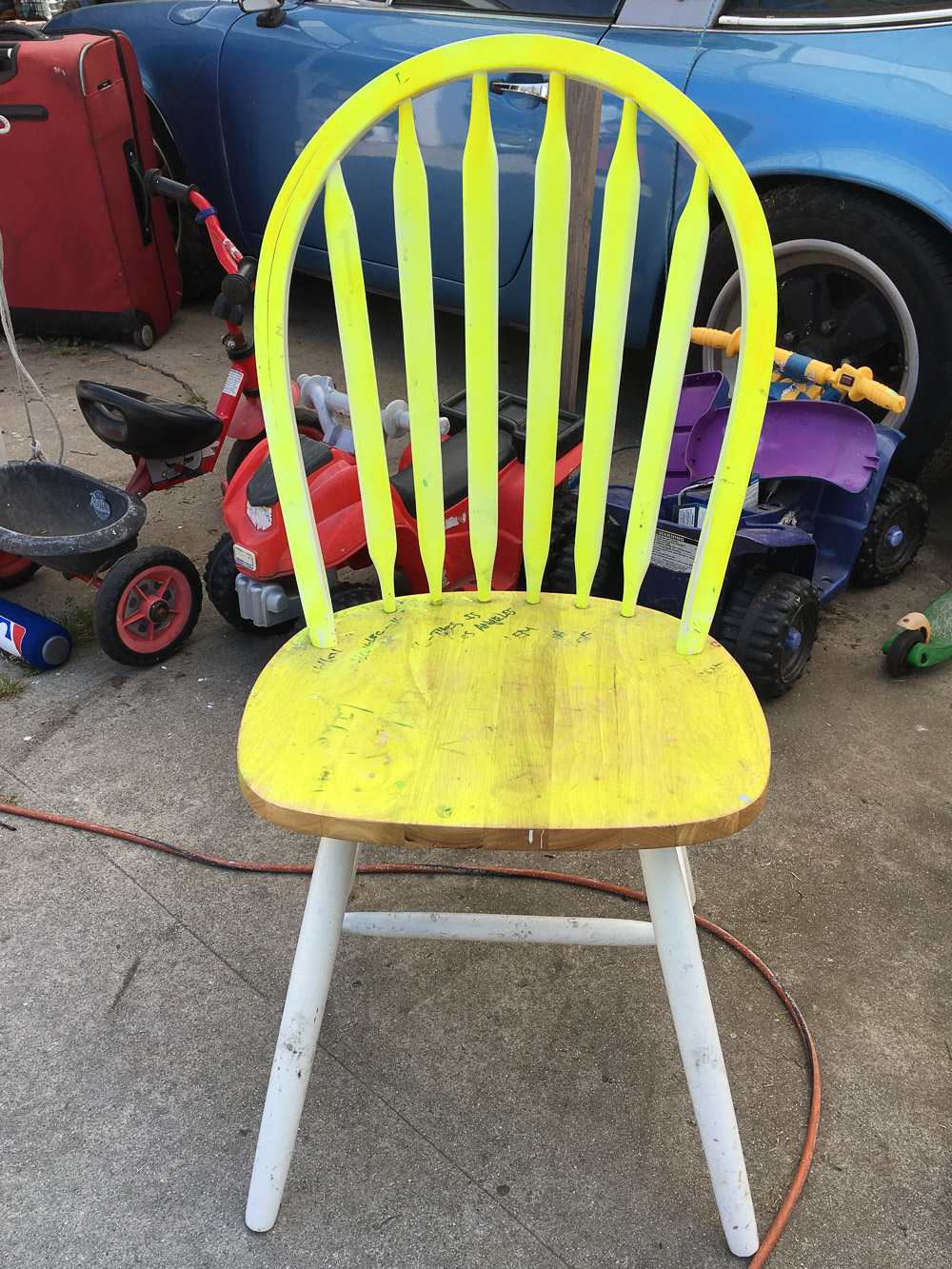 She was standing alone  and sad so I snatched her. I have been looking for new chairs for my dining room for a while so I thought, why not?
These kind of chairs are not expensive. You can find them on Amazon for $85
a pair, free shipping with Prime.  In any case, I am always trying to find cheap/free stuff with beauty potential so I grabbed it and fixed it up.
Painting a wooden chair is relatively easy, but there are some important tips you can follow if you want it to look "fancy."
The first tip is to keep kids under 6 away from this project. Kids are no good when it comes to paint and furniture. No matter what they promise, no matter what you say, they will ruin your work as soon as you turn your back on them (or is it only my kids?). Also, spray paint is pretty toxic, which gives you another great excuse to keep them far, far away from this task.
The second tip for painting a chair (and any DIY project) is to have PATIENCE! Don't hurry up. Wait until you complete each task throughly. No shortcuts! Take your time, please.
Here is what you need to do for a wooden chair makeover:
How to Paint a Wooden Chair
Difficulty (1-5): 2  Time: 2 hours + 2 days to dry  Cost: $10
Materials:
Chair
Sand paper – Medium grit
Small wood block to wrap sand paper around (I used a 2″ x 4″). I also had a sand paper block but you don't need it
1 can of glossy spray paint in whatever color you want – I used Malachite color from the Montana gold brand. If you can't find the color you want in glossy finish, buy a glossy clear spray paint to apply afterwards
Big rug or plastic – to put under the chair when painting
Dust mask – Optional. It will keep you from inhaling a lot of the toxic paint fumes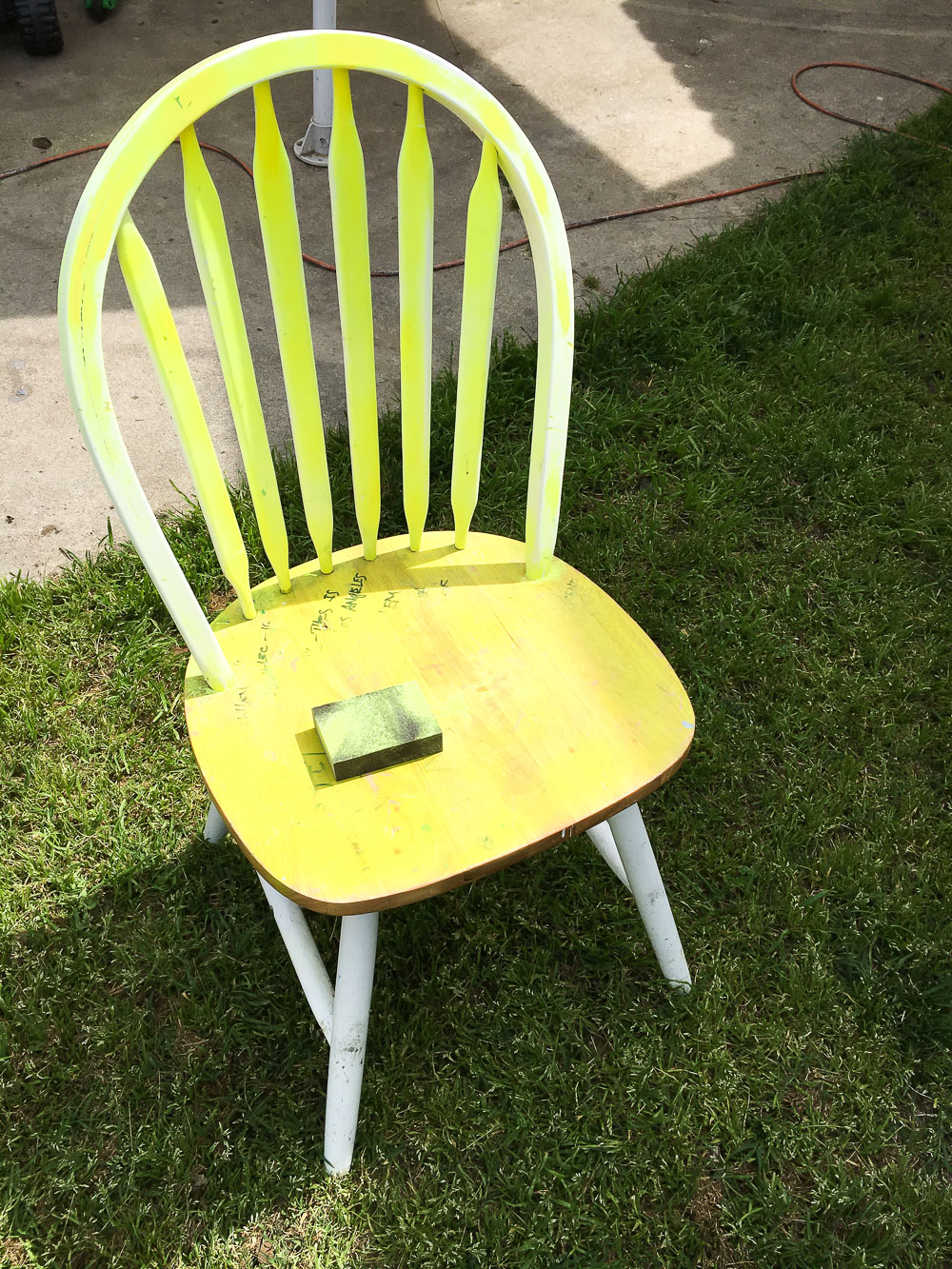 Instructions
1) Sand the chair. Sandpaper comes in different grits based on the number of sand granules per square inch of paper. A high grit means a finer sandpaper, while a low grit means a coarser sandpaper. Medium grits, such as #120 and #150, are useful for removing old finish or scratches without damaging the wood. I used a medium grit sandpaper for this project.
Wrap the sand paper around the wood block and use it for sanding flat surfaces. This helps to sand only the imperfections that are above the surface.  Use the sandpaper alone (or sandpaper block)  when sanding curved surfaces. Sanding your chair is important because all the details that you don't easily see before sanding (like holes or bumps) will clearly show up after you paint your chair. Be patient! Pay attention to detail! Don't rush through this or you will have to come back again to sand back the imperfections that show up after a fresh and smooth coat of paint had been applied.
Rub surfaces to feel for smoothness!
This is how my chair looked after I finished sanding it: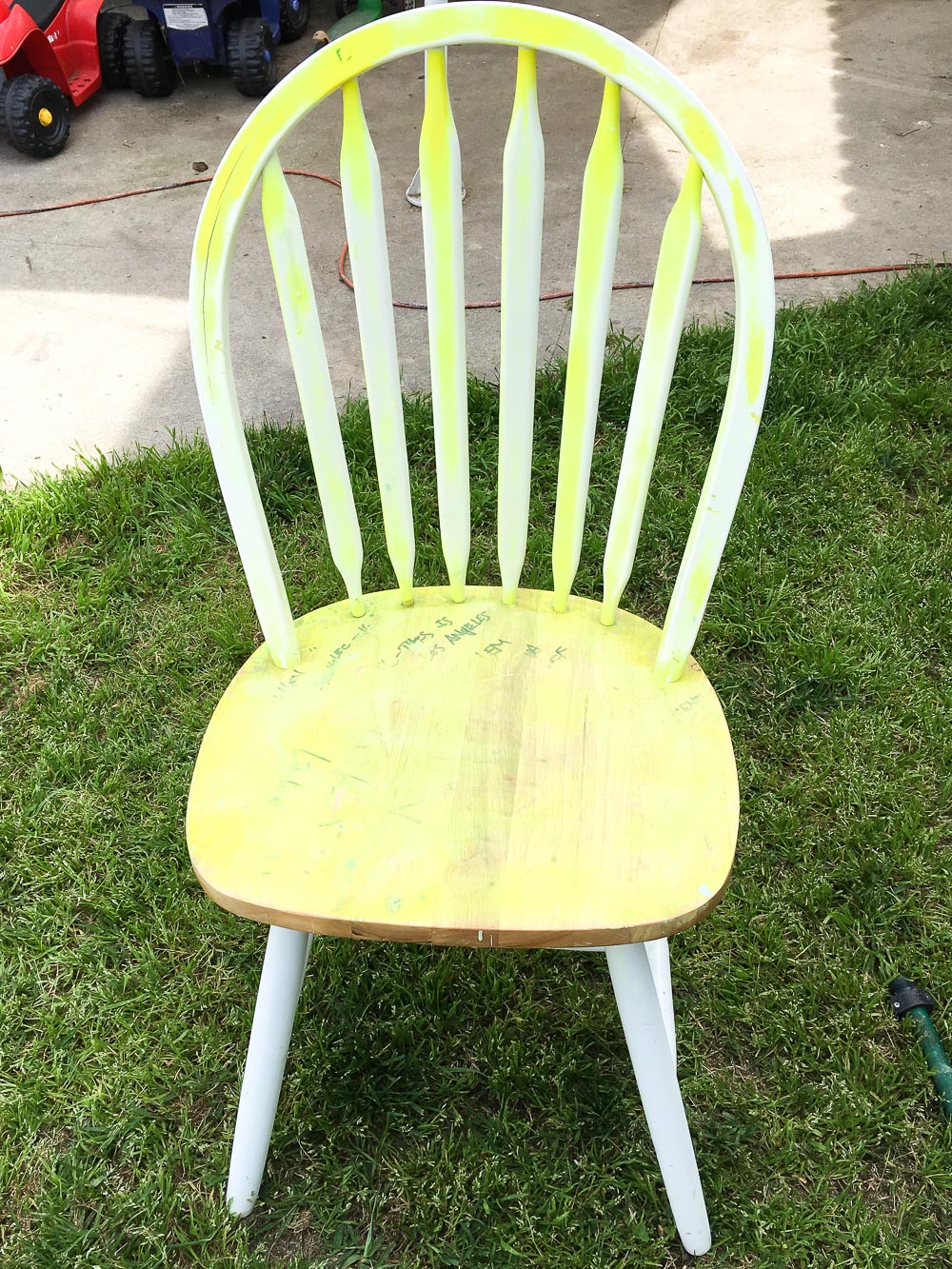 2) Wash the chair with soap and water. Wait until it is completely dry before moving on to the next step.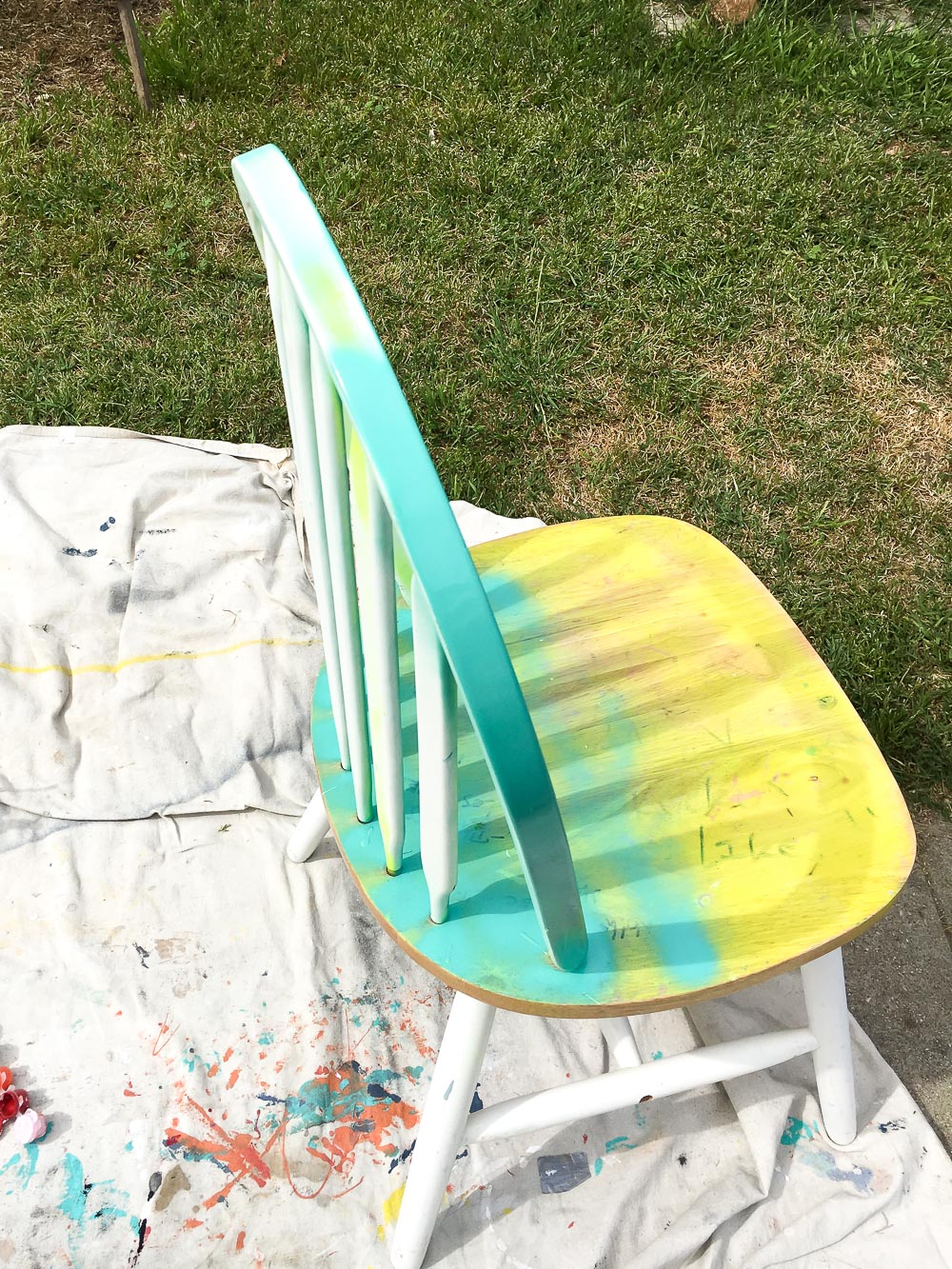 3) Start spraying. Make sure the spray can is around 8″ -10″ away from the surface you are trying to paint. Don't start spraying directly into the chair, this could create drips if you apply too much paint (see below). Start spraying by aiming away from the chair and then go into applying smooth strokes to the chair. Again, take your time with this step. You don't want to create drips with your paint like these ones: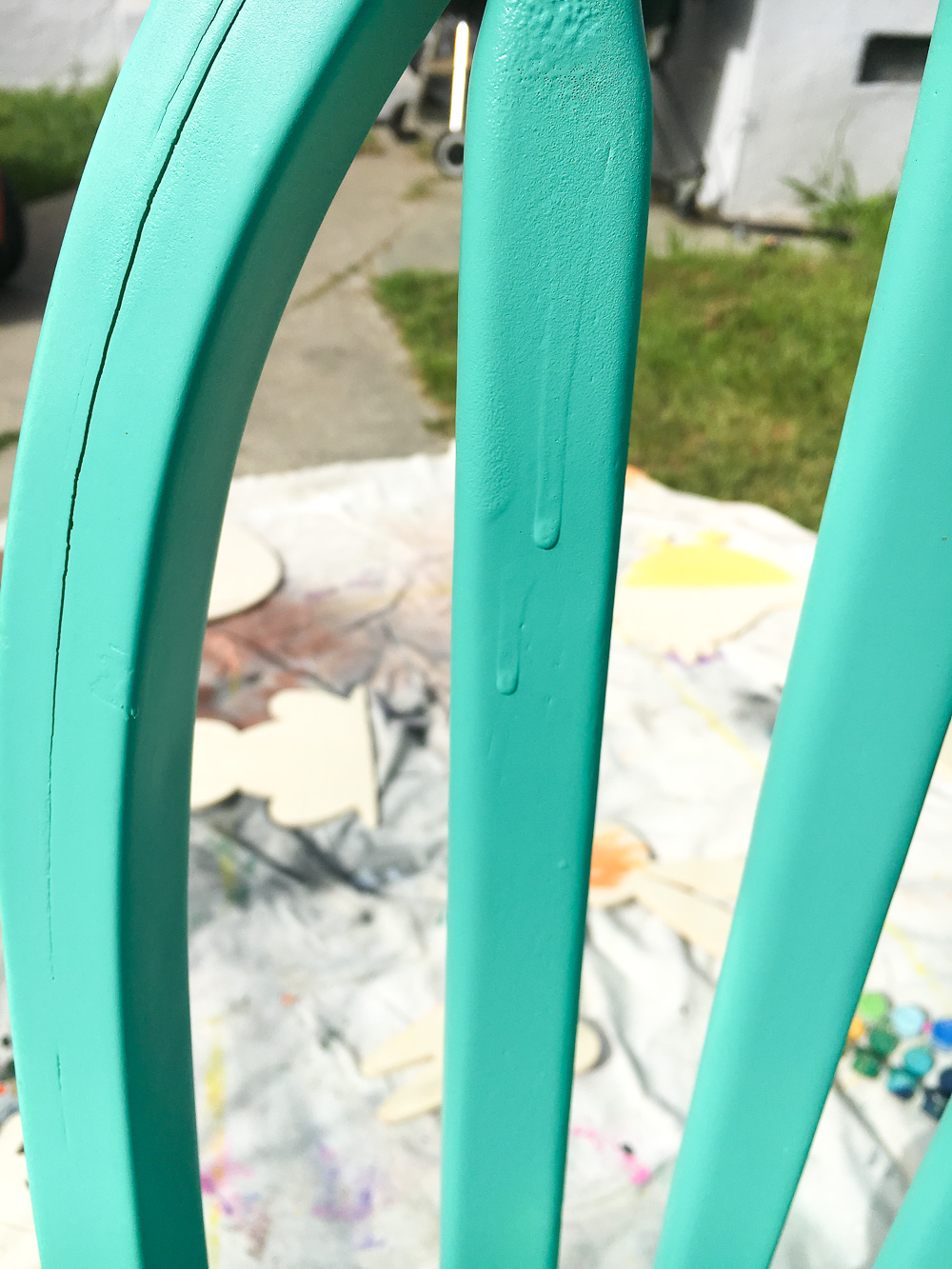 Because then you will have to sand down the imperfections all over again!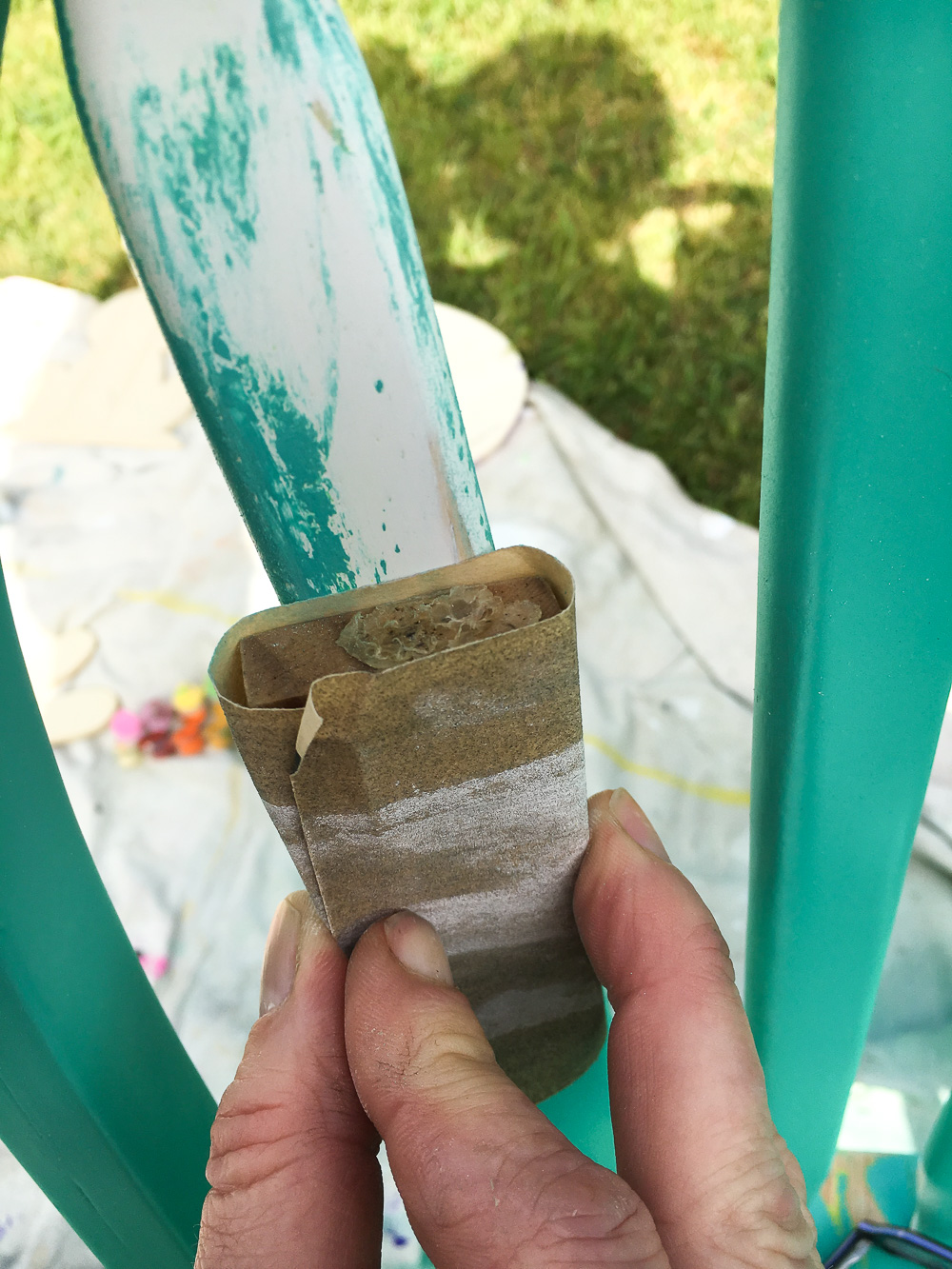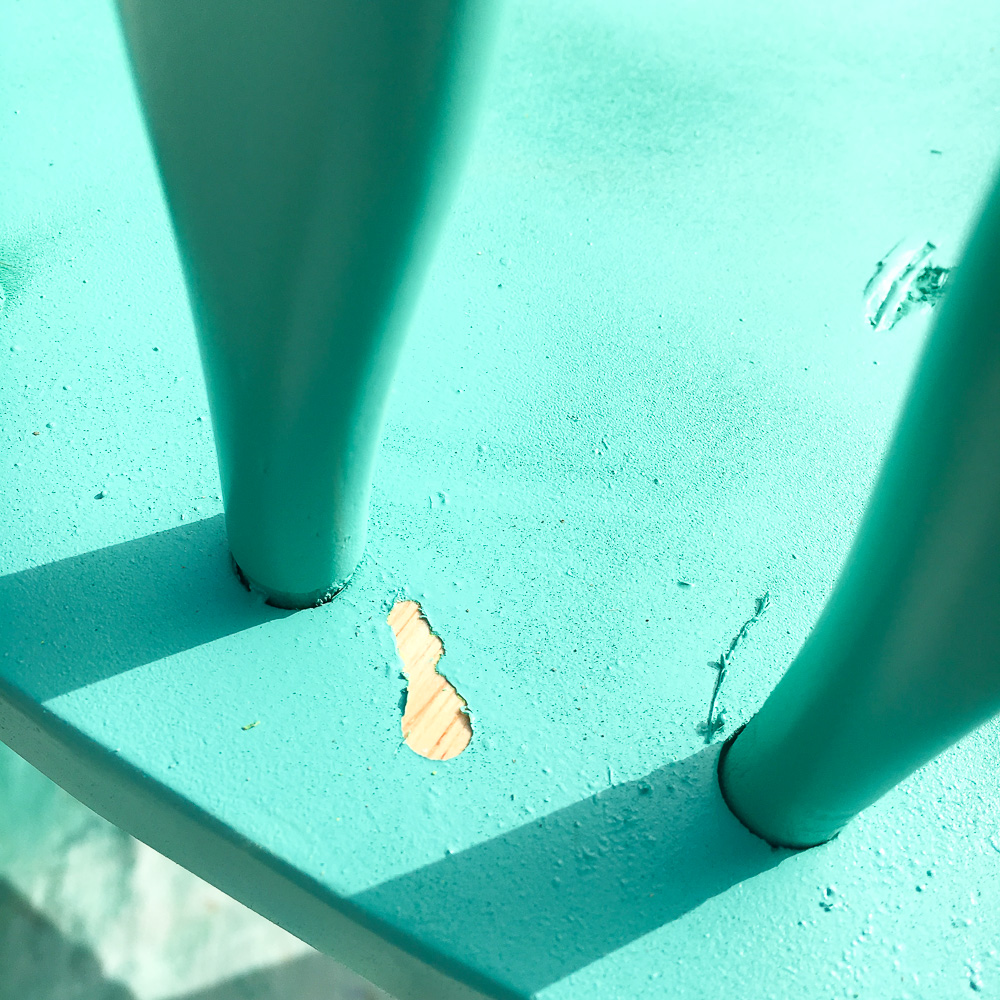 Whatever imperfections show up, you will need to sand them down the day after you spray paint, otherwise the dust will settle on the damp paint.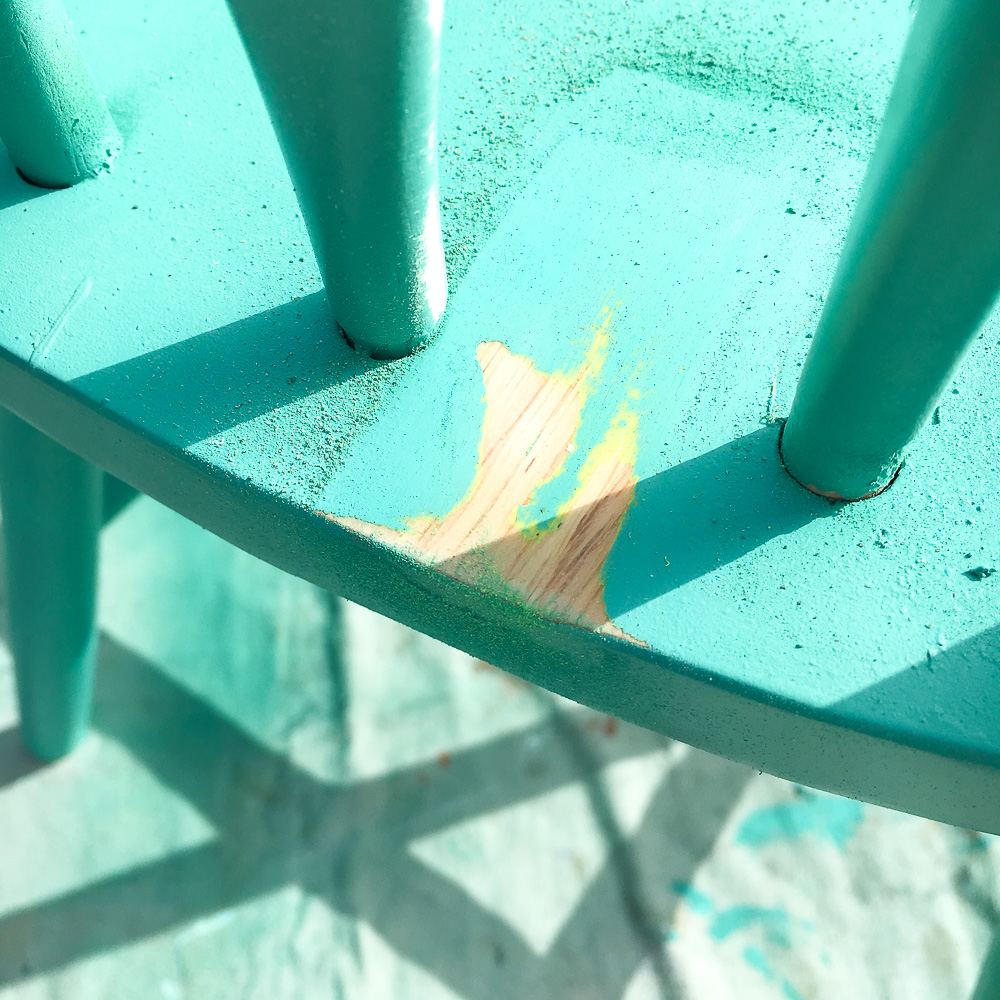 When painting, you need to get to all the "difficult" places. Turn the chair upside down and make sure no space is left without paint.
4) If you spray painted your chair with a flat finish like I did, you will need to add a coat of glossy transparent spray paint to give it a glossy finish. A glossy finish is VERY important for kitchen furniture, especially. It is easier to wipe down when dirty with filthy children's food.
Here is the after photo of that (previously) ugly chair: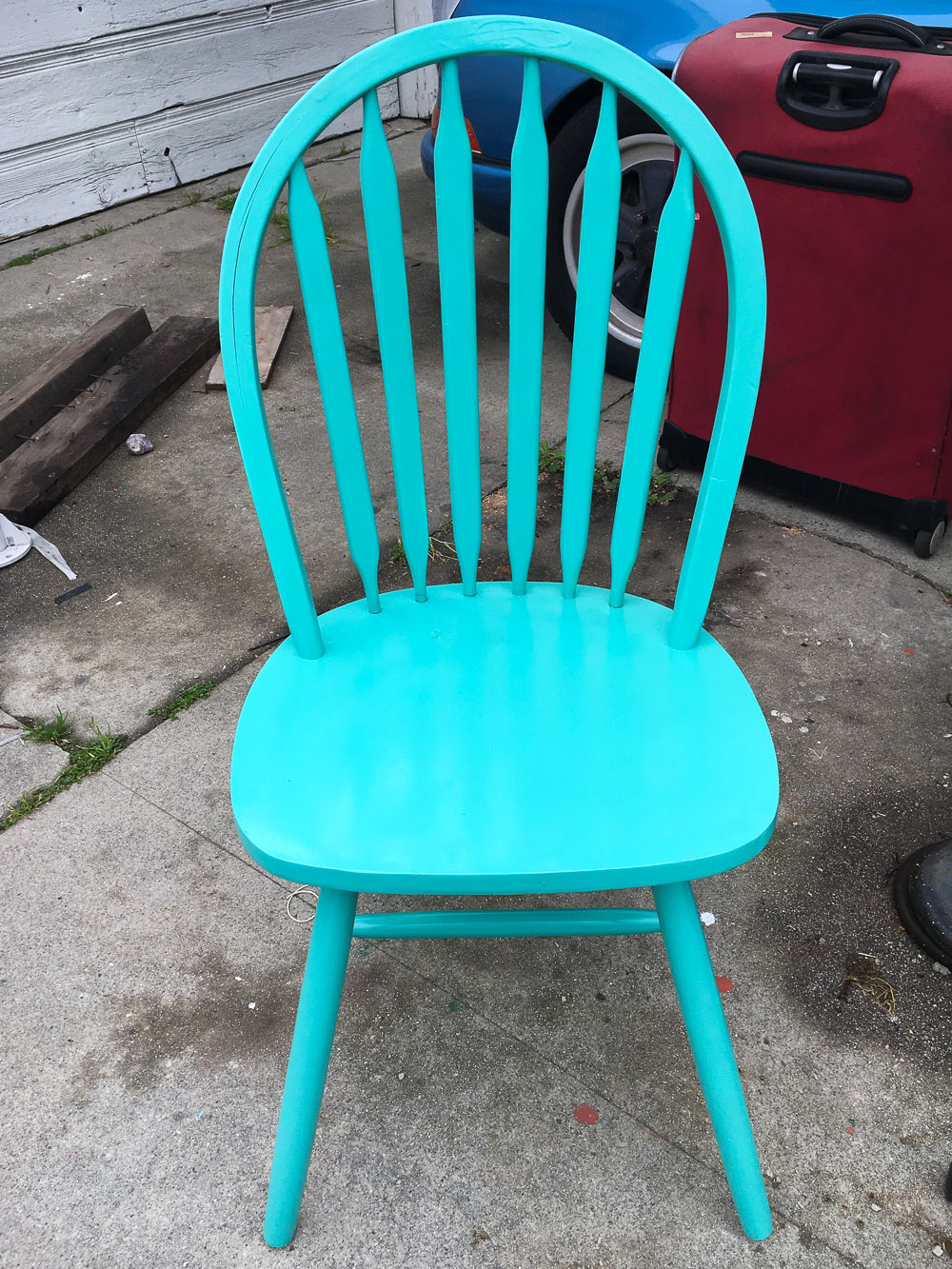 Here are photos of  the chair in our dining room. By the way, I am taking this opportunity to introduce our little dining room to all of you! I have not shared photos of it before. You might already know that our house is small, so this little breakfast nook works as the dining room, project table, homework space, and many other things. I like how happy and vibrant it is.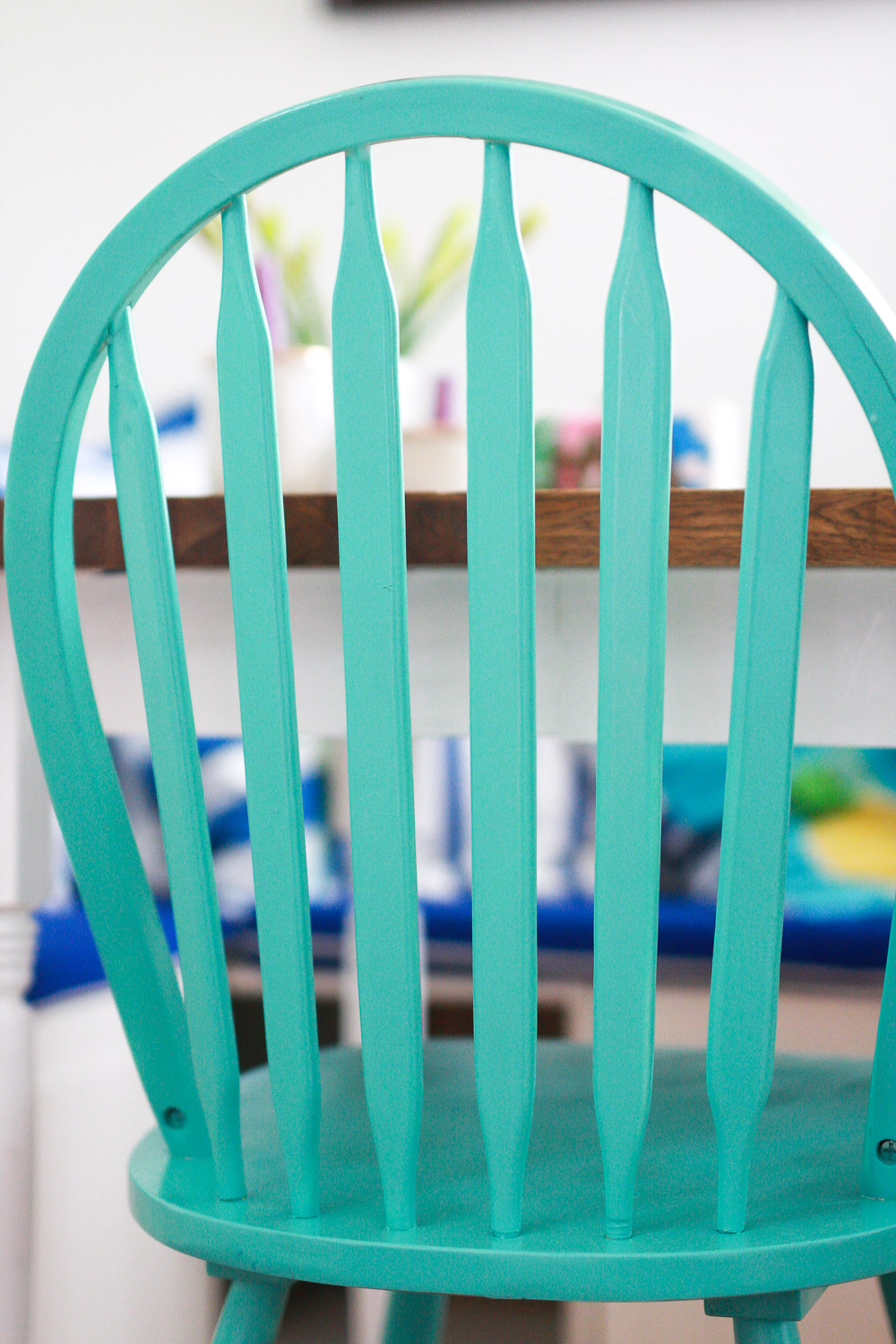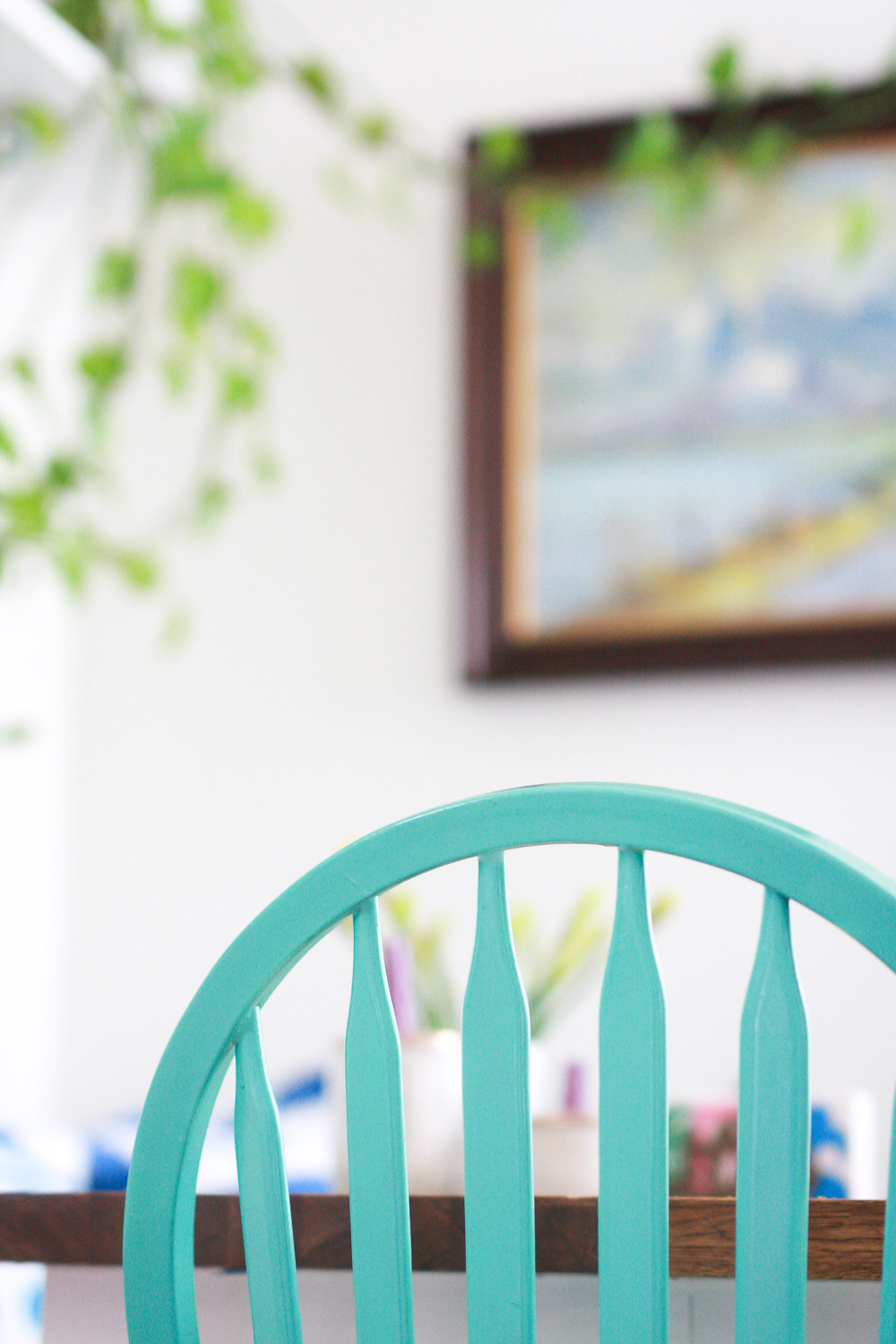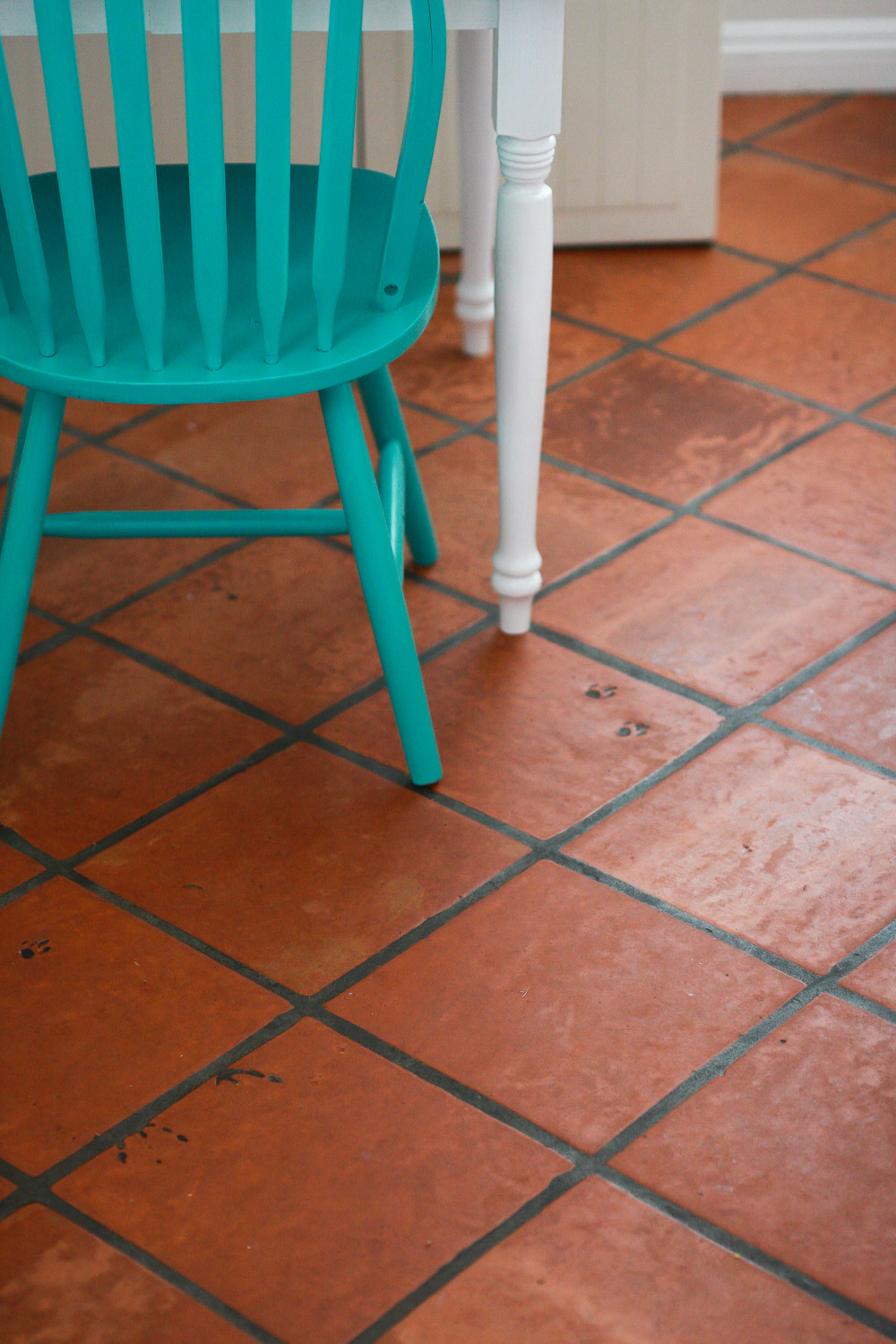 The Saltillo tile that George installed is pretty charming. It gives the kitchen a rustic look.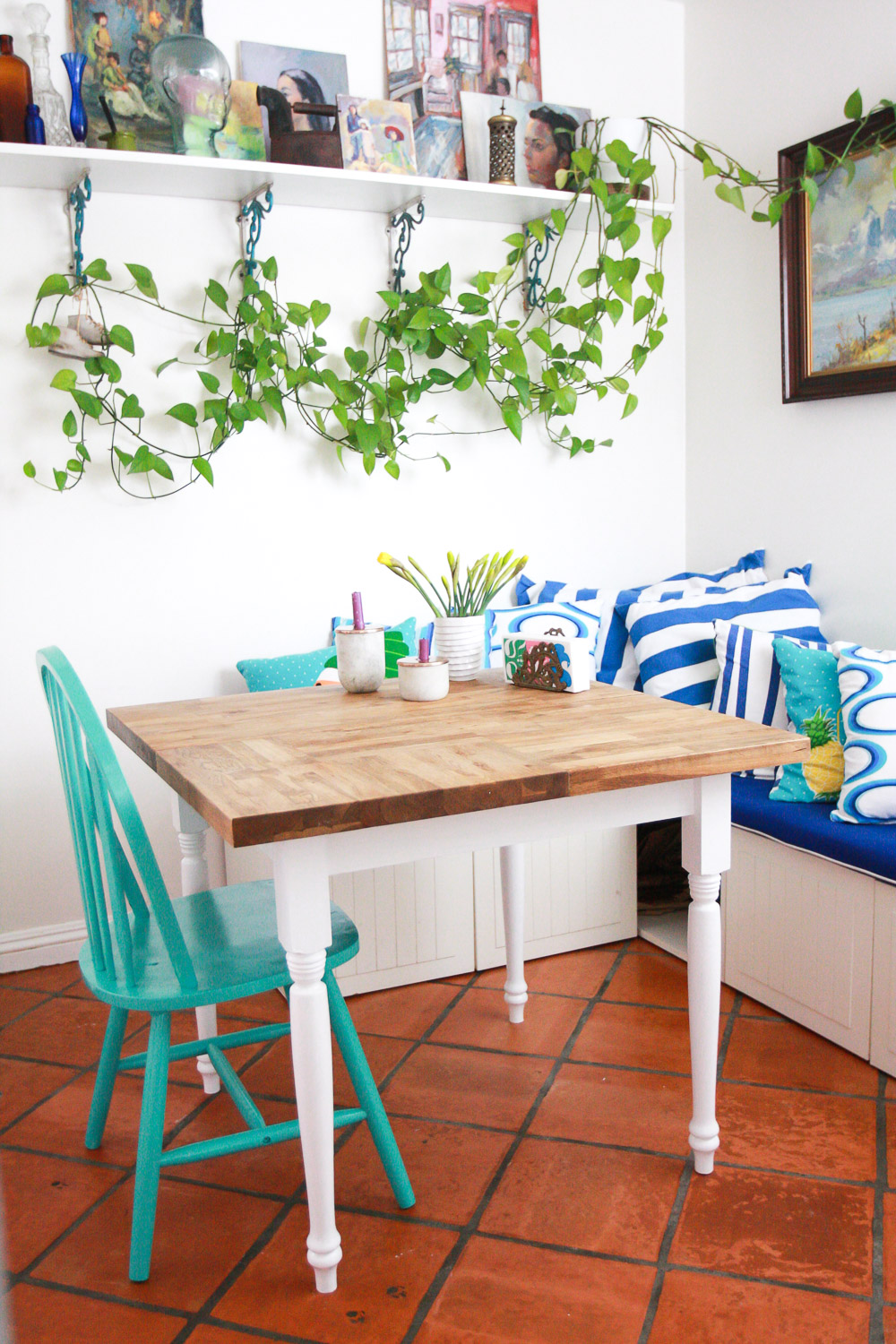 The seats work as drawers for storage, too.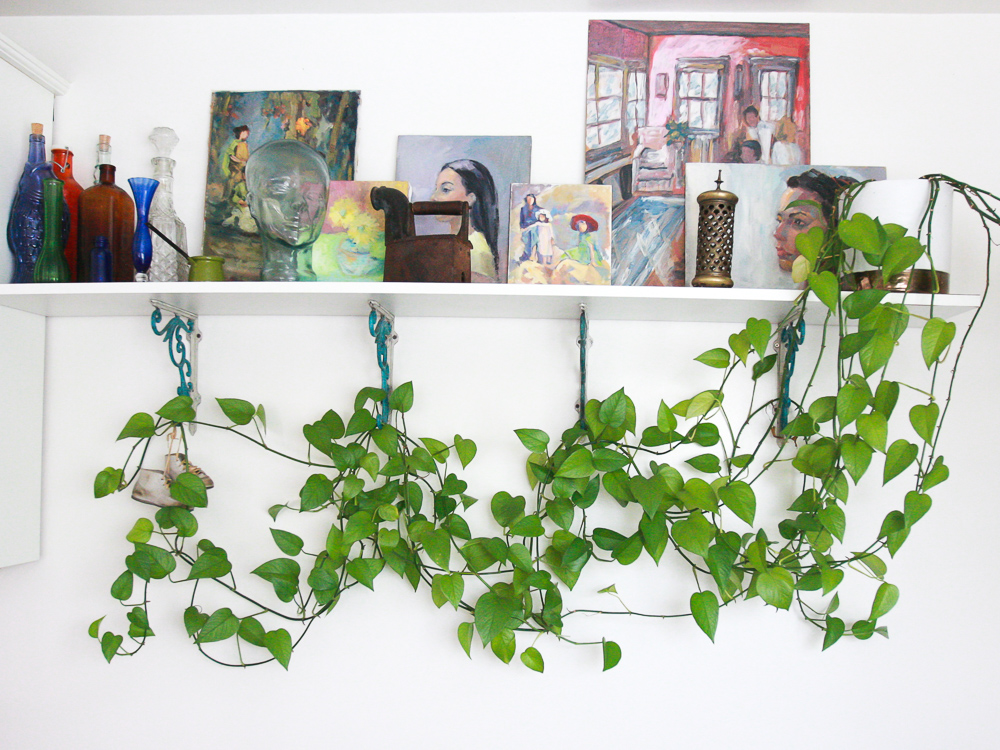 The shelf has vintage finds and a beautiful plant. Just how I like it.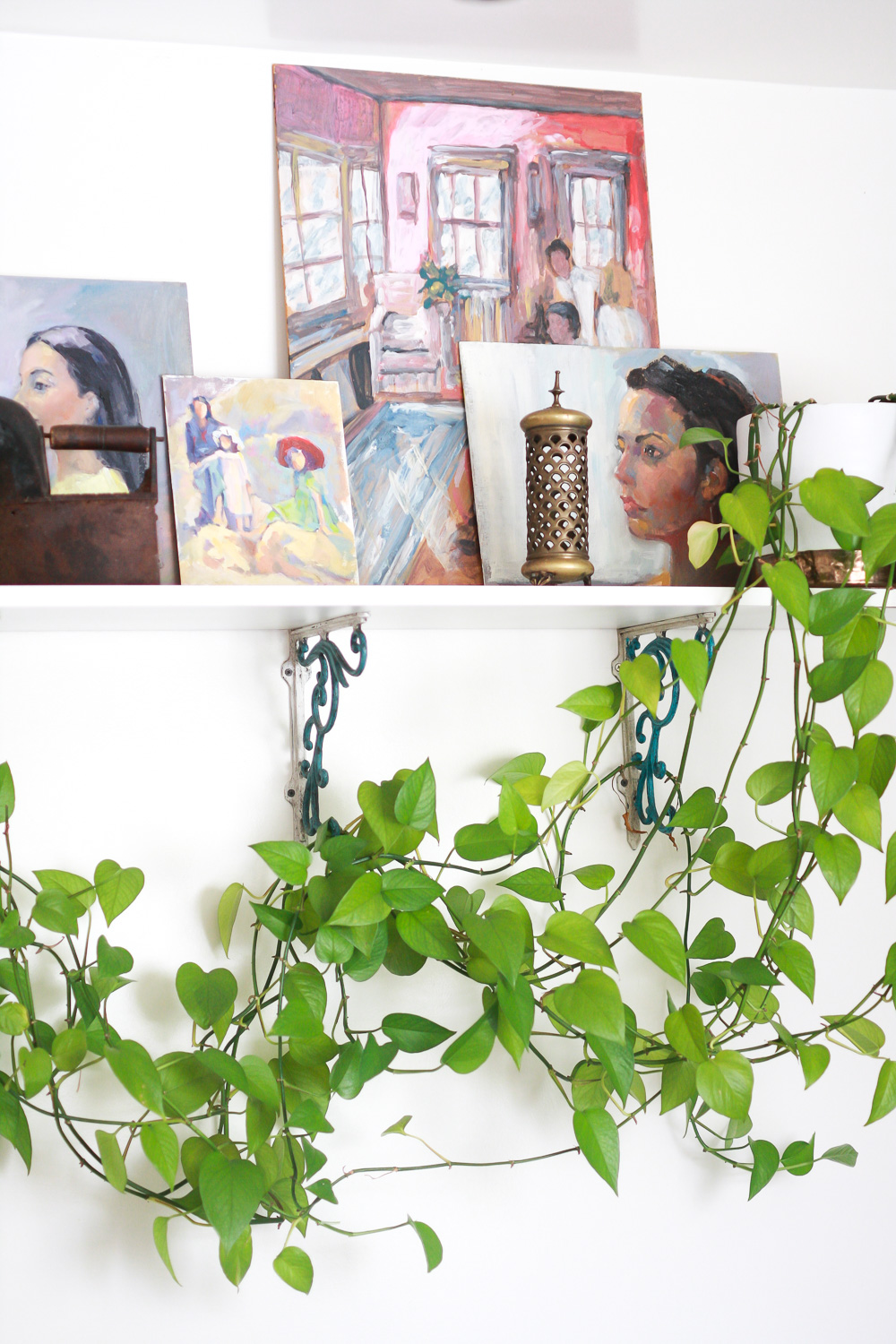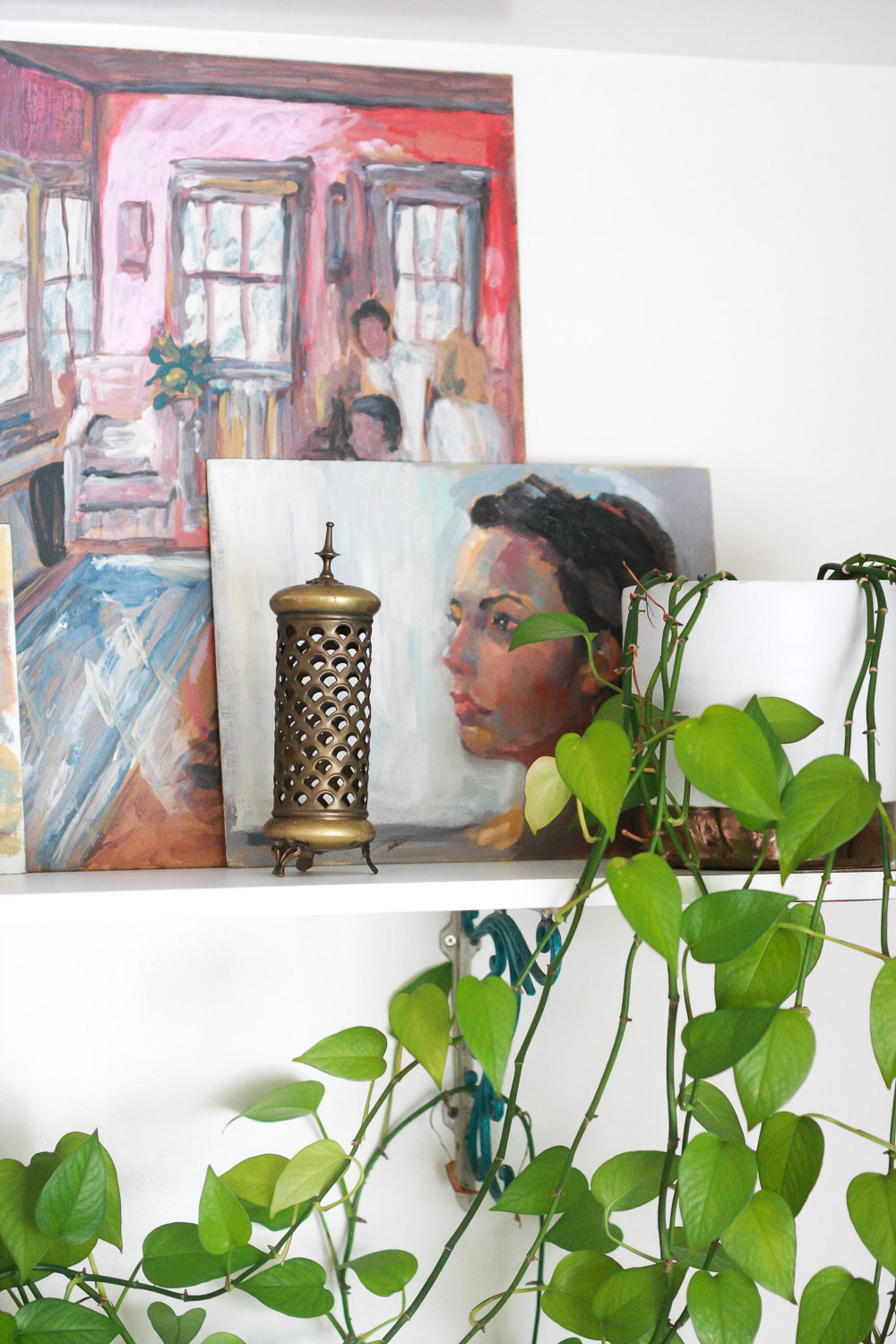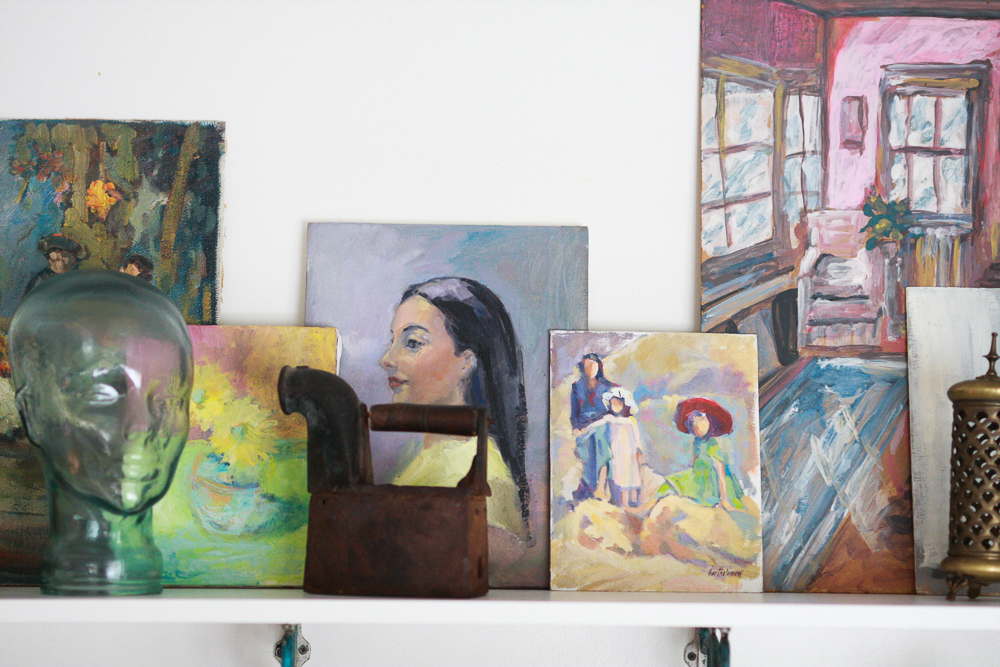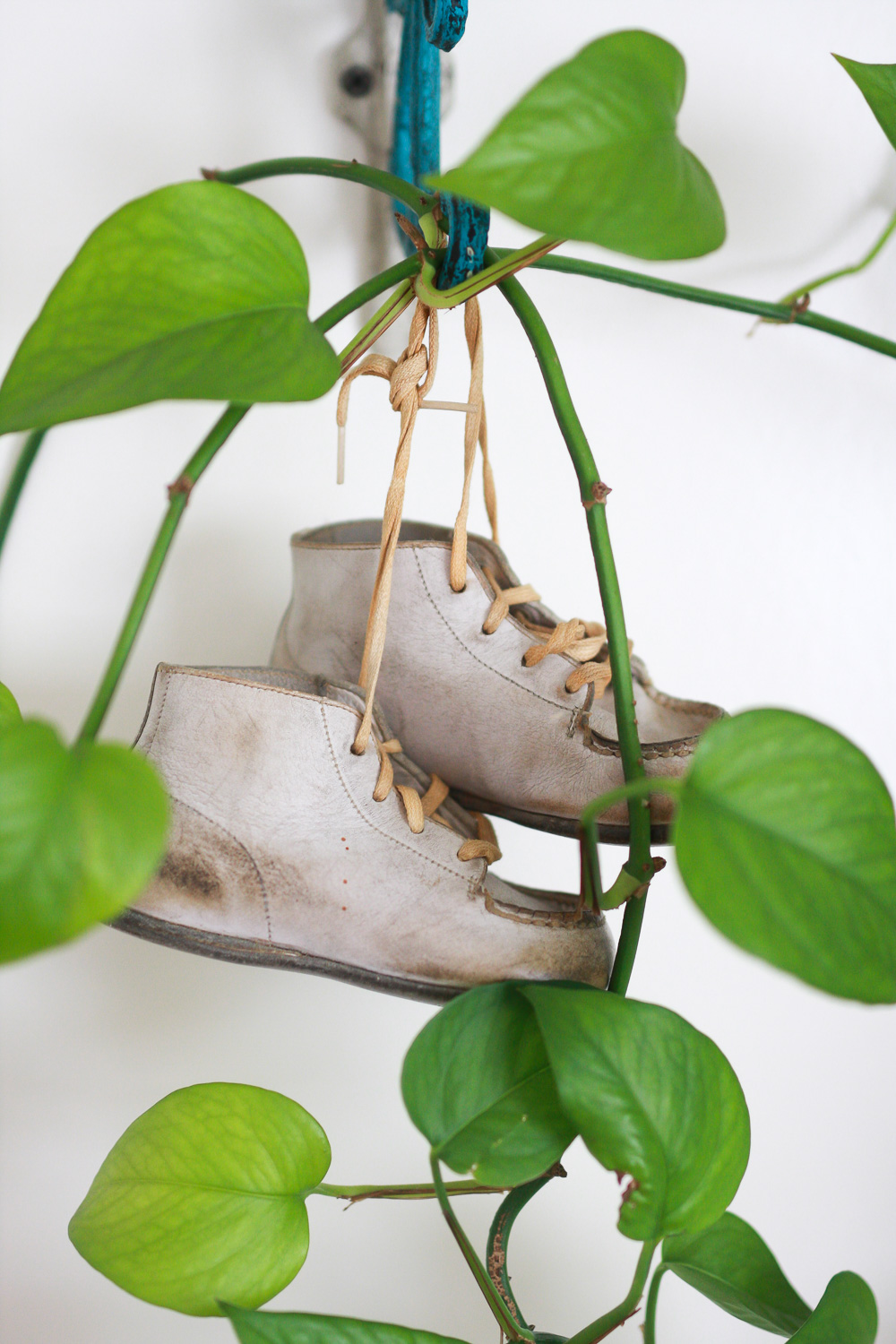 Some old baby shoes just hanging in there because they look cute. No sentimental reason.
I just ordered 2 more wooden chairs from Amazon so I can paint them and add them to the dining room. The chair I just painted looks cute but lonely. It needs some company, so I will be making some friends for her this weekend.
Have a wonderful day!
https://jestcafe.com/wp-content/uploads/2017/03/dining-room-15.jpg
1500
1000
Mila
https://jestcafe.com/wp-content/uploads/2017/08/Jest-Cafe-about-design.jpg
Mila
2017-03-24 03:23:51
2017-07-16 09:57:40
A Chair Makeover and Our Dining Room