Let's jump right into the ORC reveal, shall we?
Welcome to the OASIS!!!! I named this renovated kitchen and dining room "The Oasis" because it has plants and it reminds me of Morocco. As you can see, I am a terribly creative person that has no problem taking risks at naming anything and EVERYTHING that crosses her way in an extraordinary way that nobody else would have thought about before. Also, this paragraph is proof that my self-confidence and sense-making is running low today. It must be the extra 40 pounds I have in my body due to pregnancy OR the fact that I need to write this post in half hour.
For information on the process of how this room came about, here is:
Week 1 | Week 2 | Week 3 | Week 4 | Week 5
For information about who the heck am I and why do I like pinks and corals so much, go here.
Ok, dear readers. Here is how the kitchen and dining room area looked before the challenge started. As a reminder, my home is 900 sq ft, in case you were wondering why my kitchen and dining are so small.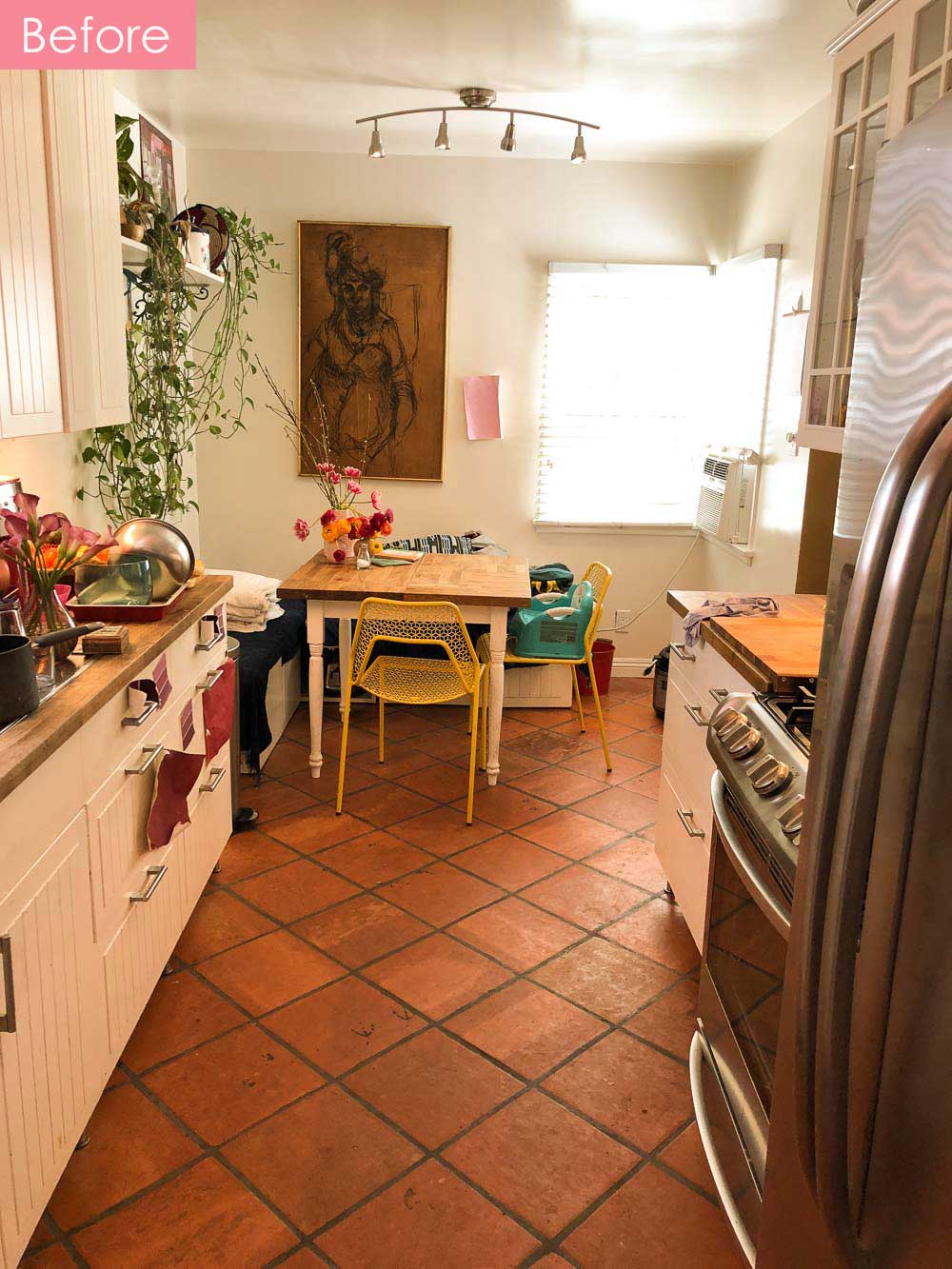 For more "before" photos, go to Week 1. I am embarrassed to show you those photos in this reveal post because they have dirty dishes and it is kind of gross.
Anyway, let me show you what you came here to see, the "after" photos: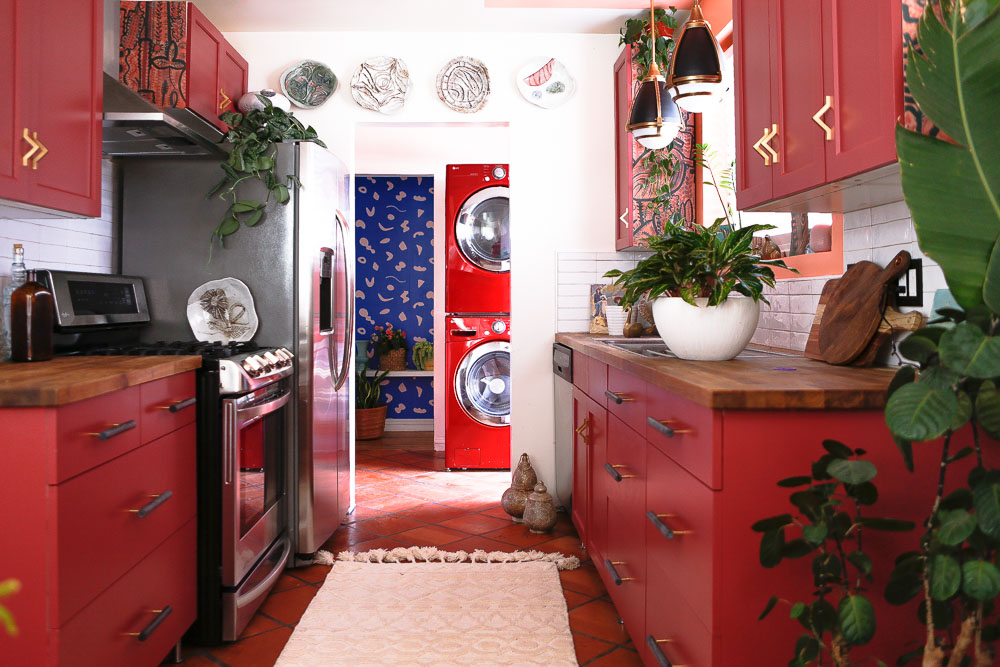 The most significant change we made to this kitchen, aside from the mural, was the cabinet doors and fronts.
Before we started the challenge, we had an IKEA kitchen made of laminated pressed wood that didn't pass the test of time. It had horrible stains and watermarks within months of buying it (see here).  This is why I was so excited to work with Cabinet Door Mart to replace those horrible fronts. I chose to get unfinished Artesia cabinet doors and Auburn solid drawer fronts. George (my partner in crime) and I painted these ourselves. It was not that hard because we used a Spray painter that was awesome. More on that process here.
In the beginning, I wanted to paint the top cabinets white and the bottom ones in this radicchio color, but then I realized that painting all the cabinets with the same color would look a lot more AWESOME, so that is what we did. The color is Radicchio from Farrow & Ball, but we matched the paint in Benjamin Moore paint because I have a small budget and can't even afford to look at the Farrow & Ball website.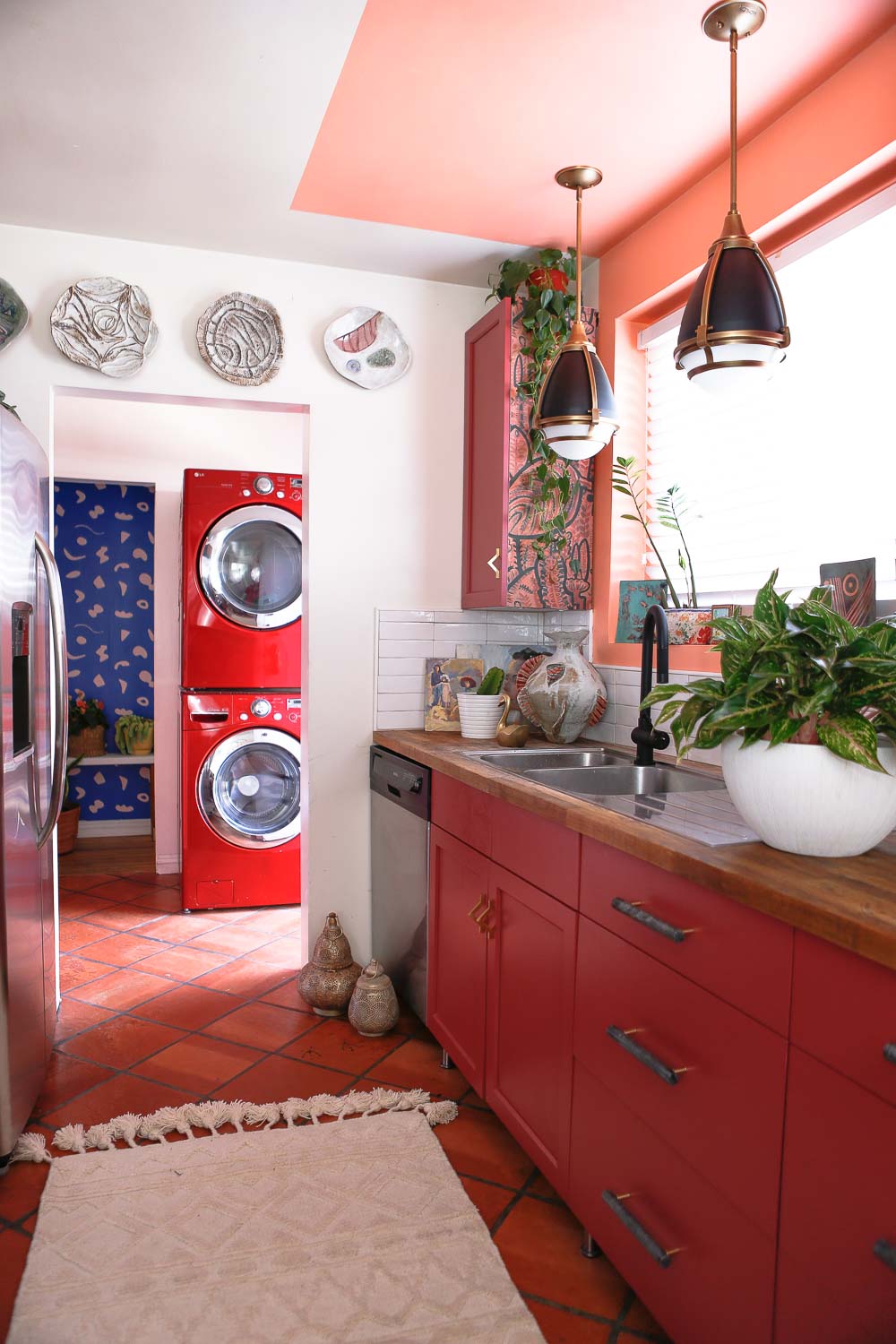 I have gotten a lot of questions about these pendants over my sink which are absolutely beautiful, in my opinion. They are Kichler Ayra 10″ Wide Natural Brass Mini Pendants from Lamp Plus. They were the first product to arrive for our kitchen renovation, and I absolutely LOVE THEM. I knew I was on the right track once I saw them hanging from our ceiling.
In this renovation, because we had a small budget, I used paint to bring a wow factor. I decided to paint part of the walls and ceilings to create the impression of having a frame around the window: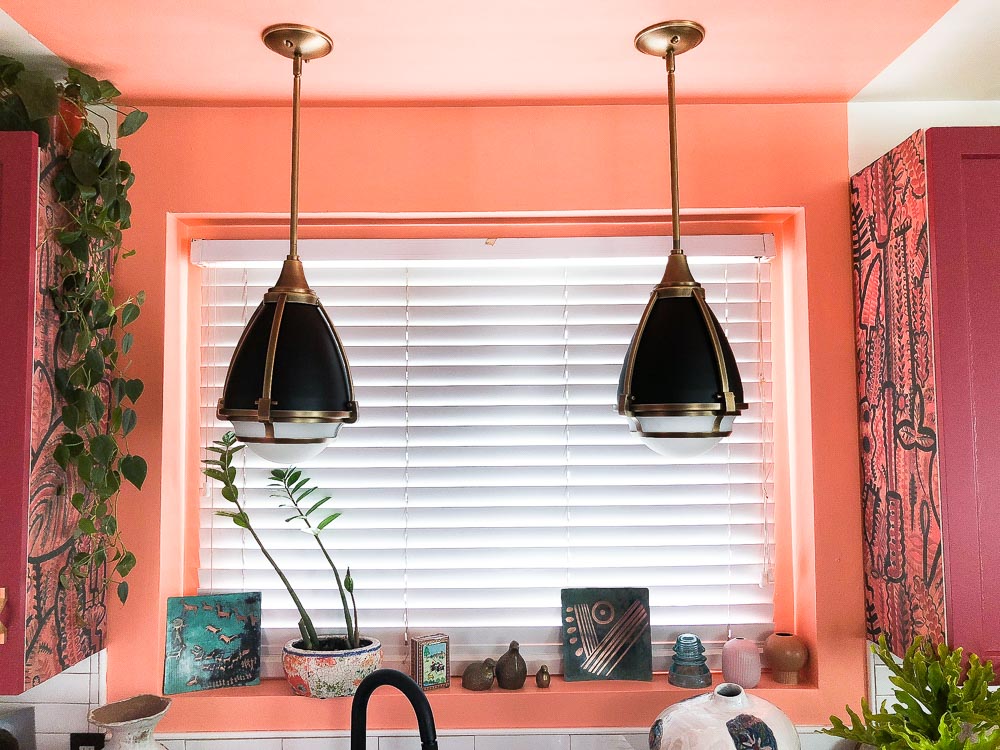 I like the effect a lot. It is a "framed" window, my friends!!!!
Another way of creating a fun room in a budget was painting a small mural. I went back and forth about how I wanted this to look, and I ended up deciding on this versione: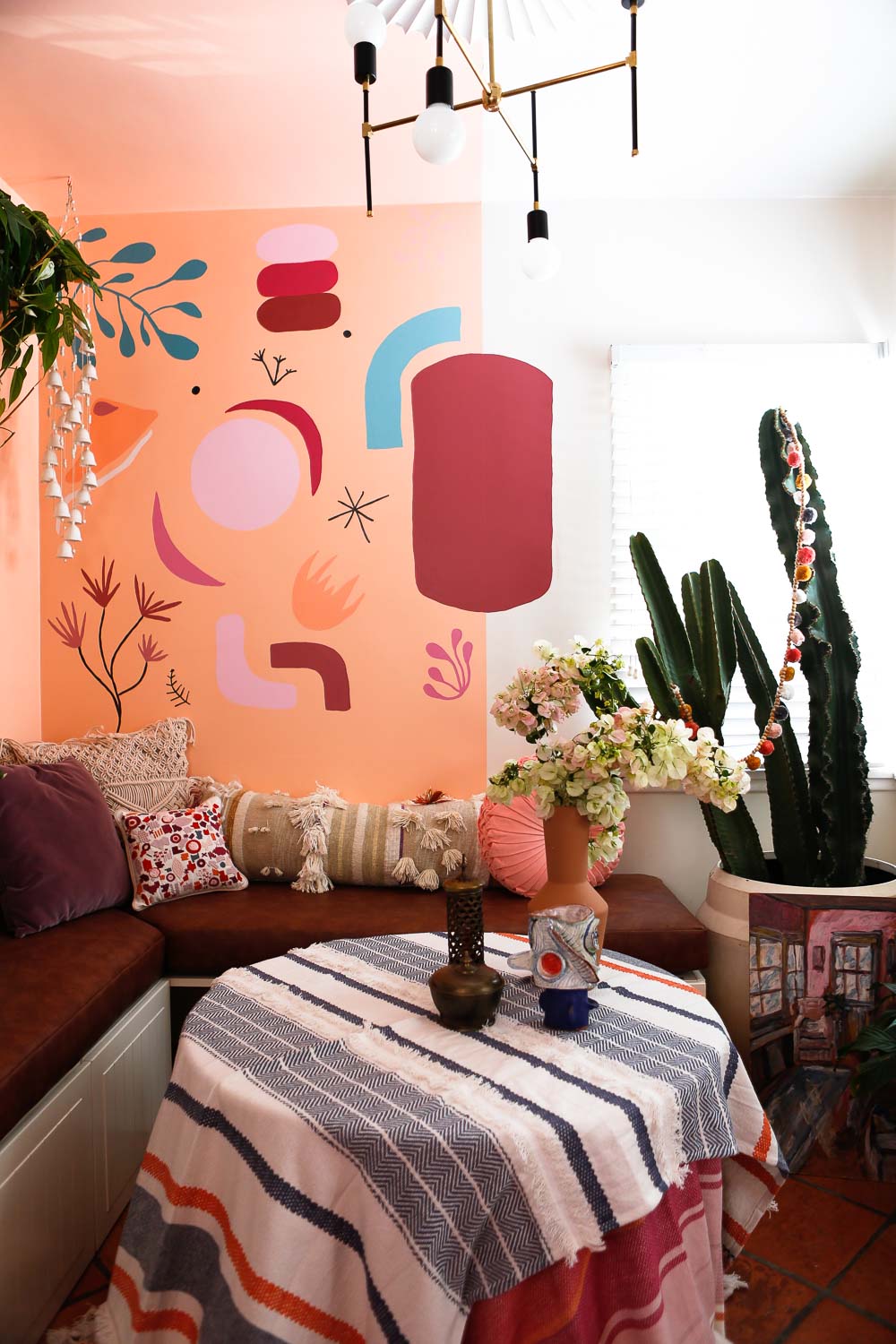 It makes me happy to have half the wall in white and half coral. It makes the room more interesting, I think.
Here you can read about my initial ideas about the mural. In the beginning, I wanted to have more black lines everywhere, but then, the day I painted, I had a change of heart and went with this colorful design. I created a sketch of what I wanted in Adobe Draw and then used a pencil to trace the initial lines into the wall. I used paint samples of wall latex paint for color and added 2-3 layers of paint for each figure.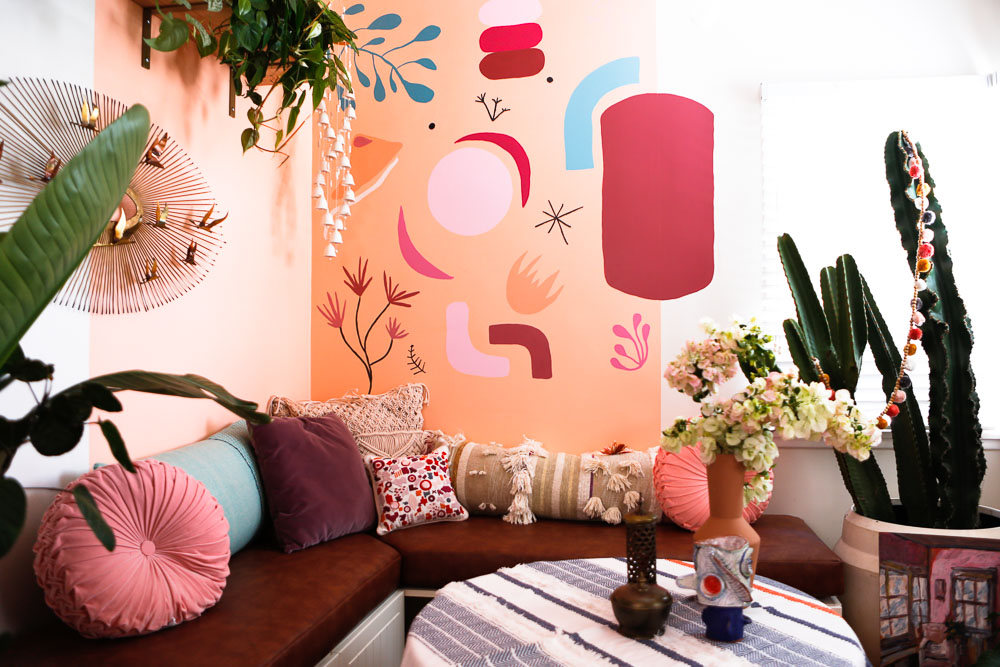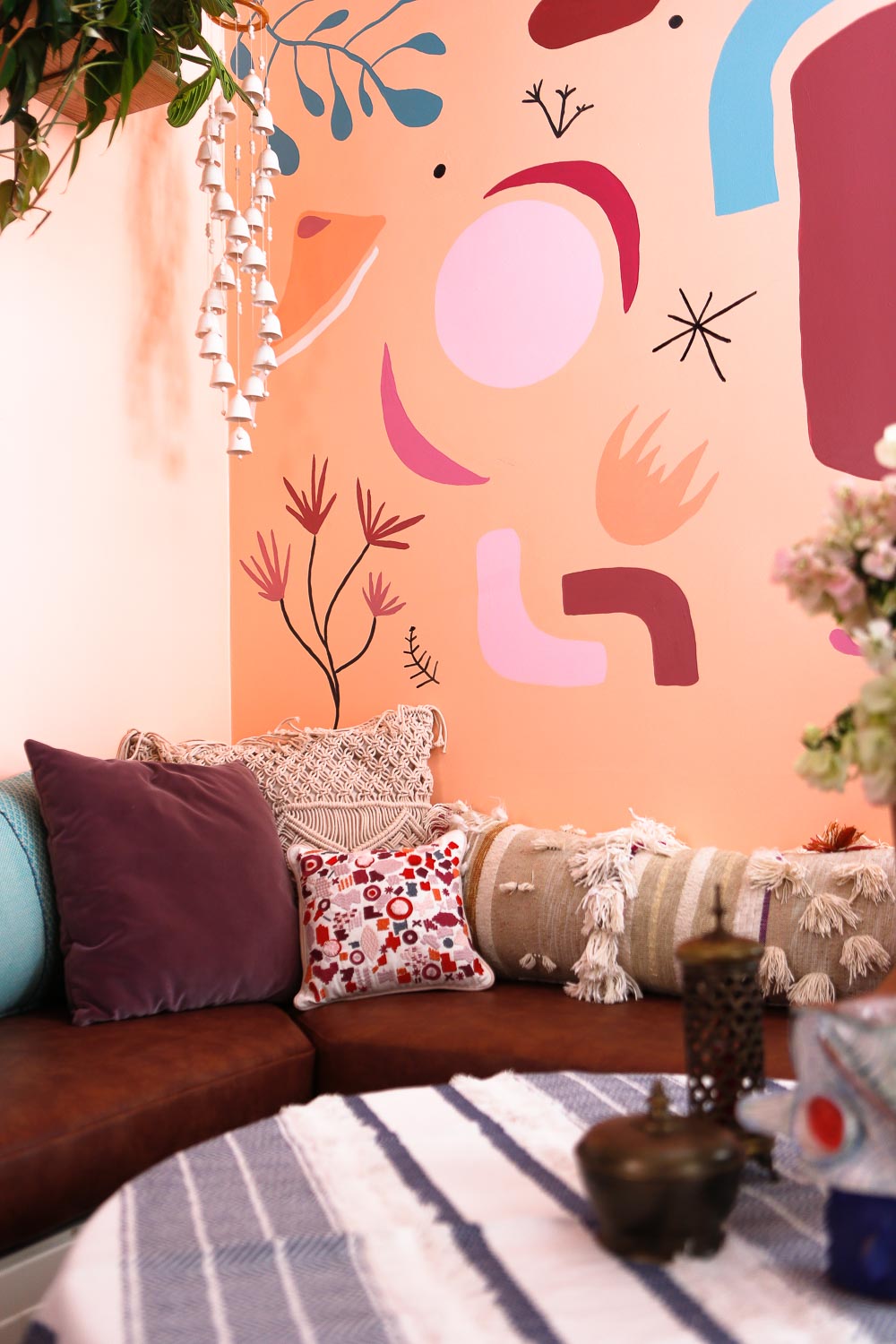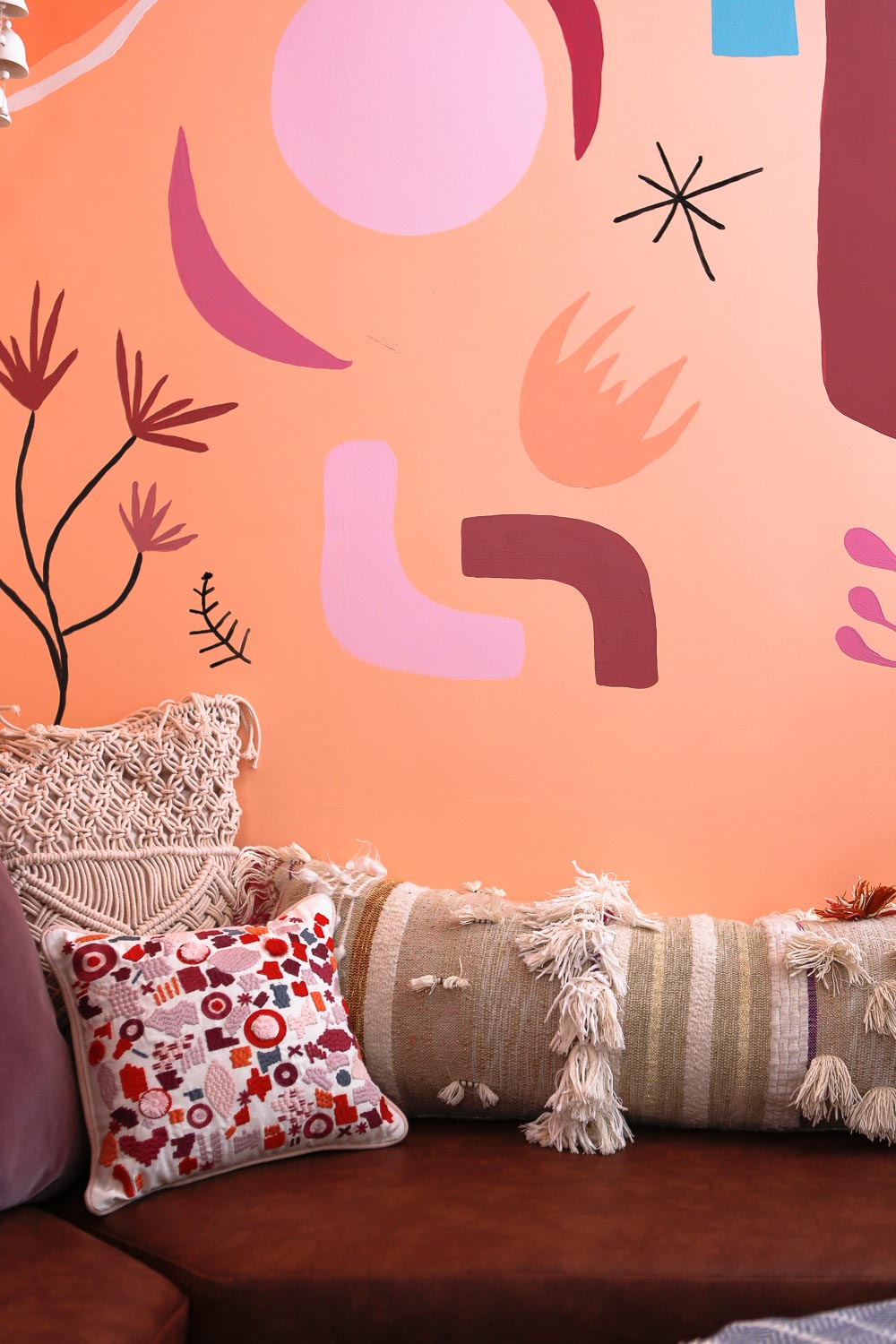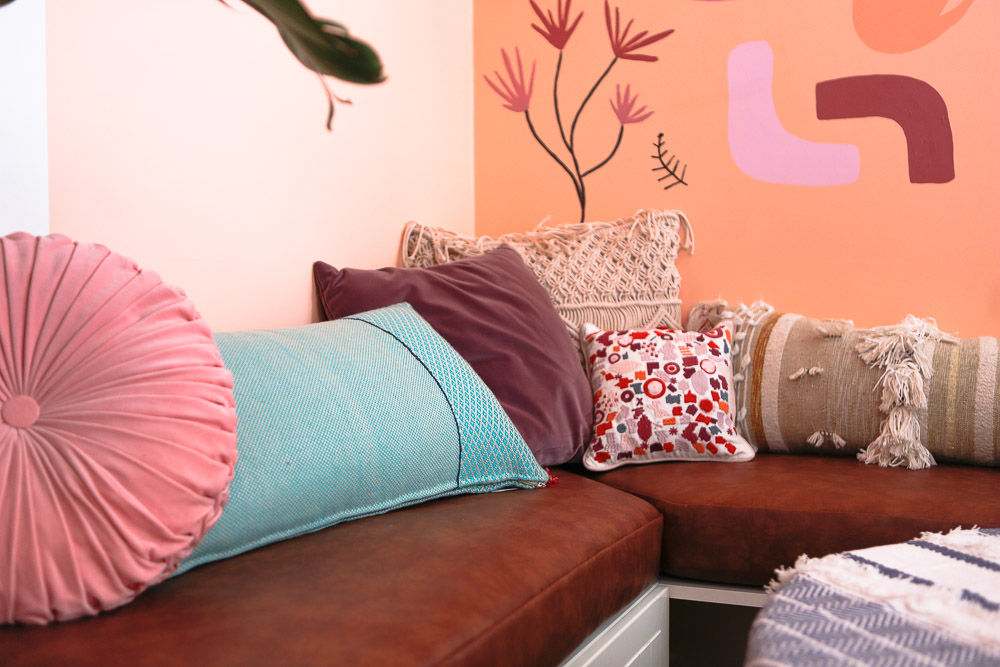 Most of the pillows are from Target but for that teal pillow that I LOVE!!!! It is from Ximena Rozo Design. Ximena is a fellow Latina with a unique design sensibility. She works with artisans in Colombia to bring gorgeous and contemporary home decor to the US. What impressed me the most about this pillow was its high quality. I mean, the fabric is durable, bright, soft and sturdy. The colors that Ximena uses are also beautiful and bold. This pillow works great as contrast for this space.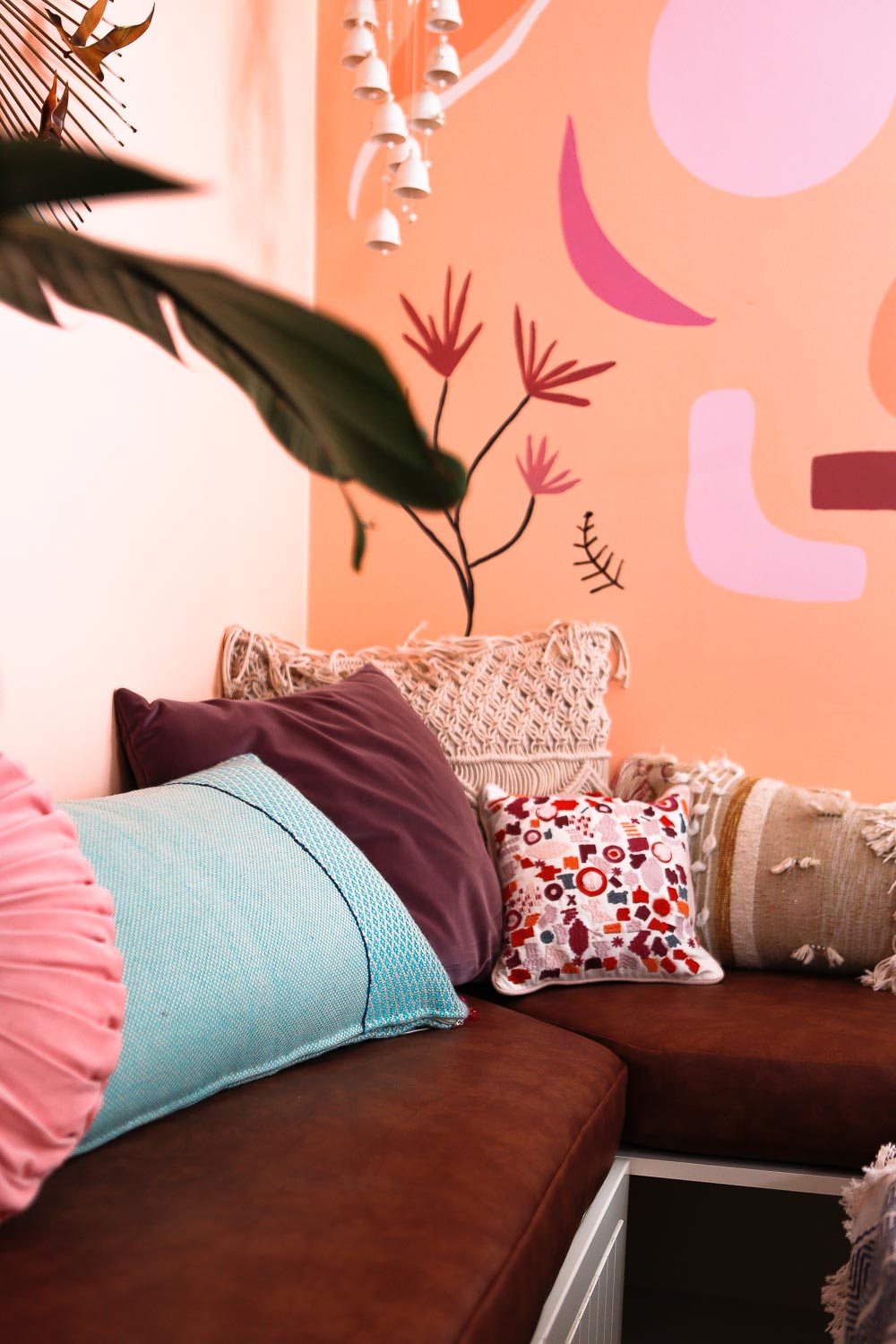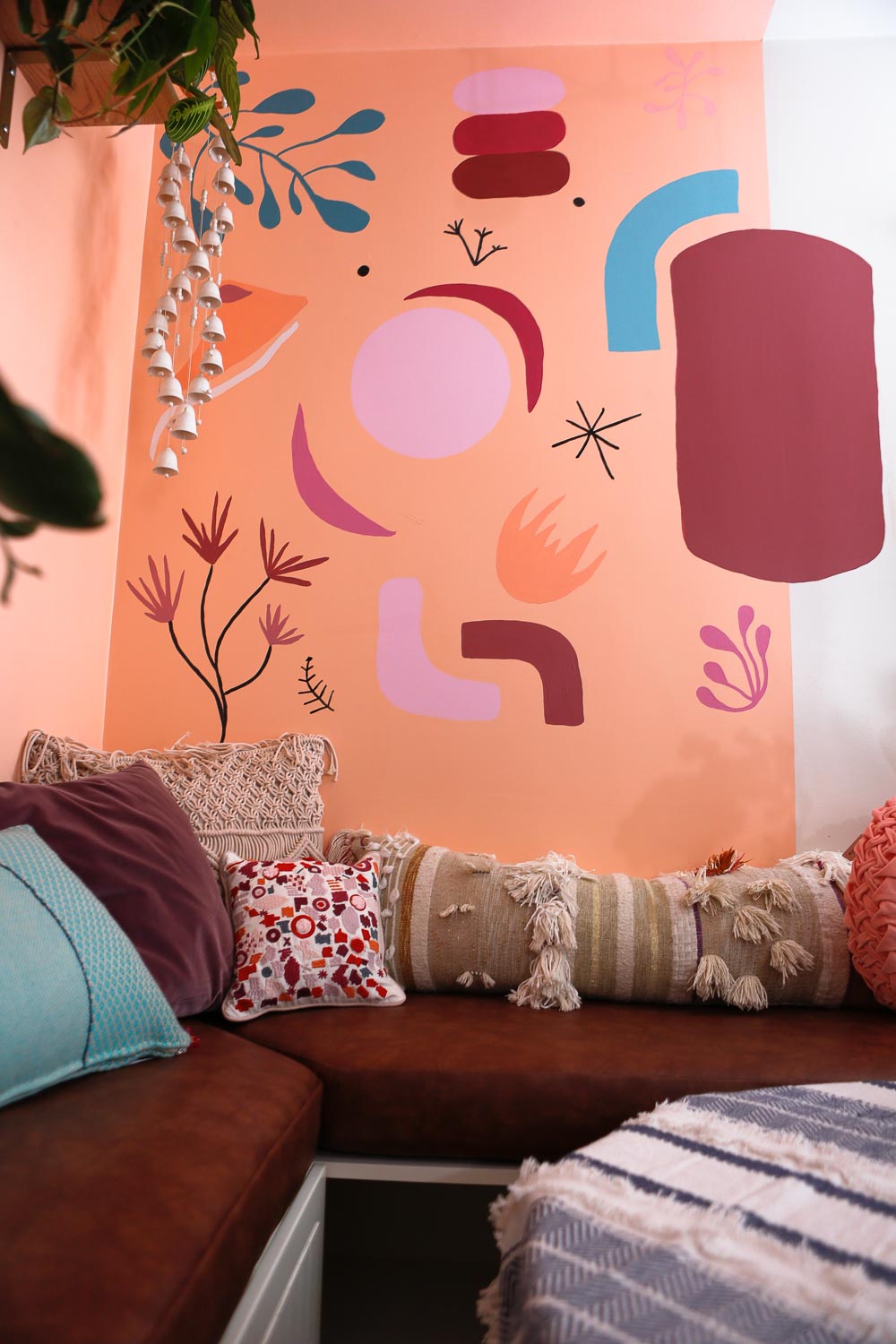 The lower seat cushions are vinyl and locally made.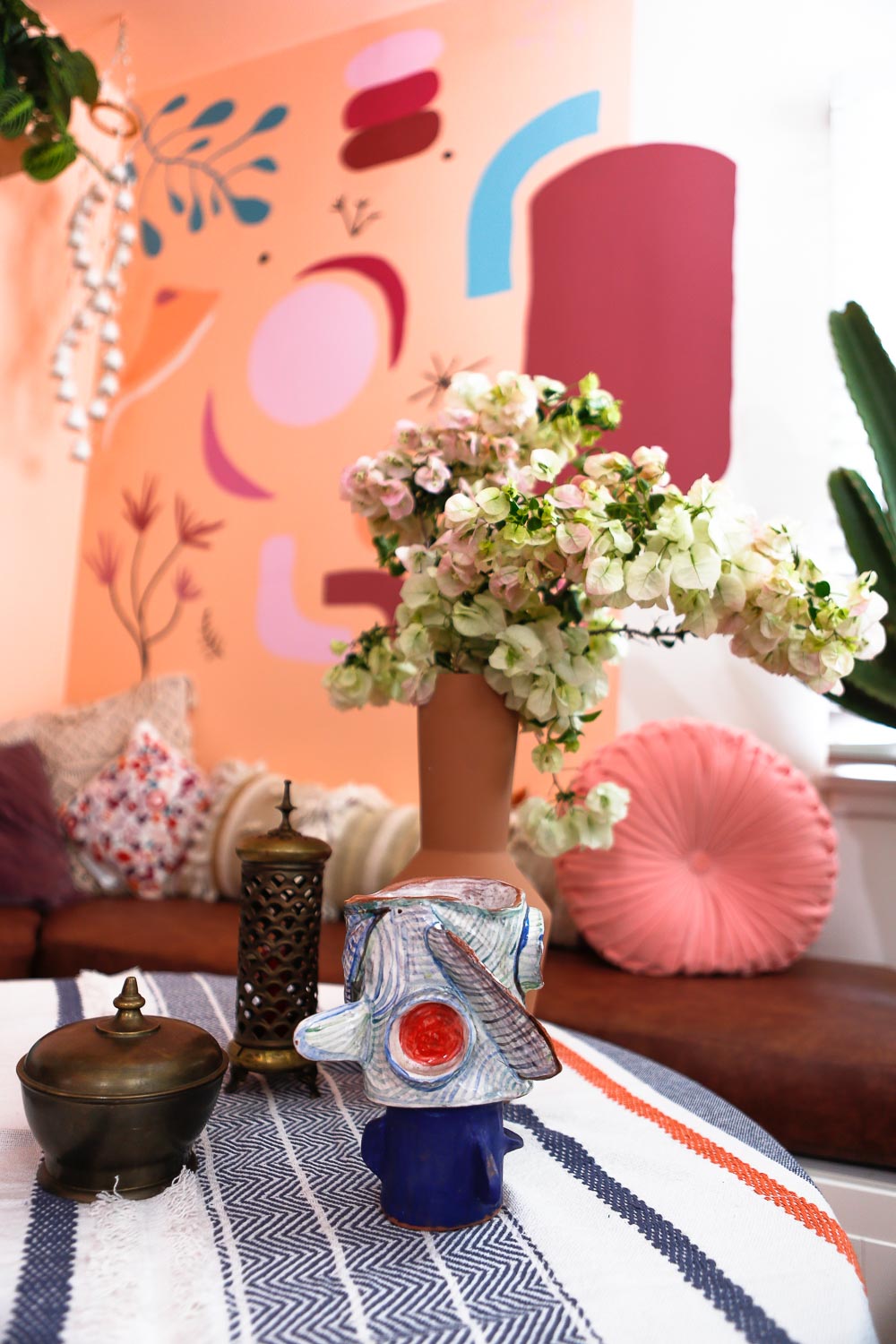 The blue and white pottery here is from Katy Krantz who has the most beautiful sculptural ceramics. I have a lot of her ceramics around my home.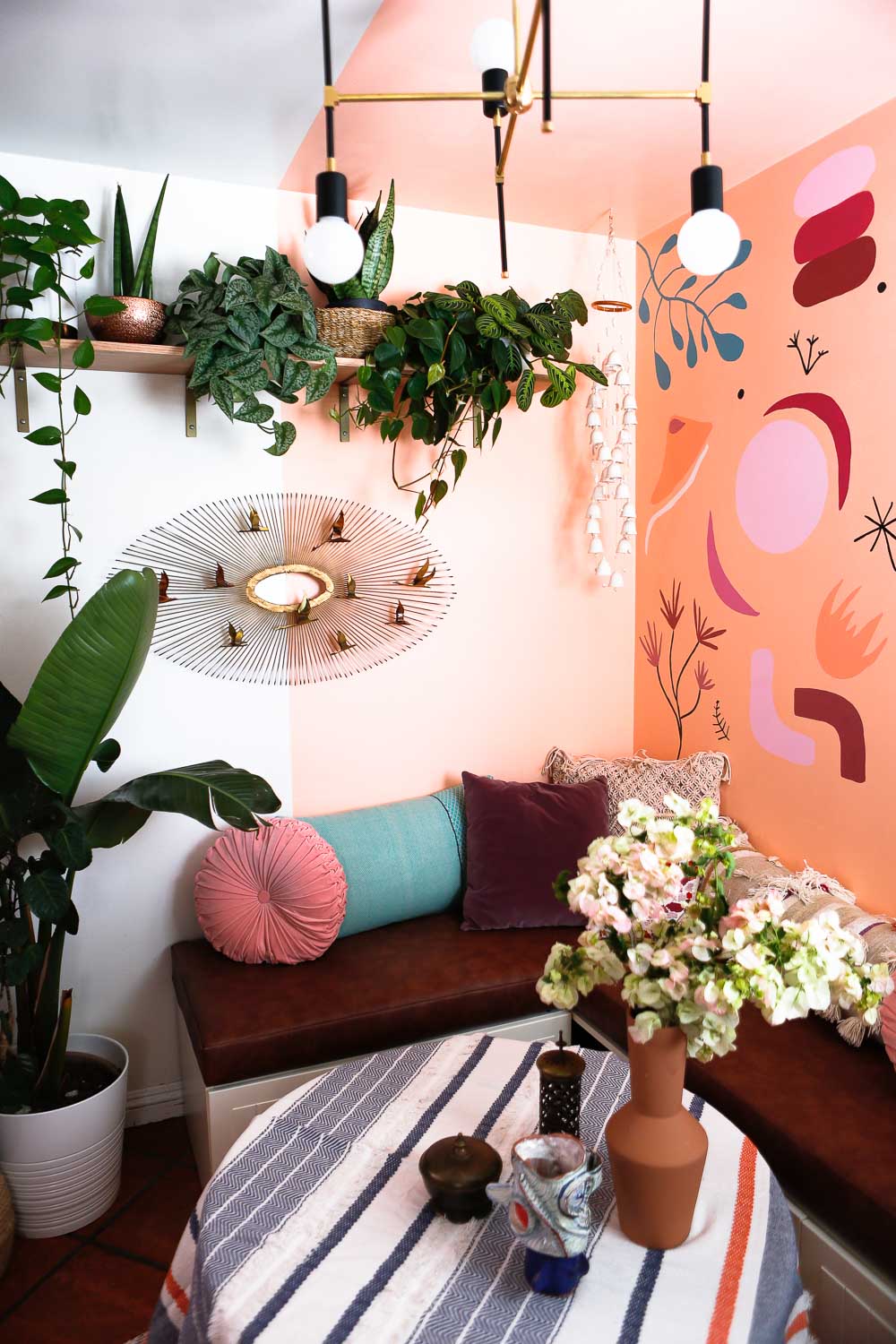 That chandelier is from Illuminate Vintage. I like how it looks here and the contrast it creates between modern and boho.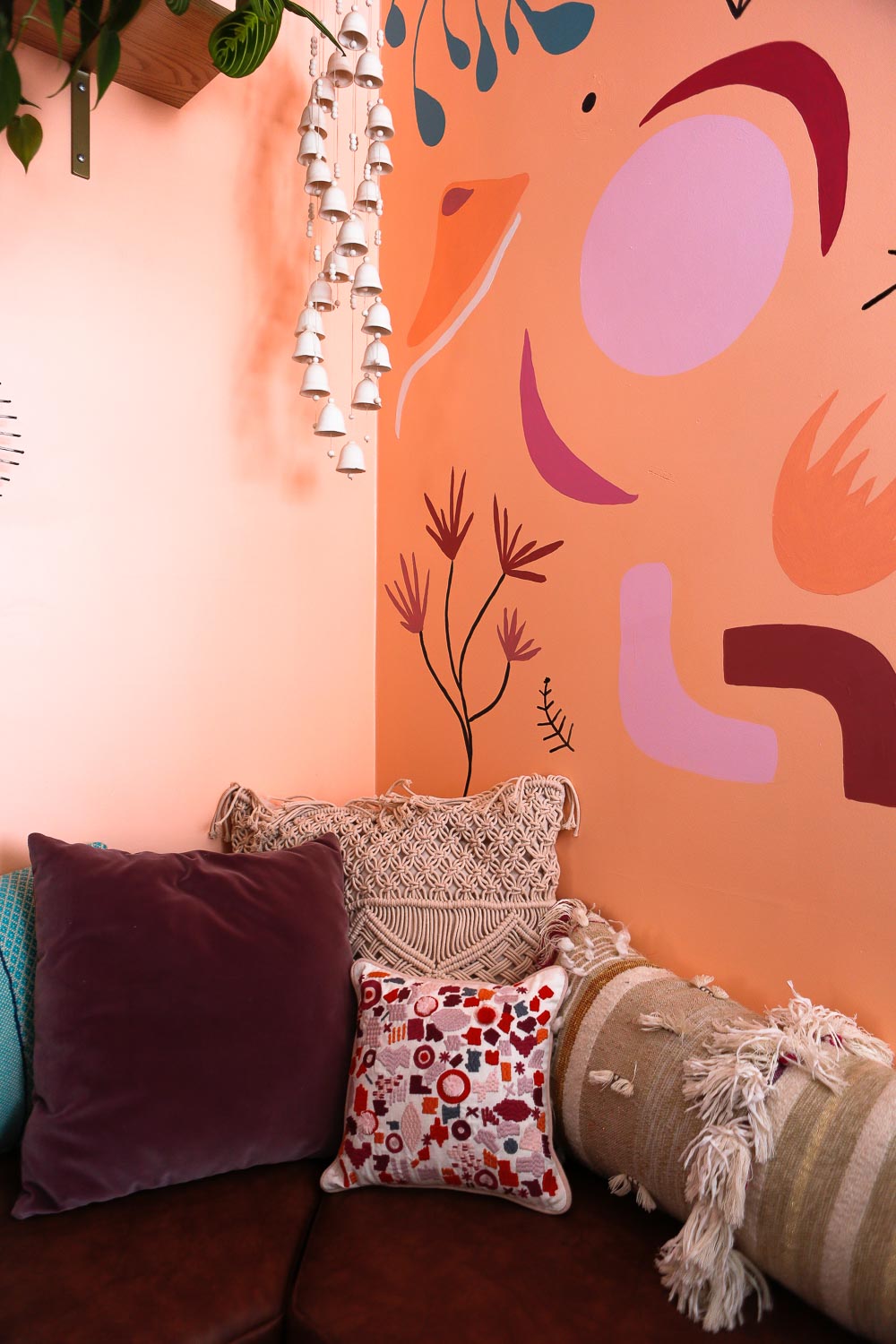 Can I just say it that I am really grateful that the Opalhouse line for Target just came out and it happened to have the same color palette of my kitchen?? It was the perfect place to get most of these pillows.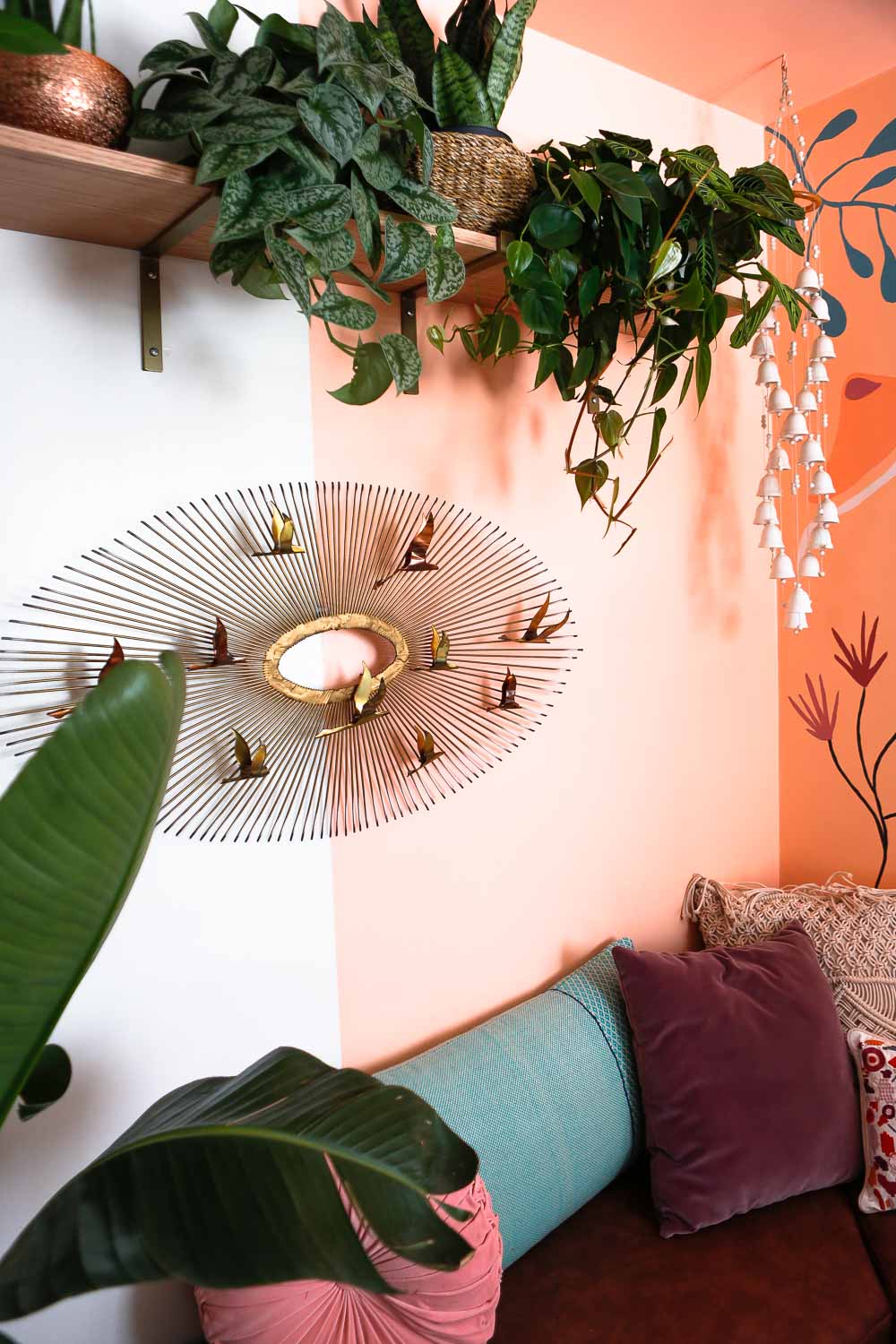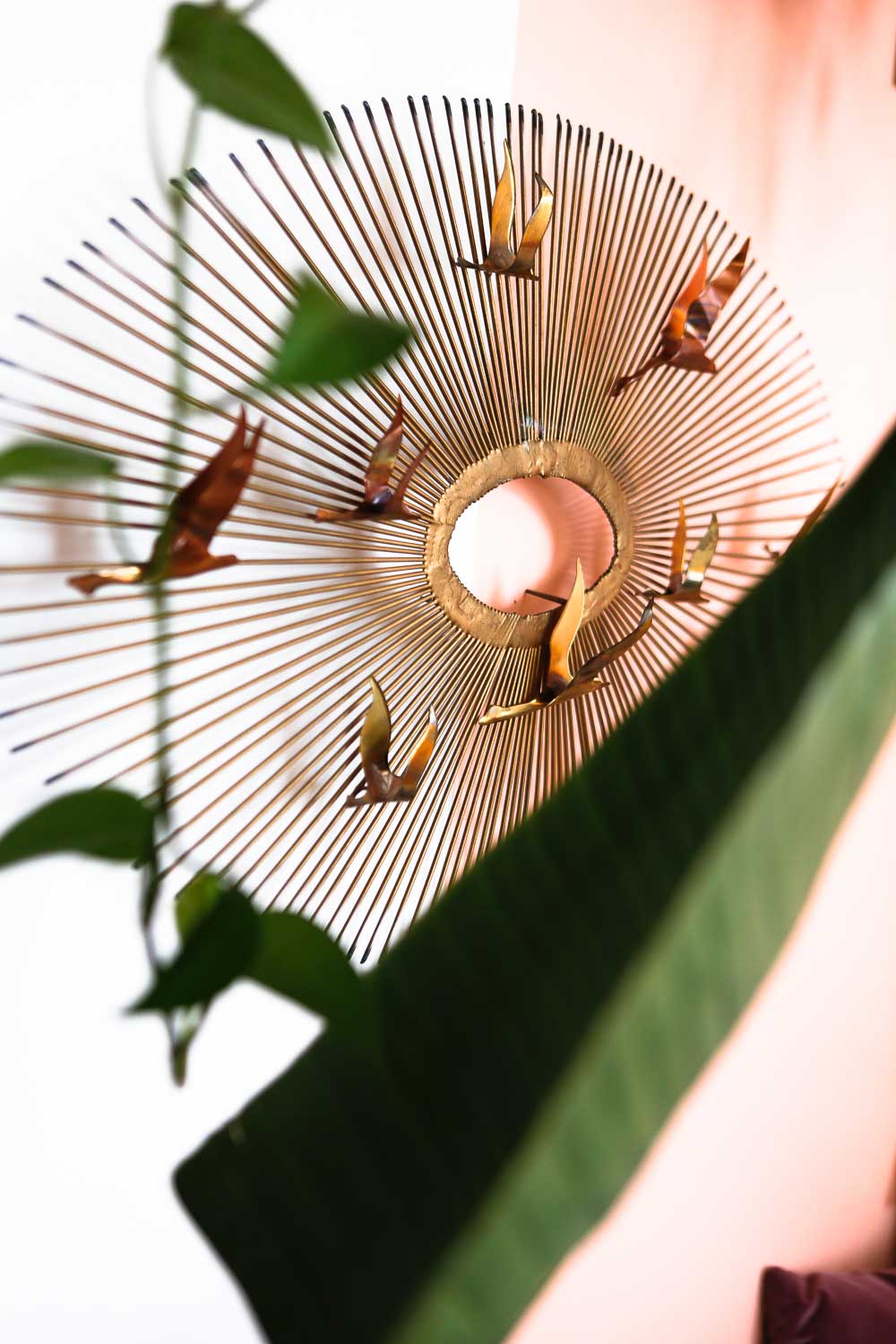 That brass sculpture is from Curtis Jere. I have been eyeing it for a very long time! I love brass, birds, and vintage so this was the perfect piece to complement this dining area. I also like how it hangs half way in between wall colors.
Of course, no home is complete without a bunch of plants everywhere. I decided to add one shelf to the dining room to use only for plants. I needed green and more patterns.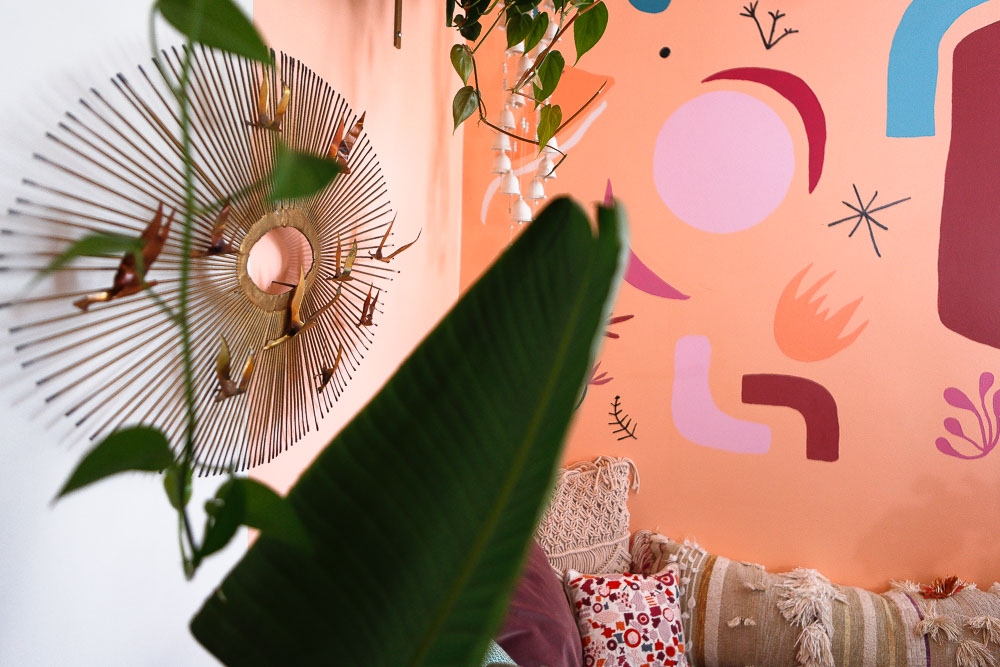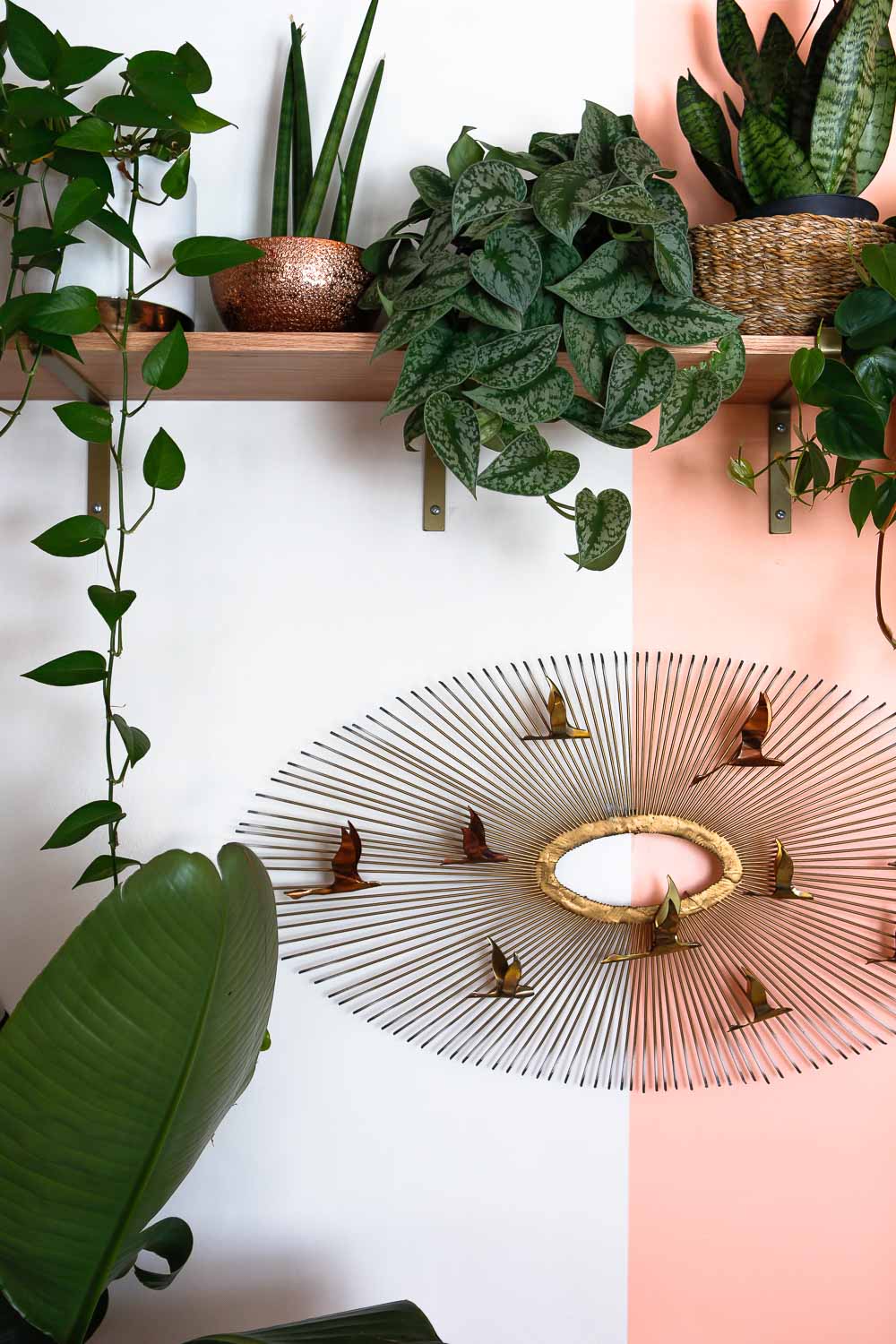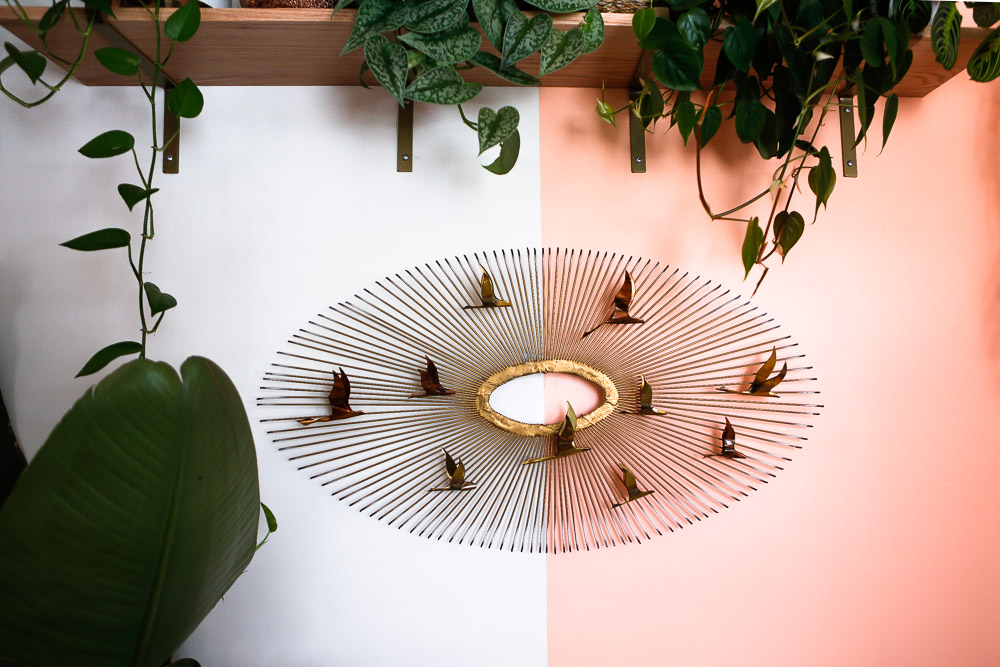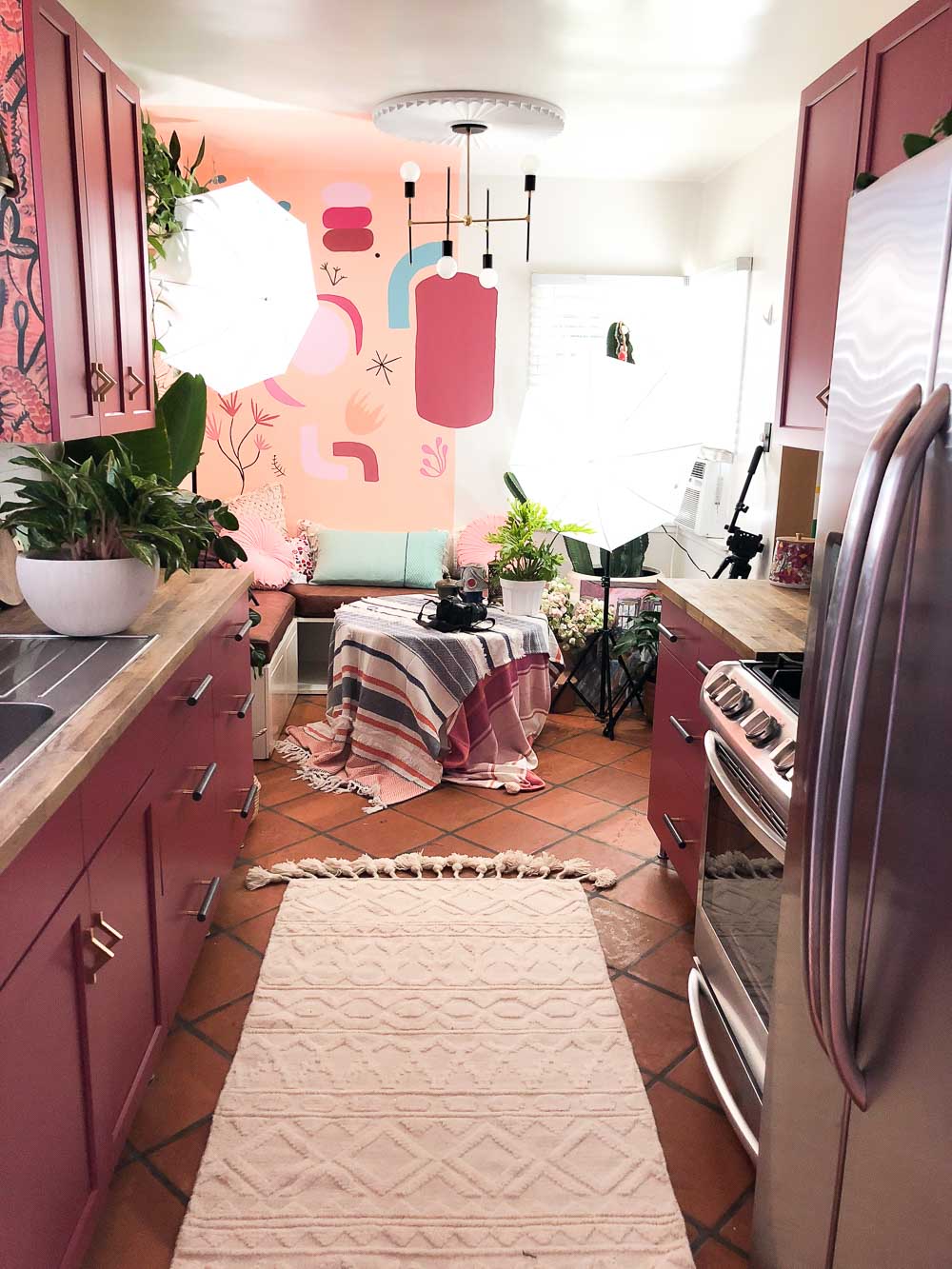 Behind the scenes shot.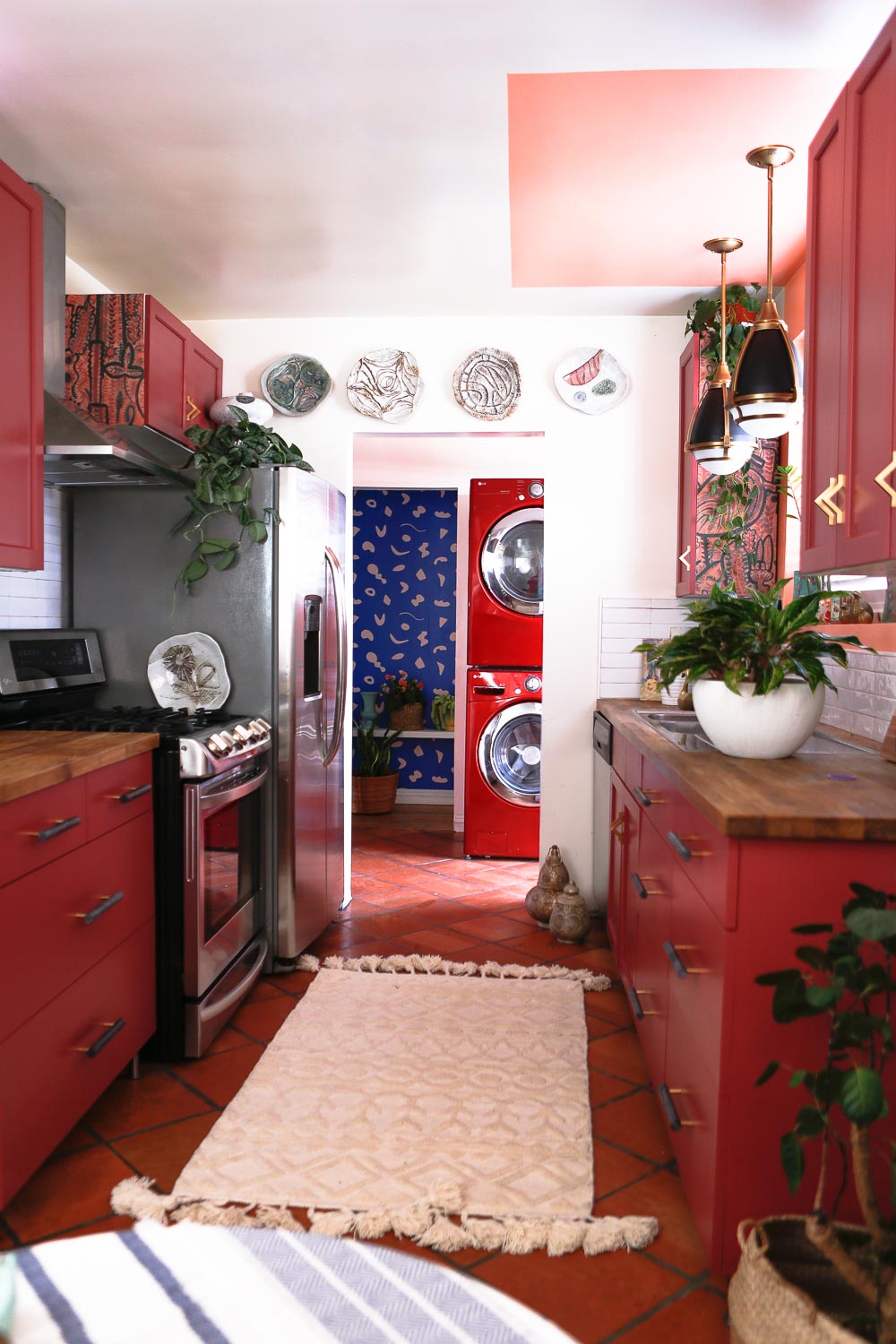 One of my favorite finds for this ORC was the wallpaper from Lucy Tiffney. This lady has lovely designs that stole my heart. The one that I used for the side of my cabinets is called Siena. It looks great in photos AND in person. I would use every wallpaper from her shop in my home if I could… They are all colorful and fun.
The runner is from Anthropologie. Choosing a runner was NOT easy. After a lot of thought and search, I decided to go with something neutral, and I don't regret it. I needed to bring some brightness into the room, and this rug did it.
Although I didn't have the budget to change our countertops and sink, I did replace our water fixture for this black one from Lowe's, and I have to say… I like it. It is sleek and gives the space an air of sophistication that it wouldn't have had with the ugly and old silver water fixture.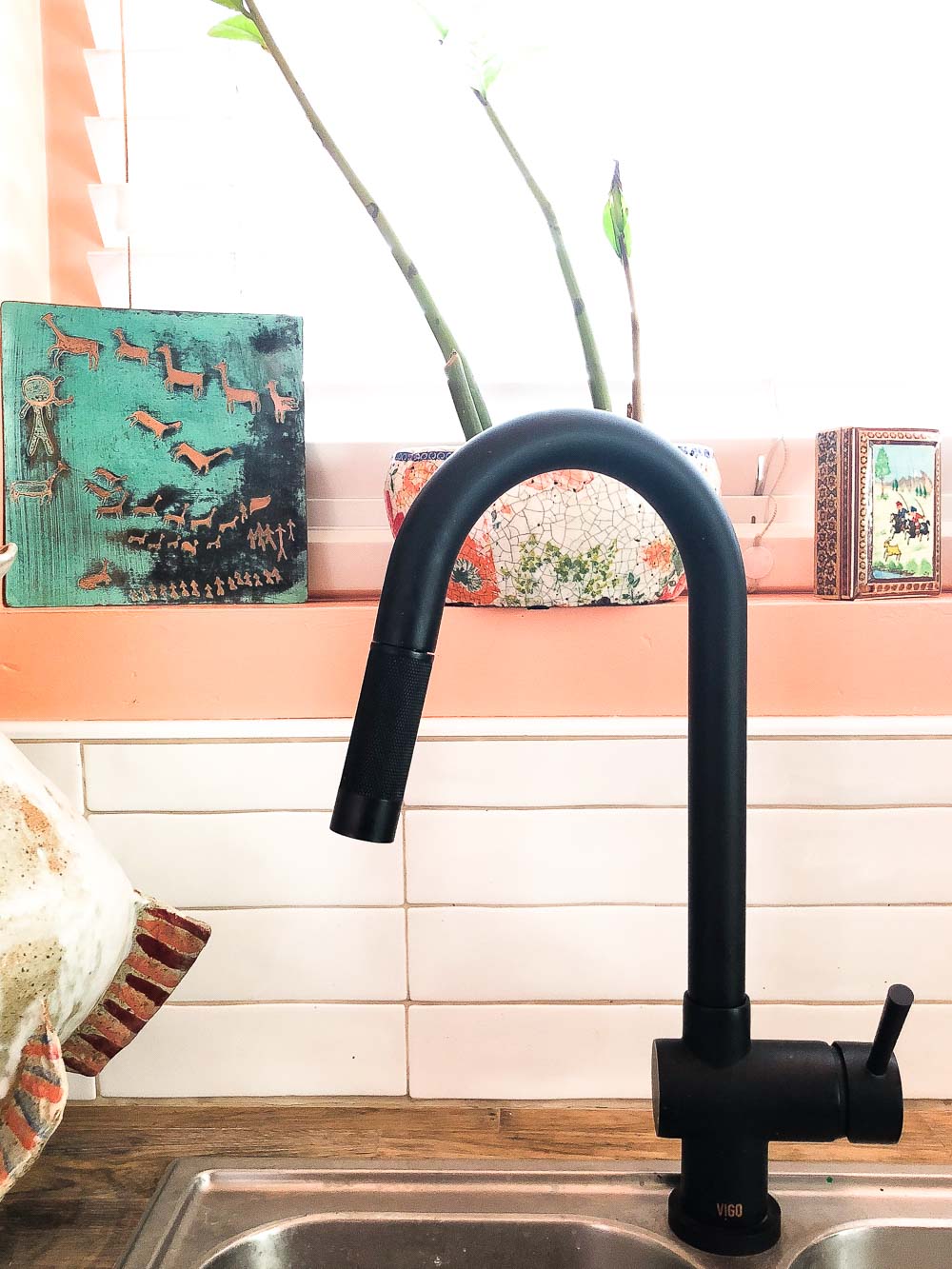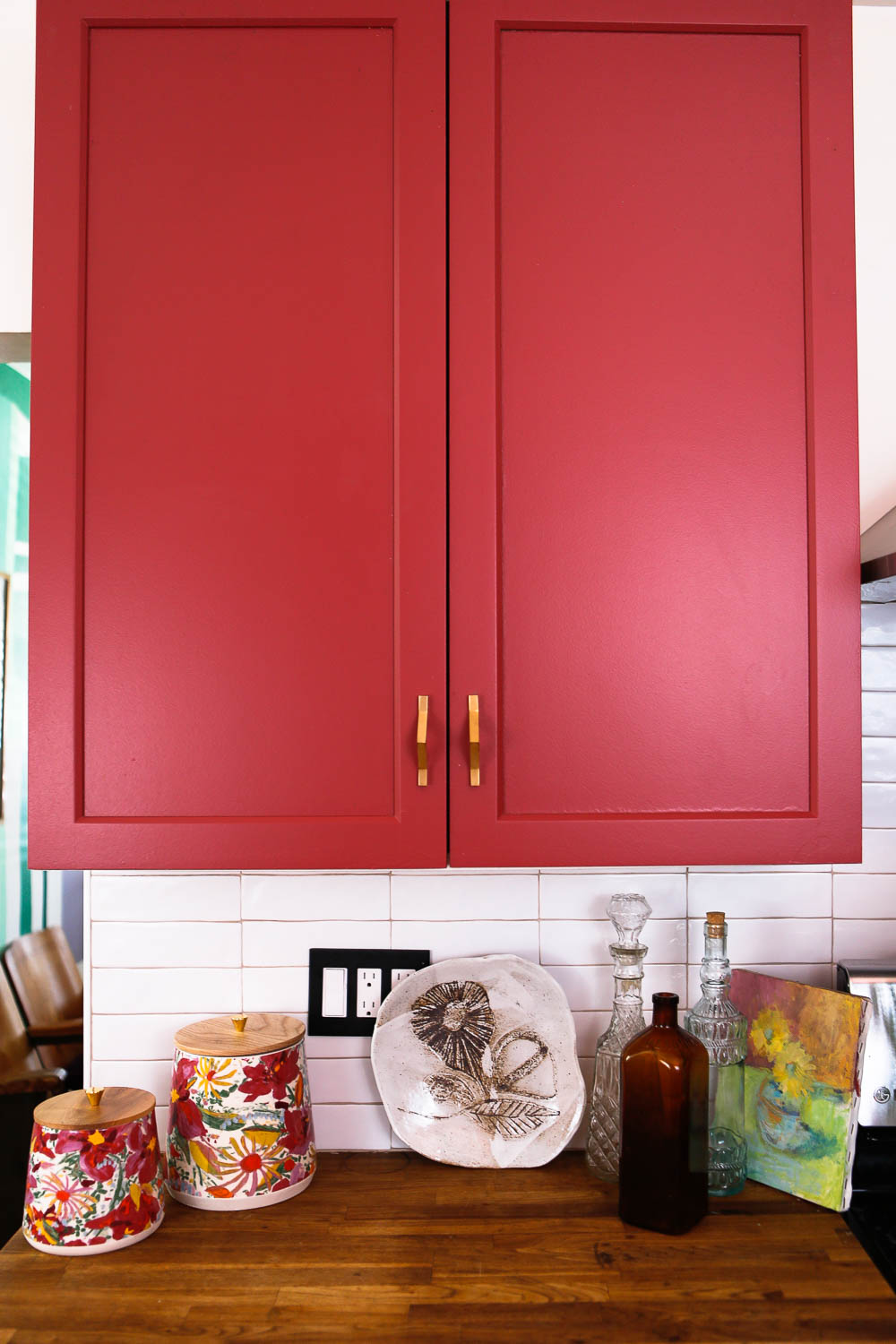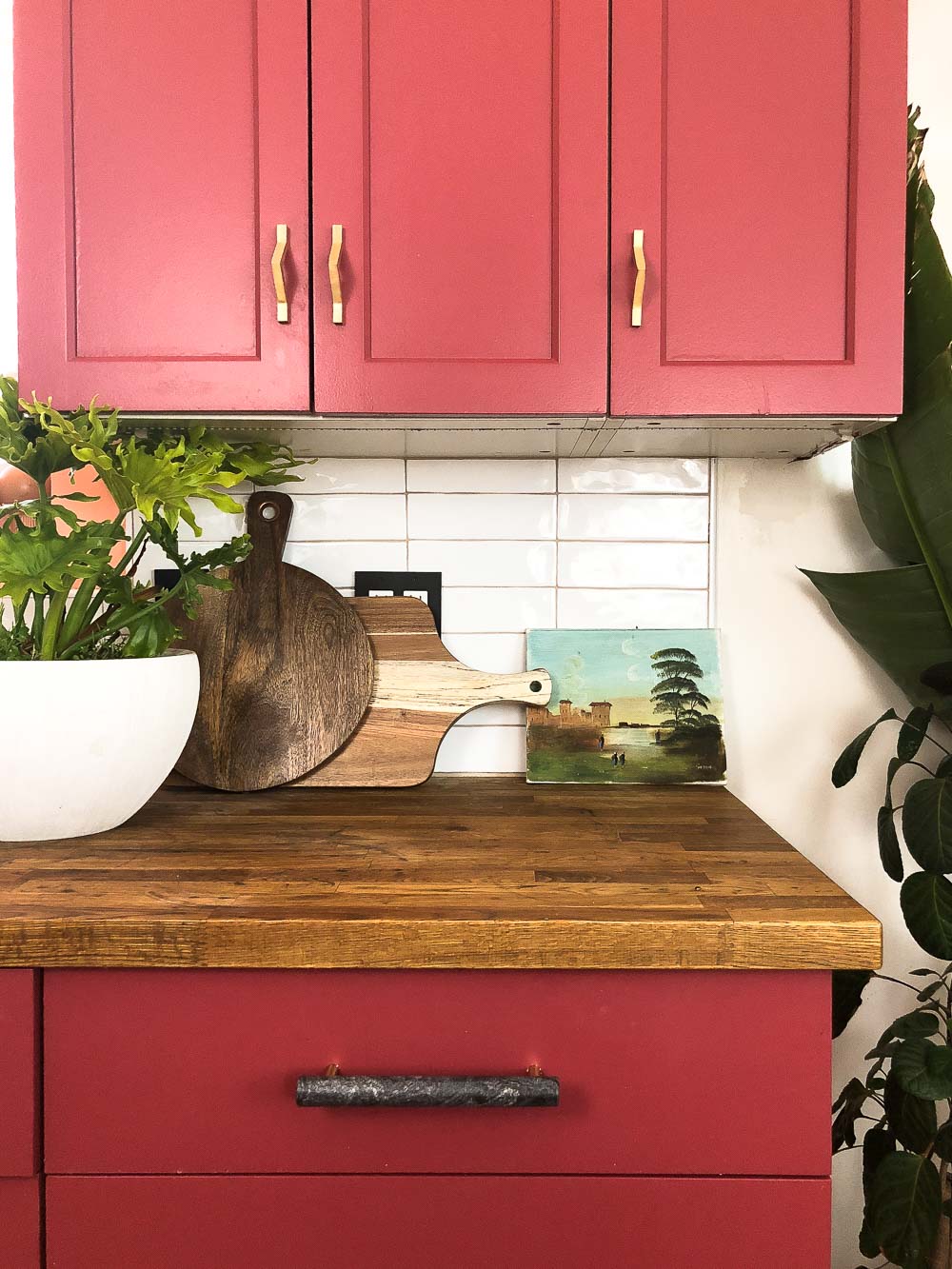 The new cabinet handles are from CB2.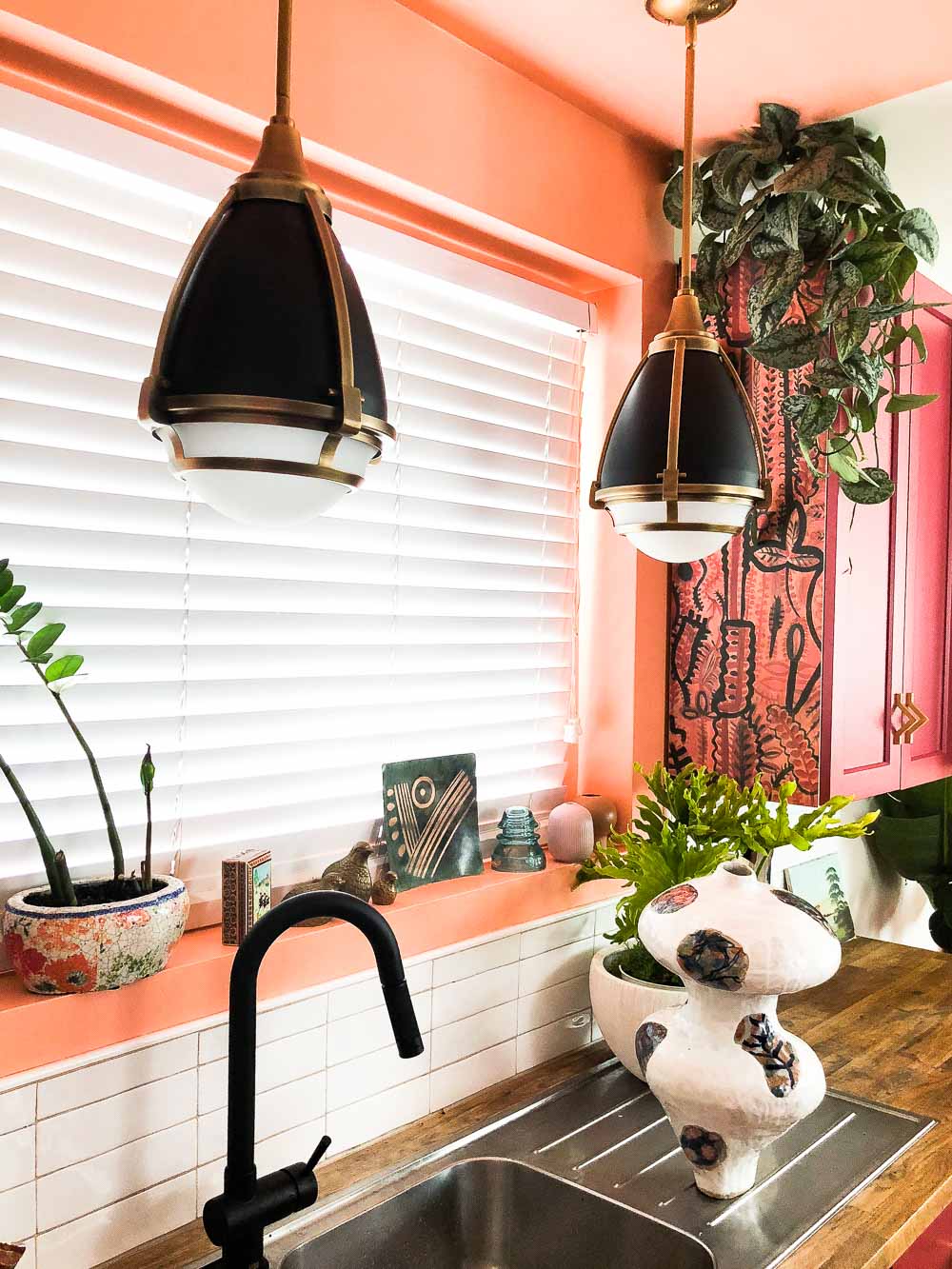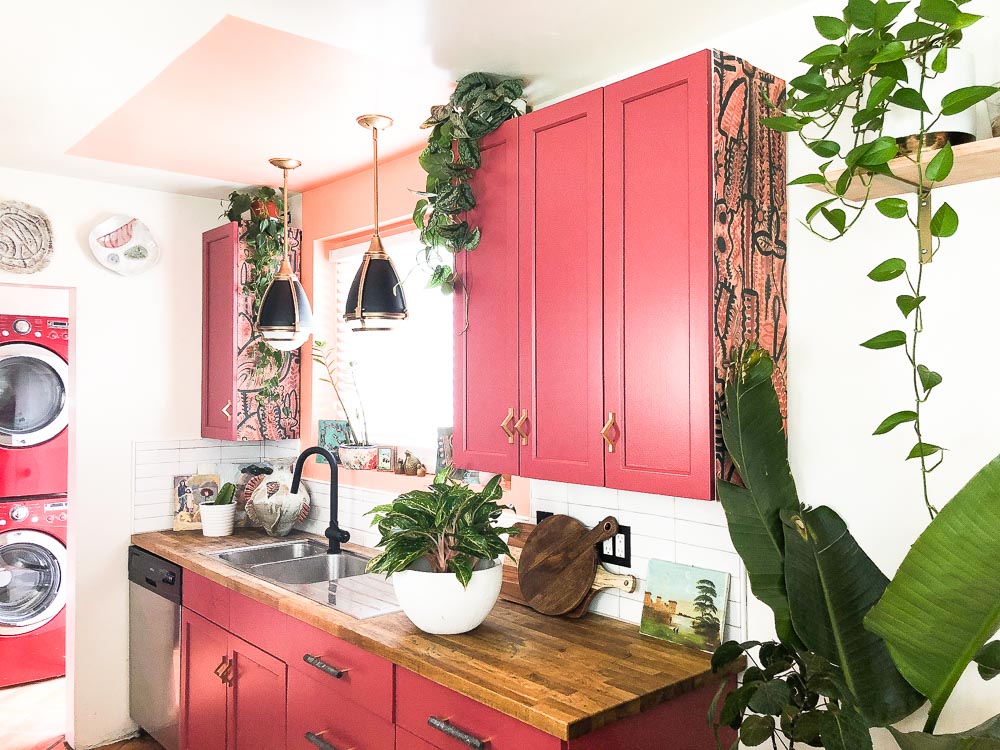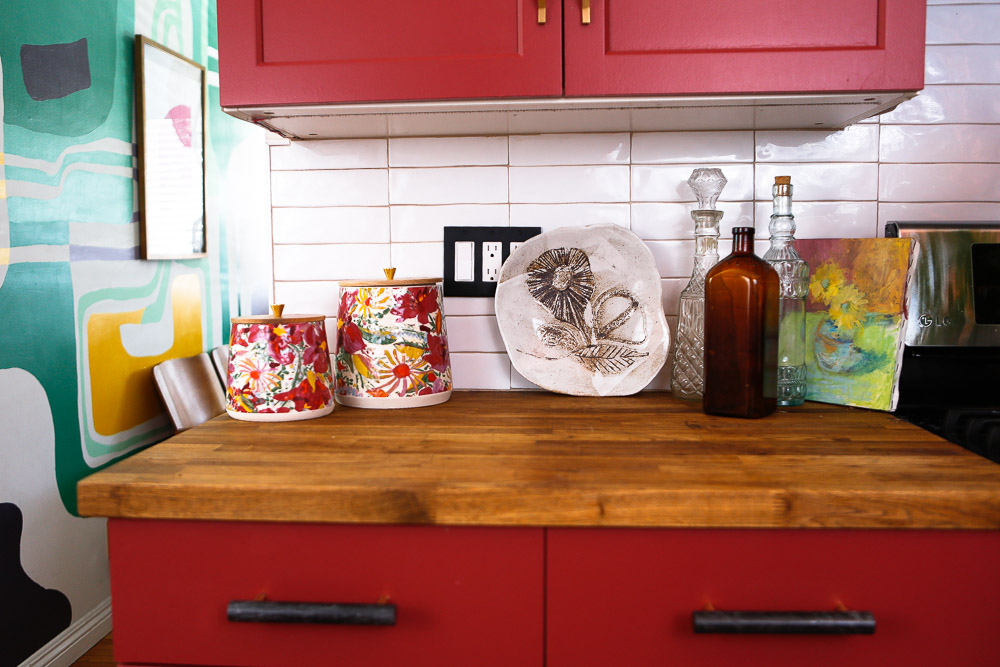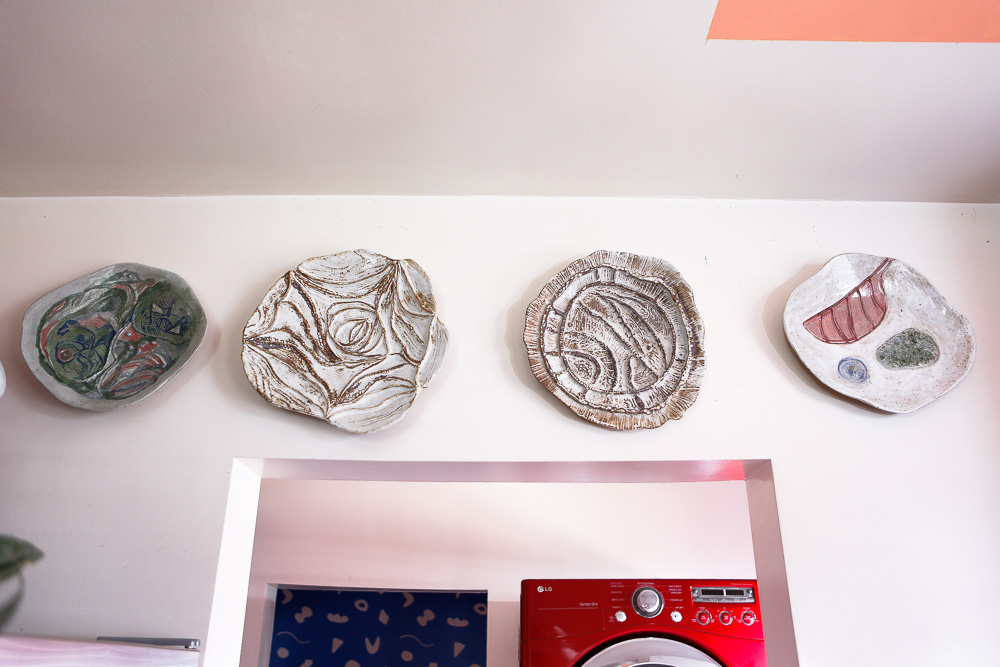 These gorgeous plates are also from Katy Krantz. I enjoy having pieces in my home that are unique. These plates make our kitchen a lot more interesting, don't you think?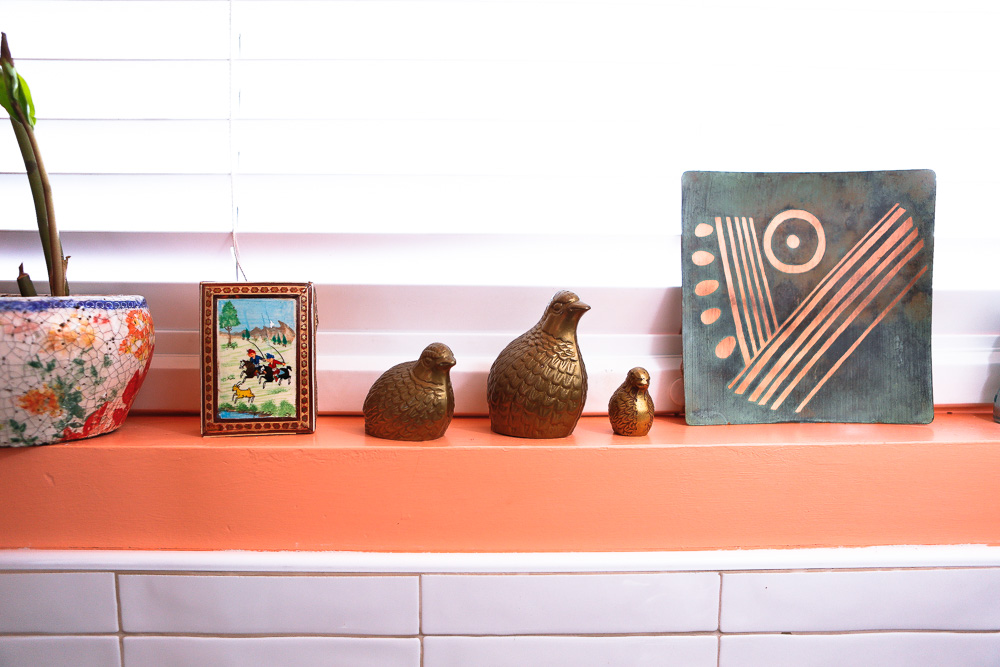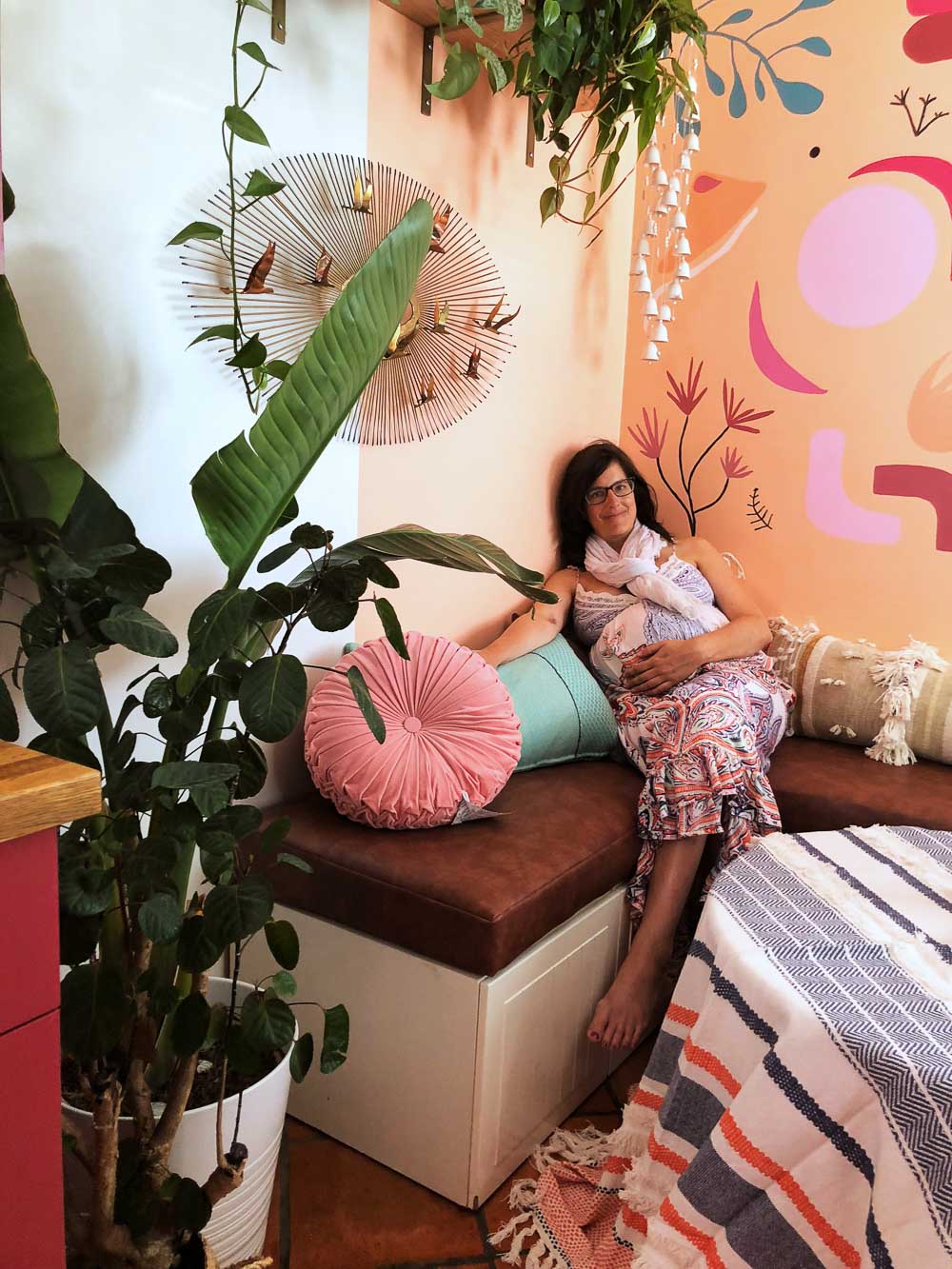 Me having a much-needed rest after these five weeks of craziness.
The list of what I wish I had done for this ORC but I couldn't because I am not a millionaire:
Change countertops to a better quality wood or cool terrazzo.
Change the sink to a white large farm sink.
Change the floor tiles to a lighter Moroccan style tile.
Hire a professional photographer to help me with the pictures.
Overall I am VERY happy with how our kitchen looks right now. It is different, unique, fun, and something I am proud of.
I want to thank my husband (who will never read this post) for spending hours as my handyman. I am amazed at his talent and capacity to work. I also want to thank my friend Lindsay that let me raid her home to help me style this kitchen.
Now, I am just happy to be done and to be able to focus on this child I am having in a month. Thanks for stopping by and let me know any comments or suggestions you have for future challenges. I know it is crazy to even talk about this right now, but I really need to tackle our master bedroom and the patio… ha! I am insane.
*This post was sponsored by Lamp Plus and Cabinet Door Mart but all opinions are my own. Thanks for supporting the brands that make Jest Cafe possible.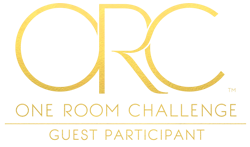 https://jestcafe.com/wp-content/uploads/2018/05/Kitchen-Jest-Cafe.jpg
1500
1000
Mila
https://jestcafe.com/wp-content/uploads/2017/08/Jest-Cafe-about-design.jpg
Mila
2018-05-09 20:47:36
2018-05-09 20:49:55
ORC Kitchen/Dining - Week 6 - The "Oasis" Reveal