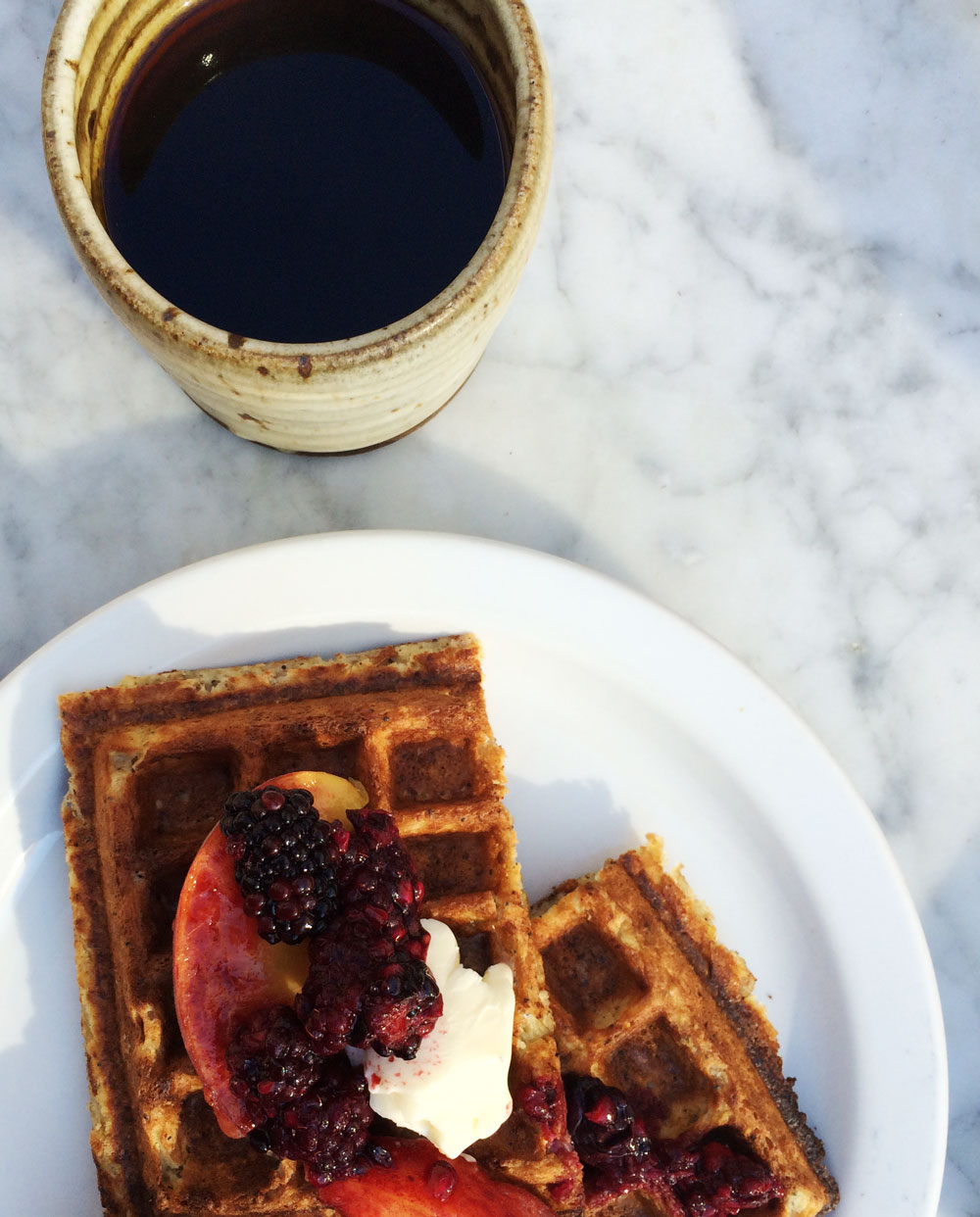 Gjusta is a deli, bakery, and coffee shop in the heart of Venice. It has amazing food but it is pricey, although no more pricey than any other hot food spot in LA.
I would define Gjusta as a minimalist, tasteful, creative and mildly pretentious place… like almost every other restaurant around Abbot Kinney. I think this spot could be encapsulated in time as an example of what LA was trying to be in the 2010s.
Now that we have established these basic facts, let's talk about the décor! I loved this place! The artisan style, big open kitchen, white marble tops, flowers, beautiful food, and open patio were a win, win for me.
The food was SOOOOO good. George and I had steak and eggs and my kids had a goat cheese quiche. Both these dishes were excellent, but the best one was the multigrain waffle. Gjusta has amazing pastries so you should try some if you head that way.
The patio in the back is beautiful and small so it gets filled up quickly. If you can avoid brunch or lunch time, please, do. It gets extremely crowded in there with huge lines and no spot to sit in. Luckily, We are morning people and I have small children, so we were ordering food by 7:30 am on a Sunday. A that time there were no lines, plenty of available tables, and the calming sunlight of the morning hours.
One interesting thing about this restaurant is that it has no sign outside. It is located in a big warehouse and it can be difficult to differentiate from any other building in the block if it wasn't for the movement of people coming in and out of the place. Also, no more than one block away, you can find a large homeless camp, a sad reminder that not all of us have the income to spend $4 on a drip coffee.
Fran Camaj and Travis Lett, same people who created Gjelina, are behind Gjusta.
Address: 
320 Sunset Ave, Venice, CA 90291
https://jestcafe.com/wp-content/uploads/2016/06/jestcafe.com-gjusta3.jpg
1242
1000
Mila
https://jestcafe.com/wp-content/uploads/2017/08/Jest-Cafe-about-design.jpg
Mila
2016-06-24 06:30:58
2017-07-15 23:16:10
Brunch at Gjusta - Venice, CA