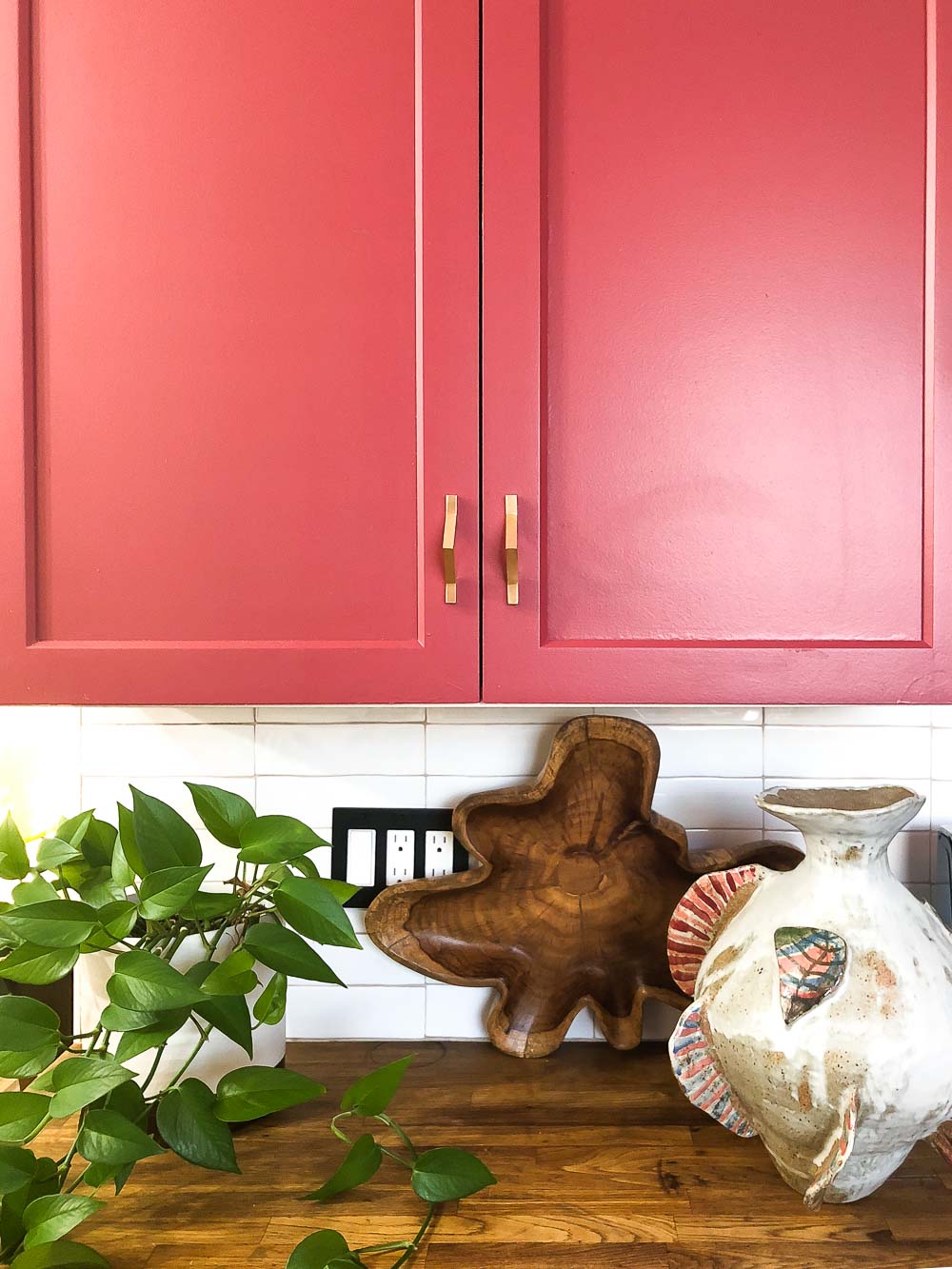 Some of you have asked me: "How can you be so INSANE as to participate in the One Room Challenge when you are 7 MONTHS PREGNANT!!!" Well, I will tell you. 6 years ago, George and I bought our home and decided to use IKEA kitchen cabinets for our kitchen. As much as I love IKEA and its aesthetics, I don't like the quality of all its products. Anybody else in agreement out there?
Well, within six months our kitchen cabinet doors were deteriorating, and within a couple of years, they were in a pretty sad state. George painted white all the imperfections as a temporary solution, but the truth still remained: my kitchen cabinets looked like crap, and it was intensely annoying!!!!
Proof: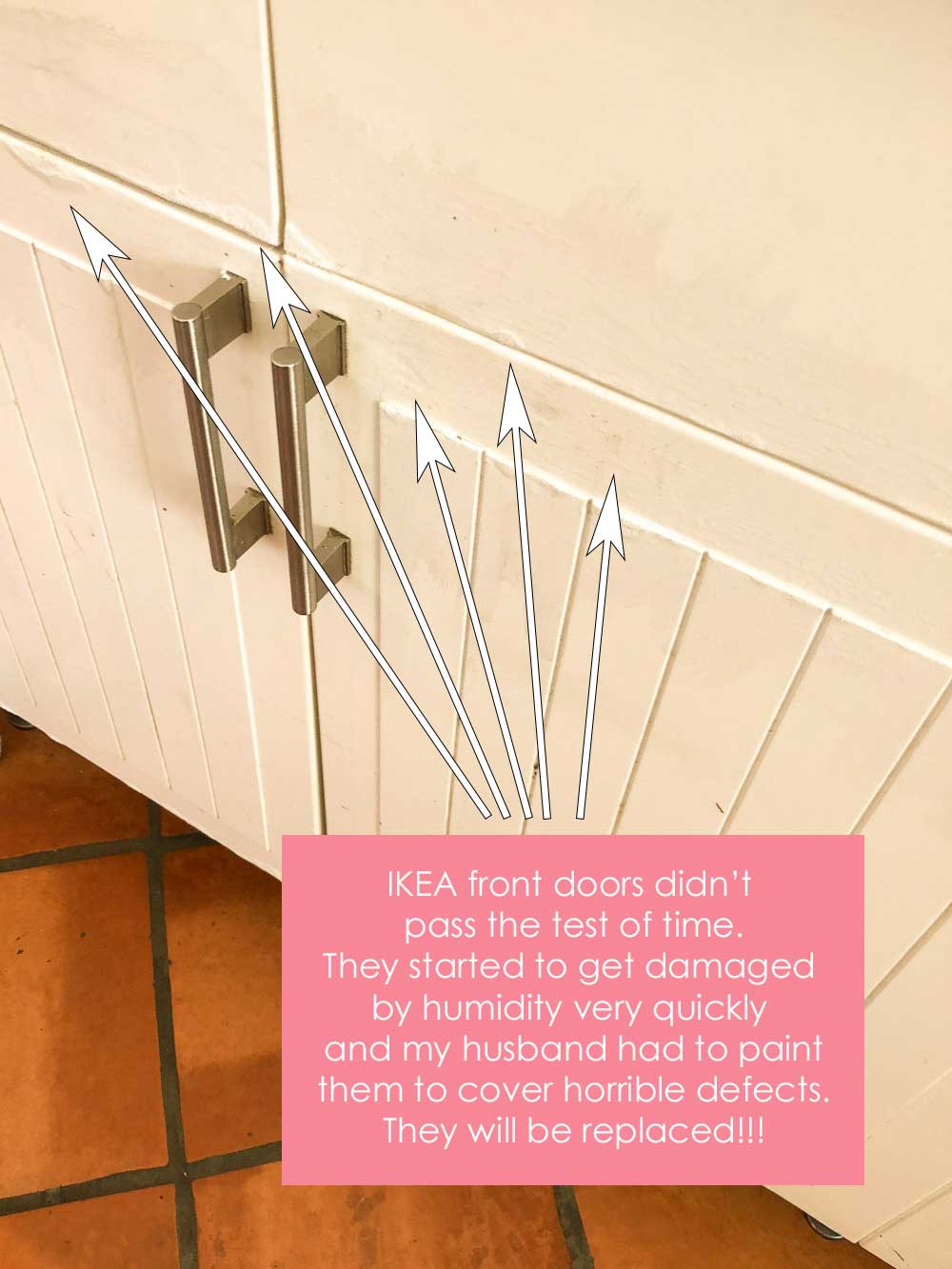 Well, some months ago I was approached by Cabinet Door Mart. They mentioned they would like to work with me on an upcoming blog project and my kitchen soul got REALLY excited!!!!
Sometimes, opportunities fall on your lap, and you have to take them, no matter that a child is growing in your belly at lighting speed! This was my ONE AND ONLY OPPORTUNITY to get rid of those horrible IKEA cabinet fronts and replace them with good quality doors!!!!!! I took the opportunity, people, and I haven't looked back yet.
This is the thing: replacing IKEA cabinet doors and drawer fronts is NOT easy. The measurements of the furniture I bought six years ago don't exist anymore! And there was no way I was going to replace all my cabinets, much less using more IKEA doors and fronts to have them all fall apart because of humidity in less than a year.  I just needed a "facelift" not a full-on plastic surgery, so Cabinet Door Mart came to the rescue.
Good news is that this company will customize doors and fronts to whatever size you need. You have to round up your door sizes to the next 1/16 of an inch. I measured all my cabinets, sent a list of what I needed, and got all my new doors and fronts in no time, nothing short of a miracle. Customer service = excellent.
All doors and fronts came in natural wood. We decided to paint them ourselves in the Radicchio color by Farrow & Ball. The only thing is that, as much as I love European anything, I am not about to spend hundreds of dollar in a gallon of paint, so I asked my local paint store to match the color in Benjamin Moore paints. I ordered satin finish. I did not want the typical semi-gloss kitchen finish, what can I say, I am not always a fan of shiny kitchens. The idea behind using glossy paint in a kitchen is that it is easy to wipe, but satin is an excellent finish for that purpose, too, so that is what we used.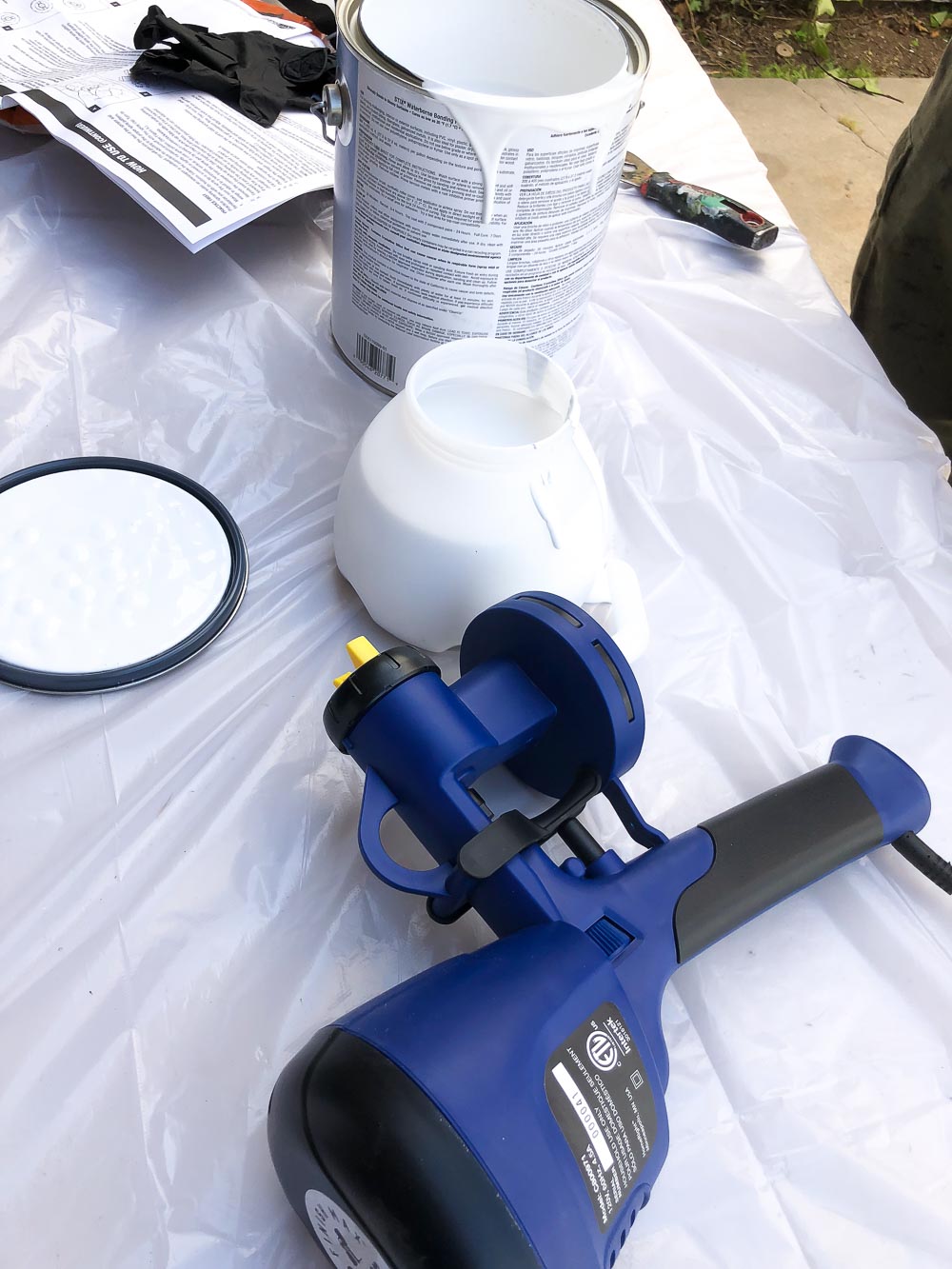 After receiving the doors and fronts, George and I started painting. Luckily, we had an excellent HVLP paint sprayer to help with the task: the Super Finish Max Extra by Home Right. Last year, when I went to the Haven Conference, there was a booth from Home Right showing the versatility of this product. I fell in love with it because even me, an inexperienced spray painter, was able to make a paint job look perfect!!! I begged them to send me a Super Finish Max Extra, I even cried a little, and they were kind enough to say yes!!!!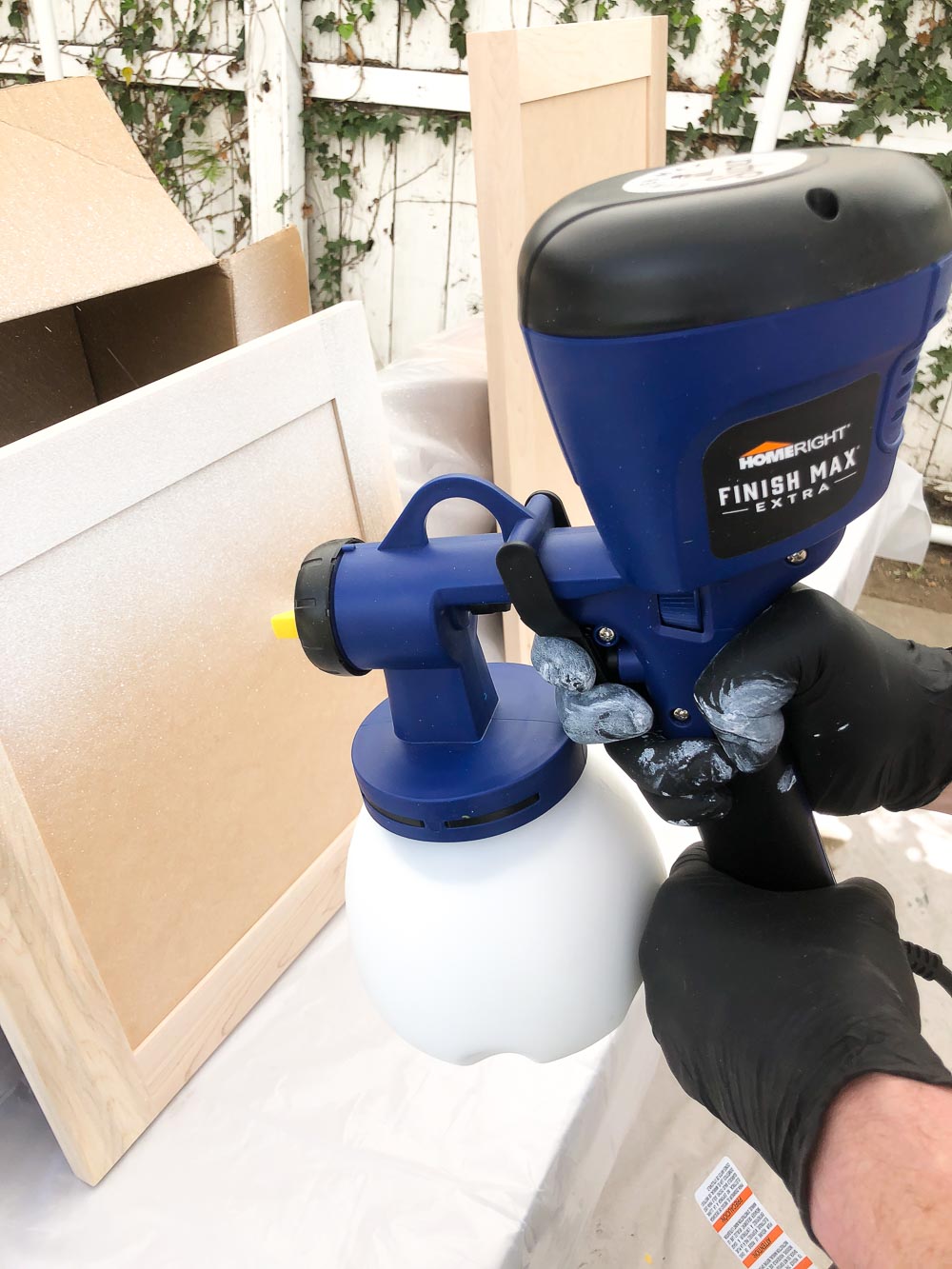 Ladies and gentlemen, this tool made the paint job so easy! First, we primed the doors and fronts, then we let the primer dry one hour or two and got to the real paint. We did two coats of the radicchio paint in the front only. The Super Finish Max Extra allows you to choose the thickness of your spray and we went a little bit thick. That and the primer allowed for just one coat of paint on the back of the doors. Take a look: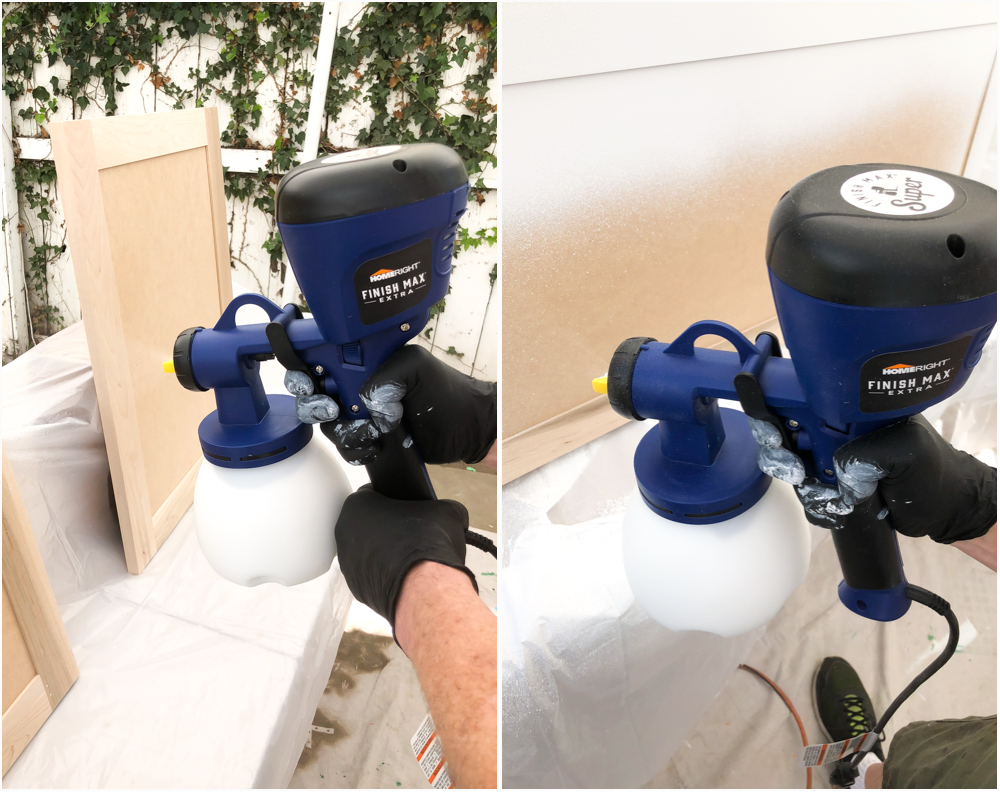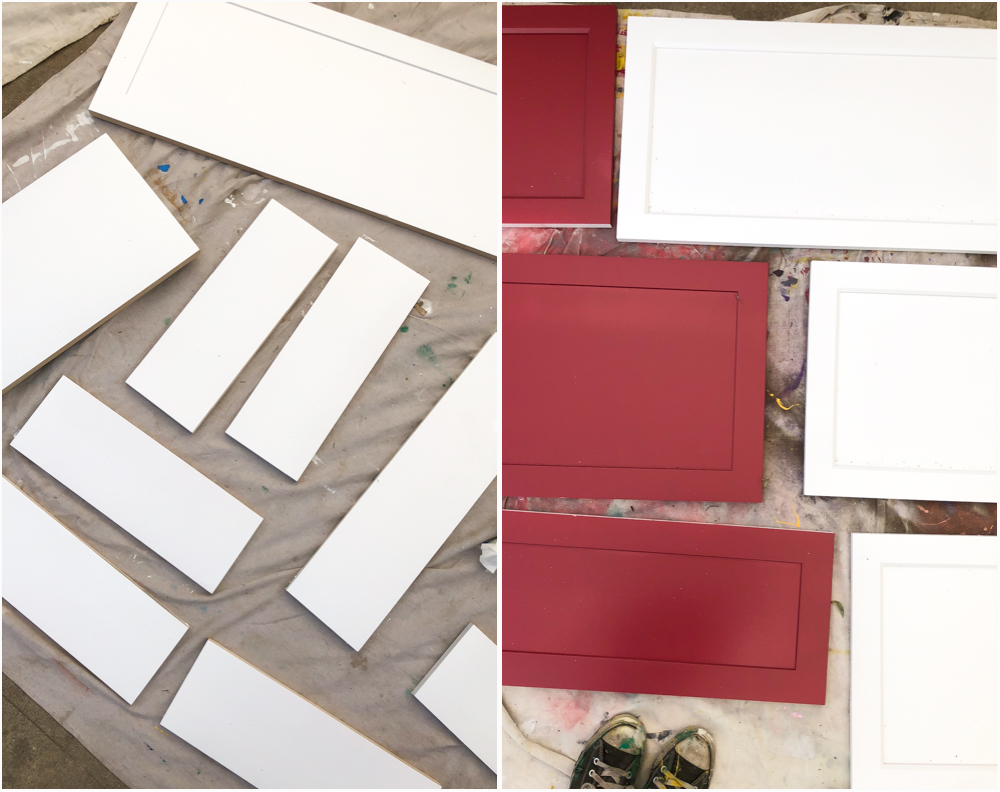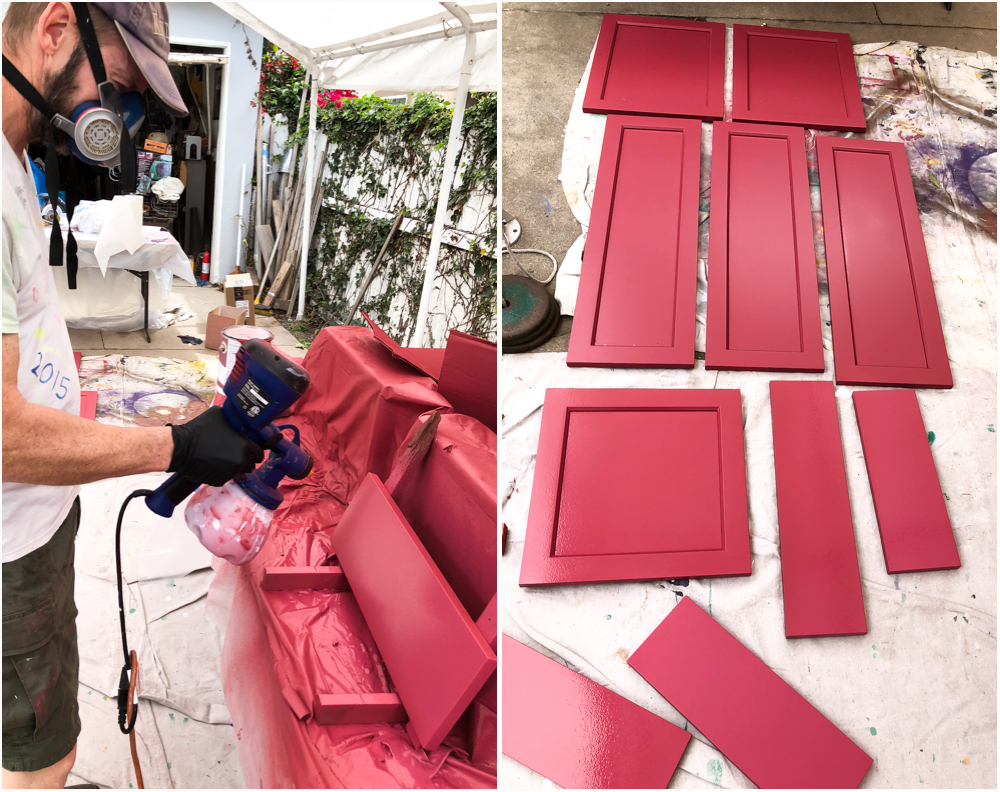 Looking good, gorgeous doors!!!!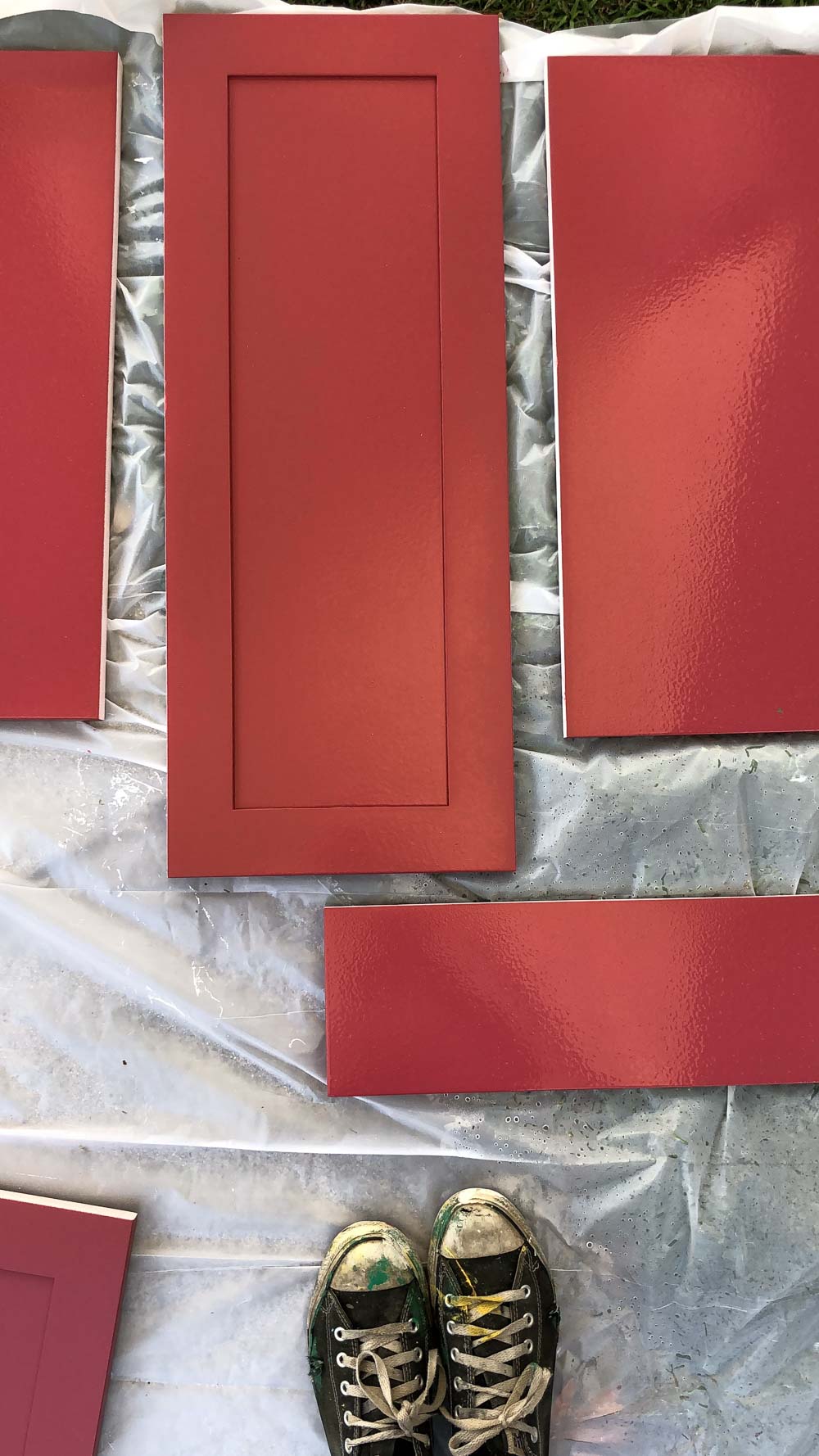 Now, I am not going to lie. Although the Super Finish Max Extra makes your life a lot easier, painting 31 cabinet doors and drawer fronts is not a stroll in the park. It took all weekend to finish this project, mainly because we had to wait for the paint to dry before applying a new coat. Also, you need to be SUPER careful handling all the doors, so you don't touch the fresh paint and ruin the whole job, but look at the result! I mean, the color is just perfect. I love it all and I am thrilled to have doors and fronts that are of good quality!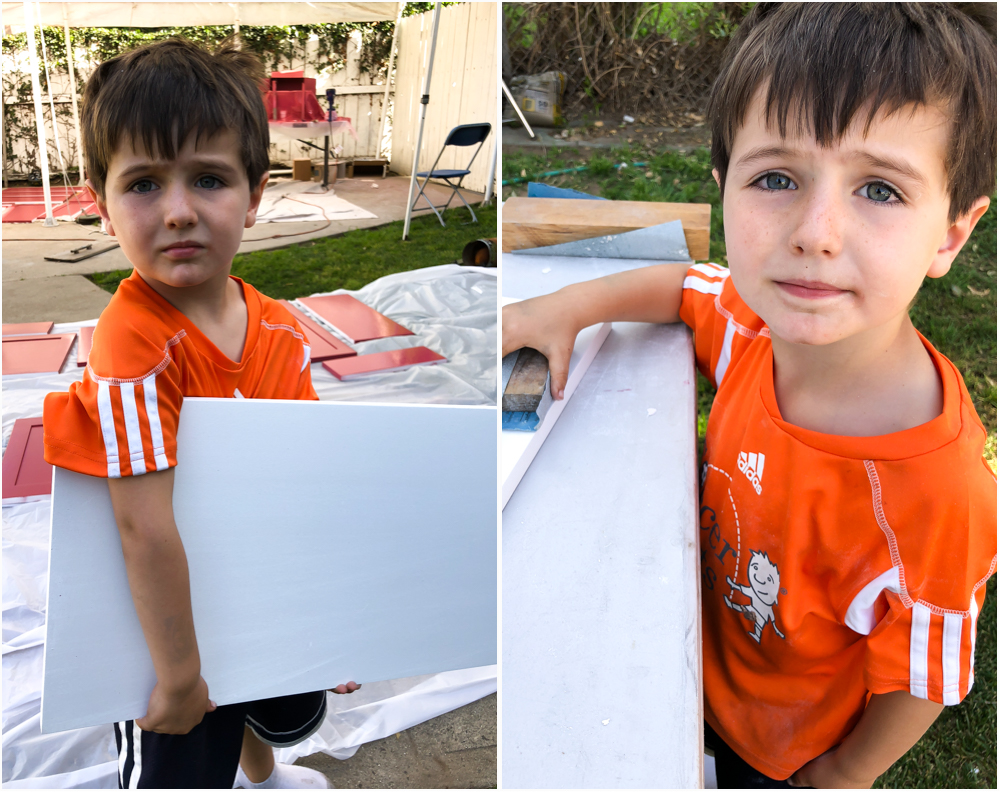 Another problem sweet thing that happened was that Max decided to help. We want to be encouraging parents that teach their children to be independent and do projects, but, let me tell you, I would rather not have to deal with a four-year-old while painting 31 cabinets!!! Augh! But then, look at that sweet face… oh well, he helped, and things worked out fine in the end.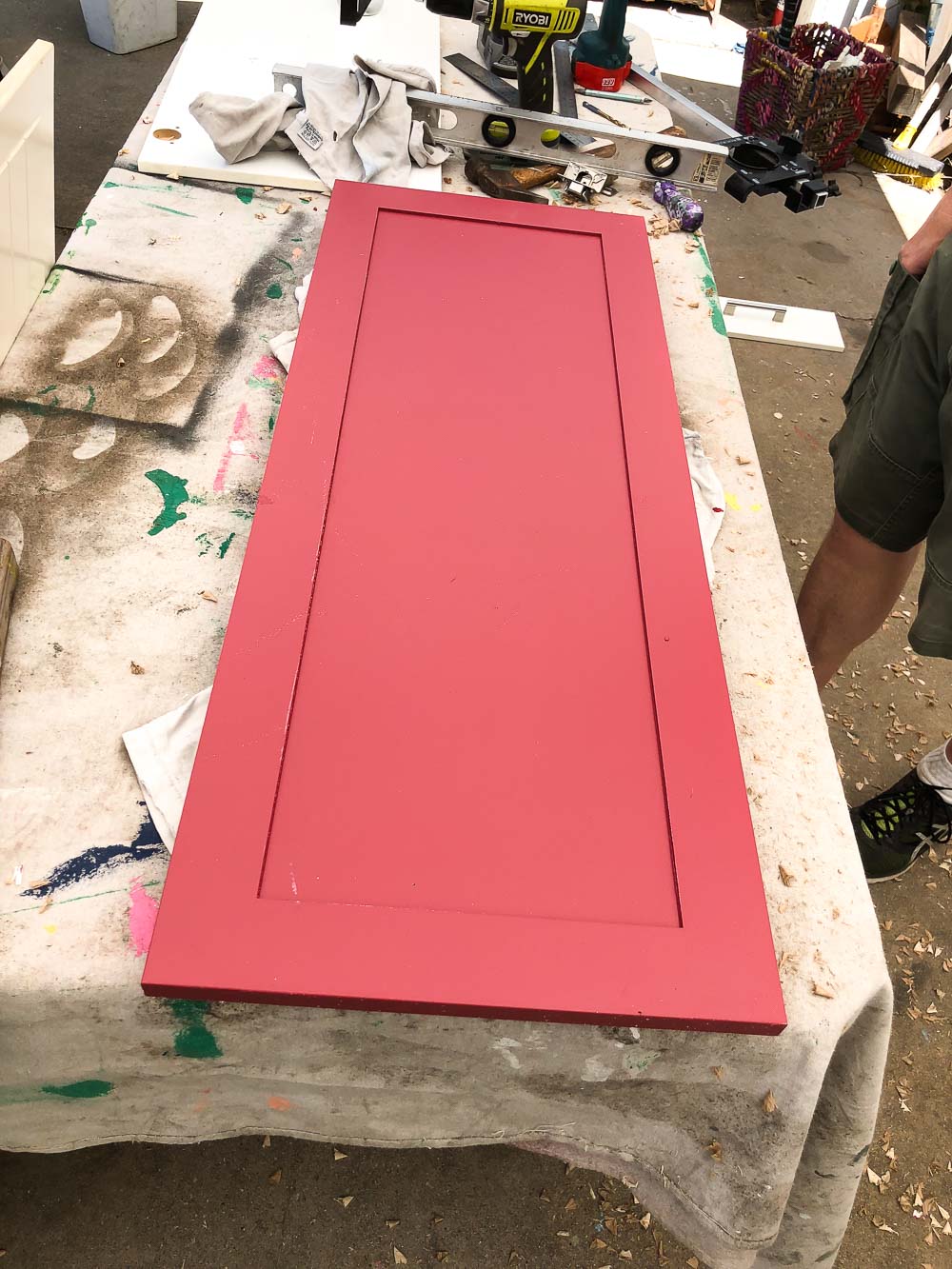 After painting, we had to drill cup hinges for the cabinets. Cabinet Door Mart can send pre-bore doors, but, because we had IKEA cabinets and were not sure of the measurements, we decided to do this ourselves. Again, not an easy project. The truth is that for this, I didn't do much, it was all George, and he made it work beautifully. I got the Rockler Jig-It Deluxe Concealed Hinge Drilling System to help with the task, but it was a little bit of a disappointment.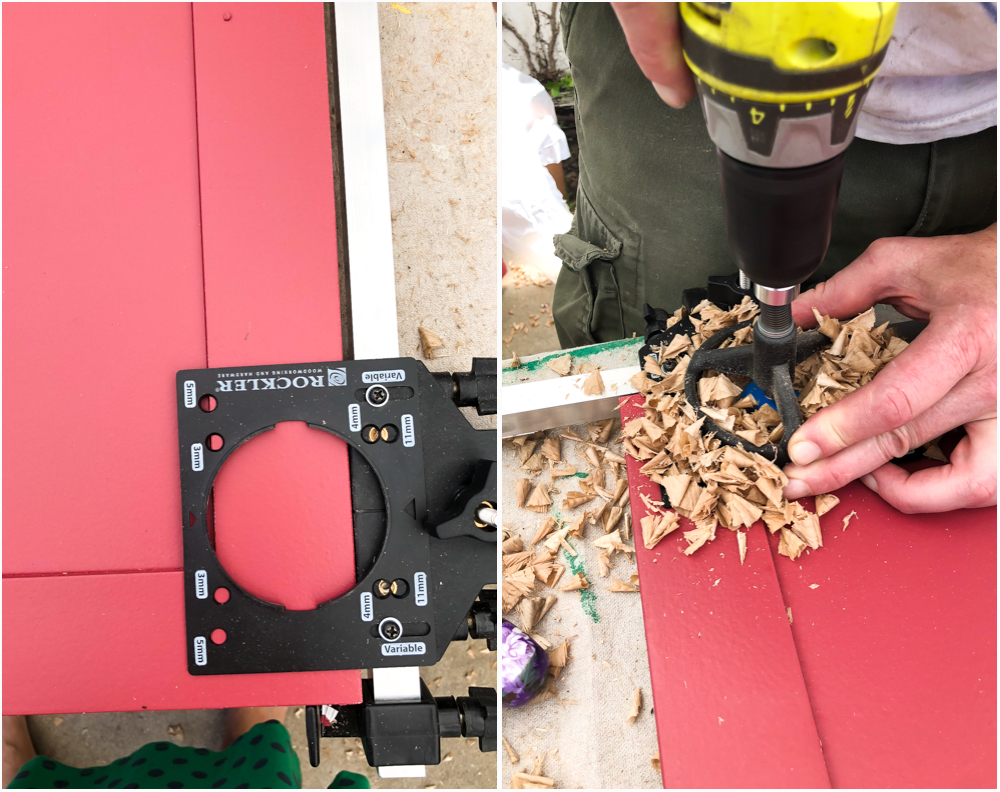 Not only the rail wasn't long enough for our 39″ cabinets, but the Jig mounting holes were not aligning right. Of course, George was able to fix the issue by using different screws and other tricks, but, if you are not handy or have a good handy person around, I wouldn't recommend drilling the cup hinges of your cabinets yourself. In any case, if you decide to go this route, find a better system than the Rockler we used.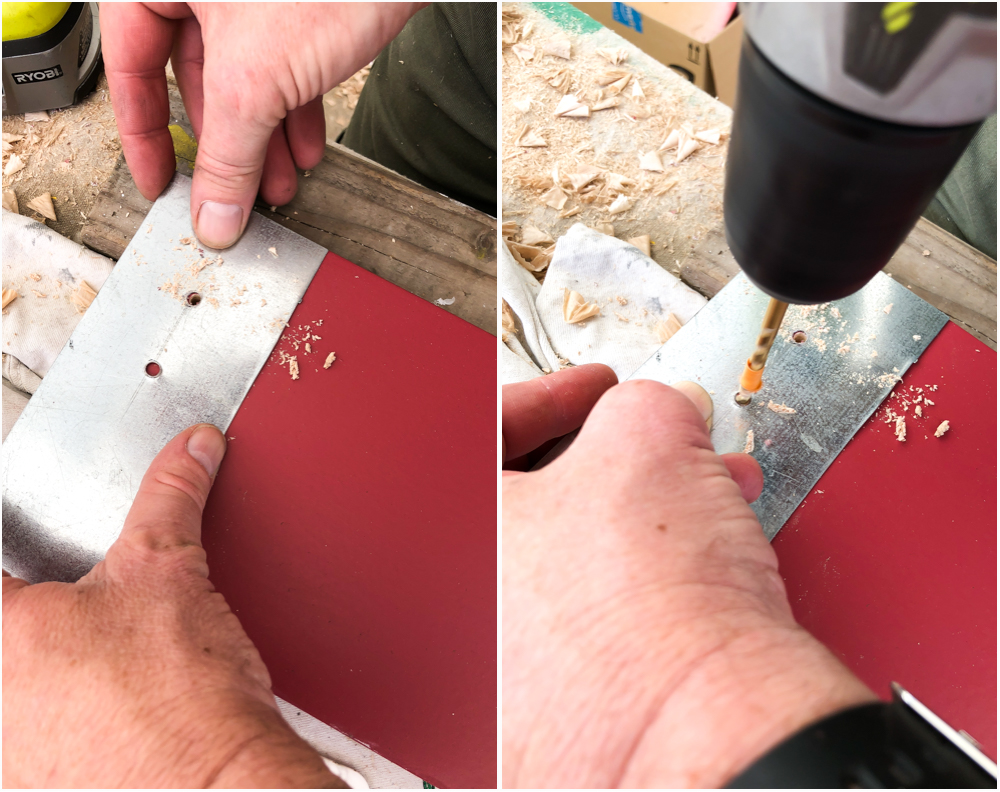 Look at my hubby's invention to drill holes at a consistent width. He is soooo good.
This is how the first drawer front looked like: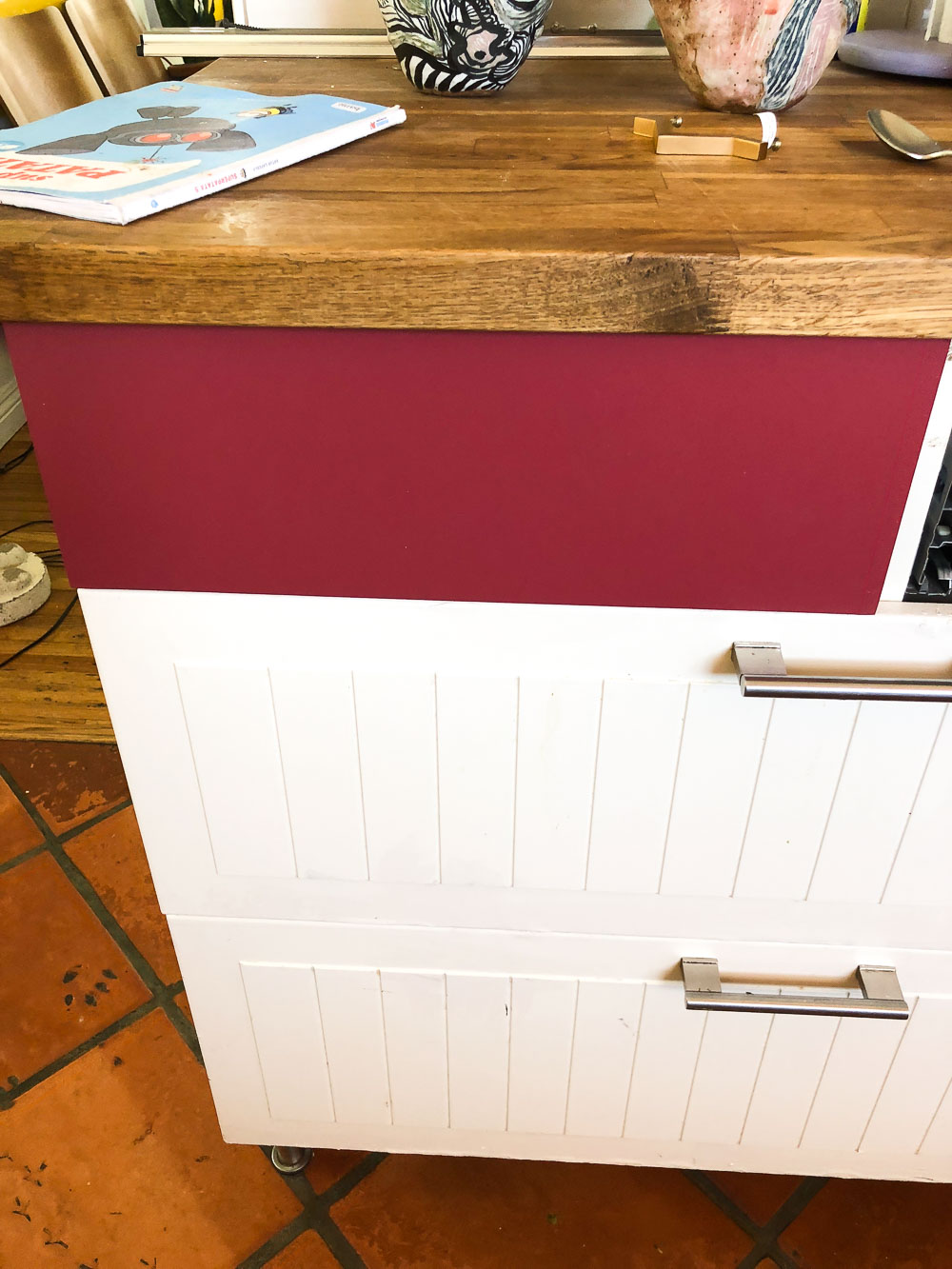 I LOVED IT!!!!! The color stole my heart.
I will show you more photos of this beautiful cabinets once all the handles are on, but, for now, you will have to take my word for it: they look gorgeous, and they make the whole kitchen work!!!! Everything is finally coming together!
In other news, we installed the tiles: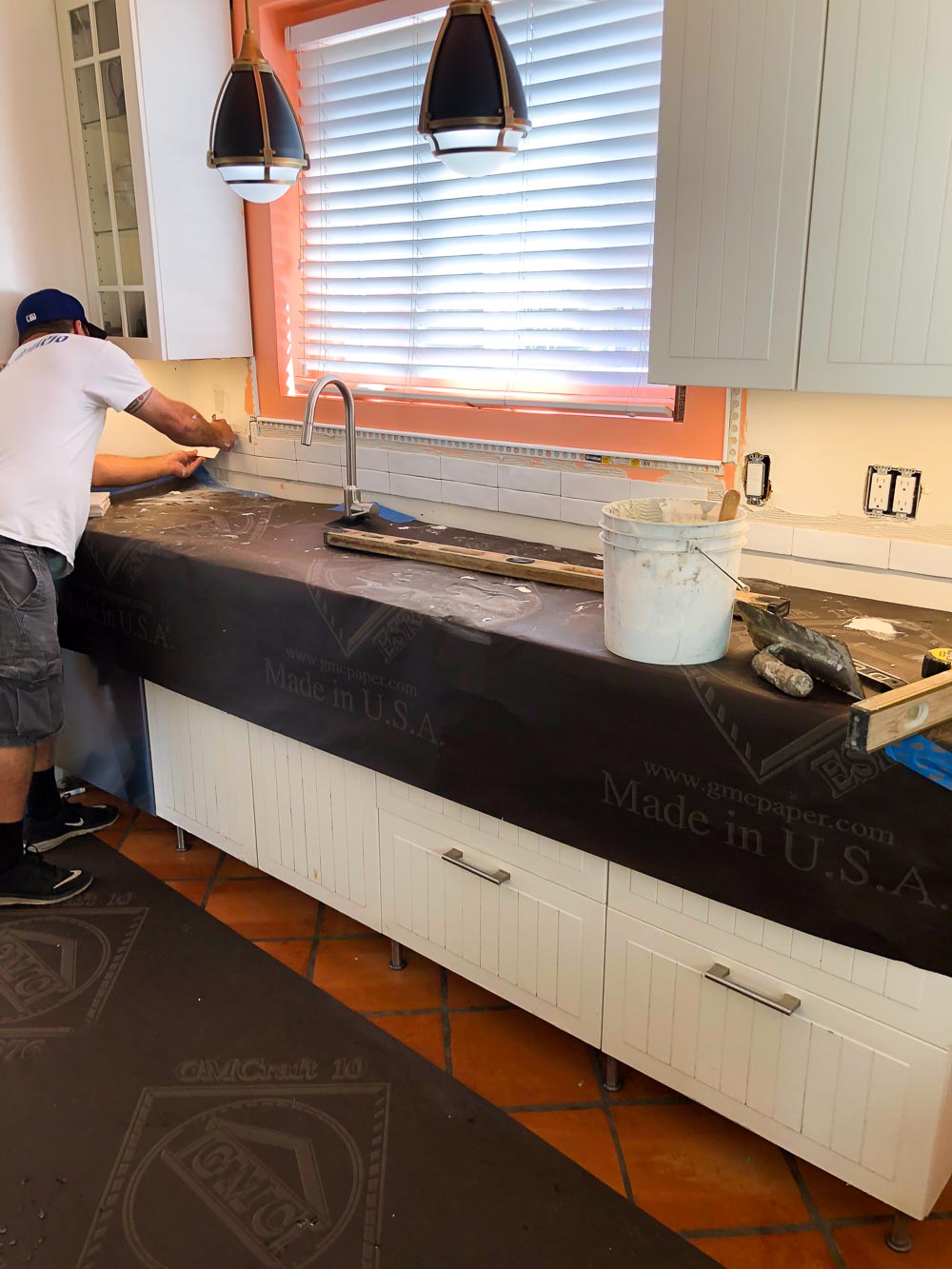 I started painting that mural: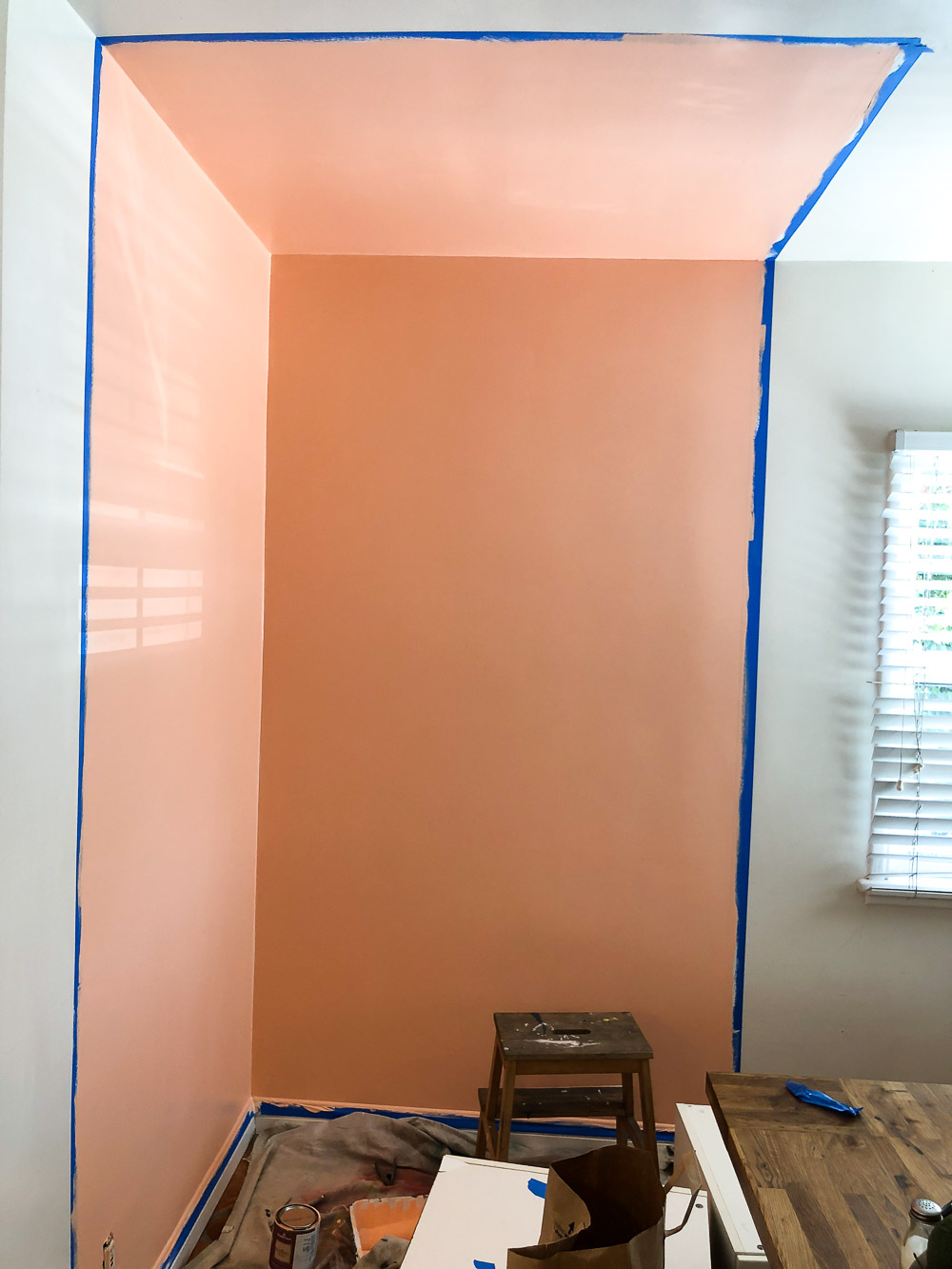 Ceiling medallion and chandelier are up. Sorry for the mess (please, don't pin this… haha) :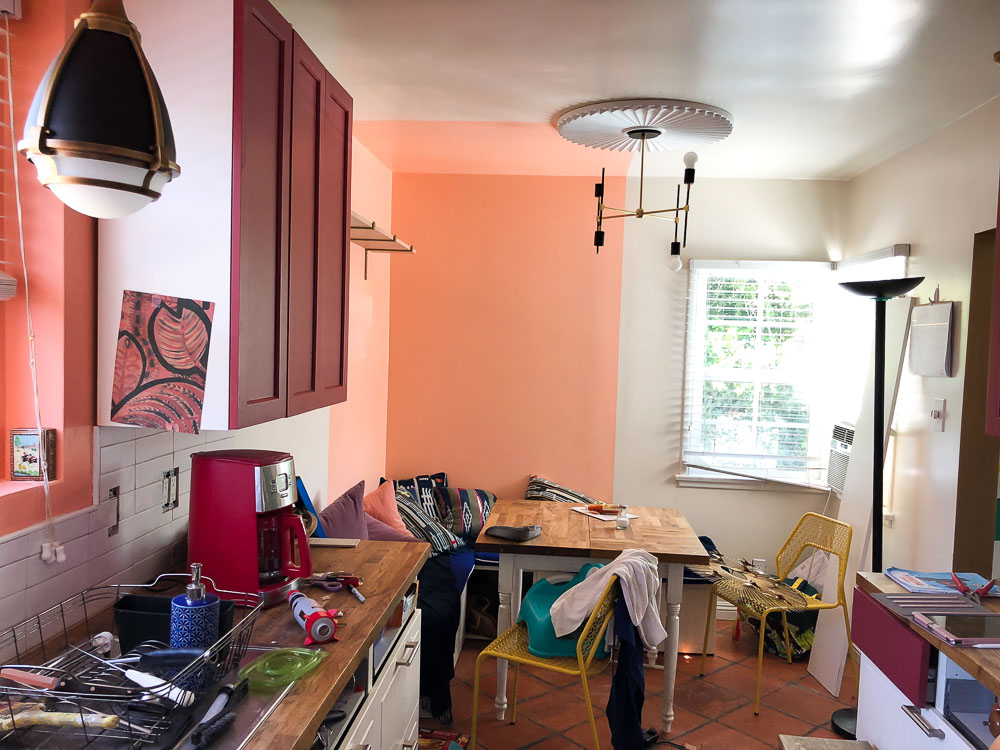 We are waiting for that gorgeous wallpaper from Lucy Tiffney to arrive so we can add it to the side of the cabinets: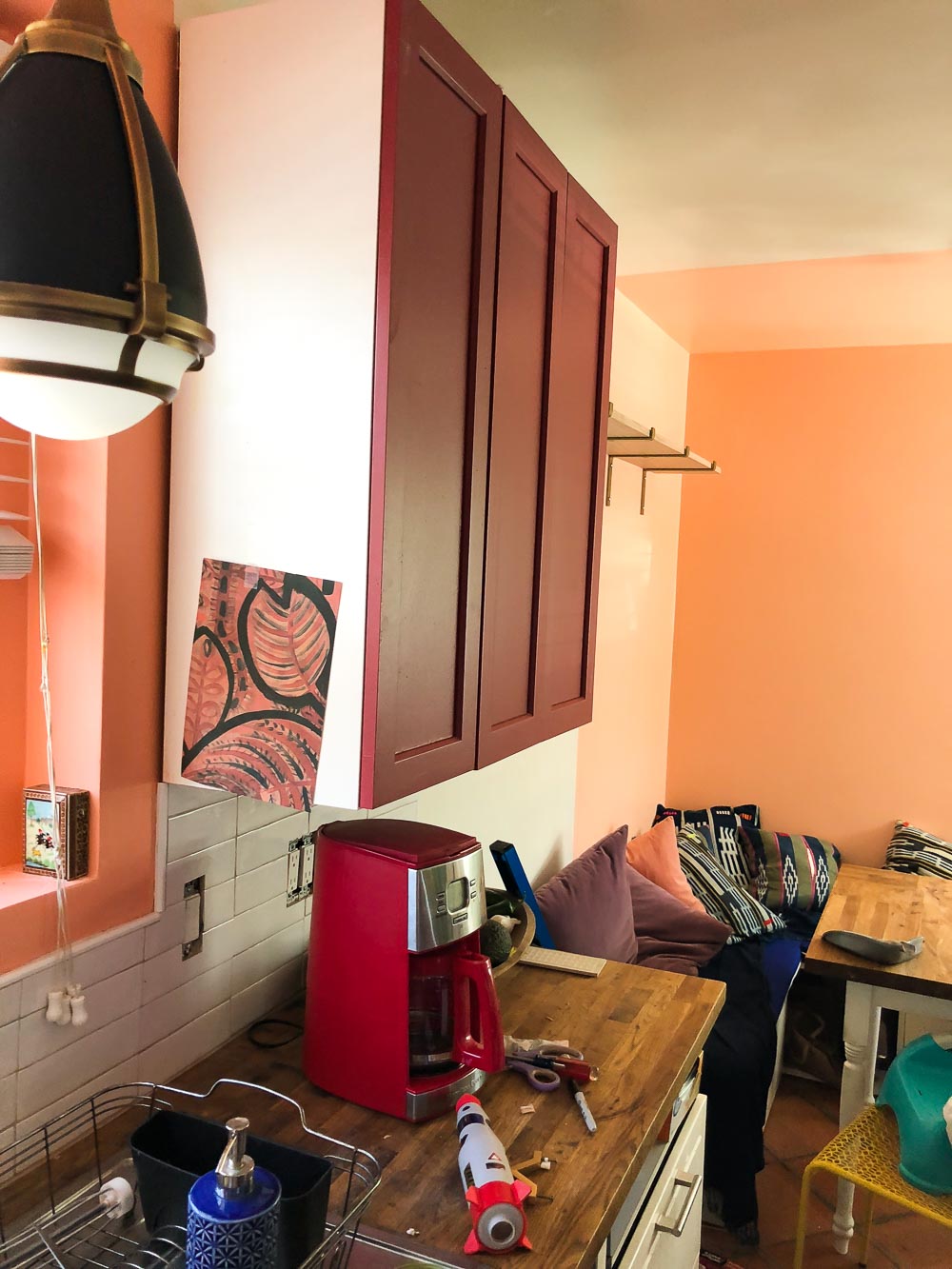 Here are the kids with me at Home Depot. They have been so patience and fun throughout the process. Here is also Max cleaning up messes because he likes playing with water and soap while being "extremely" helpful.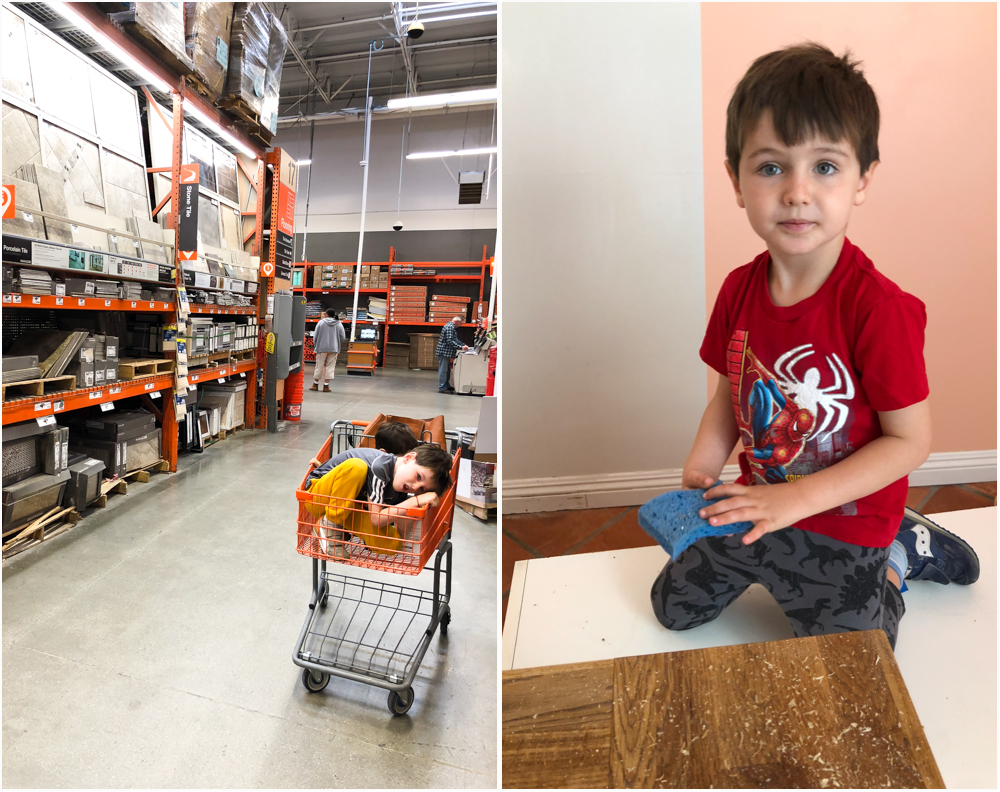 Ok, readers, only two more weeks to go and I am thrilled with how all of is looking so far. I had a minor meltdown last weekend, if you follow me on Instagram, you know everything about it, but now, finally, I feel things are going in the right direction.
Here are the posts from the other weeks:
Week 1 | Week 2 | Week 3 | Week 5 | Week 6
*Thanks to Cabinet Door Mart and Home Right for sponsoring this post, and thanks to you for supporting the brands that make Jest Cafe possible! Have a great week.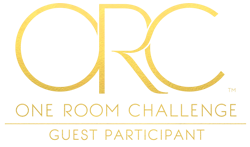 SaveSave
SaveSave
SaveSave
https://jestcafe.com/wp-content/uploads/2018/04/Kitchen-cabinets-11.jpg
1333
1000
Mila
https://jestcafe.com/wp-content/uploads/2017/08/Jest-Cafe-about-design.jpg
Mila
2018-04-25 13:51:25
2018-05-11 19:34:54
ORC Kitchen - Week 4 - New Cabinets