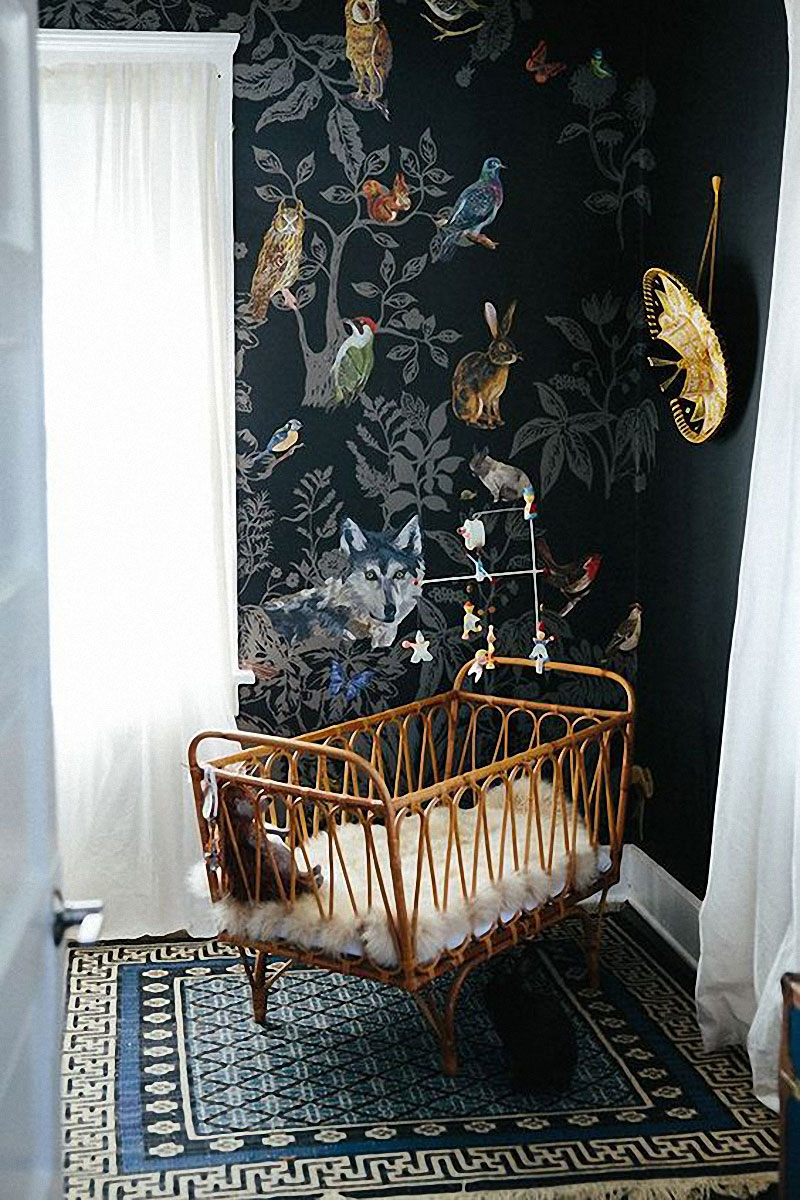 Okie Dokie. Call me crazy or whatever but, with no design background, I have decided to participate in the One Room Challenge starting today! Here is a post about what this challenge is all about.
This is the thing, I love interior design and I have followed design bloggers for a while, so I am ready to take on a challenge, although, I am a little bit worried about that 6 weeks deadline to fully renovate a room with a limited budget. Does not sound easy.
My inspiration is the photo above. I have a Pinterest board filled with other inspirational pictures, but I keep on coming to this one because I LOVE that nursery. Why do I love it so much? It is bold, whimsical, and it takes you out of your comfort zone (Black for a nursery?? who would have thought!?). Also, there is a little of mismatch design in this room, don't you think? Not sure if that rug is the obvious choice for this space, but it works!
For this One Room Challenge,  I have decided to transform my kids' room – the ugliest room in my house- to say it is horrible is an understatement. Please, see the pictures below and judge for yourself. My feelings won't be hurt!
DISCLAIMER: You are about to witness the ugliest children's room that exists on planet earth. If you don't like to look at dreadful spaces, SKIP the next 6 photos, or venture to look at them at your own risk. Just be happy to know that in 5 weeks all this ugliness will be mostly gone (hopefully).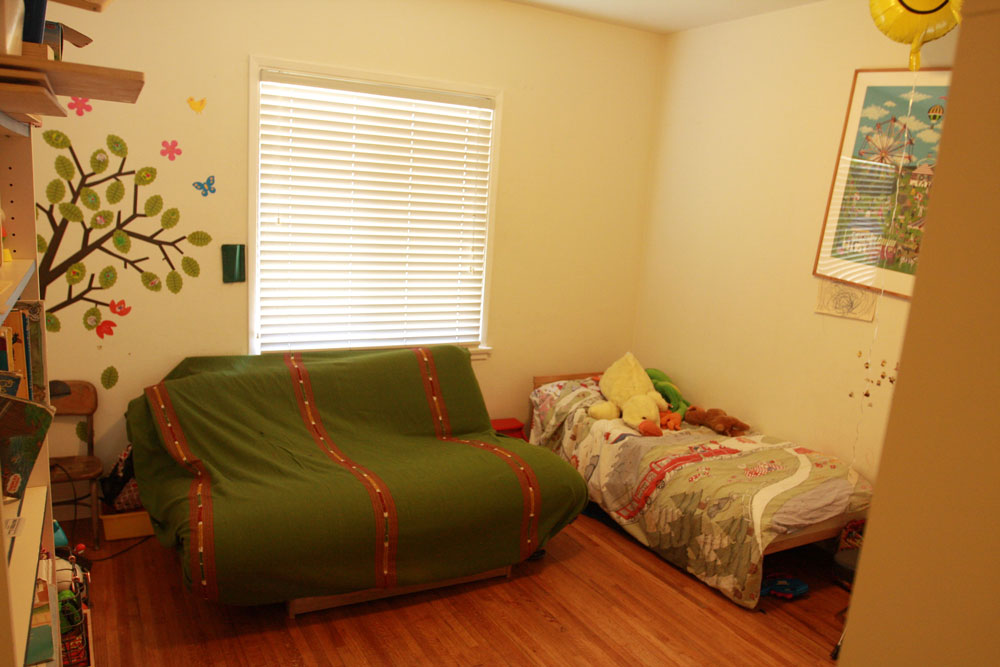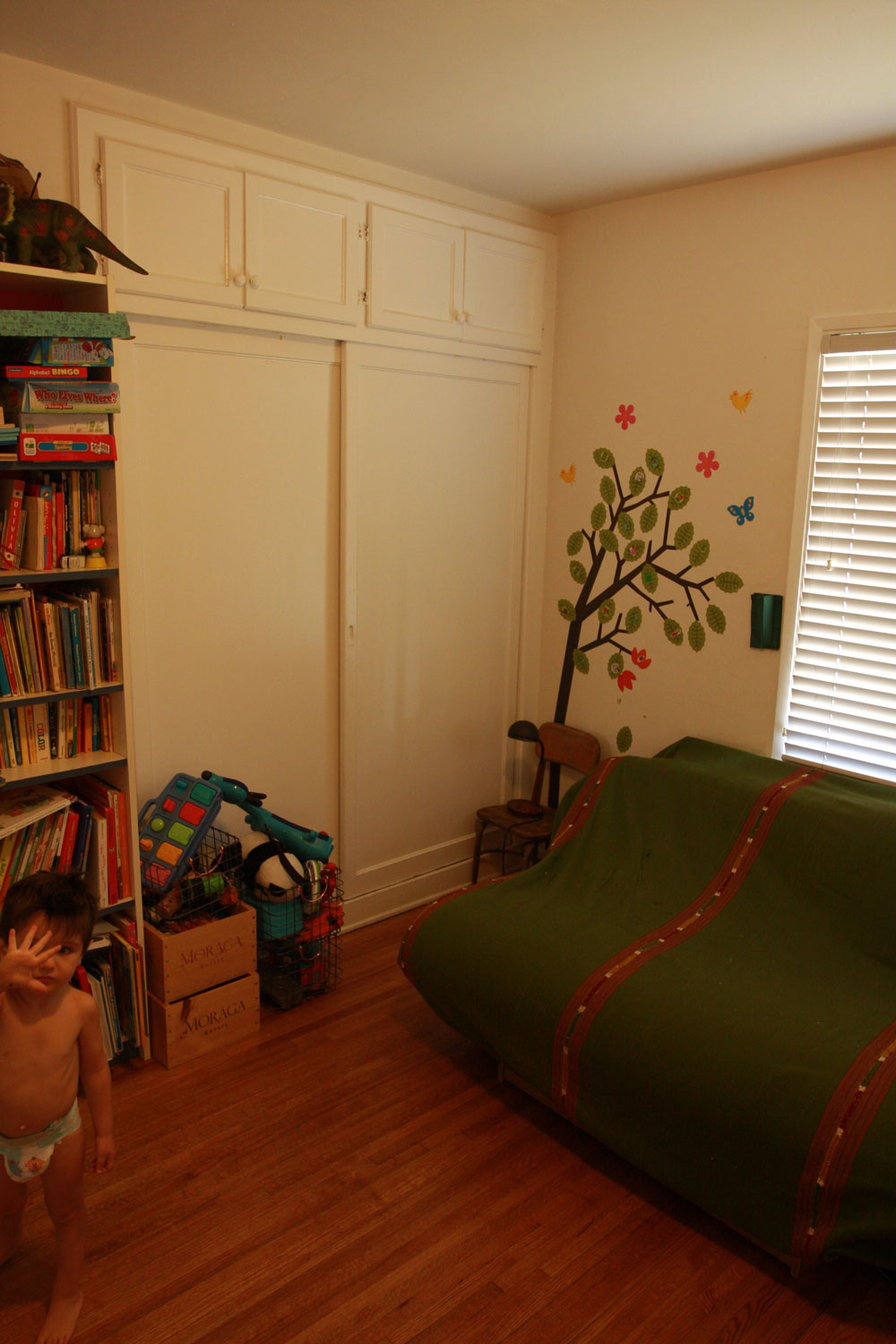 Did you spot that diaper baby in that last photo? I didn't know he was in that picture until I uploaded the photo to my site. I'll might just take photos of him and post them on the blog instead of going through this whole ordeal. The result would be equally as cute, don't you think?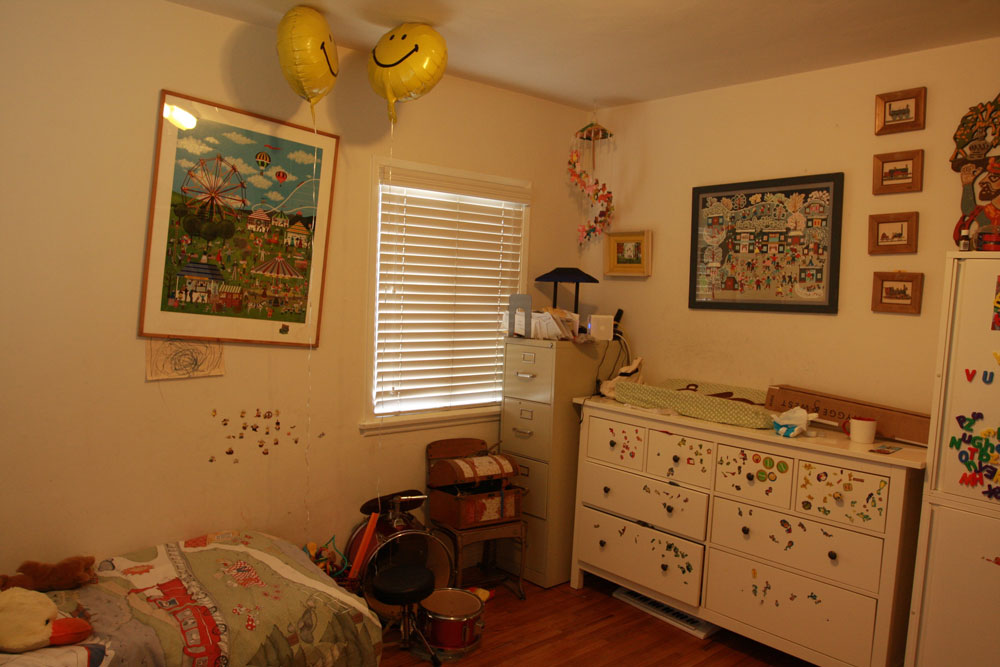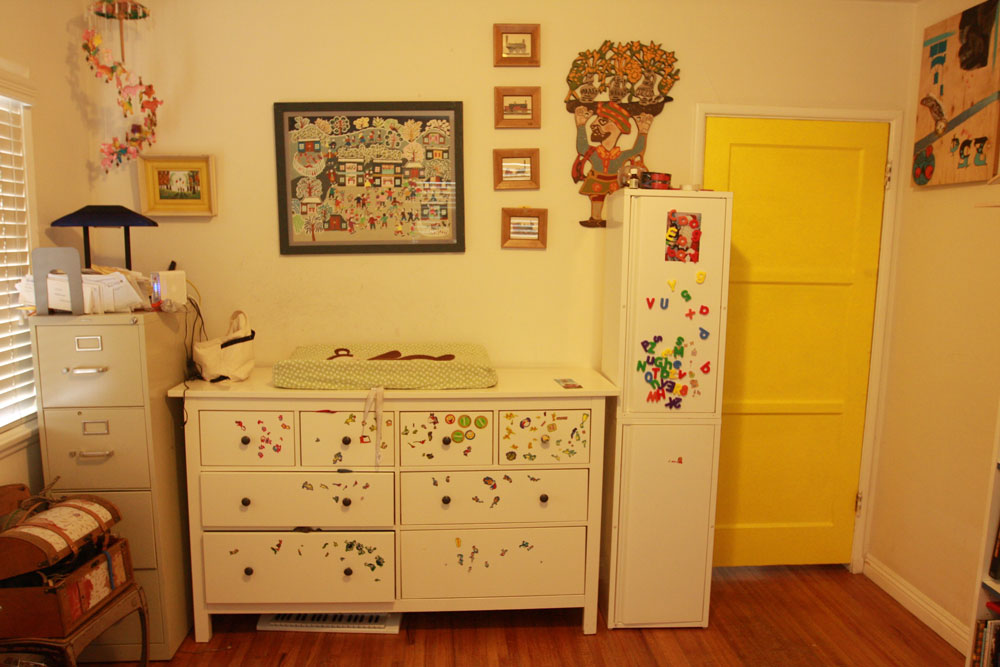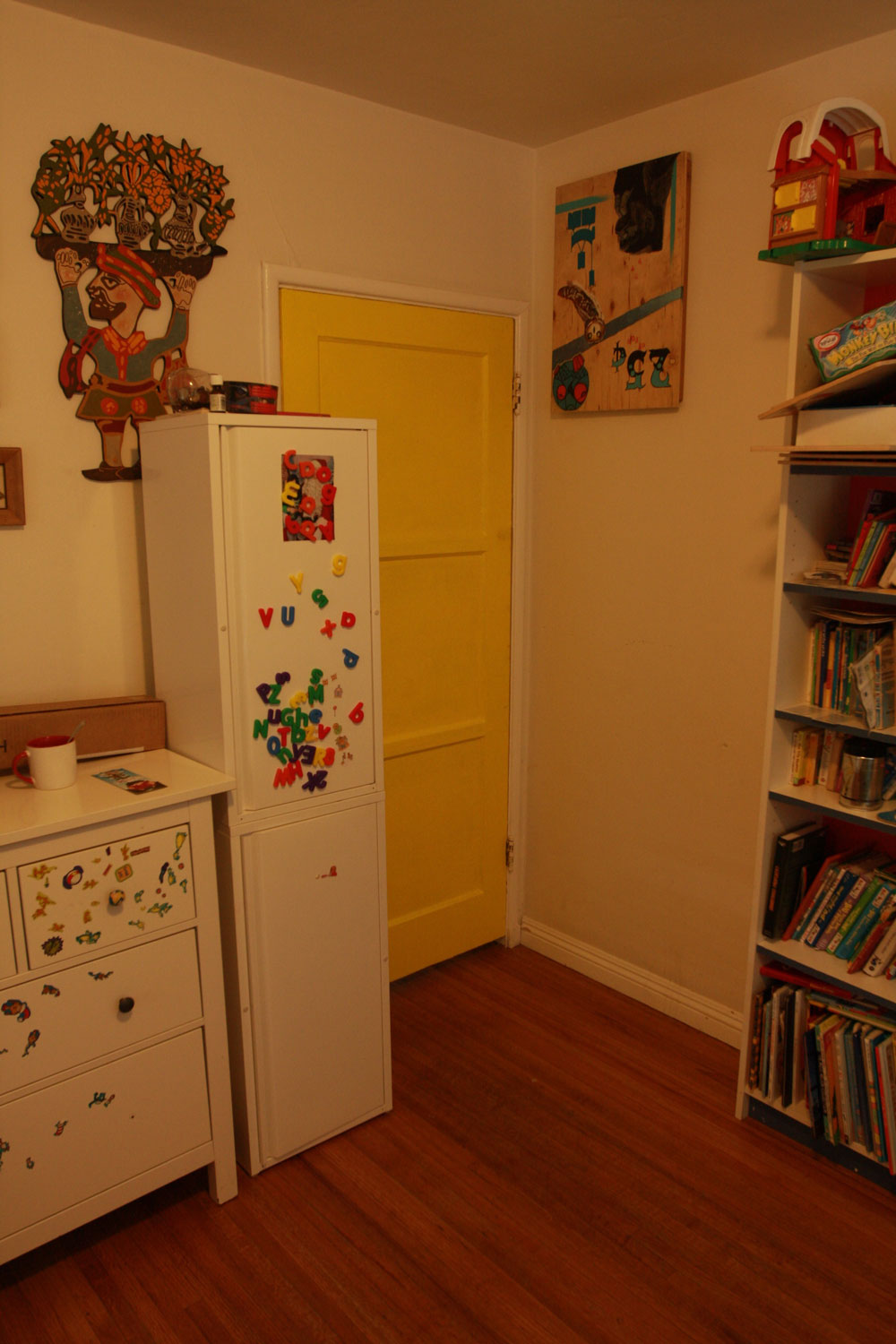 The real challenge will be to figure out what to do with all these books: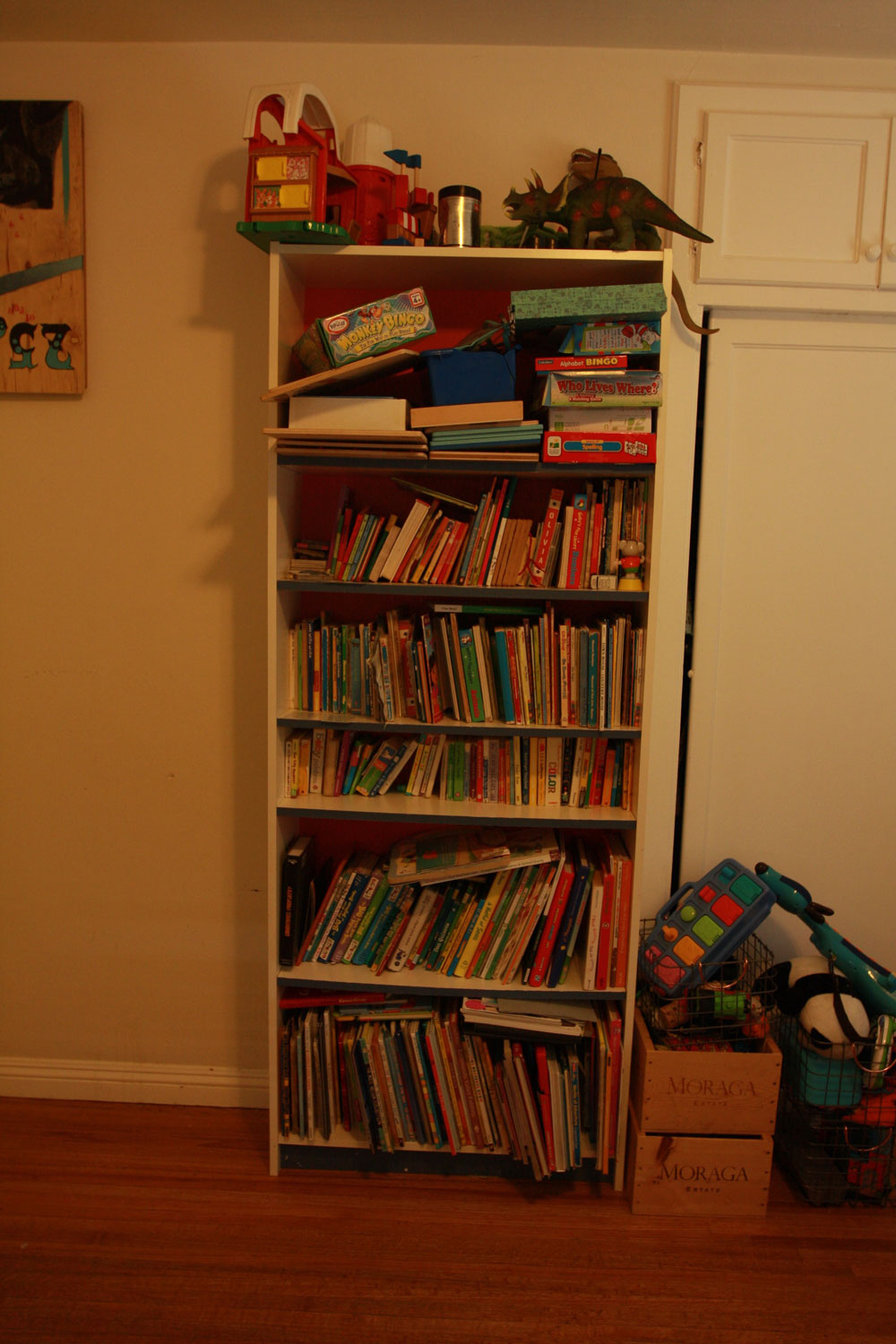 There you go. The worst is over. Now, you can breath again.
Right in this moment you might be asking yourself what am I going to do with this space? What is the plan?
I could go for the easy choice: white walls, pastels, and gold accents, but it is not what I intend to do. The easy road is not for me, my friends.
I want a moody room with unexpected pops of color (not chosen based on the  obvious opposite "color wheel" options ), some vintage/thrift art, and "IKEA" hacks. I don't have the budget to buy all new furniture, so some IKEA DIY transformations will have to happen around here.
Here are some of the items that I am considering using: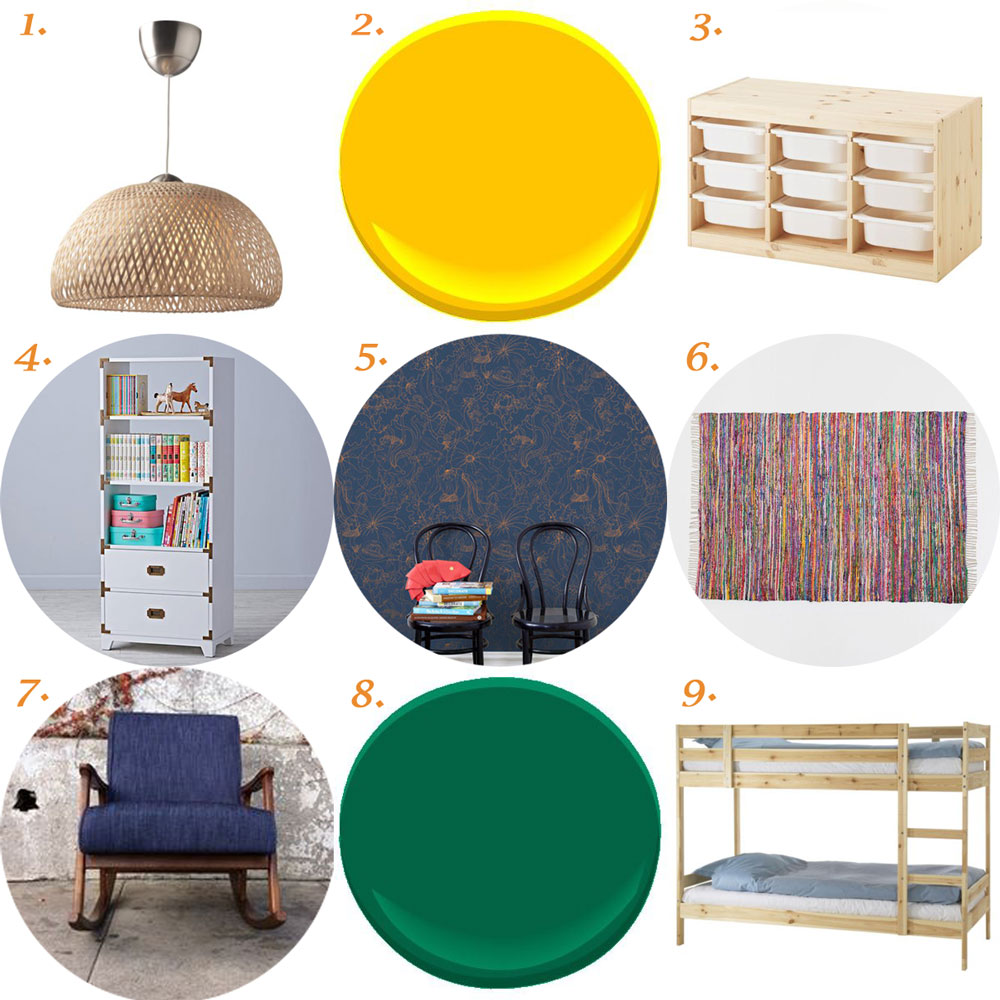 1.BÖJA – Pendant Light / 2. Lemon – Benjamin Moore / 3. TROFAST – Storage /
4. Campaign Bookcase / 5. Underwater World – Wallpaper / 6. Multicolored Rug /
7. Mid-Century Rocker / 8. Deep Green – Benjamin Moore/ 9. Mydal Bunk Bed
About the items with the pine finish, I am planning to paint all of them in a different color. I can't afford the mid-century chair and the white book case, but I'll might be able to find something similar on Craigslist if I get VERY lucky.
How do I feel about participating on this?
SCARED! I have absolutely NO experience re-decorating a room from scratch, but I do have a lot of opinions and, what I assume to be, a decent taste, so I will jump into the swimming pool (not knowing how to swim) and reach for the gold. Ha! I am ridiculous, I know.
At the end of this challenge, you will be the judge of the room. Hope you like it!
If you want to take a look at what other bloggers are doing, go to Calling It Home (lots of talent out there), and don't hesitate to give me your opinions as I go along. I appreciate all the comments on my blog, so thank you for sharing. And thanks to Linda for organizing all this!
Wish me luck (and a little bit of vodka)!
For more, here is Week 2 – Week 3 – Week 4 of the challenge.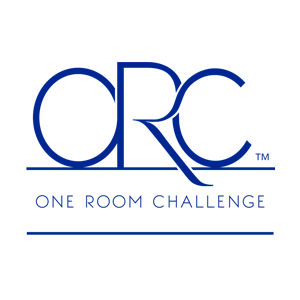 https://jestcafe.com/wp-content/uploads/2016/04/jestcafe.com-ORC-week-1-collage.jpg
1000
1000
Mila
https://jestcafe.com/wp-content/uploads/2017/08/Jest-Cafe-about-design.jpg
Mila
2016-04-07 05:34:02
2016-04-30 16:05:13
One Room Challenge - Jest Cafe - Week 1