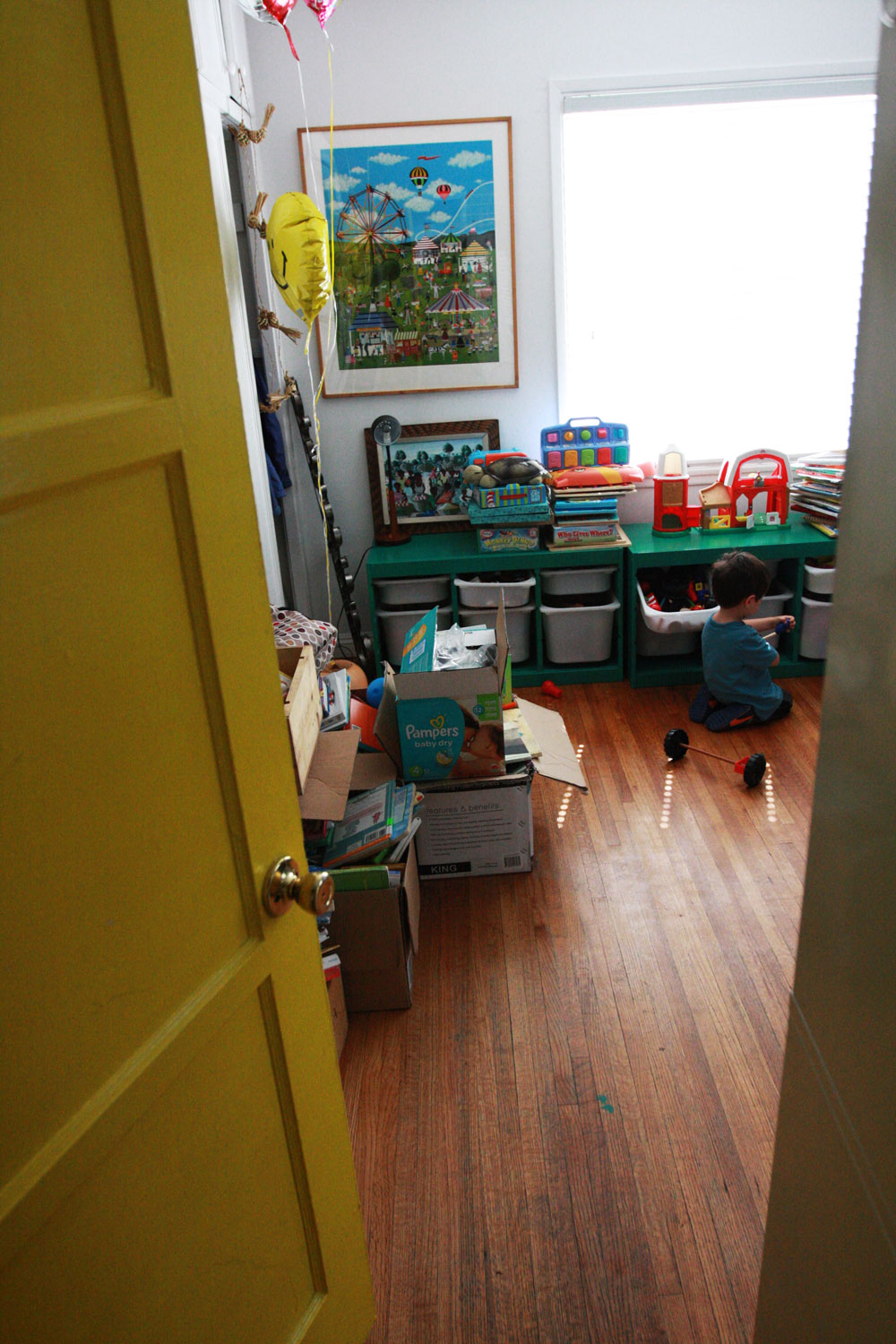 This week of the One Room Challenge has been about choosing art and other details for my kids' room.
Deciding on art for a room takes me a lot of time, sometimes years, because I like using vintage pieces and thrift store finds that you don't encounter in just one visit to the market.
Throughout the years, I have been collecting cool art for the kids' room from estate sales, flea markets and thrift stores, but I need more!
I want to have this wall covered with art from top to bottom: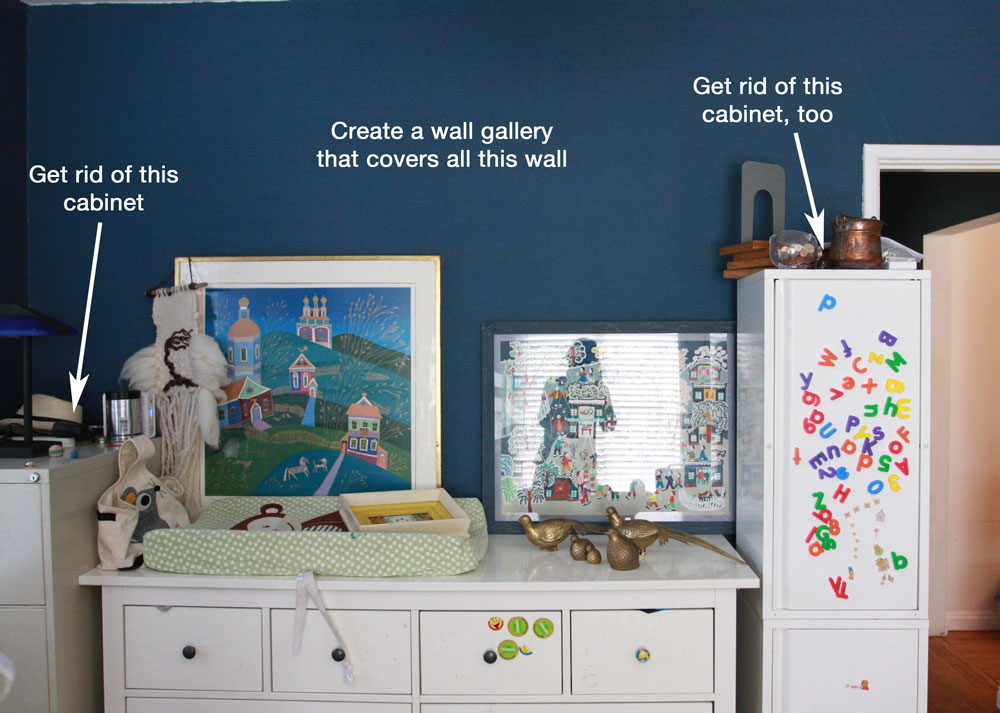 I want the wall to have a worldly feeling with art from different geographical places and cultures. In my last trip to Chile, I bought some pieces that I want to add. I also went to the Rose Bowl this month and found some cool and colorful paintings. I am also thinking about adding some of my own photographs to the wall because it is a cheap way of adding art.
Here are some photos of my trip to the Rose Bowl, my favorite way of spending a Sunday: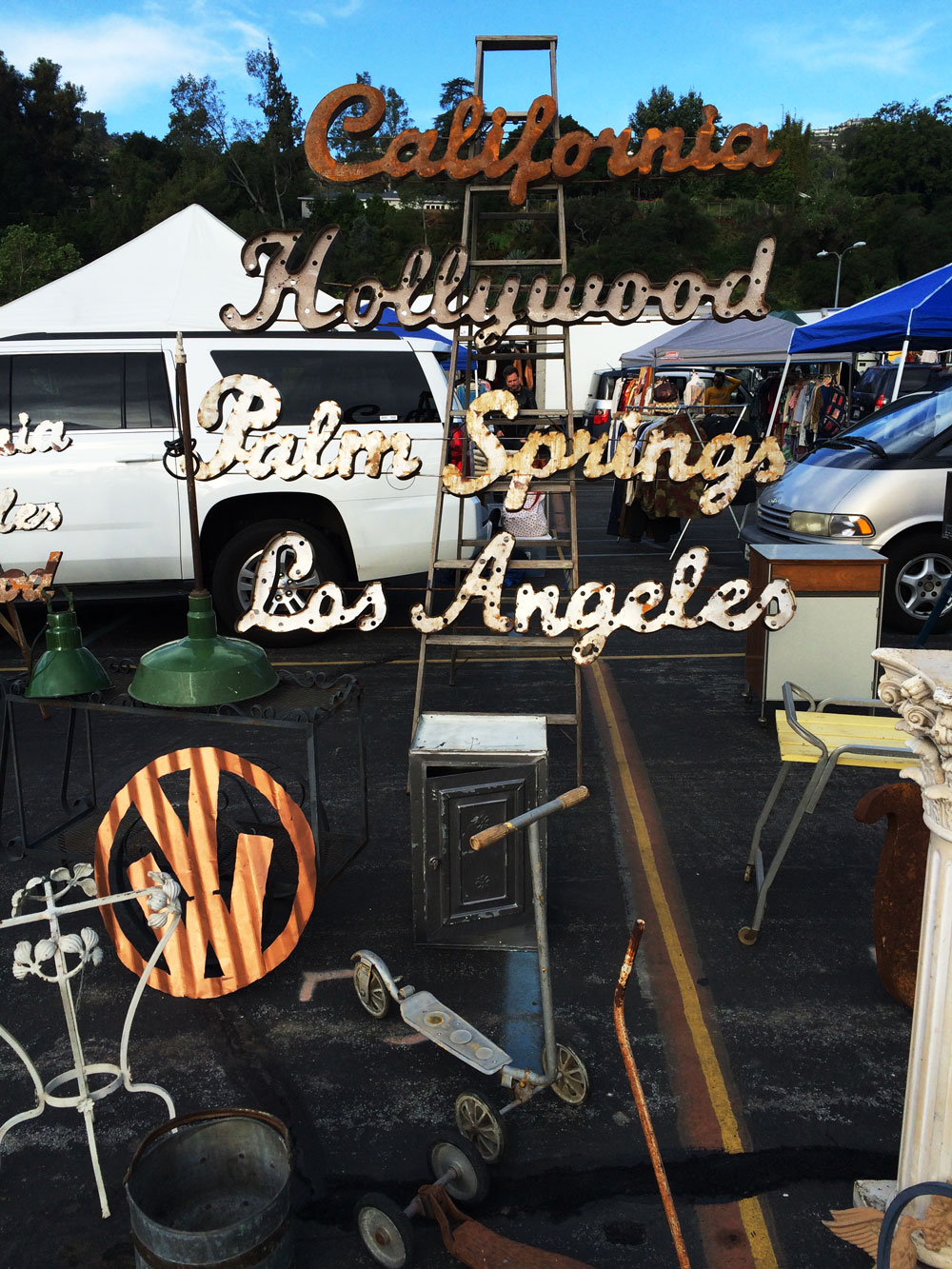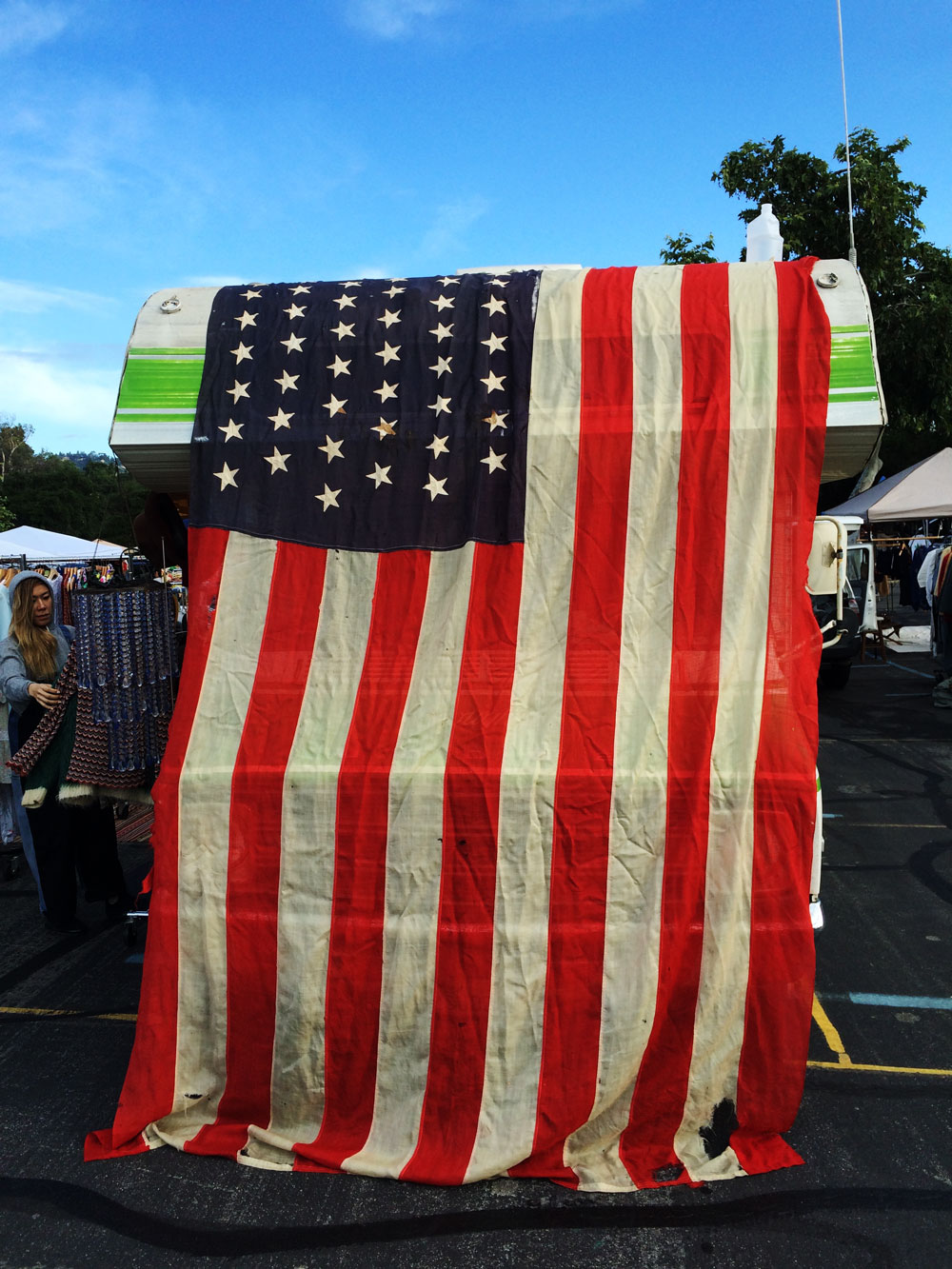 These are some of the items I  found.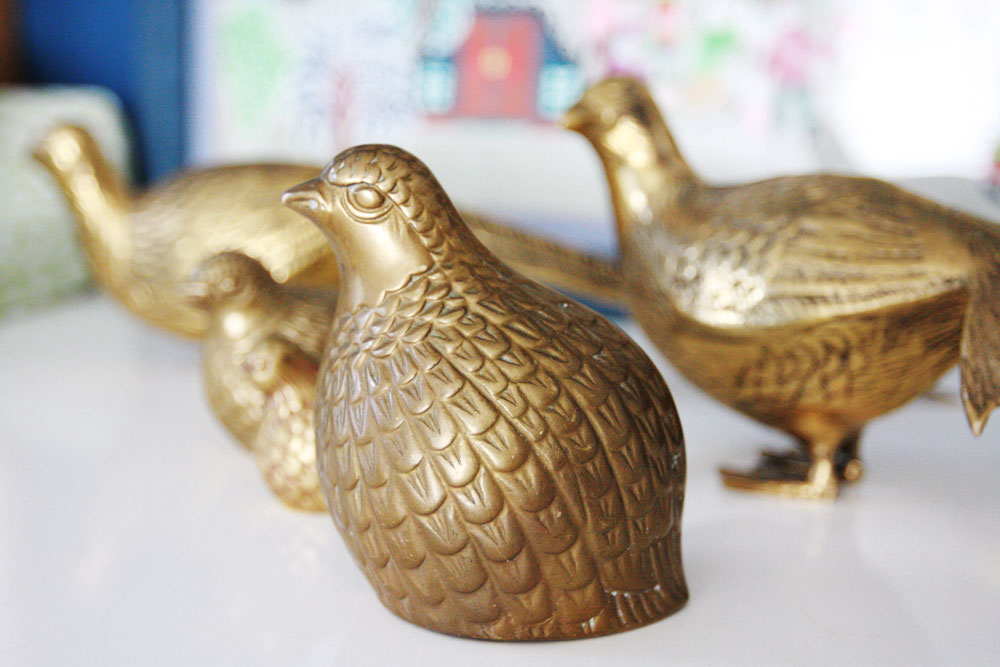 How cute are these bronze figures?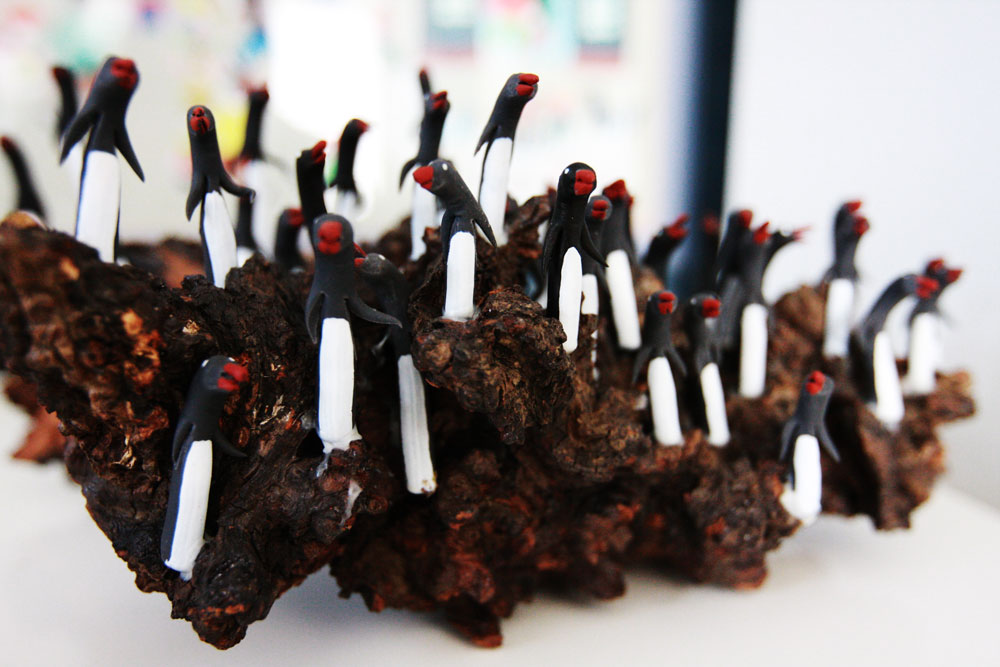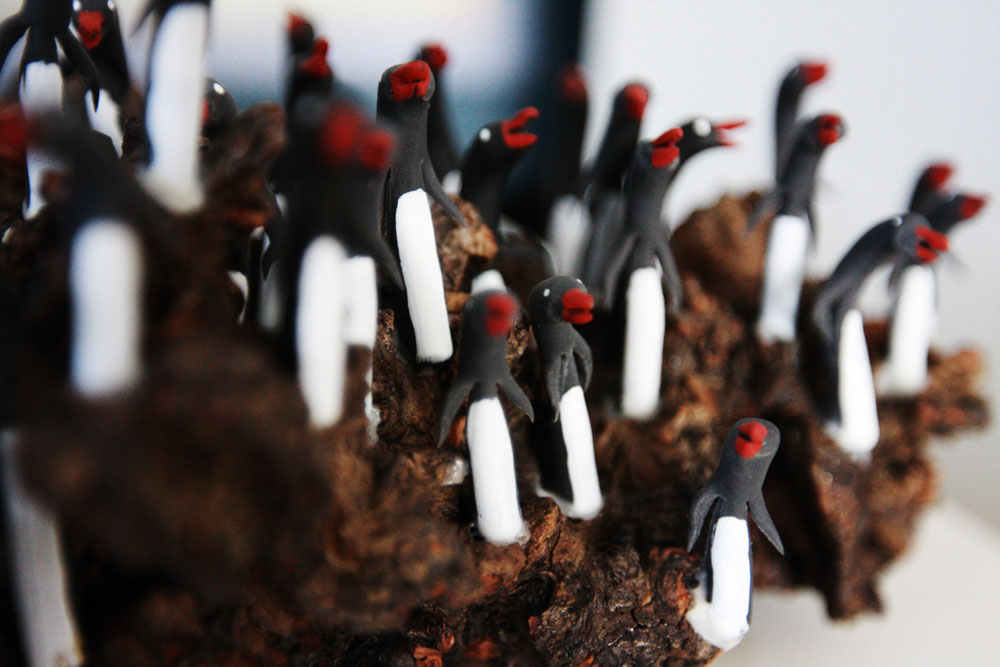 And these small penguins!!! I bought them in Chile.
I have found more art for the wall, but I will wait to show you the rest… I don't want to give out too much before the big reveal.
Now, the question is, how do I fix the dresser?
First, I need to finish taking out the stickers and cleaning the surface. I had bought these knobs from Anthropology to replace the current hardware, but they don't look good – they are too small and get kind of lost. I am thinking I should do some DIY copper hardware to add to the dresser instead. I like that the dresser is white, so I won't change the color, but it definitely needs an extra "something" that I am trying to figure out.
Maybe this should be the plan?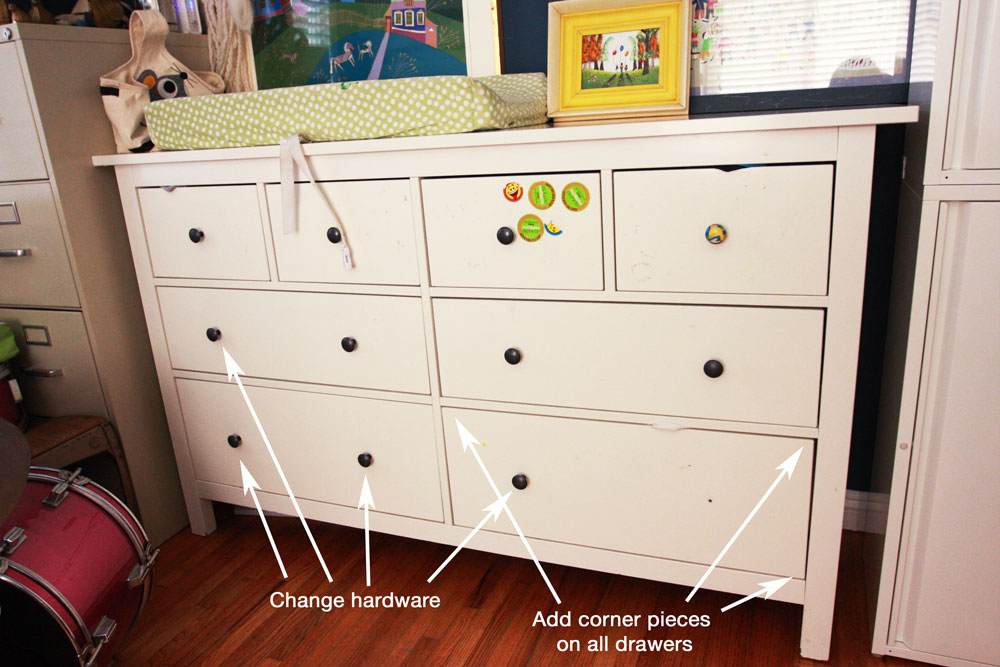 So it looks similar to this bookcase from The Land Of Nod? We will see.  Next week I will let you know what I have done.
As for the problems I have to solve this week, I need help deciding on:
Bedding: what color should I use? I am thinking about something neutral because the emerald toy storage and the yellow door give the room enough color, plus, the gallery wall will be colorful and I don't want the room to look too busy. Any ideas on what I should use? Also, I need to get affordable and fun pillows. Any ideas on that, too?
Rug: I am inclined to get this one. Thoughts?
Right now I am a little bit stressed out about the final details. I don't have much time to order items and receive them before Week 6, so I need to make decisions by Sunday. HELP!
Here is my story for this challenge so far: Week 1 – Week 2 and Week 3.
https://jestcafe.com/wp-content/uploads/2016/04/jestcafe.com-ORC-wk4-9.jpg
667
1000
Mila
https://jestcafe.com/wp-content/uploads/2017/08/Jest-Cafe-about-design.jpg
Mila
2016-04-27 11:59:05
2016-04-27 23:58:56
One Room Challenge - Week 4 - Art And Troubles