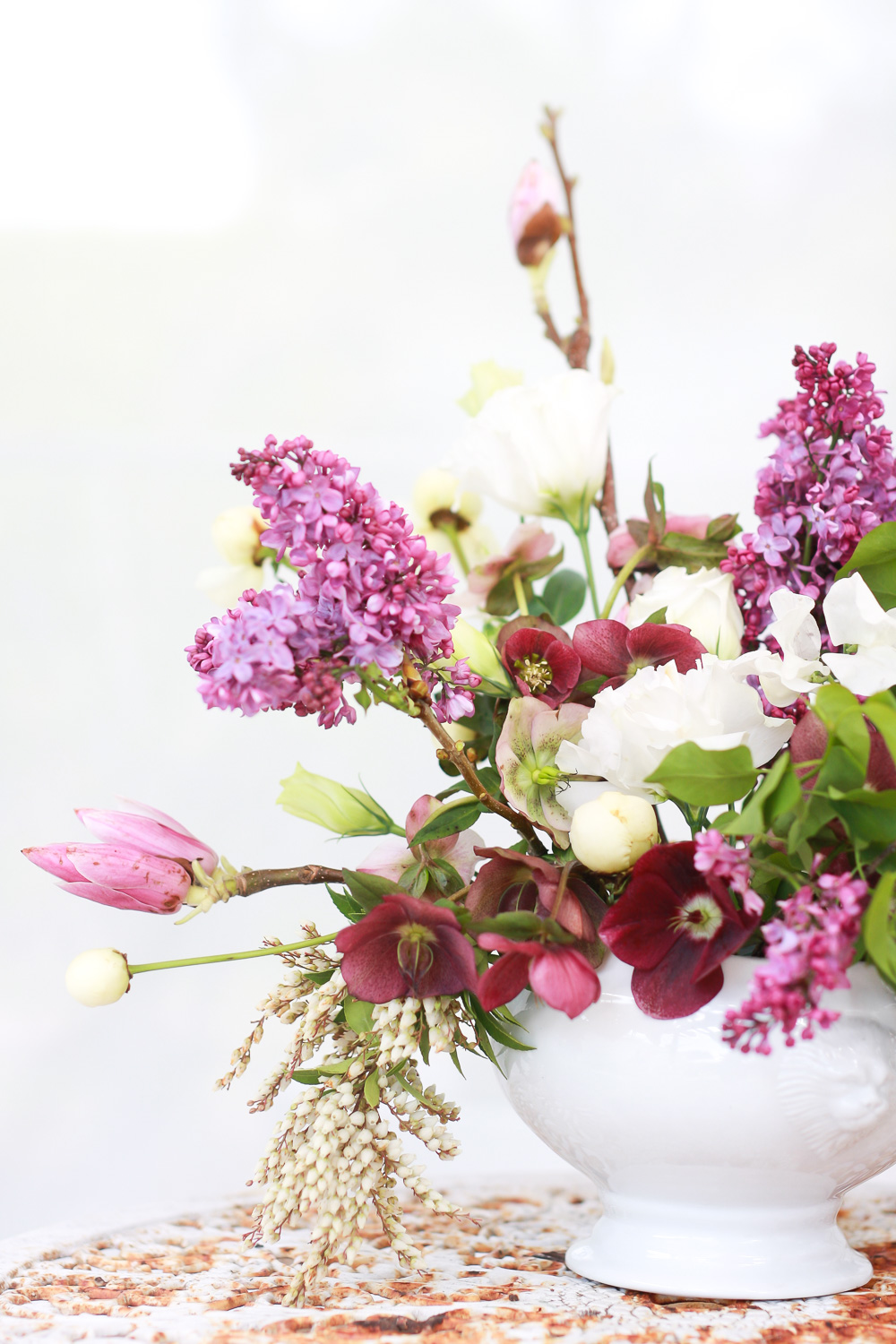 As I have mentioned already, one of my favorite things about being a blogger is the incredible community I have found online. I had never imagined this existed. I have met a lot of people through blogging; we follow each other on SM, participate in FB groups, go to conferences and make real friends. It is a great experience!
One of my first blogger friends was Jess from Domicile 37. We met through ORC, I think. She is usually hosting blogger projects and lets me participate. One of my favorite ones is "Inspired by DIY" which she co-hosts with Kathy from Up to Date Interiors once a month. In these posts we have a designer or creative person that works as inspiration for a DIY project.
Last month, I created these cement planters inspired by Wes Anderson's style.
This month, we are supposed to get inspiration from Genevieve Gorder, an Interior Designer.
Gorder's style is hard to pin point because she does a lot of different things. I decided to inspire myself in this photo from a space she designed: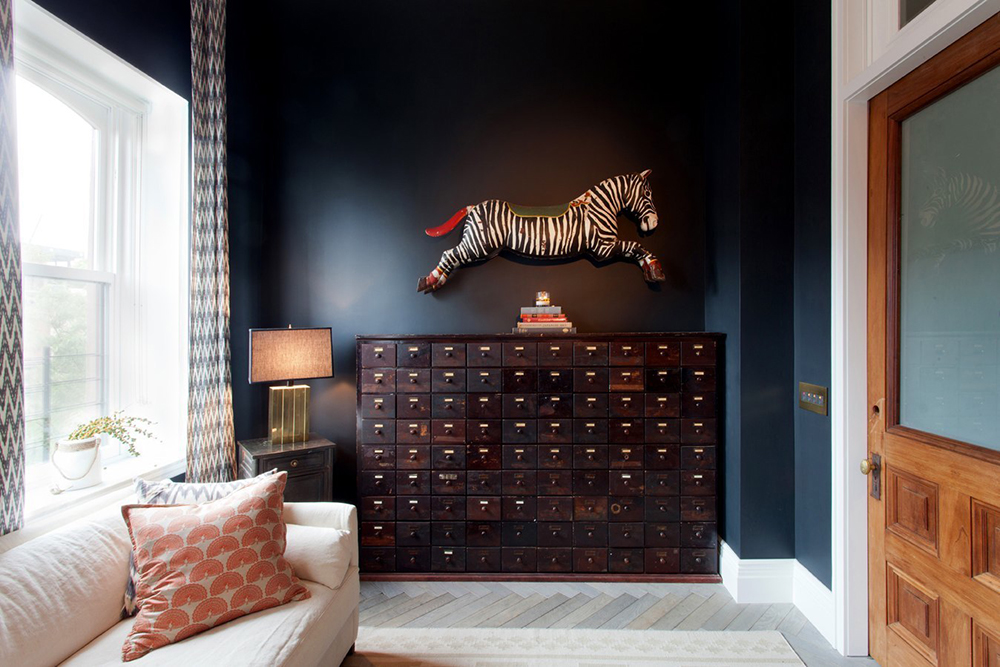 My initial idea was to make a flower arrangement with dark and white flowers. I ended up choosing darker purple and white.
Here are the instructions about how to do this arrangement:
How to do a Romantic Flower Arrangement
Difficulty (1-5): 3  Time: 1 hour Cost: $50
Materials
-Flower vase. I used a wide and short one.
-Chicken wire
-Pruning scissors
-Water
-Flowers. I used 3 purple lilacs, 5 branches of hellebores, 3 magnolia branches, 4 white peonies, 2 white sweet pea, 4 lisianthus, and 2 white pieres japonica.
Here are the steps you need to follow: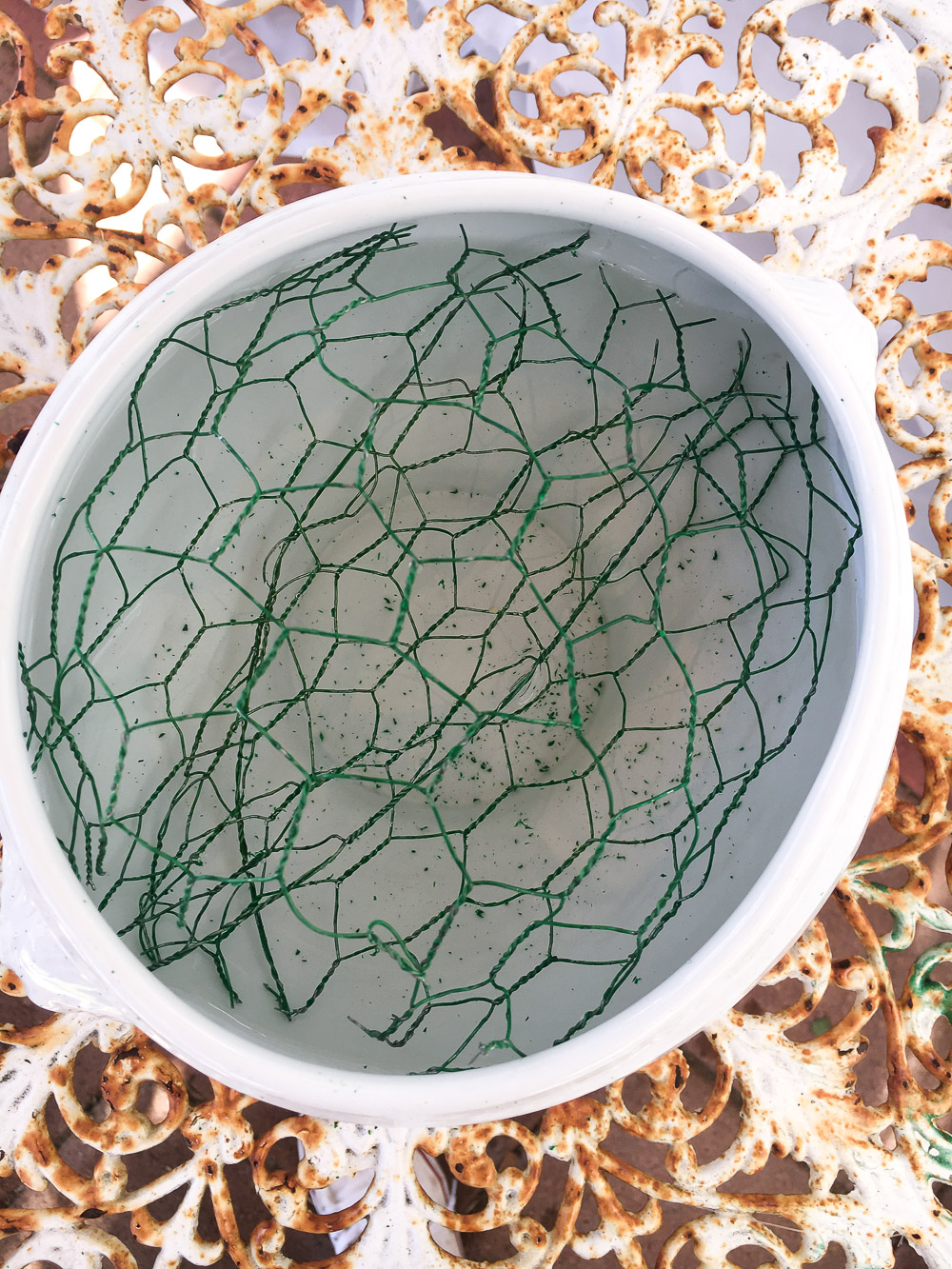 1) Cut the chicken wire and place it inside the vase. Fill the vase 2/3 with water. I like to use chicken wire for flower arrangements because it allows to place the branches (specially the first ones) in the exact position you want. You can also use frogs or foam blocks. I don't like to use foams as much because they are no good for delicate flowers as you have to push the flowers to insert them. Frogs are good but they don't work for stems that are horizontally placed (those flowers sticking out to the sides).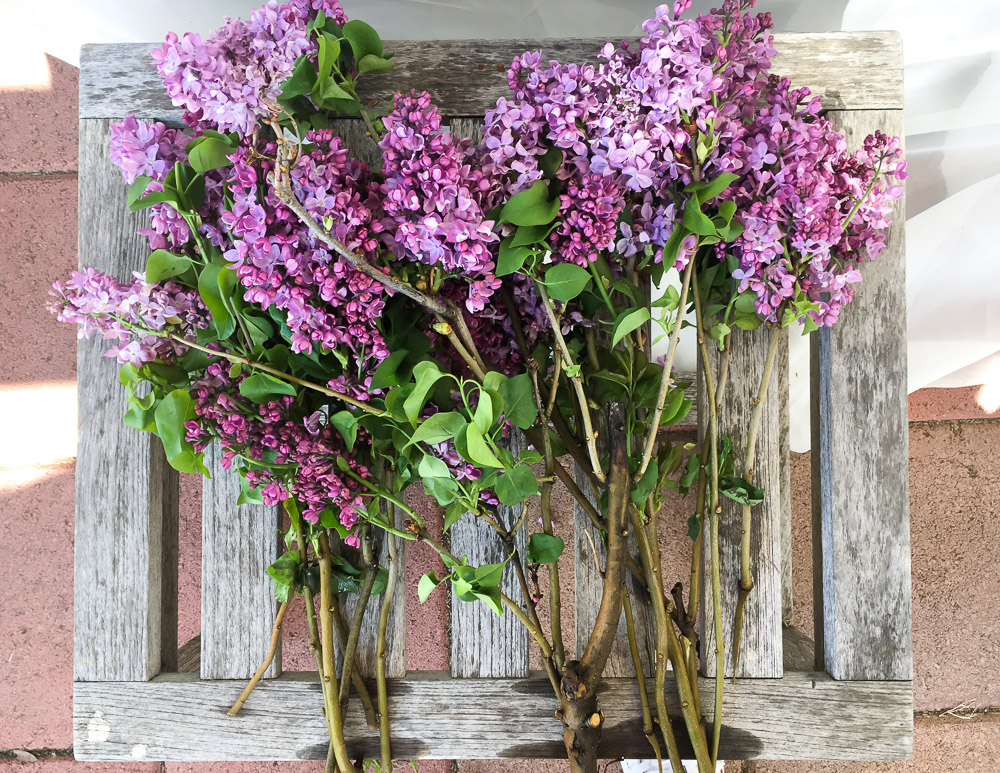 2)Prepare your flowers. It is good to have your flowers arranged separately to be ready for use. You can have them on a table next to your vase. Remember to cut the tip of the stems before placing flowers in the vase to allow for better water absorption.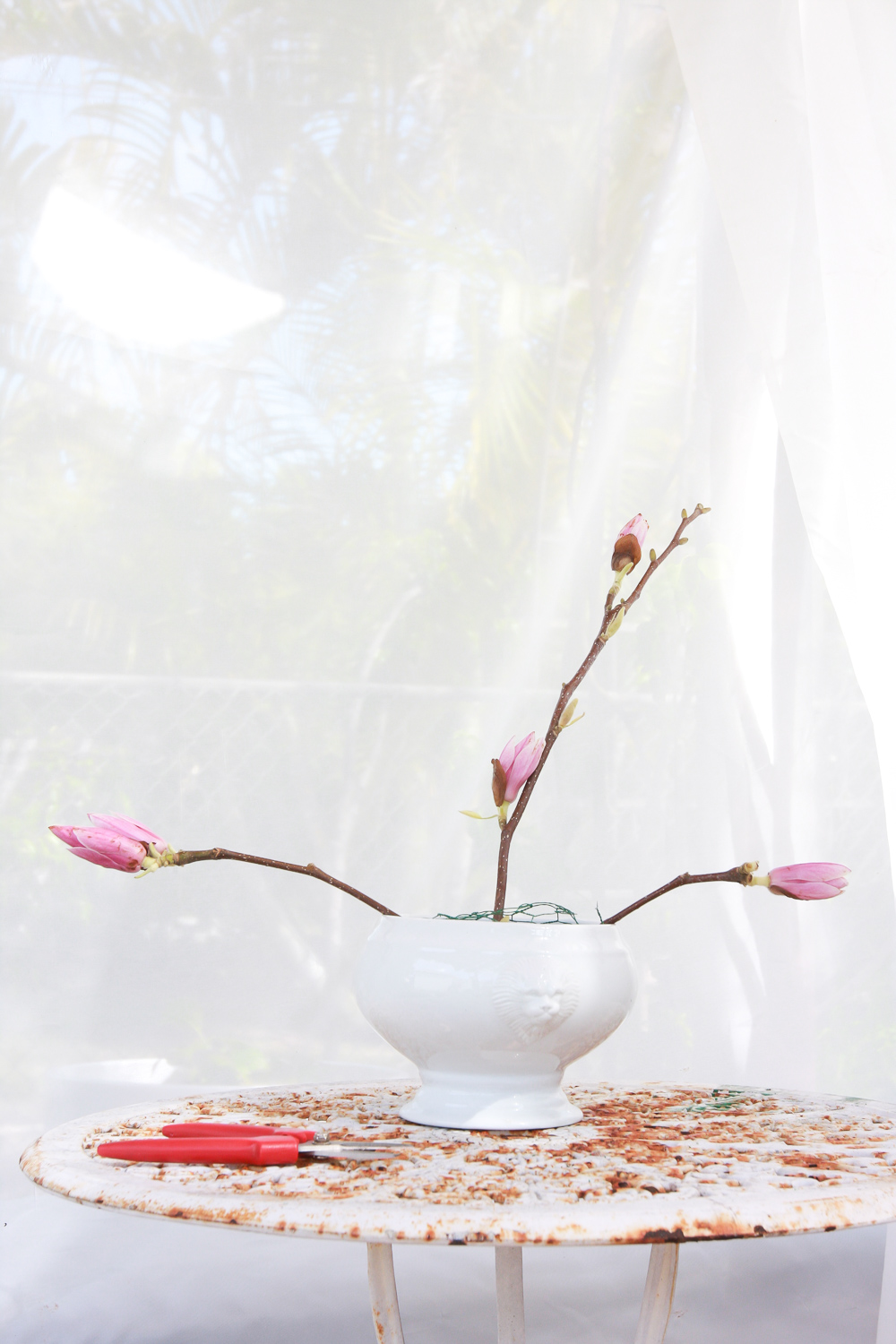 3) Decide the height and width of your arrangement. Place three branches that will delineate the space you want to work with. I used 3 magnolia branches. See above.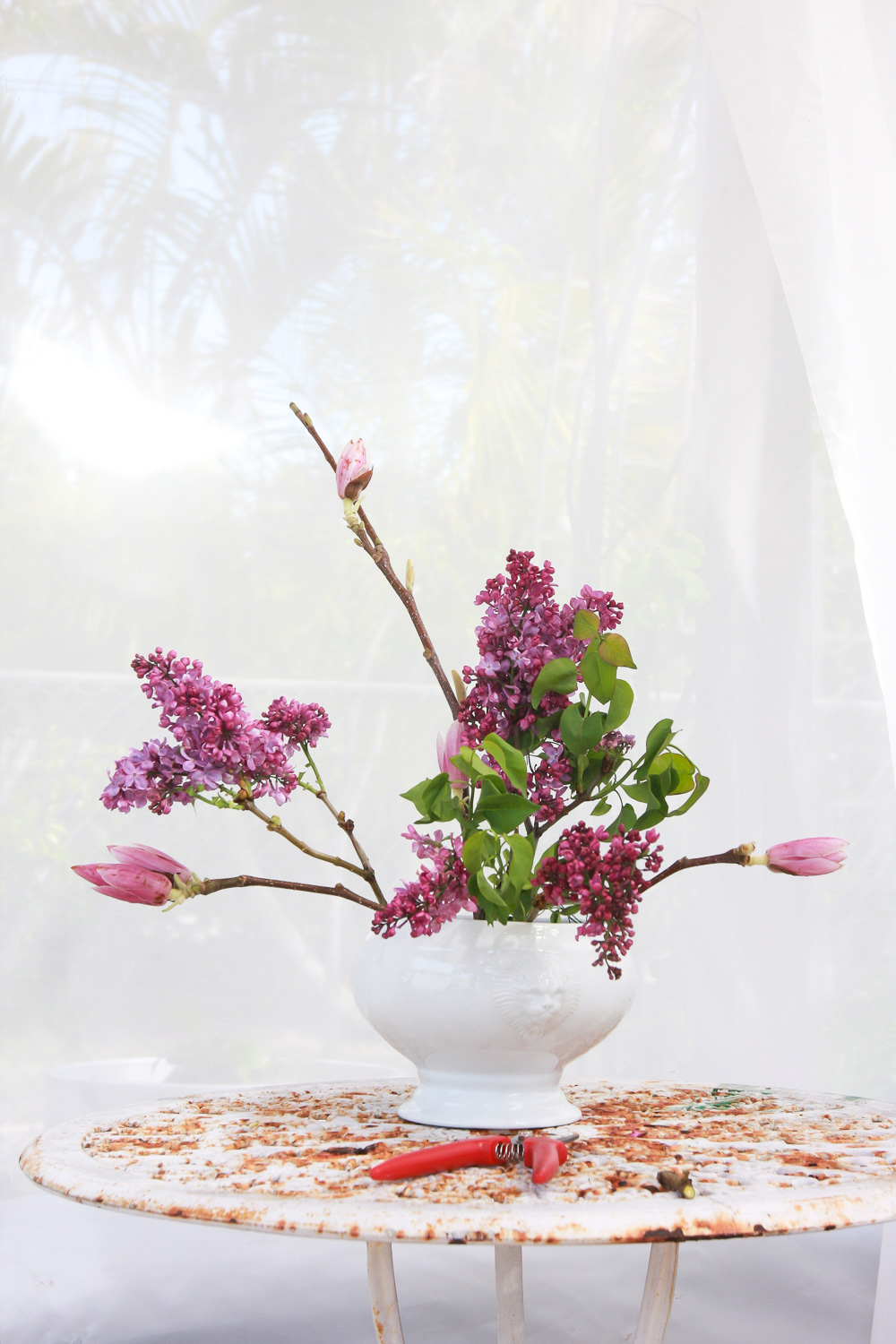 4) If you want to do a base of greenery, add it to the bottom. You can build up from it. I didn't want to have too much greenery in my arrangement so I didn't do this.
5)  Add your focal flowers- those flowers that will be the main ingredient of your arrangement, the focal point. In my case, I chose to use three purple Lilacs.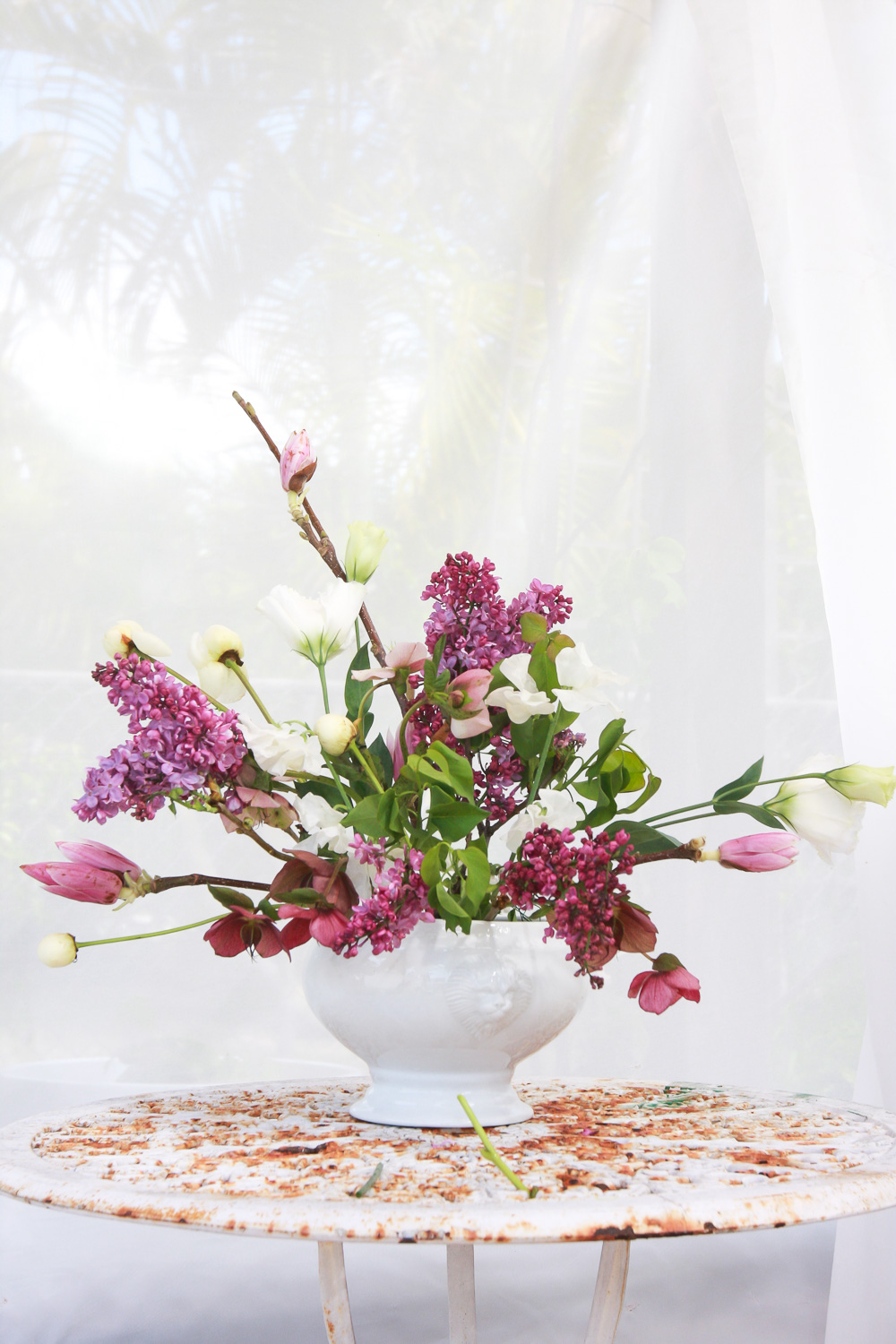 6) Start filling up empty space with filler flowers. In my case, I used hellebores, , white peonies, white sweet pea, white lisianthus, and white pieres japonica.
7) As you do this, step back and make sure your arrangement is looking the way you want. It is very difficult to shift the position of flowers once you put them in place, doing so might shift the position of the other flowers, so go slowly.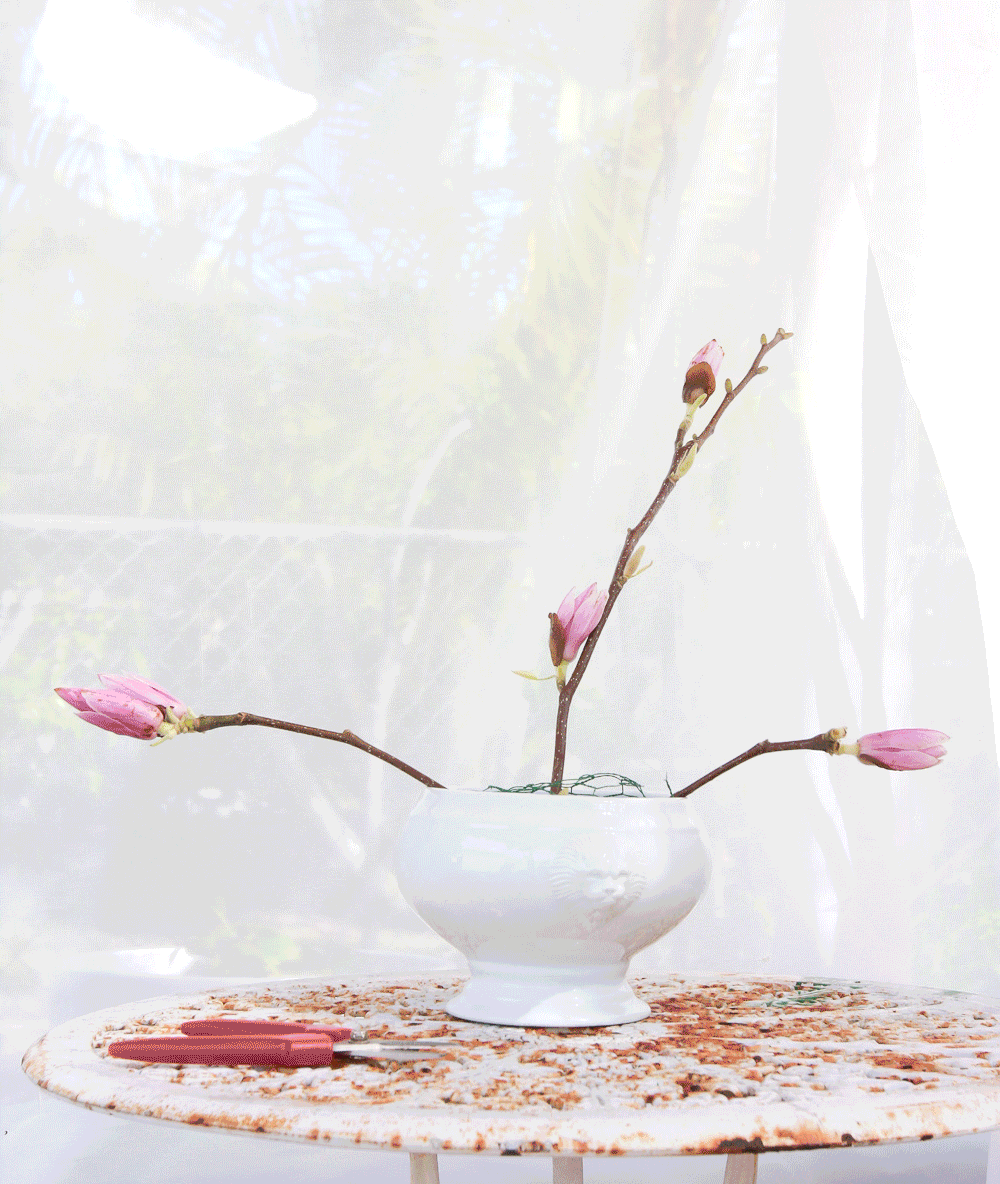 Some photos of the final result: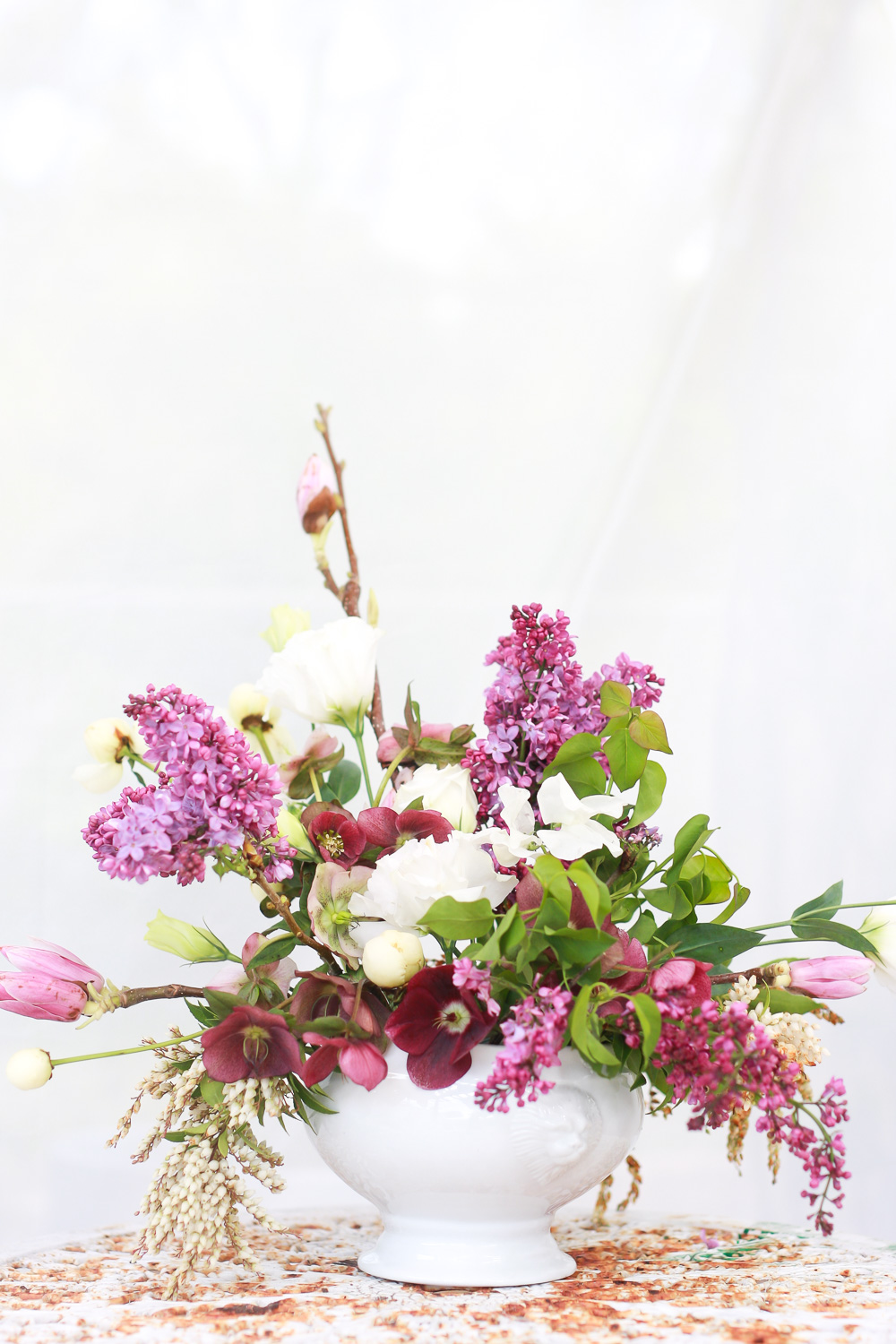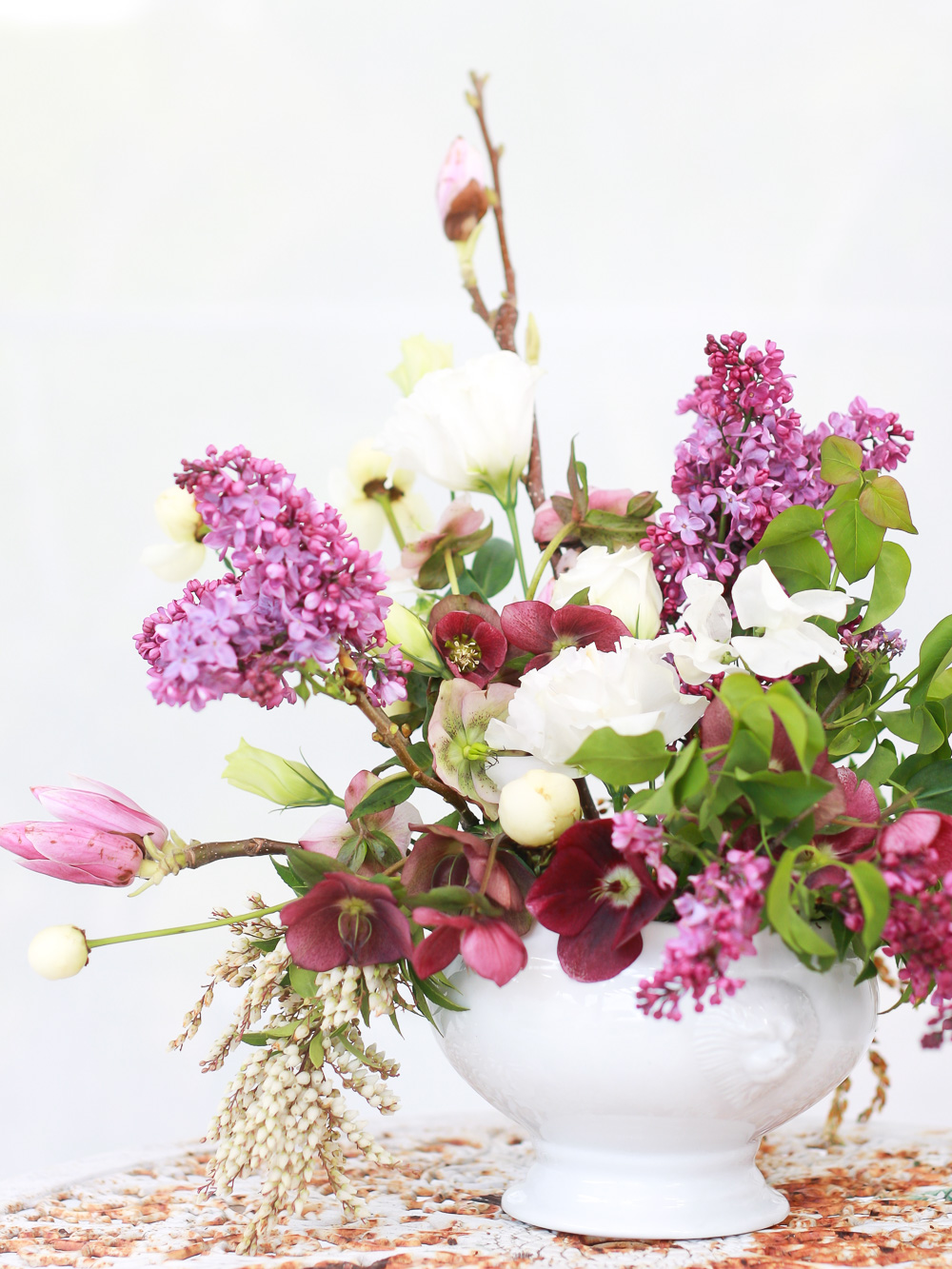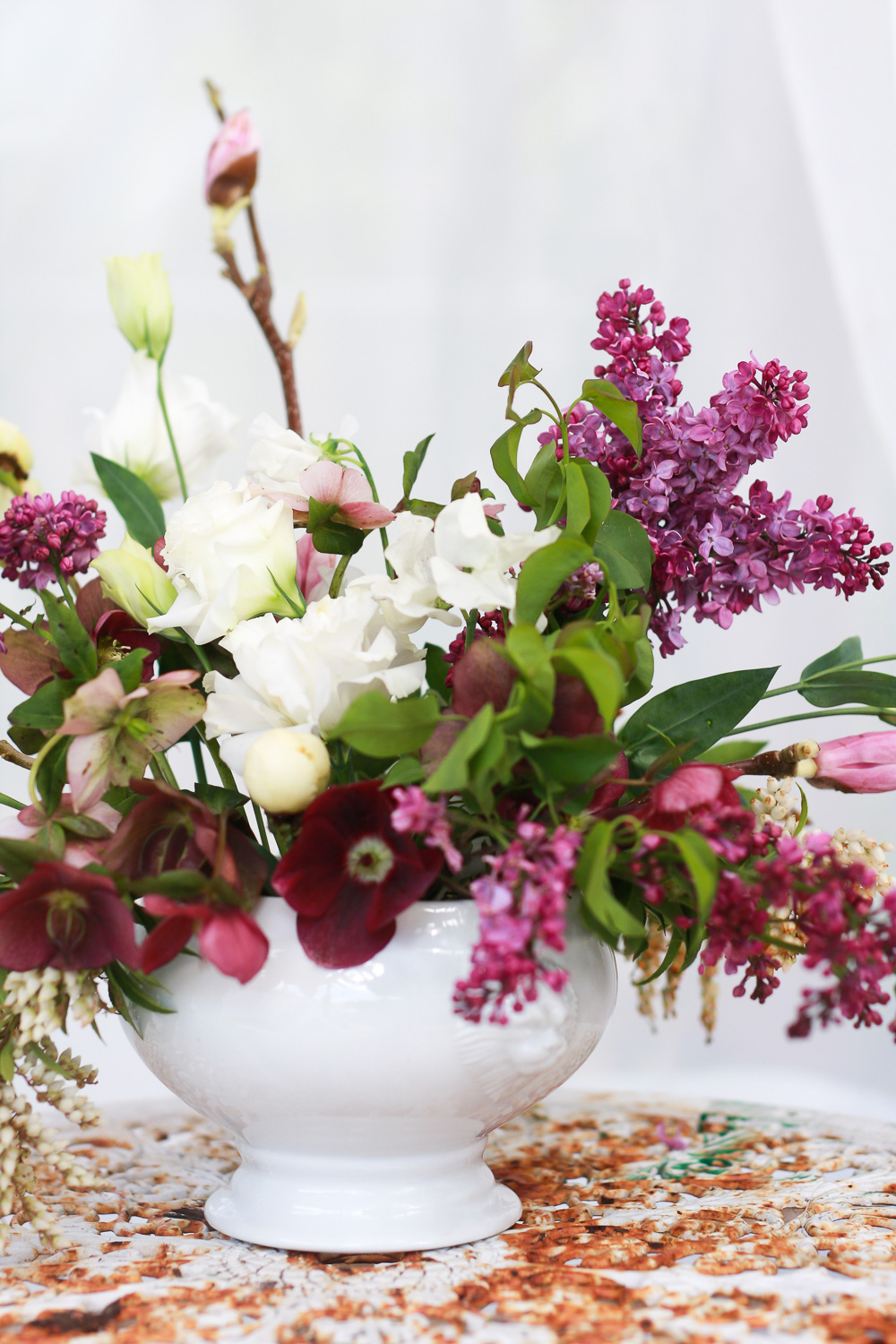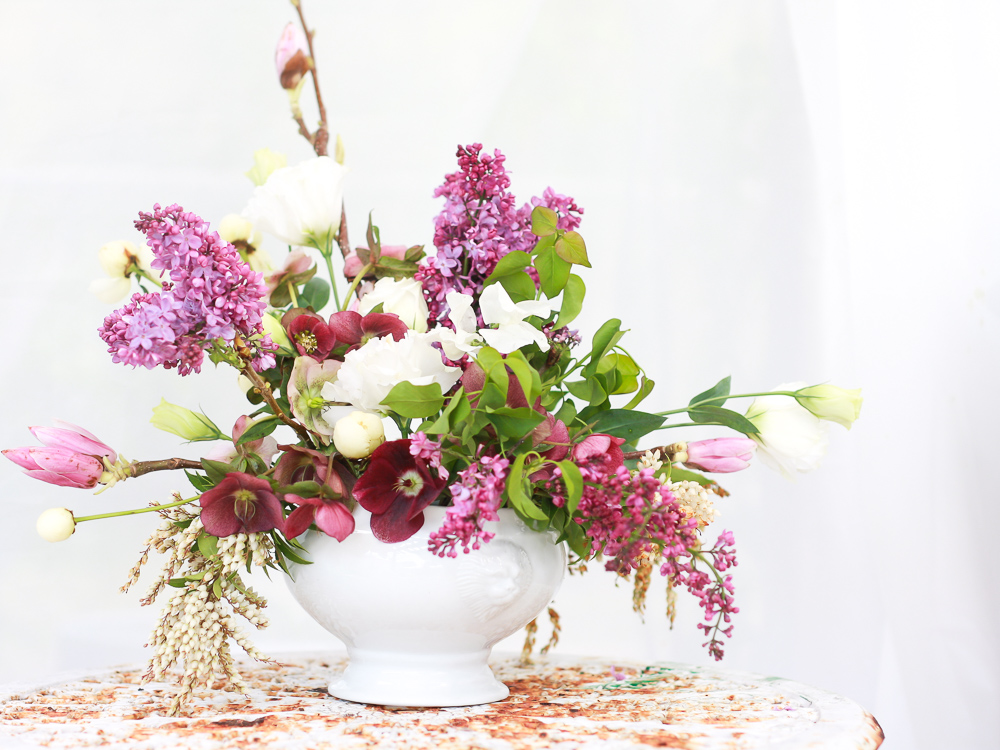 I know I have been posting a lot of flowers lately. Sorry for those that are sick of it but it is SPRING! And I need to take advantage of so many beautiful colors popping up around me. Next week I will be doing Easter posts, in case you want to come back to see.
And now that you are ready to leave, I would recommend you to visit the blog of my cyber friends that also participated in this "Inspired by DIY" challenge. Here are the links to all the projects inspired by Genevieve Gorder:
Domicile 37 | Up To Date Interiors | Jest Cafe | 58 Water Street | The Rath Project | Semiglloss Interiors
Thanks for stopping by!
https://jestcafe.com/wp-content/uploads/2017/03/Flower-arrangement-17.jpg
1500
1000
Mila
https://jestcafe.com/wp-content/uploads/2017/08/Jest-Cafe-about-design.jpg
Mila
2017-03-28 04:00:53
2017-07-15 16:47:29
Tips to Create a Romantic Flower Arrangement