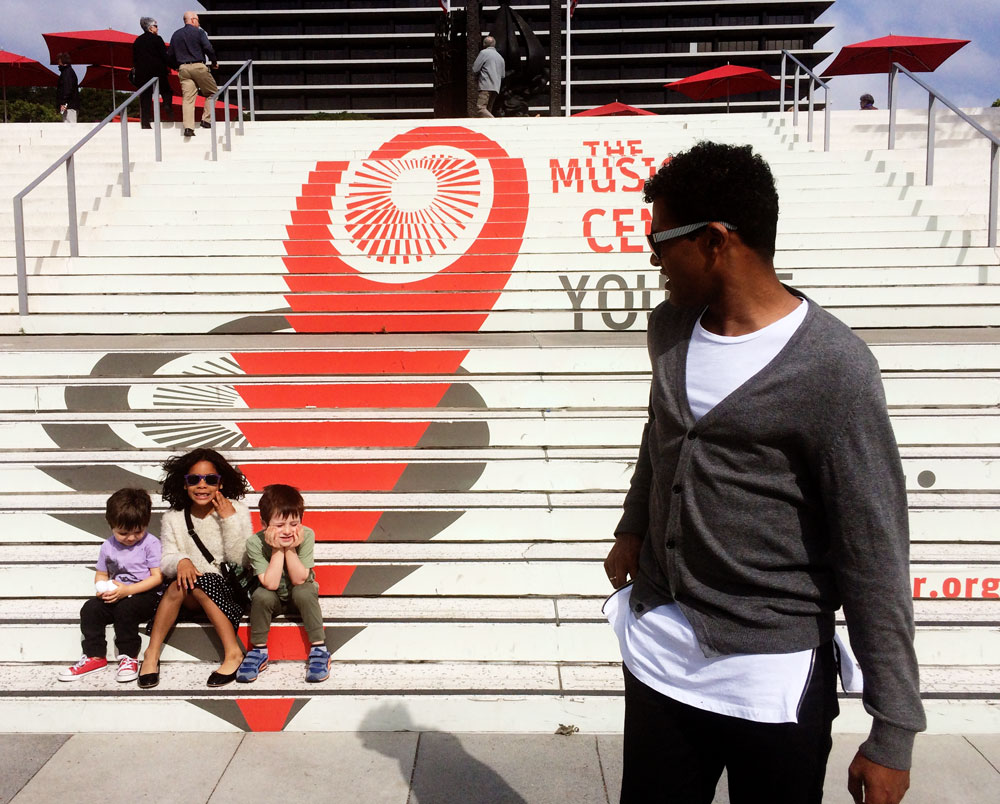 In our search for trying to elevate our kids' minds and souls, some friend and I took the children to the Saturday Mornings at the Opera back in April. Every season, the LA Opera does a couple of presentations at the Dorothy Chandler Pavilion that are appropriate and fun for kids. The idea is to introduce them to this genre in a gentle way that would encourage them to see opera in the future.
We all know that opera can sound scary (and boring), so the Saturday Mornings at the Opera are a gentle way of brainwashing the youth into believing opera is just beautiful songs and comedy. You know they are bound to be disappointed the first time they see Wagner, but, hopefully, by that time they will be so addicted to it that they will keep on coming back for more… not minding the stress and tragedy. Aw! The beauty of misleading your children while you still can.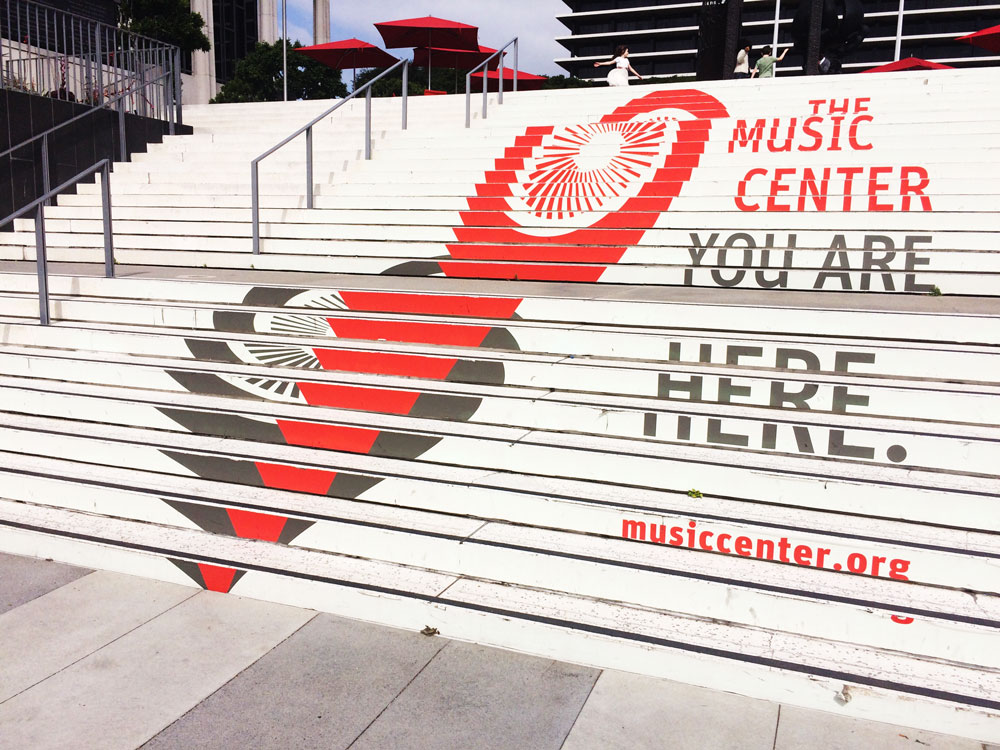 Beautiful stairs will lead you the way to the Dorothy Chandler Pavilion.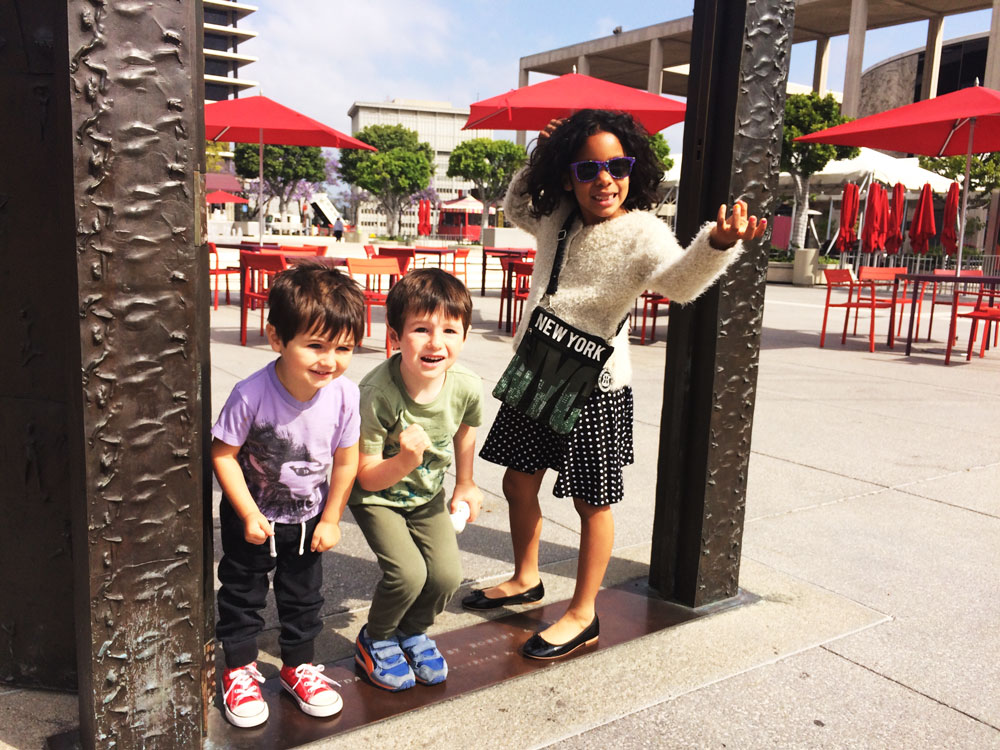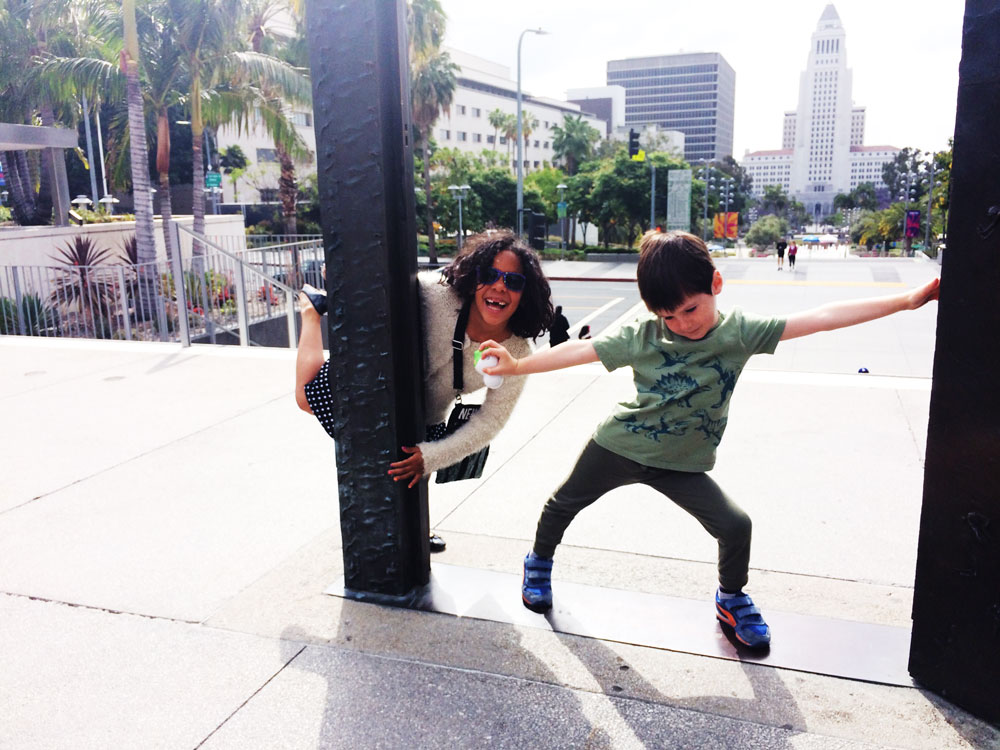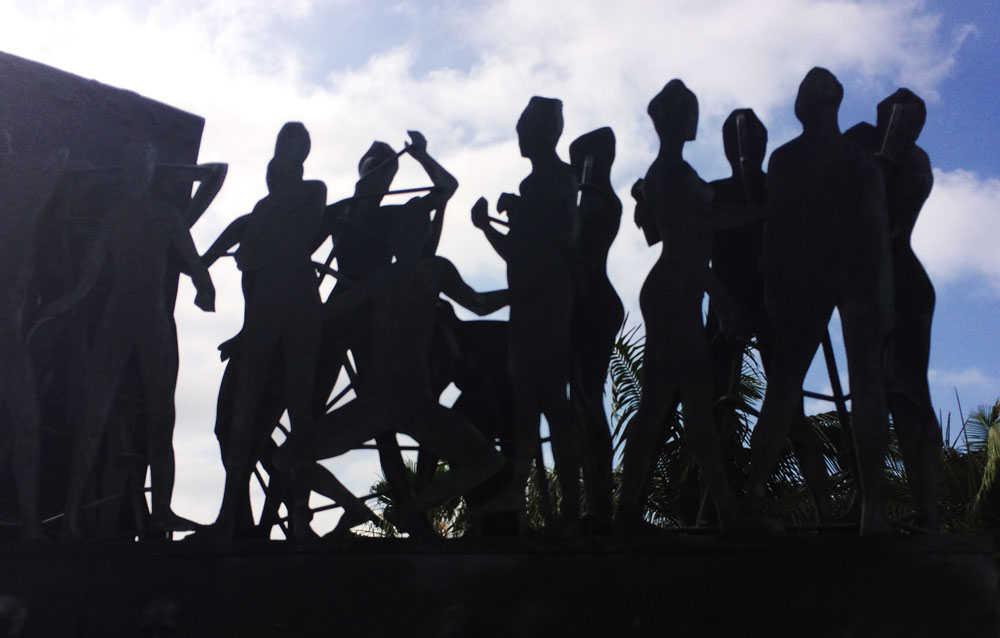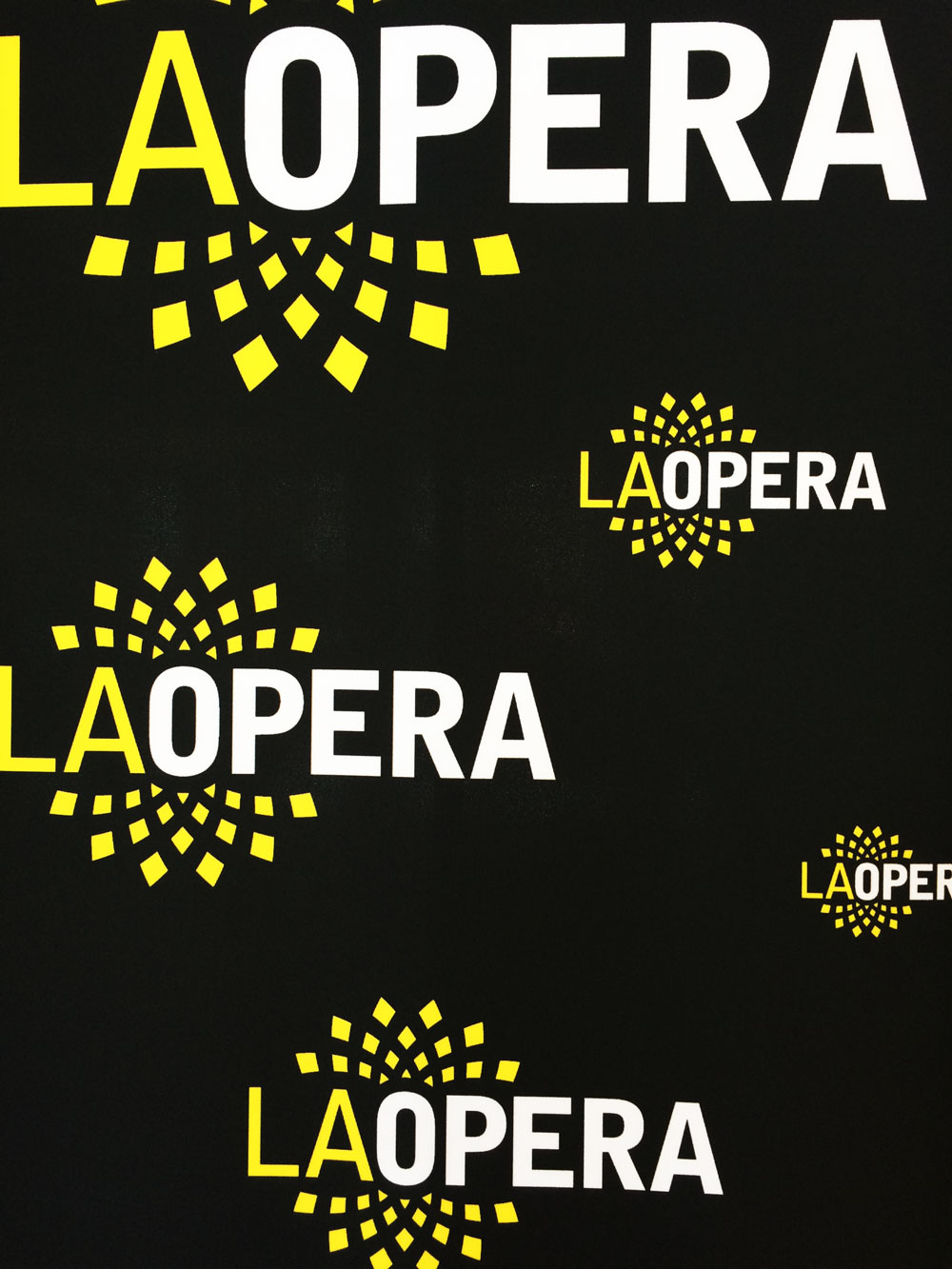 The theater opens its door at 10 am. From 10 to 11 there is a lot of action for kids -crafts, playing music, games, etc. We were one of the first people to arrive, so Víctor had the drums section all by himself. He is very musical and run to the drums as soon as he saw them. He sat down and played some improvised duets with some of the staff.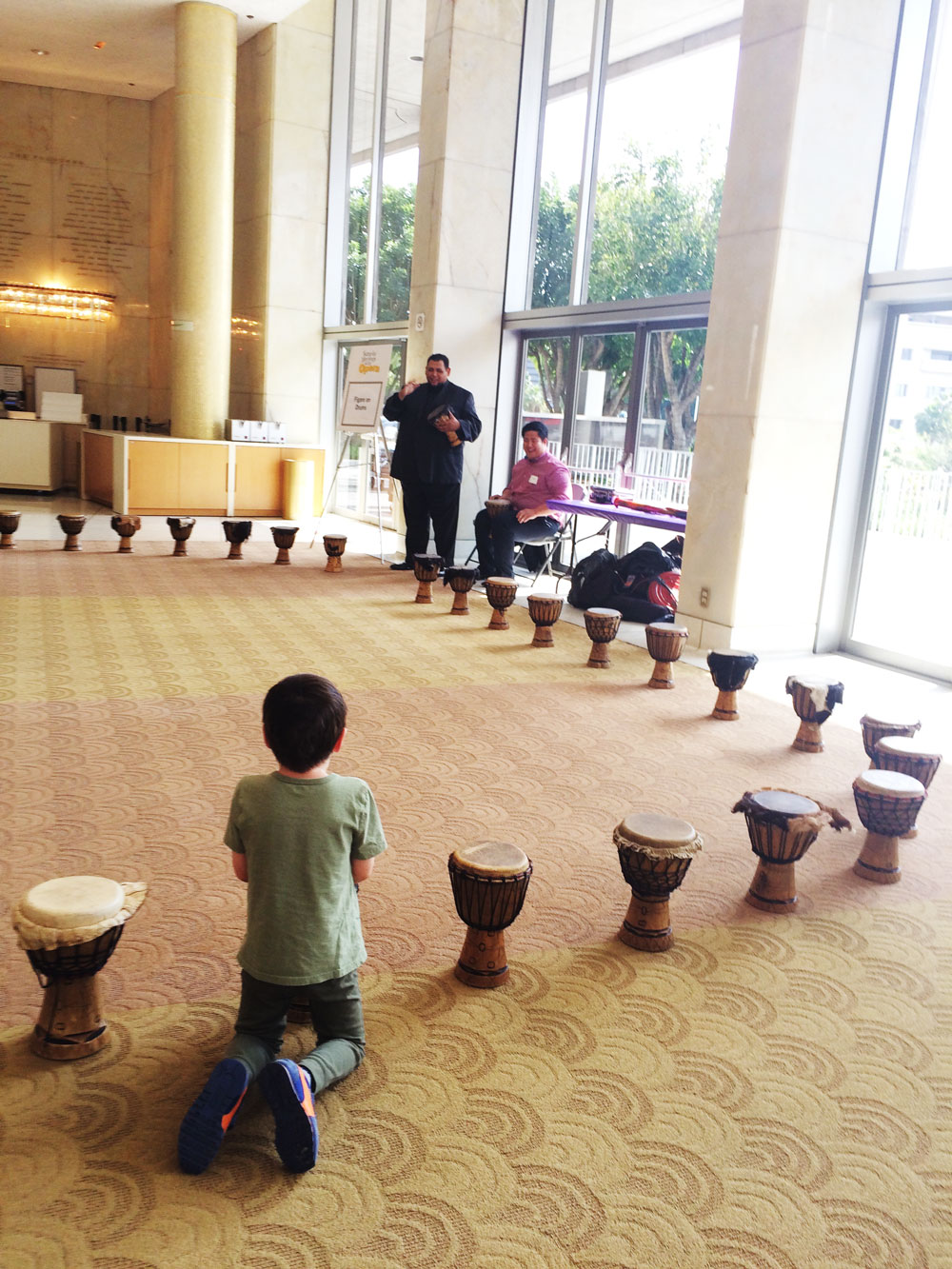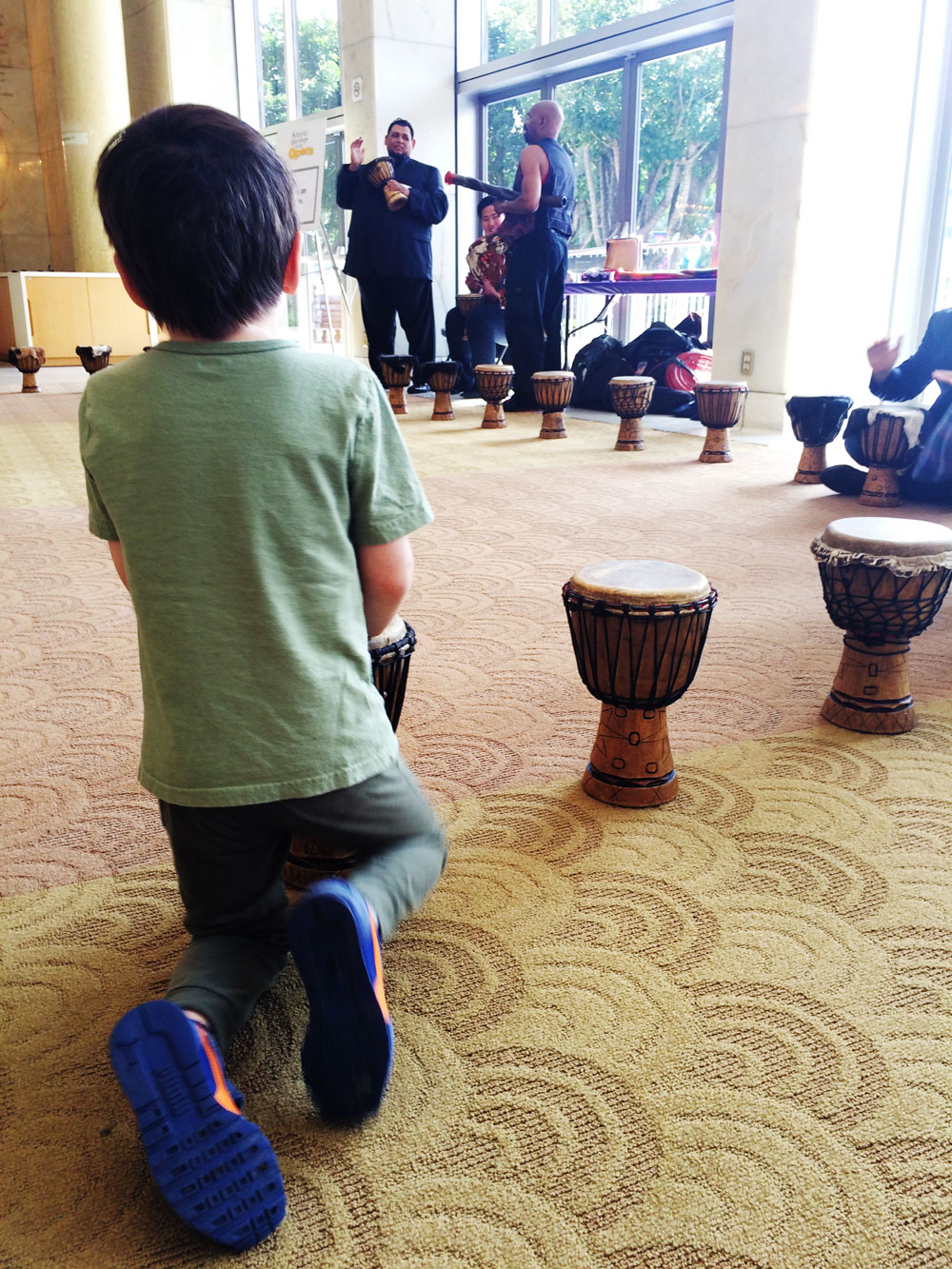 Max is into everything Víctor does. He sat down next to his brother and did his best drumming with his small hands that have zero eye-hand coordination. It was all very cute. My kids are so lucky to have access to all these opportunities and adventures. Hopefully they take advantage of them and make a difference in the world.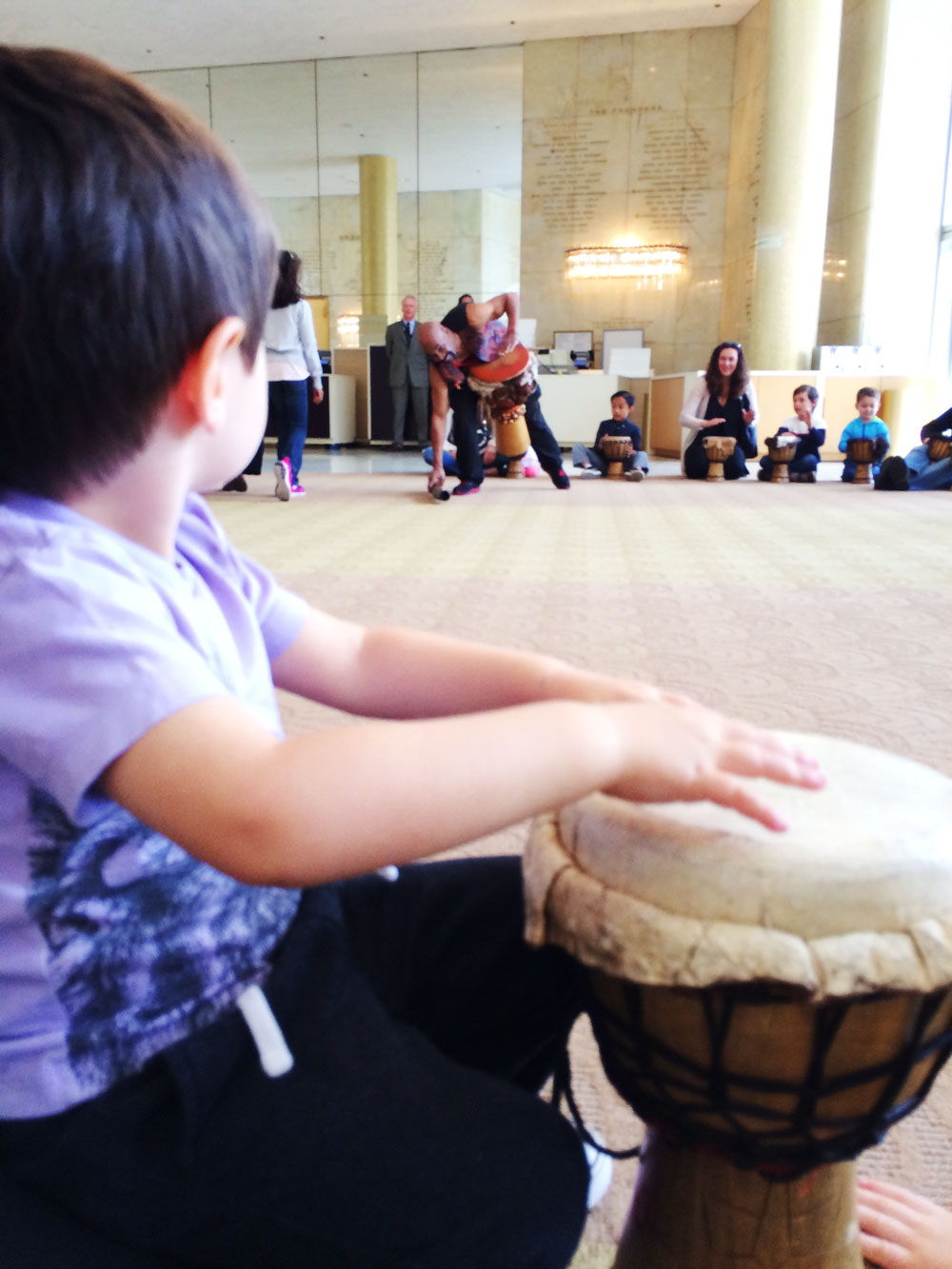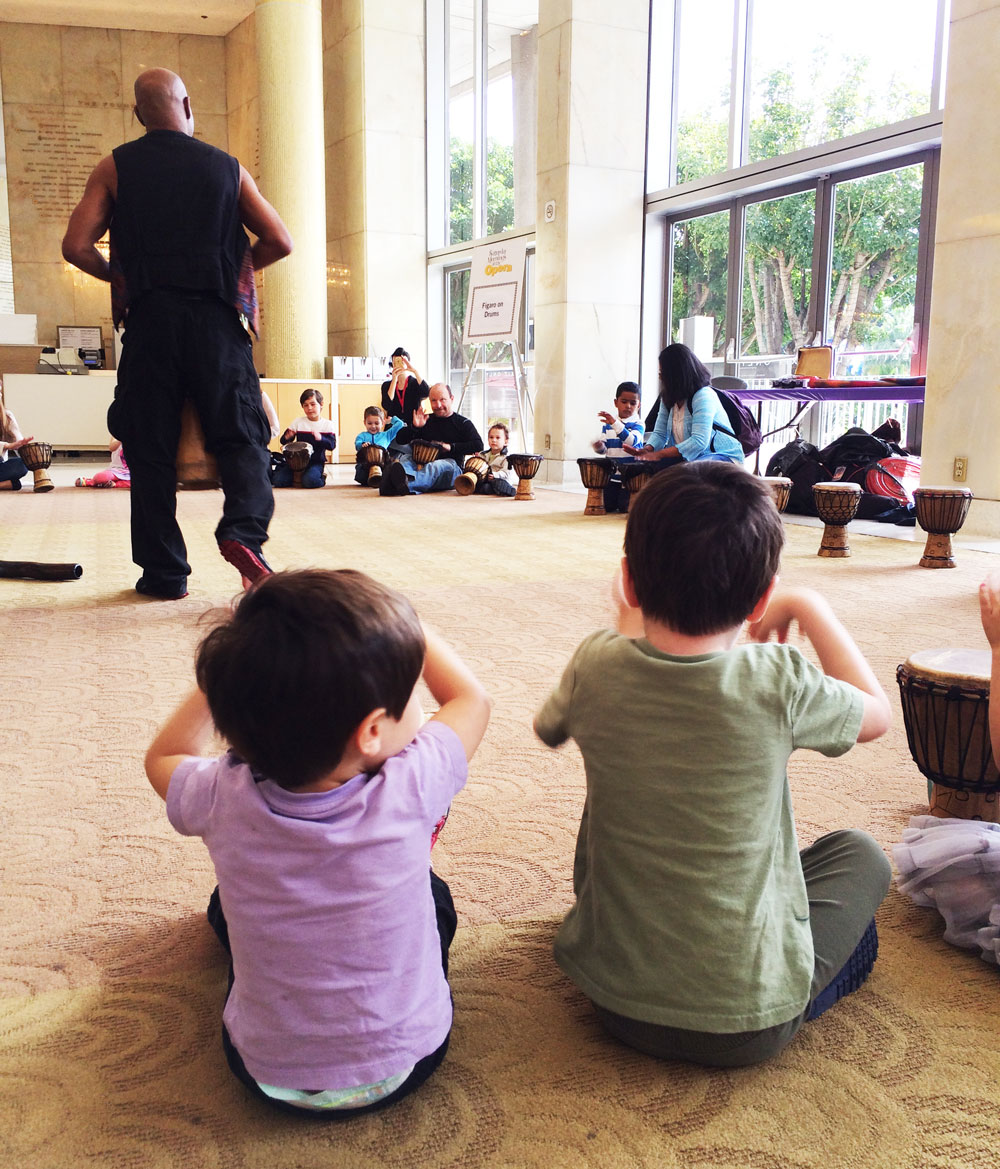 1/2 hour later, kids were still drumming.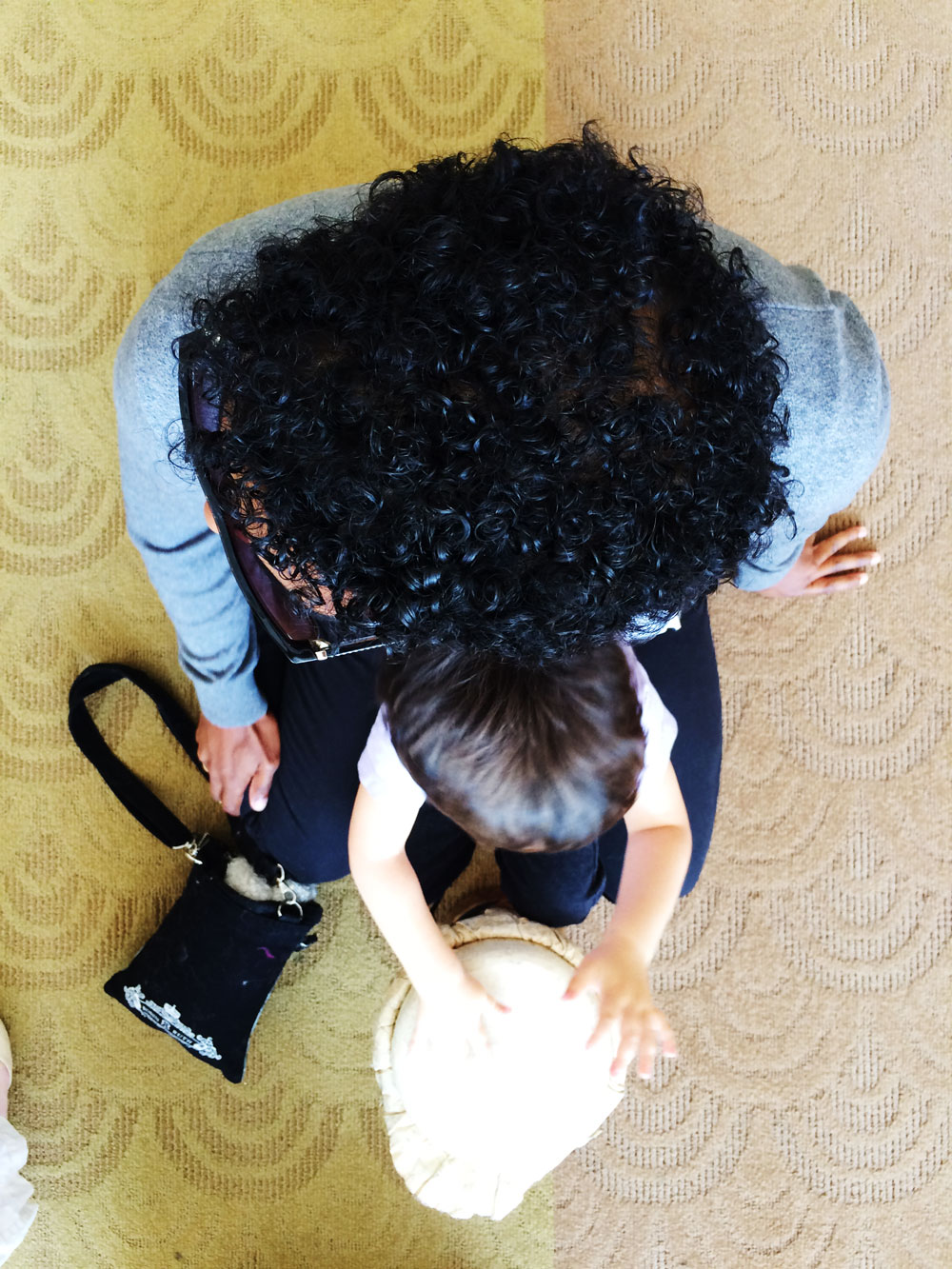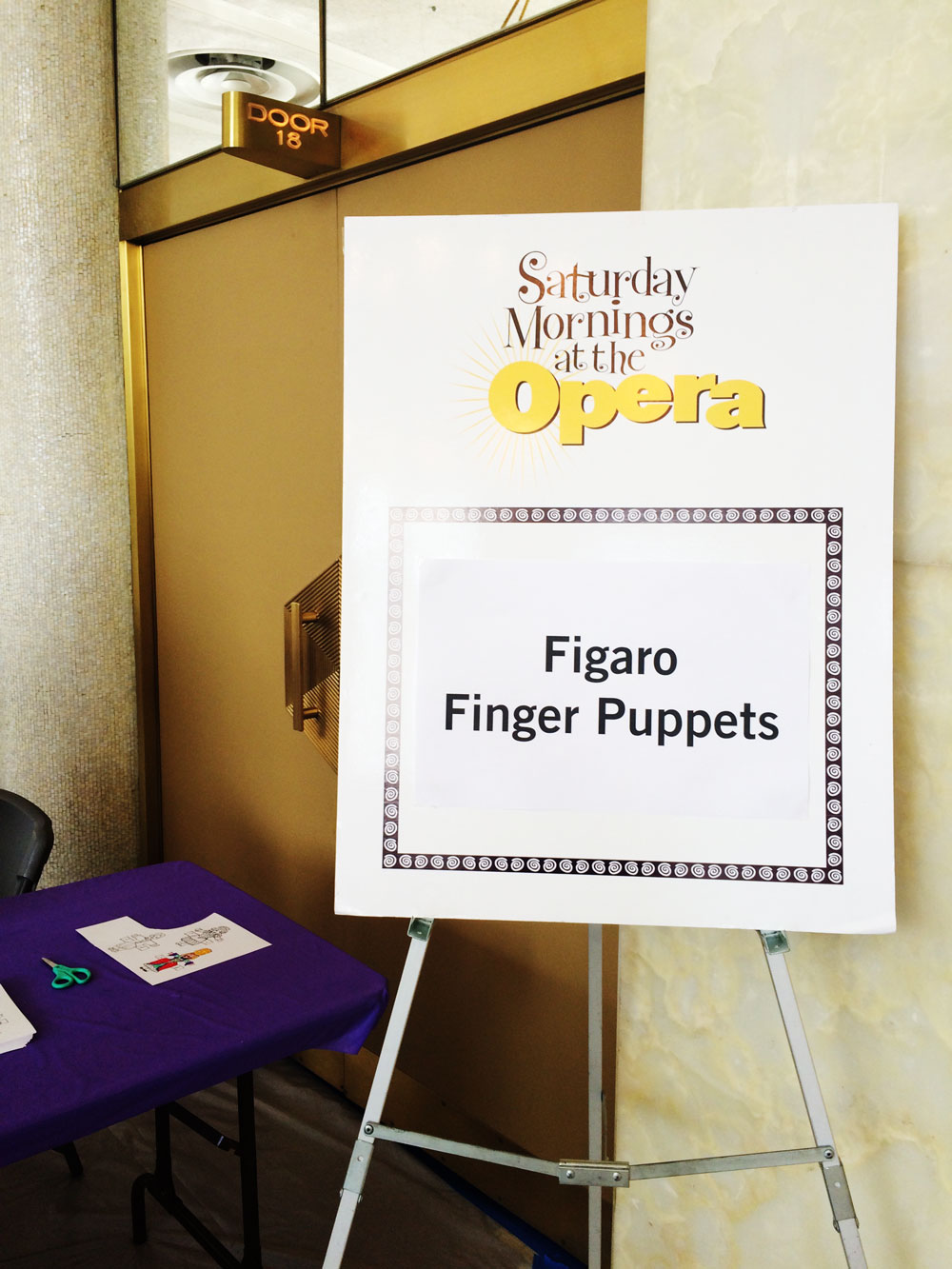 Crafts time!
There were 4 different tables with crafts. The kids tried them all and had plenty of fun.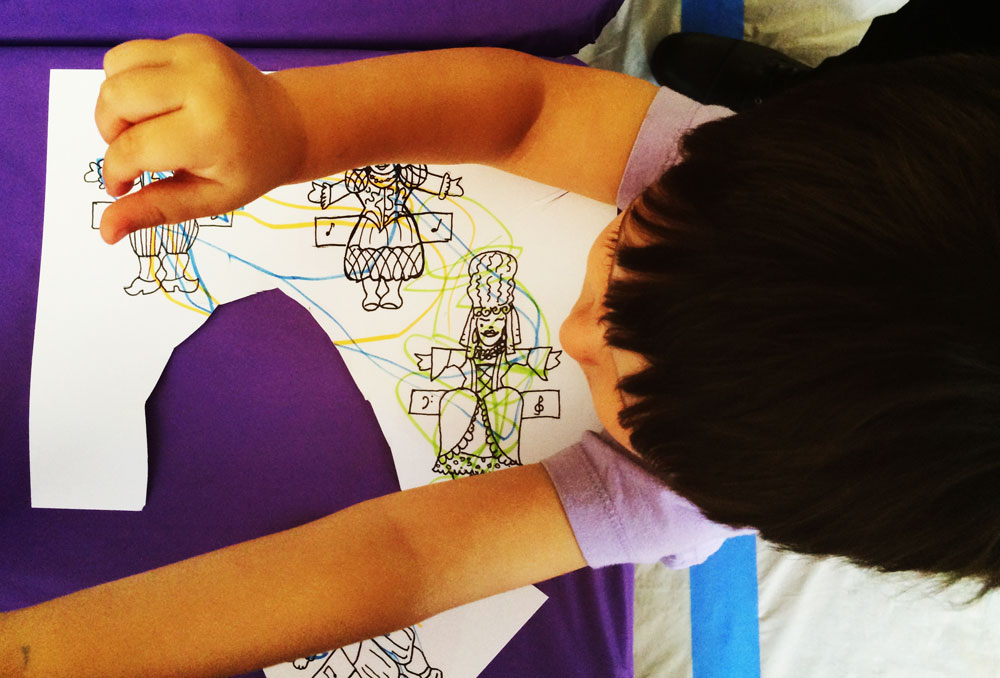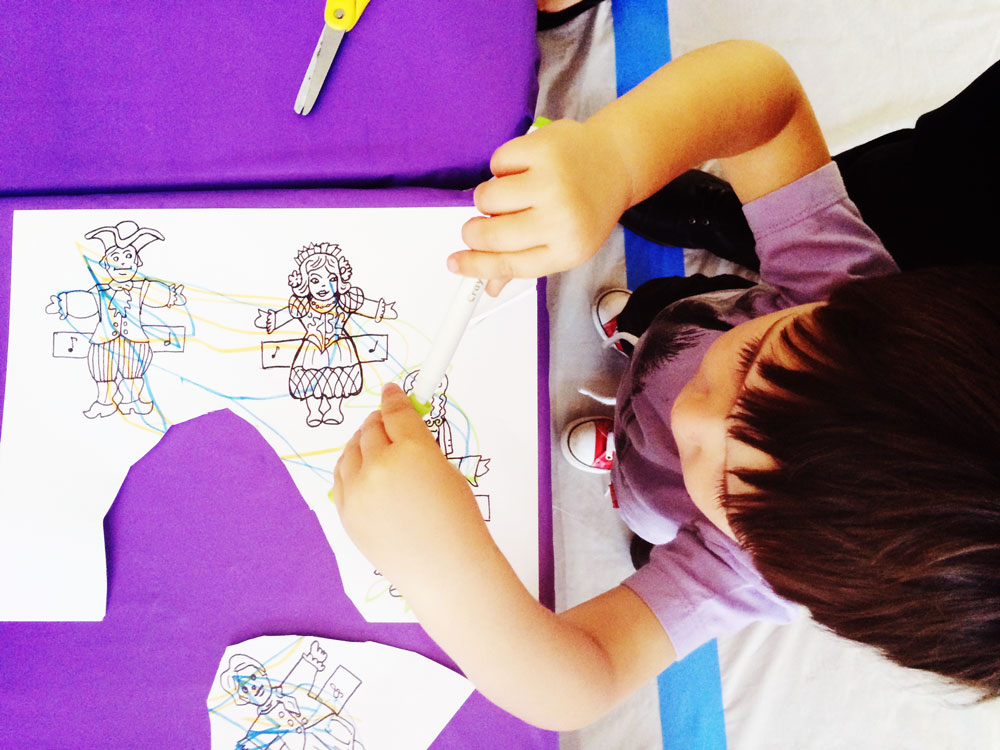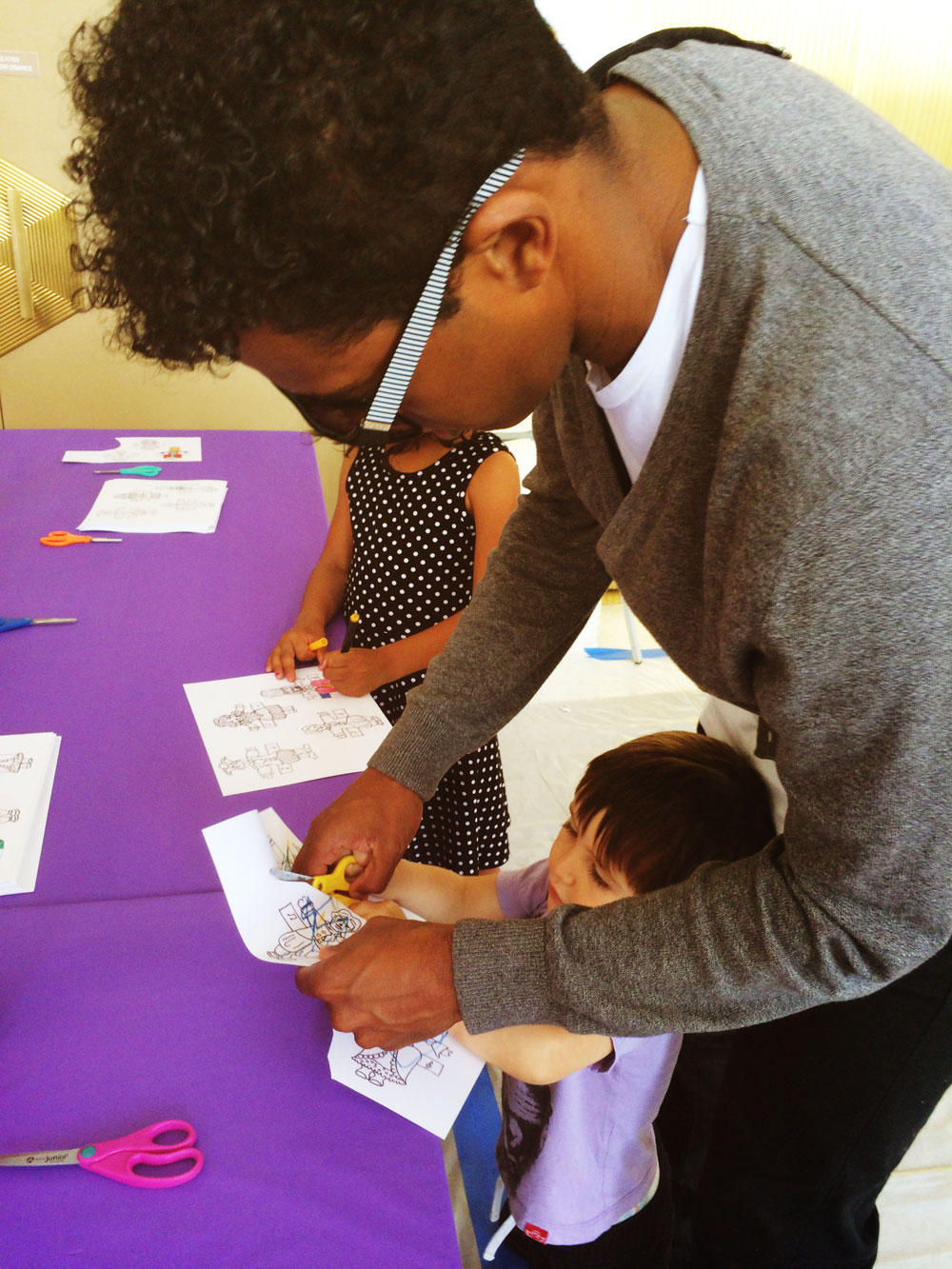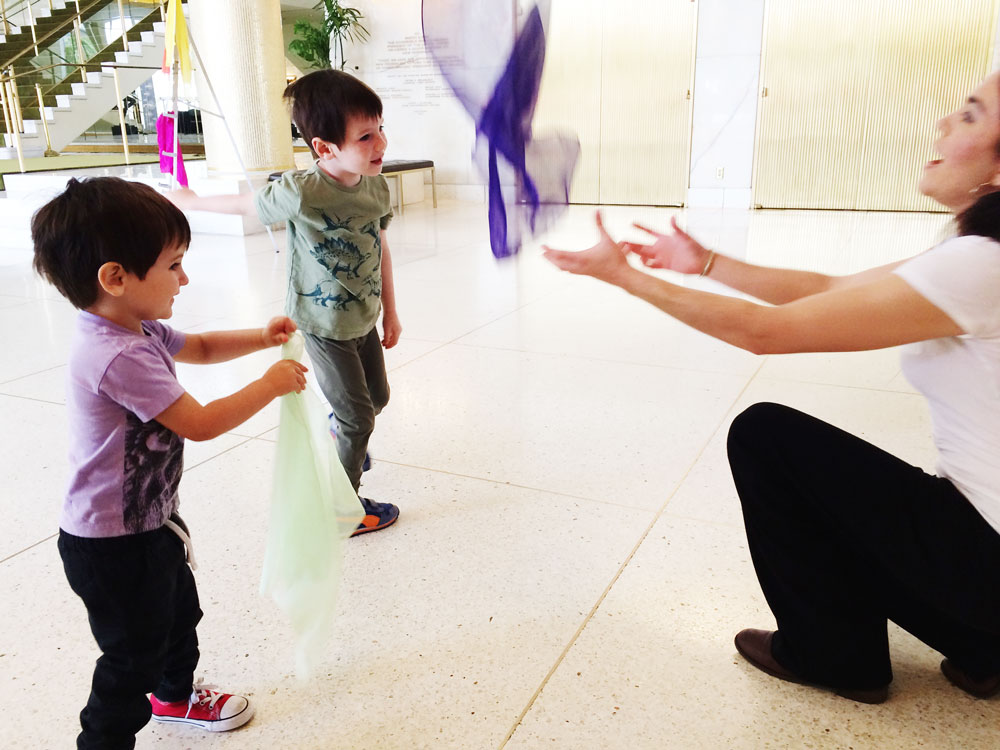 This nice woman played with my kids for 10 minutes throwing colorful handkerchiefs at them. Probably my kids' highlight of the event.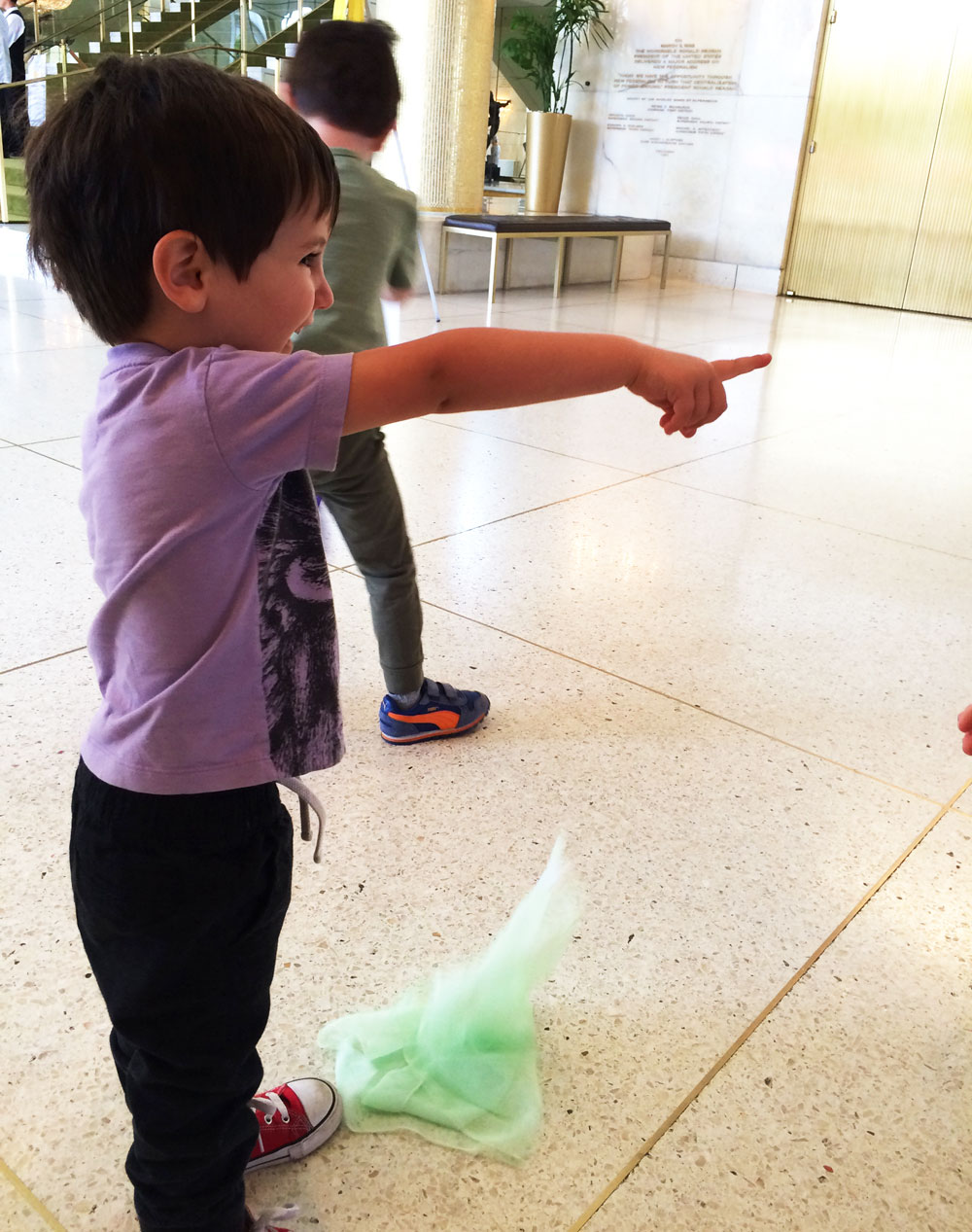 Look at that happy face!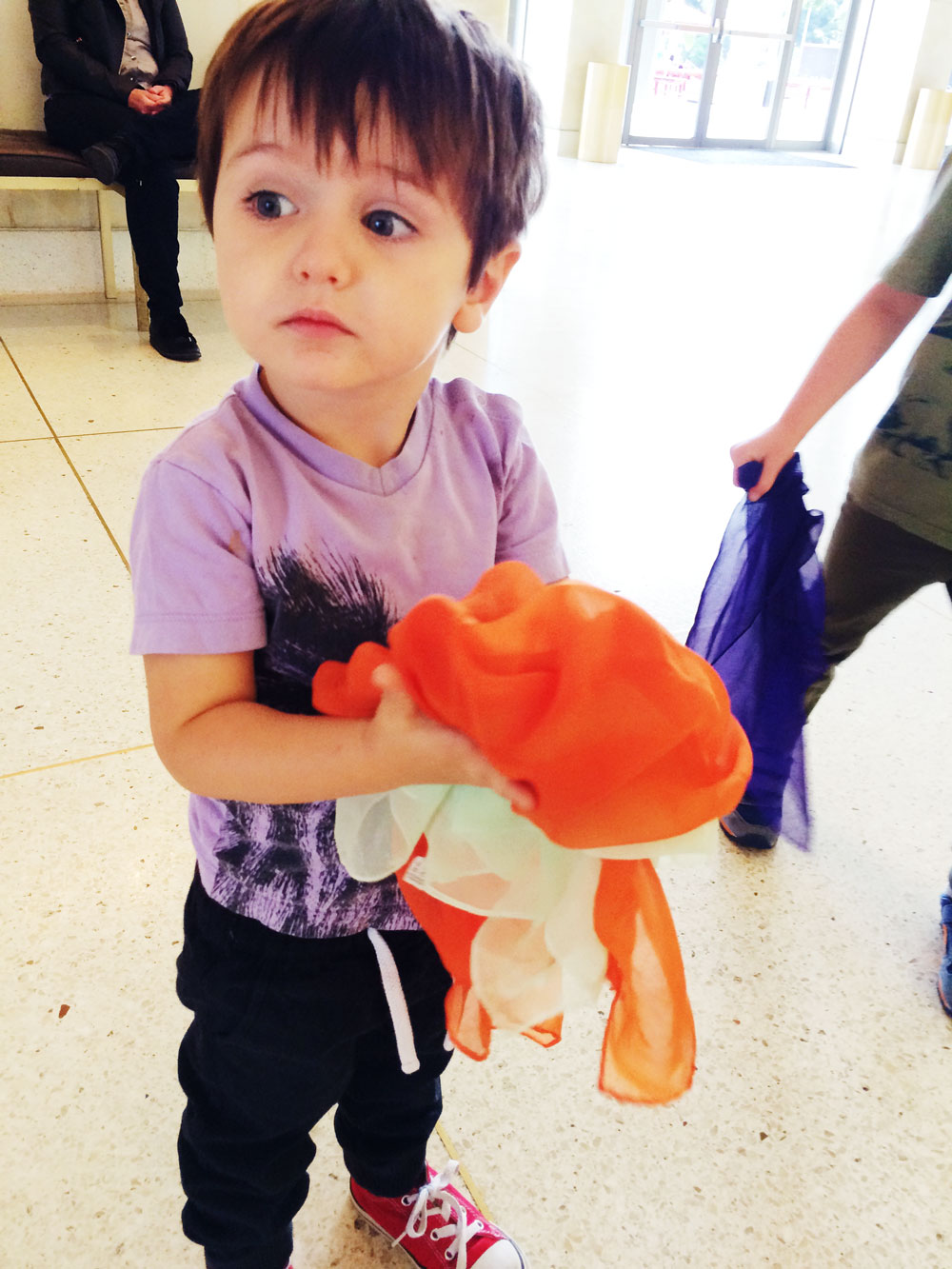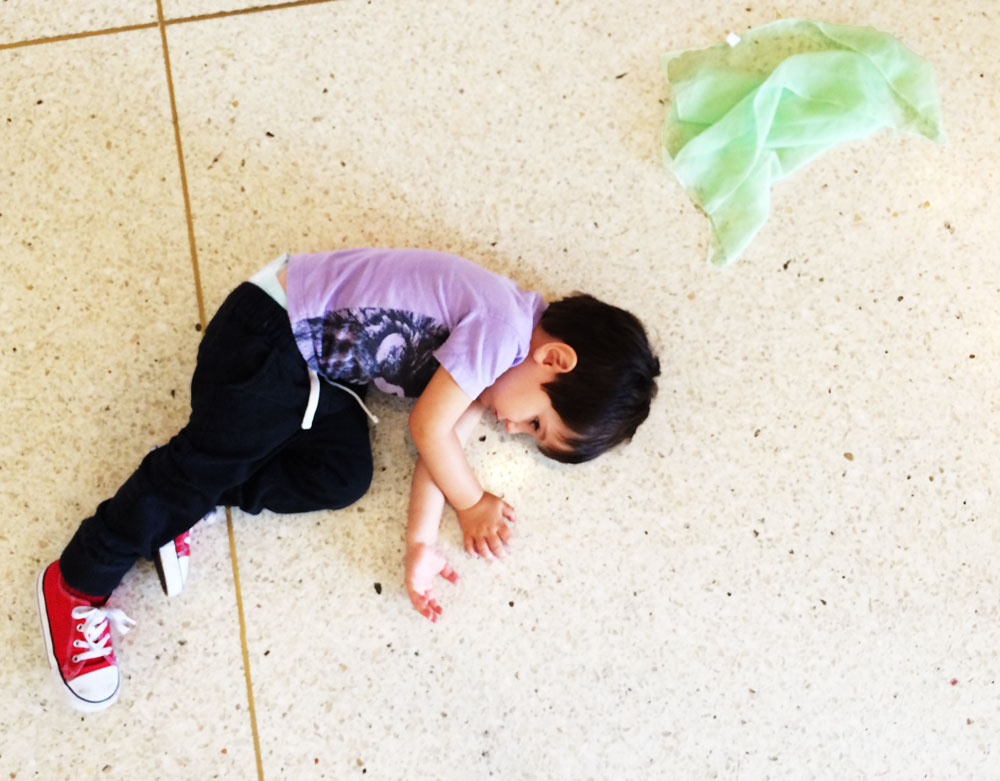 Max ends up every activity laying on the floor thinking about who knows what.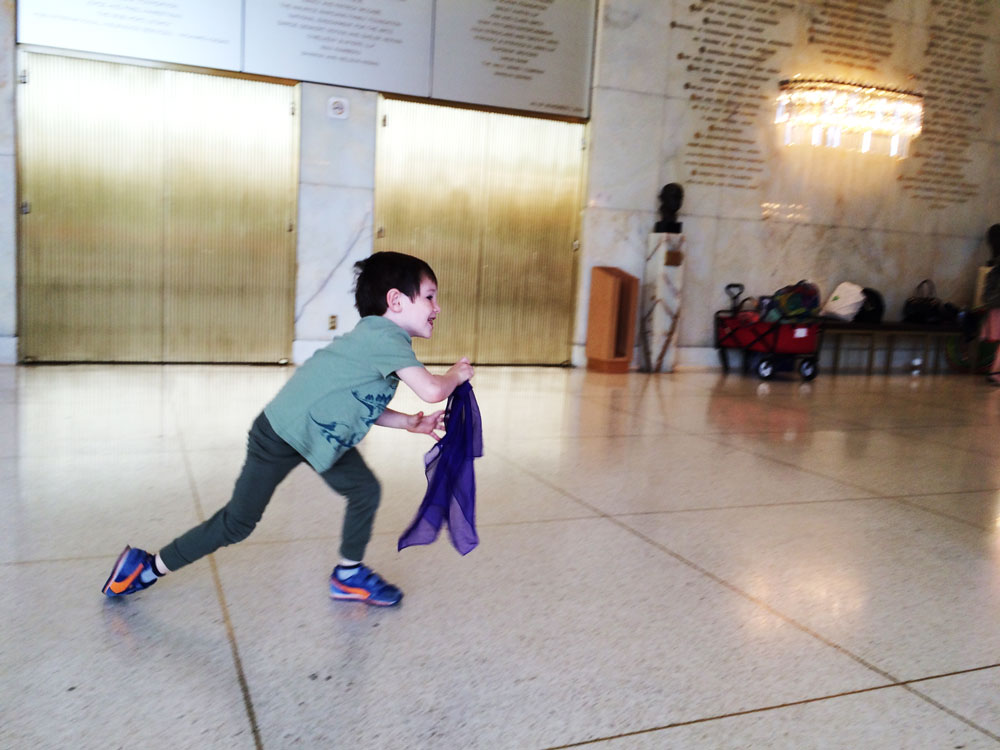 Can this guy be any skinnier? I swear I feed him daily. LOVE!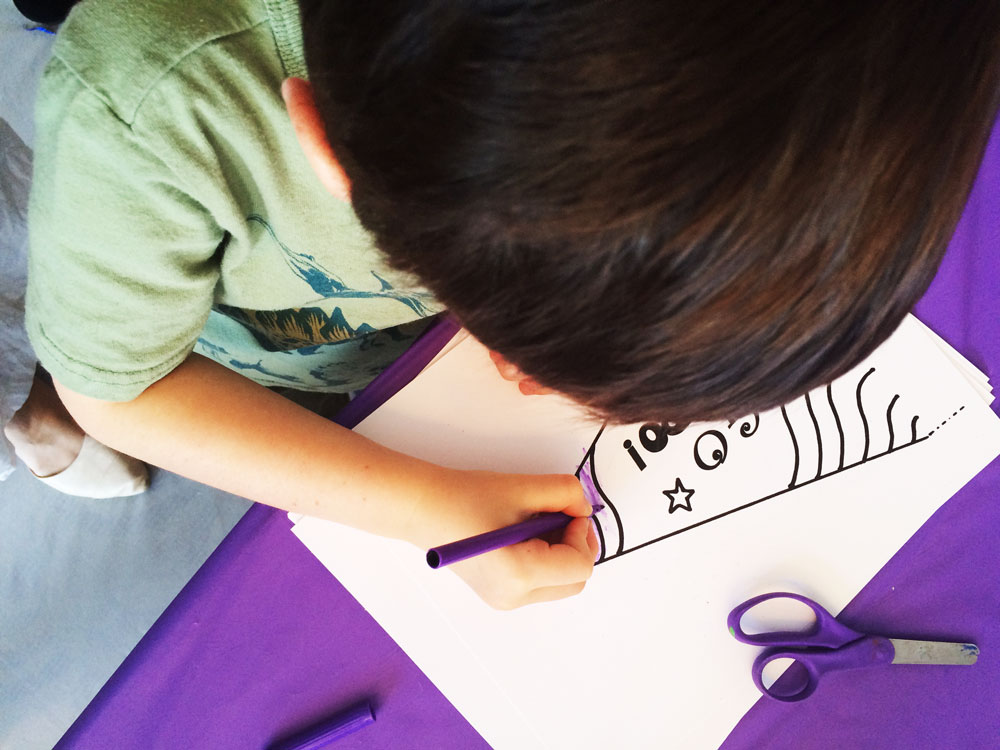 Now, to that Figaro flag.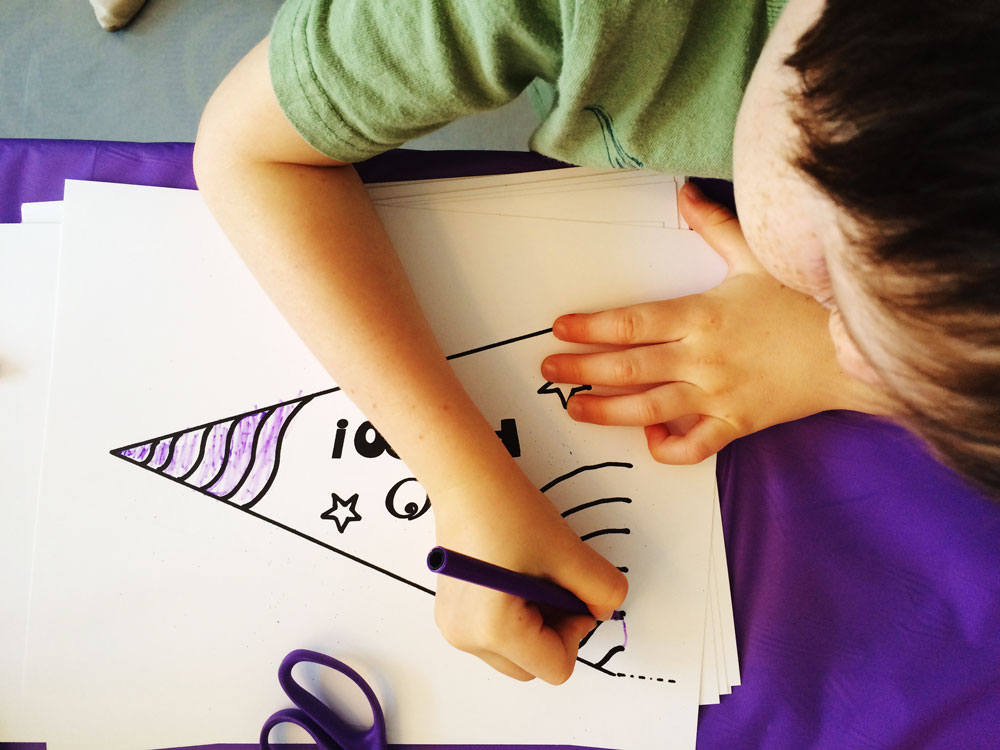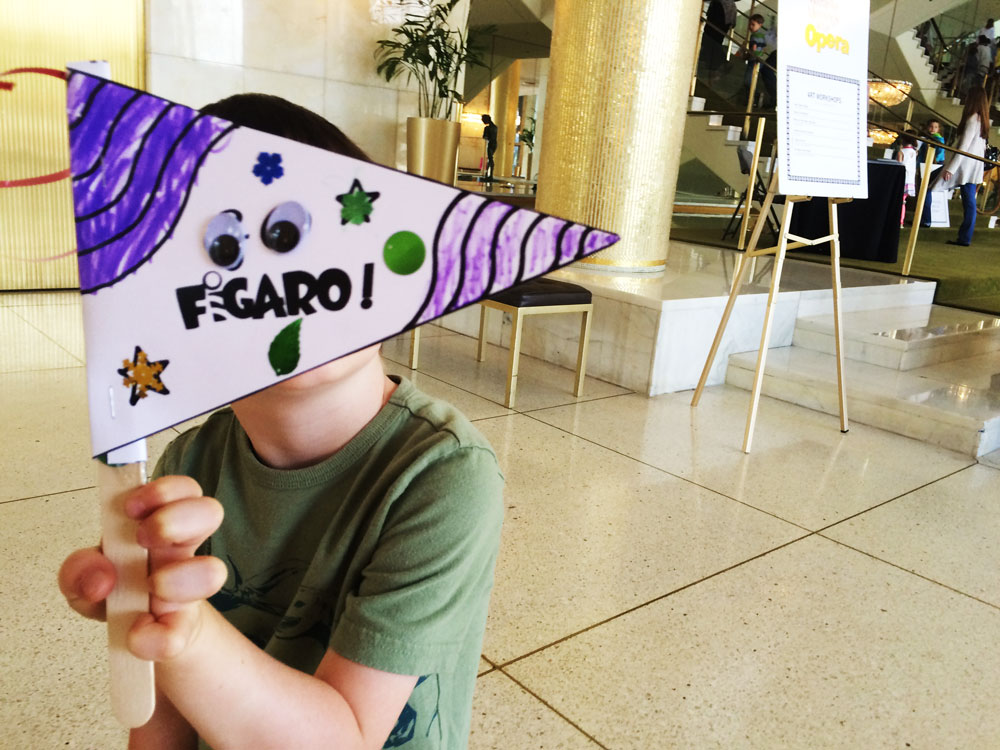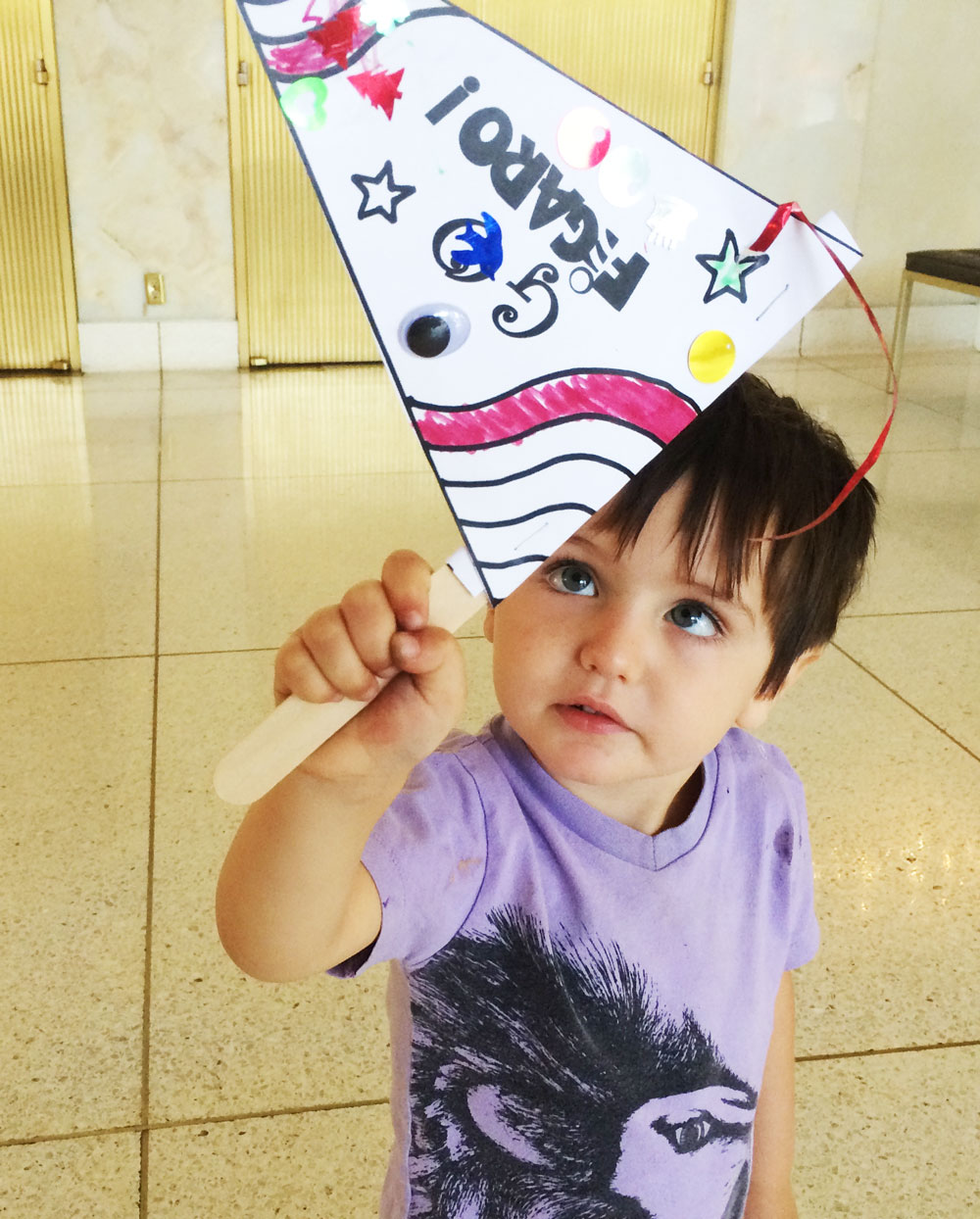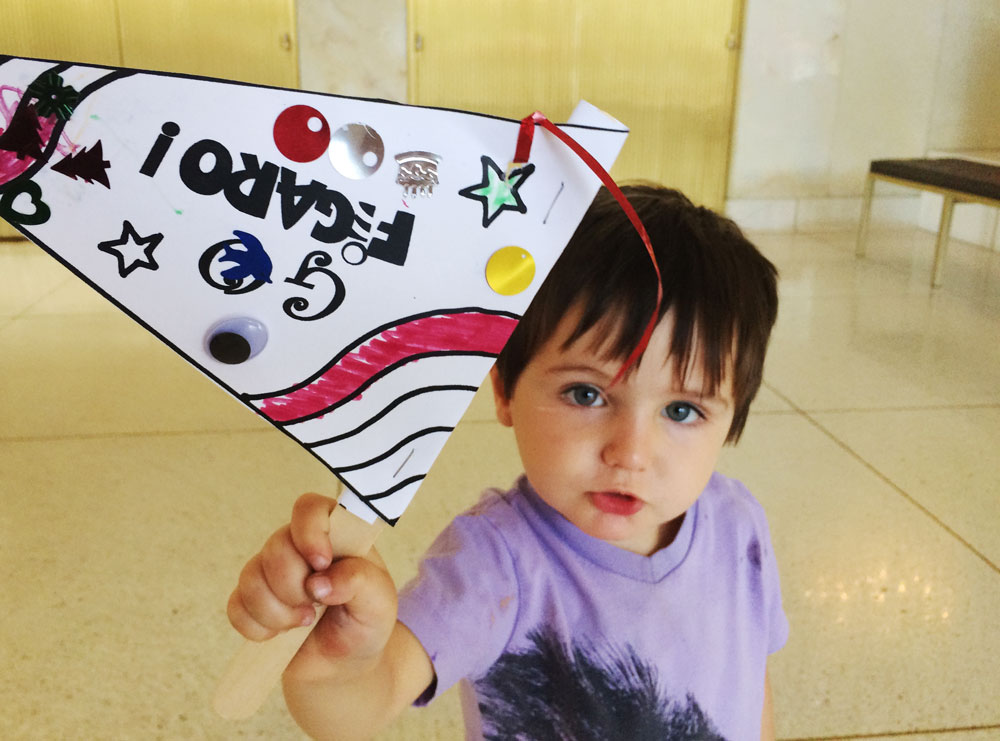 Finally, at 11am, the show started. It was located on the second floor, with plenty of sitting on the floor and chairs in the back. The production lasted only 1 hour and it touched upon 3 operas from French playwright Pierre-Augustin Caron de Beaumarchais (1732-1799) that have a character named Figaro in them -The Marriage of Figaro, The Barber of Seville, and The Ghosts Of Versailles-.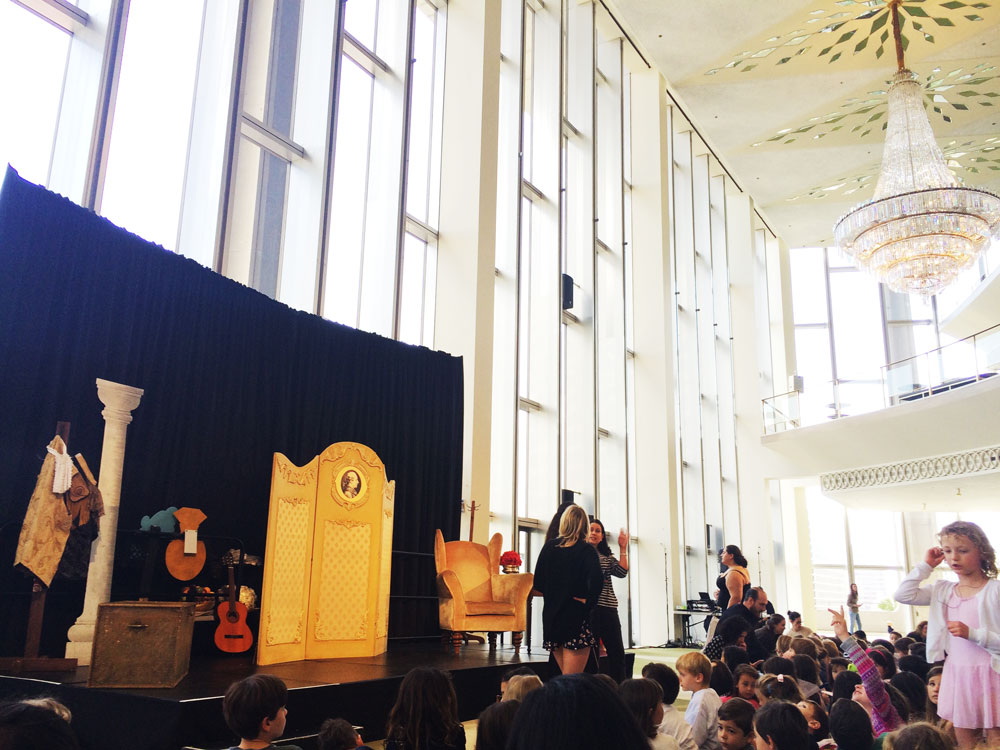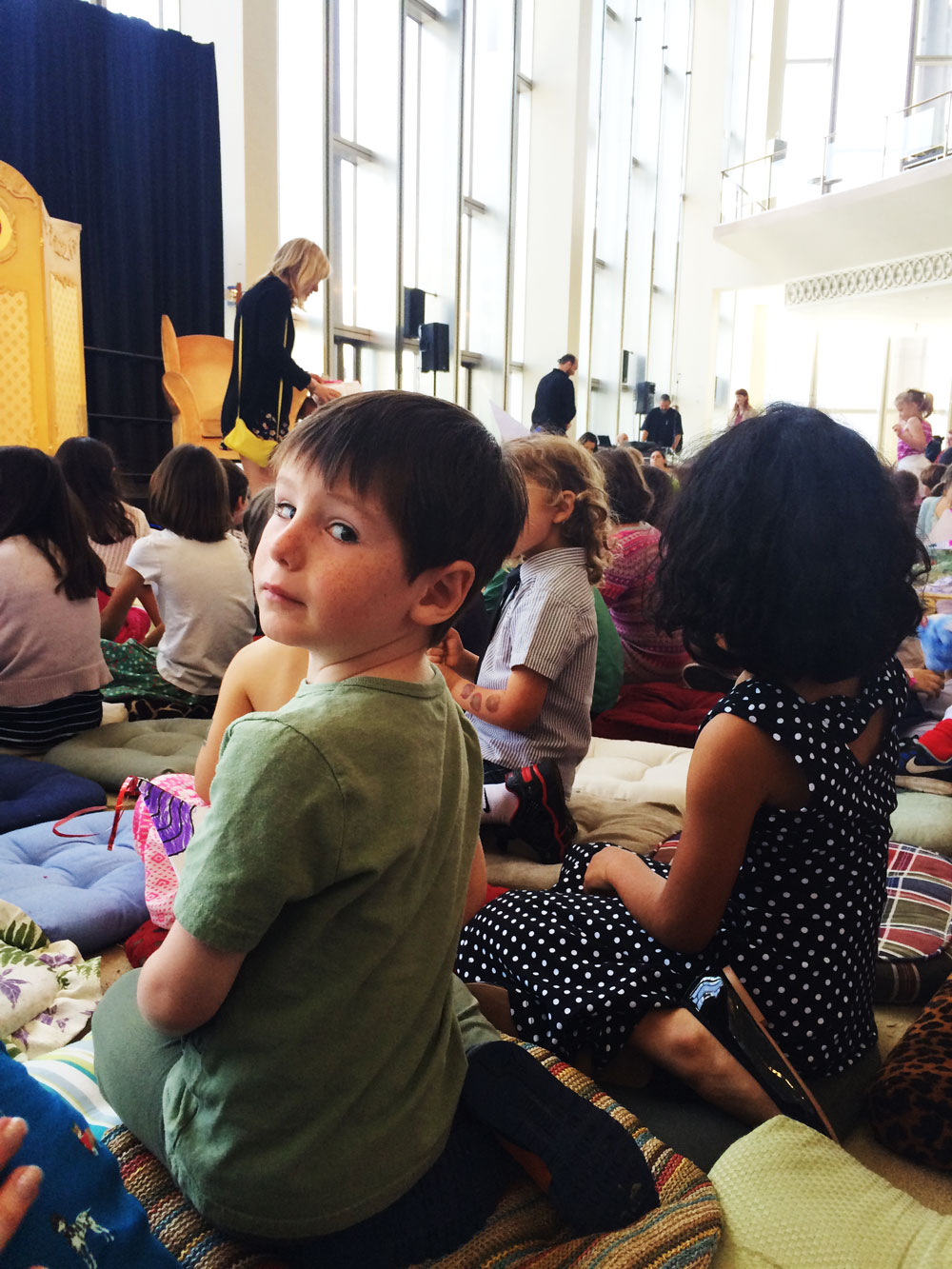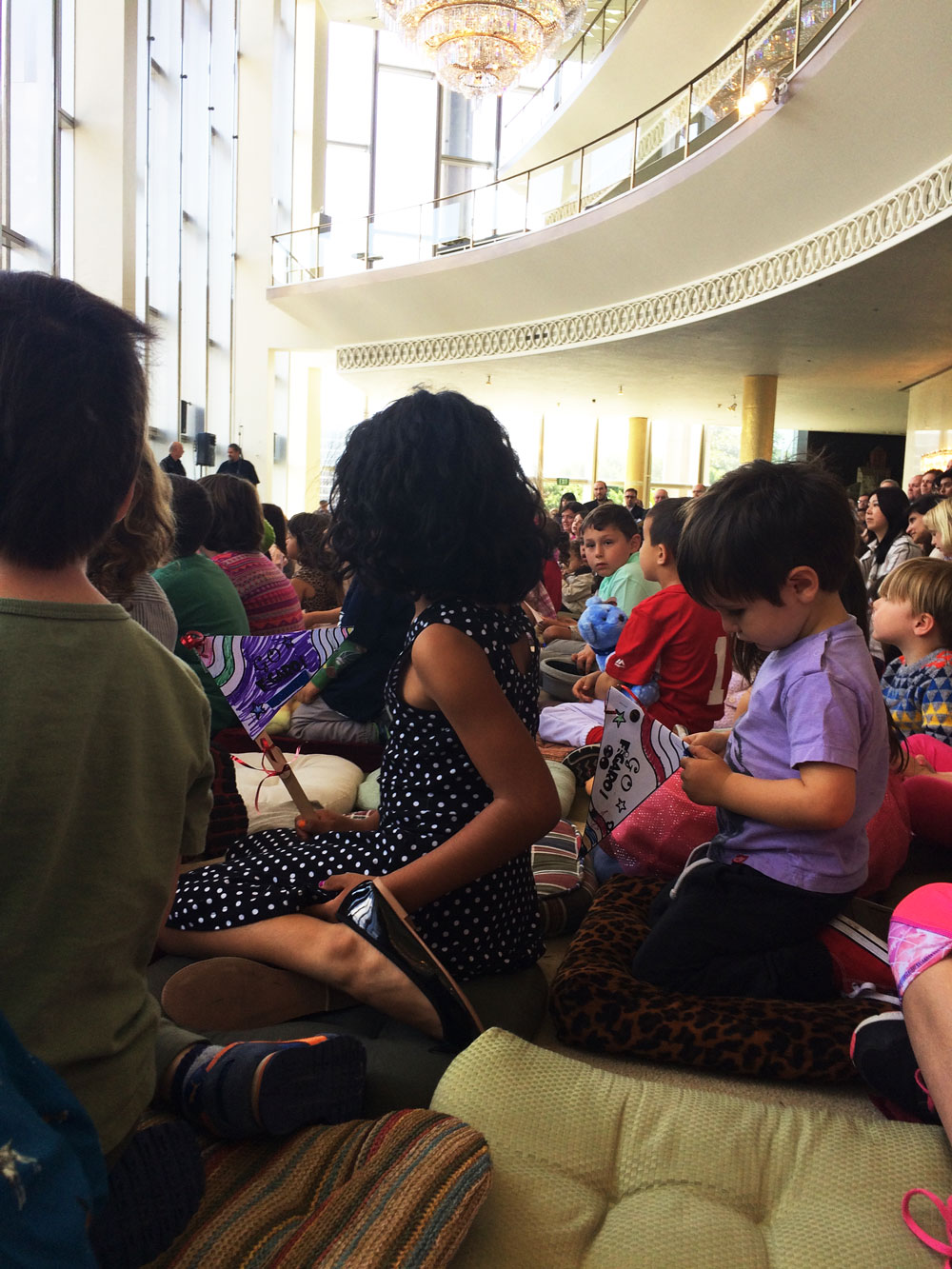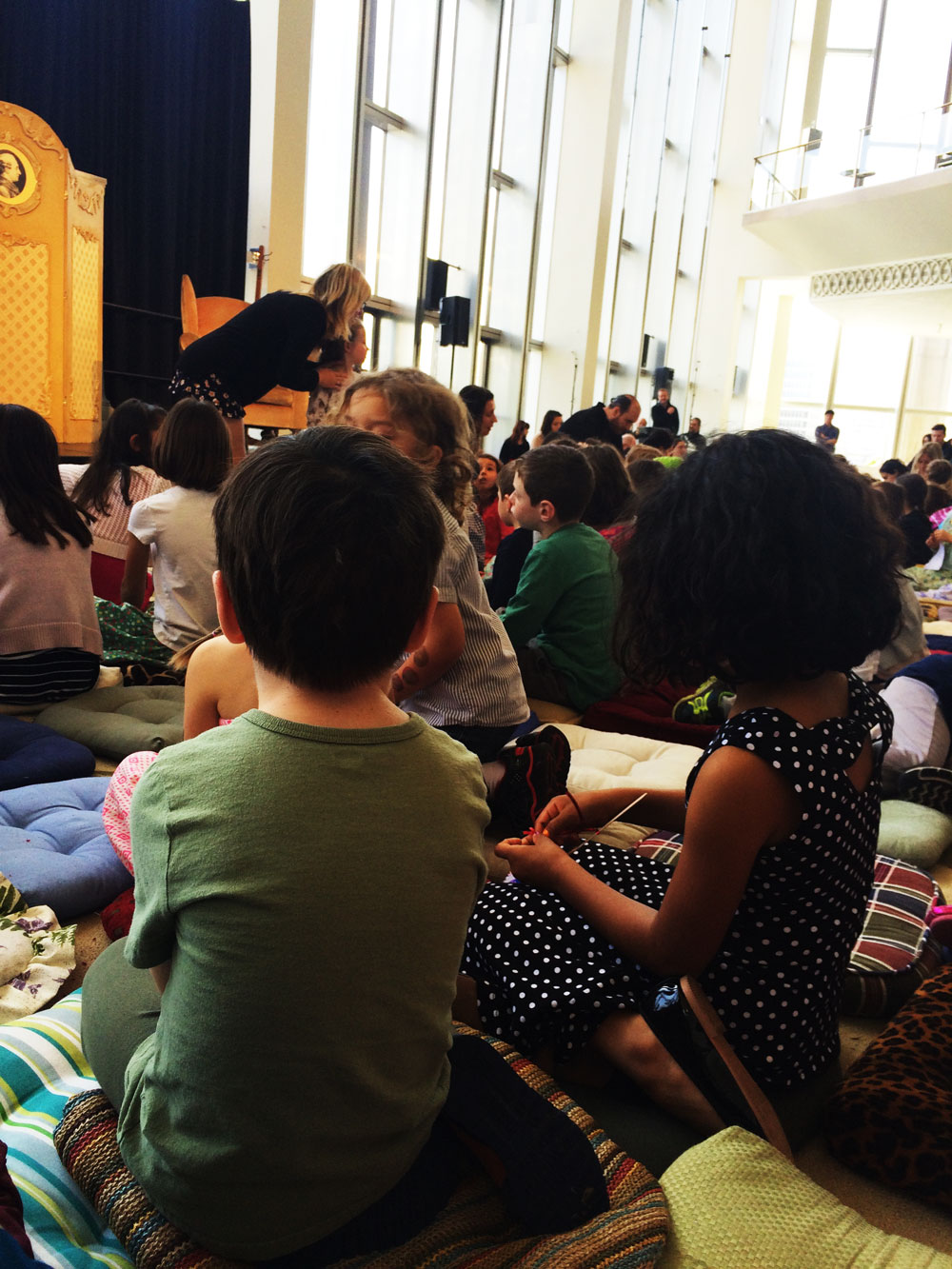 The show was energetic, fun and engaging. Thankfully, it was also in English (including the arias) so the kids could understand what was going on. They sat down for the whole hour paying full attention, including Max, and not one of them was ready to leave when it ended. SCORE!
The next shows are in Season 16/17, with tickets coming out in October. A long waiting time, but so worth it, plus the tickets are only $15! I am definitely taking the kids back, and I can't recommend it enough for those of you in LA that are looking for  something fun to do with the kids.
Have a great weekend!
Also, a post about The Huntington Library and Gardens the Kidspace Children Museum, and, Nexgen Family Sundays at LACMA.
https://jestcafe.com/wp-content/uploads/2016/05/jestcafe.com-opera-for-kids-33.jpg
767
1000
Mila
https://jestcafe.com/wp-content/uploads/2017/08/Jest-Cafe-about-design.jpg
Mila
2016-05-27 06:16:39
2016-06-01 11:14:41
Saturday Mornings At The Opera