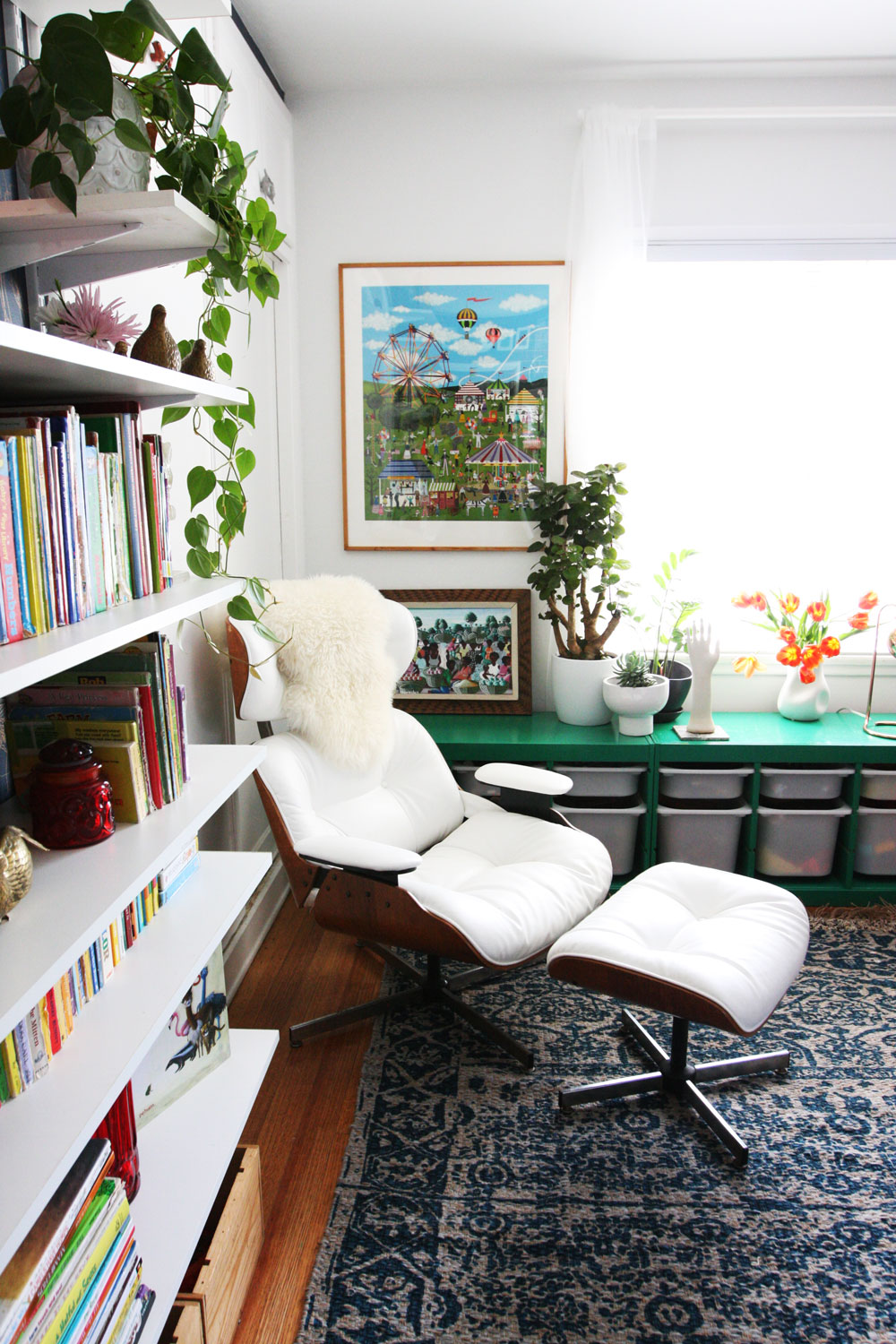 So, I have been participating in this challenge called the One Room Challenge hosted by Linda from Calling It Home. The idea is to transform a room in 6 weeks. I have been working on my kids' room and today is the big reveal day. You can catch up to what I have been up to here:
Week 1 // Week 2 // Week 3 // Week 4 // Week 5
These 6 weeks have been full of busy weekends and physical (and mental) exertion, but that is all over, and I am very, VERY proud with the results. My kids' room looks so good, but you can judge that by yourself.
Let's get to the photos because that is what you are all here for. First, here are the before pictures, so you can be reminded of all that ugliness: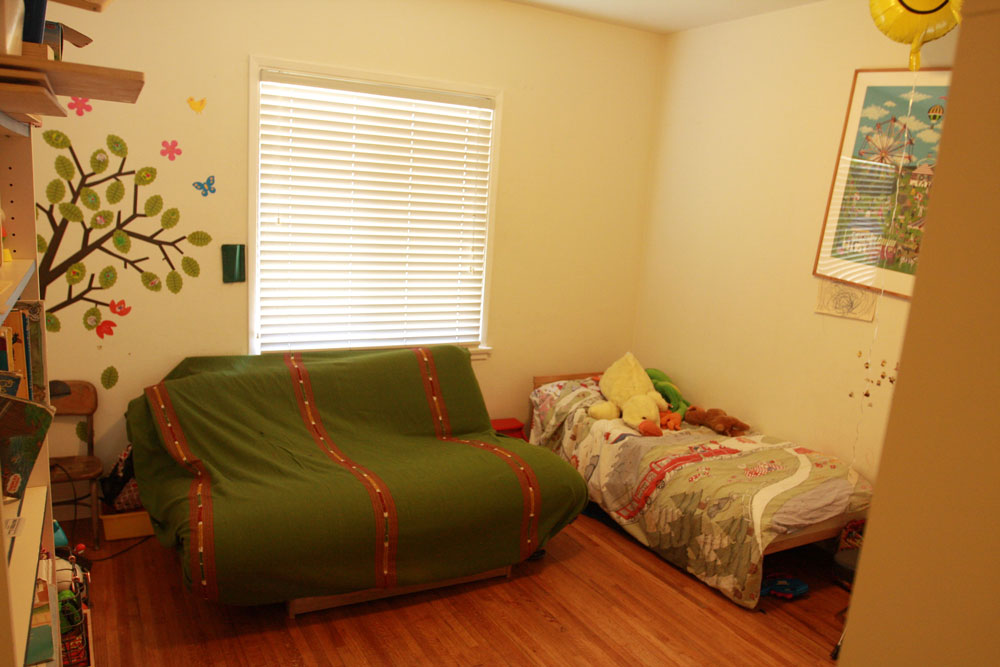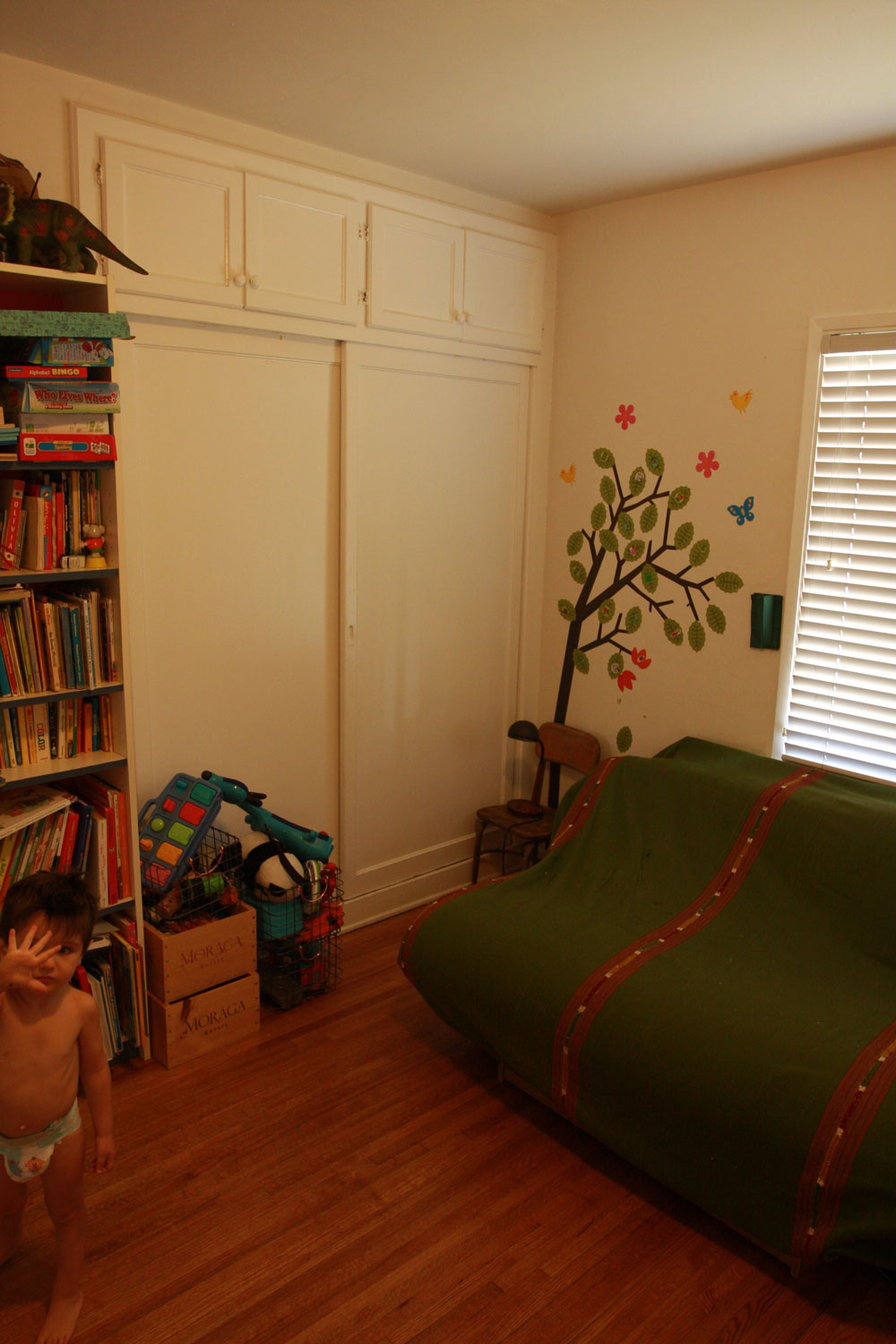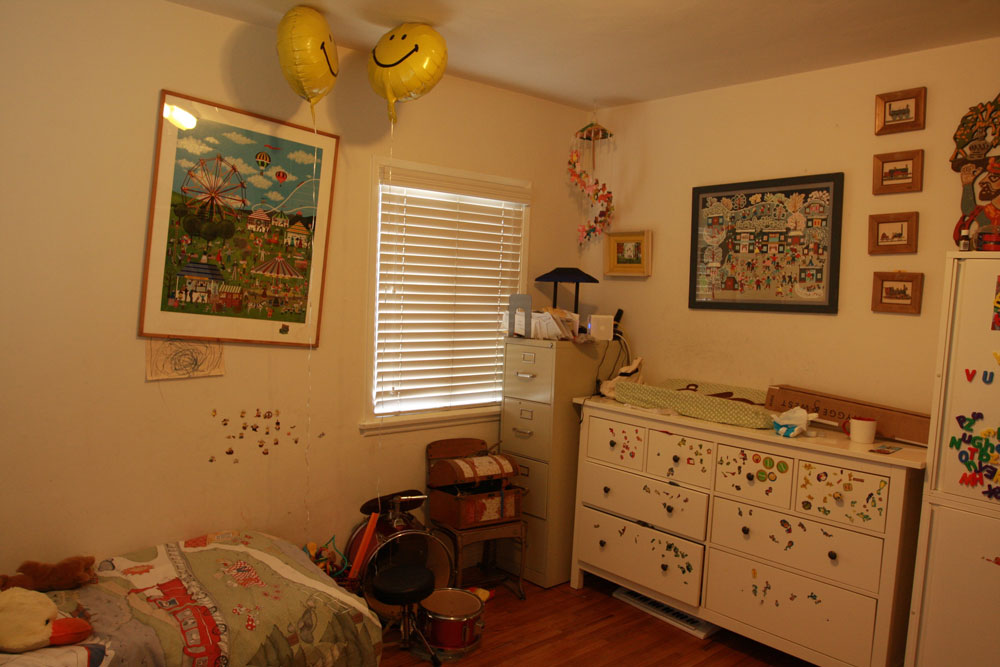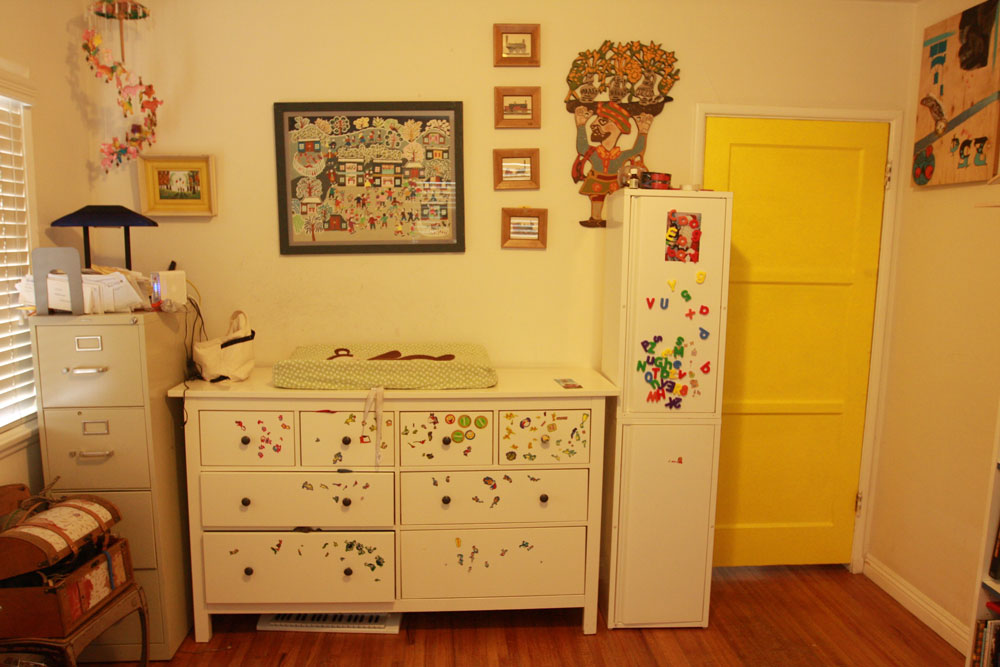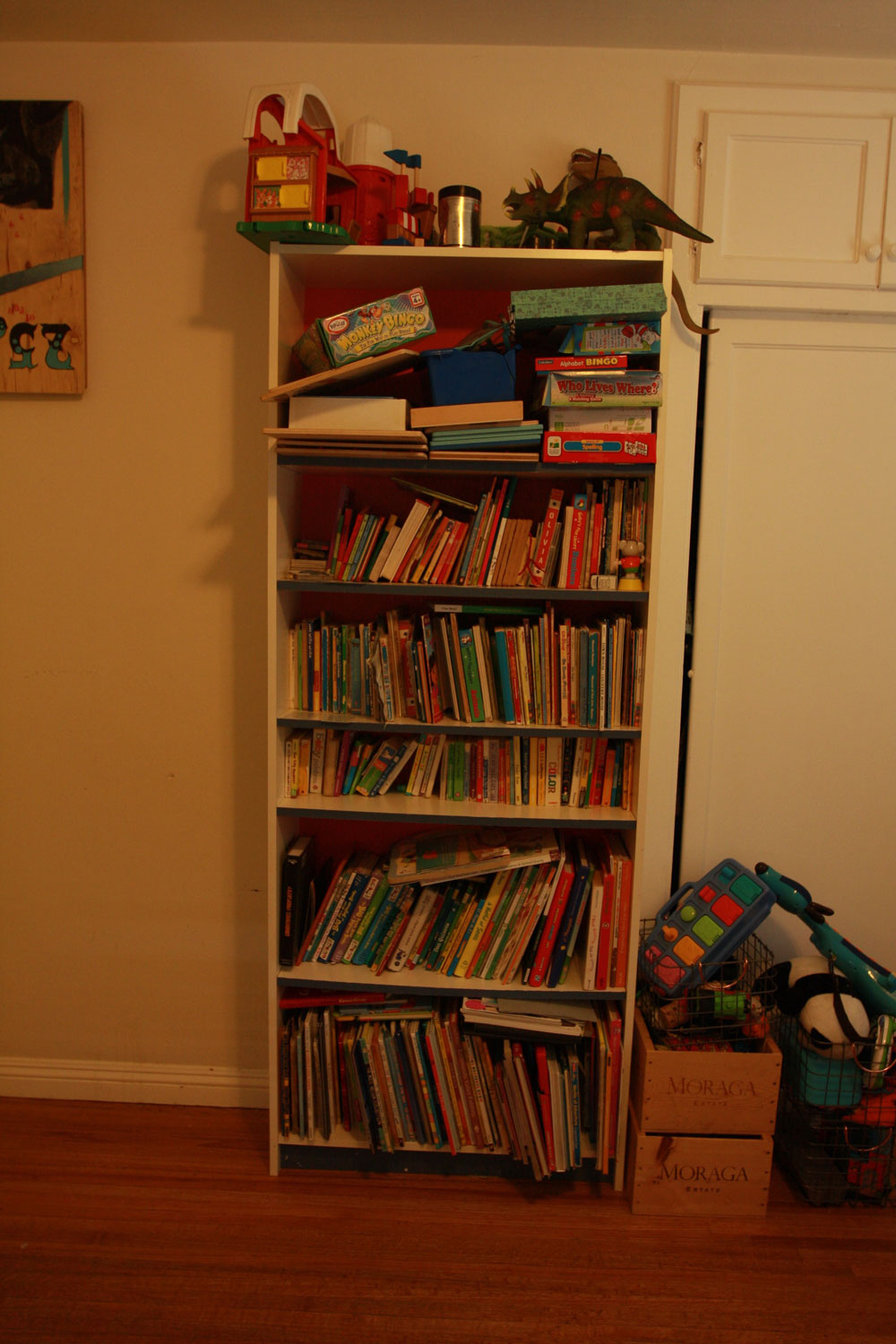 And here are the after photos of that same space. Be ready to be impressed!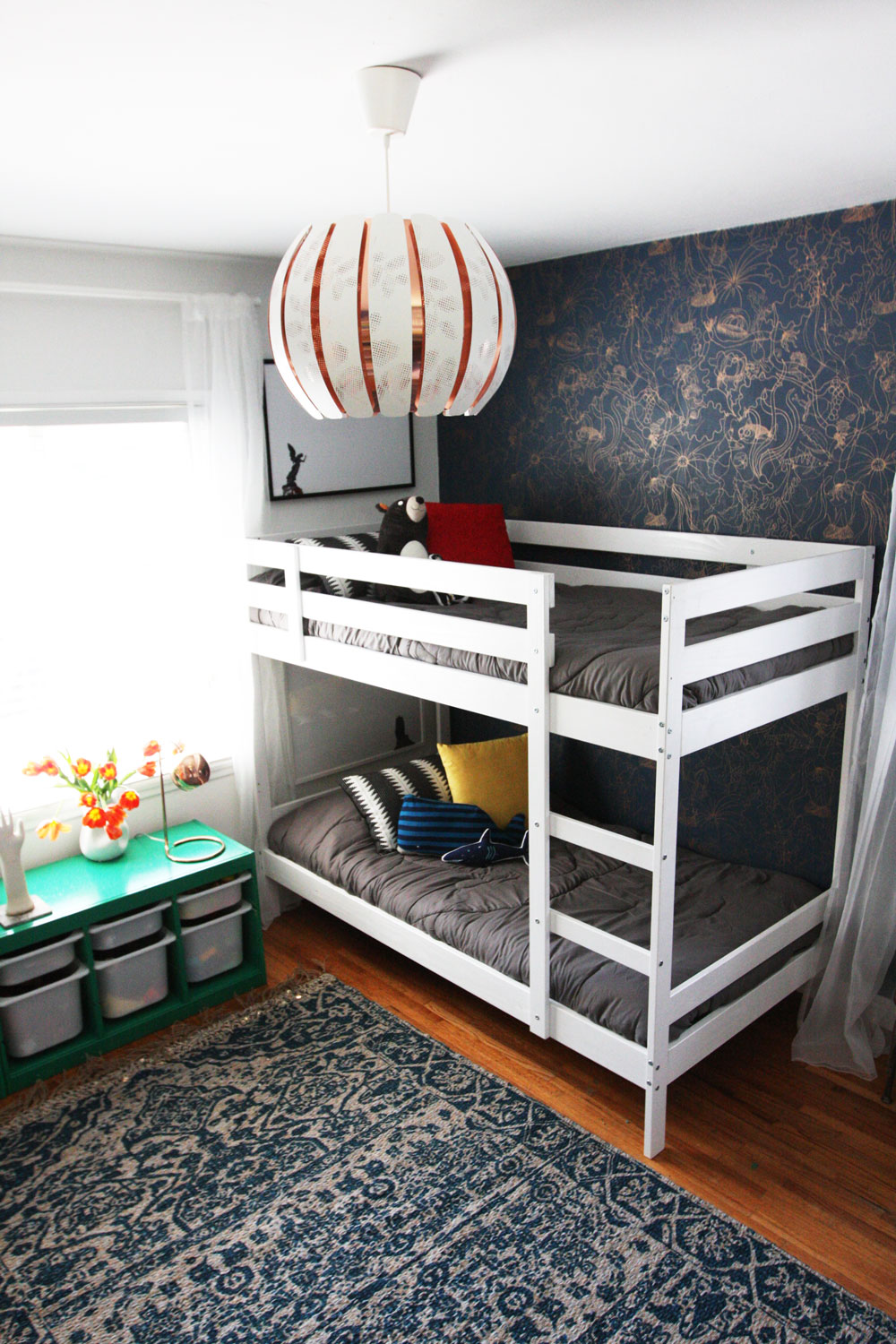 In the beginning,  I was afraid the dark wallpaper and walls would darken the space too much so, to brighten it up, I painted one wall and the ceiling in true white. I chose Decorator's White from Benjamin Moore. It was the perfect choice for the space. For the light fixture, I chose IKEA's shade Overud. It is a beautiful statement and it matches the copper tone of the walls. It was super coincidental because I went to IKEA one day and didn't find any lamp I liked, but I had to go back the week after to get some other things and I took a moment to walk around the lamp section again, just in case. Well, lucky me because that time I found the Overud shade hanging in all its glory. They had hung it the day before I came back! It was so lucky. I saw it and I knew immediately that this was the light fixture the space needed. Won't you agree?
But, the best part of this room is, without a doubt, that Underwater World wallpaper from Hygge & West. It is so dramatic and gorgeous! It has beautiful copper details that I didn't want to cover with a bunch of art, so I decided to paint the fourth wall in the same blue tone and create a gallery wall. Here is the result: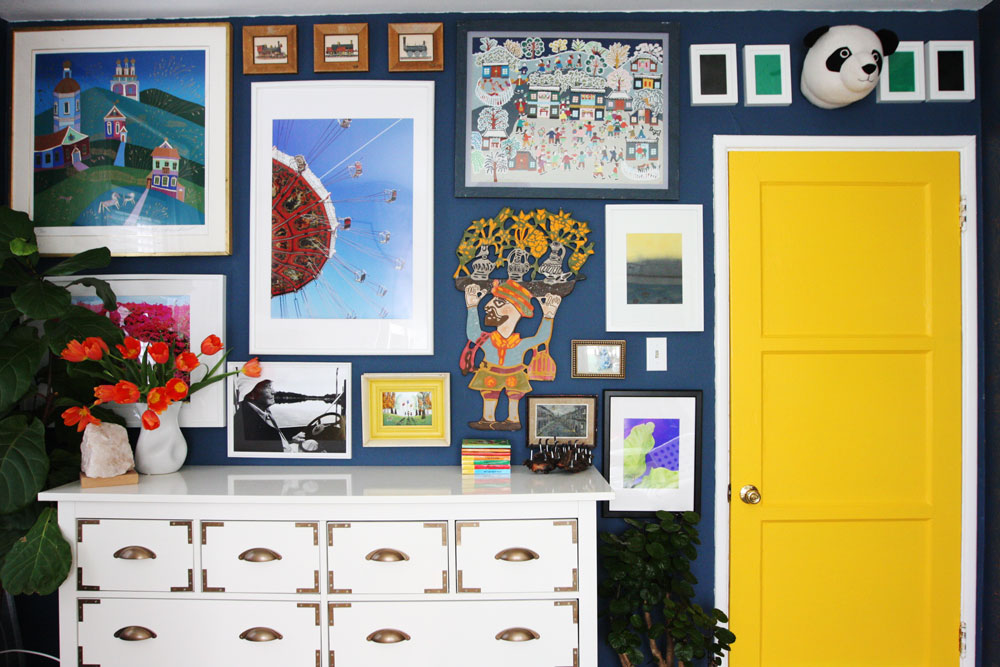 Half of the art in here are vintage finds from thrift stores, estate sales and flea markets. The other half was art created by me. I took all the photos and painted the yellow/black painting, plus, I painted the solid emerald and black paintings on the top left – I like having solid colors in a gallery wall to give a break to the eye.  All the frames are from IKEA. The panda accent is from Target – I thought it would be a cute addition to the gallery wall adding some movement to the straight lines.
I also fixed the old dresser, added corners from Home Depot and pulls from Orchard Supply Hardware and you can see the result above. Isn't it cute? So much better than how it looked before (see before photos above). I also painted the door with a darker and more orange yellow (Lemon from Benjamin Moore) and it looks a million times better than the light yellow I had before.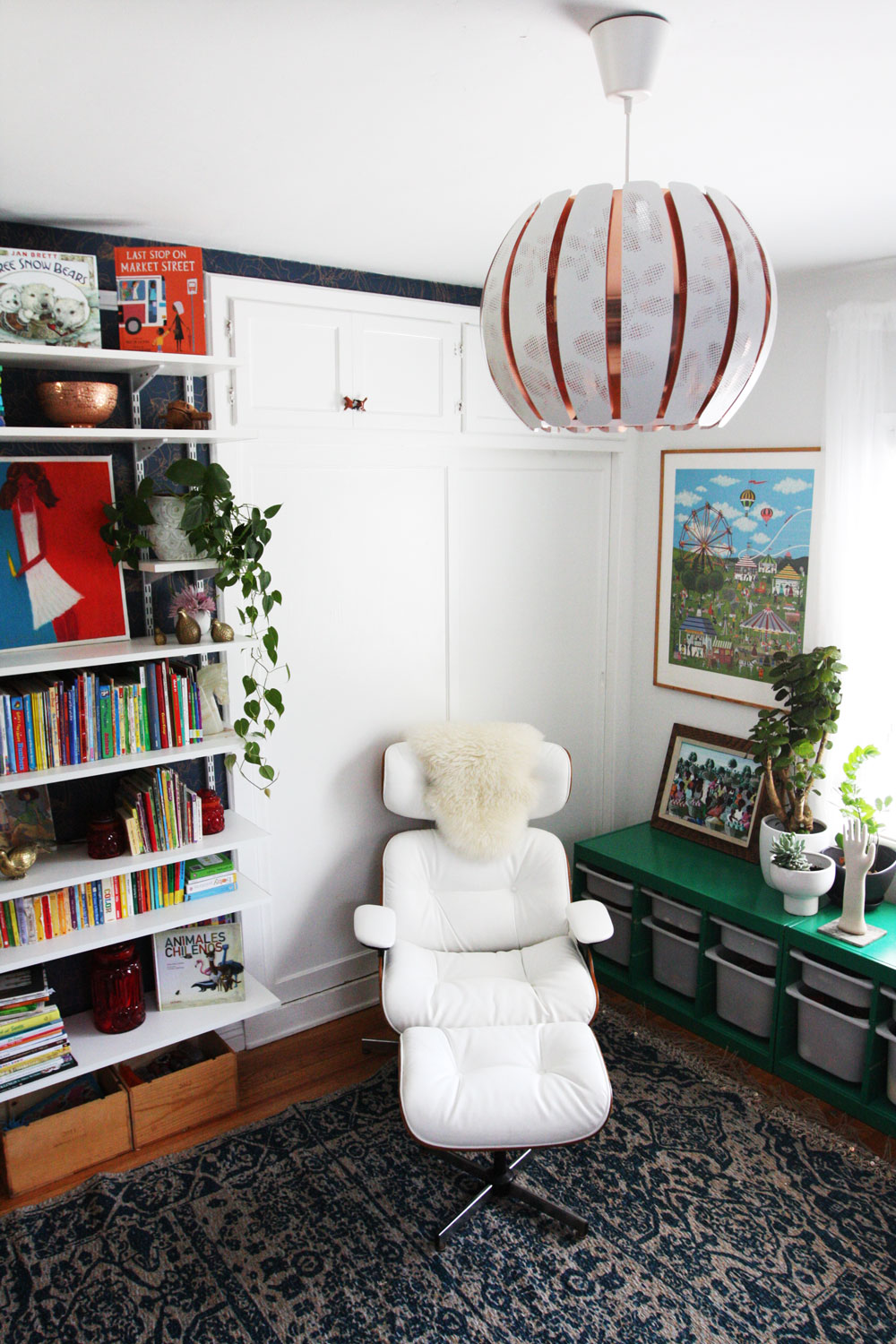 The chair was a thrift store find that George did years ago. It is an old fake Eames chair  that we reupholstered in white leather. It used to live in the living room, but it looks so good in this space, I might leave it here. The rug is from Anthropologie. The toy storage units are Trofast from IKEA – I painted them emerald and the reason why is here. – they are a great way of storing the kids' toys because they are easy to access. I bought the plants and planters locally at Rolling Greens, the best (and most expensive) nursery in the West Side. They have the best plant selection and the staff is always so nice to me and my kids; I really love this nursery. The black planter is from IKEA. Paintings are vintage finds.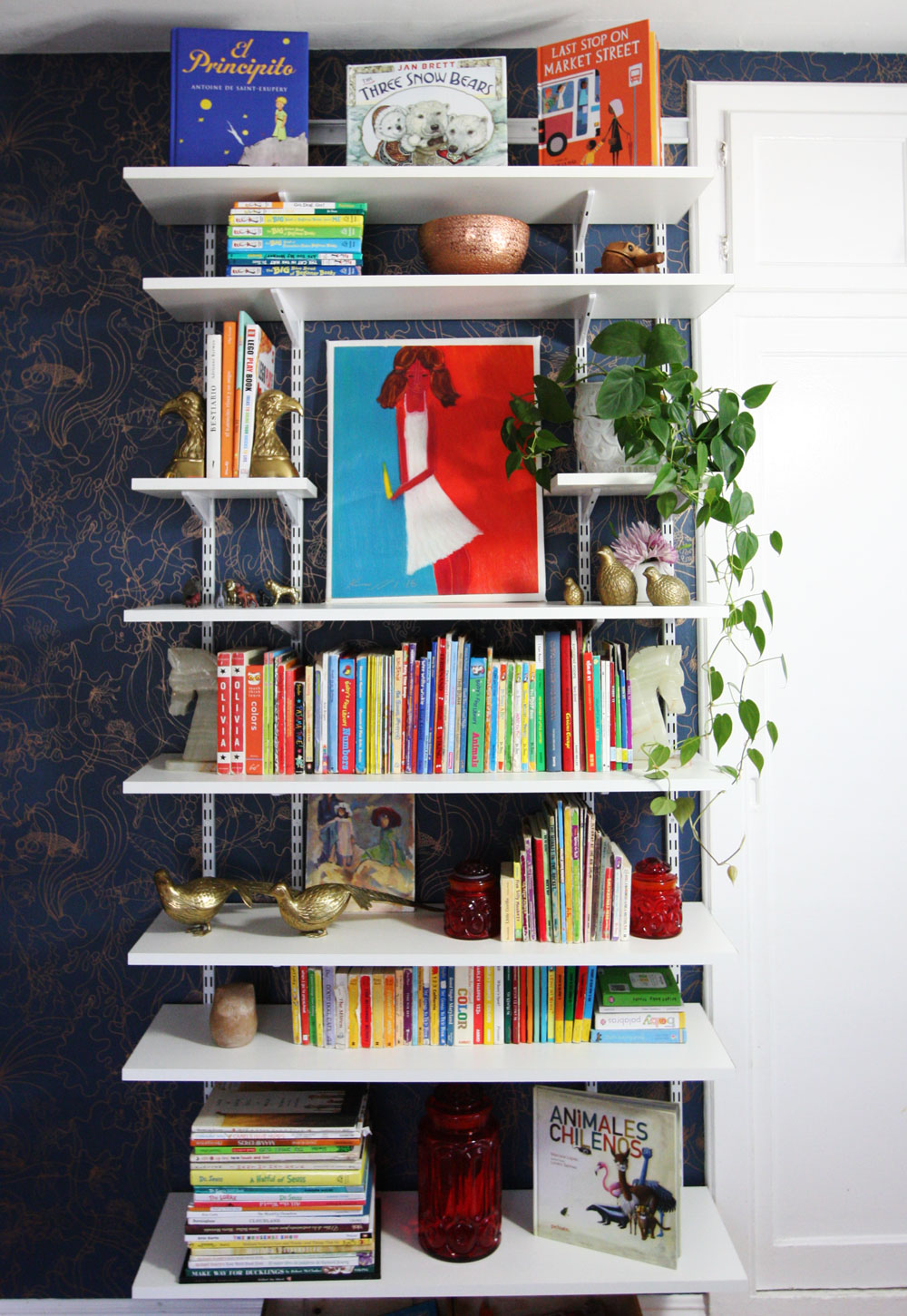 For the books, we built floating bookshelves. In this post I wrote details about how we built them and why we chose to do floating shelves. I really like the result, don't you?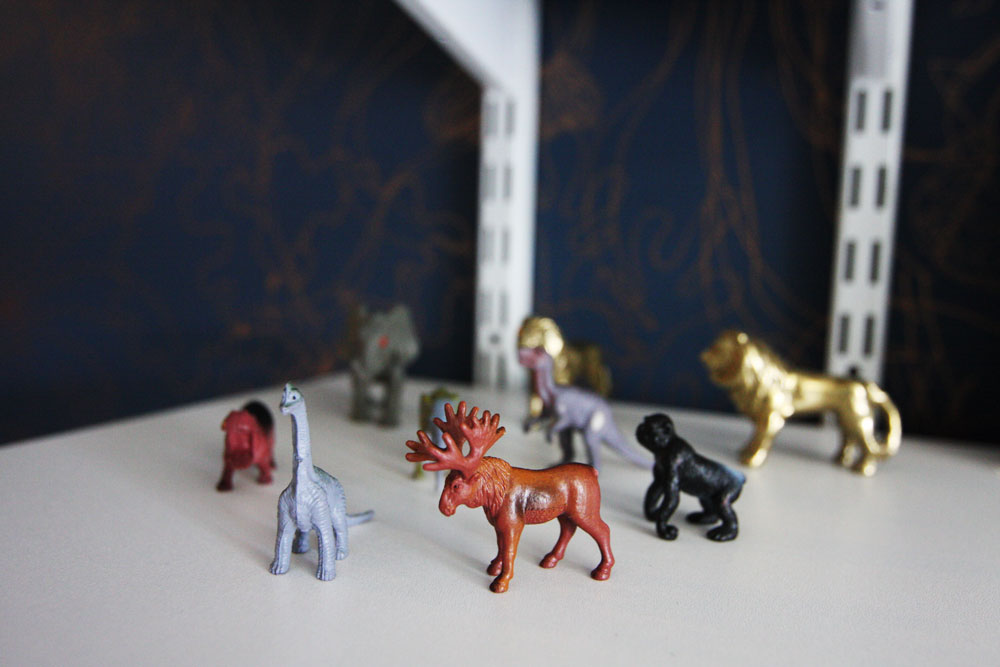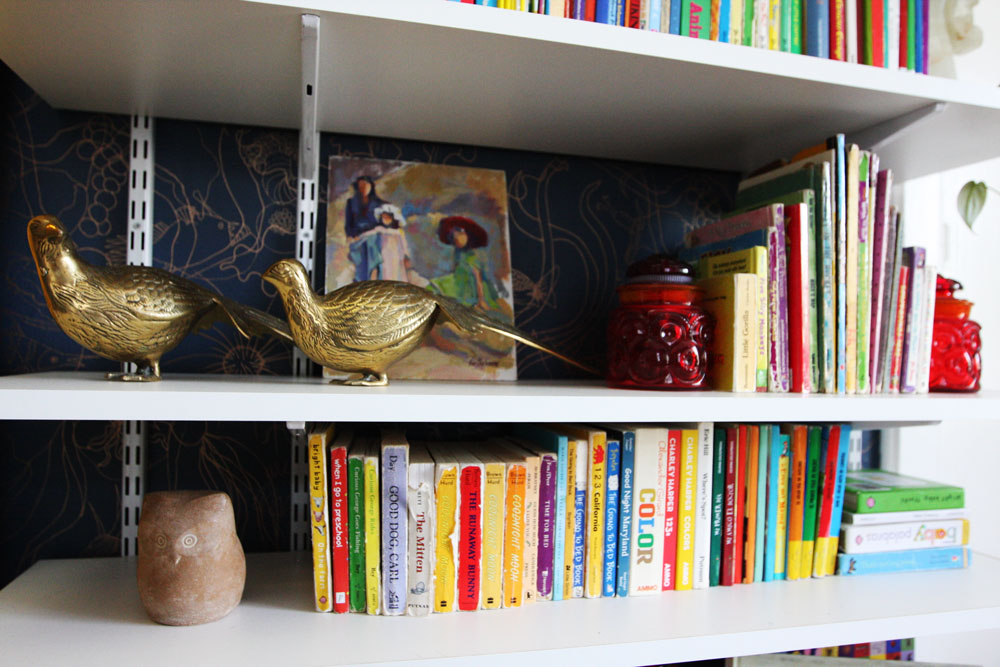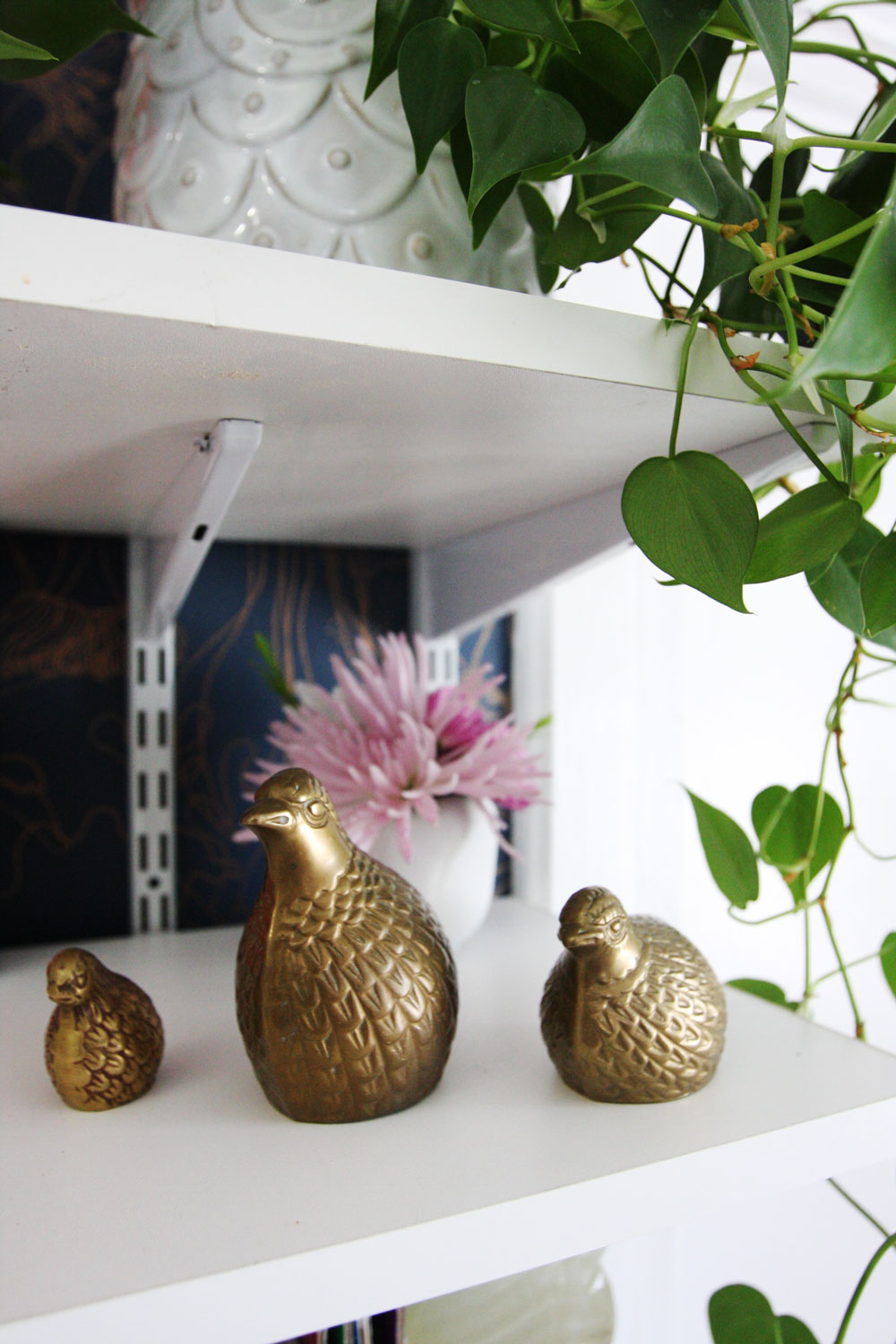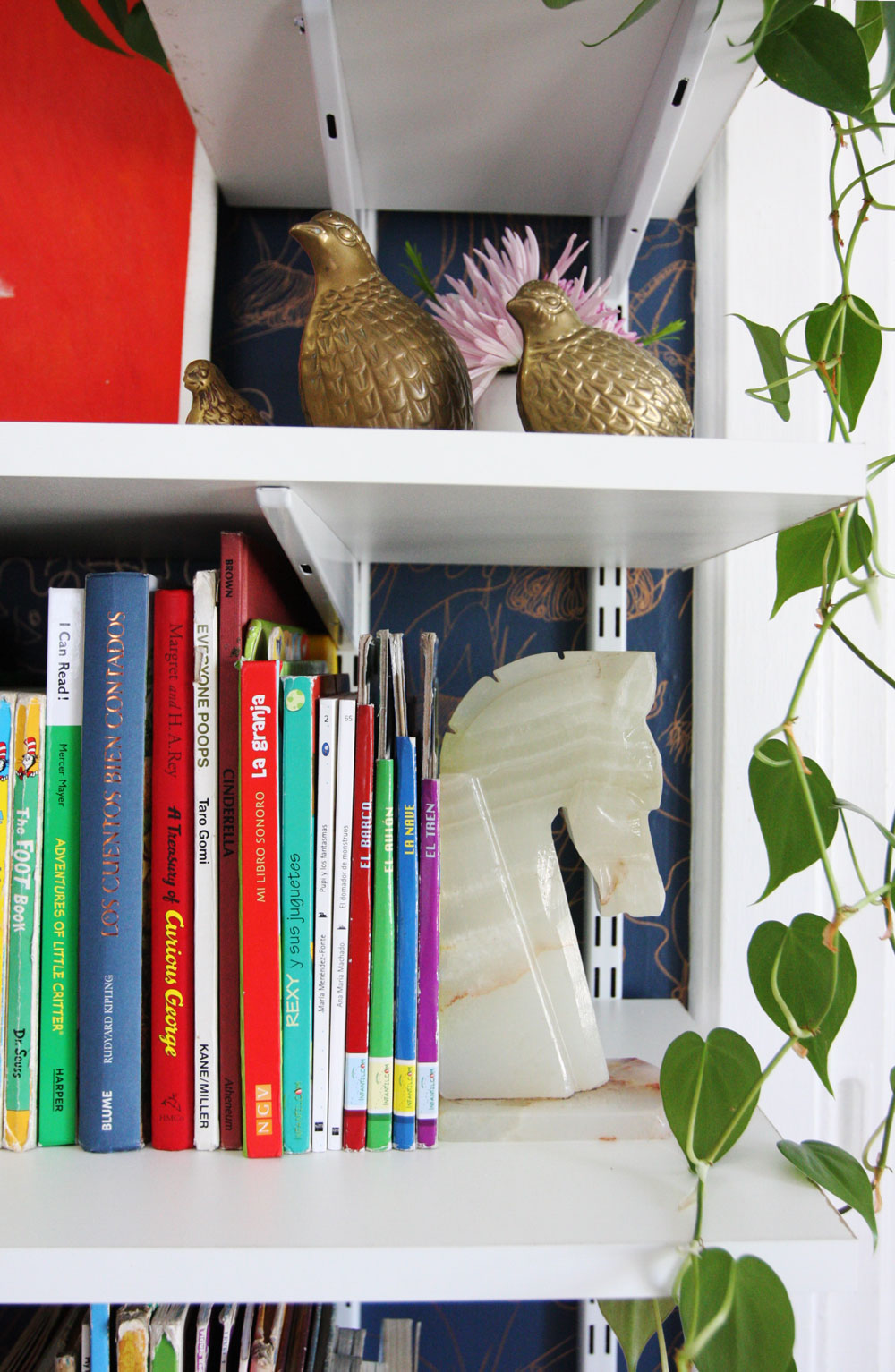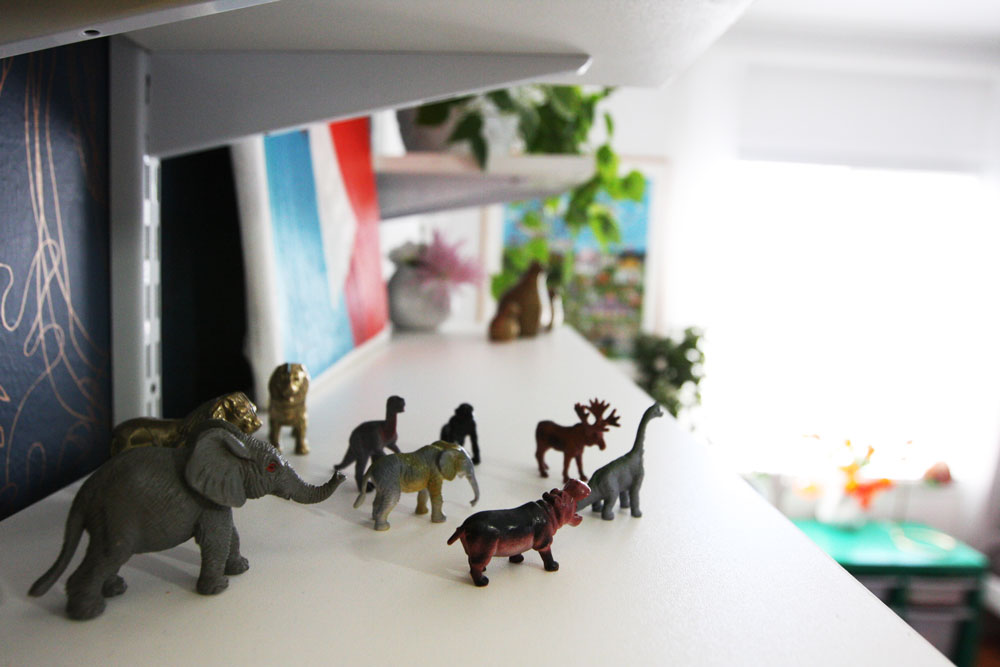 Bookends and other decorations on the shelves are vintage finds. The books are real books for kids that my children actually read! Can you spot the golden Nate Berkus lions in the photo above? I love those lions.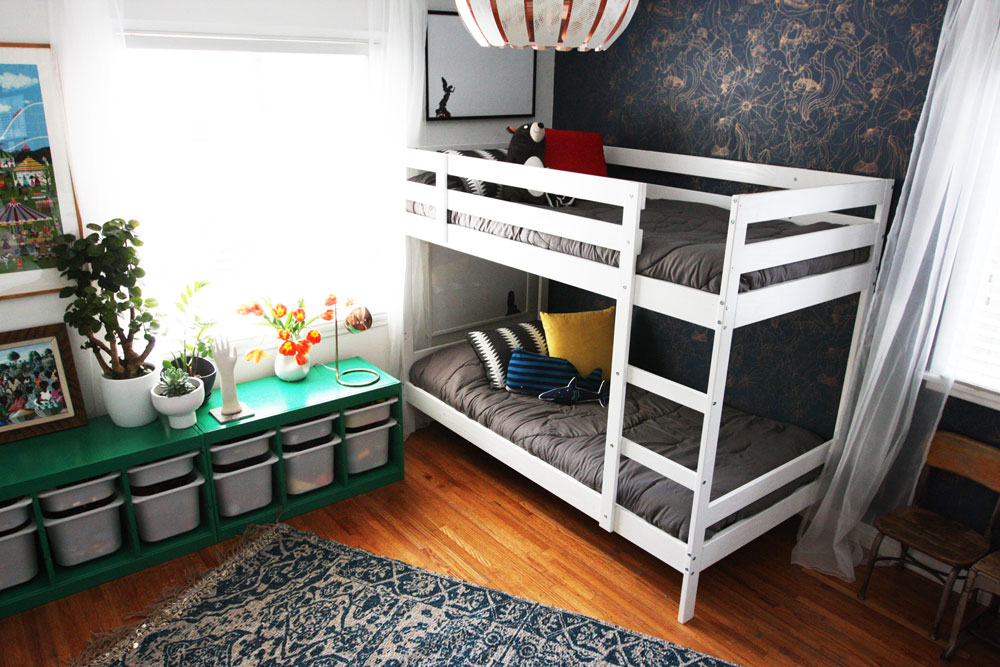 The idea was to have a bright, beautiful, fun, and functional room. The bunk bed is from IKEA. I bought it in pine finish and painted it with Decorator's White, to match the walls. The bedding and pillows are from target. That little copper light is from West Elm. I bought it last year and I don't think they have it available anymore.
The photos above the beds are mine. Frames are from IKEA. I wanted to have black and white photos and frames in this part of the wall- something muted but elegant. At this point, I didn't want to keep on bringing more color and noise into the room, so these photos seemed like the perfect choice. Also, they were taken in Punta Arenas, Chile, were I am from, so they are a little reminder of my home – I wish I could get rid of the reflection on the photos, but this is the best I could do: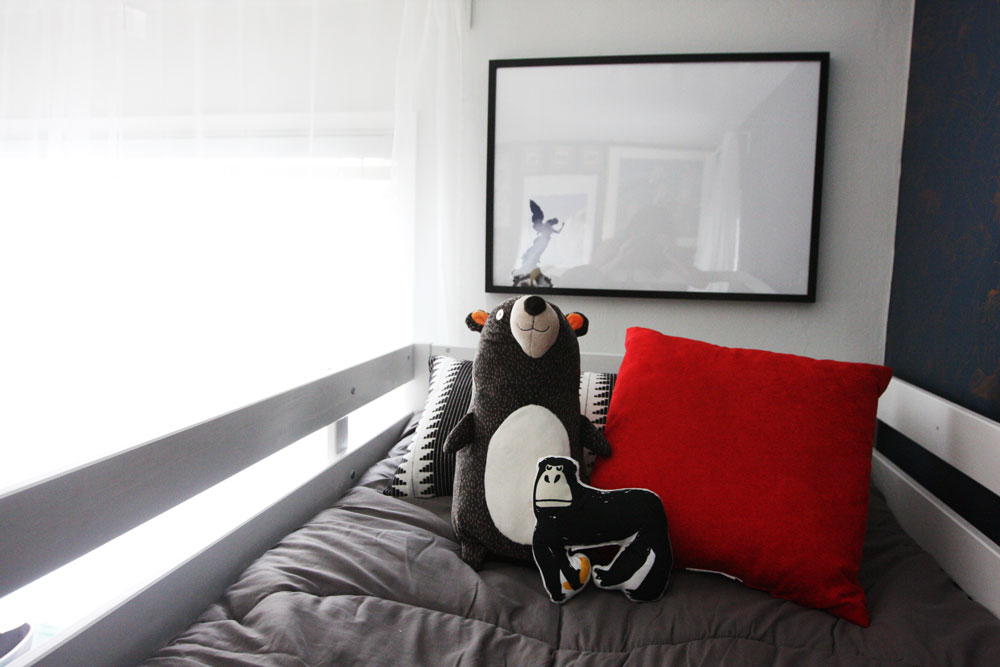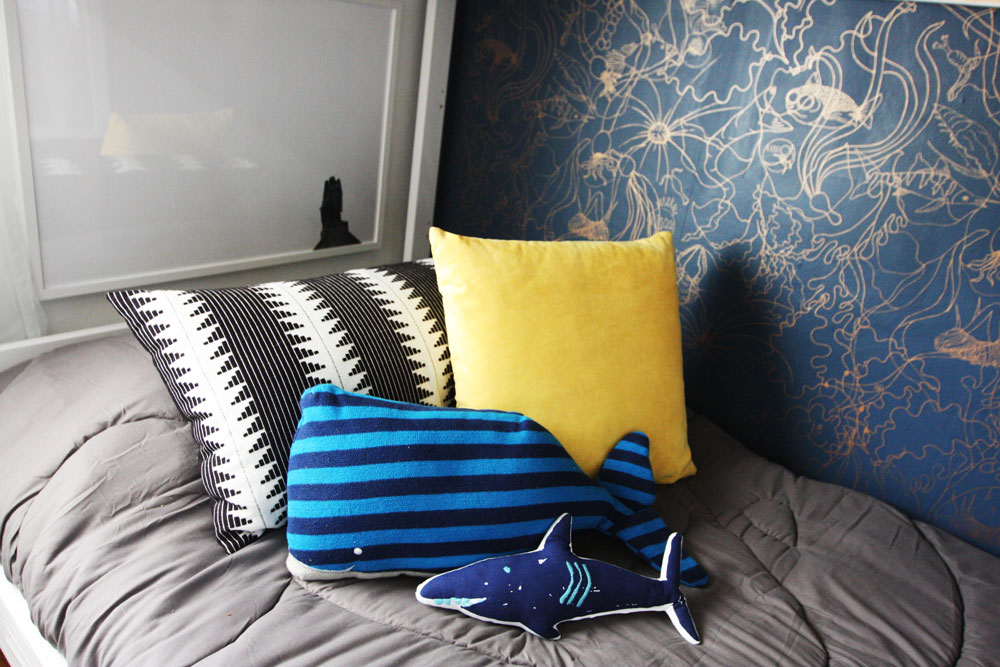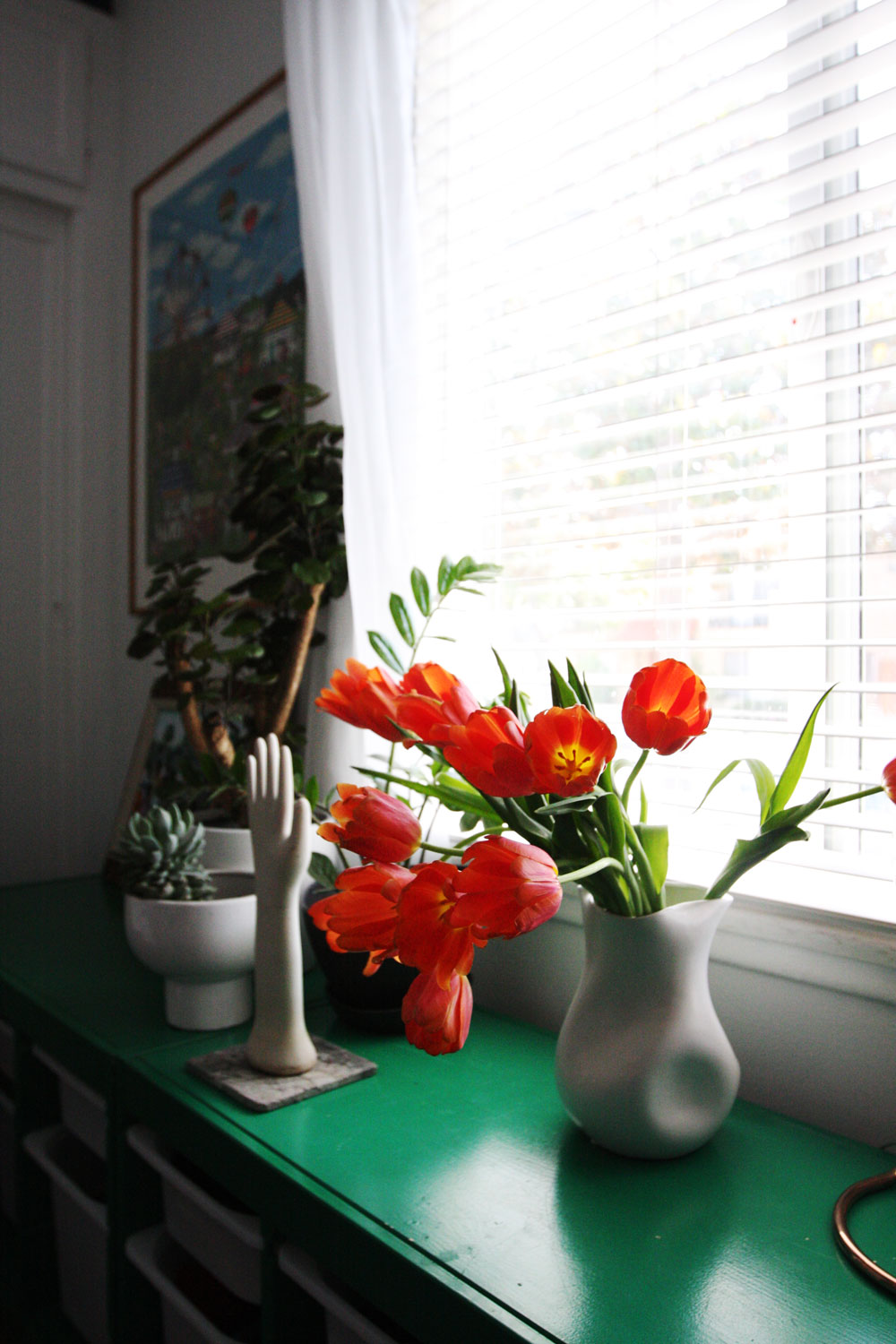 How cute is that white vase with the tulips? I bought it in the Flower Market in DTLA. I got the hand at the Rose Bowl.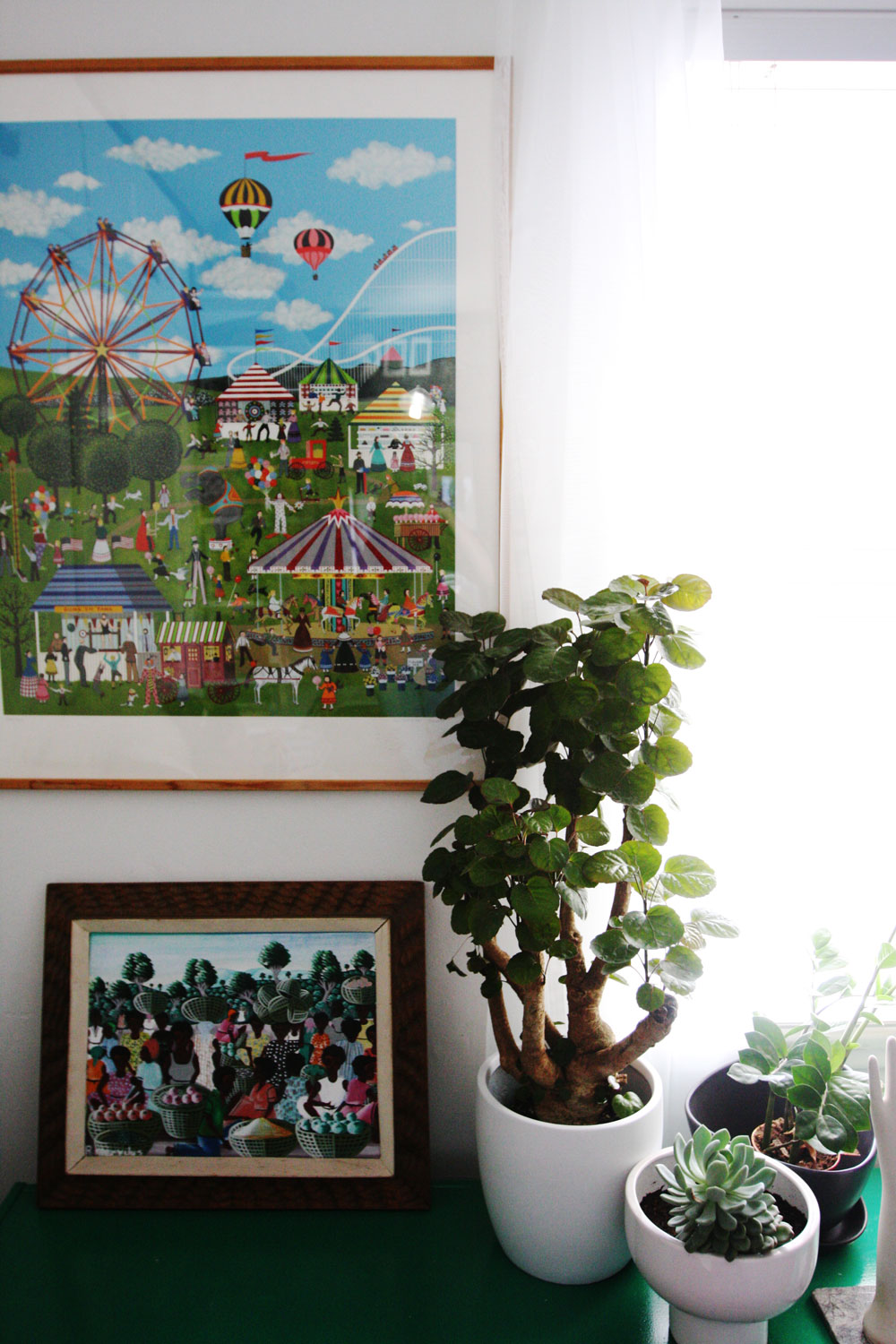 The paintings above are from the Rose Bowl and a estate sale.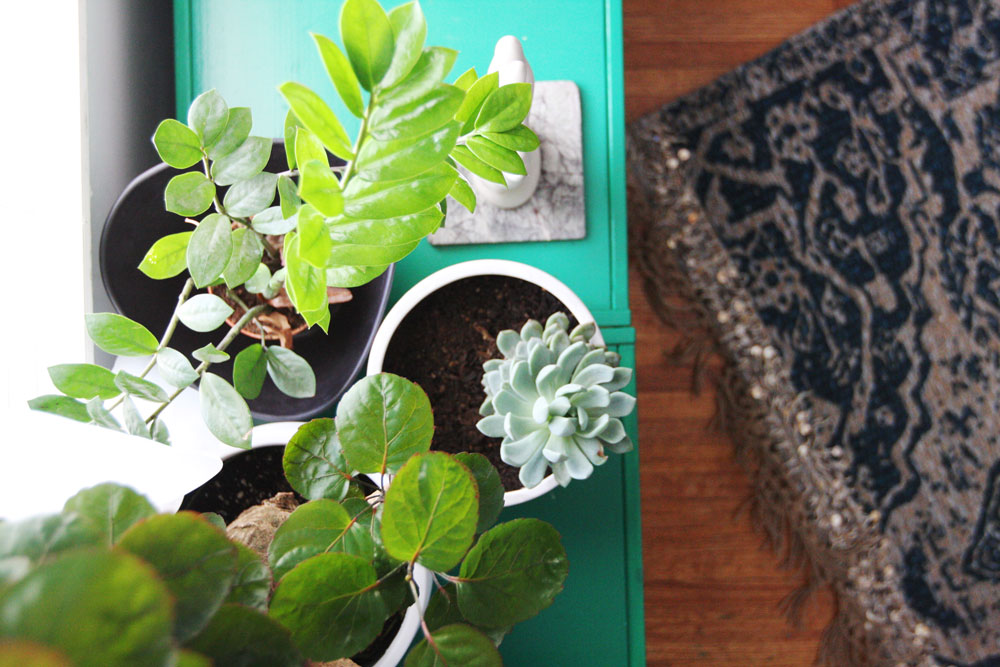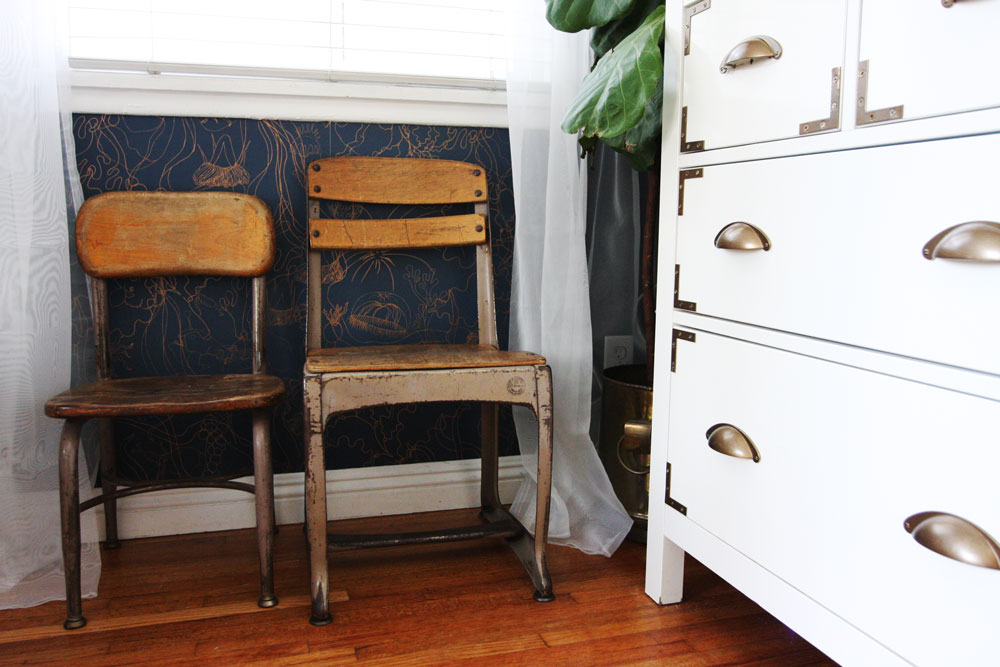 Those vintage school chairs are also from a estate sale. As soon as I saw them I felt in love. They are so darn cute! and the perfect size.
In the photo above you can take a closer look at how the dresser turned out. Do you love it as much as I do? Specially after drilling more than a 100 holes to put those corners from Home Depot.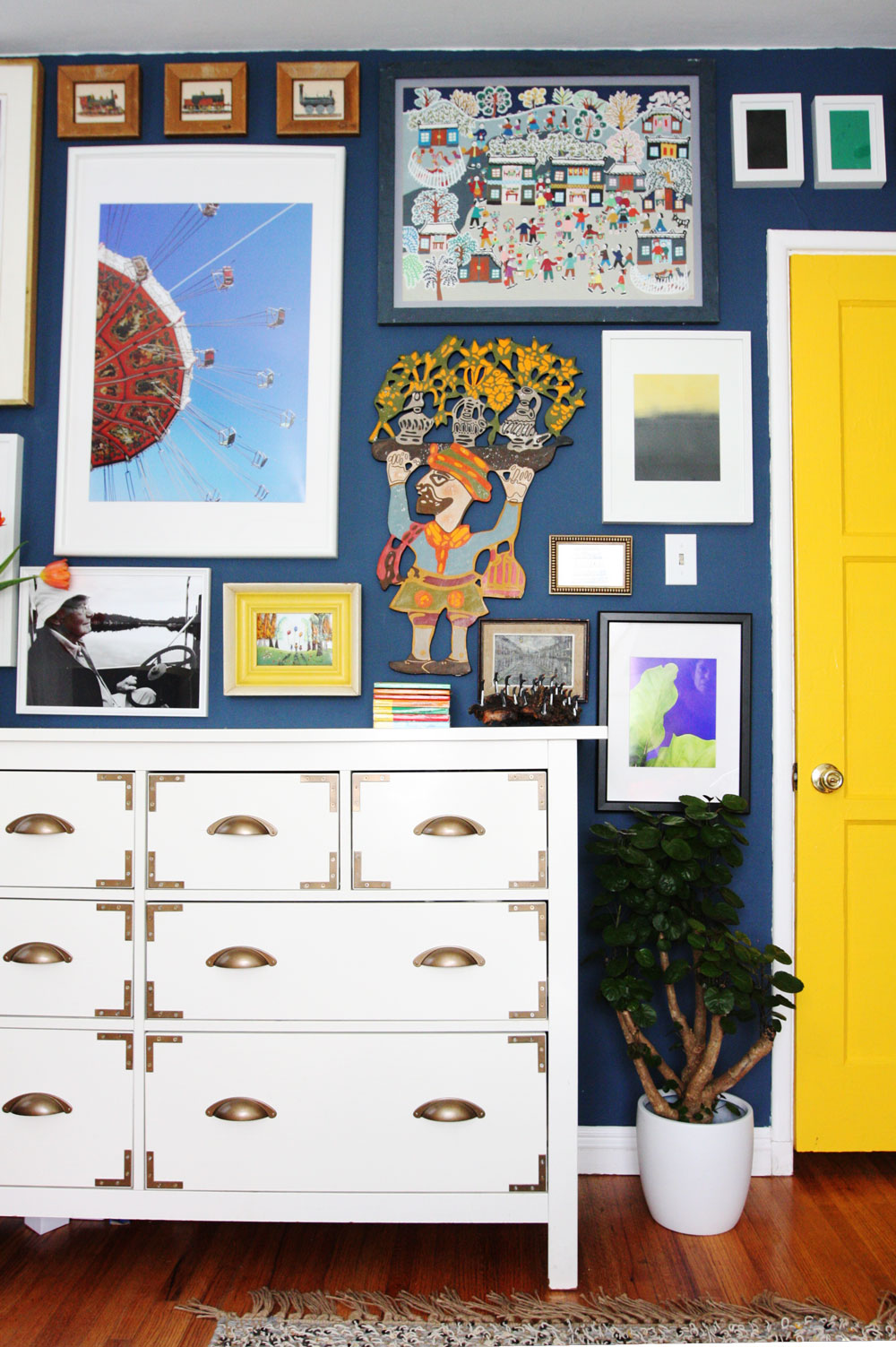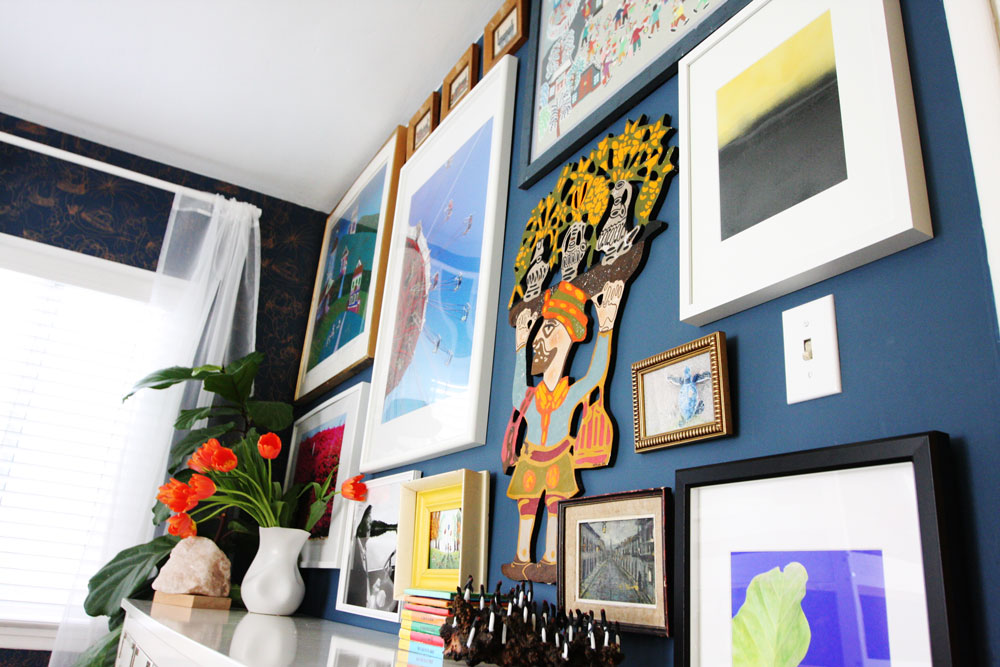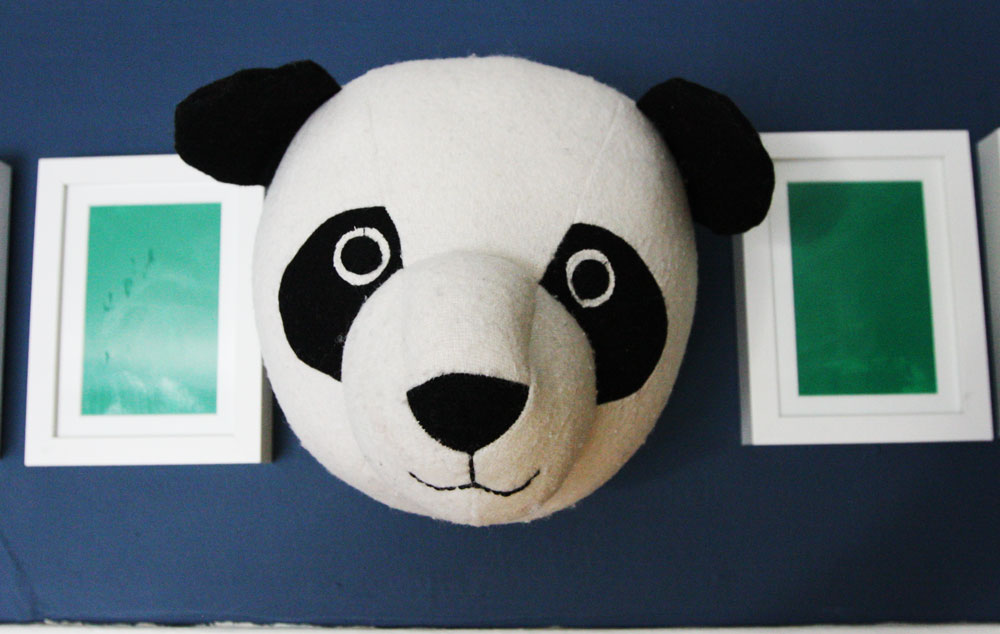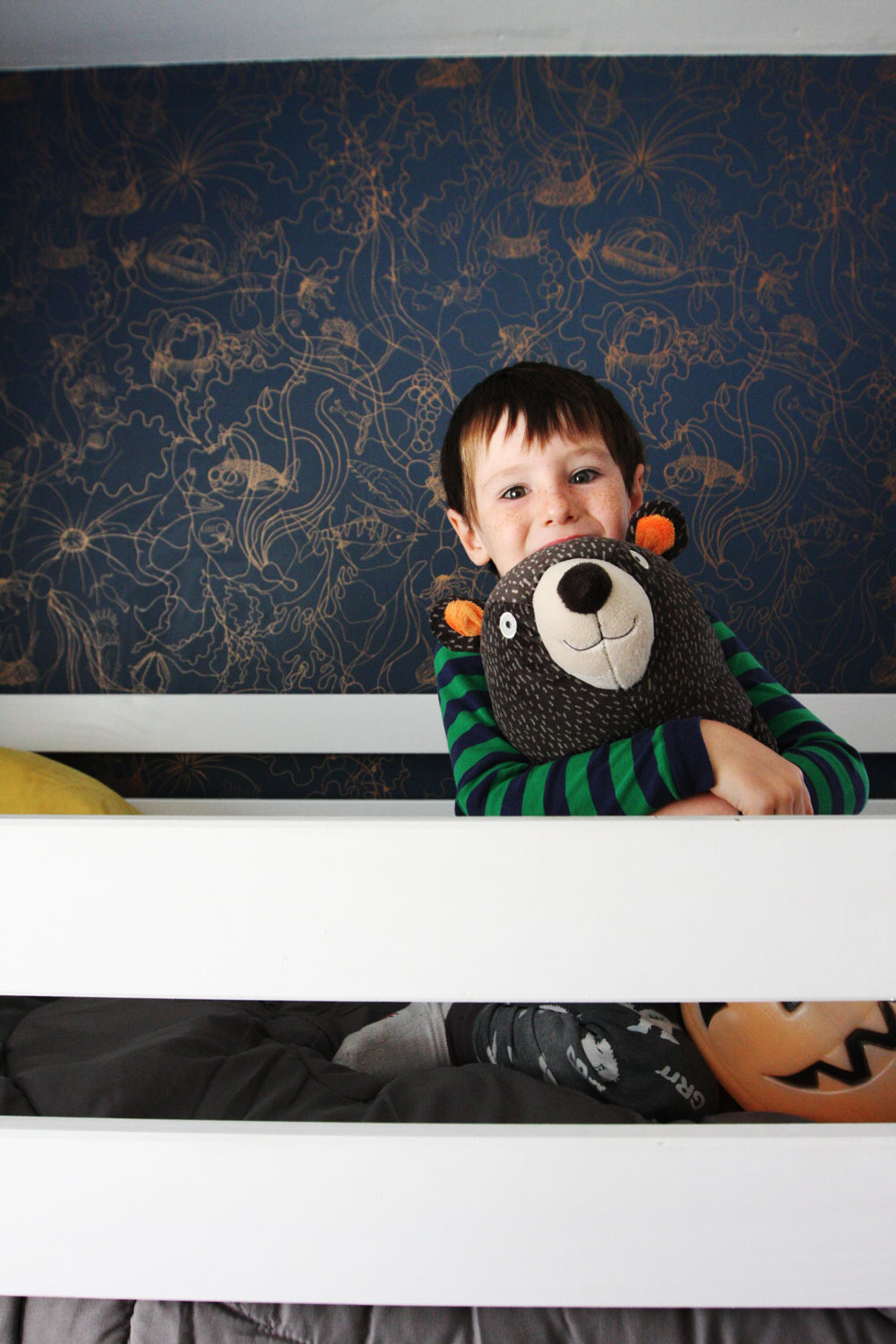 It all came together so nicely and this guy and I are so happy.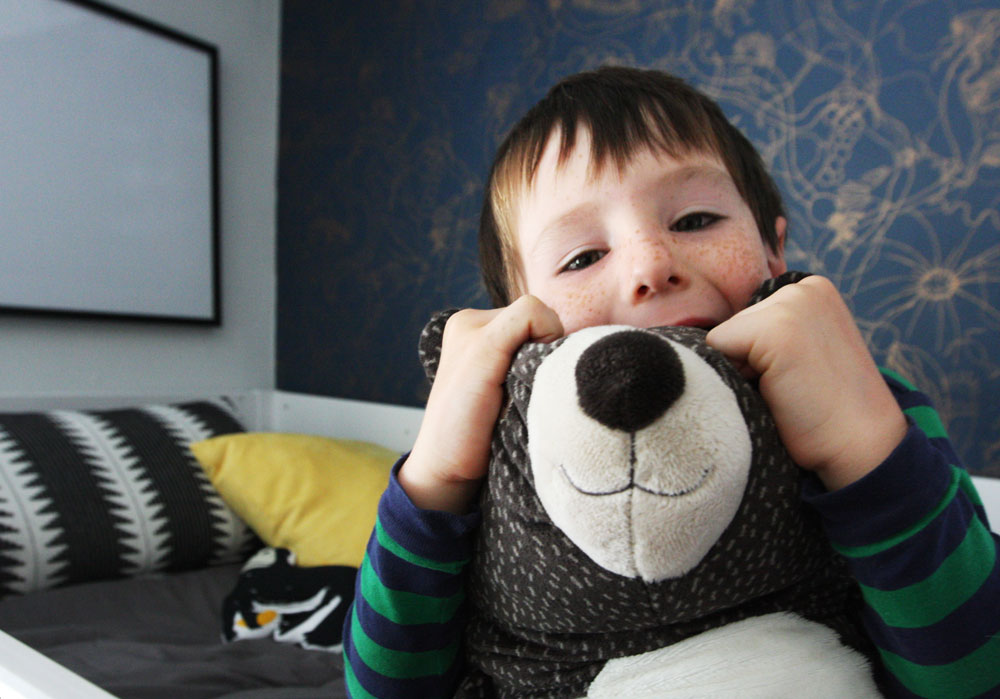 Remember my big GIF fail from last week? Well, this week I tried harder and I think I succeeded! Take a look at how I built the gallery wall: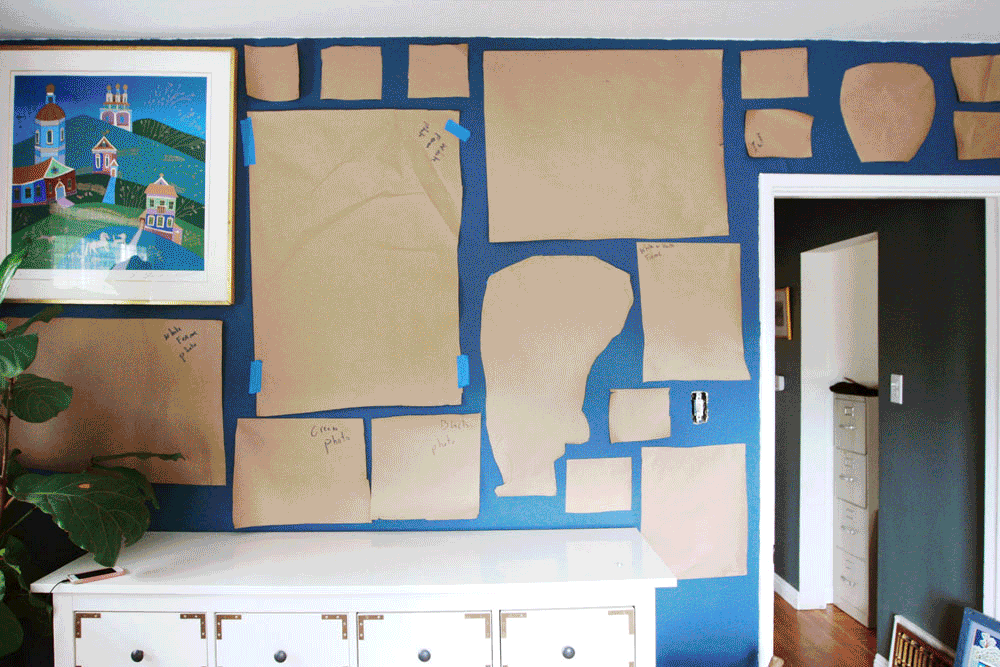 This is the first time I decorate a room from scratch and photograph it. I think it was a major success, if you ask me. Who would have thought I could pull it together? I am already thinking about the next One Room Challenge and what I could do. I just need more rooms to work with. Maybe you are interested in a room upgrade?
I hope you like how the room turned out. I LOVE to read your comments, so, please, don't hesitate to write your thoughts. I always answer.
Also, some posts on where to find wallpaper for your nursery, how to paint your own walls, and, cute art for your kids' room.
https://jestcafe.com/wp-content/uploads/2016/05/jestcafe.com-ORC-wk6-20.jpg
1500
1000
Mila
https://jestcafe.com/wp-content/uploads/2017/08/Jest-Cafe-about-design.jpg
Mila
2016-05-11 08:20:22
2017-03-31 14:06:06
One Room Challenge, Week 6 - Kids' Room -The Big Reveal