Here is the promised Mural tutorial.
My obsession with murals is real. It has been for some time, so I decided to make my own in my living room for the One Room Challenge.
Regarding design, I have realized that if I am going to tackle unexplored territory, I need to take my time. I need to consider the pros and cons, all the different options, and then come to a knowledgeable conclusion. This is the only way I won't regret the final decision (here is a project I did in a rush that had a bad result).
So, figuring out how the mural was going to look took me a long sweet time. I was going back and forth between designs and colors for 5 weeks.
First, I thought, why don't I do a geometrical design that can be easily done with the help of blue tape? This would prevent an outspoken cyber design disaster. After a week I realized this direction was not going to do it.
What is the one room challenge if not an opportunity to make mistakes? As my friend said: the worst thing that could happen is that you have to paint that wall white again… In my mind, the worst thing that could happen was accepting in front of the whole ORC community that I had failed at creating this mural. In truth, I was fearful at times, that is why it took me so long to come up with the final concept.
Well, I am happy to say now that I didn't completely failed, and, on the contrary, I love what we did and how it looks. The new mural gives our living room a whole new sophisticated look that not even wallpaper would be able to achieve.
Here is the tutorial on how we did this mural.
(Also, here are the links to all the weeks of the One Room Challenge, if you care to see: Week 1-The idea-; Week 2 –color palette-; Week 3 –Vintage decor-; Week 4 -Final colors-; Week 5 –White walls-; Week 6 – The reveal.)
Materials
Color Paint Flat– sample sizes are enough
Good quality brushes! We used narrow for details and wide ones to fill in.
Blue tape
Pencil
Eraser
Projector
Computer
Design Concept – As I mentioned above, I thought about creating an easier geometrical mural. Something I could tackle with blue tape and paint. Finally, I changed my mind and asked my friend Daniela for help. She is a real artist. One of those people who intuitively knows how to paint, sculpt, and choose colors. Once she signed in, I felt a lot more confident about this project succeeding. I decided to copy the Robert Murle Marx textile that Florence Lopez copied on her wall. Here is the photo inspiration of Lopez's apartment in Paris:
After deciding on the design, I needed to decide on colors. Here are some posts on making that decision (1 – 2).I didn't want to use the same colors Marx used. I knew that. I wanted my mural to look fresher and brighter. My first stop was at Cox Paint, my local paint store. I was in there 1 ½ hrs on a Tuesday morning. A nice man took pity on me and helped me match colors. I left with more than 10 samples. I am so grateful. Would not have been able to do this without him. After that visit, I knew I wanted green to be my main color. To look at possible final results, I used Photoshop to make amateur copies that showed possible color combinations. This made a big difference for me. It really helped me to understand how the colors looked together.This is the one I liked the most: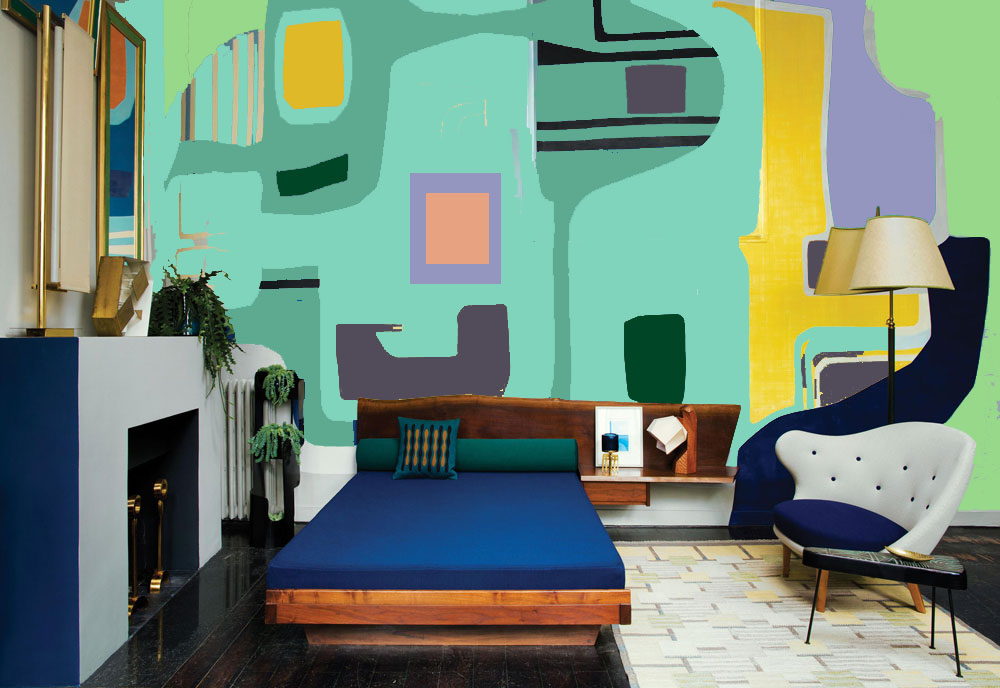 3.  After all the main decisions were done, we started to work. We taped blue tape in all corners to protect other walls and window. I painted white (same as the wall) over the blue tape, this ensures you will get a straight line after taking out the tape.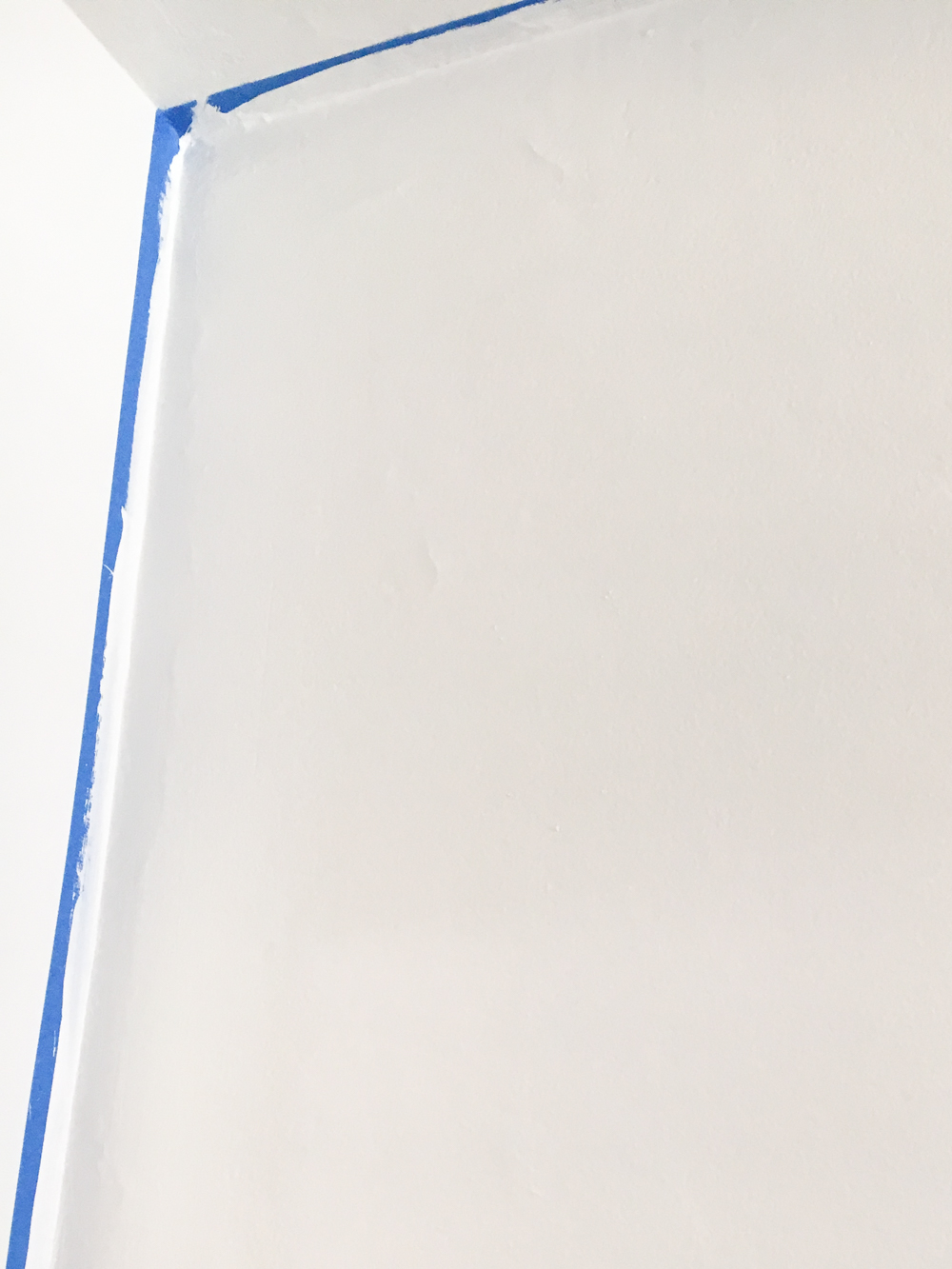 4. We projected the image onto the wall. That wasn't easy because my living room is small, but Daniela enlarged the image on the computer and that helped us get a bigger image projected onto the wall.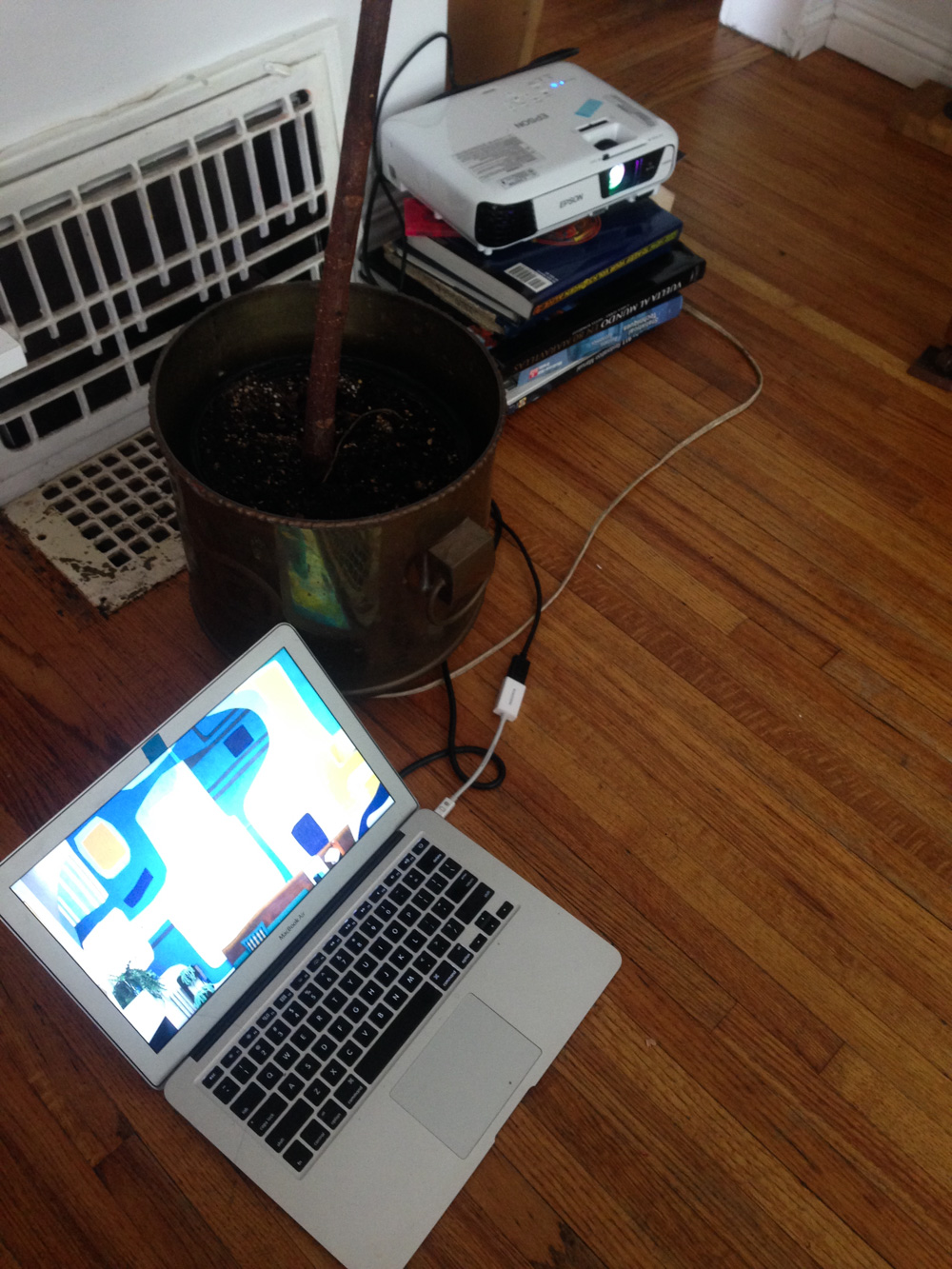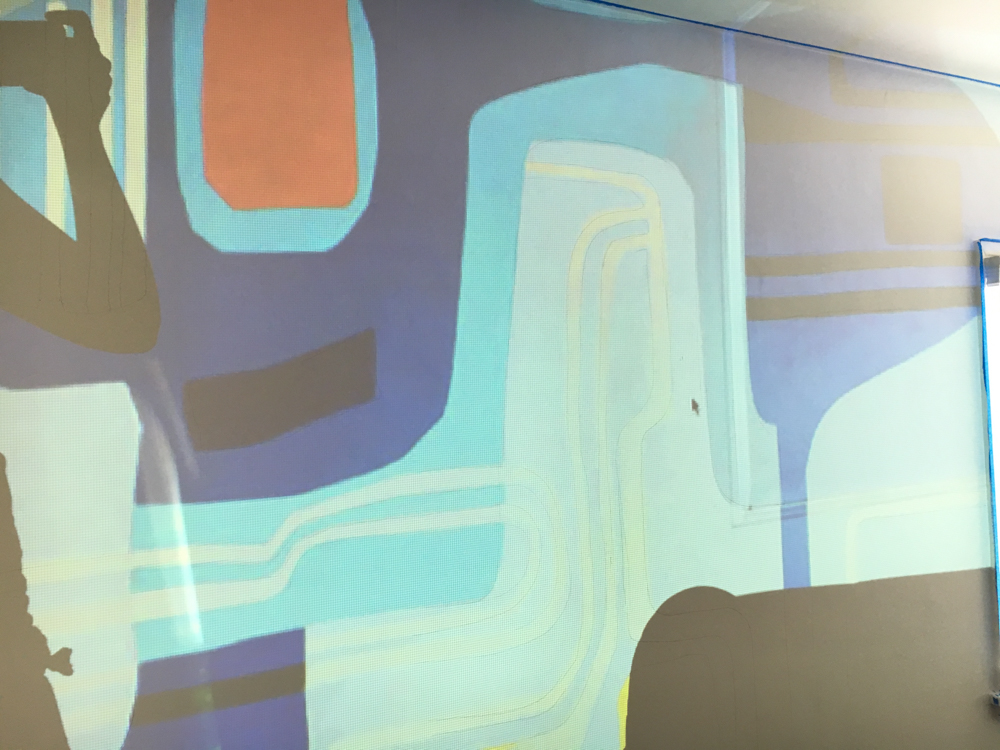 5. We traced all the lines with a pencil. You might want to write down which paint color goes inside each place.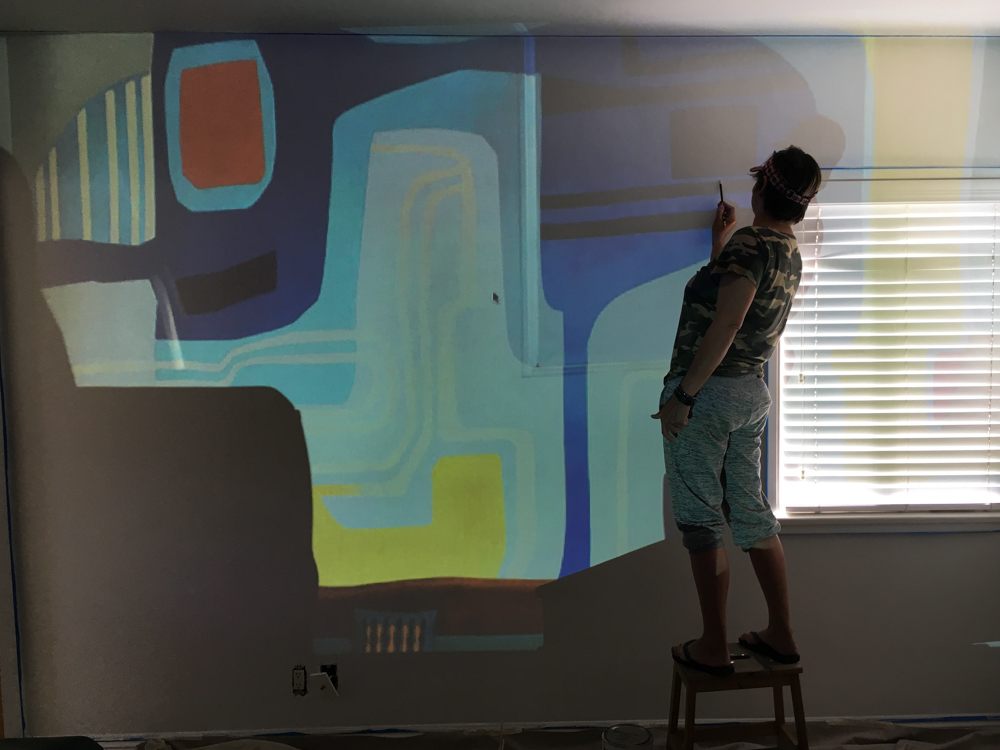 6. Paint. We started with the main colors first. Those colors that we were sure we wanted to use. After doing this, we started making decisions on which colors to use as we worked. For example, we decided to use more white and less color for middle places, this kept the mural bright. Don't you think?
The main green is Scotch Plains Green (587) by Benjamin Moore; the secondary green is Northern lights (586) by Benjamin Moore; the yellow is Lemon (2021-20) by Benjamin Moore; the dark purple is Shadow (2117-30) by Benjamin Moore; the light purple is color 5650 by Kelly-Moore.
BTW, to help creating straight lines, I found wider brushes to be better for controlling lines.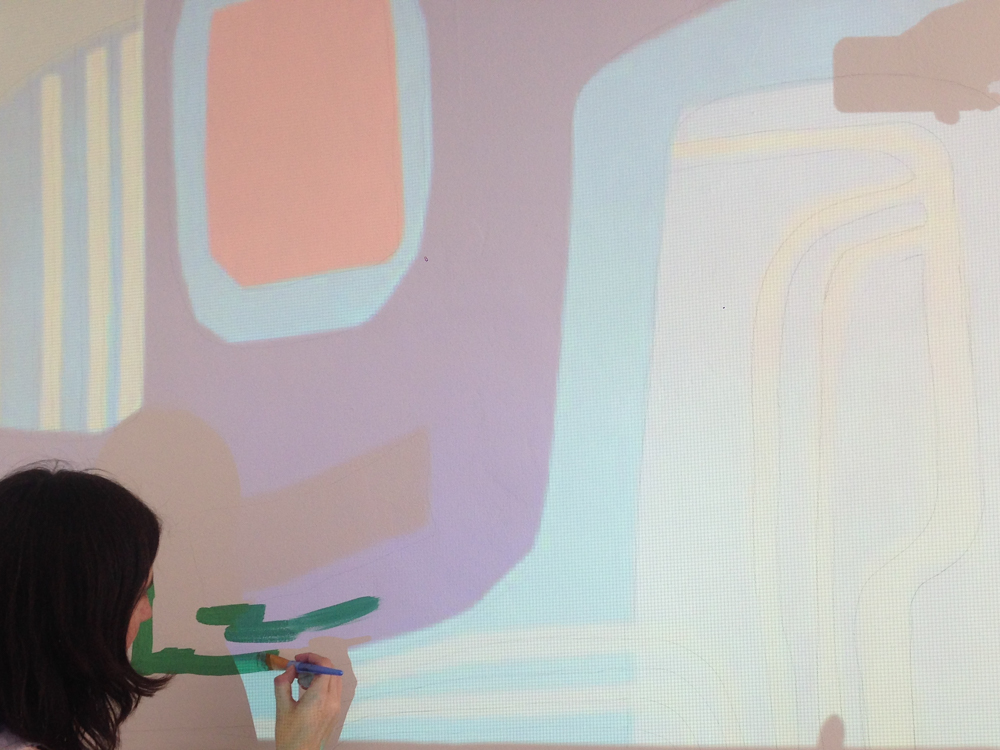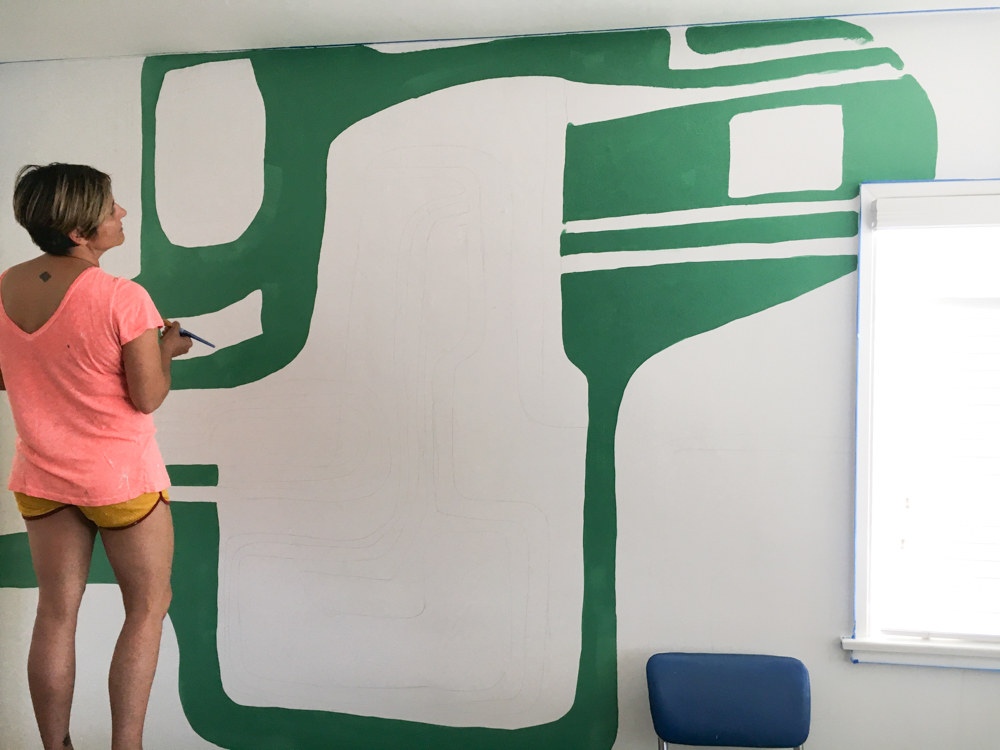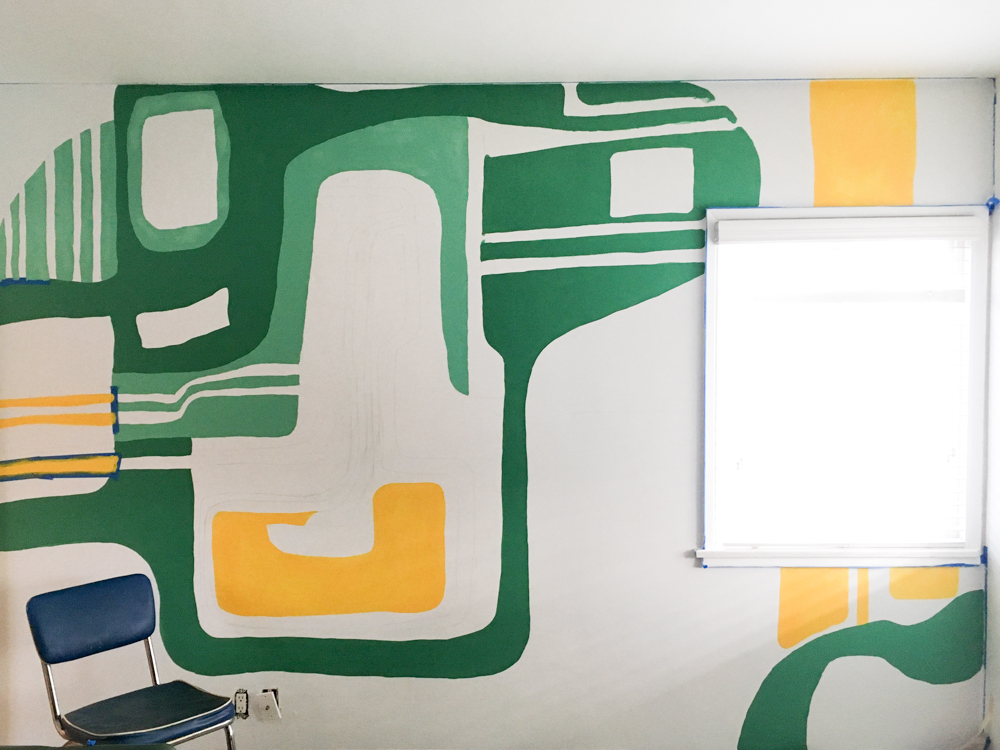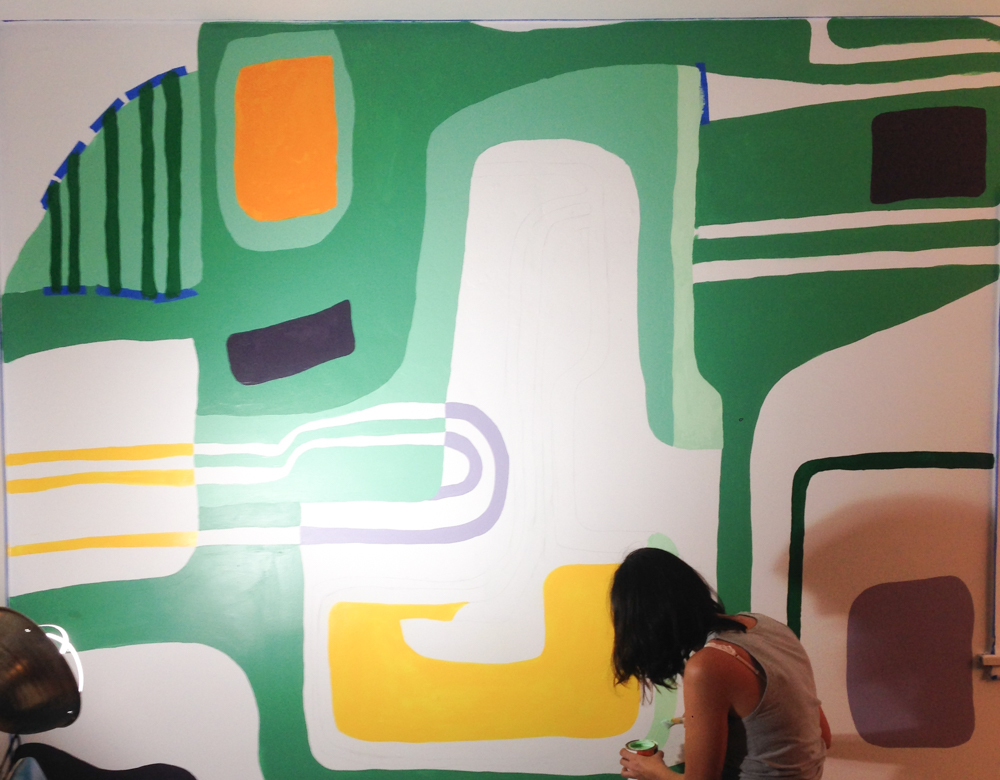 7. Add a second coat of paint where needed- Very important indeed! Also, use white paint to fix imperfections.
And here are the photos of the final result: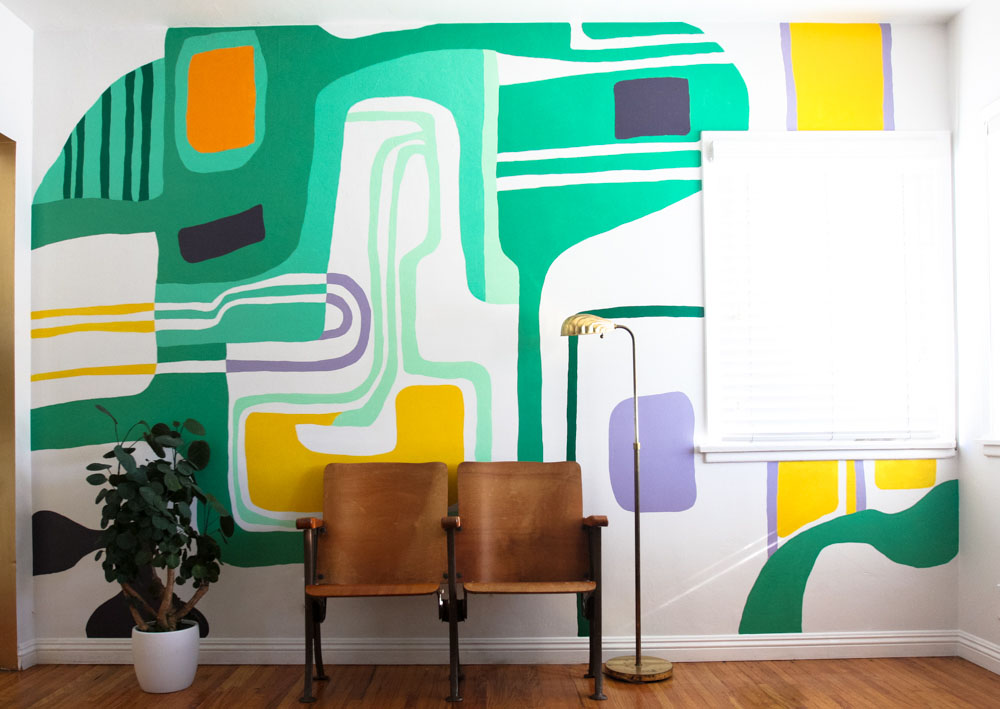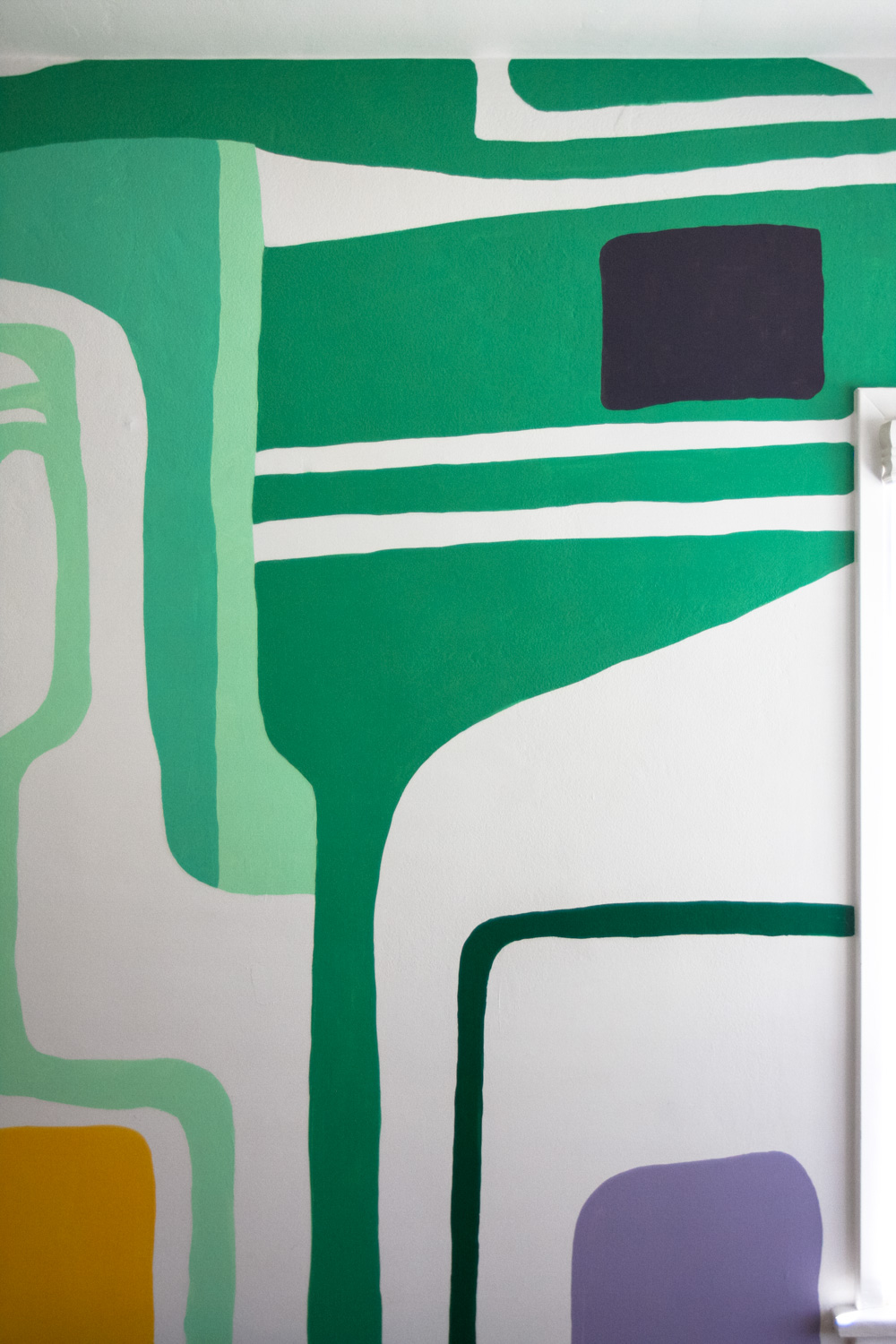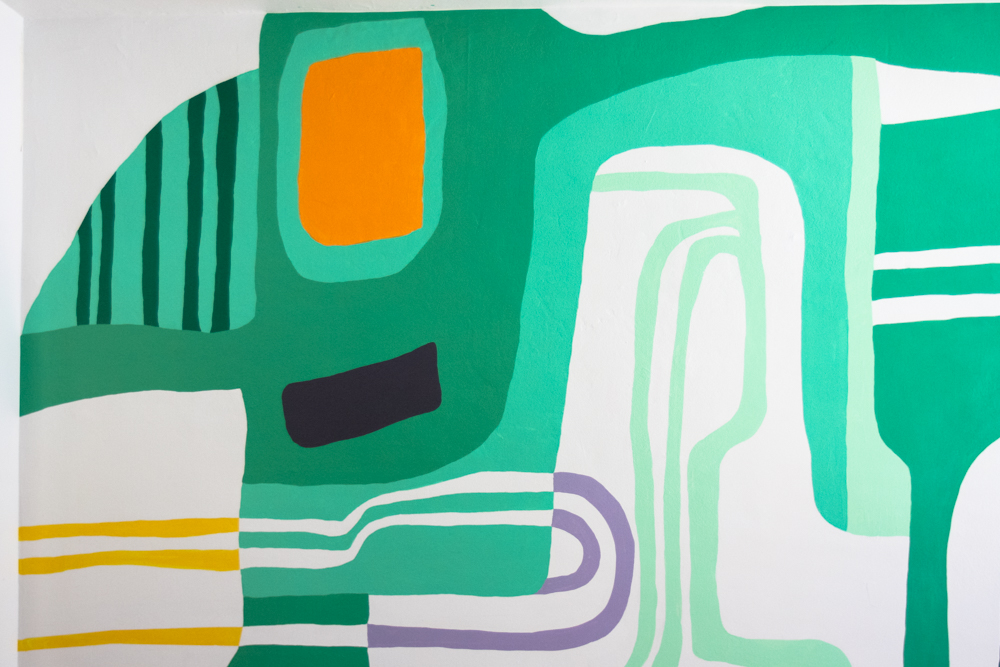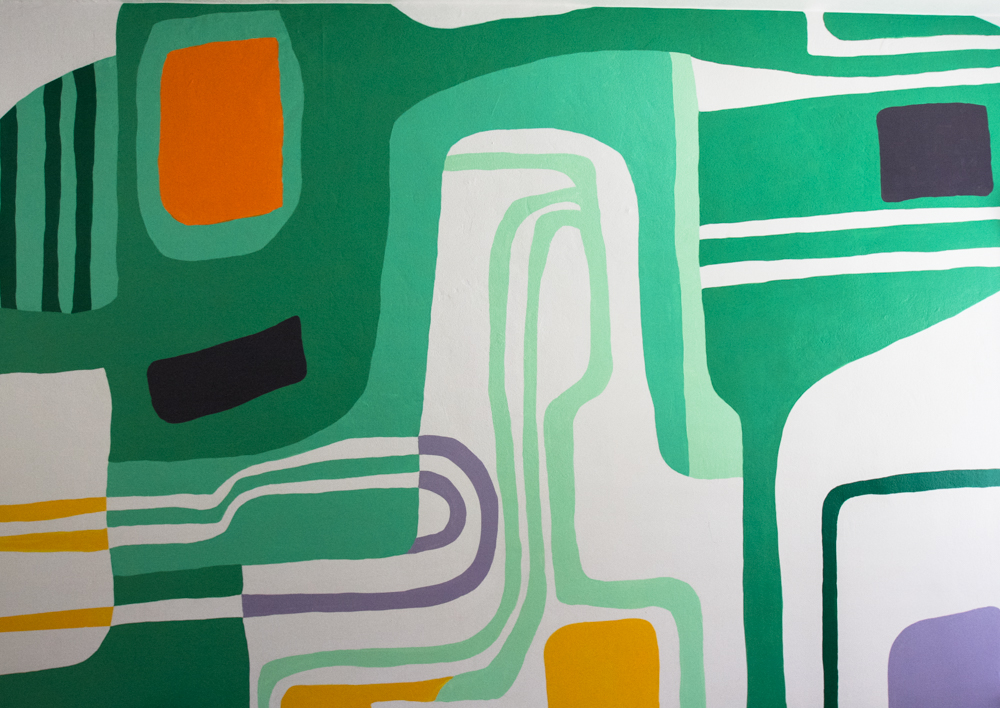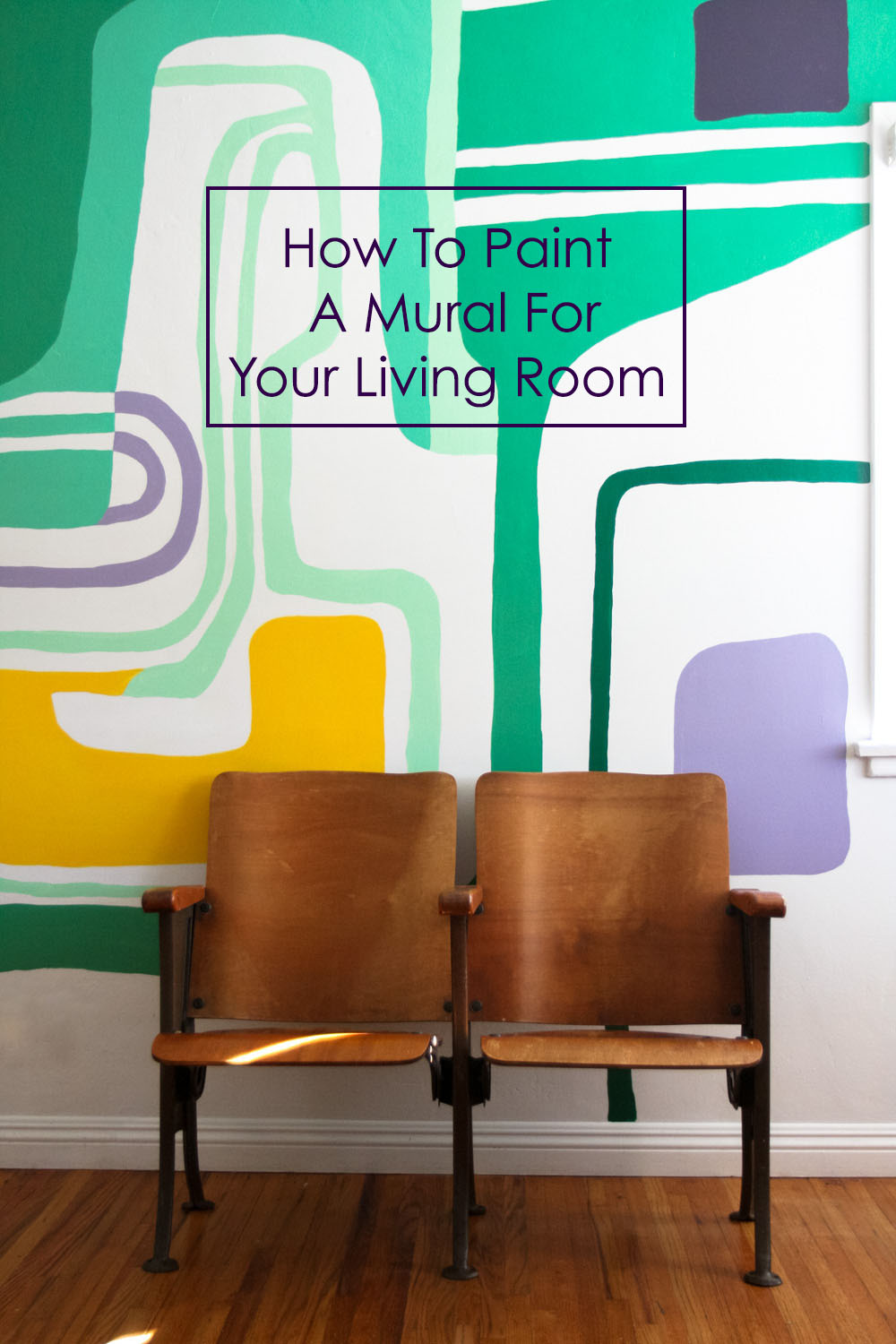 And that was it! Took 8 hrs and 2 people.
As we were creating this mural, we realized how good it was looking! Has that happened to you? When you doubt a project, but keep at it, and then you find it is actually turning out to be a SUCCESS!!!?? I think that might be the story of this blog, too.
Thanks for stopping by! Let me know if you have any questions.
https://jestcafe.com/wp-content/uploads/2016/11/living-room-22.jpg
709
1000
Mila
https://jestcafe.com/wp-content/uploads/2017/08/Jest-Cafe-about-design.jpg
Mila
2016-11-16 05:30:38
2017-03-31 13:52:33
How To Make A Mural