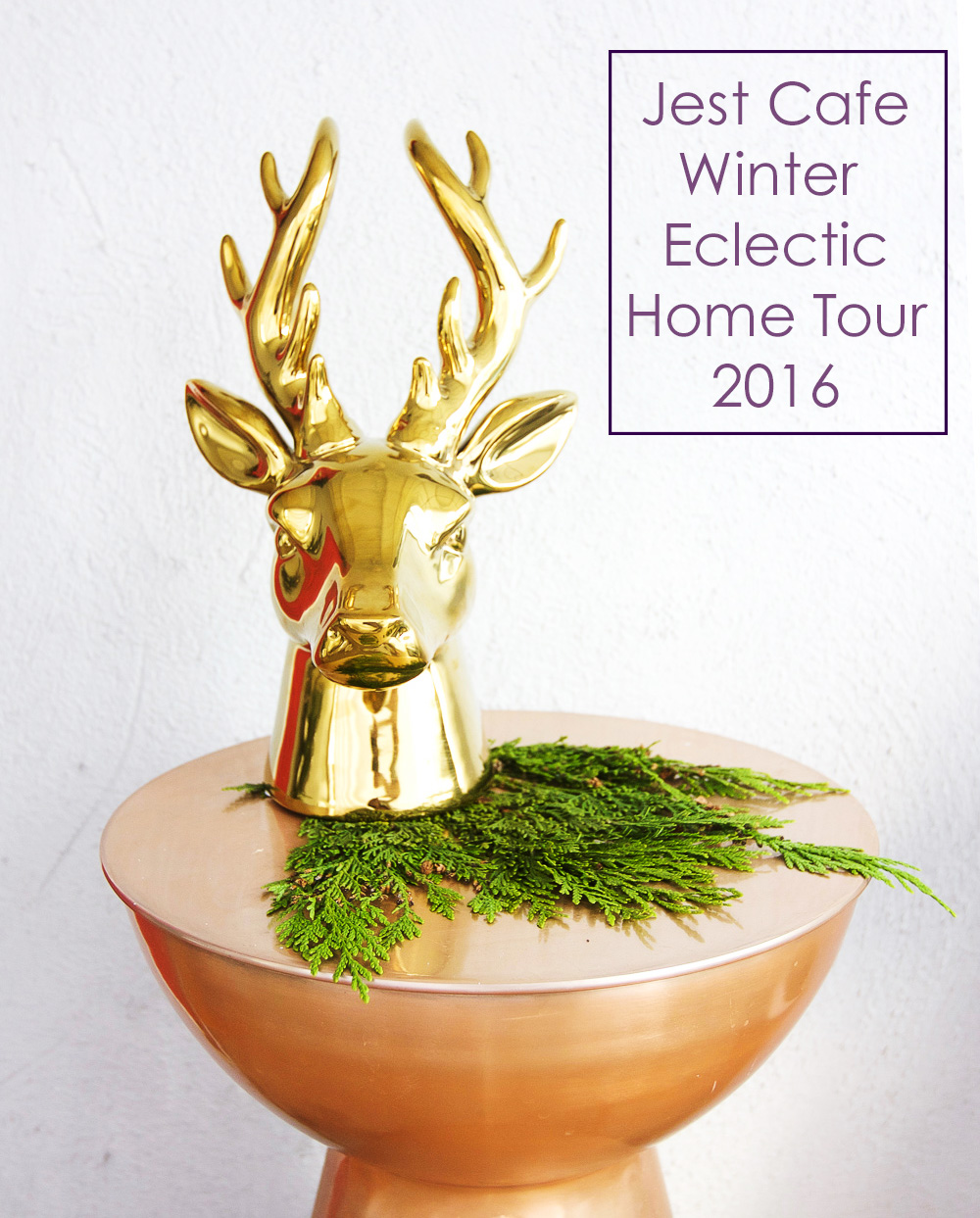 Our Winter Eclectic Home Tour is here. This is the post where I finally show you how we have decorated our home for the Holidays (enter drum beats of excitement). Hope you get some good inspiration for your home with this post. Let me know if you do!
First, let me thank Jess from Domicile 37 for organizing this blog event- the biggest one of the season!!! If you are here from Insieme House, welcome! Hope you like my  blog and decide to come for a visit more often!
Before we get started, I wanted to remind you that this year my idea was to use a lot of greenery to decorate. I made garlands and wreaths that became the main component of my Holiday decorations (you will soon be witness #1 of this fact). I also added pine and cedar leaves here and there for a special touch. I am happy with how it came out- hope you agree.
Without further adieu, let's take a look at the photos because I know that is the real reason you are all here. Sometimes I wonder how many readers take the time to read my hilarious posts completely. Maybe 20%? or less? Ok. here we go.
Let us start with photos of the entrance of our house, because I believe an entryway has to scream Happy Holidays as much as the interior of the house, don't you agree?
Entrance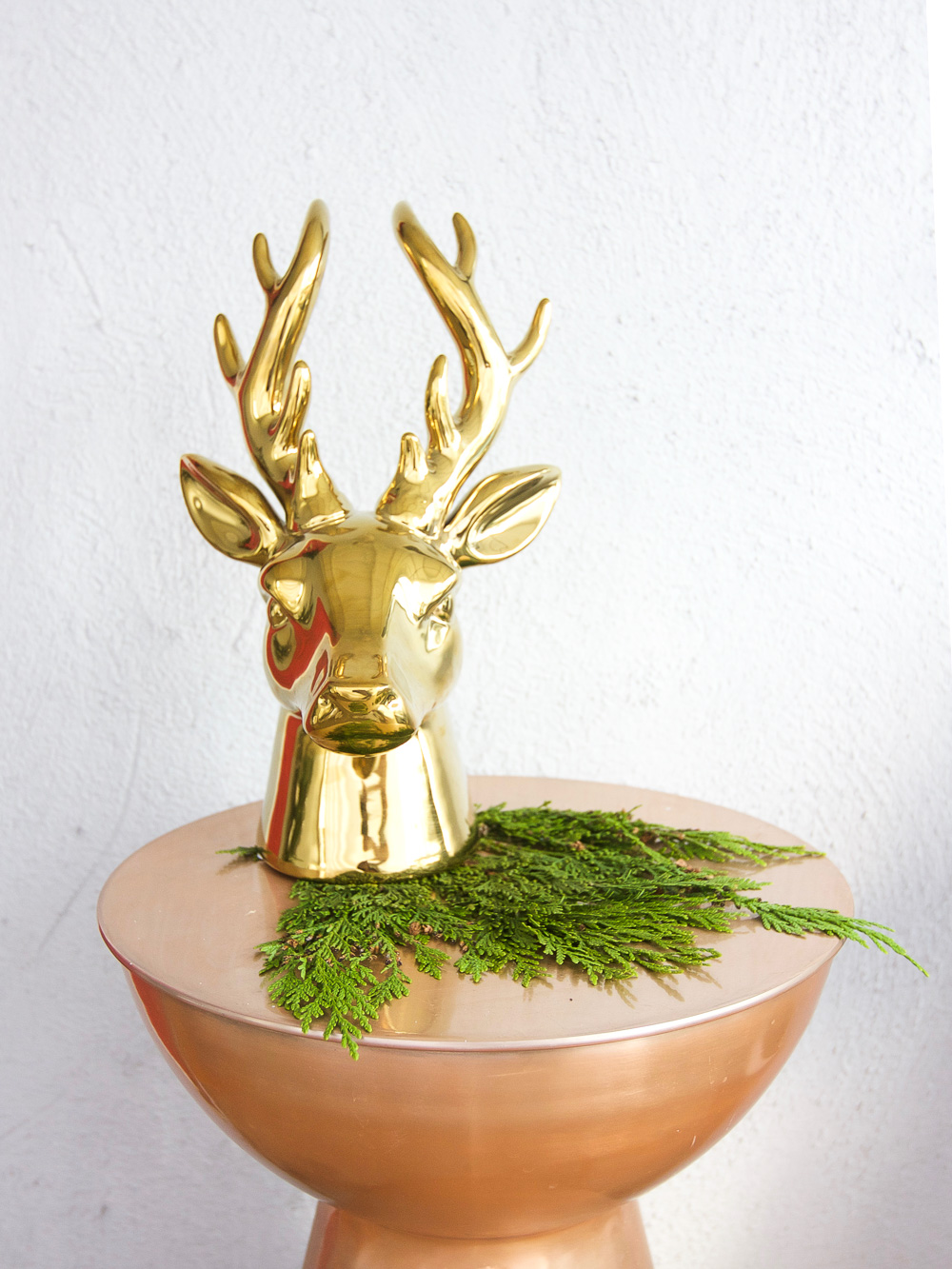 Hi, Mr. Golden Deer Head. I love you and that copper table you are sitting on. Oh, and that cedar? Just a touch so you can feel more at home (love emoji). Although, if you don't like metals this would be a hate emoji.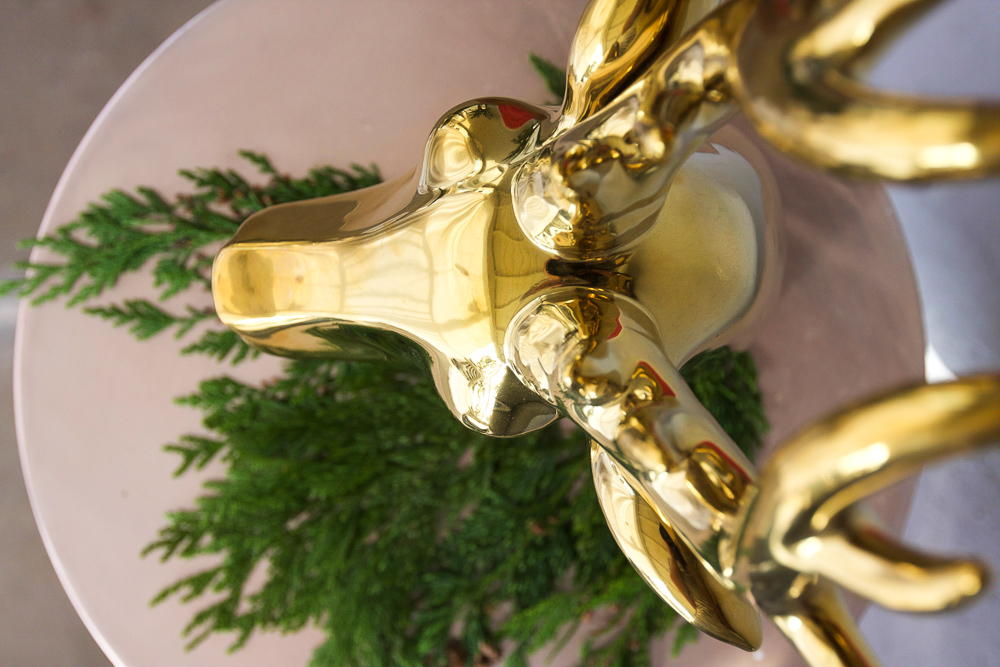 I bought most of my ornaments and decorations in previous years. The trick for me is to buy Christmas decorations the day after Christmas. This is when you get the best deals, plus, it is a real treat to open the Christmas decorations box a year later and find all the things you bought 12 months before and already forgot about. For example, that deer golden head from Target, which I am in love with now.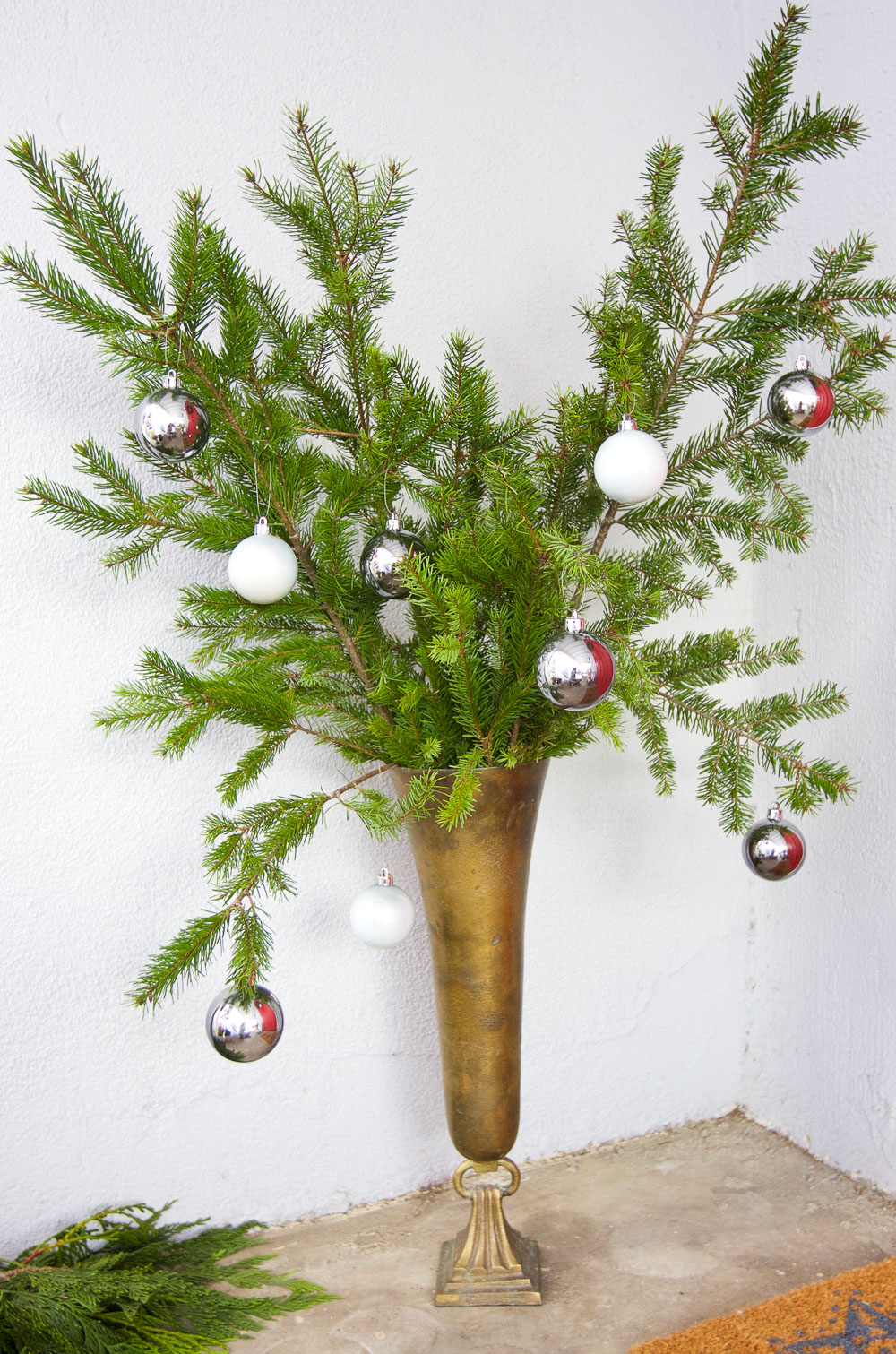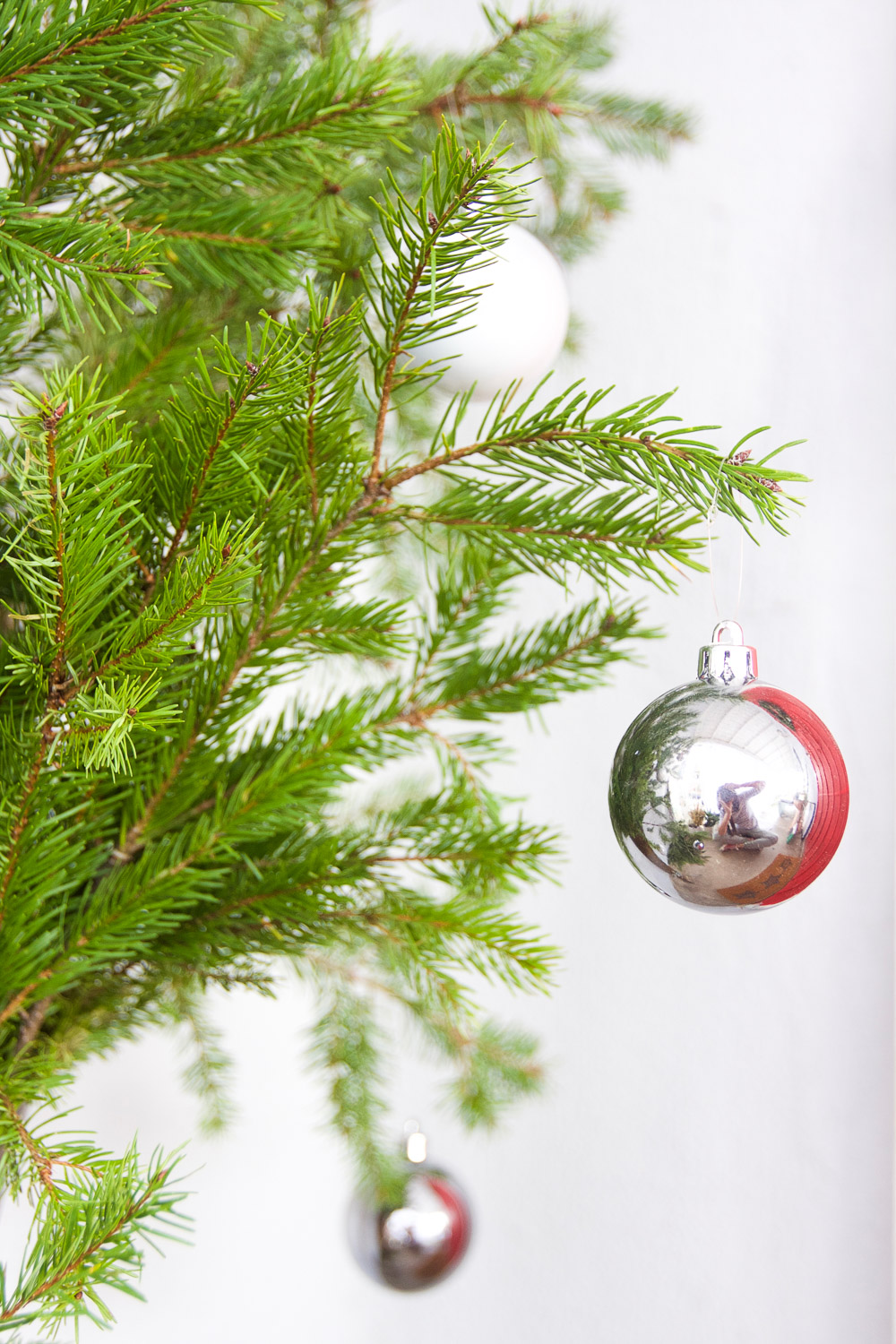 I created a fake tree arrangement with noble pine branches and decorated it with silver ornaments from Ikea. It gives the entrance a festive look, I think. That brass vase you might ask? That is a Flower Market score that is dear to my soul and happiness.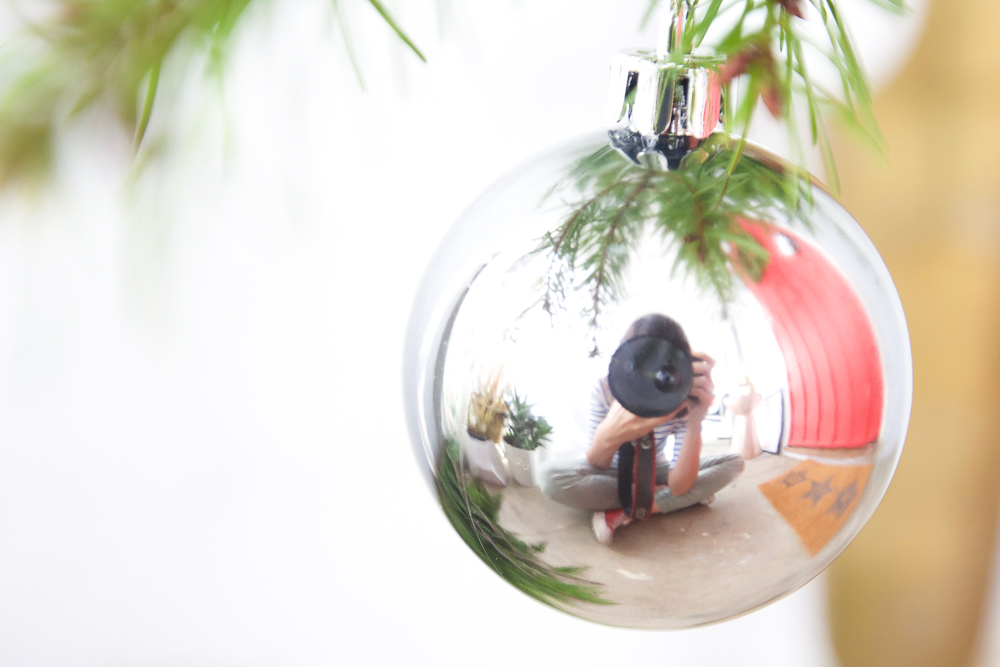 That is me in that picture, in case you were wondering; the writer, photographer, and blogger aficionado that likes to spend her time beautifying her home instead of making dinner (or cleaning for that matter).
Living Room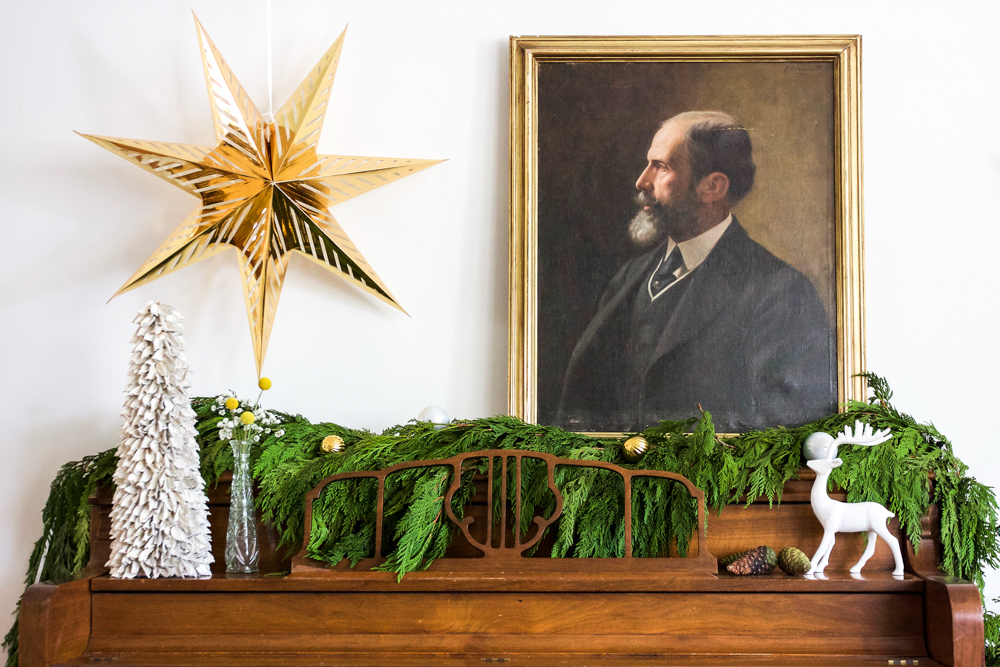 Remember the DIY Holiday Garland post I did last week? Well, some of you complained about my garland being sad and lonely. Well, not anymore. Here she is with a deer, star, trees, ornaments, and flowers. Isn't she a happy camper now? I like it a lot. Hope you do, too.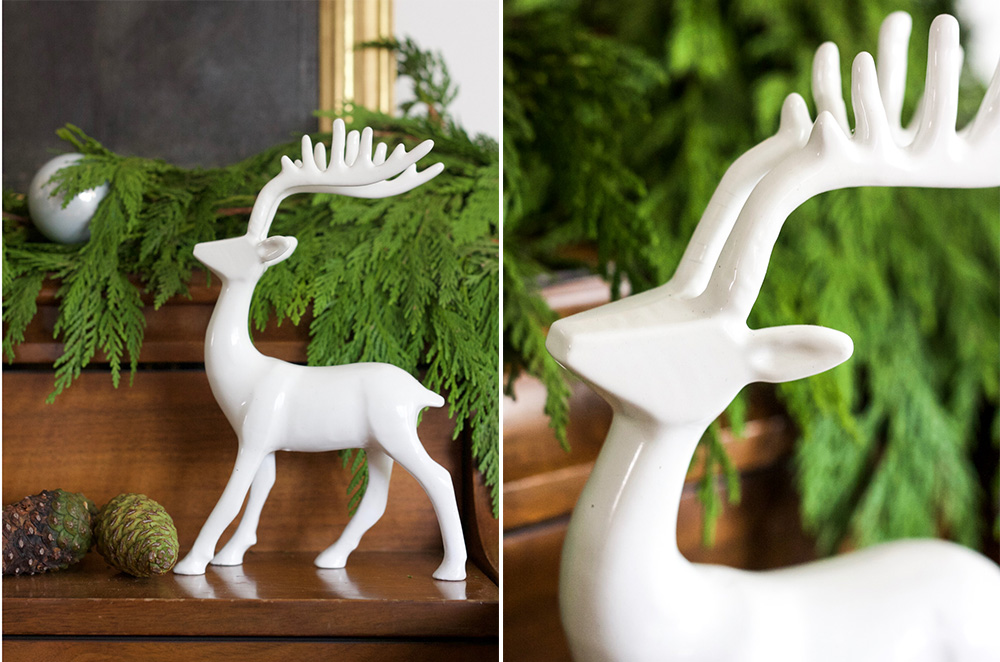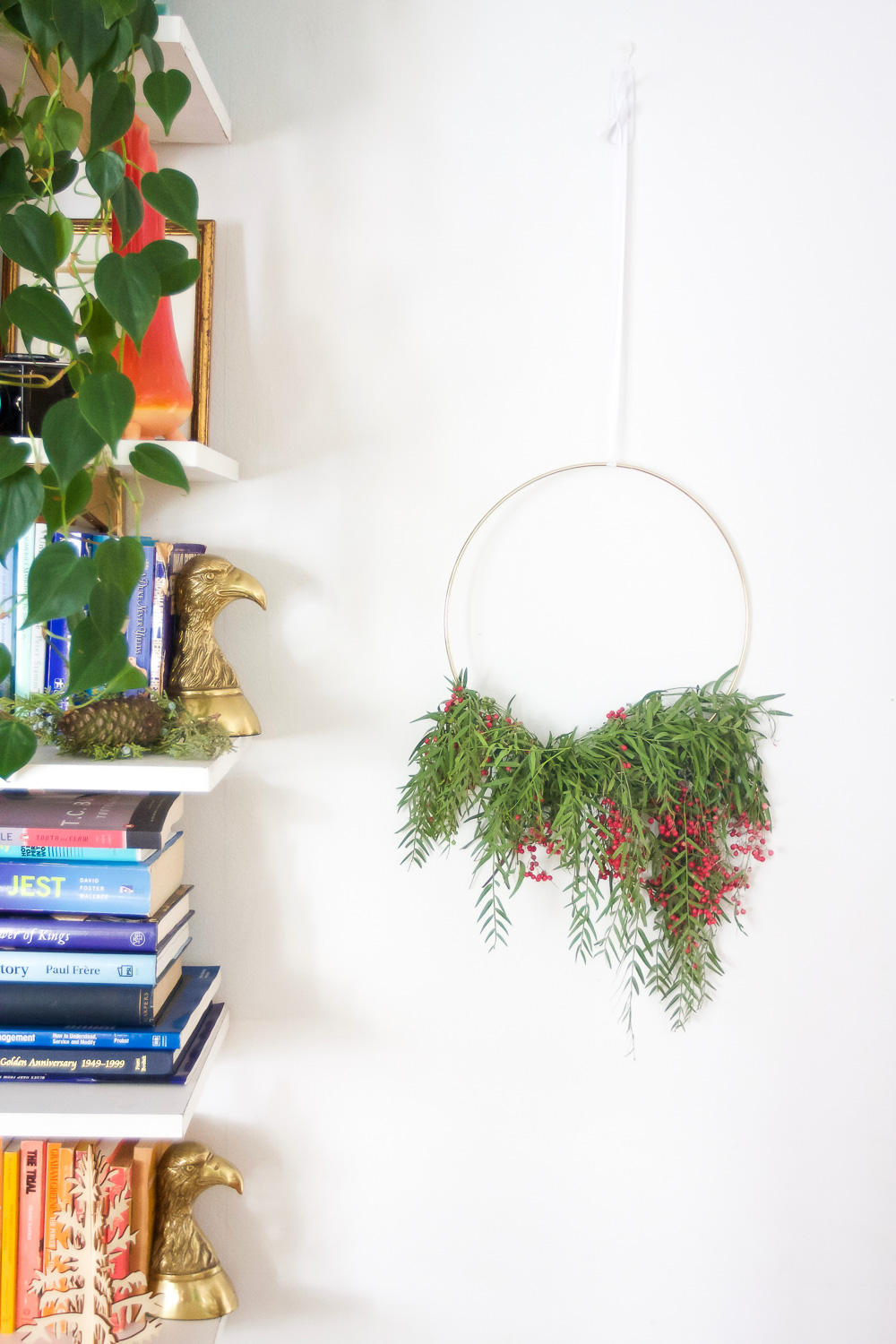 I have been doing gold ring wreaths because  they are gorgeous and easy. This photo is an example, don't you agree? This coming Monday I will be posting a tutorial on how to make different gold ring wreaths. I would recommend you coming back for that one because it will make your life a million times better.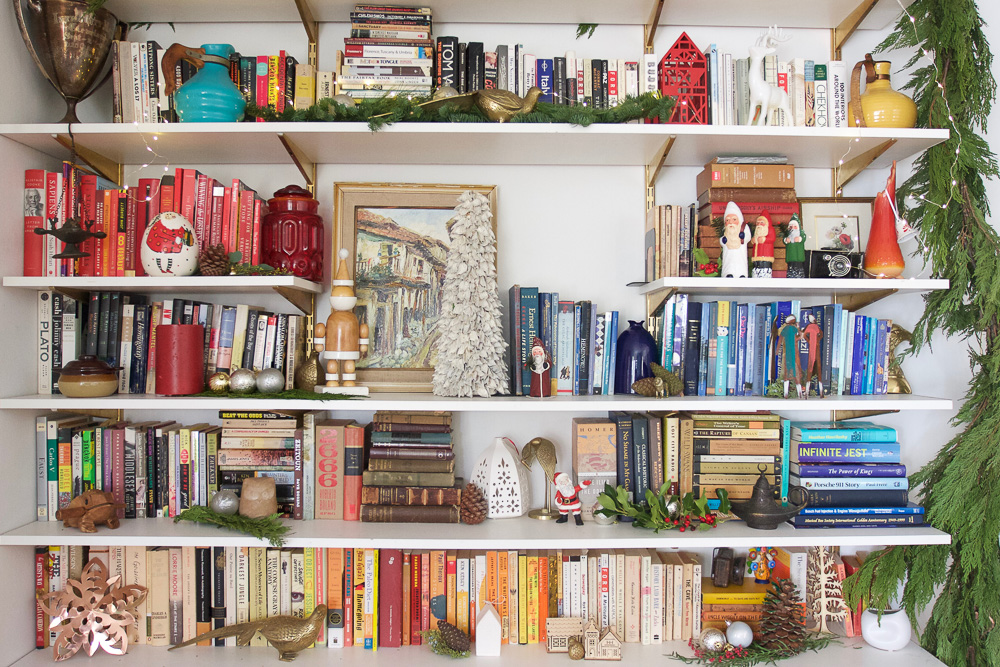 Remember those nice bookshelves that a lot of you liked from my last One Room Challenge? Well, my friend Yassi, the same one that styled the shelves for the ORC, came to style them again for this Holiday Home Tour. She added green, red, and Christmas decorations to achieve the perfect Holiday bookshelf. Also, we added that cedar garland that is SO cute, because this year is all about garlands and greens, like I mentioned 5 times on this post already, in case you were not taking me seriously.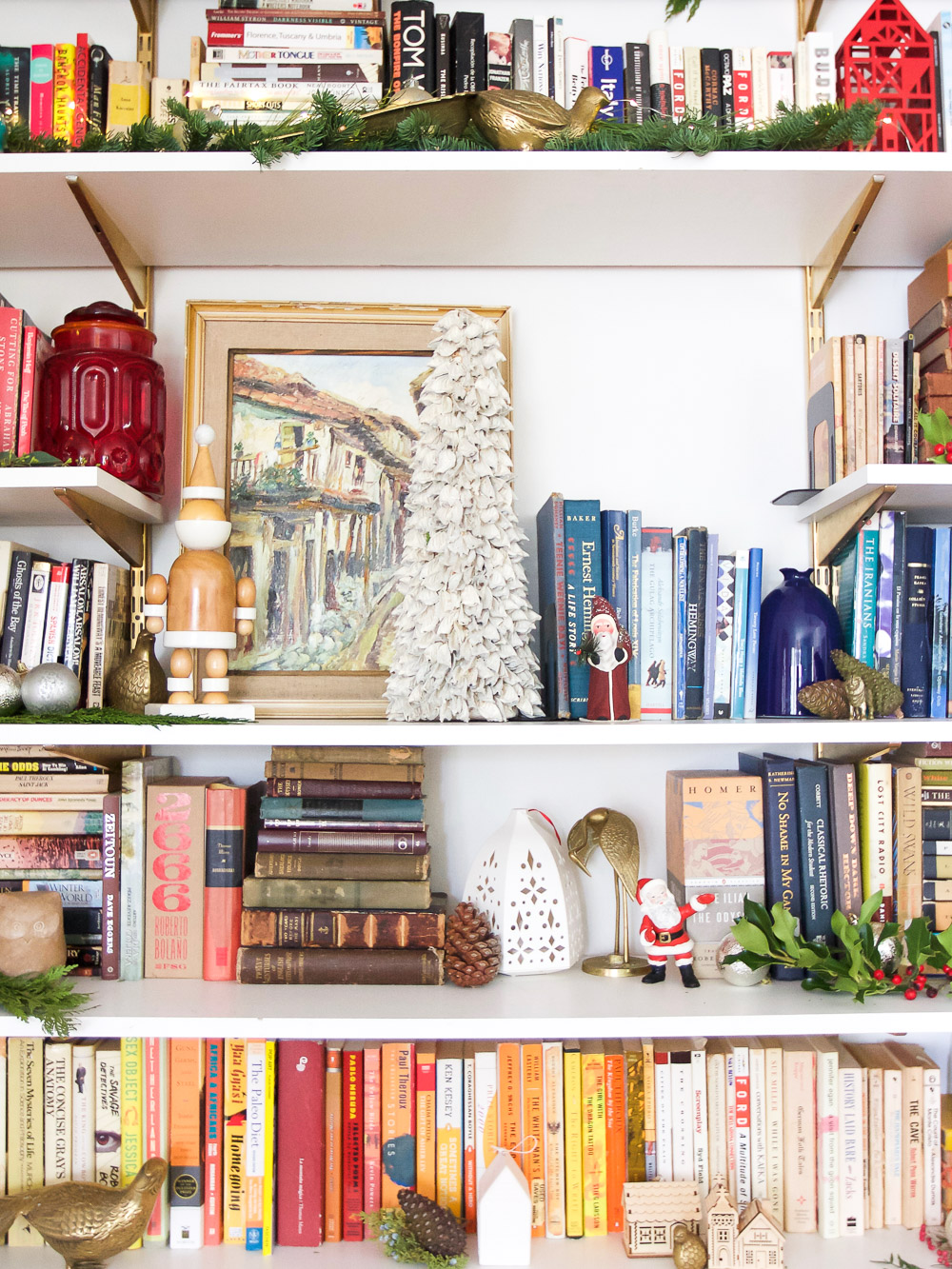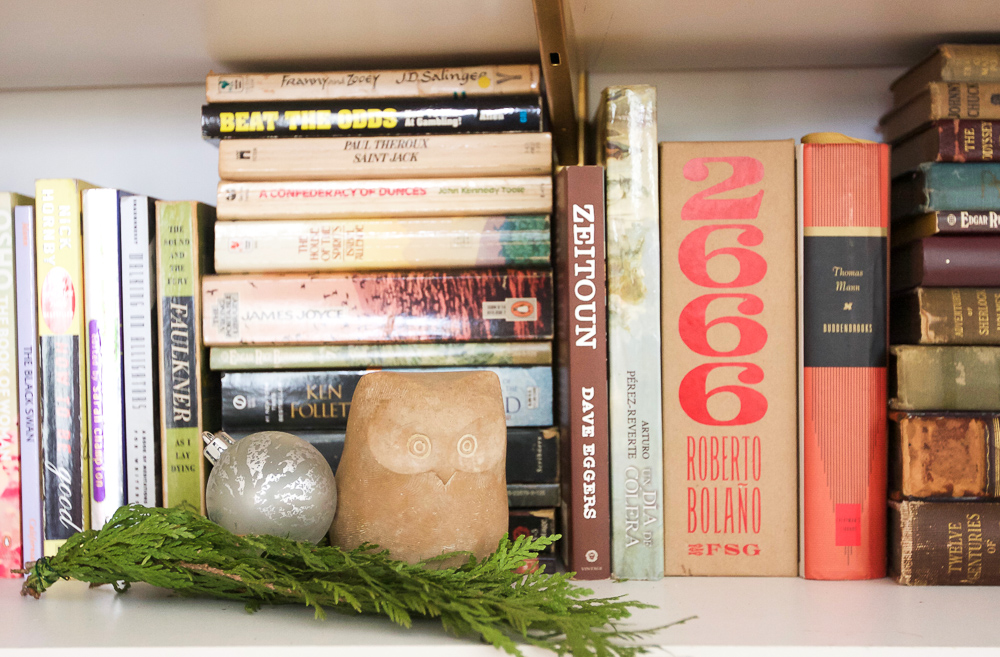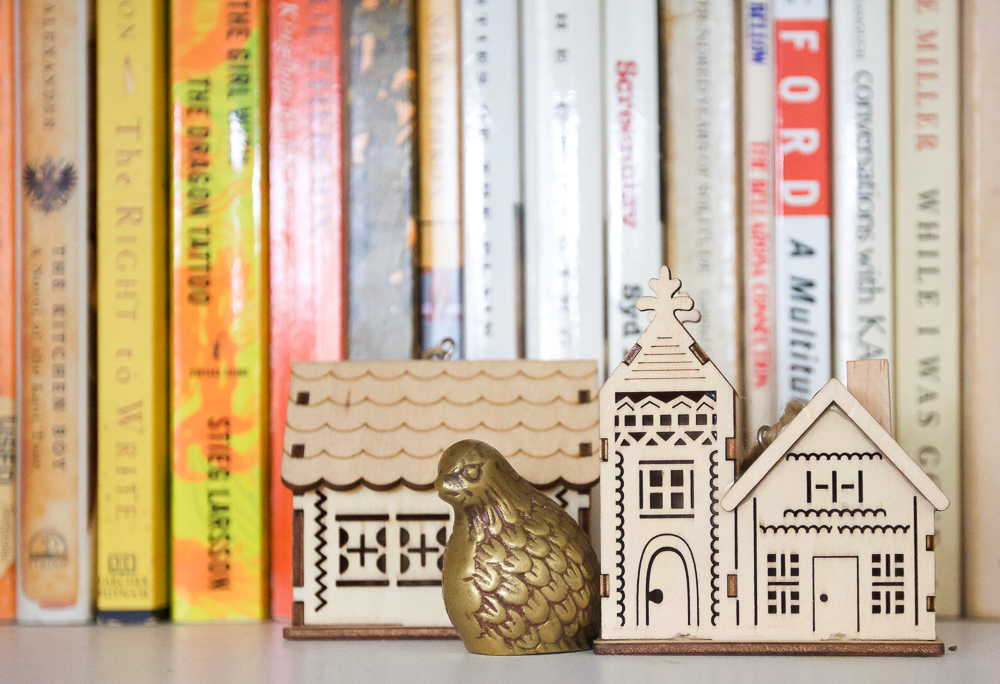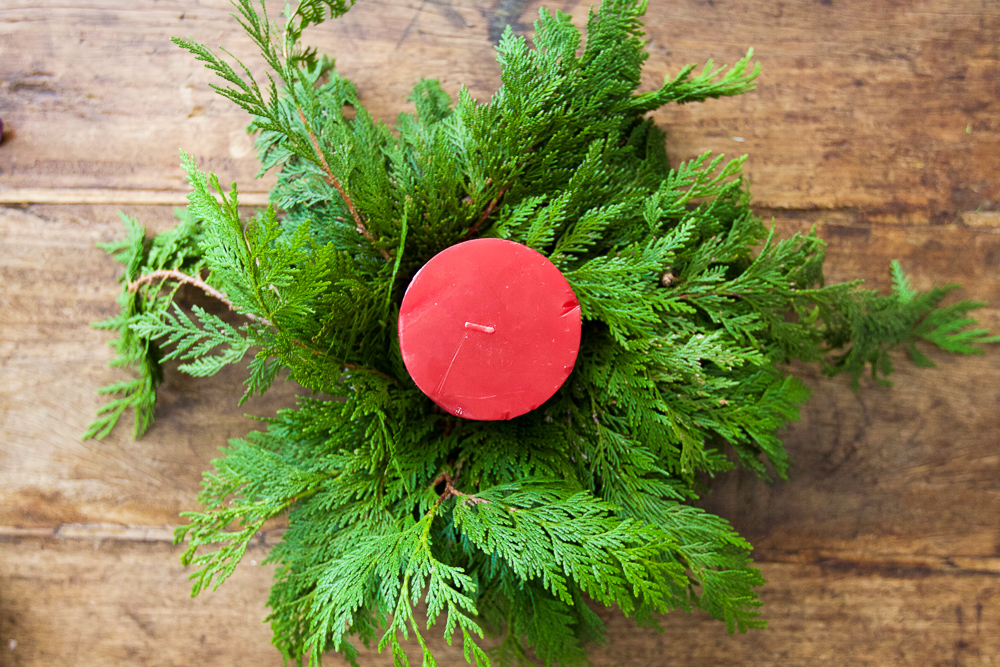 I made this centerpiece with lots of cedar leaves and a candle. Just that.
Hallway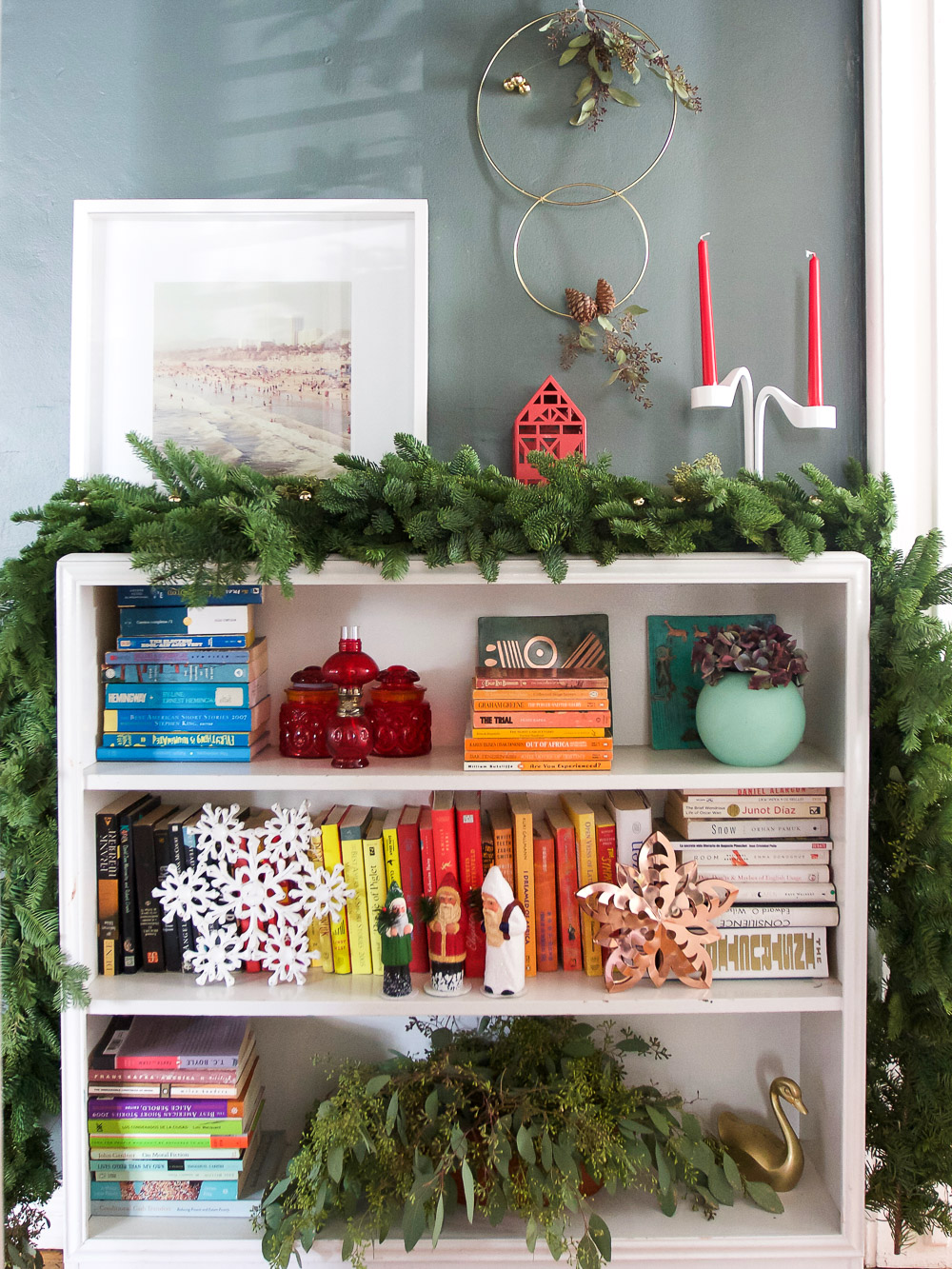 I dressed up this bookshelf on the hallway with Holiday gear. Again, a pine garland and some eucalyptus on the bottom give it a nice touch. The white candle holders are from IKEA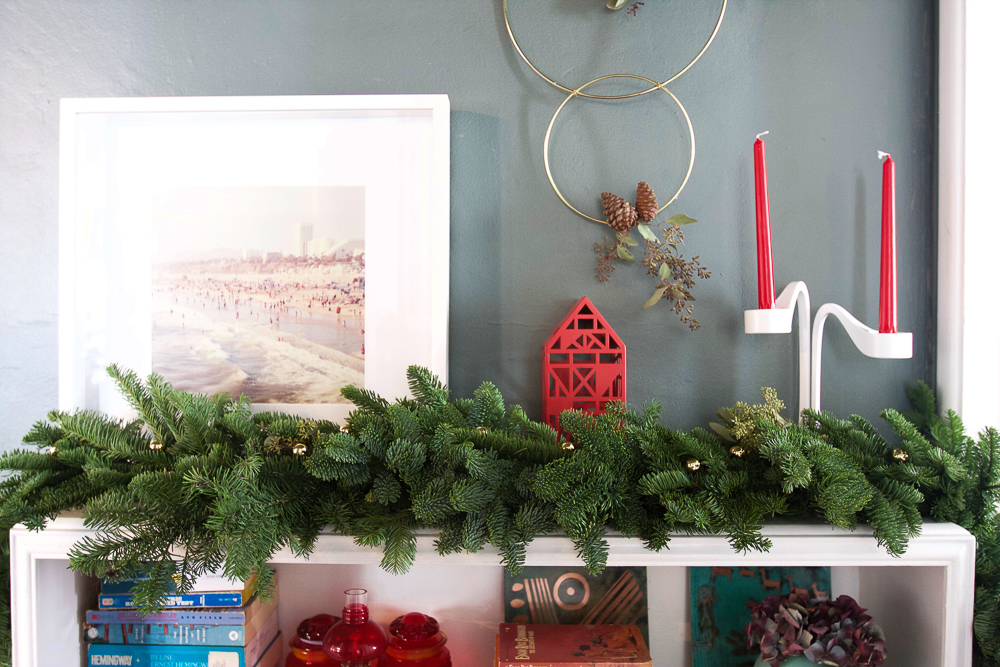 Living Room – Part 2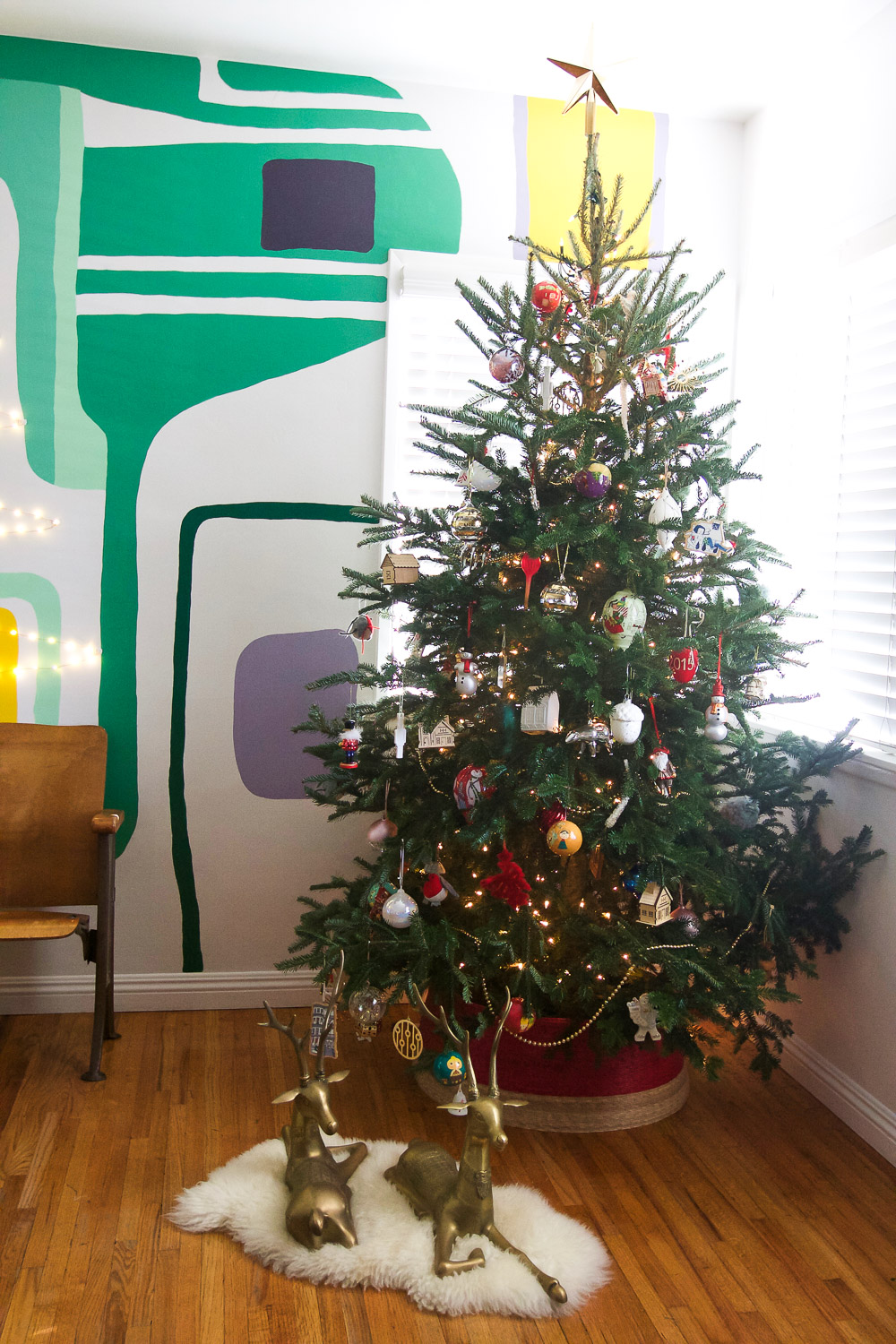 The Christmas tree ornaments have taken me years to collect.  The brass deers were a Rose Bowl find from a couple of months ago.
PS: Now that my kids are older (3 and 5), they play with decorations and destroy and average of 5 of them per season. Not cool, kids, not cool. In an effort to avoid more damage, I have decided to hang the delicate ornaments on top of the tree, out of reach, but these rascals always manage to get them anyway. The moral of this story is to not get attached to Holiday ornaments (or any material possessions) when children under 5 live under your roof. I hope you learn this lesson ASAP. It will save you from great heartache.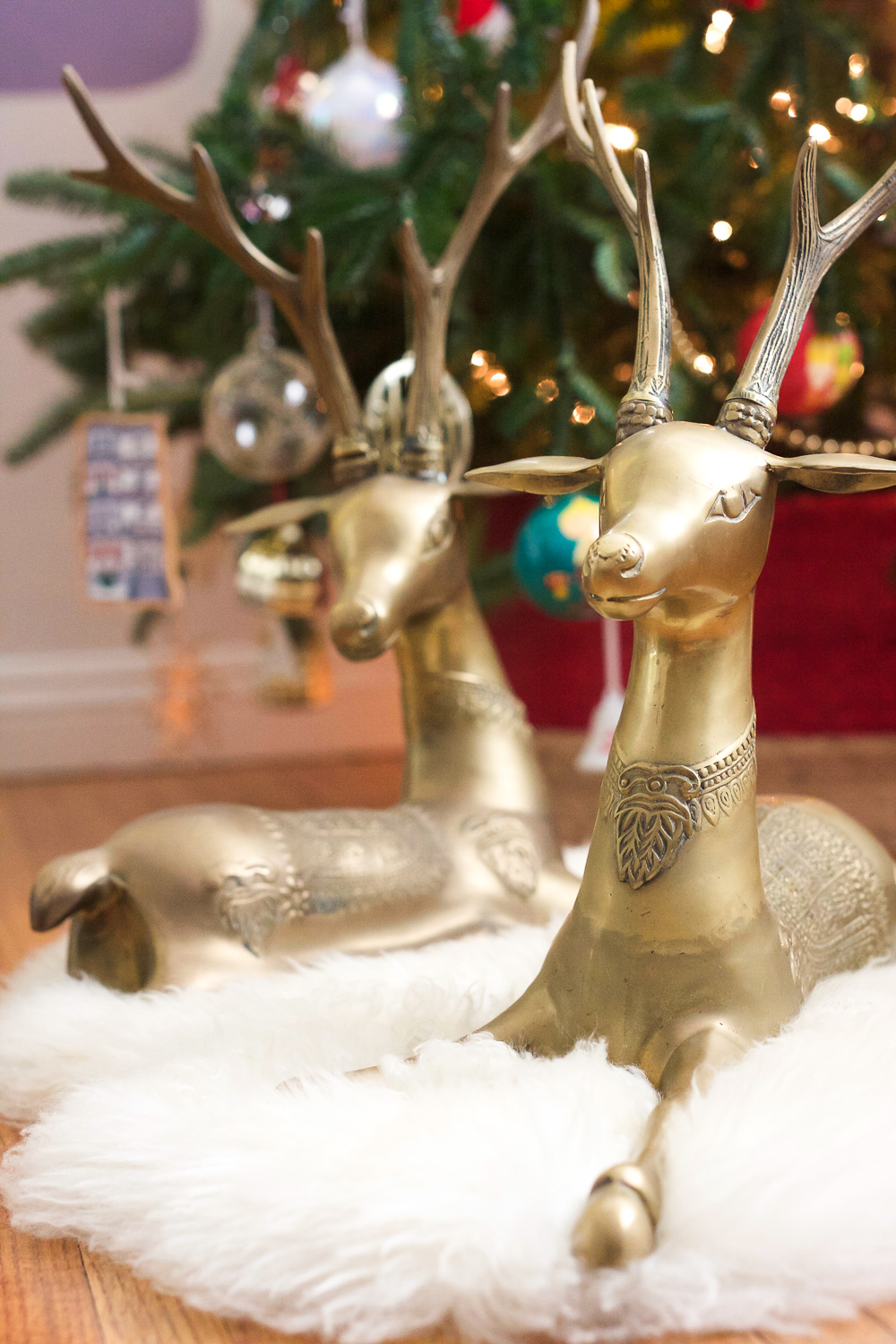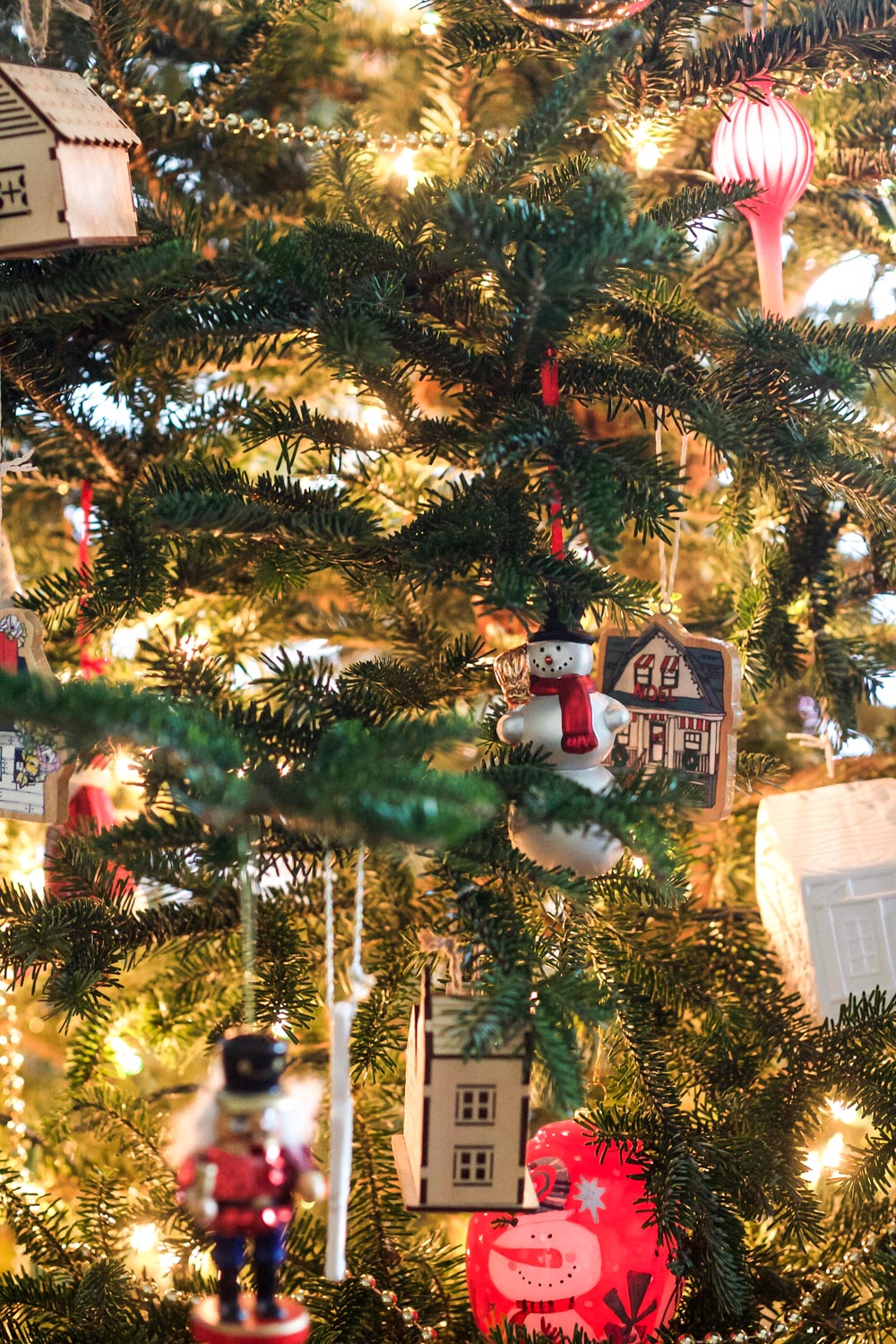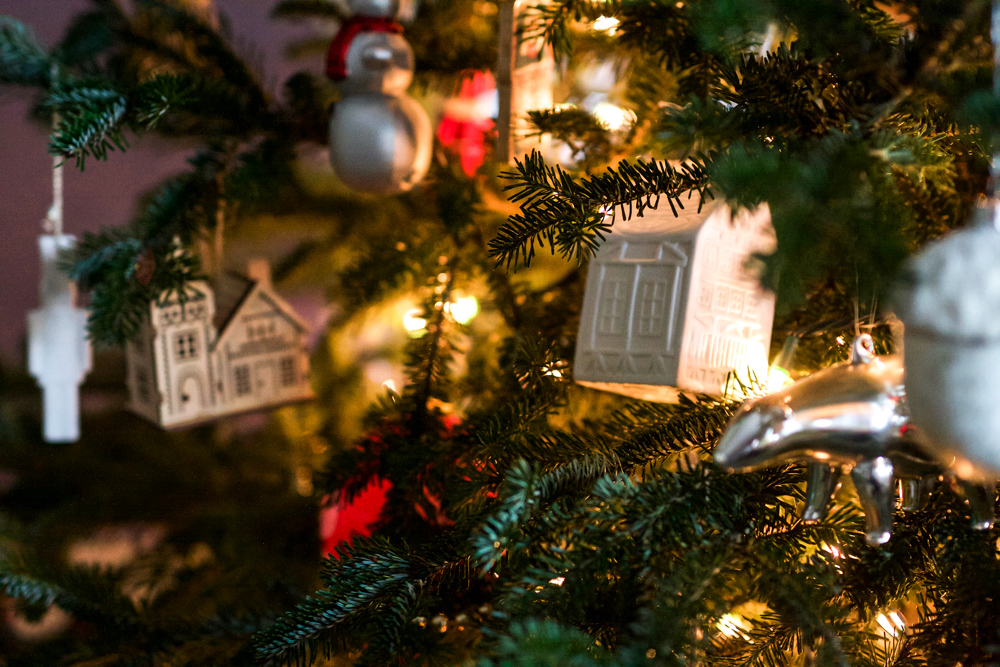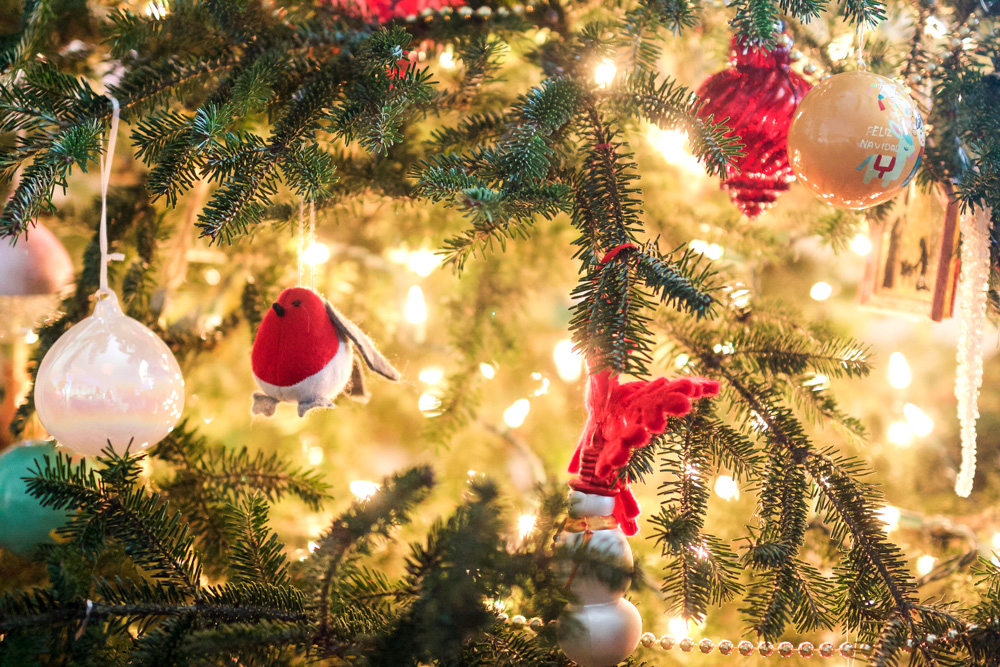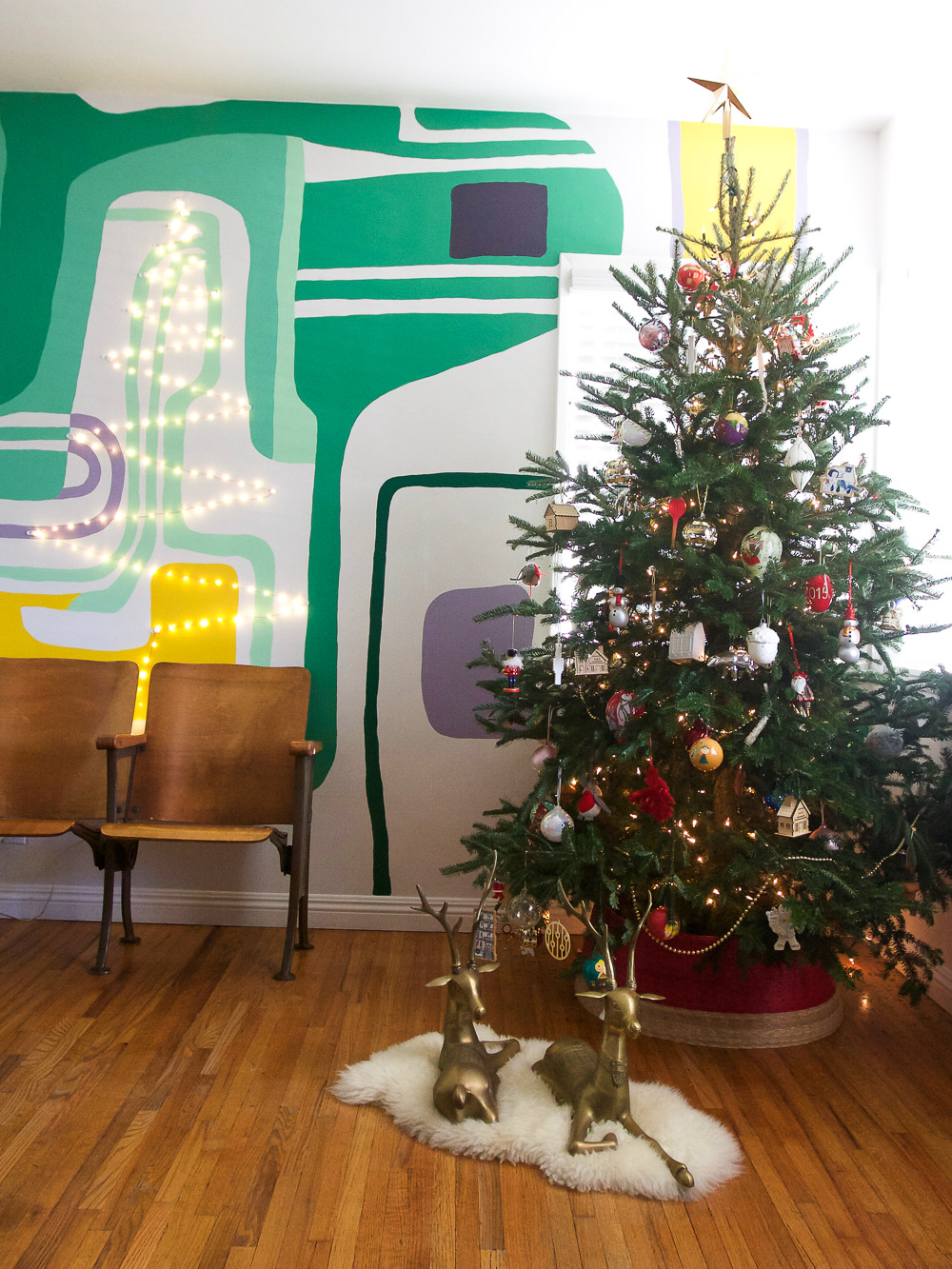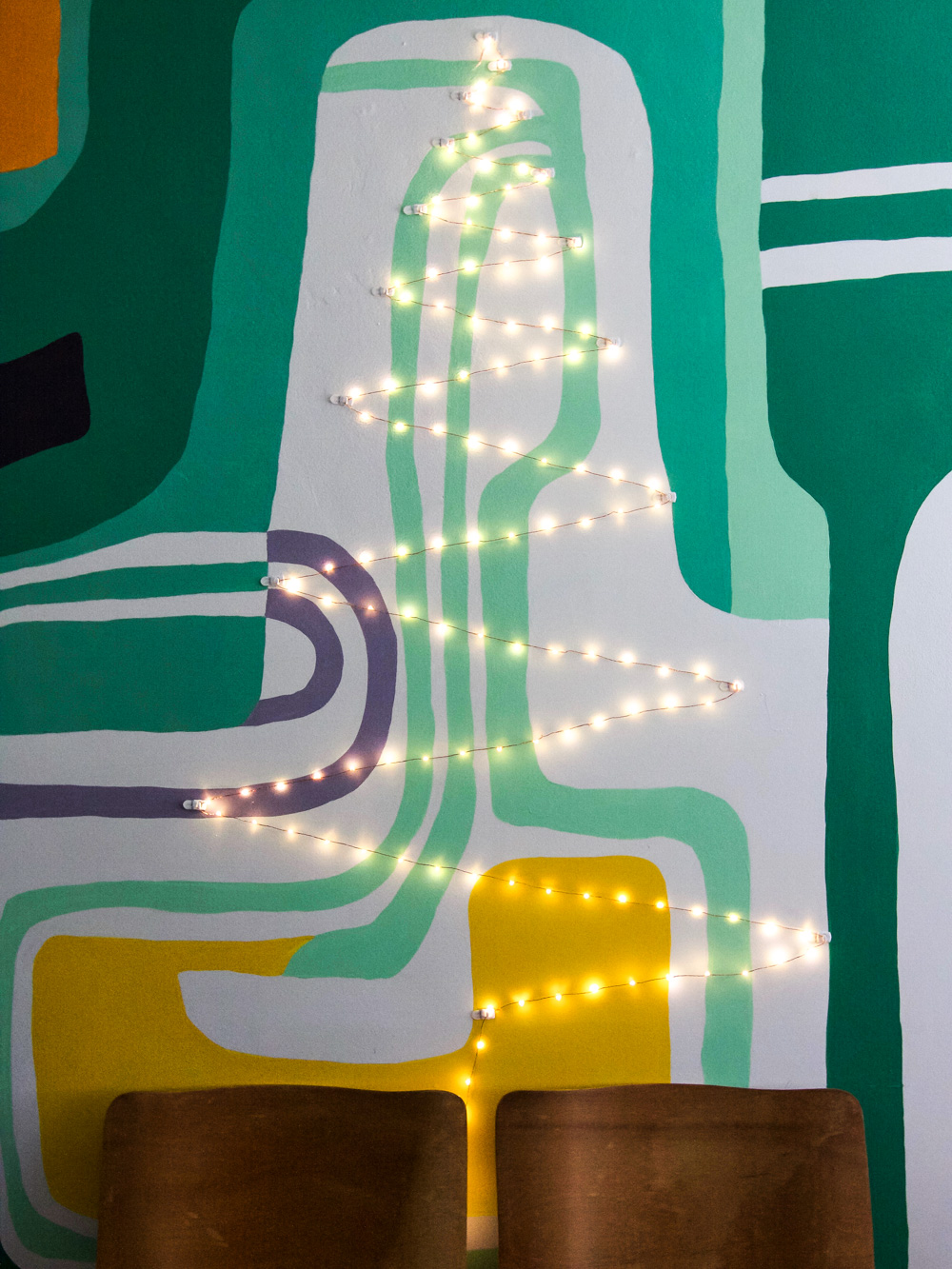 This tree made with copper string lights in front of the mural is pretty awesome. I wish I had a better photo of it, but I don't, so you will have to take my word for it. It gives the room a nice touch.
Kitchen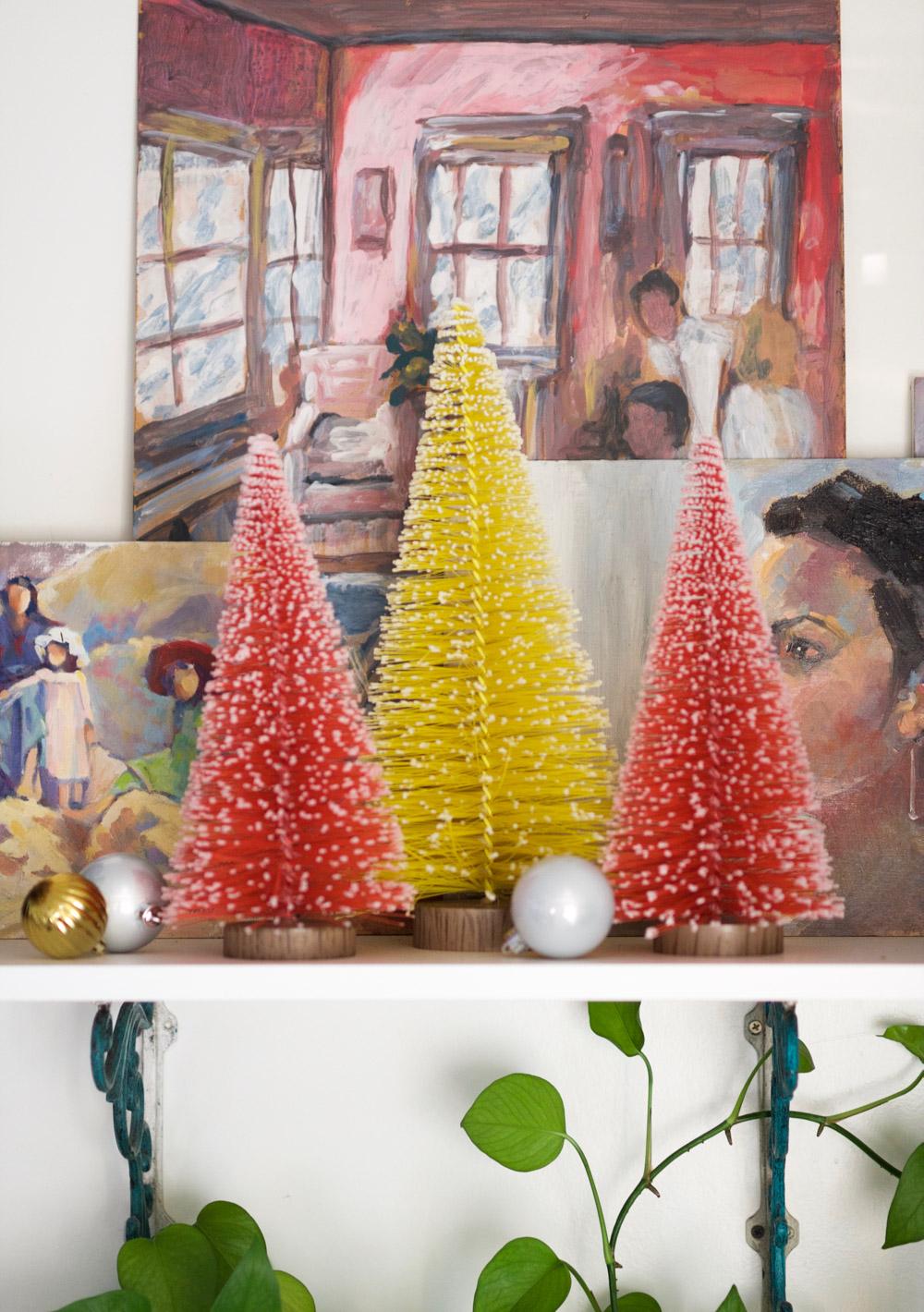 My kitchen is colorful so I used these cute trees from Target to decorate and add even more color. Extra ornaments, couple of oil painting, and voila!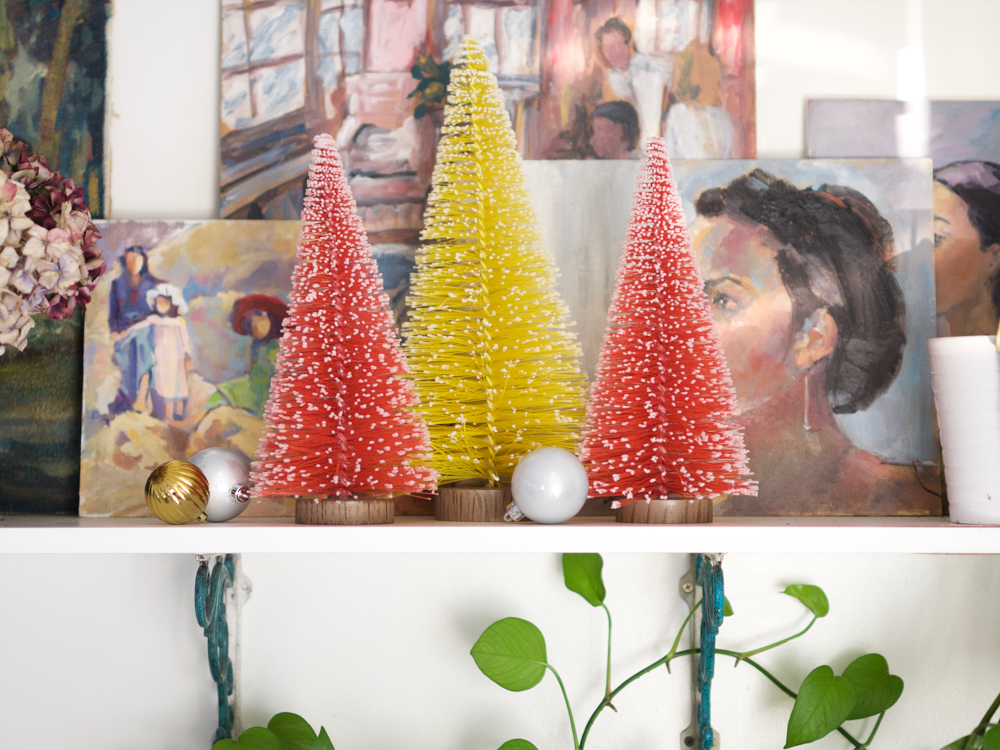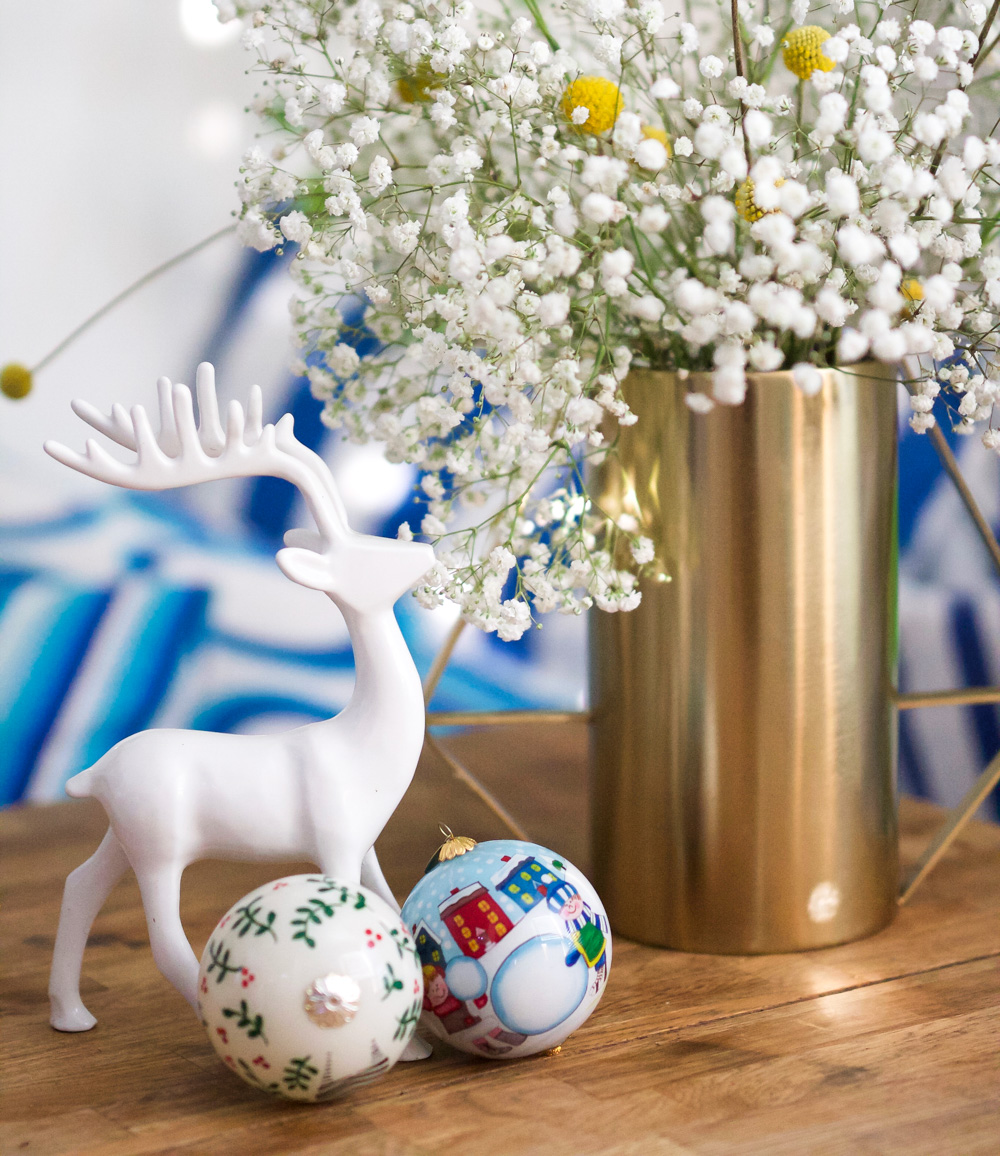 Ok, here were are at the end of my Winter Eclectic Home Tour. Thanks for stopping by. I hope you come back again soon and don't be shy about leaving comments. I LOVE reading them.
Now that you are done here, please, head over to The Gathered Home for the next and final stop of this amazing, incredible, and unique hop tour.

Please Note: Links to Home Tour are not live until day of tour
Monday
Bright Green Door // Michelle Matangi Home // Sharon Williams // CAD Interiors // Domicile 37
Tuesday
Casa Watkins Living // Maggie Overby Studios // House Homemade // French & French Interiors // Style Mutt Home
Wednesday
Up To Date Interiors // The Striped House // Designing Vibes // Iris Nacole // Fearfully & Wonderfully Made // Blue i Style
Thursday
PMQ for Two // Maker of Home // Go Haus Go // Whimsical Blue Living // FOXY OXIE
Friday
This is Our Bliss // Monica Wants It // Insieme House // Jest Cafe // The Gathered Home
https://jestcafe.com/wp-content/uploads/2016/12/winter-eclectic-home-tour-38.jpg
1333
1000
Mila
https://jestcafe.com/wp-content/uploads/2017/08/Jest-Cafe-about-design.jpg
Mila
2016-12-09 05:30:29
2017-07-16 10:07:55
2016 Winter Eclectic Home Tour - Holiday Decor