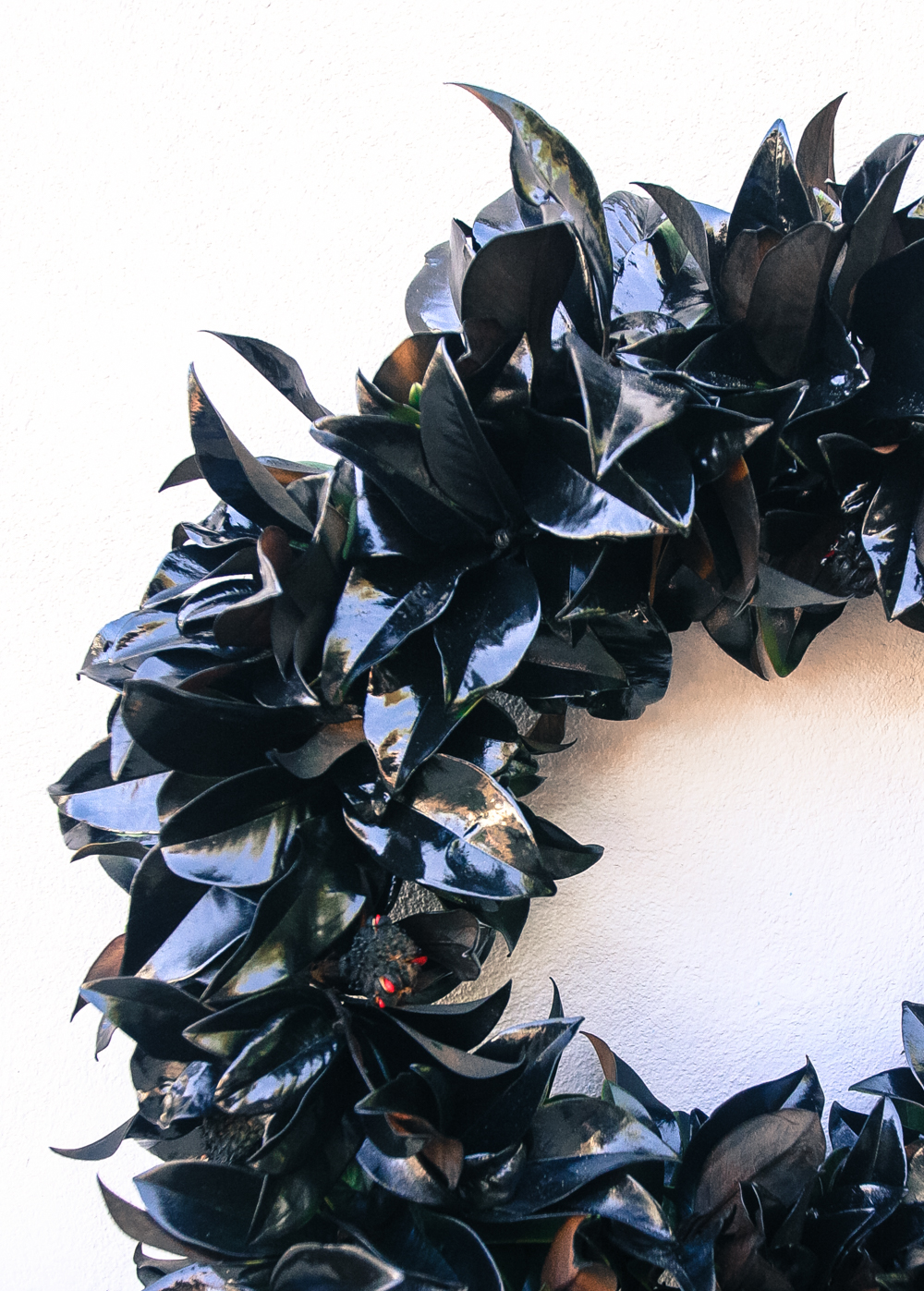 Creating a Halloween wreath is VERY easy. Do not be discouraged or overwhelmed. If you have done a wreath before, you know how easy they are to make, if you haven't, try it and you will see what a beginner's project this is. You don't need a lot of experience doing anything DIY to be able to tackle this.
The first time I created a wreath, I was surprised at how undemanding the project was. Anything I did, any piece I added, looked so good. I was flabbergaster and so proud of myself. I thought I was a DIY queen.
Then I realized that it wasn't only me, but all my friends that were in the workshop had the same experience. All of them were able to create gorgeous wreaths effortlessly.
Since then, I have found myself doing more and more wreaths because they are a beautiful way of decorating the house, plus, I have all the materials left over from the wreath making party I hosted last year. I find that I can collect almost any greenery from my yard and add to it, then, after 30 minutes of work, I have a beautiful wreath for my home.
My favorite to do was the lavender wreath I created for Easter. My home smelled like lavender for weeks to come – so good and calming. Although, doing that wreath wasn't as easy because lavender is small and delicate. The larger the leaves and greenery you use for the wreath, the easier it is to make.
Wreaths are very forgiving and take no time. This Halloween wreath took me 45 minutes, the amount of time my husband took to go to the grocery store and do our weekly shopping.
Because I didn't want to spend a bunch of money on this project, I collected Magnolia leaves from the tree in my front yard. They were the perfect choice because Magnolia leaves are big and have a brownish back-side. My idea was to spray the wreath with glossy black, leaving some of the original color untouched. I didn't want the whole wreath to be 100% black. A brown undertone gives it a creepy look. As you see, Magnolia leaves were the one and only choice – cheap, spooky, and available in my front yard. SCORE!
Okay, let's get to it. These are the steps I took to create this wreath. For more details on how to create a wreath, go here – that post explains very well how to make a wreath, too.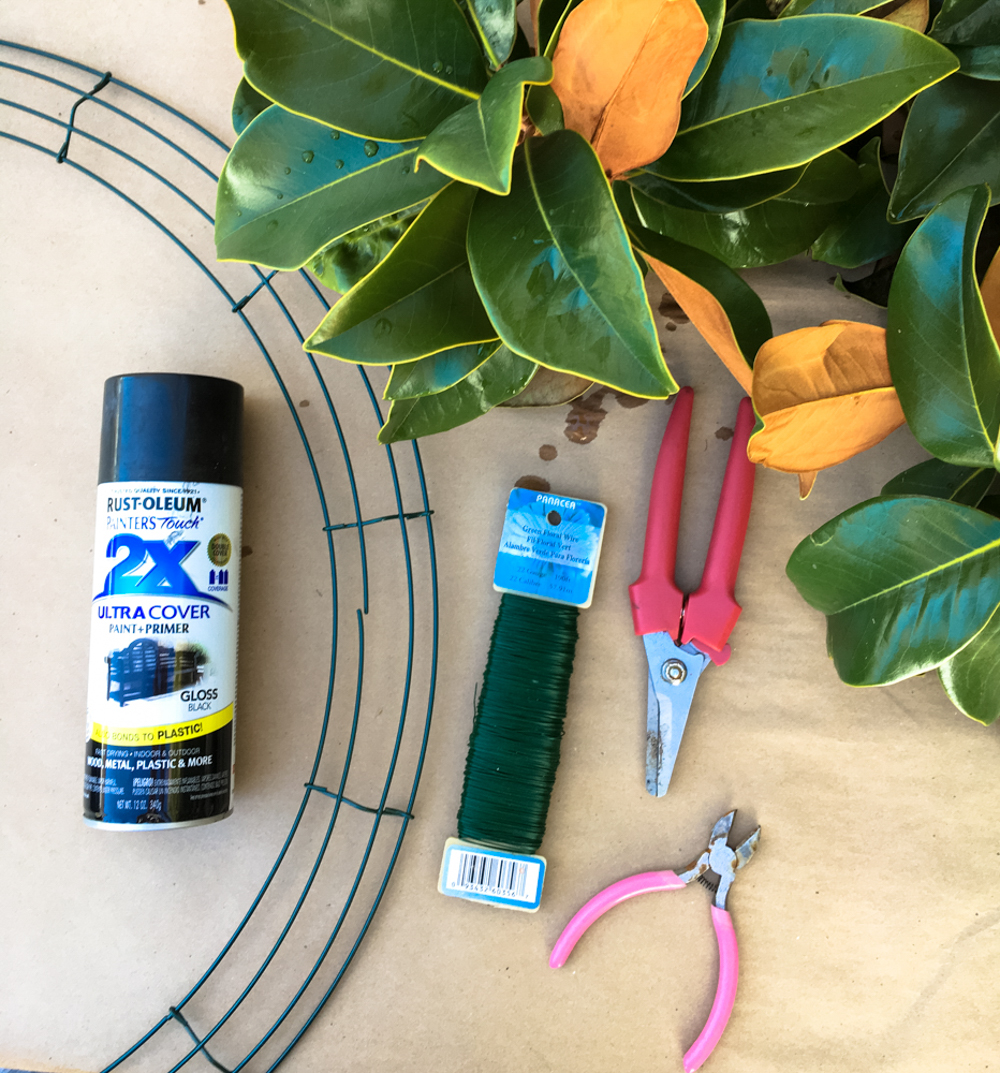 Difficulty (1-5): 2  Time: 45 mins  Cost: $10
Materials:
Magnolia branches
Floral Wire – I used 22 gauge.
Wire cutter
Pruning scissors
Black Spray. I bought black gloss Rustoleum.
Rugs – You will need something to put under the wreath when you are spraying it.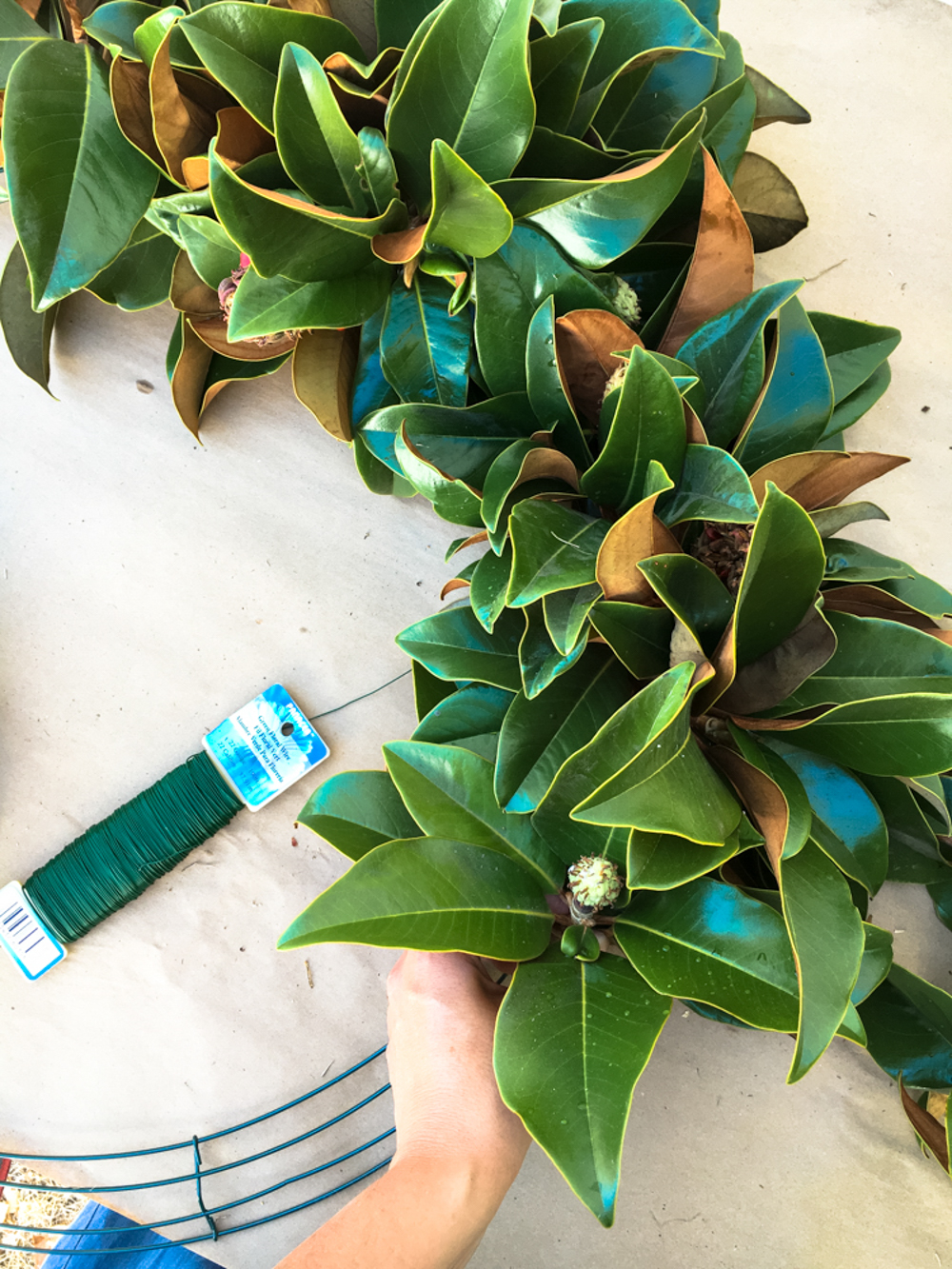 STEP 1:
Attach the wire floral wire to the wire wreath. A simple double loop will do.
STEP 2:
Clean your leaves and branches before starting the project. Prune the branches and add them to the wreath, attaching them with floral wire. For more details on how to do this, go here.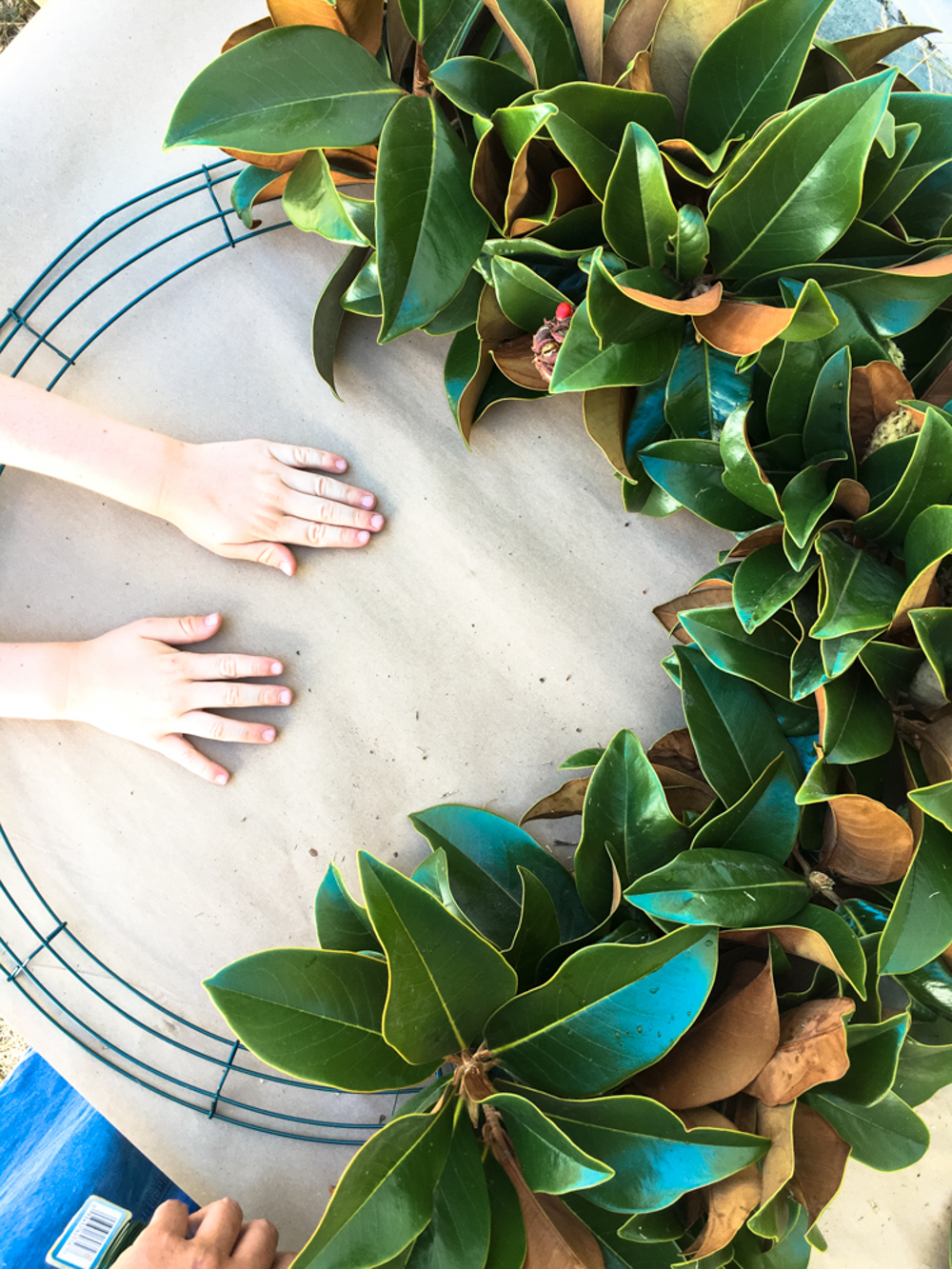 STEP 3:
Go around the floral wire until it is covered with greenery. Make sure your wreath is balanced, meaning that all sides have a similar amount of greenery. If not, add more branches to the "skinnier" places.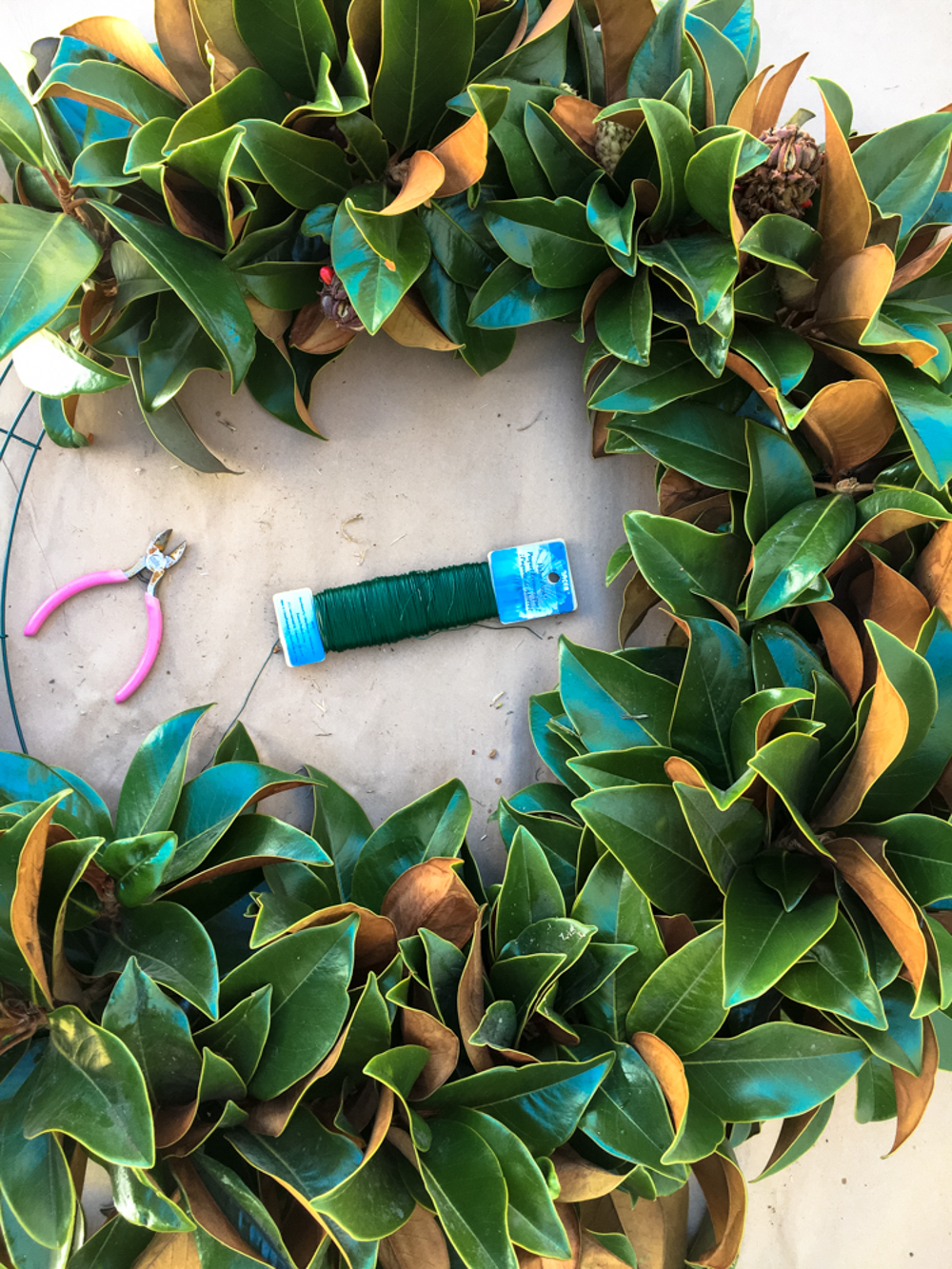 STEP 4:
Cut the wire with the wire cutter and attach the loosing end to the wire wreath. Again, a simple knot or loop will do.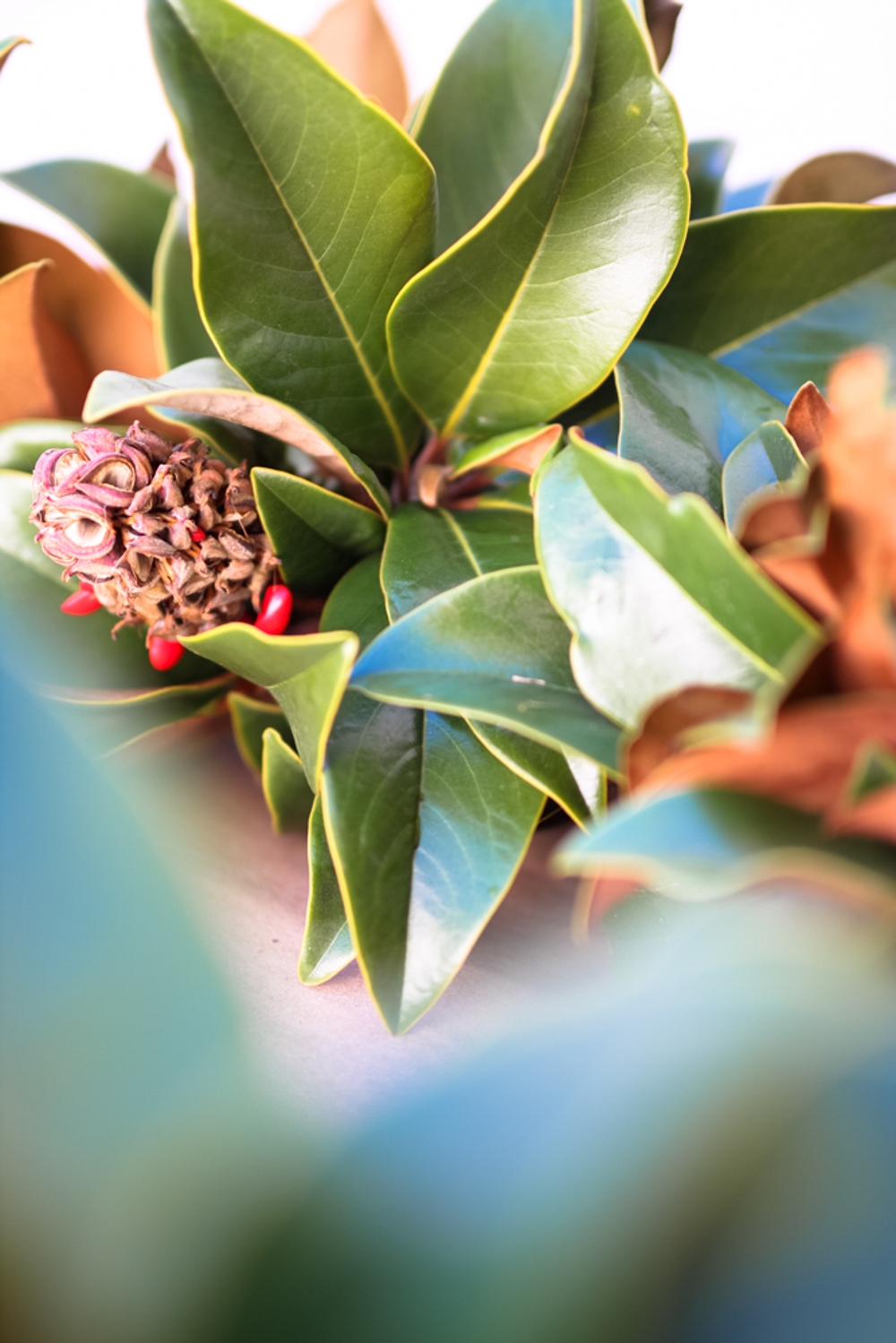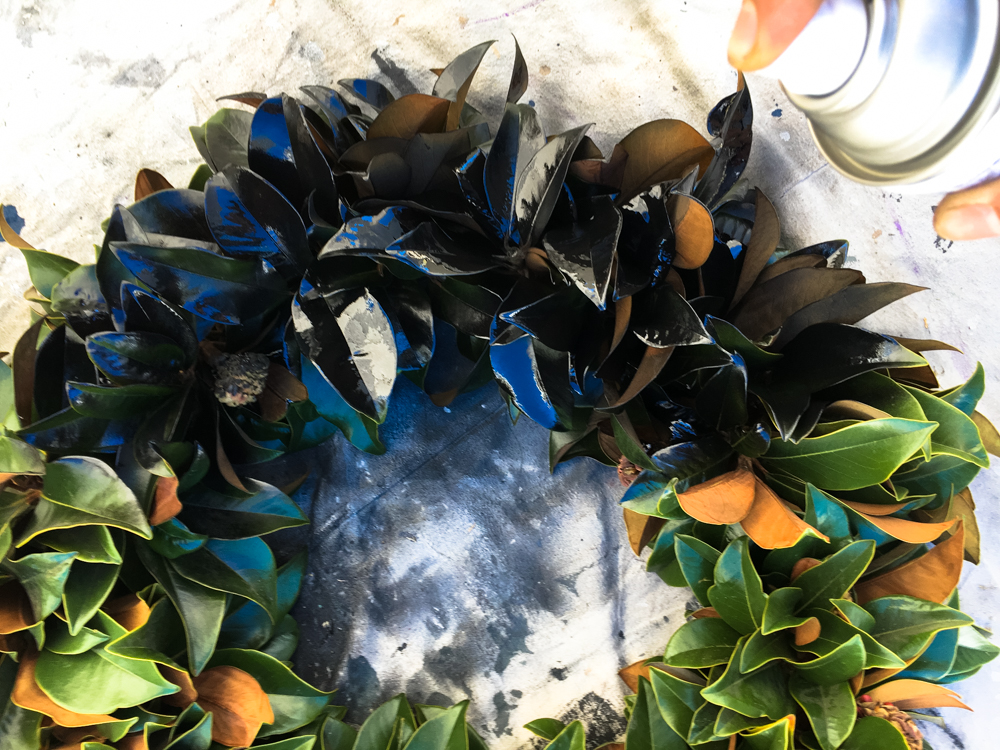 STEP 5:
Place the wreath on a rug. Spray it with black spray. You will need to try and spray inside the branches. I wanted some of the natural color of the leaves to show, so I didn't do a hardcore spray job.
TIP: If you want a wreath that is completely black, I would recommend spraying the branches before assembling the wreath. It is easier to paint all places by doing that.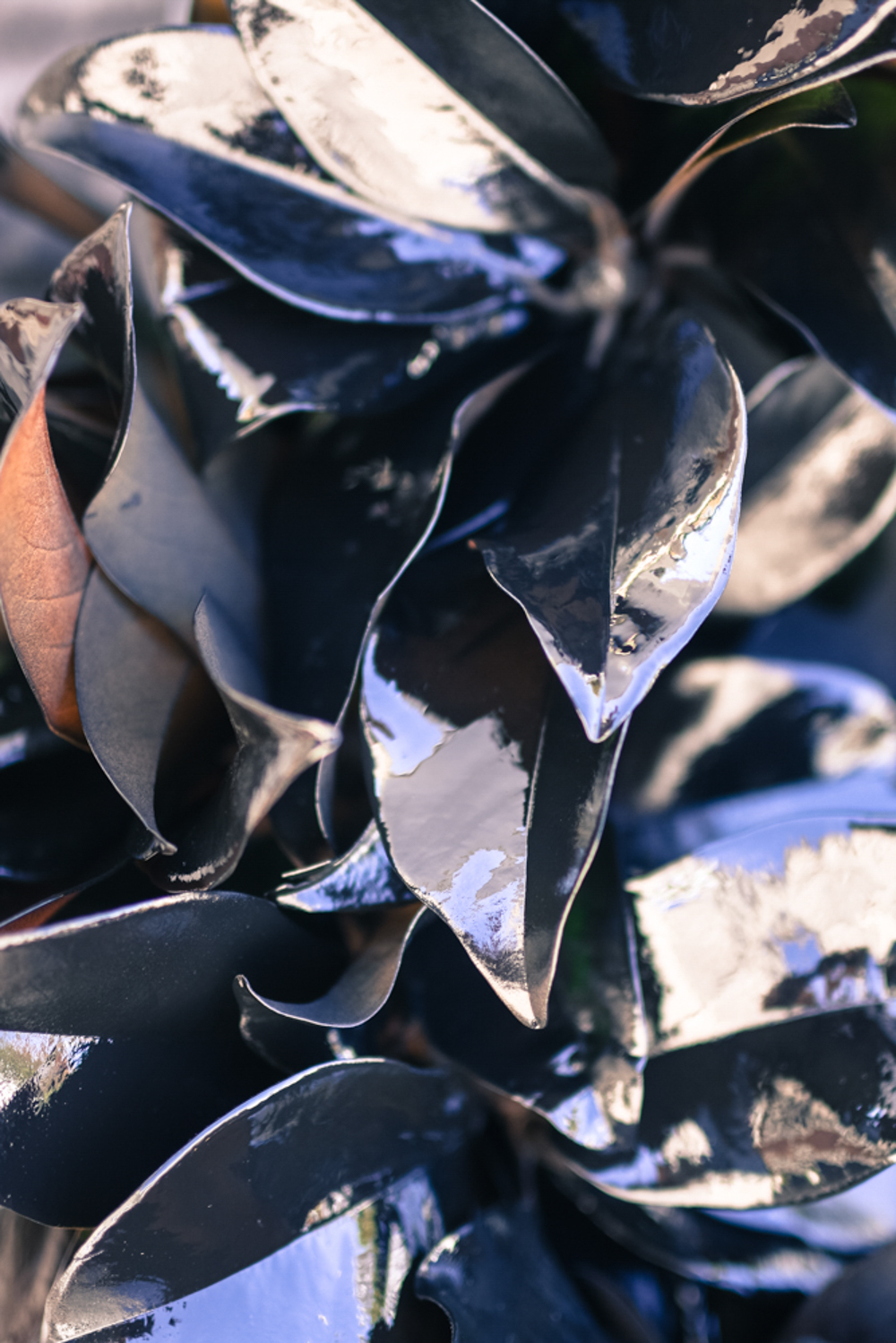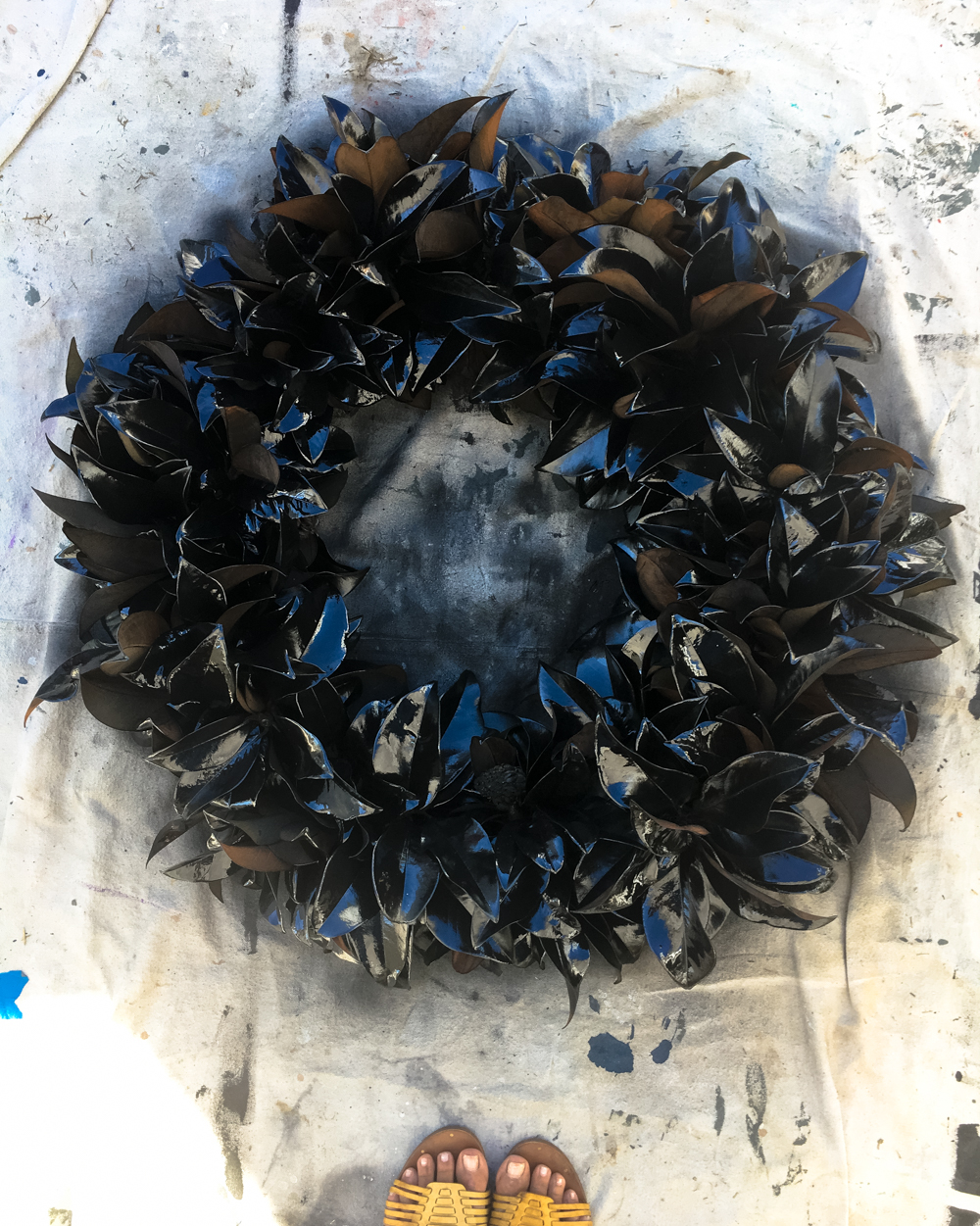 https://jestcafe.com/wp-content/uploads/2016/10/halloween-wreath-16.jpg
1397
1000
Mila
https://jestcafe.com/wp-content/uploads/2017/08/Jest-Cafe-about-design.jpg
Mila
2016-10-14 10:15:18
2016-10-18 09:45:55
How To Make A Halloween Wreath