It was Max's birthday last week. He turned 2! I love this age, but, before I start bragging about how cute and adorable Max is, I would like to talk about his birthday party.
This year, I did not feel like inviting a lot of people. I do host a lot of dinner parties throughout the year but, this time, my Chilean family happened to be here, including my 2 nephews, so I decided to invite only three other children and their families, nobody else. Also, I was feeling lazy. I wanted to enjoy the party and not having to work all the time; because Max is not what you call an independent thinker yet, I am still allowed to make this kind of decision.
Even though the guest list was small, I wanted to do a couple of cute things for Max's birthday. I decided to put more effort into the cake and some of the decorations. Before writing any longer, I will come clean as very non-talented DIY person. I wish I were good. I wish I had talent in this department, but I don't. My DIY projects always involve George (husband) doing the work, and me sipping a Margarita next to him with approving and loving eyes.
So, from the POV of an inept crafter and a Martha Stewart wanna be, I would like to share with you Max's cake and the confetti balloons DIY project.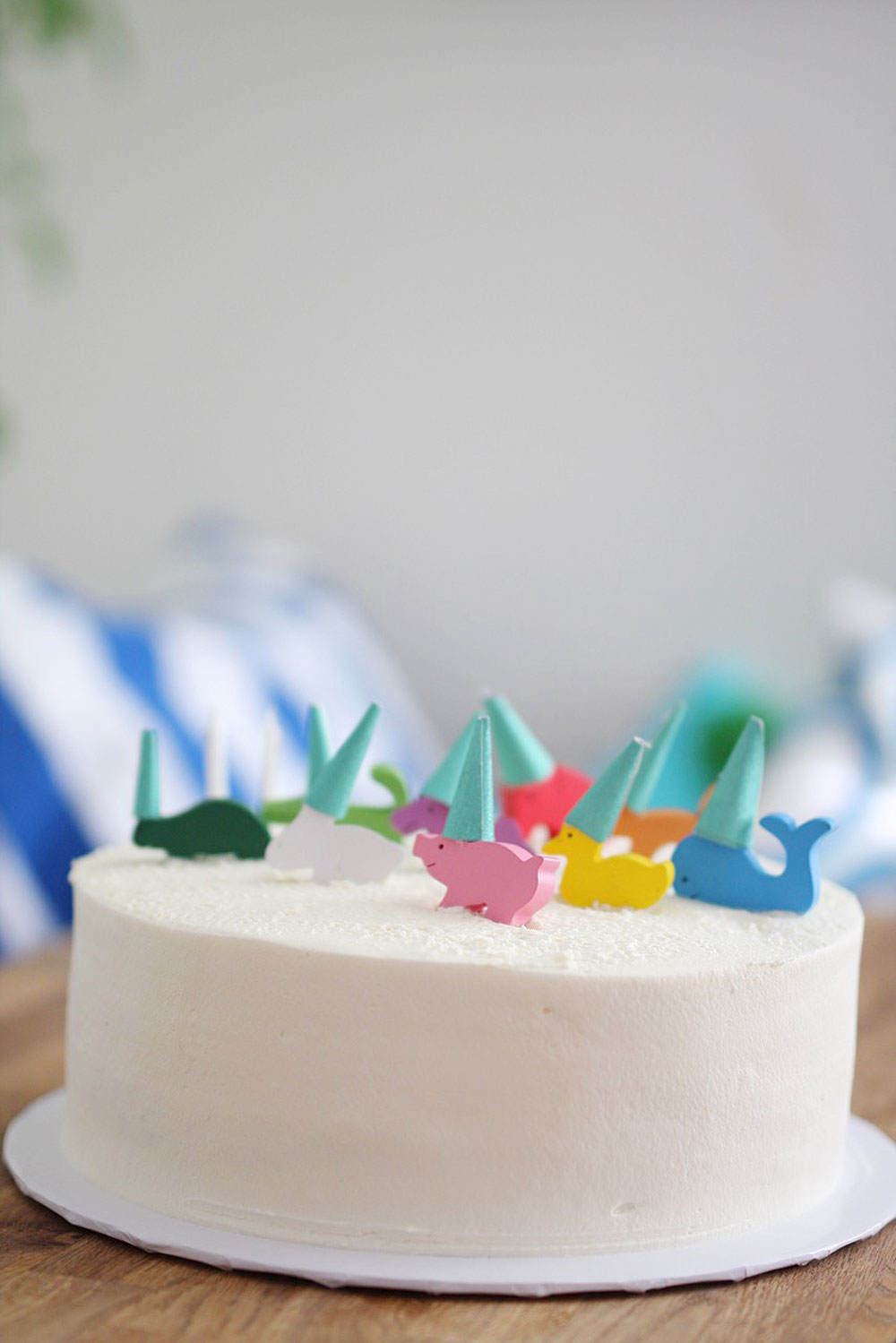 Here was my inspiration for Max's cake, from Bleubird Blog.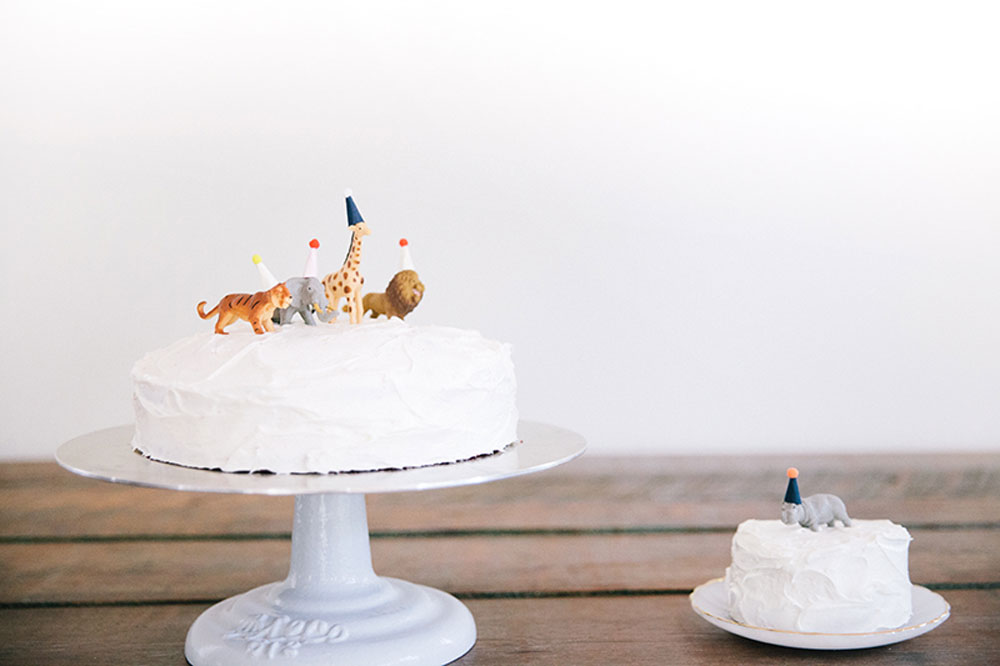 I liked this cake a lot, but, for Max's, I wanted more color, so I used some wooden animals that Víctor has from a memory game set he got last year for Christmas. I have always loved the colors of these animals, and I also love turquoise, so I decided to make them turquoise birthday hats. Now, if you think making these little hats was easy peachy, think again. As I told you, I am horrible at doing DIY tasks, so I started folding the hats from the bottom up which produced no-results. I had to discard 5 hats before George came to my rescue, once again, and showed me that I should be folding the hats from the top down. Simple and obvious in hindsight… sometimes I think my brains are out of my skull.
I used a glue gun to glue the hat to the animals, which I then left on for 2 hours at maximum heat and end up burning the glue inside the gun. FAIL!
For the hats' shapes, I found a template here. You need to cut this shape to be able to get the cone right.
Overall, I am happy with the results of the cake. I think it looks cute. What do you think?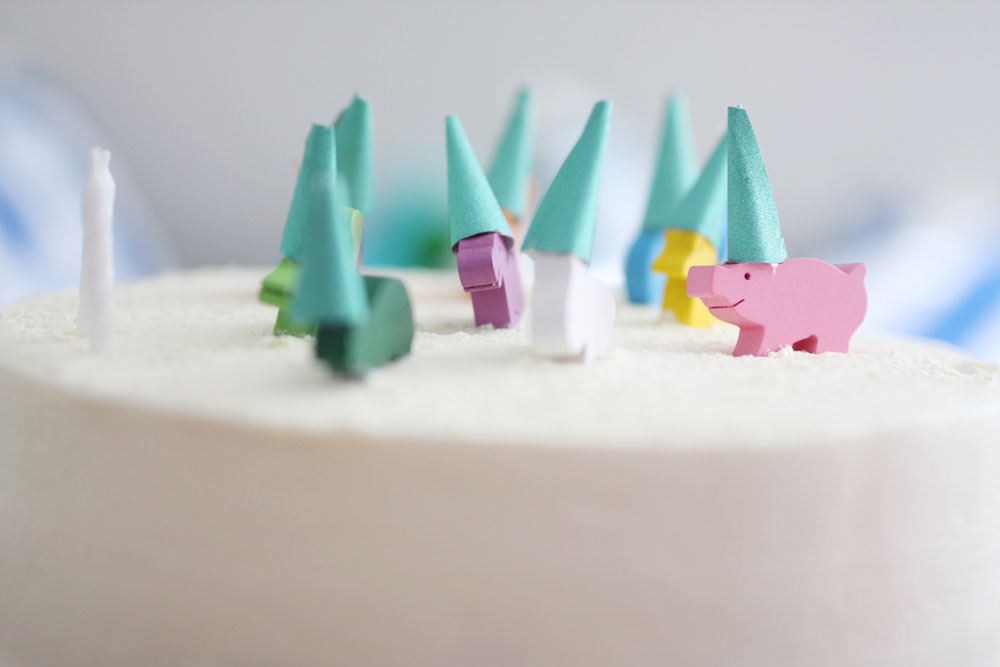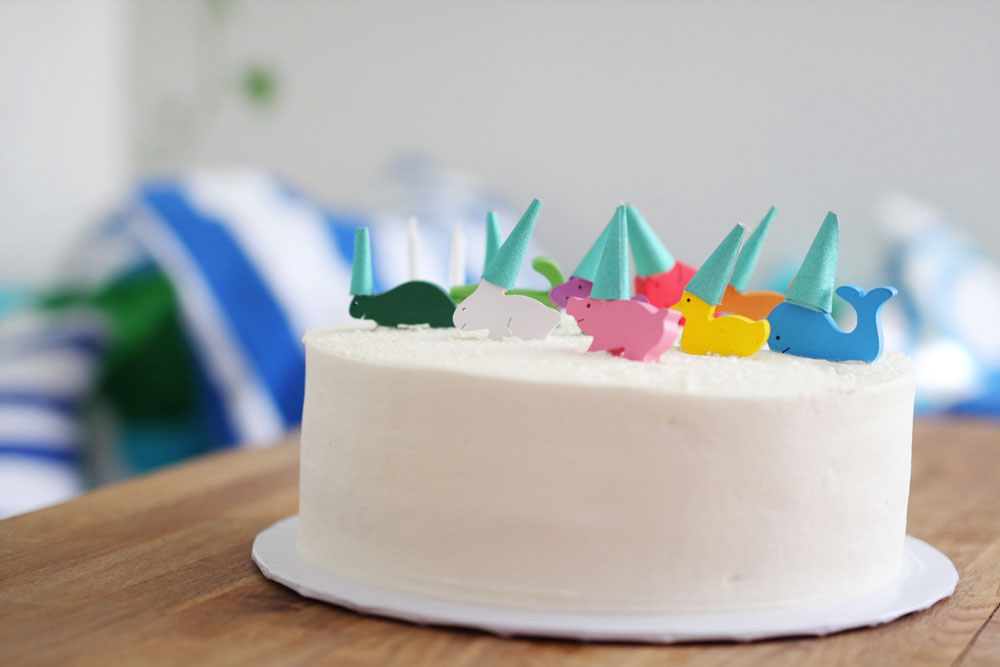 Balloons with confetti inside are expensive (here are the ones I wanted to get), that is why I decided to do them myself. If you want to do this project, just know that you will need another person (in this case, my sister) helping you to fill up the balloons. Placing the confetti inside the balloons is NOT a small task; it takes forever. You need two hands opening the balloon, while another hand places the confetti inside, while another one cleans all the confetti that falls on the floor and in various cracks around your house. You will have confetti lingering in your life for weeks after the birthday party, and you should be OK with that.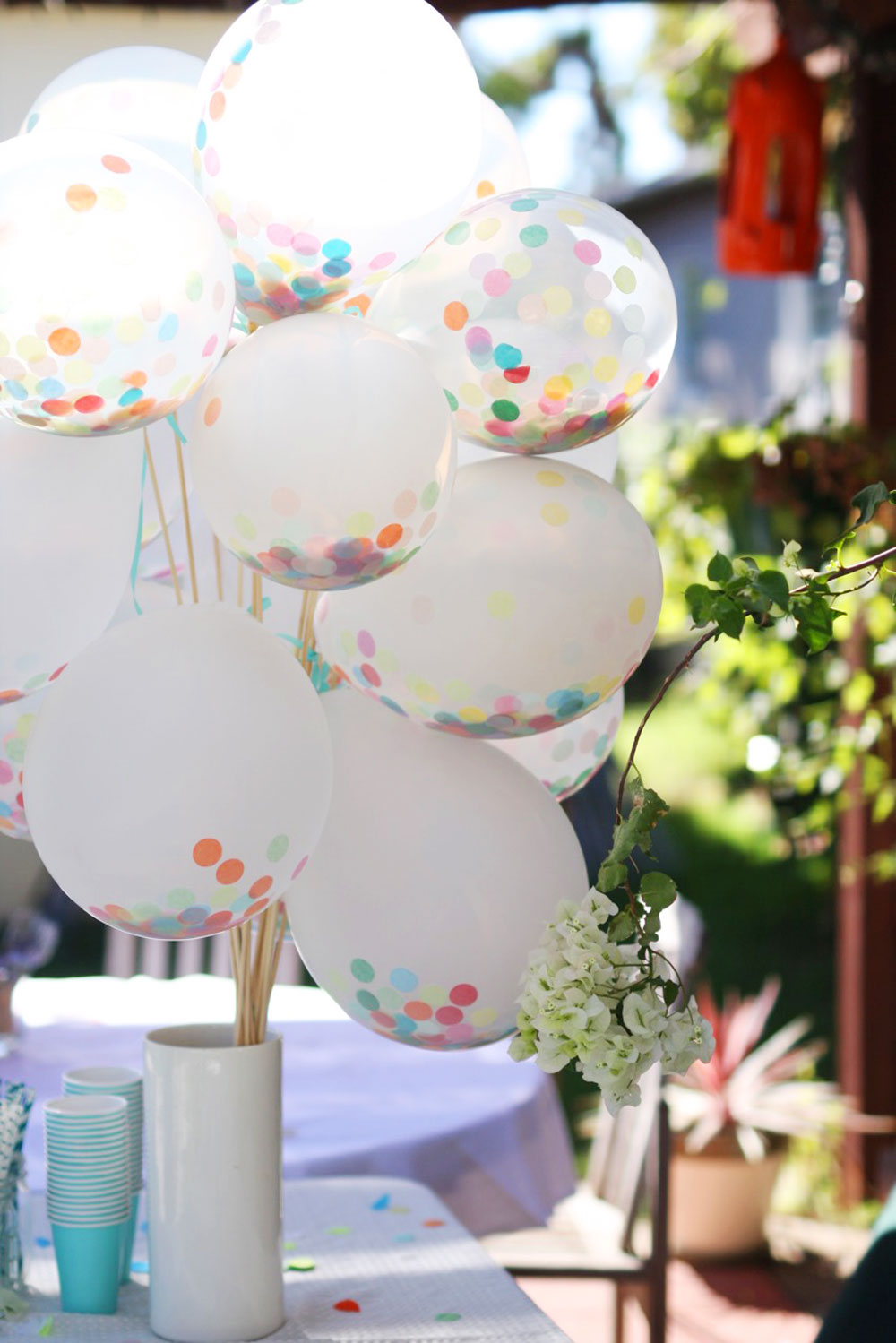 I bought long wooden sticks and turquoise ribbon at Michael's. The ribbon helped harmonizing the arrangement.
Once my dad started blowing up the balloons (yes, I like to put an 84 years old to good use), I realized that the confetti was not spreading around the balloon when inflated; on the contrary, the confetti stayed at the bottom of the balloon and did not look good. That is when my sister had the brilliant idea of filling up the balloons with helium. This saved my dad's life, and made the confetti spread out around the balloon, which looked beautiful.
My overall assessment of this DIY task is not good. True, the result was cute, but, who has 3 hours to spare doing this (I told you I had no talent!)? The amount of work you need to do to get this done is not worth the money you are saving. Next time, I will buy all these balloons already done.
I bought the confetti here and the balloons here.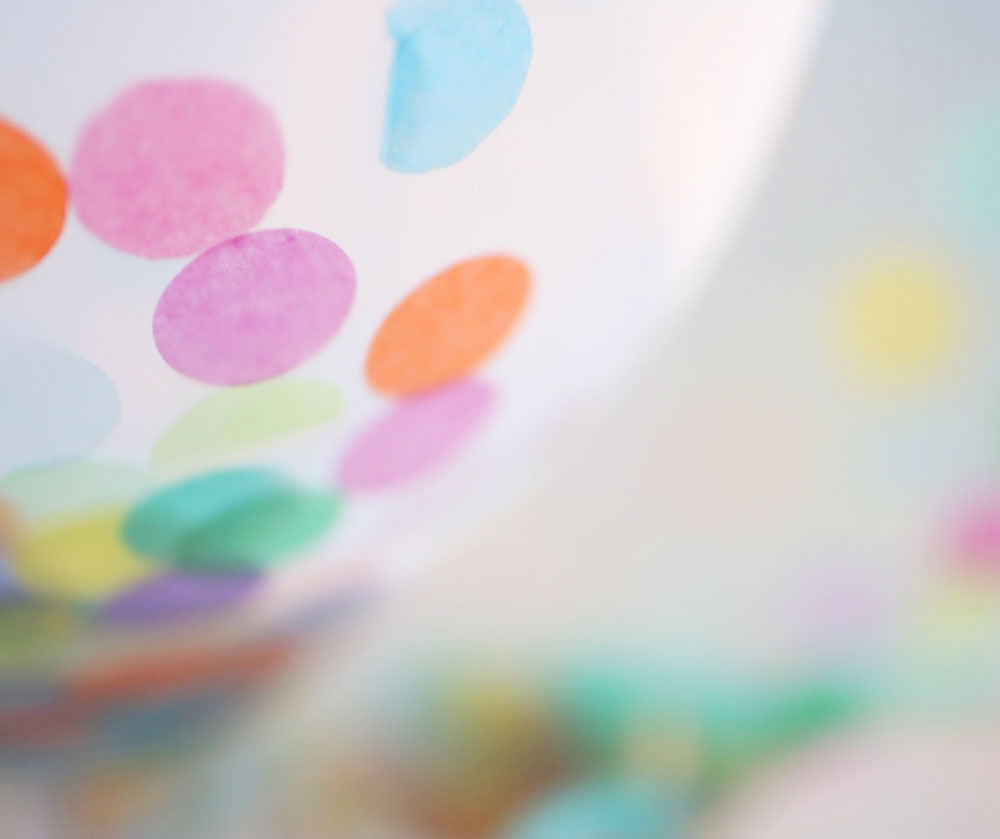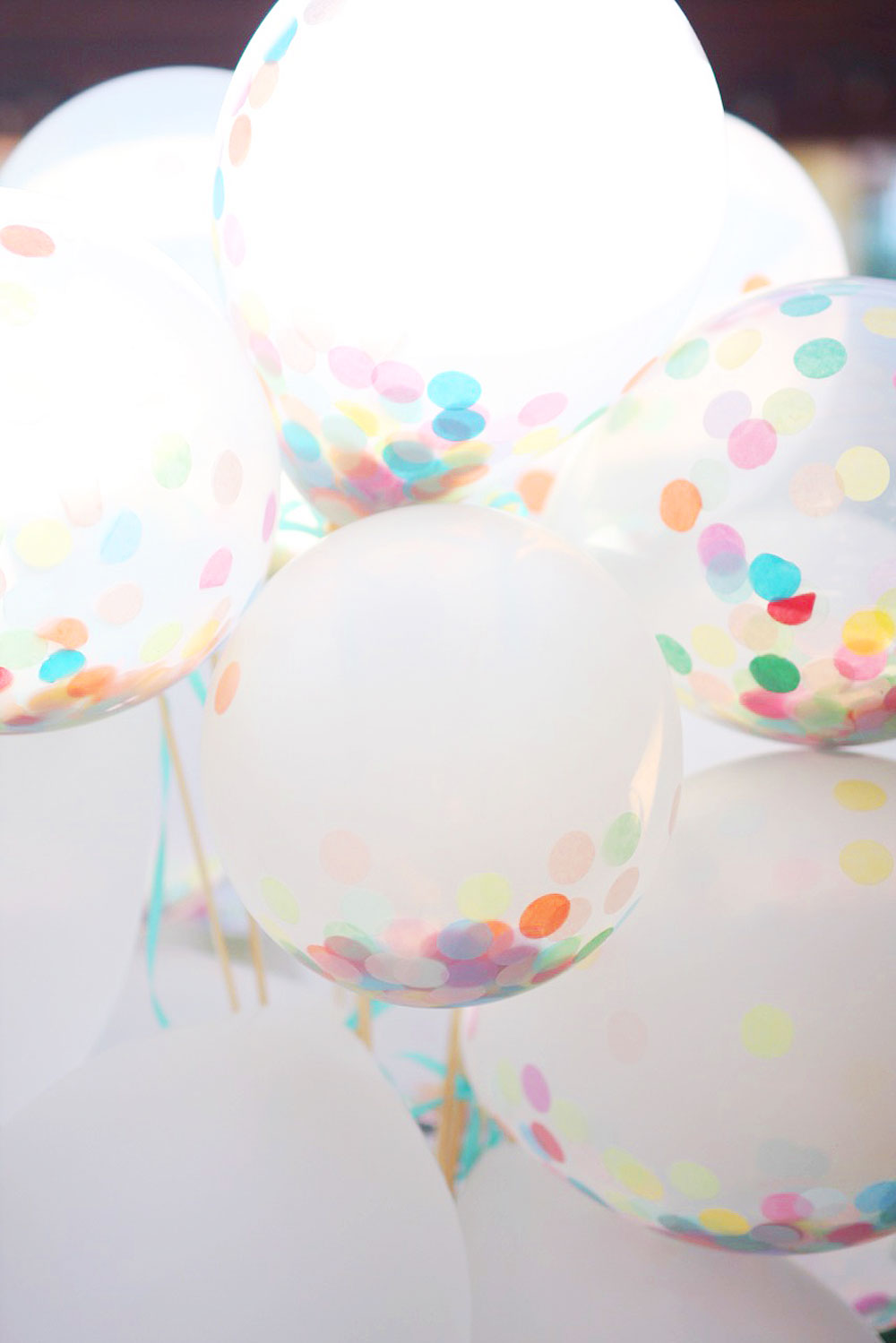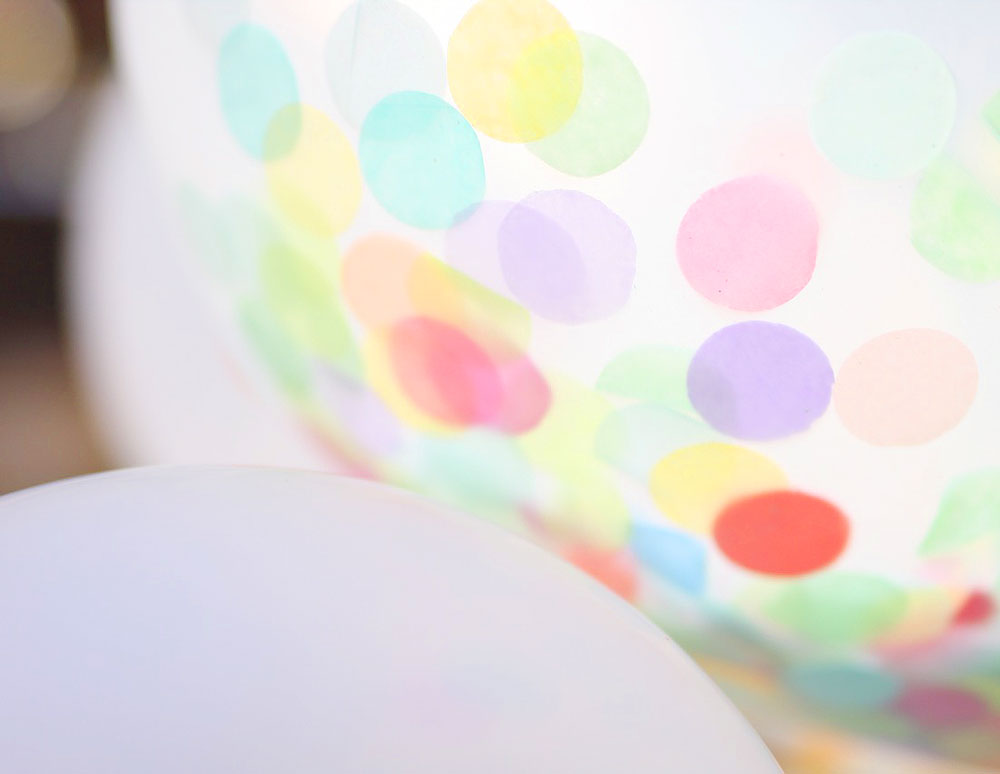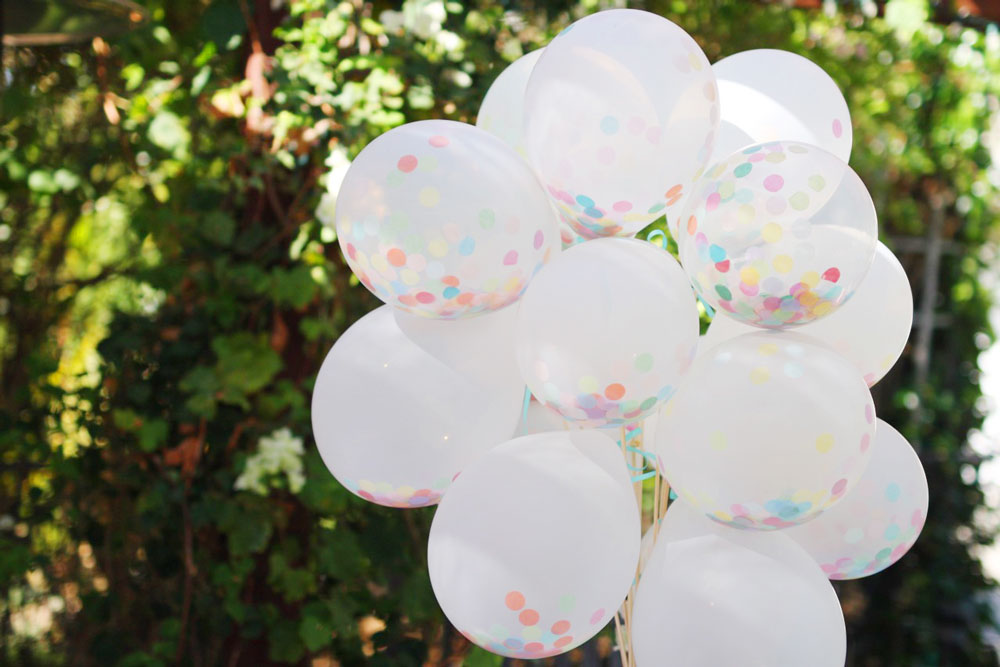 https://jestcafe.com/wp-content/uploads/2015/10/jestcafe.com-Birthday-cake.jpg
400
1000
Mila
https://jestcafe.com/wp-content/uploads/2017/08/Jest-Cafe-about-design.jpg
Mila
2015-10-19 21:45:11
2015-10-19 22:02:12
Max's Birthday Cake And Balloons