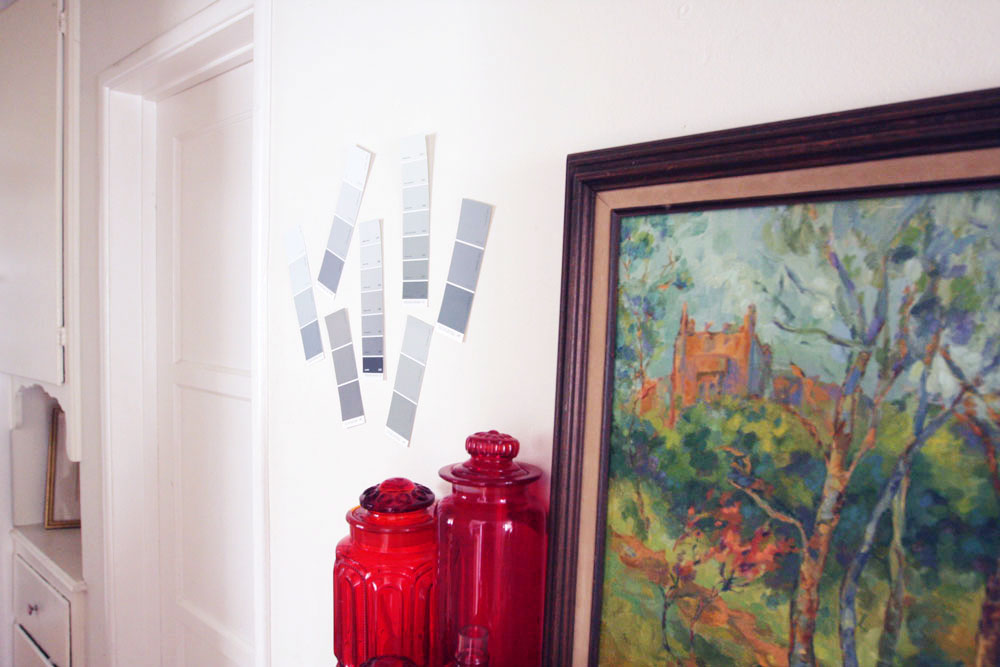 There are so many DIY bloggers that give instructions on "effortless" projects that seem to be so easy and simple to follow, or, so it seems when you are reading about them on the Internet. Replicating them, though, is a different story. For us, mere mortals with limited talent, these projects can be much more difficult than what they seemed initially.
One of my favorite design/DIY bloggers is Jenny Komenda, from Little Green Notebook. She is insanely talented and handles projects like they are nobody's business. To give you an idea, look at this project she did on a weekend with her parents, and be prepared to "fall right out of your pants" (this is Victor's favorite phrase lately).
Well, in my search to update some rooms of my house, I decided to paint our hallway a dark gray, so I went to Jenny's for advice on painting walls, and found this post of hers.  After reading it, I decided to follow her instructions and start a series for this blog called "do it like a blogger,"  where I try to replicate DIY bloggers' projects to see if I am able to pull them off.
Here are the steps to paint your wall, per Jenny.
Step 1: Pick Your Swatches
Her first advice is to find a picture to use as inspiration for the color and space. Here is mine: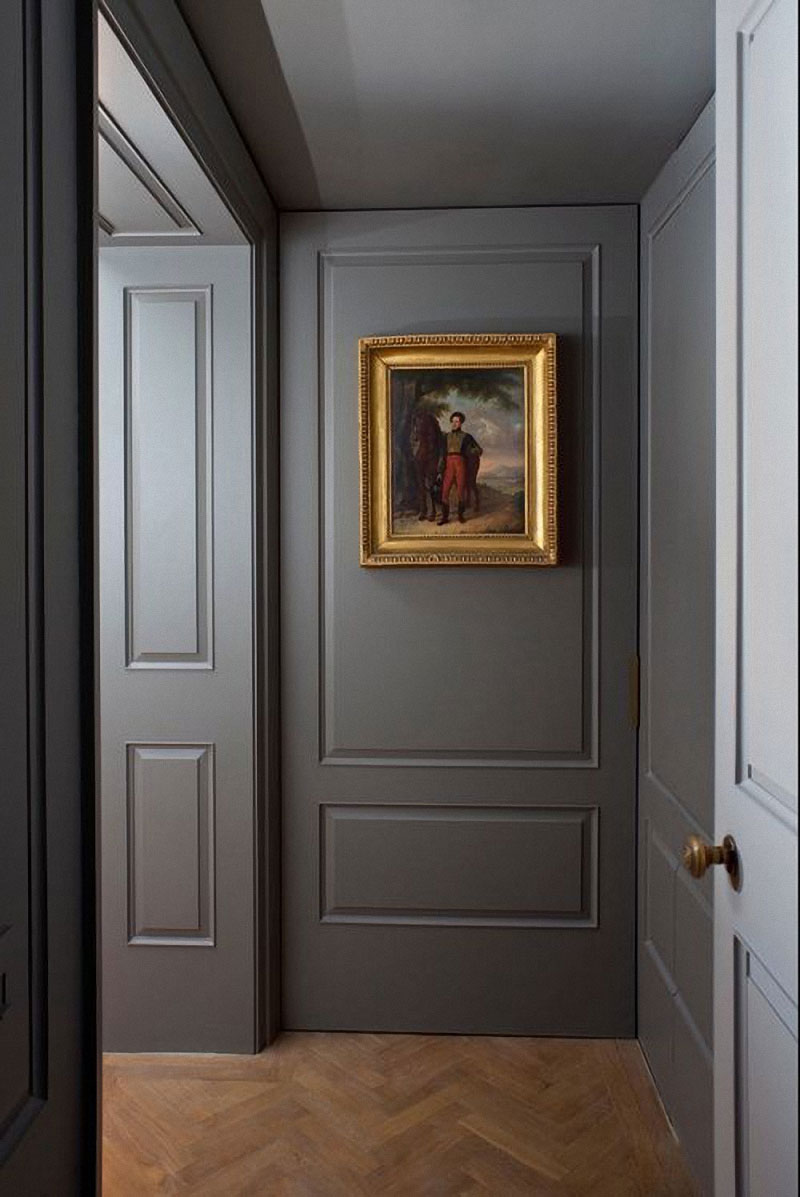 Here is my hallway before painting it: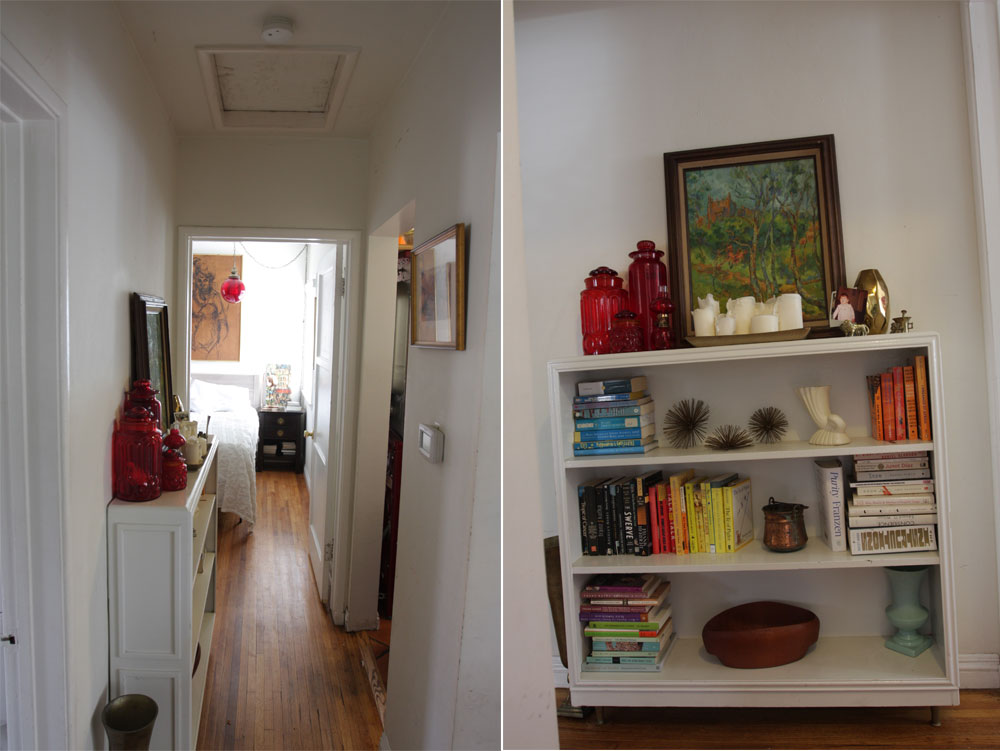 As you can see, it needed at little life. My next step was to pick the swatches. If you follow my blog, you know that I already had a bad encounter with choosing a gray color a couple of months ago (though, I have to say, I am liking the exterior of my house more and more as time goes by).  For that project, I had 36 hours to choose a color, so,this time,  I gave myself plenty of time to choose the right grey. No need to hurry.
I decided to choose Benjamin Moore's swatches. All bloggers I follow love this brand, and I wanted to know the reason why. Here are the swatches I chose under different types of light: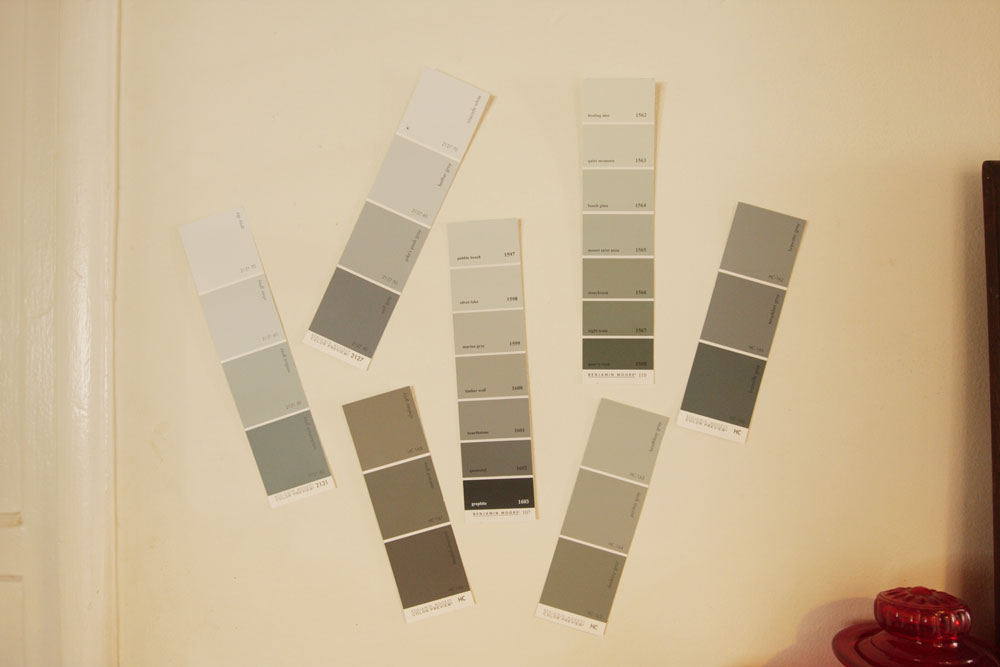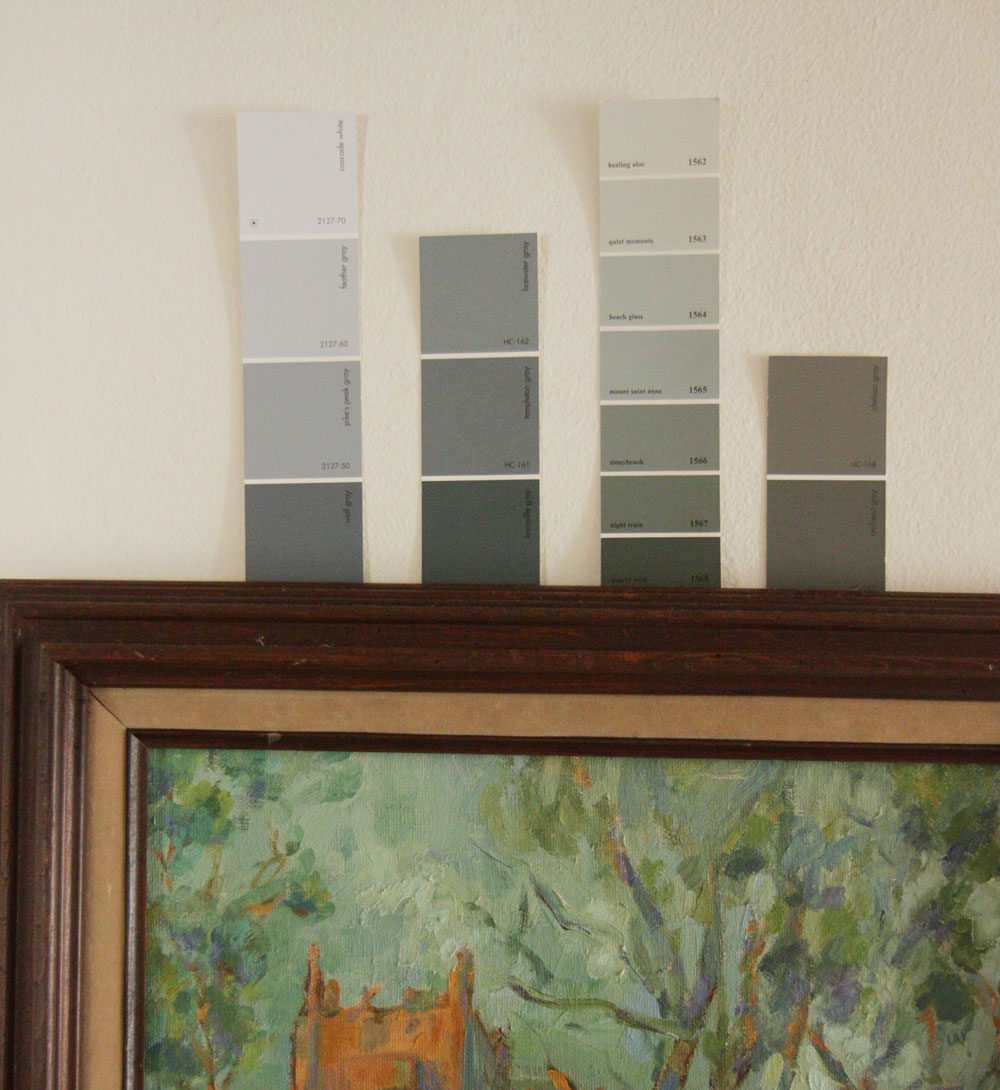 Here are the final contenders:

Brewster Gray – Benjamin Moore

Stonybrook – Benjamin Moore

The Quarry Rock was my favorite, but it was too dark, so I went to get samples of the Brewster Gray and Stonybrook, plus the Quarry Rock in a base 2 (for lighter colors), and another Quarry Rock with 50% less saturation. Did I learn my lesson or what?
As a side note, colors come in base 1 through base 4. Light colors are mixed in base 1 or 2 while darker colors are mixed in base 3 or 4. This means that, if you have a dark color mixed in a base 1 or 2, the color will come out much lighter.
Step 2: Paint Sample Boards
I painted the samples directly to the wall instead of using sample boards because the wall was white, so I could get a true color.
Here are the samples from top to bottom: 1) Brewster Gray; 2) Stonybrook; 3) Quarry Rock in base 2; and, 4) Quarry Rock with -50% saturation: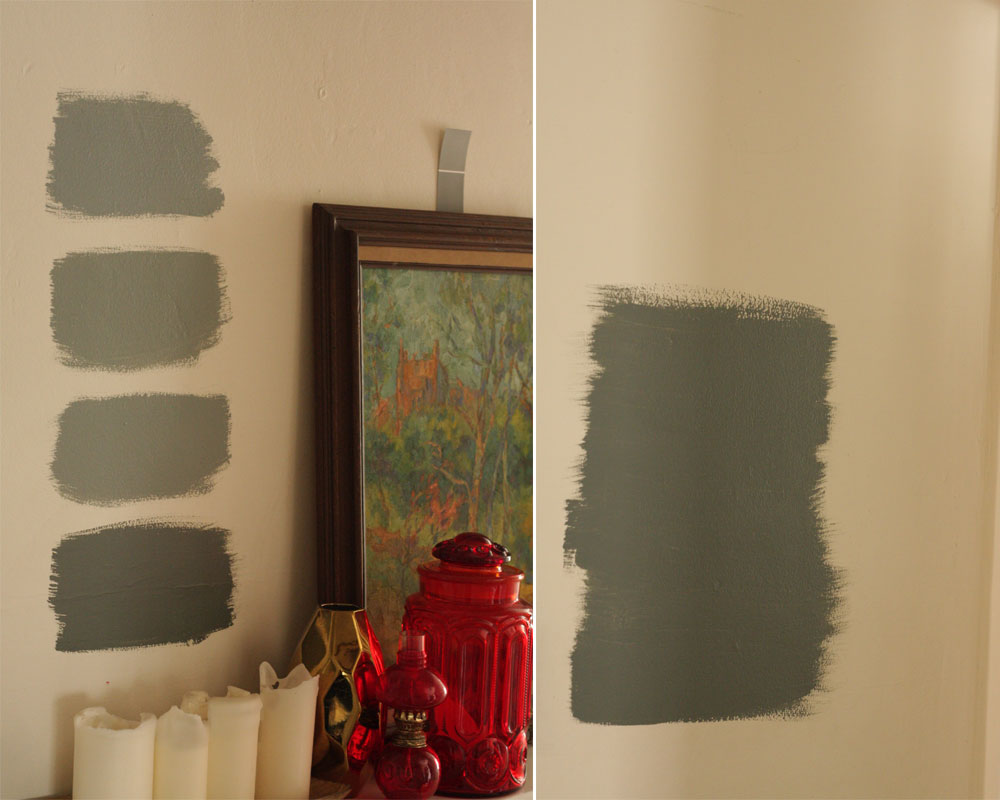 I loved the Quarry Rock with -50%  saturation (the darker one at the bottom and the one in the left picture). Here is that color on another wall under a different light: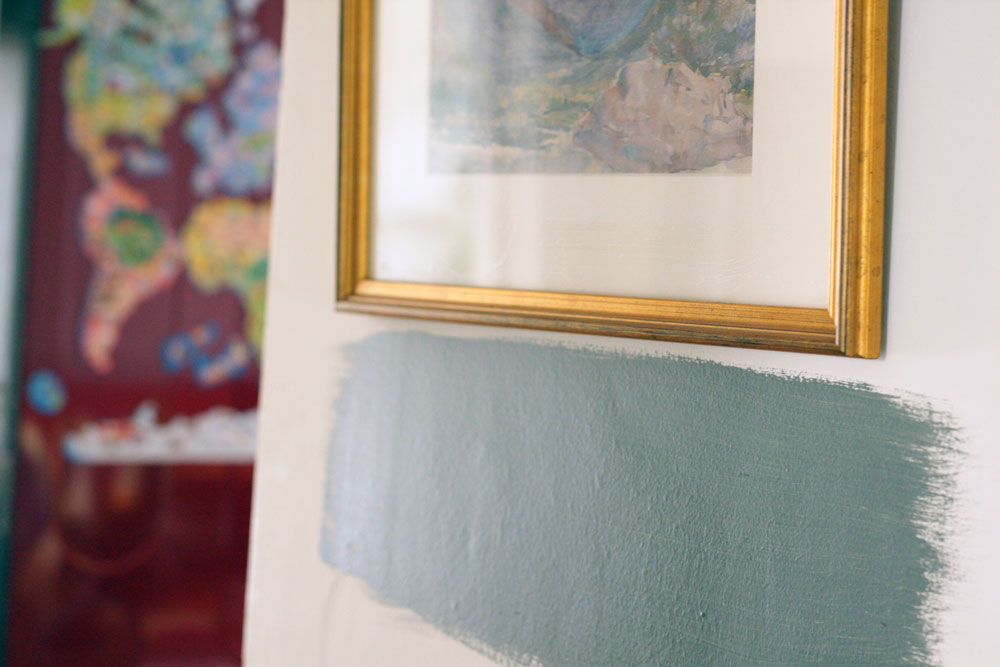 I bought a gallon of Quarry Rock (-50%)  in eggshell finish. You need approximately a quart per 100 sq feet of surface.
Step 3: Gather Your Supplies
I did not gather as many supplies as Jenny recommends. For me, these ones were enough:
Roller + 1/2″ Nap Length Foam Roller Cover
Blue Scotch Tape
2 Step Stool (I am tall, so a 2 step stool was enough to reach the ceiling)
1.5 Angled Purdy Brush
5-1 tool
Baby wipes (THE BEST!!!!)
Drop cloth
I didn't do any nail or trim fixes, so, I didn't need materials for that.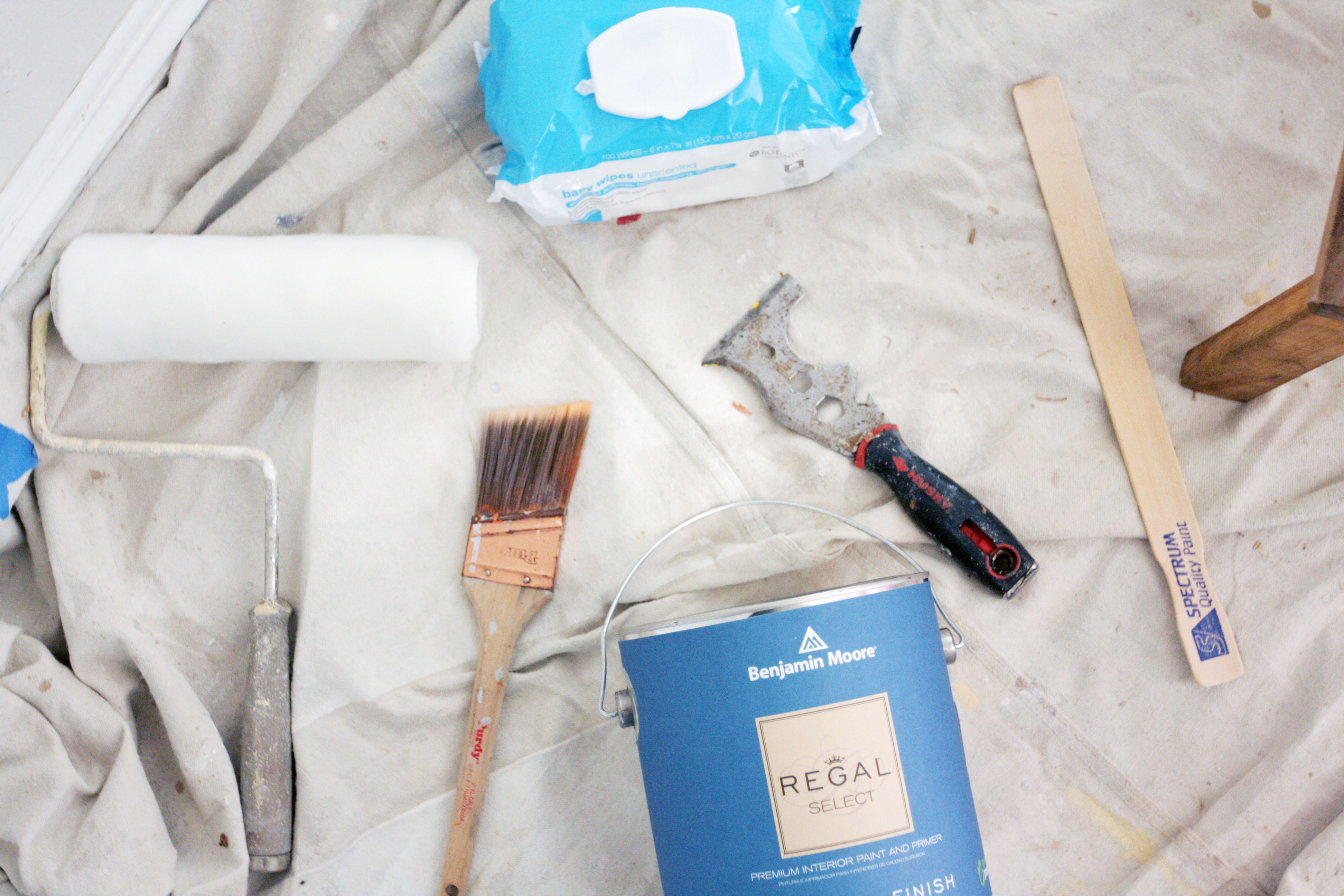 Step 4: Prep Your Walls
I cleaned the trim and used blue tape on some places.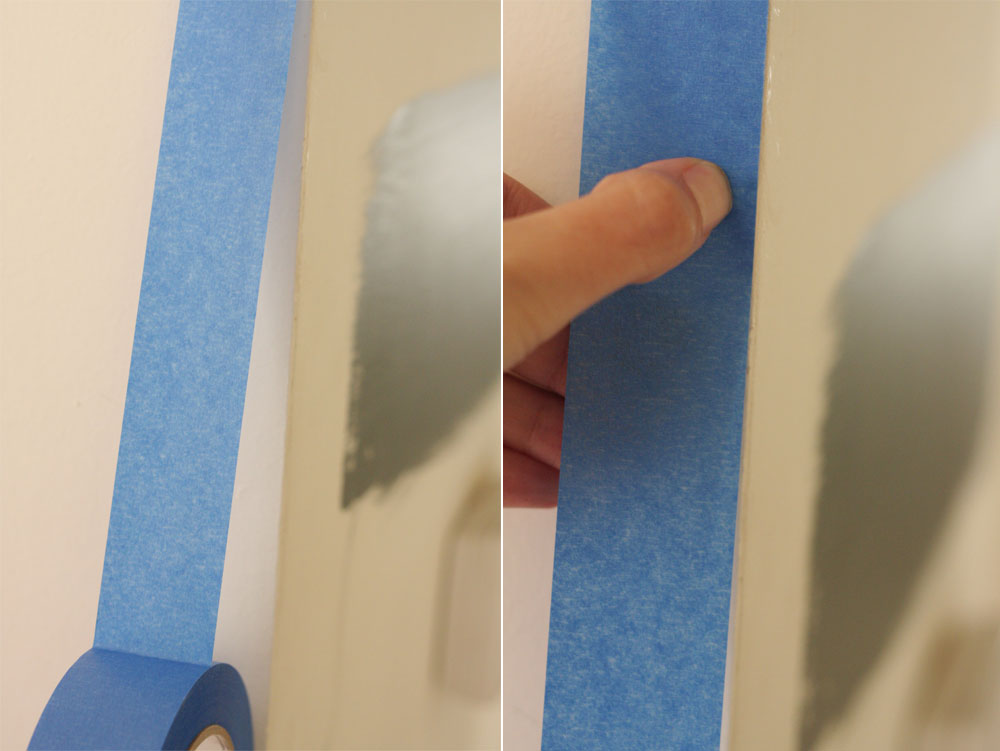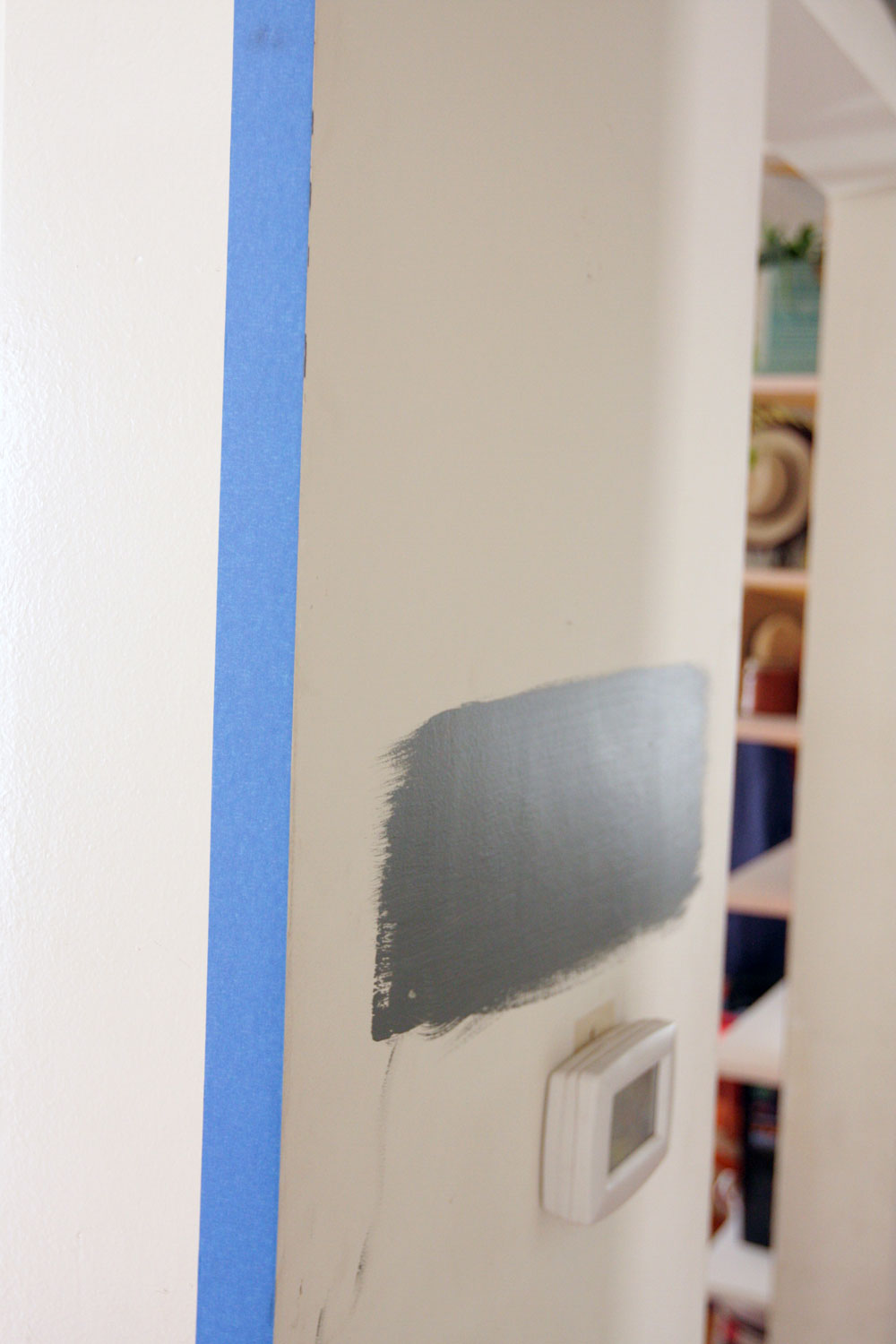 Step 5: Paint Trim
My local paint shop didn't have paint shield to help me with the trims, so, they convinced me to go ahead and paint the trim by hand without tape or shield. I decided to take the challenge. I am here to learn, ain't I?
Here is a practice run to see how steady my hand I was. The line is kind of straight, but not great.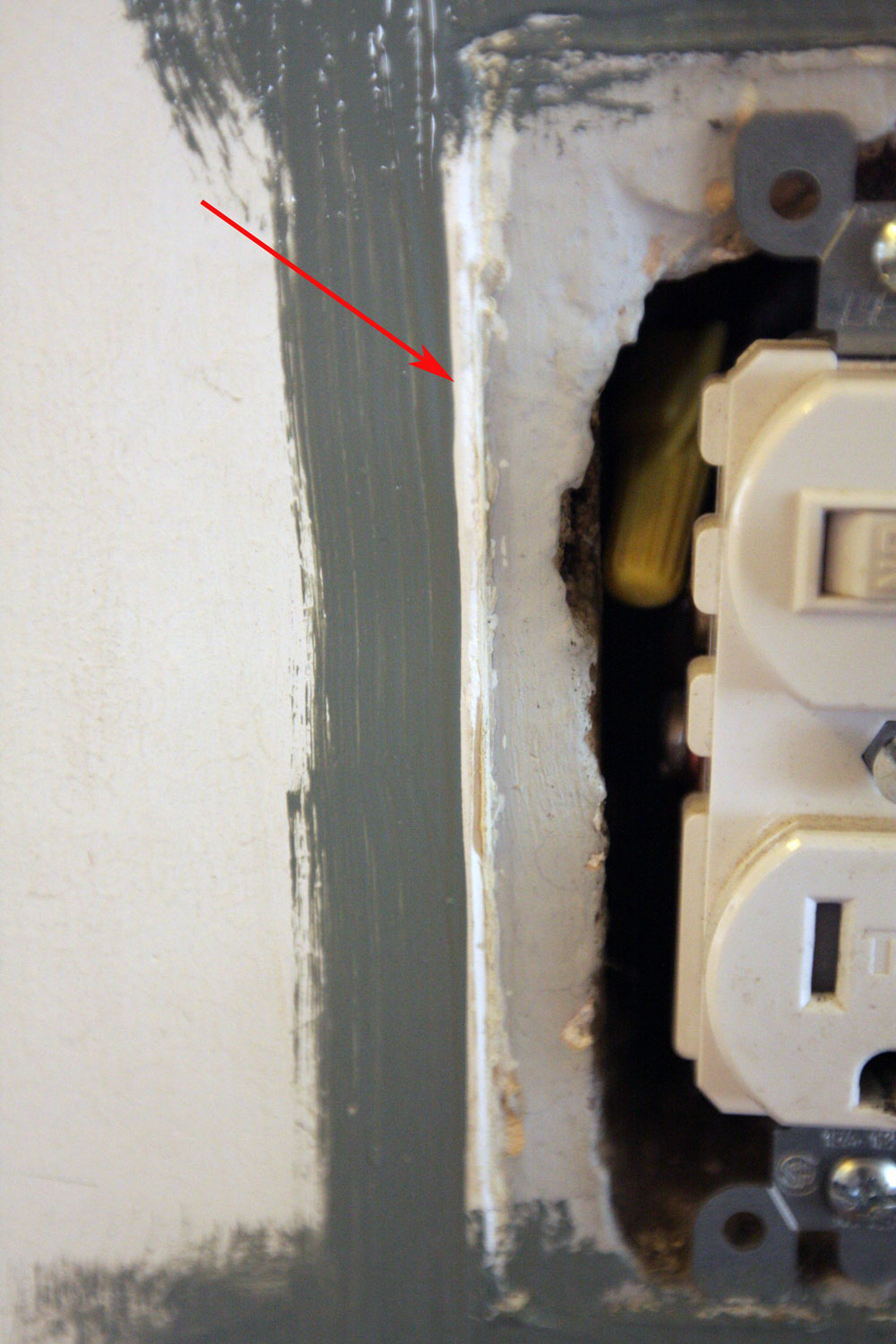 Even thought I wasn't able to do a straight line, I went ahead and painted the trim by hand. Am I a hero or what!?  I did it with the shorter part of the brush on the bottom, and the longer on top. Then, I just drew a line straight down next to the trim. It was HARD!!!! Here is a picture: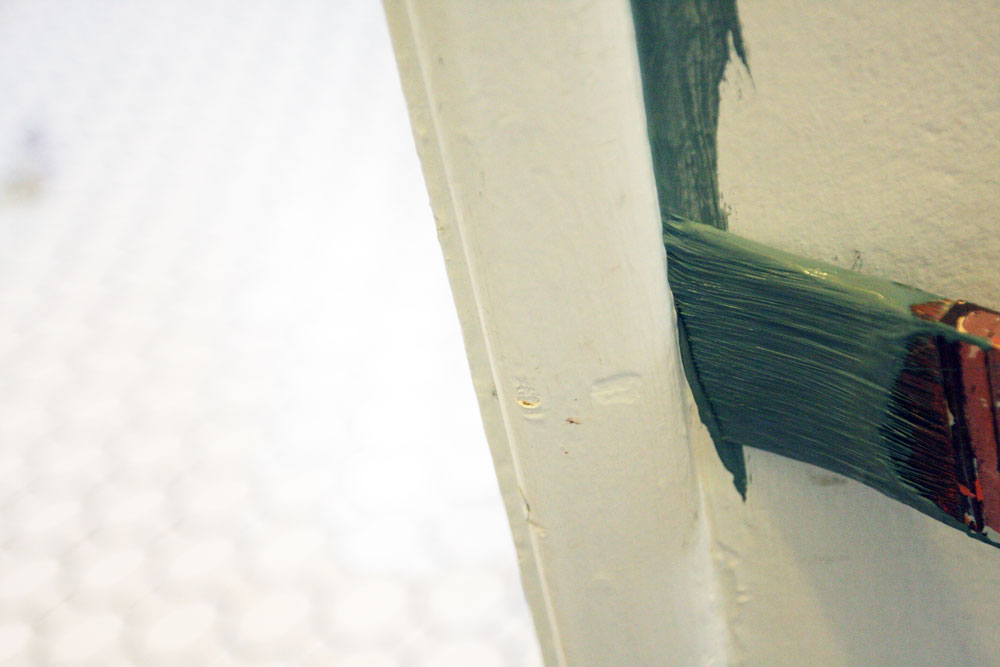 Then I painted the corners that had blue tape, but I forgot to take out the blue tape right after painting.  In her post, Jenny recommends to do this as soon as you are done with painting, but I forgot. By the time I took out the blue tape, the paint had bleed into the other side of the wall. Argh!! Luckily, I had those baby wipes to clean off the paint. They worked!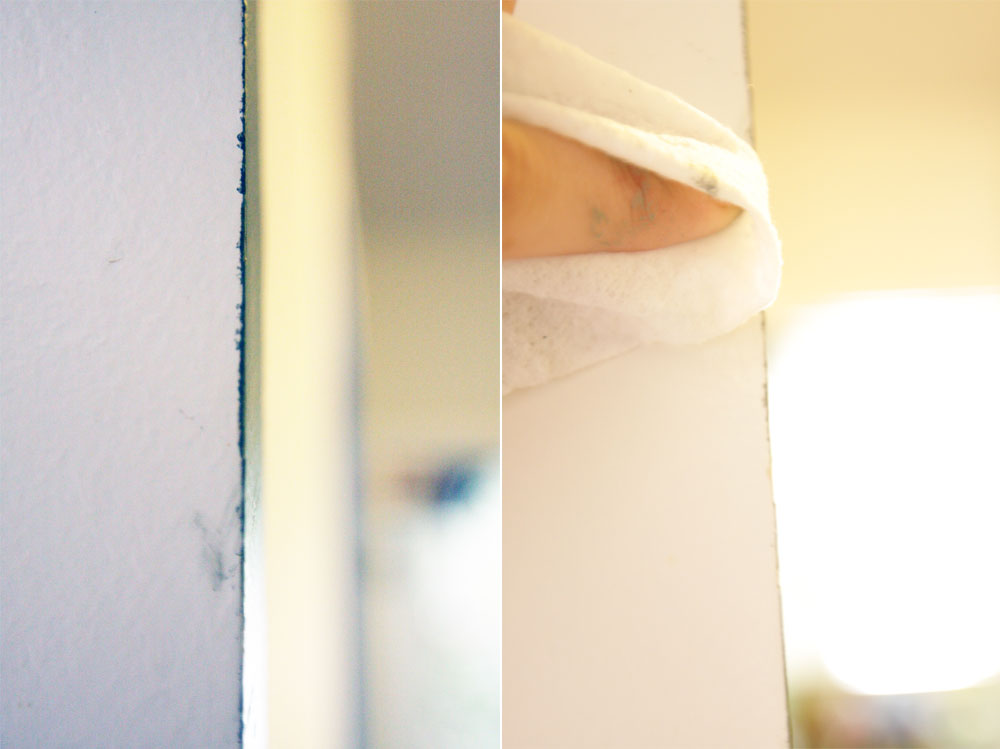 Here is the result after cleaning. Pretty good, indeed: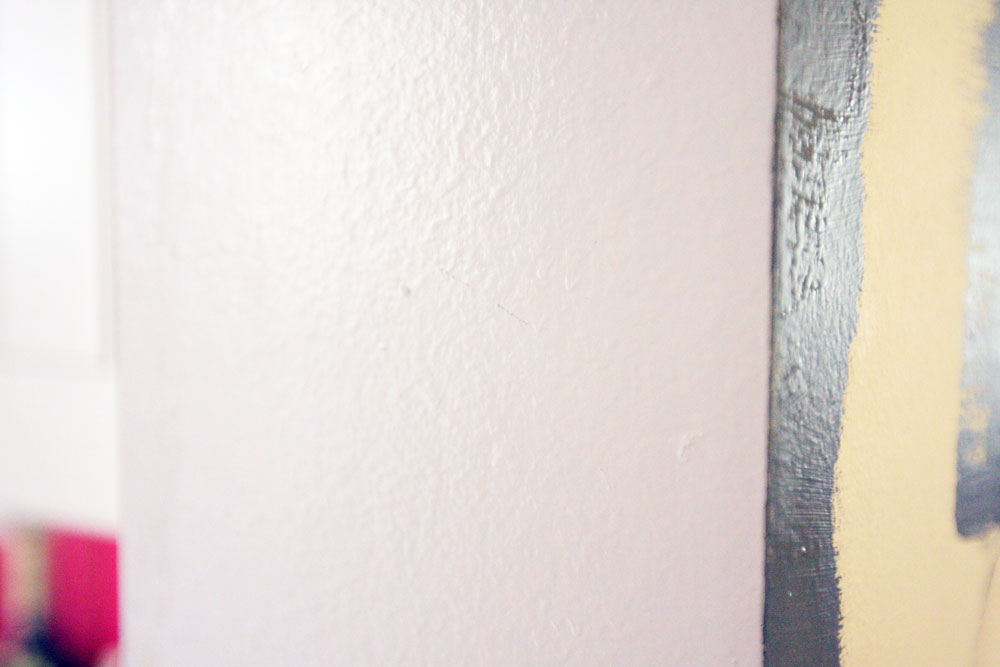 Prepping the walls took me 3 hours. It was SO hard, because I painted the trims by hand and I am no expert. I do not recommend doing this, unless you have experience or have the time to practice. Here are the prepped walls: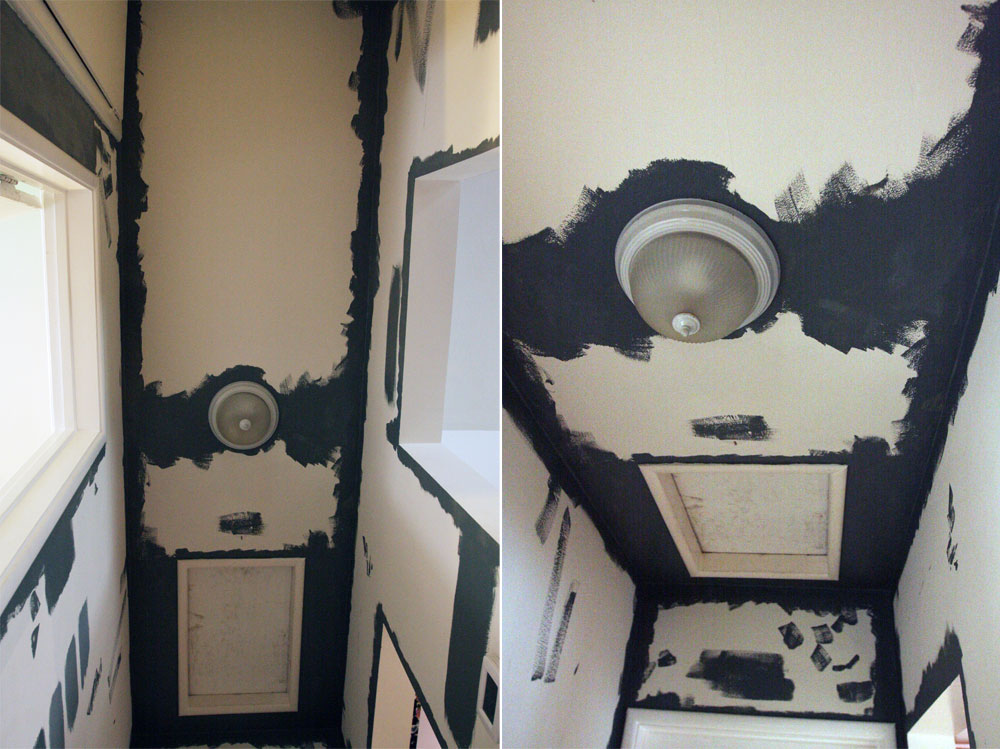 Step 6: Roll On Paint
This is the fastest task. Ms. Komenda recommends loading  "your roller, then starting at the ceiling and working your way to the floor, paint a 3×3′ "W" and then fill in the in between also at an angle." I tried following this technique but it did not work for me.  I didn't understand the "W" instructions very well and my wall wasn't big enough to do it. I get that this technique helps getting an even coat, but I was able to get the same result by not painting double layers. Here is my "W":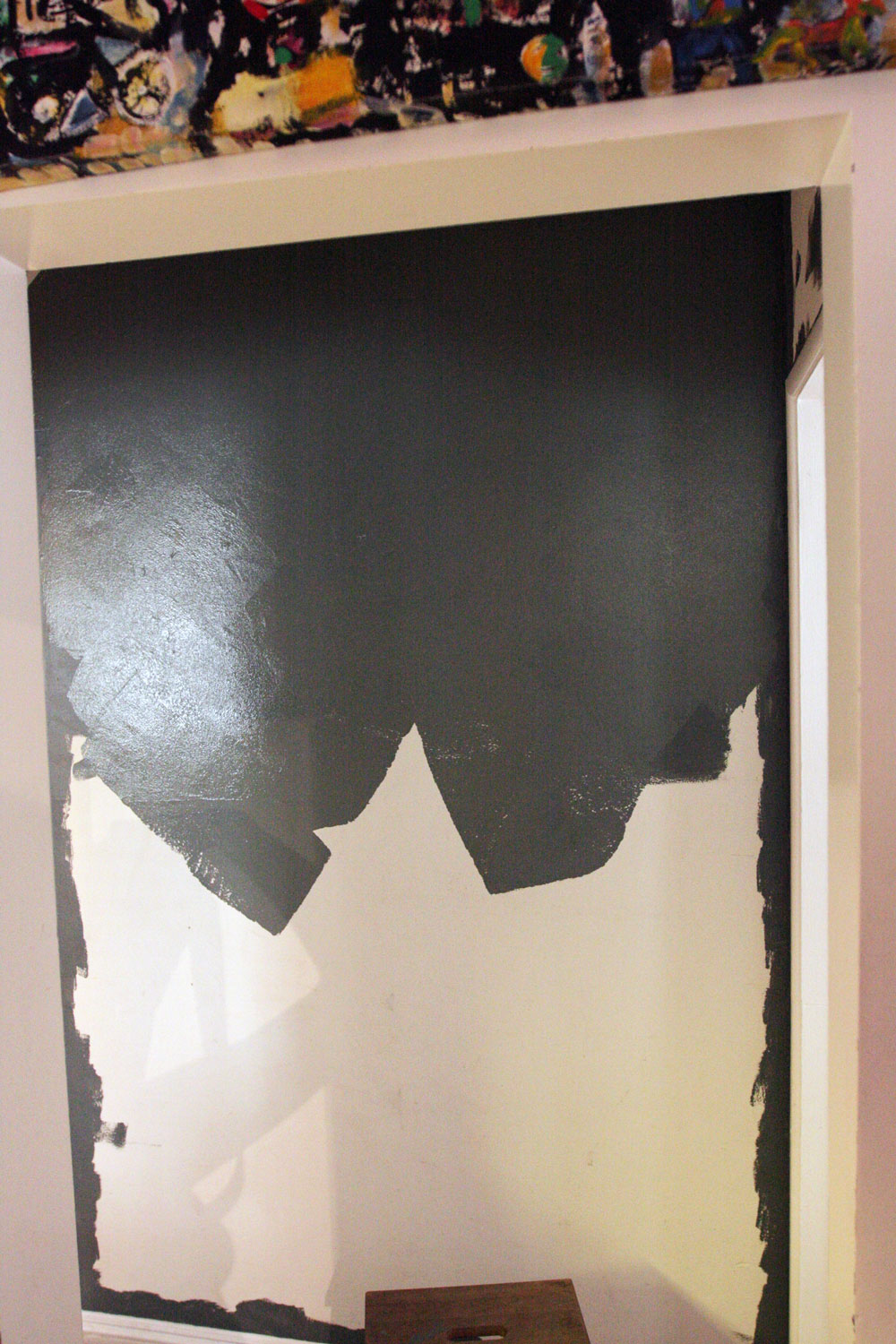 I only applied one coat of paint. The color was dark enough so I didn't need two coats. Also, Benjamin Moore is a high quality brand of paint. It is thick and covers the wall very well. It doesn't drip easily and I am very happy I used it instead of other brands. I highly recommend it.
Step 8: Clean Up
Boring! But, necessary.
Here are the before and after pictures of my hallway: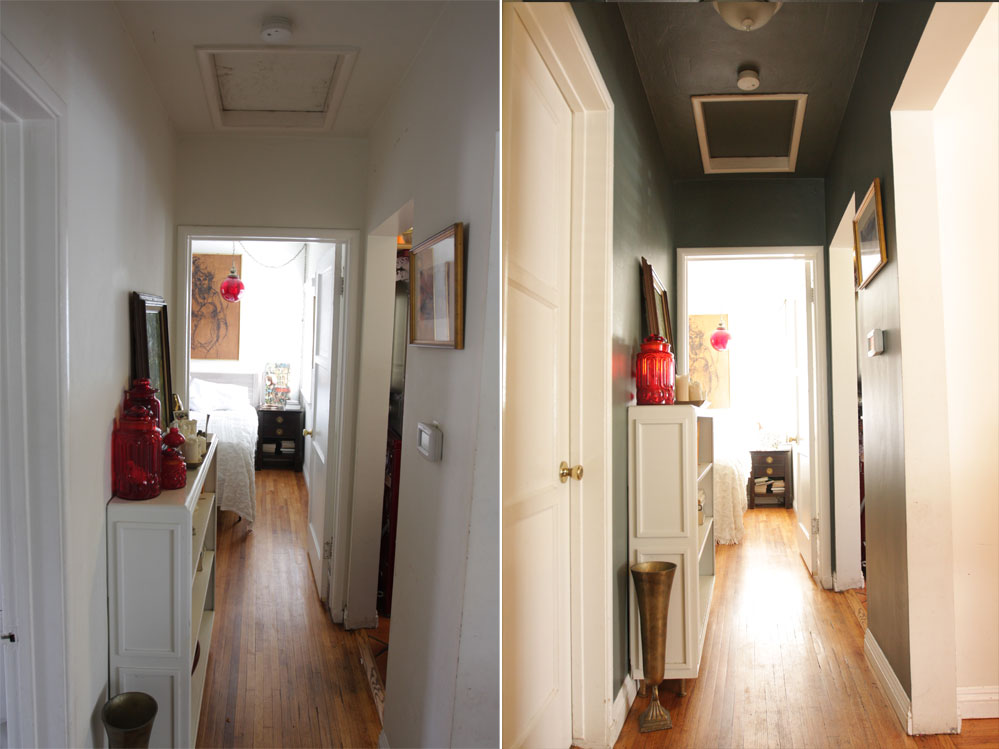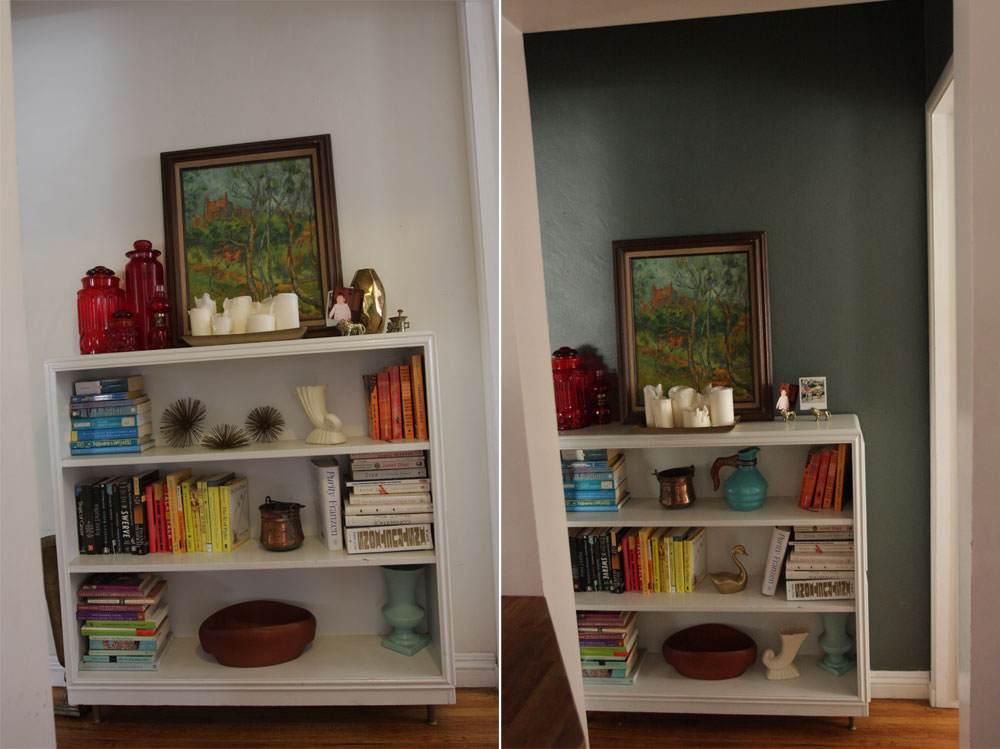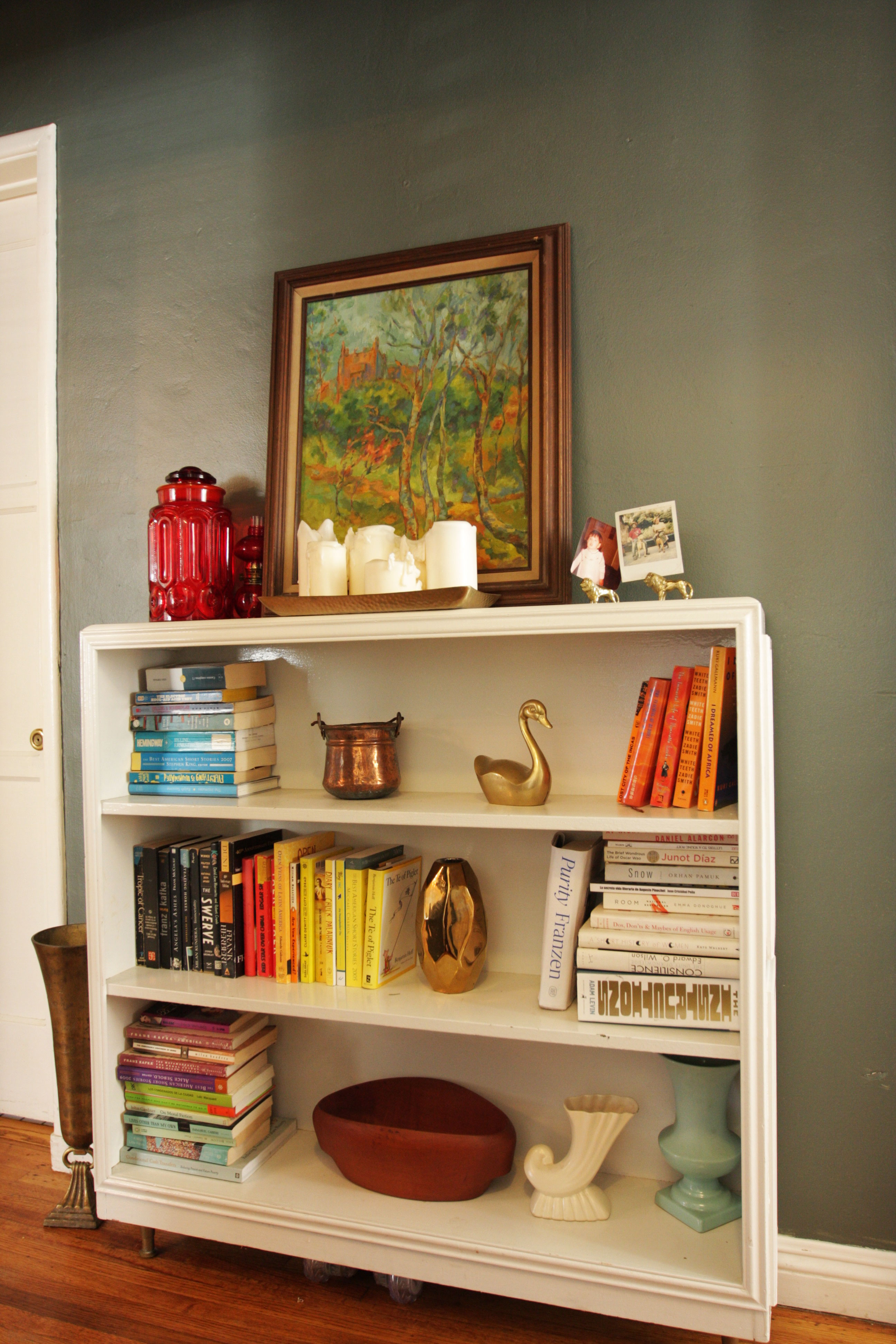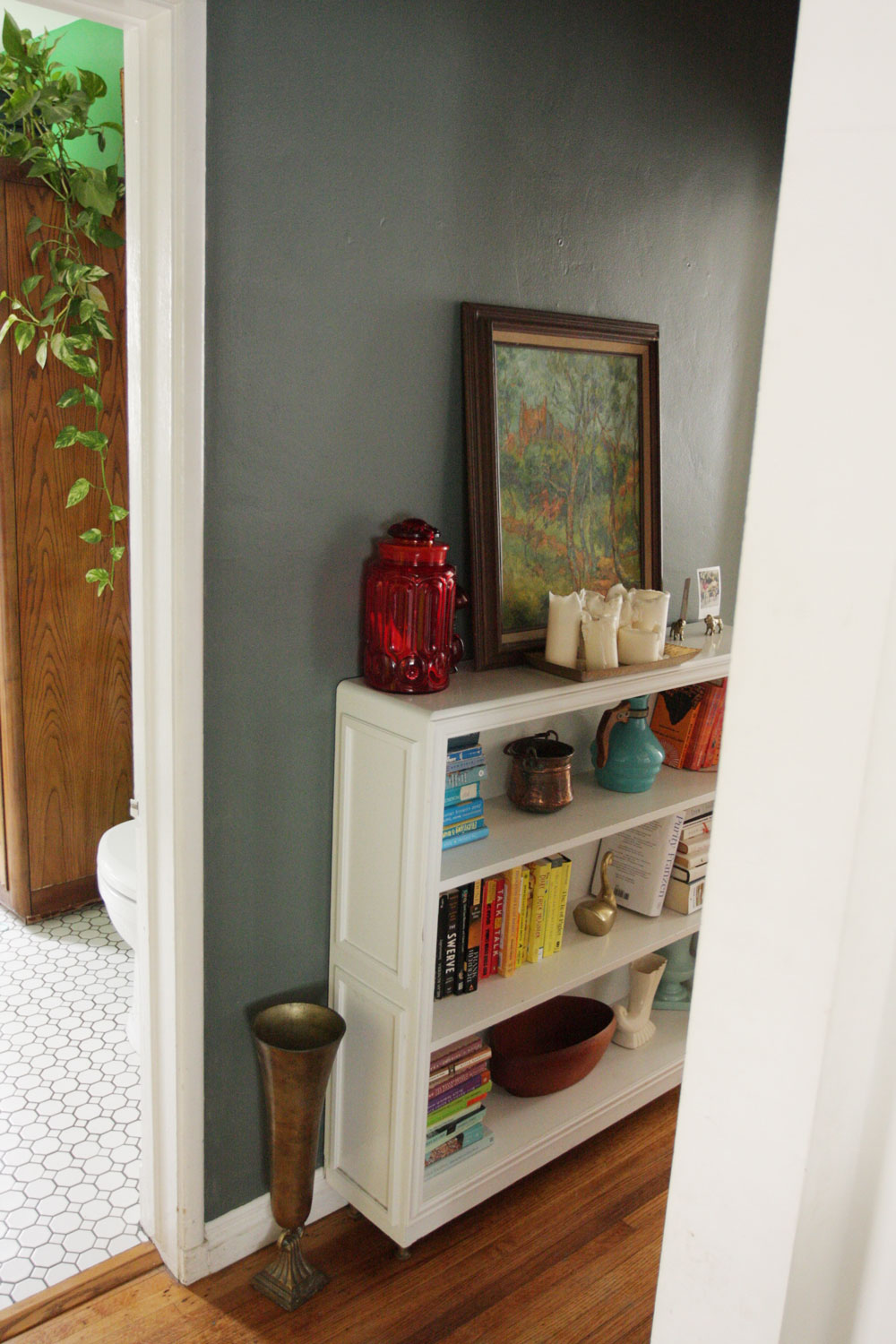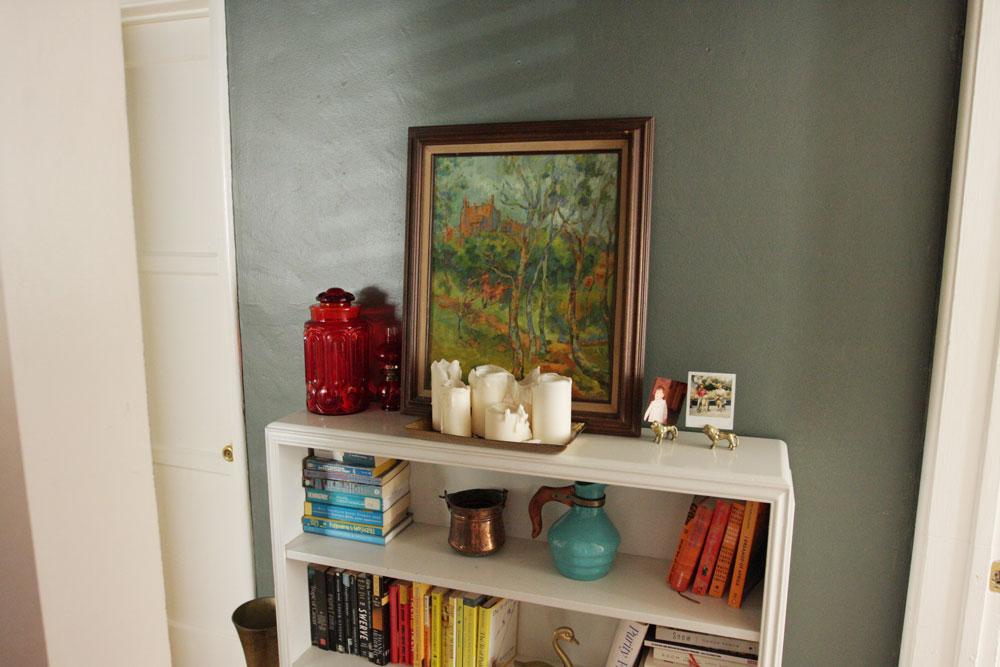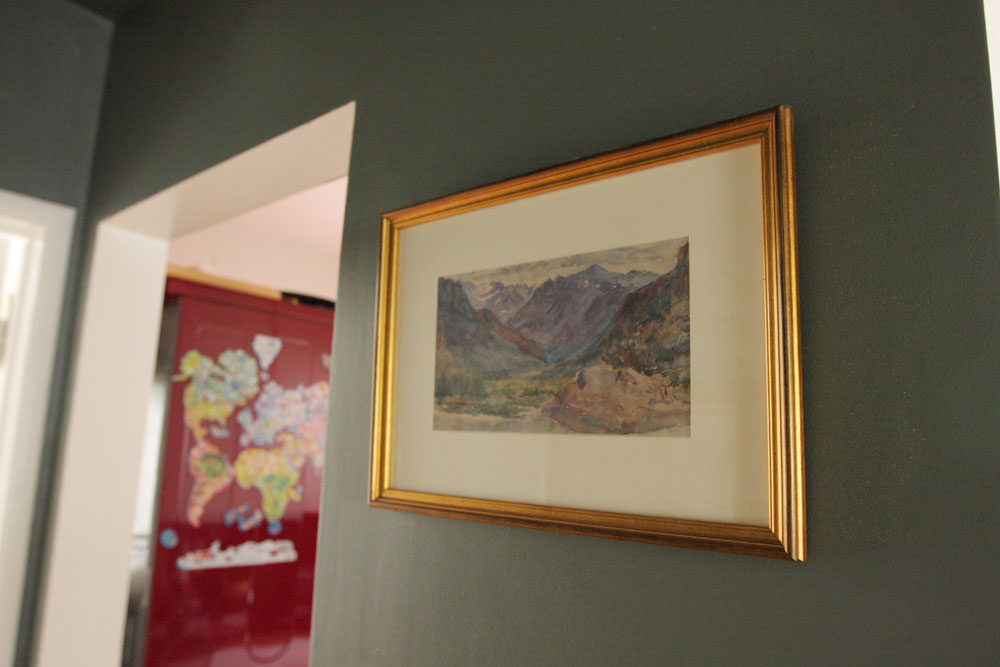 Better, don't you think? Next time, I need to take horrible "before" pictures of my spaces, so the difference between the "before" and "after" photos look more dramatic.
About that trim line,  when you take a closer look you can see that the result was not great (see below), but in the big scheme of things, nobody has paid attention to these details, and the paint job looks pretty good (from afar). You get what you pay for, people!
Take a look: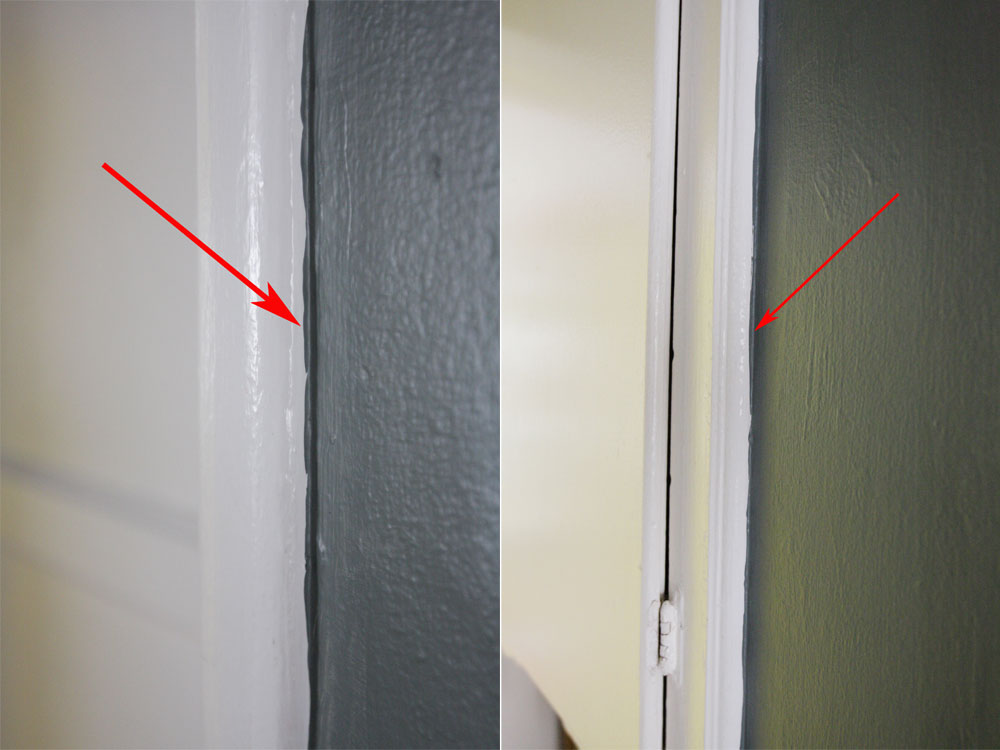 Lessons learned:
I wish I had the little sash brushes to paint the details. Get them if you can
I should have had a shorter nap length for the foam cover. I had 1/2″, but it grabbed too much paint. Benjamin Moore Regal base 3 is thick to begin with, so, I think a 3/8″ would have been a better nap length.
When you apply the paint with the roller, do it SLOWLY! Do not hurry. If you try to speed things up, you will leave some surface without paint. At least, that is what happened to me. My walls are very uneven, and that made the paint job more difficult.
The baby wipes will become your best painter friends. Don't forget them.
I am not Komenda, but I was able to finish this job by myself (no husband's help here), without major difficulties. I saved money, it gave me something to do during the weekend (aside from childcare), and, it felt very rewarding.
Here are some more pictures of the details, if you want to take a look: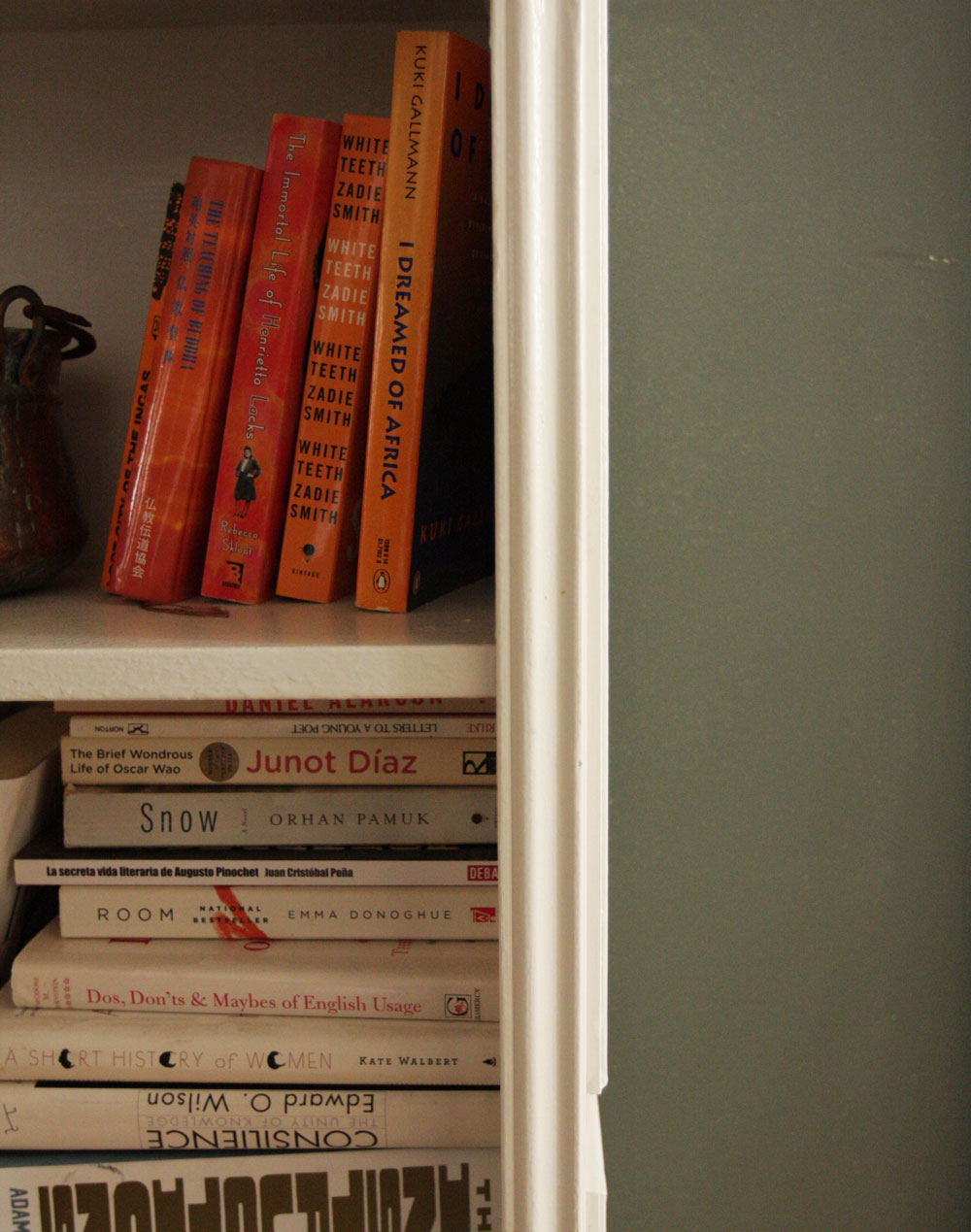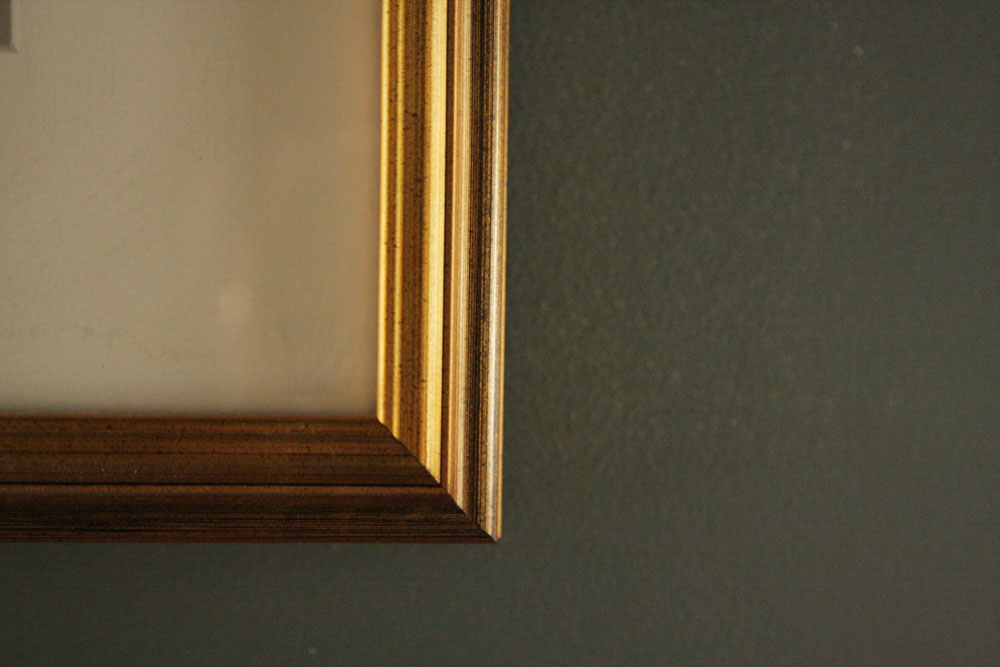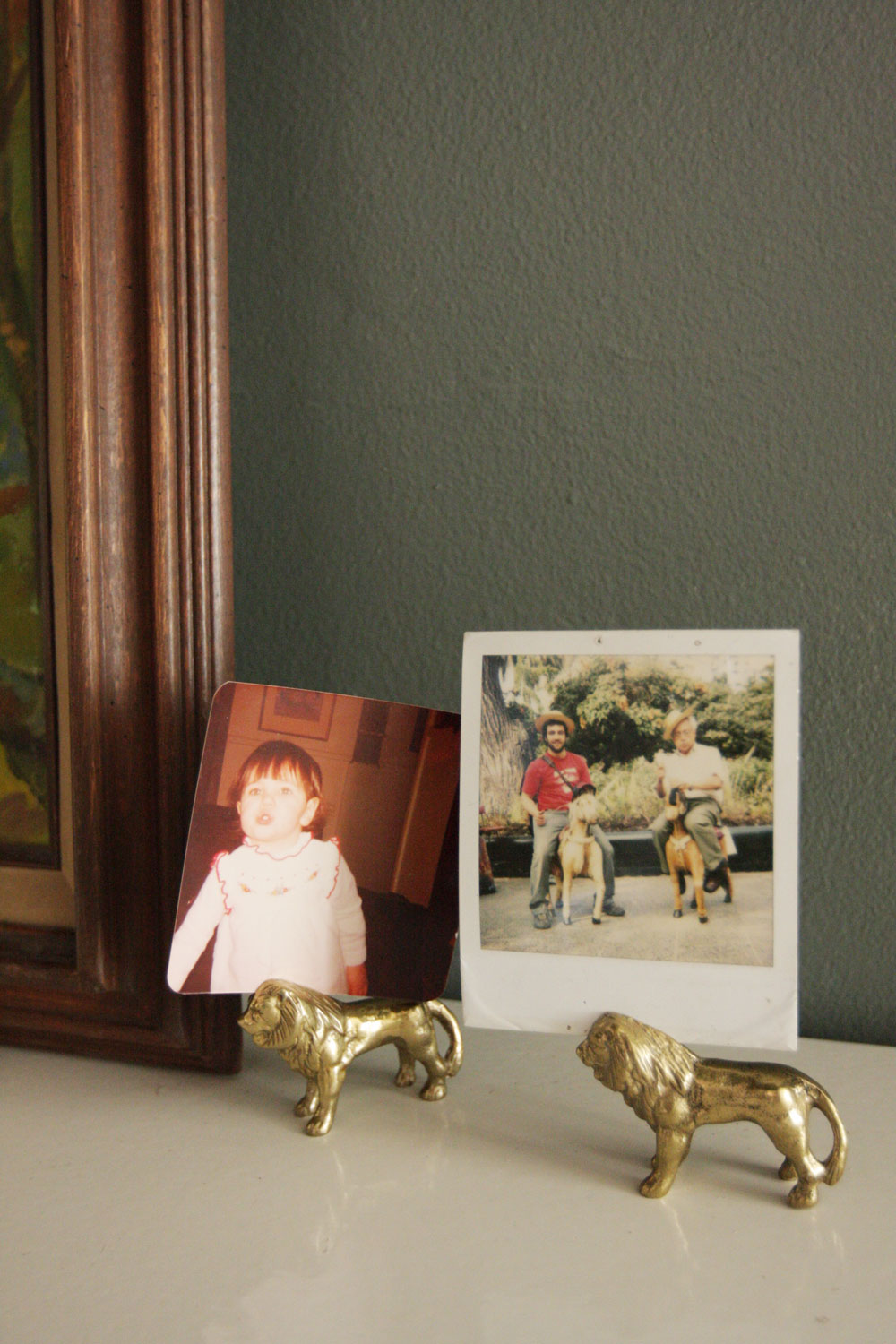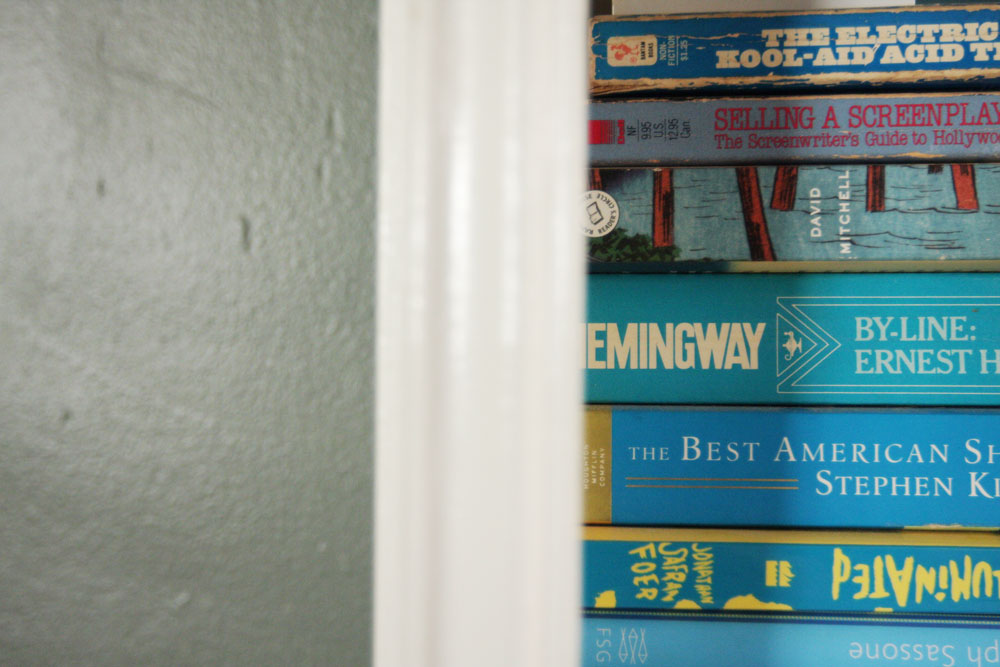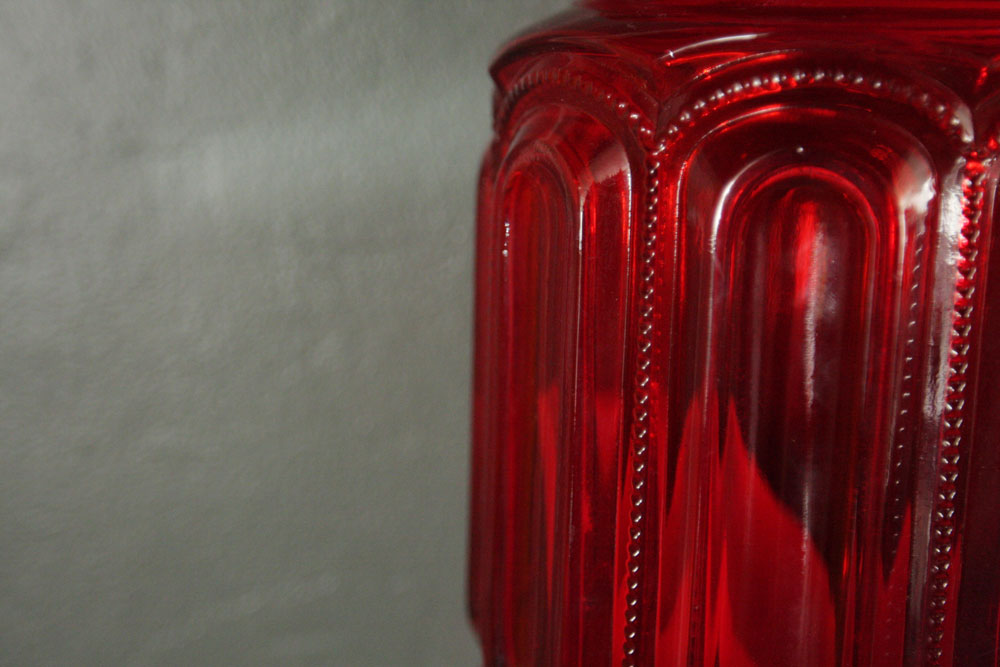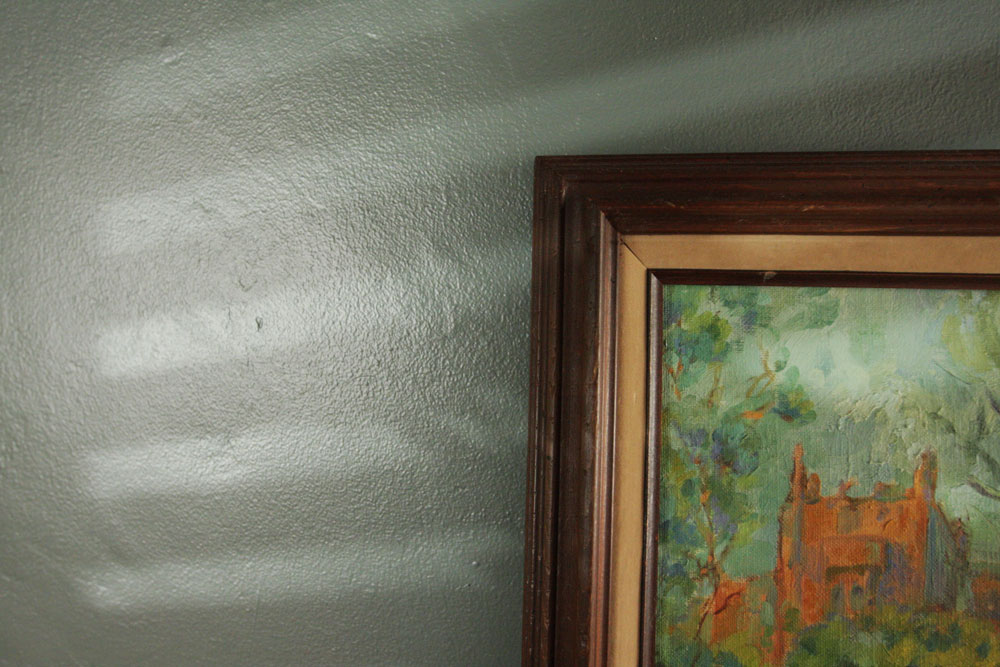 So, what do you think? do you like it as much as I do?
https://jestcafe.com/wp-content/uploads/2016/01/jestcafe.com-painting-hallway-7v2.jpg
667
1000
Mila
https://jestcafe.com/wp-content/uploads/2017/08/Jest-Cafe-about-design.jpg
Mila
2016-01-27 16:03:22
2016-01-28 14:50:45
Do It Like A Blogger - Paint Your Own Walls