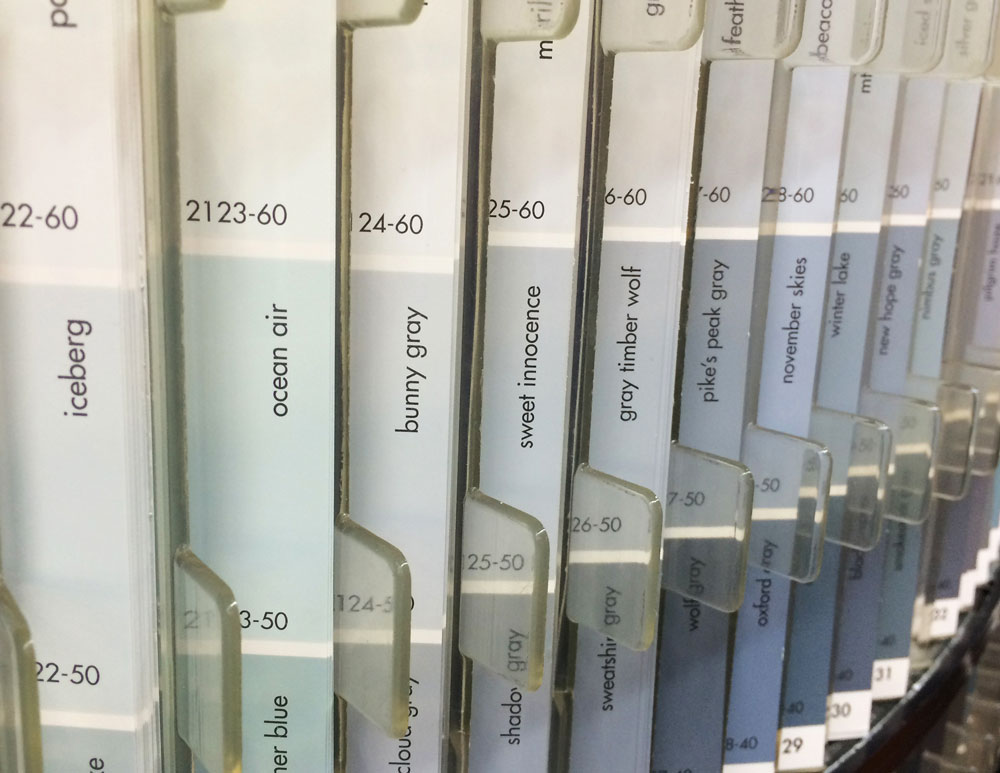 Four years ago, we bought our first house. It was for foreclosure and we were lucky enough to snatch it. When we got it, it was a piece of trash and, in many ways, still is. We would like to completely remodel it, but we don't have the money to do that right now.
Before we moved in, we did minimal changes that made it livable, and, since then, we have been doing small fixes here and there. I love the location of our house, it is within walking distance of shops and restaurants; I love how big the lot is: 7,500 sq feet (HUGE for LA!); what  I don't love is how ugly the house is.
One of the things that has been bugging me since day one is the exterior of the building. The color is (was) hideous, a horrible "chick" yellow; and the stucco was in terrible shape. See pictures below.
Can you spot the different shades of  yellow? And the nasty cracks? Just be thankful I am not showing you the big holes on the back wall of the house.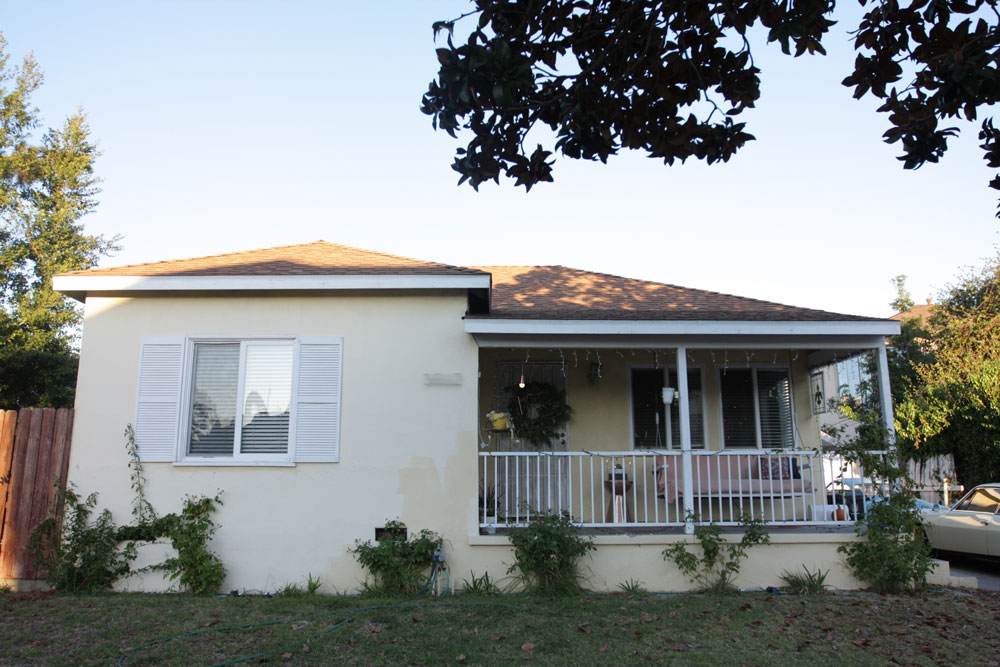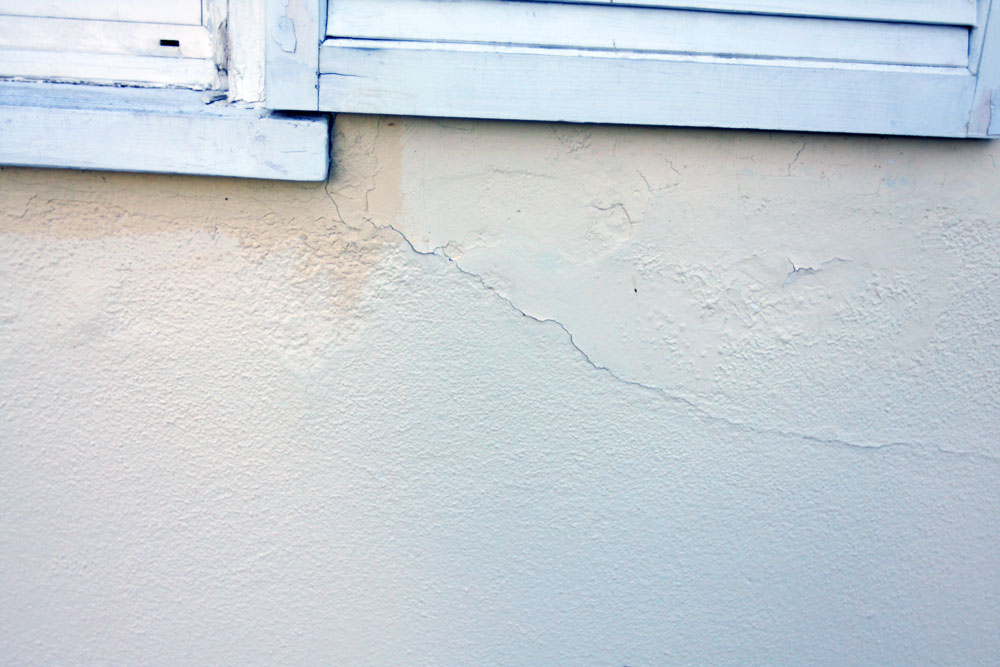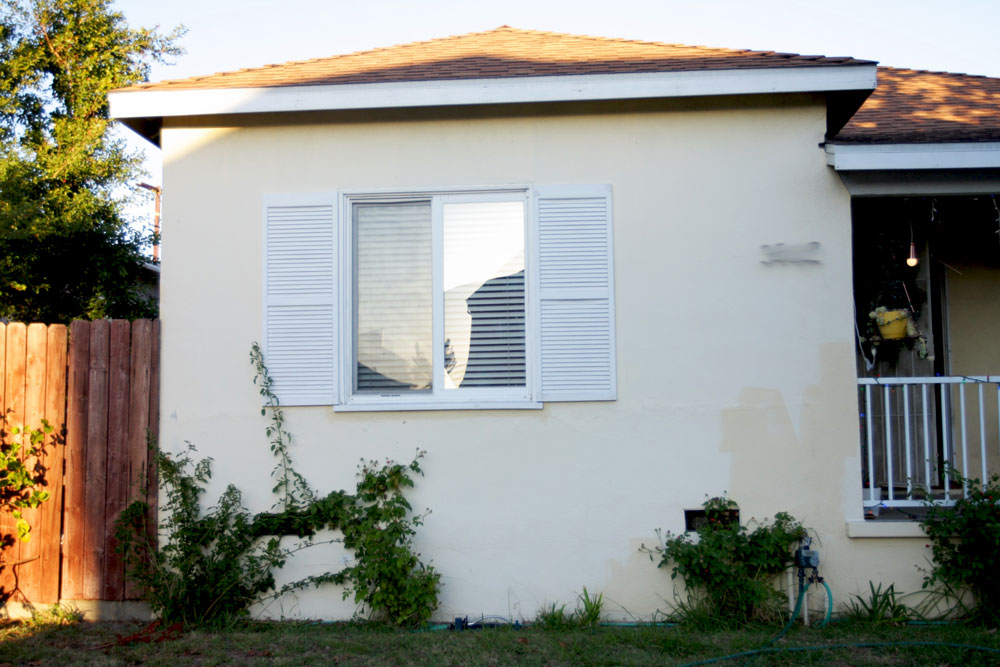 Thinking that we were going to fix the house some time soon, we decided to wait and repair the exterior when doing the whole remodeling. Well, four years later I ran out of patience. The remodeling was not happening and I got sick of having to wait for the exterior to be presentable. I found a cheap painter that also did stucco repairs. He came by to give us a quote on a Monday. The quote was very reasonable so I asked him to get started. He said he was traveling during the Holidays and that he could start mid-January… ugh!!! bummer…I did NOT want to wait that long. Then he gave me another option, if we chose the color fast,  he could start on Wednesday. SCORE.
My husband tried to persuade me against such a fast timeline. He was worried about finding the right color, but I was afraid about delaying the job and having to stare at those "chick" color walls for another year.  I went for Wednesday. I had 36 hours to choose a color. The clock started ticking. I was naive.
I knew I wanted to use gray paint for the walls and a bright color for the door. The problem is that our roof is brown, and it doesn't look good next to a lot of gray colors. That same day I went to get color samples. It took me 2 hours and I came back with these three: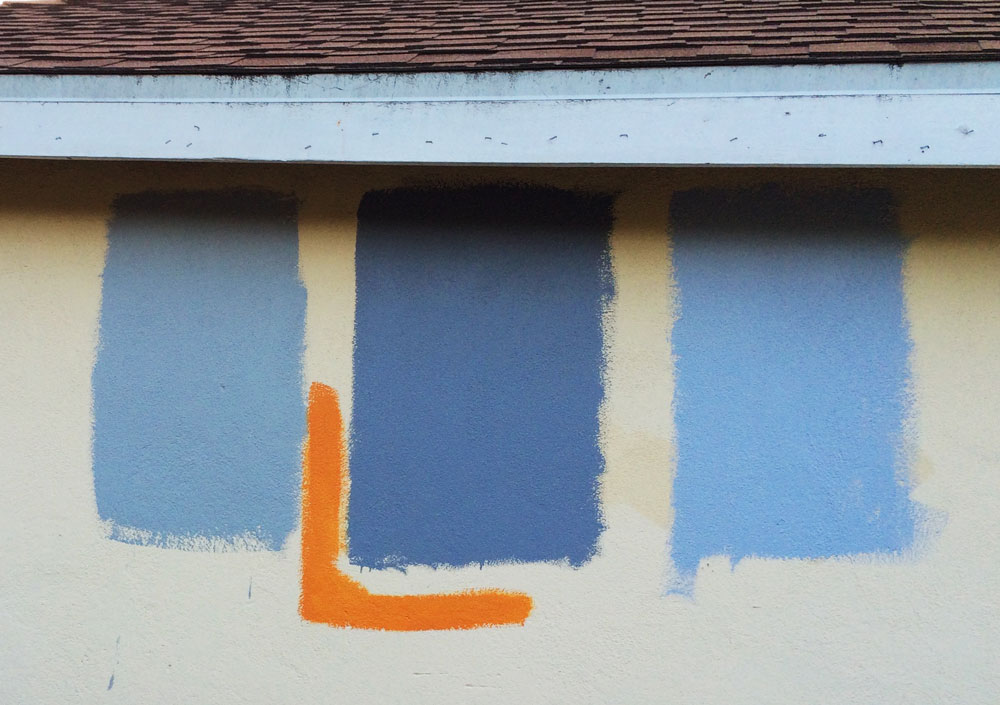 This picture was taken 20 minutes before the sun left the sky. Not the best time to make color decisions.
Painting a swatch on the wall really helped, but I knew the colors would change once we painted the whole wall. I found it difficult to visualize the final result. The whole task was a learning crash course about the infinite possibilities of color. Colors that might seem so similar in small quantities, might look completely different once you apply them on larger walls.
None of the three colors above were what I wanted because I didn't like their darkness against the brown roof. In an ideal world, I would have a gray roof and a dark gray house, but the bad quality of my stucco and color of the roof didn't allow for that. From the three colors above, the one on the left was my favorite. Friends and family agreed. 24 hours to go.
The next day, I went to buy that color on the left but in lighter shades. I know people are not into Behr paint, but I found an application they have at our local Home Depot that helped me visualize how different colors would look when the whole house was painted. I was using that application/screen for 2 hours trying different grey colors. Finally, I kept coming back to the same one: Silver Bullet.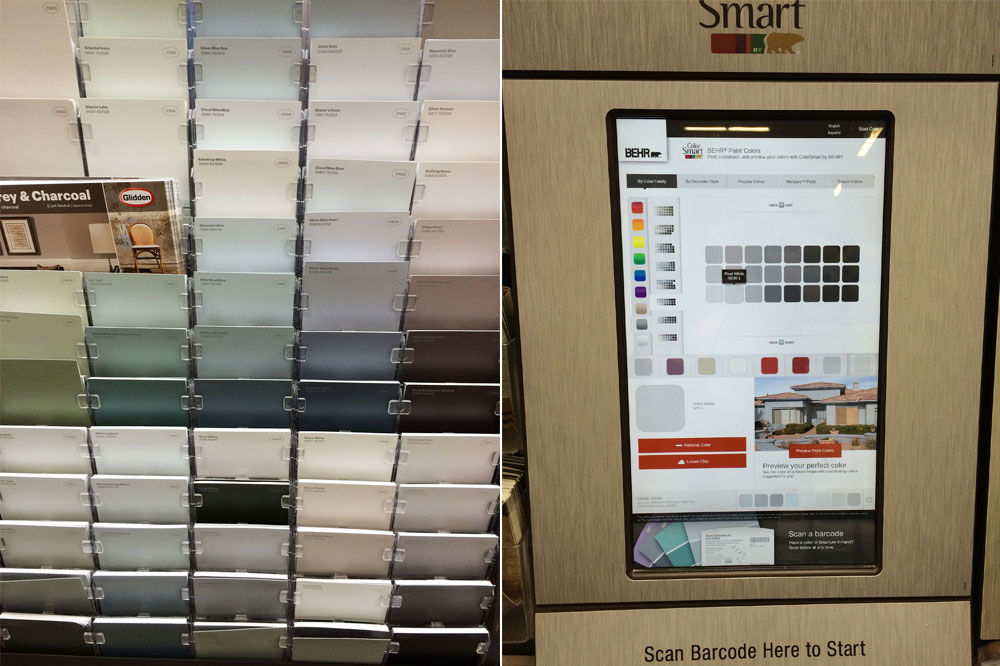 I bought a sample of the original silver bullet color and another one with 25% less saturation. I did not know that you can ask for different color saturations that can give you a color that you like in a darker or lighter shade. How amazing is that? and, how ignorant am I?
12 hours to go. Here is a picture of the colors I brought home: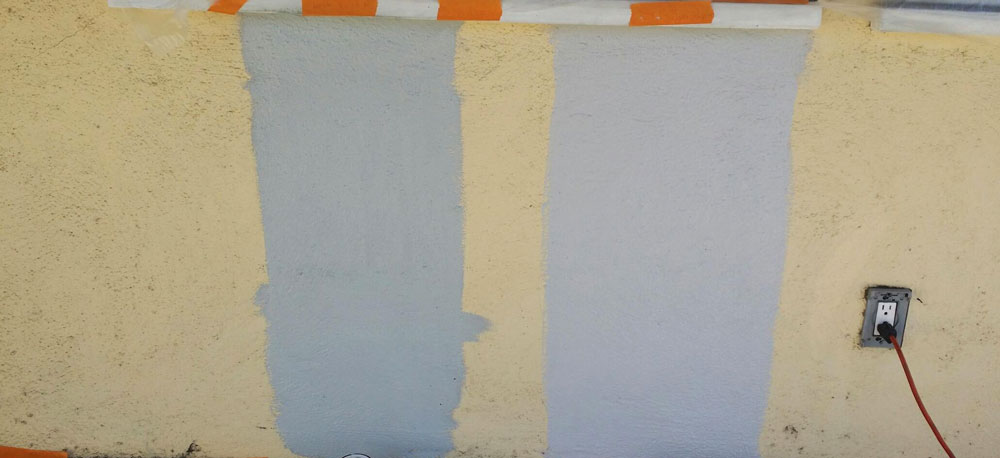 Finally, we decided to go with the one on the left. The original color without desaturation. Our painter took the sample and had it matched by the Dunn-Edwards local dealer. The color is very similar to the half moon crest of the Benjamin Moore exterior line, in case you want to spend $50 for a gallon of paint.
Initially. I wanted an orange or yellow color for the door, but I didn't think those colors would look good next to the brown roof, so we decided to paint the door a bright red called Hot Jazz. I like how it looks, but I don't like how unoriginal the choice is. Here is the result: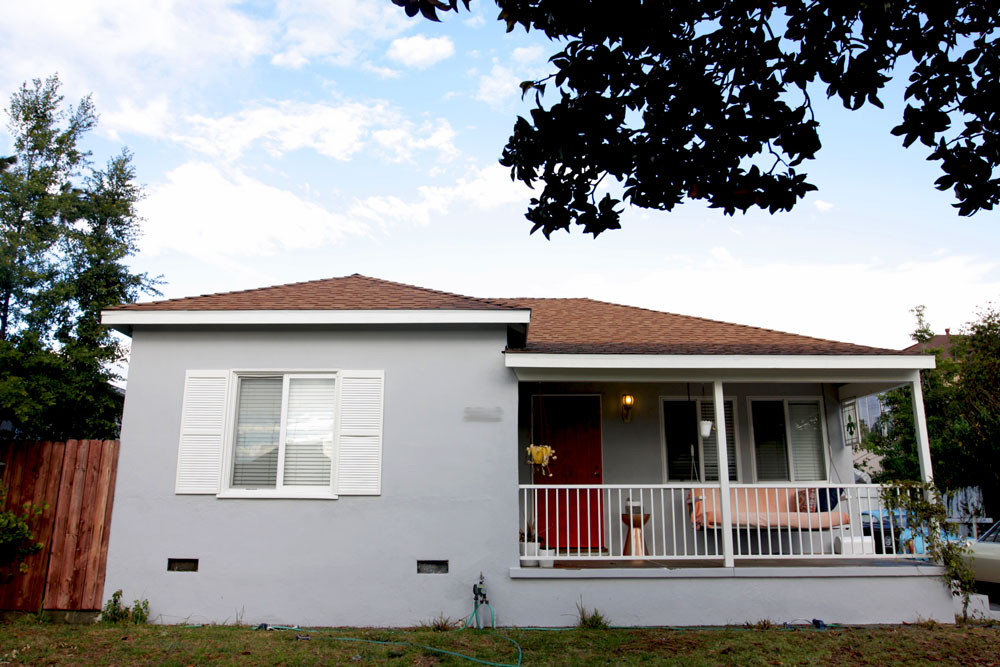 Much better, don't you think? But then again, anything would be better than that "chick" color.
In hindsight, I wish we would have taken our time to choose a better color. Having to do this in 36 hrs while working full time and taking care of two children was stressful and unrewarding. Also, I am not 100% happy with the choice, but I am 100% happy that "chick" yellow is out of my life.
Tips for the future:
Give yourself time when choosing a color. Remember you will have to stare at it for a long time.
Make sure you look at the color during different times of the day. Color changes dramatically depending on the location of the sun.
Paint large swatches to help you visualize the final result.
Breath
Listen to your significant other's advice, because he/she knows you better than you do yourself.
Even if you don't love the color, pretend you do and everybody else will like it too. Ha!
Laugh
https://jestcafe.com/wp-content/uploads/2016/01/jestcafe.com-feat1.jpg
403
1000
Mila
https://jestcafe.com/wp-content/uploads/2017/08/Jest-Cafe-about-design.jpg
Mila
2016-01-08 14:06:12
2016-01-28 14:55:25
House Exterior: Choosing The Right Color